In January, Indonesia relaxed regulations on the export of unprocessed ores, but also required some mining companies to change their operating licenses — most notably U.S.-based Freeport-McMoRan.
The 2017 regulation amends a 2014 ban on unprocessed mineral exports. That ban aimed to build a domestic smelting industry but effectively shut down many small mining operations, an unintentional boon for the environment.
Indonesia's long-term mining and mineral processing ambitions could cause serious environmental damage. Better enforcement of environmental law would have a bigger impact than export restrictions, experts say.
The Indonesian archipelago is home to a myriad of plants and animals, including Sumatran tigers, birds of paradise, orangutans and leatherback turtles. It is also home to extensive mineral resources such as copper, nickel, tin and bauxite.
As one of the world's leading exporters of these minerals, any changes in mining policies have direct consequences on both the local environment and the global economy.
Most recently, a change to Indonesia's mineral export regulations has seen it locked into a high-stakes public confrontation with Freeport-McMoRan Inc., the U.S. company that operates one of the world's biggest gold and copper mines in the province of Papua.
Debate abounds about whether these policies are good for business. But are they good for the environment?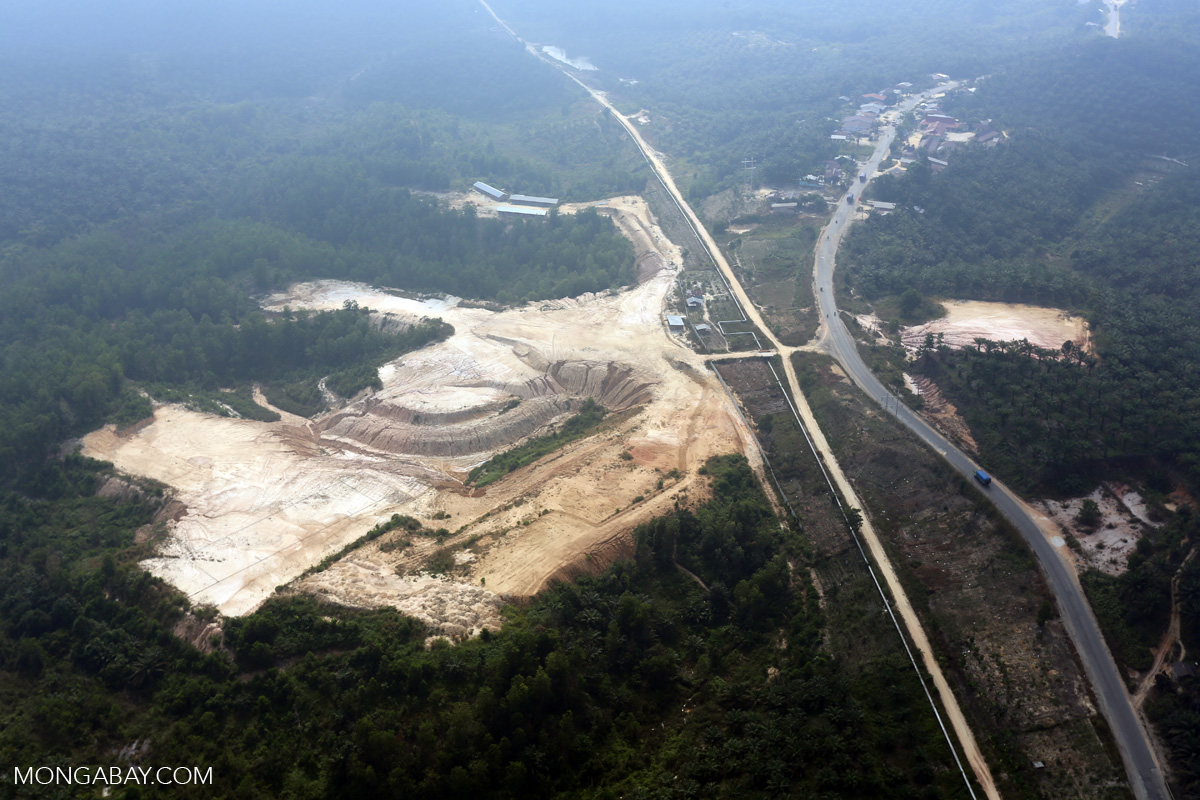 To smelt or not to smelt?
The roots of the current controversy over mineral exports go back to January 2014, when regulations limiting the shipment of unprocessed minerals came into effect. The law aimed to boost export revenue by adding value to Indonesia's raw ores before shipping, and to encourage the growth of domestic refining and smelting capabilities.
Mineral exports from Indonesia dropped abruptly in response to the regulations.
"It was effectively a moratorium on mining these minerals, given that few smelters had actually been built," said Eve Warburton, a Ph.D. candidate at Australian National University, whose research interests include the politics of natural resource policy in Indonesia.
"With these policies, automatically, there was a decline in operations. Planned mines were postponed, which also meant a reduction in [environmental] damage as a result of limitations on exploration and production," said Hendrik Siregar of the Auriga Foundation.
However, Warburton and Siregar both noted that while export regulations may have temporarily halted some mining operations, the law was not designed with environmental protection in mind.
"The long-term goal to establish a domestic smelting industry is not an environmentally friendly one at all," Warburton said.
Smelting adds airborne sulfur dioxide and ash to the air, toxins that Indonesia has had little experience dealing with. "Smelting can be a very polluting process, especially in places like Indonesia where environmental standards are often not enforced or adhered to in the mining sector," said Warburton.
What is happening now?
A full-scale export ban on concentrates was set to take effect in 2017, but now, with companies lagging behind expectations on smelter development, the restrictions on exports of nickel ore and bauxite have instead been relaxed.
The government will continue to allow ore exports by companies who can demonstrate they are in the process of developing smelters. It has also proposed allowing the export of concentrates of copper, zinc, lead, manganese and iron to continue until 2022, provided mining companies are building smelters.
However, before concentrate exports can resume, companies must now comply with a range of new rules. In addition to presenting plans to build smelters within five years, they must also convert their Contracts of Work (the legal agreements governing foreign mining operations established before 2009) to special mining business licenses or IUPKs.
Freeport-McMoRan, the operator of the Grasberg gold and copper mine, has been fighting the government's demands to convert to an IUPK, divest 51 percent of its shares and construct a smelter. Freeport's CEO recently described these demands as "in effect a form of expropriation of our assets," Reuters reported.
On Feb. 10, Freeport abruptly stopped production at Grasberg and began laying off workers, and it has since threatened to take the case to international arbitration. Meanwhile, Indonesian President Joko Widodo has vowed to stand firm.
Beyond Freeport
A large domestic smelting industry in Indonesia may lead to increased airborne pollution, but Warburton's worries extend beyond this. Regardless of the fate of the mineral ban, she and other environmentalists want to see better enforcement of existing environmental regulations so that mining companies adhere to international best practices, state officials do not issue mining licenses in protected forest lands, and mining companies adhere to proper waste-reclamation procedures.
In 2009, when the Indonesian government first threatened to ban raw ore exports, mineral companies both large and small were enjoying an export boom in which regulations and monitoring were poor. Companies were extracting and exporting as much cheap ore as they could, particularly to China. In Southeast Sulawesi, Indonesia's most abundant source of nickel, the effects of this rampant mining can be seen in offshore siltation, where mud from decades of mining has leaked into the sea, killing seagrass and fish.
Decades of tin production on two of Indonesia's islands, Bangka and Belitung, have also wreaked environmental havoc. The intensity of tin mining and the uncontrolled, irresponsible way it has been carried out have polluted agriculture and fishing areas and led to rampant forest clearing and siltation of marine ecosystems.
"This nature of mining like this is extractive, exploitative … Especially in coastal areas where it pollutes the ocean," said Parid Ridwanuddin, deputy head of legal and policy advocacy at the People's Coalition for Fisheries Justice (KIARA).
"There was an explosion of mining licenses during the boom, which coincided with decentralization," said Warburton. "Many of these licenses went to small and inexperienced companies. Monitoring was extremely poor, and the impact on the environment in coal and nickel mining areas has been devastating."
When the 2014 ban was put into effect, it had an outsized impact on smaller companies because they didn't have the capital to invest in smelting facilities. "In some ways, by reducing the number of companies active in the nickel sector, the ban unintentionally did the environment a favor," said Warburton.
Bigger companies such as Vale, that had the capital to survive and already owned a smelter, generally opposed relaxing the ban. However, the large state-owned mining company, PT Antam, suffered significant losses. Other companies that responded to the ban by ramping up smelting production now find their market undercut as restrictions are relaxed.
Companies in Sulawesi, a province with big nickel and bauxite sectors, that shut down after the ban will likely find it hard to start up again, if they do indeed have to demonstrate investments in smelting facilities. "The expectation would be, however, that mining companies that survived the ban will start up their operations again, and this will bring flow-on effects for local industry and for local government coffers," said Warburton.
Meanwhile, according to Ridwanuddin, although the international trade in metal ores may be affected by a mineral ban, domestic demand for construction materials is ensuring that mining continues apace. Coastal areas in places like East Kalimantan and East Nusa Tenggara have been targeted by the cement industry, he said: "The current administration is very focused on infrastructure, which leads to demand for cement."
Systemic problems
The environmental effects of the relaxation of the export ban, and the spat with Freeport, remain uncertain. Greater government control over foreign miners appeals to nationalist sentiment, but it doesn't necessarily result in better environmental practices.
In general, Warburton said, publicly listed multinational and Indonesian companies (though not all of them), tend to engage in best practices because they are answerable to shareholders, international media, and the laws of their home country. But big private Indonesian companies, and private companies from other countries operating in Indonesia, are not always well monitored.
Some of Indonesia's biggest mining companies also have direct and personal connections to powerful political figures, which gives them a degree of immunity.
"Ultimately, the problems that most concern Indonesia's environmentalists are the fact that regulations are implemented only loosely and with high levels of discretion, court cases can be bought and sold, and the bureaucrats tasked with monitoring Indonesia's mines are grossly under-resourced," said Warburton. "In my mind, these remain the most pressing environmental problems, regardless of whether the government enforces or relaxes an export ban."
FEEDBACK: Use this form to send a message to the author of this post. If you want to post a public comment, you can do that at the bottom of the page.
Additional reporting by Fidelis E. Satriastanti.