French cosmetics giant, L'Oreal, has pledged to stop using palm oil linked to deforestation for its products by 2020. Palm oil, which is found in both cosmetics and many food items, has been linked to widespread deforestation in places like Indonesia and Malaysia, decimating biodiversity and contributing to global warming. The crop, which is both high-yield and lucrative, is now becoming increasingly popular in Africa and Latin America as well.
"In a win for consumers around the world, L'Oreal has committed to ending its role in forest destruction," noted Bustar Maitar, head of the Indonesia Forest Campaign with Greenpeace. Maitar further urged L'Oreal to move up its timeline from 2020 given the scale of the problem.
Recently, the Roundtable on Sustainable Palm Oil (RSPO) estimated that palm oil plantations were responsible for the loss of 3.5 million hectares (8.7 million acres) of forest in Indonesia, Malaysia, and Papua New Guinea from 1990-2010. This constitutes an area larger than the Netherlands and has helped push tens of thousands of species, including orangutans, tigers, rhinos, and elephants
closer to extinction. During the period, about 37 percent of palm oil plantations came at the expense of forest.

New oil palm plantation in Costa Rica. Photo by: Rhett A. Butler.
L'Oreal's commitment goes beyond palm oil as well. The company has pledged that its consumption of other commodities, such as soy and wood-fiber, will also come from zero-deforestation sources by 2020.
With its commitment to only source palm oil and other commodities not linked to deforestation, L'Oreal joins a growing number of companies including Nestle, Unilever, Ferrero, and Wilmar International. Still, many companies have yet to make such commitments.
"Thousands of people in Indonesia and around the world who have signed up demanding forest-friendly products will be turning their eyes to companies such as P&G, the producer of Heads & Shoulders, and Colgate Palmolive to guarantee that they too are not peddling dirty palm oil from forest destruction," Maitar added.
Related articles
Norwegian insurance giant blacklists palm oil companies
(01/27/2014) Storebrand, one of Norway's largest life insurance and pension savings companies, has sold off holdings in eleven palm oil companies due to environmental concerns. In a statement issued last week, Storebrand said it divested after it found the companies had breached its sustainability standards.
Land conflicts complicate effort to spare forests from palm oil in Borneo
(01/17/2014) A widely-heralded effort to spare carbon-dense rainforests and peatlands from palm oil development in Indonesian Borneo is facing new criticism after an investigation by rights groups found evidence of unresolved conflicts over community land. The report, published Friday by the Forest Peoples Program and TUK-Indonesia, looked at a carbon conservation pilot project run by Golden Agri Resources (GAR), a Singapore-based agribusiness giant that is one of Indonesia's largest palm oil producers.
In precedent-setting case, palm oil company fined $30M for destroying orangutan forest
(01/09/2014) In a precedent-setting case, an Indonesian court has found a palm oil company guilty of violating environmental laws and ordered it to pay $30 million in fines and reparations for clearing an area of protected peat forest that is a stronghold for endangered orangutans in Indonesia's Aceh Province. In a ruling handed down Wednesday, the Meulaboh district court concluded that PT Kallista Alam illegally cleared and burned forest within the the protected Tripa peat swamp in northwestern Sumatra.
U.S. palm oil company fined $4.6m in discrimination suit
(01/08/2014) Herakles Farms, an American agribusiness company, has been ordered to pay $4.6 million by a court in Cameroon over alleged discrimination in its hiring practices.
Rainforest news review for 2013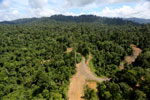 (12/26/2013) 2013 was full of major developments in efforts to understand and protect the world's tropical rainforests. The following is a review of some of the major tropical forest-related news stories for the year. As a review, this post will not cover everything that transpired during 2013 in the world of tropical forests. Please feel free to highlight anything this post missed via the comments section at the bottom. Also please note that this review focuses only on tropical forests.
Palm oil exports to fall in 2013/2014
(12/19/2013) Palm oil exports may drop for the first time in 16 years due to price trends in the oilseed market, reports Oil World.
UN raps Malaysia on palm oil abuses, risks
(12/19/2013) Malaysia's push to join the ranks of rich countries shouldn't come at the expense of the environment or the vulnerable groups, warned a U.N. expert after a visit to the Southeast Asian nation.
Hershey commits to zero deforestation for palm oil
(12/19/2013) In an effort to avoid palm oil linked to deforestation, candy giant Hershey Company (NYSE:HSY) will source 100 percent of its palm oil from traceable sources by the end of 2014.