In March 2013 I visited Aceh Province on the western tip of the island of Sumatra for the Association for Tropical Biology and Conservation – Asia Chapter meeting. Most of my week in Aceh was limited to Banda Aceh, where the conference was held, but I did manage a day visit to an area of forest outside Jantho. Below are some of my pictures from that trip.
Why were you in Aceh?
ATBC-Asia was the primary reason for my trip. I gave a talk titled "The Penis Snake: How to Get Your Research Covered by the Internet", which was targeted toward scientists to provide some tips on how to better communicate their research to the public. I chose the edgy title to illustrate a key point of the talk.
During the week, Mongabay-Indonesia held a two-day workshop for local journalists on environmental reporting, familiarizing them with key environmental issues in Aceh (including the controversial plan to revise the province's spatial plan) and highlighting some general best practices for journalism. I also gave a talk at the workshop, which was attended by about 30 local journalists. Attendees were subsequently invited to the ATBC-Asia meeting where the were introduced to some leading scientists.
Originally I intended to do some reporting on the governor's new spatial plan which would reduce Aceh's targeted forest cover from 68 percent to 45 percent (Aceh's forest cover is currently around 55 percent). However the day before I arrived in Aceh, I was warned that I wasn't exactly welcome in Aceh due to Mongabay's reporting in the issue and that I should "watch my back" while in Banda Aceh. So I kept a low profile outside the conference and did not proceed with an interview I had planned to do with a government official. Instead I had some very useful meetings with members of the local NGO community.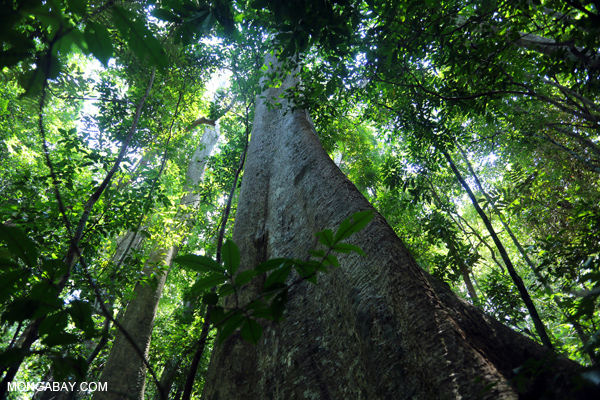 Giant rainforest tree outside Jantho
How did you visit the forest?
Getting into the forest was not a straightforward process. My plans fell apart three times and were largely up-in-the-air until about a week before arrival. I was looking into forest lodges for tourists (there aren't many in Aceh that are close to Banda Aceh) when Mongabay-Indonesia's local correspondent Chik Rini came through with a new plan, which involved going into the forest with a local ranger and community members.
For this leg of the trip, I was accompanied by Ridzki Sigit, the program manager for Mongabay-Indonesia, and the local ranger and community members. After securing permission from local authorities, we went into the forest, which was about a three hour hike from the village (Jantho is roughly a one hour drive from the Banda Aceh airport, the village is another 30 min or so). On the way, we walked through agroforestry plots, agricultural areas, and a large timber plantation that is apparently a source of conflict (more on that in the future).

A water pipeline serving a secondary function as a hiking trail at a water station near Jantho
What did you see?
The forest was gorgeous, featuring a full canopy and a picturesque clear-flowing river. Most of the wildlife was limited to insects, birds, and small herps, although we did encounter some macaques. There are orangutans in the forest, although we didn't see any.
The forest certainly has potential for low-intensity eco-tourism, especially trekking and bird-watching. The community has been hoping to set up a program with the assistance of an international NGO, but so far progress has been slow. Given the lack of hotels in Jantho, an tourism program would need either a homestay component or a camping option, unless some basic lodging is built in the area.
My time in the forest was very short, but I hope to visit Aceh again in the future to see more of its forests as well as its coastal ecosystems.
Some photo highlights from Aceh