Biodiversity conference closes
Speaking at the UN's biodiversity meeting in Nagoya, Japan, actor Harrison Ford criticized the failure of the United States to sign the Convention for Biological Diversity.
The actor, famous for his roles in Star Wars and Indiana Jones, told CNN he was "embarrassed" the US was not yet a signatory to the convention which aims to protect the planet's species. The US is one of three countries that has not signed the convention.
Delegates in Japan agreed to 20 targets for 2020, including a goal to protect 17 percent of all inland water and terrestrial areas, and 10 percent of marine areas; restoration of 15 percent of degraded ecosystems; and reducing habitat loss by at least 50 percent. Water was also named as an important ecosystem service, a recognition that would lead to better protection of wetlands, rivers, and forests.
One fifth of vertebrates endangered
A new study by IUCN reports that a fifth of the world's vertebrate species–mammals, birds, reptiles, amphibians, and fish–are threatened with extinction.
The authors found an average of 52 species move one category closer to extinction every year.
The study did have some good news. It found that the global biodiversity decline would have been 18% worse if not for conservation action.
Norway: support Indonesia's forests
Norway's Environment Minister called for the US, Japan, and the EU to provide funding to support Indonesia's effort to slow deforestation.
In May Norway pledged $1B over the next 7-8 years to help Indonesia develop institutions and capacity protect forests and peatlands. Under the agreement, Indonesia announced a 2-year moratorium on the granting of new concessions on peat and natural forest lands beginning January 2011. Norway's funds will be distributed based on Indonesia's success in reducing emissions from deforestation and degradation of peat and forest lands.
With international support, Indonesia has committed to reduce greenhouse gas emissions by up to 41% from a projected 2020 baseline.
$1M bed: Why Madagascar's forests are being logged
A new report from the Environmental Investigation Agency (EIA) and Global Witness finds that 98% of the timber illegally logged from Madagascar's rainforests goes to China, primarily for the production of luxury furniture.
A small proportion of the wood goes to Europe and the United states for musical instruments.
Illegal logging of Madagascar's rainforests erupted last year in the aftermath of a military coup that disposed the country's president.
The new report directly implicates the new "interim" government in illegal logging.
Brazil will impose an oil tax to pay for climate change mitigation and adaption measures.
The fund is expected to receive $132 million next year, a figure that would climb as Brazil ramps up oil production, according to the country's minister of environment, Izabella Teixeira.
Teixeira also said figures to be released next month will show forest loss in the Brazilian Amazon will be the lowest on record for the 2009-2010 year.
Meanwhile the Amazon is in the midst of its worst drought in at least a century. Dried up rivers have stalled transport and isolated communities, while fires have cast a choking pall over much of southern and Central Brazil, and parts of Bolivia, Paraguay, and Argentina. Some scientists say climate change will worsen droughts in the region.
Scientists confront greenwashing groups
Prominent scientists condemned two groups that claim to operate on behalf of the world's poor, yet call for reduced protection of forests and increased logging.
In an open letter, scientists led by William Laurance of James Cook University, said that ITS Global, a marketing firm, and World Growth International, an NGO, operate on behalf of logging and plantations companies, including Indonesia's Sinar Mas. They conclude the groups use distortions, misrepresentations, or misinterpretations of fact to mislead the public.
After the scientists' letter was published, Asia Pulp & Paper, a paper products giant controlled by Sinar Mas, admitted to supporting front groups, including Greenspirit and the Consumer Alliance for Global Prosperity, which often attack environmentalists and companies adopting sustainability criteria in their sourcing policies.
Greenpeace ship booted out of Indonesia
The Indonesian navy escorted Greenpeace's ship, the Rainbow Warrior, out of Indonesian waters.
The government says the activists failed to clarify the purpose of the ship's visit.
Greenpeace says the Rainbow Warrior intended to support the group's campaign against deforestation and climate change.
CA vote on climate law impacts rainforests
California voters will have a say in the fate of tropical forests in the November 2nd state election.
Proposition 23, a ballot initiative, would kill the state's 2006 climate change law, setting back California's leadership on effort to include carbon offsets from tropical forest conservation in the state's emissions mitigation plan. A broad coalition of environmentalists, health experts, and tech companies are calling for "No on 23."
Proposition 23 is backed primarily by oil companies and refineries.
And finally, scientists have discovered a previously unknown species of monkey in Myanmar.
The new species, called the Myanmar snub-nosed monkey, is already at risk due to hunting and Chinese logging operations in the northern part of the country.
Scientists have yet to photograph the species.
Week in Forests, Oct 22, 2010
Week in Forests, Oct 15, 2010
Week in Forests, Oct 8, 2010
Week in Forests, Oct 1, 2010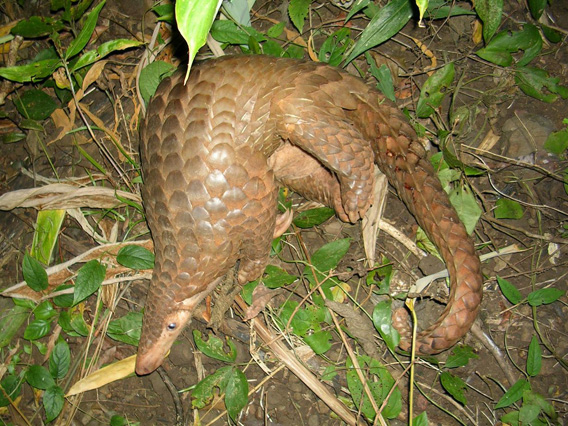 Sunda Pangolin (Manis javanica) in the wild. Photo by: Sandrine Pantel/TRAFFIC.