Photo: World's oldest Fly River Turtle turns 50
mongabay.com
July 31, 2008
Last Saturday "Freddy", a Fly River Turtle, turned 50. He is the oldest known individual of his species.
Staff from the Wildlife Conservation Society's Bronx Zoo Reptile Department treated Freddy to a turtle biscuit and a slice of frozen banana.
Fly River turtles are a large species that can weigh up to 50 pounds. They are native to southern New Guinea, Papua Province of Indonesia, and Northern Australia where they live in rivers, lagoons and estuaries. This species is the world's only primarily freshwater turtle that has flipper shaped forelimbs like those of a sea turtle.
Due to hunting and habitat degradation, the IUCN Red List categorizes the Fly River turtle as "Vulnerable" to extinction.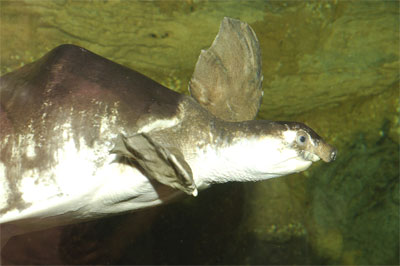 Photo by Julie Larsen Maher.
Freddy's birthday is well timed with the exceptional hatching of four tiny Fly River turtles, just this week. These tiny turtles, the diameter of a silver dollar, will someday reach the impressive size of Freddy, who tips the scales at 17 pounds.
The "Conning the Congo" Report