Titan may have a hidden ocean
Titan may have a hidden ocean
mongabay.com
March 20, 2008
An ocean may lie under the surface of Saturn's moon Titan, according to research published this week in the journal Science.
Analyzing several years of radar data from the Cassini-Huygens mission, Ralph Lorenz of the Applied Physics Laboratory at Johns Hopkins University and colleague "found that some of the geological features on the moon's surface had drifted from a fixed reference point, implying that the moon's rotation speed had temporarily increased," according to a statement from Science. The observations suggest that "winds in Titan's dense atmosphere may be rocking the moon back and forth around its axis," indicating that Titan's crust and core are separated by a liquid ocean.
The presence of water on Titan suggests that the conditions necessary for the evolution of life are common in the solar system, write Christophe Sotin and Gabriel Tobie in a follow up perspective also published in Science.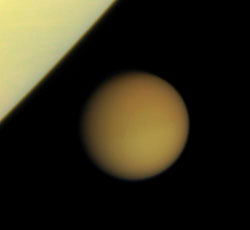 Swathed in its thick blanket of atmosphere, frigid Titan approaches the brilliant limb of Saturn. March 14, 2008. Credit: NASA/JPL/Space Science Institute
"If the presence of an ocean is confirmed, Titan would be the fourth object in the solar system with a deep ocean, after the Galileo mission found such liquid layers in Jupiter's moons Ganymede, Callisto, and Europa. Large reservoirs of water, a condition for life to form and develop, are thus a common feature in the solar system," they write. "With its dunes, lakes, channels, mountains,
and cryo-volcanic features, Titan is an active place that resembles Earth, with methane playing the role of water and ice that of silicates. The study of geological processes acting on these different materials by Cassini-Huygens and future missions will help us to understand the cycle of the elements and organic molecules that play a key role in the formation and evolution of life."
R.D. Lorenz et al (2008). Titan's Rotation Reveals an Internal Ocean and Changing Zonal Winds. Science 21 March 2008


C. Sotin and G. Tobie (2008). Titan's Hidden Ocean. Science 21 March 2008
This article is based on the cited articles in Science as well as press materials from AAAS.