Photo: baby walrus getting its teeth checked
mongabay.com
March 5, 2008
Pacific walrus calf Akitusaaq, just a mere 8 1/2 months old, has just grown in his first "teeth" at The Wildlife Conservation Society's New York Aquarium.
At a mere 364 pounds, Tusaaq, as he's affectionately called, has now started on solid foods including squid and capelin in addition to his normal nursing routine.


Tusaaq is the offspring of Kulusiq and Ayveq, and weighed approximately 115 pounds at birth.


This pup is the first birth of a walrus in the Aquarium's 111 year history. The pup is in the Aquarium's Sea Cliffs exhibit with his mom, Kulusiq, and can be seen daily from 10 AM to 3 PM. Tusaaq will celebrate his first birthday on June 12 and a weekend celebration is planned in his honor. Visit www.nyaquarium.com and view Tusaaq's baby book.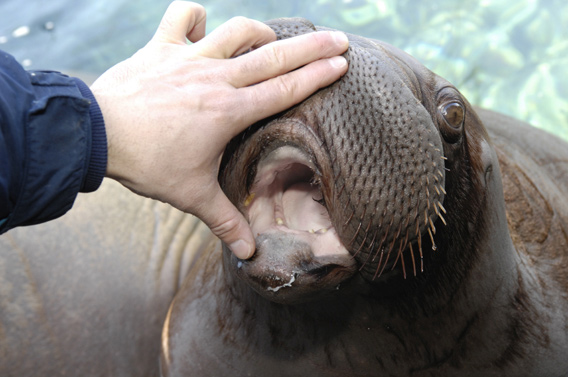 Photo taken MArch 3, 2008 by Julie Larsen Maher/WCS