News articles on wind power

---
Mongabay.com news articles on wind power in blog format. Updated regularly.





New wind power cheaper than coal or gas in Australia

(02/08/2013) Electricity supplied from a new wind farm is cheaper than that from a new gas or coal-fired power plant in Australia, reports a new analysis published by Bloomberg New Energy Finance.


Google invests $200m in west Texas wind farm

(01/09/2013) Google has made another big renewable energy investment, putting $200 million into a Texas wind farm, said the Internet search giant in a post on its official blog.


Wind can power the world, says two new studies

(09/10/2012) Wind power is up to the challenge of providing more-than-enough energy for global society, according to two new and unrelated studies. Both studies, one published in Nature Climate Change and the other in the Proceedings of the National Academy of Sciences (PNAS), found that wind power from surface winds alone could produce hundreds of terrawatts (TW) meanwhile current global society uses around 18 TW.


Tigers vs. coal in India: when big energy meets vanishing cats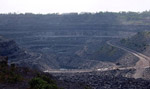 (08/01/2012) Burning coal fuels climate change, causes acid rain, and spreads toxic pollutants into the environment, but now a new Greenpeace report warns that coal may also imperil the world's biggest feline: the tiger. Home to world's largest population of tigers—in this case the Bengal subspecies (Panthera tigris tigris)—India is also the world's third largest coal producer. The country's rapacious pursuit of coal—it has nearly doubled production since 2007—has pushed the industry into tiger territory, threatening to destroy forests and fragment the tiger's already threatened population.


Voluntary carbon market reaches $576 m in 2011

(06/01/2012) The voluntary carbon offset market reached a three-year high in 2011, according to the State of the Voluntary Carbon Markets report released this week.


Germany proves the promise of renewable energy: hits 20 percent renewables

(09/06/2011) As many people in the United States question whether renewable energy is a viable alternative to fossil fuels, Germany now derives 20.8 percent of its electricity from renewable sources—a 15 percent increase since 2000, reports Der Spiegel. In contrast, the United States generates only 10 percent of its electricity from renewable sources, 6 percent of which comes from hydroelectric power, which some environmentalists see as unacceptably damaging.


Bats worth billions

(04/03/2011) US agriculture stands to lose billions in free ecosystem services from the often-feared and rarely respected humble bat. According to a recent study in Science bats in North America provide the US agricultural industry at least $3.7 billion and up to a staggering $53 billion a year by eating mounds of potentially pesky insects. Yet these bats, and their economic services, are under threat by a perplexing disease known as white-nose syndrome (WNS) and to a lesser extent wind turbines.


Clean energy investments rise 630% in 7 years

(03/29/2011) According to a report by the US Pew Environment Group global clean energy investments, which do not include nuclear power, jumped 630% since 2004. The report detailing 2010 clean energy investments found that China remains the global leader in clean energy, while the US fell from 2nd to 3rd. This is the second year in a row that the US fell: in 2009 it lost first place to China. In all $243 billion were invested in clean energy in 2010.


Is Obama's clean energy revolution possible?

(01/26/2011) Last night US President Barack Obama called for a massive green energy make-over of the world's largest economy. Describing the challenge as 'this generation's Sputnik moment' the US president set a goal of producing 80 percent of America's energy by clean sources by 2035. While this may sound improbable, two recent analyses back the president up, arguing that a global clean energy revolution is entirely possible within a few decades using contemporary technology and without breaking the bank. "Based on our findings, there are no technological or economic barriers to converting the entire world to clean, renewable energy sources," Mark Z. Jacobson, a professor of civil and environmental engineering at Stanford said in a press release. "It is a question of whether we have the societal and political will."


New Google wind project moves clean energy forward in US

(10/12/2010) While the US has fallen far behind China and Europe in clean energy power, an announcement by Google today brings hope to green energy backers. Google is putting its considerable name and a lot of cash behind a $5 billion energy transmission line that would link up proposed wind turbines off the US's East Coast to consumers.


Do wind farms drive local warming?

(10/11/2010) Using decades-old data researchers have proven a long-suspected effect of wind turbines: under certain conditions large-scale wind farms can change local weather. Temperatures recorded from a wind farm in San Gorgonio, California in 1989 shows that turbines cooled local temperatures during the day, but warmed them at night. However, researchers in the paper published in the Proceedings of the National Academy of Science say that the impact of wind farms on local temperatures will not be the same everywhere.


Left Must Fine Tune Its Position on Cuba Embargo in Light of Oil Spill

(05/26/2010) With no end in sight to the environmental catastrophe in the Gulf of Mexico, some may wonder whether BP's spill could become truly international in scope. That, at least, is the fear in Cuba where people are worried that strong currents could carry the slick to pristine white beaches along the island's northern coast. In a rare moment of cooperation underscoring the grave seriousness posed by the BP spill, the U.S. and Cuban governments have been holding talks on the matter.


Who's to blame for the oil spill?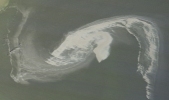 (05/04/2010) America, we deserve the oil spill now threatening the beautiful coast of Louisiana. This disaster is not natural, like the earthquake that devastated Haiti or tsunami that swept Southeast Asia in 2006; this disaster is man-made, American-made in fact, pure and simple. So, while in the upcoming weeks and months—if things go poorly—we may decry the oil-drenched wildlife, the economic loss for the region, the spoiled beeches, the wrecked ecosystems, the massive disaster that could take decades if not longer to recover from, we, as Americans, cannot think smugly that we are somehow innocent of what has happened. You play with fire: you will get burned. You drill for oil 1,500 meters below the surface of the ocean, you open up oil holes across the surface of your supposedly-beloved landscape, sooner or later there will be a spill, and sometimes that spill will be catastrophic.


U.S. approves first offshore wind farm

(04/28/2010) The Obama Administration has approved the nation's first offshore wind farm after more than eight years of legal challenges, reports the Associated Press.


Could special bonds fund the green revolution and stabilize the climate?


(02/02/2010) There is no question that governments around the world are moving slowly and sluggishly to combat climate change, especially when placed against the measures recommended by climate scientists. Only a handful of nations have actually cut overall greenhouse gas emissions, and the past couple decades have seen emissions rise rapidly worldwide as nations like India and China industrialize while Brazil and Indonesia continue massive deforestation. Global temperatures are rising in concert (though with natural fluctuations): the past decade is the warmest on record. After the failure of Copenhagen this past December to produce an ambitious and binding treaty, many are wondering if the world will ever address the threat of climate change or if future generations are set to live in a world far different—and more volatile—than the one we currently enjoy.


China leaves US (and Europe) in the dust on renewable energy

(02/01/2010) This year China has become the world's largest manufacturer of solar panels and wind turbines, doubling its wind capacity since 2005. The economically booming nation—and the world's most populous—has also invested heavily in nuclear power and the world's most efficient coal plants, according to the New York Times.


US subsidies of oil and coal more than double the subsidies of renewable energy

(09/21/2009) During the fiscal years of 2002-2008 the United States handed out subsidies to fossil fuel industries to a tune of 72 billion dollars, while renewable energy subsidies, during the same period, reached 29 billion dollars.


Wind could power the entire world

(06/22/2009) Wind power may be the key to a clean energy revolution: a new study in the Proceedings of the National Academy of Science finds that wind power could provide for the entire world's current and future energy needs.


High-flying kites could power New York

(06/15/2009) A fleet of kites could harvest enough energy from high-altitude winds to power New York, report researchers from the Carnegie Institution and California State University.


Wind energy jobs now exceed coal mining jobs

(02/01/2009) Wind industry jobs now outnumber those in coal mining, reports CNNMoney.


Will 'peak oil' spur expanded coal use? And what does it mean for climate?

(12/19/2008) The world must phase out emissions from coal by 2030 to avert dangerous climate change, said scientists speaking at the annual meeting of the American Geophysical Union in San Francisco.


Obama may bring leadership, rather than obstruction, to climate change talks

(11/06/2008) The election of Barack Obama as president of the United States may bring a new era of U.S. leadership on climate.


U.S. Congress passes legislation to boost solar, wind, and geothermal energy

(09/24/2008) Tuesday the U.S. Senate passed a bill that will extend tax credits on solar power installations through 2016. The House approved the measure Wednesday.


How do wind turbines kill bats?

(08/25/2008) Numerous studies have shown that migratory bats are undergoing large fatalities due to wind turbines. Far more bats die due to wind turbines than birds, though they generally receive less attention. Now, researchers writing in Current Biology believe they know why bats are more susceptible to wind turbine fatalities.


Gore launches second campaign... for Earth

(07/17/2008) In a speech Thursday, Al Gore challenged the U.S. to generate 100 percent of its electricity from zero carbon emission sources within 10 years. Speaking at Washington's Constitution Hall, Gore said America's security, environmental and economic crises are all related, and that measures to rein in greenhouse gas emissions will make the U.S. stronger, safer, and cleaner. "The survival of the United States of America as we know it is at risk," Gore said. "I don't remember a time in our country when so many things seemed to be going so wrong simultaneously."


Oceans hold vast potential for wind power

(07/09/2008) The North Pacific, Tasmania, New Zealand, Tierra del Fuego in South America, and the mid-latitudes of the Atlantic and Pacific oceans are potential locations for wind power generation, according to new satellite data from NASA.


Whale biomimicry inspires better wind turbines

(07/07/2008) By studying and mimicking the characteristics of the flippers, fins and tails of whales and dolphins, engineers have devised more a efficient way to generate wind power, reports a researcher presenting at the Society for Experimental Biology's Annual Meeting in Marseille, France.


Clean energy gold rush in 2007

(07/01/2008) New investment in renewables and energy efficiency surpassed $148 billion in 2007, rising 60 percent rise from 2006, according to an analysis issued Tuesday July 1 by the UN Environment Programme (UNEP). High oil prices drove the trend.


94% of Americans support solar energy development

(06/11/2008) 94 percent of Americans say it's important for the U.S. to develop and use solar energy, according to a new poll that found support for solar power runs across the political spectrum.


$45 trillion needed to meet energy demand, fight global warming by 2050

(06/08/2008) Investors will need to spend $45 trillion by 2050 to keep pace with growing energy demand while addressing concerns over global warming, warned the International Energy Agency in a report issued Friday.


China aims for 100 gigawatts of wind power by 2020

(04/29/2008) China aims to expand its wind power generating capacity to 100,000 megawatts by 2020, more than doubling the current world's installed capacity, according to the Shanghai Daily and The Wall Street Journal's Environmental Capital blog.


Google aims to make renewable energy sources cheaper than coal

(11/28/2007) Tuesday Google announced an initiative to develop electricity from renewable energy sources that will be cheaper than electricity produced from coal.


Wind could supply baseline electrical power

(11/22/2007) Wind power, long considered to be as fickle as wind itself, can be groomed to become a steady, dependable source of electricity and delivered at a lower cost than at present, according to scientists at Stanford University.


Wind power takes a toll on migratory bats

(09/12/2007) The danger of wind turbines to birds has long been known and well documented. Most recently several studies and articles have attempted to place the level of bird casualties in perspective: "More birds killed by cats than wind turbines". But lesser known--and lesser studied--is the effect wind turbines have on bat populations. Collisions between groups of bats and wind turbines have been observed at numerous turbines in America, Australia, and Europe. While these fatalities, sometimes killing hundreds of bats, have been seen for years, their cause remains unknown.


Cuba Energy Crisis Solved

(07/05/2007) Cuba may be overcoming its intermittent energy crisis, according to a top U.N. official. Power shortages and brownouts have long been a problem in the small communist island nation, but it was daily 16 hour-electricity cuts in 2004 that finally forced the government to act. Its efforts are apparently paying off.


$100 billion invested in renewable energy in 2006

(06/20/2007) $100 billion poured into renewable energy and energy efficiency in 2006, a 25 percent jump from 2005, reports a new analysis by the UN Environment Programme (UNEP).


Nobel prize winner debates future of nuclear power

(06/07/2007) Two renowned energy experts sparred in a debate over nuclear energy Wednesday afternoon at Stanford University. Amory Lovins, Chairman and Chief Scientist of the Rocky Mountain Institute, an energy think tank, argued that energy efficiency and alternative energy sources will send nuclear power the way of the dinosaurs in the near future. Dr. Burton Richter, winner of the 1976 Nobel Prize in physics, said that nuclear would play an important part of the future energy portfolio needed to cut carbon emissions to fight global warming.


First U.S. offshore wind farm wins preliminary approval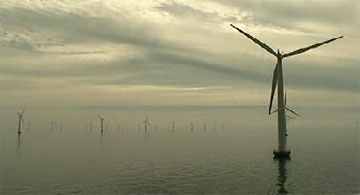 (05/23/2007) The first offshore wind farm in the United States won preliminary approval Tuesday from a panel of Delaware state officials. According to published reports, four Delaware state agencies ordered Delmarva Power, an electric utility, to buy wind-generated power from Bluewater Wind, the wind farm's developer.


More birds killed by cats than wind turbines

(05/09/2007) Last week's report by the U.S. National Academy of Sciences (NAS) on the environmental impact of wind farms warned that turbines may kill up to 40,000 birds per year, a toll that makes some question the clean energy source is worth the trouble.


Wind energy has promise, but brings concerns, reports study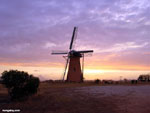 (05/03/2007) While wind-generated energy has the potential to produce clean electricity without carbon dioxide emissions, more research is needed to understand its impact on wildlife says a new report from the National Research Council, a private, nonprofit institution that provides science and technology advice under a congressional charter.


Wind energy speculation jumps in Texas, but Exxon on sidelines



(03/12/2007) While speculative energy ventures are nothing new in Texas, today companies are taking risky gambles in wind power argues an article that appears in today's issue of The Wall Street Journal (WSJ). The WSJ reports that energy firms are investing hundreds of millions of dollars in some of the most remote -- and windy -- parts of Texas, but notes that the investments will only pay off with government subsidies.


Air pollution may reduce wind power, rainfall

(01/22/2007) Aerosolized particles and other pollution produced from vehicle exhaust may reduce wind speeds near Earth's surface, resulting in less wind for power generation as well as reduced precipitation, according to a study published in the December 27th online edition of Geophysical Research Letters by researchers at Stanford University and NASA.


Wind turbines could power China says expert

(03/09/2006) Wind could become China's second-largest source of electricity according to a Chinese energy expert. Wang Weicheng, an energy professor at Tsinghua University in Beijing, told reporters that China has the potential to install up to 100 gigawatts of wind power. Wang's comments come as China has been aggressively expanding its interests in renewable energy sources including wind, solar, biofuels, tidal, and small hydroelectric dams.


Making wind power less deadly for birds

(12/15/2005) High oil prices and concern over climate change are driving interest in renewable energy technologies. All types of potential power sources -- not limited to the sun, ocean tides and waves, raw sewage, and even insects -- are the focus of media reports, while governments and industry scramble to announce their grand plans for adopting green energy.


Britain has best wind power potential in Europe

(11/14/2005) A survey of wind power in Britain says the island nation has the best wind in Europe because it blowsyear round and peaks when there is greatest demand for electricity. Further, the study found that there has never been a time over the past 35 years when the entire country has experienced a period of no wind.


China to add wind power capacity

(08/15/2005) China plans to construct its first offshore wind power complex next year in hopes of easing chronic electricity shortages, the official Xinhua News Agency reported Monday.


How might I buy invest in green energy projects?

(07/20/2005) On June 17, Associate Press reported that Zilhka Renewable Energy hopes to complete a $100 million wind farm in eastern Oregon by December 2006. The article said the company owned wind farms in eleven states. For many investors, green or otherwise, this would seem like a great company in which to own stock. Whether or not the numbers would bear that out, a savvy investor would first want to know, "How might I buy a piece of Zilhka or invest in their projects?"