News articles on wildlife

---
Mongabay.com news articles on wildlife in blog format. Updated regularly.






Man selling eagles on Facebook arrested in Indonesia

(07/07/2015) Police in Indonesia's second city of Surabaya, a hotbed of wildlife trafficking, seized 16 eagles of various types from a trafficker who was using Facebook to connect with potential customers. A tip alerted the authorities to the trafficker. They used the Internet to confirm his activities before moving to arrest him at his house in Surabaya's Bubutan area.
Tanzanian study says education, better signing could reduce animal vehicle collisions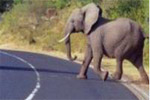 (07/06/2015) Animal vehicle collisions (AVCs) take an incredible toll on wildlife worldwide. In the United States, for example, as many as 1.5 million deer, moose, and other ungulates are annually involved in vehicle crashes, with all yearly U.S. wildlife collisions costing $1 billion and causing 29,000 human injuries. Still, drivers and the media tend to downplay these costs to world wildlife and automotive safety.
'Land sparing' vs. 'land sharing': scientists weigh in on how to improve biodiversity on farms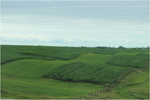 (07/06/2015) To protect natural ecosystems, some conservationists advocate 'land sparing,' in which farmers intensify agricultural practices to boost yields, theoretically enabling them to forgo expansion into natural areas. Others advocate 'land sharing,' in which farmers take over more land but use more environmentally friendly practices. Researchers studied the relative effects of the two approaches on biodiversity.
Happy July 4th weekend: new red, white, and blue species discovered

(07/02/2015) An independent researcher has described a spectacular red, white, and blue crayfish just in time for the fourth of July. The new species, named Cherax pulcher, was first discovered in Japanese pet shops by Christian Lukhaup before he finally tracked down the animal to creeks in remote West Papua, Indonesia.
Using DNA evidence to pinpoint poaching zones
(06/30/2015) A study published last week in Science showed that most of the ivory being trafficked today comes from two areas in Africa: savanna elephant ivory from southeast Tanzania in East Africa and forest elephant ivory from the meeting point of Gabon, the Republic of Congo, Cameroon, and Central African Republic.
Taking technology out in the cold: working to conserve snow leopards
(06/30/2015) Conservation work is important not just in tropical rainforests, but also in snow-covered peaks and steep slopes, the home of snow leopards and a number of unusual ungulates, including blue sheep and Asiatic ibex. When these and other native prey are scarce, snow leopards may resort to eating more livestock, which turns herders against them.
U.S. to remove extinct cougar from Endangered Species Act

(06/30/2015) The U.S. government has declared the Eastern cougar extinct more than 80 years after its a believed a hunter in Maine wiped out the last individual. Scientists still dispute whether the Eastern cougar was a distinct subspecies, but either way officials believe the original population that roamed much of the Eastern U.S. and Canada is gone—and has been for decades.
Chinese turtle heist sends rare Philippine species to brink of extinction, international rescue underway
(06/29/2015) On Friday, June 19, Philippine authorities raided a warehouse on the island of Palawan and confiscated more than 4,000 live, illegally harvested rare turtles, only days before they were to be shipped to foreign food and pet markets. The massive haul included over 3,800 critically endangered Philippine forest turtles – animals in very poor health and showing signs of severe neglect from long captivity.
Video: camera traps highlight wildlife diversity of 'forgotten' park

(06/25/2015) Things appeared to be on the upswing in Cambodia's vast Virachey National Park in the early 2000s. Conservation groups were surveying the area and the World Bank had committed $5 million in funds. But then the Cambodia government handed out a mining exploration permit covering 90 percent of the park.
On the fence about wildlife fencing: new paper outlines research needed to resolve debate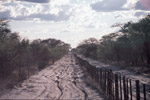 (06/23/2015) Fencing is used to protect wildlife against poaching and human encroachment, and also to protect people and livestock from wildlife. As a conservation strategy, it has proponents as well as detractors. A recent paper by a team of 45 international researchers in the Journal of Applied Ecology questions the wisdom of erecting wildlife fencing in dryland ecosystems. It also seeks to ease decision-making on fencing initiatives by setting a research agenda to answer open questions that will help resolve the debate.
Cat update: lion and African golden cat down, Iberian lynx up

(06/23/2015) A new update of the International Union for Conservation of Nature (IUCN) has categorized the West African population of lions—which is considered genetically distinct and separate from East and Central African lions—as Critically Endangered. Based largely on a paper in 2014, the researchers estimate that there are only 121-375 mature lions in West Africa today.
Happy World Giraffe Day (Photos)

(06/21/2015) Families across the United States are today celebrating Father's Day. But this Sunday is extra special because it is also World Giraffe Day.
Can we save the Sumatran rhino? Indonesia holds out hope
(06/19/2015) 'One percent of the world's population,' veterinarian Zulfi Arsan says as he nods towards Bina, a 714-kilogram, 30-year-old female Sumatran rhinoceros leisurely crunching branches whole. A gentle and easygoing rhino, pink-hued Bina doesn't seem to mind the two-legged hominids snapping pictures and awing at her every move at the Sumatran Rhino Sanctuary.
Real-time monitoring: How timely location data can keep wildlife out of danger zones
(06/18/2015) Do you know where your study animals are? How fast have they travelled over the past day or week? How far are they from a river, or from a highway? Previously, wildlife biologists had to estimate the locations of their study subjects, using either triangulation from two or more receiver locations or identifiable landscape features on aerial photos or hand-drawn maps. With the advent of GPS technology, they can pinpoint the location of their subject to within a few meters, at any given time.
New campaign says 'tickling is torture' for slow lorises
(06/17/2015) Have you seen a video where a slow loris—a small, cute, big-eyed primate from Asian rainforests—gets tickled? Here's the real story of how that slow loris got there. It was stolen from the wild by poachers, who probably took it from its mother—after killing her. Then its teeth were torn out with pliers and without anesthetic, a procedure many stolen slow lorises don't survive.
What do China, Kenya and India have in common? Wildlife trafficking

(06/16/2015) When it comes to trafficking rhino, elephant, and tiger parts the biggest players are China, Kenya, India, Vietnam, South Africa and Thailand, according to a new paper in PNAS. Examining news media reports aggregated by HealthMap: Wildlife Trade, researchers were able to pinpoint the most important countries for exporting, moving and importing illegal wildlife parts worldwide.
Asiatic lion population rises by 27% in five years

(06/15/2015) A new survey last month put the number of wild Asiatic lions (Panthera leo persica) at 523 individuals, a rise of 27% from the previous survey in 2010. Once roaming across much of Central and Western Asia, Asiatic lions today are found in only one place: Gir Forest National Park and surrounding environs in western India.
The ivory trade and the war on wildlife (rangers) [commentary]
(06/13/2015) In this commentary, Fred Bercovitch, wildlife conservation biologist at Kyoto University, confronts the conservation community with an unconventional approach to stopping the ivory trade and illegal elephant killing. The views expressed are his own.
Conservationists appeal to donors after mystery kills 134,252 saiga
(06/10/2015) The good news: conservationists believe that whatever killed off over a hundred thousand saiga in Kazakhstan in less than a month has abetted. The bad news: the final death tally is 134,252 saiga or around half the population of an animal already considered Critically Endangered. Given the dire situation, conservationists are now asking for emergency donations.
Passenger pigeon redo? Superabundant bird collapses across Eurasia
(06/08/2015) In 1914 the world's last passenger pigeon died. Nicknamed, Martha, she was not killed by hunters, but simply old age. With her passing, the passenger pigeon fell into extinction. A hundred years before Martha's death, however, the passenger pigeon may have been the most populous bird in the world with a population often estimated in the billions. Now, conservationists warn history may be repeating itself.
In Aceh, an illegal logger reformed
(06/05/2015) Mukhtar used to be an illegal logger. Now he coordinates community forest rangers in Indonesia's Aceh province. His job involves preventing dangerous human-elephant encounters and helping communities protect themselves from environmental offenders - like Mukhtar once was.
Tigers expanding? Conservationists discover big cats in Thai park
(06/04/2015) For the first time conservationists have confirmed Indochinese tigers in Thailand's Chaloem Ratanakosin National Park. In January, camera traps used by the Zoological Society of London (ZSL) and Thailand's Department of National Parks took a photo of a tigress, confirming what had only been rumors. A couple months later the camera traps photographed a male tiger in the same park.
Student becomes first researcher to hold an Annamite striped rabbit
(06/03/2015) Almost nothing is known about the Annamite striped rabbit. First described in 1999, this beautifully-colored rabbit is found in Annamite Mountains of Vietnam and Laos, but—rarely seen and little-studied—it's life history is a complete mystery. But Sarah Woodfin, a student at the University of East Anglia, got lucky when undertaking a three month research trip on the species. Really lucky.
The poachers' bill: at least 65,000 elephants in Tanzania
(06/02/2015) During the last couple years there have been persistent rumors and trickles of information that elephant poaching was running rampant in Tanzania as the government stood by and did little. Yesterday, the government finally confirmed the rumors: Tanzania's savanna elephant population has dropped from 109,051 animals in 2009 to just 43,330 last year—a plunge of 60% in just five years.
Zambia lifts hunting ban on big cats

(06/01/2015) Nine months after Zambia lifted its general trophy hunting ban—including on elephants—the country has now lifted its ban on hunting African lions and leopards. The Zambia Wildlife Authority (ZAWA) lifted the ban after surveying its big cat populations and setting new regulations.
Elephants rejoice: China to end ivory trade
(05/29/2015) The Chinese government announced today that it will 'eventually' shut down its legal domestic ivory market. The move, which surprised conservationists, could provide a major boost in efforts to stop the mass killing of elephants for their ivory.
120,000 dead: half of the world's saiga die in less than a month

(05/28/2015) No one knows what's killing them, but scientists estimate that almost half of the world's saiga (Saiga tatarica) have perished since May 10th. To date, researchers on-the-ground unofficially estimate that 120,000 saiga have died in Kazakhstan from what appears to be a wildly virulent disease, although no cause has been ruled out.
Drone Herders: Tanzanian rangers and researchers use UAVs to protect elephants and crops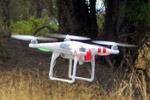 (05/27/2015) HEC, otherwise known as human elephant conflict, is a centuries-old problem responsible for the deaths of untold numbers of elephants. This ongoing battle between African farmers trying to grow crops and hungry elephants foraging for a meal, has motivated conservationists to find solutions for protecting the largest and one of the most intelligent land animals on the planet. Scientists' most recent effort -- Unmanned Aerial Vehicles (UAVs), frisbee-sized remote controlled quad-helicopters -- may provide the answer that researchers have been looking for.
Up to 11 stunningly colorful chameleon species discovered in Madagascar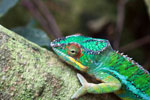 (05/26/2015) The panther chameleon, a lizard prized in the pet trade for its remarkable color changing abilities, may actually represent 11 different species, report researchers writing in the journal Molecular Ecology. Analyzing the genetics of more than 300 individual panther chameleons, Swiss and Malagasy researchers make a case that different color morphs of Furcifer pardalis may be distinct species.
Cash prizes offered for solutions to wildlife poaching crisis
(05/26/2015) A coalition has launched an initiative, the Wildlife Crime Tech Challenge to spark and drive investment in innovative science and technology solutions to help reduce the damage caused by wildlife trafficking. The initiative is backed by the US Agency for International Development (USAID), the National Geographic Society, the Smithsonian Institution, and TRAFFIC.
Mozambique loses almost 10,000 elephants in just five years
(05/26/2015) Mozambique has lost nearly half of its elephants to relentless, brutal, and highly-organized poaching in just five years, according to a new government survey. In 2010, the country was home to an estimated 20,000 pachyderms, today it houses just 10,300.
Nepal's rhino population rises by 72% in ten years

(05/26/2015) A new survey in Nepal counted 645 one-horned rhinos, up from 375 animals ten years ago and 534 animals in 2011. This represent a rise of 72 percent over the last ten years, an impressive feat given that the world's rhinos are facing a savage poaching crisis.
Consumer choice: Shade-grown coffee and cocoa good for the birds, farmers, ecosystems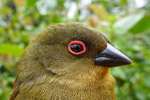 (05/22/2015) The next time you order that "wake up" cup of Joe or reach for a sweet treat, you may want to consider whether those coffee or cocoa beans were grown in the shade or open sun. Choosing the shade grown variety can offer huge benefits to tropical birds, their ecosystems and farmers says a new study by Cagan Şekercioğlu published in the Journal of Ornithology.
Sumatran tiger found dead in a pig trap
(05/20/2015) Authorities in the Indonesian province of West Sumatra buried the rotting carcass of a critically endangered female tiger that died after being ensnared by a pig trap on a rubber plantation earlier this month. The creature, a mother who was probably teaching her young to hunt, was found covered in wounds, its neck entangled in wire.
Luxury hotel chain linked to destruction of rainforests
(05/19/2015) The Mandarin Oriental hotel chain has landed in environmentalists' crosshairs for the practices of its sister company Astra Agro Lestari, a rapidly expanding palm oil producer with fully developed plantations on an area larger than Singapore. The new She's Not a Fan campaign – a play off Mandarin's celebrity-fan endorsement drive – launched yesterday with a petition calling on Astra to stop destroying forests and elephant habitat. Multinational conglomerate Jardine Matheson owns both firms.
Price trends a reliable, cheap indicator of wildlife declines, finds study
(05/15/2015) Market prices can provide an equally reliable indicator of wildlife declines as field data for a thirtieth of the price, according to a new study analyzing Sumatra's pet bird trade. The researchers found that species that were increasing in price but decreasing in trade volume were likely to have been identified by the ornithologists they surveyed beforehand as undergoing population declines.
South African Airways bans all wildlife trophies from flights
(05/14/2015) Trophy hunters may need to find another flight home, as South African Airlines (SAA) has announced a new ban on any wildlife trophies from their flights. The debate over trophy hunting in Africa is rising as many of the continent's most beloved mammals—including lions, elephants, rhinos, and giraffes—face precipitous declines.
Rhino poaching rate rises 18 percent in South Africa

(05/13/2015) In the first four months of 2015, poachers killed 393 rhinos in South Africa, the epicenter of the rhino poaching crisis. This is an 18 percent rise from last year, which saw 1,215 rhinos butchered in total. Like previous years, the biggest hotspot was Kruger National Park where 290 rhinos have died so far.
Scientists reconstruct what was in the Harapan Rainforest of Sumatra
(05/12/2015) A new study published in mongabay.com's open-access journal Tropical Conservation Science describes how the Harapan Rainforest was prior to extensive logging and compares it to its current condition. The authors call for the Harapan's conservation because it is still very rich in species and holds rare habitats and many endemic plants.
New study finds the brilliant-thighed poison frog can learn its way home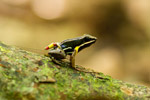 (05/12/2015) Poison dart frogs (Dendropatidae), named for their poisonous secretions used by indigenous tribes to coat blow gun darts, may possess another less deadly talent. According to a recent study, published in the journal Biology Letters, the curiously named brilliant-thighed poison frog (Allobatis femoralis) can use its memory to find its way home through the rainforest.
Videos reveal rare birds, wild monkeys, and jaguar family in oil-exploited park
(05/11/2015) A compilation of new camera trap videos from Yasuni National Park shows off rarely seen species like the rufuos-vented ground cuckoo and the short-eared dog as well as odd behavior, like sloths licking salt from the ground. The compilation is produced by Diego Mosquera, manager and head of the camera trap program at Tiputini Biodiversity Station.
Peru considers fate of Amazon wildlife paradise
(05/08/2015) The fate of La Sierra del Divisor, a 1.5 million hectare reserve lauded for its megadiversity of wildlife, will soon to be decided. According to El Comercio, next week the Peruvian government is expected to rule whether Divisor will be declared a national park. The designation, which was requested by local groups nearly a decade ago, would strengthen legal protection of the area, which faces logging, mining, coca cultivation, and agricultural encroachment. It would also establish rules for the buffer zone around the potential protected area.
Energy Sprawl: Comparing biodiversity impacts of oil, gas and wind production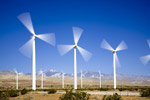 (05/08/2015) Energy has become a contentious and politicized topic, spurring activism, whether it be the fossil fuel divestment campaign, Keystone pipeline protests, or concern over wind turbine harm to birds. But whatever energy future we choose, two things are clear: an expanding human population will need more energy, and no matter what energy source we pick, it will have landscape-scale impacts on biodiversity and ecosystem services.
Ranger killed by poachers in park known for grisly elephant slaughters
(05/07/2015) On April 25th, poachers shot and killed wildlife ranger, Agoyo Mbikoyo, in Garamba National Park in the Democratic Republic of the Congo (DRC), according to the organization African Parks. On the frontline of the illegal wildlife trade, Garamba Naitonal Park is known as a hotspot for elephant poaching.
Scientists identify frog through DNA without leaving forest
(05/05/2015) Yesterday, a team of Italian scientists caught a frog in a montane forest in Tanzania. And then they made history: using a small blood sample the team were able to extract, purify, and amplify the amphibian's DNA—all in the forest—through a new, battery-powered device called the Expedition Genomics Lab.
Orangutan rescued amid sea of palm oil
(05/04/2015) The rescue, which took place in early April, was conducted by the Orangutan Information Centre (OIC) in response to a report of an adult male orangutan isolated in an fragment forest surrounded by oil palm plantations. The orangutan was found to be in poor health, according to Krisna, OIC's Human Orangutan Conflict Response Unit field coordinator.
Photos: new zoo exhibit dramatically displays real threat to Asian turtle

(05/04/2015) Usually animal pens in zoos are designed to resemble a species' native habitat: lions in sprawling savanna, pandas in bamboo forests, and crocodiles in mangroves. But a new pen at the Zoological Society of London (ZSL)'s London Zoo is meant to dramatically highlight not a species' habitat, but it's biggest threat.
94 trafficked pangolins released into Sumatran wilds after massive bust
(05/04/2015) Following a major seizure of illegal wildlife goods in North Sumatra, the Indonesian authorities released 94 critically endangered pangolins into the wild last week, including a newborn whose mother died shortly after the authorities caught up with the traffickers. Five tons of pangolin meat were burned in the wake of the bust.
Ongoing overkill: loss of big herbivores leading to 'empty landscapes'
(05/01/2015) Ten thousand years from now, human historians—or alien ones—may view the current wave of biodiversity loss and extinctions as concurrent with the Pleistocene extinction. At that time, peaking around 11,000 years ago, many scientists argue that human hunters killed off the majority of the world's big species. According to a paper today in history may be repeating itself.
Tapping into evolutionary responses to guard crops against elephants
(04/30/2015) The search for effective measures to reduce human-elephant conflict is a top priority for wildlife managers and a significant challenge. Ongoing conflict incidents exacerbate anti-wildlife sentiments among rural populations, as conflict events can lead to the deaths of both people and elephants. The continued expansion of development and agriculture into traditional wildlife grazing lands pushes elephants into more frequent contact with people and crop fields.
Featured video: the Uncharted Amazon trailer
(04/29/2015) The up-coming documentary, Uncharted Amazon, promises to highlight both the little-seen wildlife and the people of the Las Piedras River system in the Peruvian Amazon, one of the most remote wildernesses on the planet.
Five tons of frozen pangolin: Indonesian authorities make massive bust
(04/28/2015) Five tons of frozen pangolin, 77 kilograms (169 pounds) of pangolin scales, and 96 live pangolins: that's the grisly haul of the latest pangolin bust in Indonesia. Officials confiscated the illegal wildlife goods in Medan, Sumatra and busted the smuggler, who has only been identified as SHB. This is the largest pangolin bust in Indonesia since 2008.
Illegal ivory trade alive and well on Craigslist

(04/28/2015) As it has become more difficult to buy illegal ivory from slaughtered elephants on places like eBay, Etsy, and Amazon.com, traders and buyers in the U.S. have turned to another venue: Craigslist. A new report by the International Fund for Animal Welfare (IFAW) and the Wildlife Conservation Society (WCS) finds that the ivory trade is thriving on Craigslist.
Camera traps catch rare Amazon bird following peccaries

(04/21/2015) Although a large, attractive bird found across Latin America, scientists know almost nothing about the rufous-vented ground cuckoo (Neomorphus geoffroyi). Renzo Piana, the director of science and research with the Amazon Conservation Association, described the bird as "rare," "cryptic," "mainly solitary," and "mostly silent"—much of which explains why so little is known about it.
Commercial bushmeat hunters put previously undetected pressure on Central Africa's large birds
(04/20/2015) While conducting a bird survey in the Ebo Forest Reserve of Cameroon, Scottish ornithologist Robin Whytock noted two uncommon forest raptors in a camp regularly used by commercial bushmeat hunters. The birds, a crowned eagle (Stephanoaetus coronatus) and a Cassin's hawk-eagle (Aquila Africana) were notable sightings not only because they are infrequently spotted. Both raptors were dead, and their stripped carcasses lay discarded on the ground.
Zimbabwe selling baby elephant calves to China, says environmental group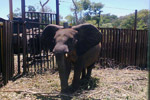 (04/17/2015) A hundred thousand African elephants were killed by poachers for their ivory between 2010 and 2012. Now a new threat looms: a growing wildlife trade in baby animals to satisfy international tourism. Zimbabwe has reportedly taken 80 elephant calves from their mothers and families in the wild, and is currently holding them in two heavily guarded facilities in Hwange National Park and near Victoria Falls. The baby animals await transport overseas for sale to unidentified buyers, possibly in China or other countries, says the international elephant rights organization, Global Action Ending Wild Capture (GAEWC).
Expert panel rebukes Japan's new whaling proposal
(04/15/2015) Last year, the International Court of Justice (ICJ) ruled that Japan must halt its whaling activities in the Southern Ocean as it found no evidence that the killing of hundreds of Antarctic minke whales was scientifically justified. The ruling sent Japan scrambling for a new plan to continue its 'scientific' whale hunt. But, now an expert panel has rebuked Japan's latest plan as well.
Expedition in the Congo rediscovers lost primate
(04/14/2015) The last time there was a sighting of Bouvier's red colobus disco was all the rage, the Internet was non-existent, and Madonna still referred solely to the mother of God. But then the African monkey vanished and conservationists feared it had gone extinct—a victim of the bushmeat trade. For years, research groups called for an expedition to find out if Bouvier's red colobus still survived.
Australia becomes first country to ban lion trophies

(04/09/2015) Last month, Australia became the world's first country to ban the import or export of lion trophies, often taken from so-called canned hunting where lions are raised solely to be shot by foreign hunters.
New group hopes to raise global profile of the peace-loving bonobo
(04/08/2015) Of the world's six species of great ape (not including us), it's safe to say that bonobos (Pan paniscus) are the least studied and least known publicly. But a new organization, the Bonobo Project, is hoping to change that. To the untrained eye, a bonobo looks little different from their closest relative, the chimpanzee. But the differences between these two cousins are actually quite large.
Kenya crackdown on terrorism threatens NGOs, wildlife, media
(04/03/2015) The terrorist attack that killed at least 147 people at Garissa University on April 2nd was another tragic milestone in Kenya's ongoing battle with the al-Shabab terrorist group based in Somalia. In response to several other brutal attacks on civilians, Kenya's government recently passed and proposed harsh new laws that are alarming environmental activists, non-governmental organizations (NGOs), the media, opposition politicians and the public.
Tropical soundscapes offer clues to forest and animal community health
(04/01/2015) Marine biologists were the first to continuously eavesdrop on marine mammals using a technique called passive acoustic monitoring (PAM). By simply listening to these animals' sounds, researchers could collect valuable information about animal population density and distribution, population health, and responses to human disturbance. Given the challenges of studying animal communities as they migrate across the sweep of the world's oceans, acoustic surveys gained popularity as a tool for gathering data from otherwise inaccessible study sites.
Large animals invaluable for tree-seed dispersal and regeneration of tropical forests
(03/30/2015) Nearly two-thirds of tropical forests in Southeast Asia have been degraded by logging, agriculture and other human uses, and their fauna have been decimated by hunting and the bushmeat trade. But if those degraded tropical forests are to recover naturally, they will need to rely on their remaining large wild animals to disperse large tree seeds, according to a new study.
New species of monitor lizards found on the black market
(03/27/2015) Searching the globe for undiscovered species takes biologists to far and remote locations, trekking through exotic locales that may yield a new discovery. However, exploring the black market can also produce results. And this is just the case for Rafe Brown, curator of the University Of Kansas (KU) Biodiversity Institute, during a recent visit to the Philippines. In a black market in Manila, Brown and his colleagues discovered two new species of water monitor lizard for sale.
Destruction of elephant, tiger, and orangutan habitat doubles
(03/25/2015) The rate of forest loss in Indonesia's Leuser Ecosystem — the only place on Earth where rhinos, orangutans, tigers, and elephants live in the same habitat — has more than doubled due to logging, encroachment, and conversion to industrial plantations, warn conservationists. In a statement issued Tuesday, the Sumatran Orangutan Society reported that 80,316 hectares of forest were lost between 2008 and 2013, a sharp increase from the 30,830 hectares cleared between 2002 and 2008.
Elephant poaching rate unchanged – and still devastating
(03/25/2015) New figures show essentially no change in the number of elephants killed in Africa by poachers last year, despite a high-profile meeting on the crisis which was attended by 46 countries and a number of commitments. Data from CITES' Monitoring the Illegal Killing of Elephants (MIKE) estimated that around 20,000 elephants were killed in 2014, the same as in 2013.
Illegal cocoa plantations threaten Côte d'Ivoire's parks and primates
(03/25/2015) Côte d'Ivoire, the world's largest producer of cocoa, also boasts an ecosystem of great biological richness and species diversity, with over 2,250 endemic plants and 270 vertebrate species. Unfortunately, it also has the highest deforestation rate in all of sub-Saharan Africa, largely due to its rise as a significant player in the global agricultural economy after years of civil unrest.
Halloween in the Amazon: baby bird dresses up like killer caterpillar
(03/23/2015) 'Mama, I wanna be a toxic caterpillar,' says the little bird. 'Okay,' mamma answers, 'but first you gotta study your Batesian mimicry.' Meet the cinereous mourner, an ash-colored, Amazonian bird that looks rather hum-drum compared to many other birds found in the region. Yet, scientists have discovered something special about the birds: its newborn babies look and move like a neon orange, toxic caterpillar.
The great Arctic decline: another sea ice record broken

(03/23/2015) Every winter, sea ice in the Arctic expands, providing vital habitat for birthing seals, hunting polar bears, and foraging walruses. But as the Arctic has warmed faster than any place on the planet—due climate change caused by burning fossil fuels—sea ice is not expanding as far as it once did.
Conservationists catch-and-release record-smashing freshwater fish
(03/17/2015) Conservationists and scientists have managed to catch-and-release what could be the world's biggest freshwater fish ever for an upcoming episode of Ocean Mysteries. Naturalist and host of the show, Jeff Corwin—along with wildlife veterinarian, Nantarika Chansue, and the tourist fishing group, fishsiam.com—managed to reel in a giant freshwater stingray.
Road rage: scientists denounce $60 trillion infrastructure expansion
(03/14/2015) Last November, at the annual G-20 summit - for the 20 wealthiest of the world's nations - in Brisbane, Australia, a staggering commitment was made to invest $60 to $70 trillion worldwide in new infrastructure over the next 15 years. This is akin to doubling the current value of all global infrastructure put together.
Even cockroaches have personalities
(03/12/2015) When I was ten, I acquired my first dog. Rani was a Doberman Pinscher—tall, lean, and a huge pushover. She was wonderfully friendly, but sadly misunderstood her whole life, regularly frightening all except those who knew her intimately. There were two innocuous reasons for this—both of which reveal the power of emotions shared across species.
Photo essay: filming in the remote Amazon
(03/09/2015) You wake up at 4:30 AM, a little before the first rays of tropical sun begin to dance behind the treetops. You put on your wet clothes from the previous day, pack your bag, and pick up your tripod. The jungle is shrouded in a thick mist from the previous nights rain. As you walk, you recognize many of the strange calls that echo between the trees.
Human impacts are 'decoupling' coral reef ecosystems
(03/09/2015) There is a growing consensus among scientists that we have entered the age of the Anthropocene, or the epoch of humans. In other words, at some point between the 12,000 years separating the beginning of agriculture and the Industrial Revolution, humans became the dominant source of change on the planet, shaping everything from the land to the atmosphere to even the geologic record where we etch our reign.
Last ditch: Mexico finally gets serious about saving the vaquita
(03/04/2015) There are likely less than 100 vaquita on the planet. Found only in the northern pocket of the Sea of Cortez in Mexico, the vaquita is a tiny, shy porpoise that has been brought to the very edge of extinction due to drowning in gillnets used for shrimping. But after years of stalling, Mexico now appears to be making a final effort to save the world's most endangered cetacean.
Giant panda population rises by nearly 17 percent
(03/02/2015) One of the most iconic animals on the planet got good news this week. The world's giant panda population has risen by 268 individuals over the last decade, hitting a total of 1,864 animals, according to China's fourth decadal survey. This represents a total rise of 16.8 percent.
$7 million could save lemurs from extinction
(02/25/2015) Last year, scientists released an emergency three-year plan that they argued could, quite literally, save the world's lemurs from mass extinction. Costing just $7.6 million, the plan focused on setting up better protections in 30 lemur hotspots. However, there was one sticking point: donating to small programs in one of the world's poorest countries was not exactly user friendly.
Locals lead scientists to new population of near-extinct reptile
(02/24/2015) By the early Twentieth Century, the world had pretty much given up on the Arakan forest turtle, named after the hills where it was found in 1875 in western Myanmar. Now, this Lazarus reptile —which has been dubbed one of the 25 most threatened turtles on the planet —has more good news: researchers have documented an entirely new population where no one
Bison-sized rodent may have used teeth like elephant tusks

(02/23/2015) The world's largest rodent today is the capybara, weighing in at around at about 45 kilograms (100 pounds), though the record breaking female weight in at 91 kilograms (201 pounds). But that's nothing compared to the biggest rodent ever to live. Discovered in Uruguay in 2008, Josephoartigasia monesi may have weighed in at 1,000 kilograms (2,200 pounds).
Happy World Pangolin Day. What are we celebrating?
(02/21/2015) It's that crazy time of year again, World Pangolin Day, where we feverishly run out into the streets and join the thousands of pangolin protectors, fighting for the survival of our scaly friend. Well, no actually, hold on, what's a pangolin?
Scientists uncover new seadragon
(02/18/2015) For 150 years, scientists have known of just two so-called seadragons: the leafy seadragon and the weedy seadragon. But a new paper in the Royal Society Open Science has announced the discovery of a third, dubbed the ruby seadragon for its incredible bright-red coloring. Found only off the southern Australian coastline, seadragons belong to the same family as the more familiar seahorses: the Syngnathidae.
Arctic upheaval: new book outlines challenges at the top of the world
(02/16/2015) For most of us, the Arctic is not at the front of our minds. We view it as cold, stark, and, most importantly, distant. Yet, even in an age of vast ecological upheaval, one could argue that no biome in the world is changing so rapidly or so irrevocably. Two hundred plus years of burning fossil fuels has warmed up the top of our planet more quickly than anywhere else.
Sabah shocked by banteng poaching

(02/16/2015) Malaysia's Daily Express recently published graphic photos of poachers in the Malaysian state of Sabah posing proudly with a number of illegally slaughtered large animals, including the incredibly rare and cryptic banteng. Wild, forest cattle, banteng are scattered across parts of Southeast Asia, but Borneo is home to a distinct subspecies: Bos javanicus lowi.
Feds confirm first wolf in the Grand Canyon area shot dead

(02/12/2015) Last fall, tourists to the north rim of the Grand Canyon reported seeing a gray wolf. The only problem was there had been no wolves in the area for over 70 years. Still, it turned out the animal in question was not a coyote or stray dog, but, indeed a female gray wolf known as "914F". She had migrated hundreds of miles from the northern Rockies. Unfortunately, this was near the end of her story.
How termites hold back the desert
(02/05/2015) Some termite species erect massive mounds that look like great temples springing up from the world's savannas and drylands. But aside from their aesthetic appeal—and incredible engineering—new research in Science finds that these structures do something remarkable for the ecosystem: they hold back the desert.
World Parks Congress talks the talk, but future depends on action
(02/05/2015) Last year, more than 6,000 people gathered for the World Parks Congress 2014, an event held around every ten years by the International Union for Conservation of Nature (IUCN). The World Parks Congress discusses myriad issues related to protected areas, which recent research has shown are in rough shape.







Videos: new film series highlights bringing Gorongosa back to life

(01/29/2015) Tracking lions, photographing bats, collecting insects, bringing elephants home: it's all part of a day's work in Gorongosa National Park. This vast wilderness in Mozambique was ravaged by civil war. However, a unique and ambitious 20-year-effort spearheaded by Greg Carr through the Gorongosa Restoration Project is working to restore this rich and little-studied African wilderness.




Page 1 | Page 2 | Page 3 | Page 4 | Page 5 | Page 6 | Page 7 | Page 8 | Page 9 | Page 10 | Page 11 | Page 12 | Page 13 | Page 14 | Page 15 | Page 16 | Page 17 | Page 18 | Page 19 | Page 20 | Page 21 | Page 22 | Page 23 | Page 24 | Page 25 | Page 26 | Page 27 | Page 28 | Page 29 | Page 30