News articles on wetlands

---
Mongabay.com news articles on wetlands in blog format. Updated regularly.








Amazonian peatlands store mega carbon

(12/17/2014) Peatlands in the Peruvian Amazon store ten times the amount of carbon as undisturbed rainforest in adjacent areas, making them critical in the battle to fight climate change, finds a new study published in Environmental Research Letters.
Aceh's largest peat swamp at risk from palm oil

(08/11/2014) Oil palm plantations and other developments are threatening Rawa Singkil Wildlife Preserve—Aceh's largest peat swamp, and home to the densest population of Sumatran orangutan in the Leuser Ecosystem. The lack of clear boundaries, and construction of roads bisecting the area has fostered encroachment by local and outside entrepreneurs, including some former local officials, reports Abu Hanifah Lubis, Program Manager of Yayasan Leuser Internasional (YLI).
On babies and motherhood: how giant armadillos are surprising scientists (photos)
(07/01/2014) Until ten years ago scientist's knowledge of the reproductive habits of the giant armadillo— the world's biggest— were basically regulated to speculation. But a long-term research project in the Brazilian Pantanal is changing that: last year researchers announced the first ever photos of a baby giant armadillo and have since recorded a second birth from another female.
New study finds environmental damage globally may cost more than U.S. GDP
(06/06/2014) A new study added up all the world's ecosystem services – from carbon storage and crop pollination, to recreation and flood mitigation – and found, every year, nature provides $145 trillion in benefits. It also indicates that land use changes, most of which has been caused by humans, may be reducing these benefits by trillions of dollars every year.
Nicaragua Canal could cause ecological disaster, warn experts

(02/20/2014) Nicaragua's plans for a canal linking the Pacific and Atlantic Oceans could trigger an environmental disaster through habitat destruction and alteration, introduction of non-native species, pollution, and sedimentation, warns a commentary published in this week's issue of Nature.
Handful of species key to ecosystem health, finds study
(01/20/2014) While conducting field research in the humid salt marshes of Sapelo Island, scientists Marc Hensel and Brian Silliman made an astonishing discovery: species type, not just quantity, is vital for maintaining healthy ecosystems. For decades, scientists believed that preserving the largest number of species was critical for ecosystem function, regardless of their genetic makeup.
Court orders logging company to clean up pollution disaster in Chile wetlands
(01/17/2014) Chile is probably best known for its volcanoes, earthquakes and the formidable peaks of the Andes, but as a country that spans 4,300 km (2,670 miles) from top to bottom, it also boasts a huge variety of bird life. And, until recently, it was home to what was thought to be the largest population of black-necked swans (Cygnus melancoryphus) in South America. Not long ago, these swans, as well as 100 other species of rare or vulnerable bird species, could be seen nesting in the Carlos Anwandter Nature Sanctuary in Valdivia, a Ramsar site that covers 12,000 acres in the south of Chile. But in 2004 the swans began to die.
Featured video: U.S. forests decimated for 'green' bio-energy in Europe

(12/12/2013) Wetland forests in the southern U.S. are becoming the victims of a drive for so-called green energy in Europe, according to activist group Dogwood Alliance, which has produced a new video highlighting the issue. The activists contend that bio-energy that depends on chopping down forests not only devastates vital ecosystems, but actually emits more greenhouse gases than traditional fossil fuels.
Armored giant turns out to be vital ecosystem engineer
(10/24/2013) The giant armadillo (Priodontes maximus) is not called a giant for nothing: it weighs as much as a large dog and grows longer than the world's biggest tortoise. However, despite its gigantism, many people in its range—from the Amazon to the Pantanal—don't even know it exists or believe it to be more mythology than reality. This is a rare megafauna that has long eluded not only scientific study, but even basic human attention. However, undertaking the world's first long-term study of giant armadillos has allowed intrepid biologist, Arnaud Desbiez, to uncovered a wealth of new information about these cryptic creatures. Not only has Desbiez documented giant armadillo reproduction for the first time, but has also discovered that these gentle giants create vital habitats for a variety of other species.
Scientists discover that threatened bird migrates entirely within Amazon Basin
(09/11/2013) When one thinks of bird migrations, it's usually a north-south route that follows seasonal climates. But researchers in the Amazon have tracked, for the first time, a largely-unknown long-distance migration that sticks entirely to the Amazon Basin. Using satellite telemetry, scientists tracked a pair of Orinoco geese (Neochen jubata) from Peru and a male from Western Brazil, who both migrated to the Llanos de Moxos, a vast savanna and Amazonian watershed in Bolivia. The research has shown that the Orinoco geese—which breeds in both Peru and Brazil—depends on wetlands in the Llanos de Moxos for much of the year.
Iraq gets its first national park: just call it Eden

(08/19/2013) Late last month, the Iraqi Council of Ministers approved the nation's first national park: the Mesopotamian marshes, which some scholars believe were the site of the historical Garden of Eden. The establishment of the park is a major milestone for a nation still plagued by violence with the park itself linked to the ravages of the Saddam Hussein regime.
Southern U.S. logging soars to meet foreign biofuel demand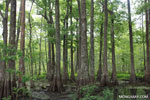 (06/06/2013) In order to meet the European Union's goal of 20% renewables by 2020, some European utility companies are moving away from coal and replacing it with wood pellet fuel. The idea is simple: trees will regrow and recapture the carbon released in the burning of wood pellets, making the process supposedly carbon-neutral. But just like other simple ideas, it misses out important details that can turn it on its head.
World's rarest duck on the rebound in Madagascar
(05/01/2013) After a final sighting in 1991, the Madagascar pochard was thought to have vanished for good. But this diving duck was rediscovered in 2006 when a flock of 22 individuals was found on Lake Matsaborimena in northern Madagascar by conservationists during an expedition. Soon after Madagascar pochard eggs were taken and incubated in a joint captive breeding program by Durrell, the Wildfowl & Wetlands Trust (WWT), the Peregrine Fund, Asity Madagascar, and Madagascar government, which recently announced that the population—both captive and wild—has nearly quadrupled.
Iraqi who is bringing back the Garden of Eden wins top environment award
(04/16/2013) The vast Mesoptomian marshes in southern Iraq were said to be the site of the original Garden of Eden. On their fringes have risen and fallen 12,000 years of Sumerian, Assyrian, Chaldean, Persian and Arab civilizations. Organized farming is thought to have begun here, as did the first cities and writing. In legend, Gilgamesh fell asleep on the water side and let slip from his fingers the plant of eternal youth. Abraham was said to have been born here and explorers like Sir Wilfred Thesiger made their name here.
Cambodia loses half its seasonal wetlands in 10 years

(03/18/2013) Cambodia lost more than half of its seasonally flooded grasslands in ten years due to industrial agricultural conversion, abandonment of traditional farming, and illegal drainage, putting several endangered bird species at risk and undermining traditional livelihoods in the region, reports a new study published in the journal Conservation Biology.
Bolivia leads the way in wetland protection
(03/04/2013) Bolivia continues to be a champion for Amazonian conservation. On February 2, 2013, Bolivia celebrated World Wetlands Day with the designation of more than 6.9 million hectares of the Llanos de Moxos to the Ramsar Convention's Wetlands of International Importance. In addition to being the largest Ramsar designation to date, Bolivia now claims 14.8 million hectares of protected wetland, making it the leading Contracting Party out of 164 participating countries in terms of Ramsar site surface area.
World has lost half its wetlands
(11/29/2012) Half of the worlds wetlands have been destroyed in just the last 100 years, says a new report. Published by the Economics of Ecosystems and Biodiversity (TEEB), the report found that of the 25 million square kilometers of wetlands that existed in 1900 just 12.8 million square kilometers now remain. The rate of destruction varies geographically with notable loses in East Asia running at 1.6 per cent per year. In places where aquaculture, over-exploitation (e.g. unsustainable harvesting of fish) and storm damage have been severe, the rate of destruction can be as high as 80 percent.
Protecting jaguars a good business decision for ranchers

(06/20/2012) Live jaguars are worth considerably more for ecotourism than they livestock they kill, according to a study presented at the annual meeting of the Association for Tropical Biology and Conservation in Bonito, Brazil.
Global wetlands shrink 6% in 15 years

(05/14/2012) Global wetlands declined by six percent between 1993 and 2007 due to conversion for agriculture, drainage, and water diversion, reports a new satellite-based assessment published by European researchers in Geophysical Research Letters.
Invasion!: Burmese pythons decimate mammals in the Everglades

(01/30/2012) The Everglades in southern Florida has faced myriad environmental impacts from draining for sprawl to the construction of canals, but even as the U.S. government moves slowly on an ambitious plan to restore the massive wetlands a new threat is growing: big snakes from Southeast Asia. A new paper in the Proceedings of the National Academy of Sciences (PNAS) has found evidence of a massive collapse in the native mammal population following the invasion of Burmese pythons (Python molurus bivittatus) in the ecosystem. The research comes just after the U.S. federal government has announced an importation ban on the Burmese python and three other big snakes in an effort to safeguard wildlife in the Everglades. However, the PNAS study finds that a lot of damage has already been done.
Protecting original wetlands far preferable to restoration

(01/26/2012) Even after 100 years have passed a restored wetland may not reach the state of its former glory. A new study in the open access journal PLoS Biology finds that restored wetlands may take centuries to recover the biodiversity and carbon sequestration of original wetlands, if they ever do. The study questions laws, such as in the U.S., which allow the destruction of an original wetland so long as a similar wetland is restored elsewhere.
U.S. implements snake ban to save native ecosystems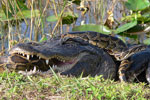 (01/25/2012) Last week the U.S. Fish and Wildlife Service (USFWS) announced it was banning the importation and sale across state lines of four large, non-native snakes: the Burmese python (Python molurus bivittatus), the yellow anaconda (Eunectes notaeus), and two subspecies of the African python (Python sebae). Although popular pets, snakes released and escaped into the wild have caused considerable environmental damage especially in the Florida Everglades.
Economic slowdown leads to the pulping of Latvia's forests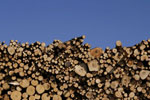 (01/23/2012) The economic crisis has pushed many nations to scramble for revenue and jobs in tight times, and the small Eastern European nation of Latvia is no different. Facing tough circumstances, the country turned to its most important and abundant natural resource: forests. The Latvian government accepted a new plan for the nation's forests, which has resulted in logging at rates many scientists say are clearly unsustainable. In addition, researchers contend that the on-the-ground practices of state-owned timber giant, Latvijas Valsts meži (LVM), are hurting wildlife and destroying rare ecosystems.
Conserving Ecuador's Paramos, the alpine tundra ecosystem of the Andes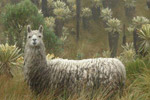 (01/17/2012) Grupo de Trabajo en Páramos del Ecuador (GTP) is a remarkable self-organized group of páramo experts that have met over the past 13 years in Quito, Ecuador. Páramo is an alpine tundra ecosystem which is located in the northern Andes of South America and adjacent southern Central America. Recently, the Grupo de Trabajo en Páramos del Ecuador published an excellent summary of their analysis from the past 13 years. Robert Hofstede, one of the editors of Páramo: Paisaje estudiado, habitado, manejado e institucionalizado, recently sat down with Mongabay.com and discussed the situation of páramo conservation in Ecuador.
Eco-toilets help save hippos and birds in Kenya
(01/04/2012) It may appear unintuitive that special toilets could benefit hippos and other wetland species, but the Center for Rural Empowerment and the Environment (CREE) has proven the unique benefits of new toilets in the Dunga Wetlands on Lake Victoria's Kenyan side. By building ecologically-sanitary (eco-san) toilets, CREE has managed to alleviate some of the conflict that has cropped up between hippos and humans for space.
Locals key to saving primate-rich wetlands in Cote D'Ivoire

(12/12/2011) Saved from being converted into a vast palm oil plantation by PALM-CI in 2009, the Ehy Tanoé wetlands and forest in the Cote D'Ivoire (Ivory Coast) is home to three gravely endangered primates and as well as many other species. Since 2006, a pilot community management program has been working to protect the 12,000 hectare area, and a new study in mongabay.com's open access journal Tropical Conservation Science finds that long-term conservation of the Ehy Tanoé wetlands and forest is, in fact, vital for locals who depend on the area for hunting, fishing, firewood, building materials, and medicinal plants. In addition, the study finds that the ecosystem has special cultural and spiritual importance to locals.
Extinct frog rediscovered in Israel

(11/21/2011) After its marshland was drained, researchers thought the Hula painted frog (Discoglossus nigriventer) had vanished for good. However a patrol at the Ha-Hula lake in Israel recently discovered a single female amphibian that turned out to be the long-lost, and long-sought, Hula painted frog.
Putting people to work: restoring our ecosystems, sequestering carbon

(10/02/2011) President Obama's sole focus of his September 8th speech to the United States Congress was job creation. He closed his speech by summoning an earlier time of promise: "President Kennedy once said, ' Our problems are man-made—therefore they can be solved by man. And man can be as big as he wants.' These are difficult years for our country. But we are Americans. We are tougher than the times we live in, and we are bigger than our politics have been. So let's meet the moment. Let's get to work..." Inspiration is surely needed because in addition to the United States, where unemployment remains at about 9 percent, severe unemployment is found throughout the world, with Greece, Spain, and South Africa, for example, having 2011 summer unemployment rates at over 16, 20, and 25 percent, respectively.
Valuing Ecosystem Services: The Case of Multi-functional Wetlands

(05/16/2011) Valuing Ecosystem Services: The Case of Multi-functional Wetlands provides the clearest guide yet to describing and implementing in a systematic fashion payments for ecosystems services (PES) strategies for wetland protection mechanisms. By focusing initially on frameworks and obstacles to implementation of wetland protection strategies such as property rights, measuring and monitoring, behavior and compensation, cultural barriers and external factors, the authors posit that is possible to effectively value multi-functional wetlands.
Ten-year-old takes on KFC for destroying US forests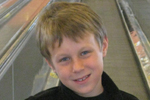 (05/15/2011) Cole Rasenberger's quest to save forests in the US South started as a school assignment to 'be an activist' about something important to him. However, after learning from Dogwood Alliance that coastal forests in North Carolina are being destroyed to make throw-away paper packaging for big fast food companies—such as McDonalds and KFC—Cole Rasenberger, at the age of 8, became more than an activist; he became an environmental leader! He started by targeting McDonalds directly. With the help of 25 friends, and his elementary school administration, he got every student in his school to sign postcards to McDonalds. In all, Cole sent 2,250 postcards to McDonalds.
North America's tiniest turtle vanishing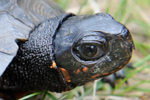 (05/12/2011) Despite decades of conservation work, populations of North America's smallest turtle, the bog turtle (Glyptemys muhlenbergii), is continuing to decline. Habitat destruction, invasive plants, road-kill, and the illegal pet trade have all played a role in the bog turtle historic decline, but researchers are now reporting increased mortalities across bog turtle populations, bringing fears of disease or an as-yet-unnamed environmental issue.
Beaver dam lessens impact of massive oil spill in Canada

(05/09/2011) The Canadian province of Alberta has suffered its worst oil spill in 35 years with 28,000 barrels of oil (over a million gallons) spilling from a ruptured pipeline operated by Plains Midstream Canada in the Canadian boreal forest. The spill has sullied wetlands near Peace River.
New eco-tour to help save bizarre antelope in 'forgotten' region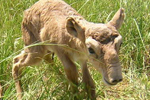 (05/01/2011) Imagine visiting a region that is largely void of tourists, yet has world-class bird watching, a unique Buddhist population, and one of the world's most bizarre-looking and imperilled mammals: the saiga. A new tour to Southern Russia hopes to aid a Critically Endangered species while giving tourists an inside look at a region "largely forgotten by the rest of the world," says Anthony Dancer. Few species have fallen so far and so fast in the past 15 years as Central Asia's antelope, the saiga. Its precipitous decline is reminiscent of the bison or the passenger pigeon in 19th Century America, but conservationists hopes it avoids the fate of the latter.
From the Serengeti to Lake Natron: is the Tanzanian government aiming to destroy its wildlife and lands?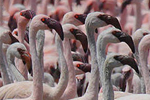 (04/14/2011) What's happening in Tanzania? This is a question making the rounds in conservation and environmental circles. Why is a nation that has so much invested in its wild lands and wild animals willing to pursue projects that appear destined not only to wreak havoc on the East African nation's world-famous wildlife and ecosystems, but to cripple its economically-important tourism industry? The most well known example is the proposed road bisecting Serengeti National Park, which scientists, conservationists, the UN, and foreign governments alike have condemned. But there are other concerns among conservationists, including the fast-tracking of soda ash mining in East Africa's most important breeding ground for millions of lesser flamingo, and the recent announcement to nullify an application for UNESCO Heritage Status for a portion of Tanzania's Eastern Arc Mountains, a threatened forest rich in species found no-where else. According to President Jakaya Kikwete, Tanzania is simply trying to provide for its poorest citizens (such as communities near the Serengeti and the Eastern Arc Mountains) while pursuing western-style industrial development.
More biodiversity equals cleaner water, but why?

(04/07/2011) A new landmark study not only proves that adding more species to a freshwater stream linearly increases the ecosystem's ability to clean pollutants, but also shows why. The study, published in Nature found that by increasing the biodiversity of a lab controlled mini-stream from one algae species to eight caused the ecosystem to soak up nitrate pollution 4.5 times faster on average. To conduct the experiment, researchers used plastic to create 150 mini model streams. Molding the plastic, they recreated real stream-like habitats such as pools, runs, and eddies. Different species of algae gravitated toward particular mini-habitats, creating special ecological niches and allowing more of the stream to be utilized by the algae for soaking up the nitrate pollution. Less utilization of the available habitats resulted in a dirtier river and vice-versa.
How to save the Pantanal and increase profits for the cattle industry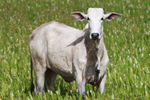 (03/28/2011) The Pantanal spanning Brazil, Bolivia, and Paraguay is the world's largest wetland—the size of Florida—and home to a wide-variety of charismatic species, such as jaguars, capybaras, and giant anteaters. However, the great wetland is threatened by expansion in big agriculture and an increasingly intensive cattle industry. Yet there is hope: a new study by Wildlife Conservation Society of Brazil (WCS-Brazil) researchers has found that cattle and the ecosystem can exist harmoniously. By replacing current practices with rotational grazing, cattle ranchers gain a healthier herd and more profits while safeguarding the ecological integrity and wildlife of the world's largest wetland system. The study published in mongabay.com's open access journal Tropical Conservation Science is a rare instance of a win-win situation.
Foreign big agriculture threatens world's second largest wildlife migration

(03/07/2011) As the world's largest migration in the Serengeti plains—including two million wildebeest, zebra, and Thomson's gazelles—has come under unprecedented threat due to plans for a road that would sever the migration route, a far lesser famous, but nearly as large migration, is being silently eroded just 1,370 miles (2,200 kilometers) north in Ethiopia's Gambela National Park. The migration of over one million white-eared kob, tiang, and Mongalla gazelle starts in the southern Sudan but crosses the border into Ethiopia and Gambela where Fred Pearce at Yale360 reports it is running into the rapid expansion of big agribusiness. While providing habitat for the millions of migrants, Gambela National Park's land is also incredibly fertile enticing foreign investment.
Malaysian palm oil producers destroying Borneo peat forests faster than ever before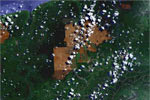 (02/01/2011) Peatlands and rainforests in Malaysia's Sarawak state on the island of Borneo are being rapidly destroyed for oil palm plantations, according to new studies by environmental group Wetlands International and remote sensing institute Sarvision. The analysis shows that more than one third (353,000 hectares or 872,000 acres) of Sarawak's peatswamp forests and ten percent of the state's rainforests were cleared between 2005 and 2010. About 65 percent of the area was converted for oil palm, which is replacing logging as timber stocks have been exhausted by unsustainable harvesting practices.
Rivers worldwide in peril: society treats symptoms, ignores causes
(09/29/2010) Dams, agricultural runoff, pesticides, sewage, mercury pollution from coal plants, invasive species, overconsumption, irrigation, erosion from deforestation, wetland destruction, overfishing, aquaculture: it's clear that the world's rivers are facing a barrage of unprecedented impacts from humans, but just how bad is the situation? A new global analysis of the world's rivers is not comforting: the comprehensive report, published in Nature, finds that our waterways are in a deep crisis which bridges the gap between developing nations and the wealthy west. According to the study, while societies spend billions treating the symptoms of widespread river degradation, they are still failing to address the causes, imperiling both human populations and freshwater biodiversity.
Nearly half of the world's wetlands used for crops

(09/27/2010) Wetlands used for crops have expanded significantly over the past eighty years. According to a new study in the open-access journal Tropical Conservation Science, wetlands being utilized for crop production has jumped from 25 percent in 1926 to 43 percent in 2006 of the world's wetlands as identified by the Ramsar Convention on Wetlands.
Visiting the Gulf: how wildlife and people are faring in America's worst environmental disaster, an interview with Jennifer Jacquet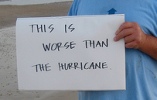 (07/29/2010) "President Obama called it 'the worst environmental disaster America has ever faced.' So I thought I should face it and head to the Gulf"—these are the opening words on the popular blog Guilty Planet as the author, marine biologist Jennifer Jacquet, embarked on a ten day trip to Louisiana. As a scientist, Jacquet was, of course, interested in the impact of the some four million barrels of oil on the Gulf's already depleted ecosystem, however she was as equally keen to see how Louisianans were coping with the fossil fuel-disaster that devastated their most vital natural resource just four years after Hurricane Katrina.
Oil devastates indigenous tribes from the Amazon to the Gulf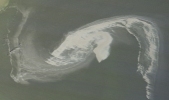 (07/27/2010) For the past few months, the mainstream media has focused on the environmental and technical dimensions of the Gulf mess. While that's certainly important, reporters have ignored a crucial aspect of the BP spill: cultural extermination and the plight of indigenous peoples. Recently, the issue was highlighted when Louisiana Gulf residents in the town of Dulac received some unfamiliar visitors: Cofán Indians and others from the Amazon jungle. What could have prompted these indigenous peoples to travel so far from their native South America? Victims of the criminal oil industry, the Cofán are cultural survivors. Intent on helping others avoid their own unfortunate fate, the Indians shared their experiences and insights with members of the United Houma Nation who have been wondering how they will ever preserve their way of life in the face of BP's oil spill.
EU mandates biofuel environmental standards to protect forests, wetlands

(06/10/2010) The E.U. today moved to establish environmental standards for biofuels used in Europe, requiring biofuels to deliver "substantial reductions" in greenhouse gas emissions and not result in conversion of forests or wetlands, according to a statement from the European Commission.
Will we ever know the full wildlife toll of the BP oil spill?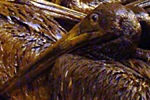 (06/08/2010) Will we ever know the full wildlife toll of the BP oil spill? The short answer: no. The gruesome photos that are making the media rounds over the last week of oiled birds, fish, and crustaceans are according to experts only a small symbol of the ecological catastrophe that is likely occurring both in shallow and deep waters. Due to the photos, birds, especially the brown pelican, have become the symbol of the spill to date. But while dozens of birds have been brought to rescue stations covered in oil, the vast majority will die out at sea far from human eyes and snapping cameras, according to Sharon Taylor a vet with the US Fish and Wildlife Service.
Before the oil spill (photos)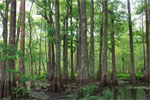 (06/03/2010) With the BP oil spill continuing unabated into the 2010 Atlantic hurricane season, fears are rising that a major storm could dramatically worsen the impact of the disaster, which has already been called the worst in U.S. history. Forecasters are predicting 14 to 23 named storms this year, of which 3 to 7 will turn into major hurricanes. According to forecasters Philip Klotzbach and William Gray of Colorado State University, there is a 43 percent chance that Louisiana will be hit by a hurricane.
'No hope now remains' for the Alaotra grebe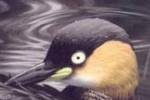 (05/31/2010) World governments have missed their goal of stemming biodiversity loss by this year, instead biodiversity loss has worsened according to scientists and policy-makers, and a little rusty-colored bird, the Alaotra grebe (Tachybaptus rufolavatus) is perhaps a victim of this failure to prioritize biodiversity conservation. Native to a small region in Madagascar, the grebe has been declared extinct by BirdLife International and the IUCN Red List due to several factors including the introduction of invasive carnivorous fish and the use of nylon gill-nets by local fishermen, which now cover much of the bird's habitat, and are thought to have drowned diving grebes. The bird was also poached for food.
Who's to blame for the oil spill?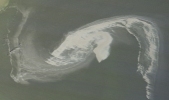 (05/04/2010) America, we deserve the oil spill now threatening the beautiful coast of Louisiana. This disaster is not natural, like the earthquake that devastated Haiti or tsunami that swept Southeast Asia in 2006; this disaster is man-made, American-made in fact, pure and simple. So, while in the upcoming weeks and months—if things go poorly—we may decry the oil-drenched wildlife, the economic loss for the region, the spoiled beeches, the wrecked ecosystems, the massive disaster that could take decades if not longer to recover from, we, as Americans, cannot think smugly that we are somehow innocent of what has happened. You play with fire: you will get burned. You drill for oil 1,500 meters below the surface of the ocean, you open up oil holes across the surface of your supposedly-beloved landscape, sooner or later there will be a spill, and sometimes that spill will be catastrophic.
The Asian Animal Crisis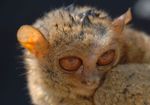 (03/18/2010) The United Nation declared 2010 as the International Year of Biodiversity (IYB). One of the goals of the IYB is to celebrate the achievements of the Convention of Biological Diversity signed by 192 countries since 1992. But what have we accomplished since 1992? Did we put an end to biodiversity loss? The truth is that there is not much to celebrate at all. Asia is a perfect example where the animal crisis and the loss of biodiversity have worsened over decades. The first question that should come to mind is: how many species have vanished in Asia because of human activities? Records of recently extinct species in Asia show 71 species that have disappeared in the wild. Examples include the Yunnan lake newt (Cynops wolterstorffi) from China, the Bonin thrush (Zoothera terrestris) from Japan, or the redtailed black shark (Epalzeorhynchos bicolor) from Thailand.
On World Wetland's Day bad news for America's iconic ducks

(02/02/2010) World Wetland Day 2010 brings with it new research on America's prairie wetlands and bad news for the country's waterfowl. A new study in BioScience finds that America's prairies are greatly susceptible to climate change: a warmer and drier prairie will desiccate wetlands needed by ducks and other waterfowl for food, shelter, and breeding.
Forgotten species: discovering the shimmer of Maathai's Longleg

(01/13/2010) Few species receive less respect and less conservation attention than insects. This despite the fact that they are some of the most diverse species on the planet andthey provide a number of essential services to humankind, including pollination, pest control, production (for example honey and silk), waster recycling, and indications of habitat health. Scientists are not only unsure just how many species of insects are threatened in world; they are equally uncertain how many insects exist. Currently there are nearly a million insect species described by science, but millions more likely exist. It's probable that innumerable insect species have vanished before even being catalogued by entomologists.
A 'dangerous world' for migratory birds, an interview with Sarah Lehnen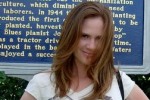 (01/04/2010) Sarah Lehnen has worked with America's rich birdlife for a decade: she has studied everything from songbirds inhabiting dwindling shrub land in Ohio to shorebirds stopping over in the Mississippi Rive alluvial valley, always with an eye towards conservation. Most recently she has been involved in testing migratory birds for avian flu. It may come as a surprise, but American birds are in serious decline. In March of last year, US Secretary of the Interior, Ken Salazar, announced that one-in-three American birds are endangered. Even once common birds are showing precipitous declines. Birds face a barrage of threats, which are only complicated—and heightened—for migratory birds.
Indonesia: Kalimantan's Lowland Peat Forests Explained

(12/04/2009) Earth's tropical rainforests are a critical component of the world's carbon cycle yet cover only about 12% of its terrestrial land. Accounting for 40% of the world's terrestrial carbon and 50% of the world's gross primary productivity,[1]. the production of organic compounds primarily through photosynthesis, tropical rainforests also are one of the engines driving Earth's atmospheric circulation patterns.
New report: boreal forests contain more carbon than tropical forest per hectare
(11/12/2009) A new report states that boreal forests store nearly twice as much carbon as tropical forests per hectare: a fact which researchers say should make the conservation of boreal forests as important as tropical in climate change negotiations. The report from the Canadian Boreal Initiative and the Boreal Songbird Initiative, entitled "The Carbon the World Forgot", estimates that the boreal forest—which survives in massive swathes across Alaska, Canada, Northern Europe, and Russia—stores 22 percent of all carbon on the earth's land surface. According to the study the boreal contains 703 gigatons of carbon, while the world's tropical forests contain 375 gigatons.
Declaration calls for more wilderness protected areas to combat global warming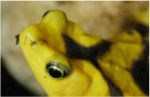 (11/11/2009) Meeting this week in Merida, Mexico, the 9th World Wilderness Congress (WILD9) has released a declaration that calls for increasing wilderness protections in an effort to mitigate climate change. The declaration, which is signed by a number of influential organizations, argues that wilderness areas—both terrestrial and marine—act as carbon sinks, while preserving biodiversity and vital ecosystem services.
Peat emissions data by country

(11/04/2009) A new study by Wetlands International and Greifswald University provides country-by-country data on peat stocks and emissions. Overall the assessment found that drainage of wetlands for agriculture, forestry and peat extraction causes 1.3 billion tons of carbon dioxide emissions per year. Emissions from fires and peat mining (for horticulture and fuel) amount to another 700,000 million tons per year.
EU is 2nd largest source of peat emissions after Indonesia, finds global peat survey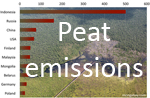 (11/04/2009) The EU is the world's second largest source of carbon dioxide emissions from peatlands drainage, after Indonesia, reports the first country-by-country assessment of peat stocks. The study, conducted by Wetlands International and Greifswald University, found that drainage of wetlands for agriculture, forestry and peat extraction causes 1.3 billion tons of carbon dioxide emissions per year. Emissions from fires and peat mining (for horticulture and fuel) amount to another 700,000 million tons per year.
REDD in Colombia: using forests to finance conservation and communities in Colombia's Choco, a former war zone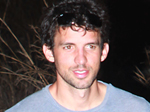 (11/03/2009) Reducing Emissions from Deforestation and Degradation (REDD), a climate change mechanism proposed by the U.N., has been widely lauded for its potential to simultaneously deliver a variety of benefits at multiple scales. But serious questions remain, especially in regard to local communities. Will they benefit from REDD? While much lip-service is paid to community involvement in REDD projects, many developers approach local communities as an afterthought. Priorities lie in measuring the carbon sequestered in a forest area, lining up financing, and making marketing arrangements, rather than working out what local people — the ones who are often cutting down trees — actually need in order to keep forests standing. This sets the stage for conflict, which reduces the likelihood that a project will successfully reduce deforestation for the 15-30 year life of a forest carbon project. Brodie Ferguson, a Stanford University-trained anthropologist whose work has focused on forced displacement of rural communities in conflict regions in Colombia, understands this well. Ferguson is working to establish a REDD project in an unlikely place: Colombia's Chocó, a region of diverse coastal ecosystems with some of the highest levels of endemism in the world that until just a few years ago was the domain of anti-government guerrillas and right-wing death squads.
Camping in the Okavango Delta in Botswana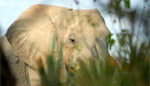 (08/19/2009) The first animal we saw in the Okavango was unmistakable. Although far away, we could easily make it out with its telltale trunk: an African elephant—the world's largest land animal—was striding peaceably through the delta's calm waters. We watched, entranced, from the mokoro, a small boat powered and steered by a local wielding a long pole to push the craft along.
First comprehensive study of insect endangerment: ten percent of dragonflies threatened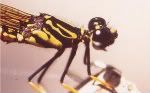 (06/23/2009) A lot of time, effort, and funds have been spent on programs evaluating the threat of extinction to species around the world. Yet insects have not benefited from these programs, which have largely focused on more 'charismatic' species such as mammals, birds, amphibians, and reptiles. This gap is clearly shown by the fact that 42 percent of vertebrates have been assessed by the International Union for the Conservation of Nature (IUCN), and only 0.3 percent of invertebrates.
Indonesia applies for REDD partnership to protect forests

(03/04/2009) Indonesia has applied to join the World Bank's Forest Carbon Partnership Facility, becoming the largest developing country to apply to a program that seeks to reduce greenhouse gas emissions by saving tropical forests, reports Reuters.
New fire record for Borneo, Sumatra shows dramatic increase in rainforest destruction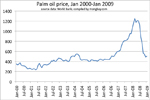 (02/22/2009) Destruction of rainforests and peatlands is making Indonesia more susceptible to devastating forest fires, especially in dry el Niño years, report researchers writing in the journal Nature Geoscience. Constructing a record of fires dating back to 1960 for Sumatra and Kalimantan (on the island of Borneo) using airport visibility records to measure aerosols or "haze" prior to the availability of satellite data, Robert Field of the University of Toronto and colleagues found that the intensity and scale of fires has increased substantially in Indonesia since the early 1990s, coinciding with rapid expansion of oil palm plantations and industrial logging.
Clinton, Obama botch opportunity on climate, forest conservation
(02/20/2009) The Obama administration squandered a chance this week to show U.S. leadership on climate and forest conservation issues, when Secretary of State Hillary Clinton, during a visit to Jakarta, failed to bring up a new Indonesian government decree allowing conversion of carbon-rich peat forests to oil-palm plantations.
Indonesia may allow conversion of peatlands for palm oil

(02/15/2009) The Indonesian government will allow developers to convert millions of hectares of land for oil palm plantations, reports The Jakarta Post. The decision threatens to undermine Indonesia's efforts to reduce greenhouse gas emissions from land use and fashion itself as a leader on the environment among tropical countries.
Visiting New Mexico's Crane festival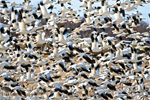 (12/21/2008) It's six in the morning; the Southwest sky is rich in hues of yellow and red, yet despite the warm colors the air is cold and brisk enough that my toes have begun to go numb. We have been waiting nearly a half-hour for the light and warmth of morning to wake-up thousands of cranes and tens of thousands of snow geese. But so far, despite the glimmer growing across the sky, there isn't a bird in sight. Every winter cranes and snow geese migrate from Montana, Idaho, Canada, and Alaska to Bosque del Apache, a National Wildlife Refuge in Central New Mexico. For the past twenty-one years the refuge has celebrated the bird migration with a Festival of the Cranes. People travel from around the state (and country) to see the Southwest skies fill with birds. The festival lasts a week and includes educational stands, social gatherings, tours, hikes, and speakers on natural history and the environment. For this one week the small town of Socorro becomes overrun with birders, scientists, and tourists.





Deal on forests falls short

(12/11/2008) A deal reached Wednesday in Poznan to include forests in future climate treaties is a positive step but falls short of the progress needed to get the REDD (reducing emissions from deforestation and degradation) mechanism on track for incorporation into the framework that will succeed the Kyoto Protocol, say environmentalists speaking from the talks.









U.S. Fish and Wildlife Service program restores bird habitat on farms and ranches

(10/28/2008) Matt Filsinger is driving his white pickup headed northeast from Sterling to look at two of his projects. This self-described introvert speaks enthusiastically about his job. "Ducks, ducks, ducks – that's what I love!" says Filsinger, grinning broadly. Filsinger is a wildlife biologist with the Partners for Fish and Wildlife Program of the U.S. Fish and Wildlife Service. He works with private landowners to set aside land and create attractive habitat for imperiled species. Specifically, he designs wetlands to attract waterfowl. Partners for Fish and Wildlife is a successful program that has been around since 1987. Landowners, including farmers and ranchers, form partnerships with the program because they reap a variety of benefits from it. Nonprofit organizations such as Ducks Unlimited, Audubon and the Rocky Mountain Bird Observatory are also partners. Collaboration between the federal government and private landowners is essential to preserving habitat and species, as 73 percent of the country's land is privately owned, and most wildlife lives on that land.





Yellowstone amphibians in decline due to climate change

(10/27/2008) Climate change appears to be responsible for a "marked drop" in the population of three of four species of amphibian once common to Yellowstone National Park, report researchers writing in Proceedings of the National Academy of Sciences.







Migratory waterbird populations in decline in Europe

(09/15/2008) 41 percent of 522 migratory waterbird populations on the routes across Africa and Eurasia show decreasing trends, reports a new study released at the African-Eurasian Migratory Waterbird Agreement meeting in Antananarivo, Madagascar.





11 species of monkeys discovered in West African biodiversity hotspot

(09/15/2008) Urgent conservation measures are needed to protect some of the world's most endangered primates from the hunting, logging, and oil palm development in a region that has only recently emerged from a period of civil strife, report researchers writing in the open-access journal Tropical Conservation Science.





New mapping system shows how detailed climate changes will affect species

(08/06/2008) A new computer simulation from the Nature Conservancy shows greater detail than ever before on how climate change will affect the world's biodiversity, according to an article in New Scientist. In worst case scenarios—using the example of Bengal tigers in Sundarbans mangrove forest—the article's author, Peter Aldhous, writes that some species will be forced into a "condemned cell", literally having no-where to go while their region becomes inhabitable.







Destruction of wetlands worsens global warming

(07/20/2008) Destruction of wetland ecosystems will generate massive greenhouse gas emissions in coming years, warn experts convening at an international wetlands conference in Brazil.











Conservation success story: birds stage dramatic recovery in Cambodia

(04/03/2008) According to a report released today by the Wildlife conservation Society (WCS), several species of rare waterbirds from Cambodia's famed Tonle Sap region have staged remarkable comebacks, thanks to a project involving a single team of park rangers to provide 24-hour protection to breeding colonies. The project pioneered a novel approach: employing former hunters and egg collectors to protect and monitor the colonies, thereby guaranteeing the active involvement of local communities in the initiative.





Asia Pulp & Paper destroying rare Sumatra forest

(03/27/2008) Companies linked to timber giant Asia Pulp & Paper (APP) are illegally building a road that runs through highly endangered peatland forest on the island of Sumatra, according to an investigative report published by Eyes on the Forest, a coalition of NGOs in Indonesia. The road would allow APP and its affiliates to log forests for timber and drain peat soil for the establishment of oil palm plantations. The action would release large amounts of carbon dioxide into the atmosphere from one of the world's largest contiguous tropical peat swamp forests.







Palm oil is a net source of CO2 emissions when produced on peatlands

(12/17/2007) Researchers have confirmed that converting peat forests for oil palm plantations results in a large net release of carbon dioxide, indicating industry claims that palm oil helps fight climate change are unfounded, at least when plantations are established in peatlands.





Malaysia suffers big drop in shorebird populations

(09/05/2007) Malaysia suffered a big drop in shorebirds, reports a new study by Wetlands International. The environmental group attributes the 22 percent decline between 1983-1986 and 2004-2006 to destruction of habitat for aquaculture, agriculture, industry, housing and recreation.




Page 1 | Page 2