News articles on vietnam

---
Mongabay.com news articles on vietnam in blog format. Updated regularly.





New blood record: 1,020 rhinos killed in South Africa

(11/24/2014) South Africa has surpassed last year's grisly record for slaughtered rhinos—1,004—more than a month before the year ends. In an announcement on November 20th, the South African Department of Environmental Affairs said that 1,020 rhinos had been killed to date.


Human infections by 'monkey malaria' increasing as forests disappear


(11/10/2014) 68% of malaria hospitalizations in Malaysia last year were caused by a once-rare strain of the disease traditionally limited to macaque monkeys. However, as deforestation has put humans and wild animals in closer proximity, Plasmodium knowlesi infections and deaths have increased rapidly. The strain is now responsible for three times the severe malaria infections in Malaysian Borneo than P. falciparum—the world's deadliest form of the parasite.


Demand for rhino horn drops 38 percent in Vietnam after advertising campaigns

(10/22/2014) A new poll finds that consumer demand for rhino horn in Vietnam has dropped precipitously following several advertising campaigns. According to the poll by the Humane Society International (HIS) and Vietnam CITES, demand has plunged 38 percent since last year.


Saving Asia's other endangered cats (photos)


(10/21/2014) It's no secret that when it comes to the wild cats of Asia—and, really, cats in general—tigers get all the press. In fact, tigers—down to an estimated 3,200 individuals—arguably dominate conservation across Asia. But as magnificent, grand, and endangered as the tigers are, there are a number of other felines in the region that are much less studied—and may be just as imperiled.


Elephants worth much, much more alive than dead, says new report


(10/06/2014) Elephants are worth 76 times more when they're alive than dead, according to a new analysis released this past weekend. The report follows on the heels of findings by WWF that the world has lost 50 percent of its wildlife over the past 40 years, with more than half of African elephants killed for ivory in just one decade.


Will 'Asia's unicorn' survive? Hunting and deforestation continue in Vietnam biosphere reserve PART II


(10/02/2014) Encompassing 1.3 million hectares, Western Nghe An Biosphere Reserve the largest such reserve in all of Southeast Asia. Because of the biological importance of the region, it was designated a biosphere reserve by UNESCO in 2007. But deforestation and bushmeat hunting continue, begging the question: is the wildlife of Western Nghe An Biosphere Reserve truly protected?


The largest biosphere reserve in Southeast Asia: Vietnam's success story or a conservation failure? PART I


(09/30/2014) In 2010, poachers shot and killed the last Javan rhino in Vietnam, wiping out an entire subspecies. The Sumatran rhino, the Malayan tapir and the civet otter, too, have disappeared from the country. Moreover, charismatic species like tigers, elephants, gibbons and the secretive saola discovered recently in Vietnam's forests are at risk of extinction in the coming decades as threats to wildlife continue unabated in the country.


Studying common birds could help save rare species in Vietnam

(09/30/2014) Studies in conservation biology often focus on rare, threatened species faced with impending extinction, but what about common animals of least concern? Could they too help conservationists fine-tune their approach? Doctoral researcher Laurel Yohe not only claims that they can, but demonstrates how in a new study. She and five other researchers compared ranges of five babblers with development across Vietnam.


NASA: Forest loss leaps in Bolivia, Mekong region

(08/08/2014) New satellite data from NASA suggests that deforestation is sharply increasing in Bolivia and Mekong countries during the second quarter of 2014.


Downturn in shade-grown coffee putting forests, wildlife, people at risk


(07/11/2014) Growing coffee in the shade of forests allows native vegetation to persist, thereby reducing the impact of agriculture on the natural landscape. While production of shade-grown coffee surged in recent decades, it is now experiencing a decline. A recent study analyzed the situation, finding that the growth of consumer demand and changes in coffee agronomy has caused coffee production and management to change drastically.


Logging in Vietnam still affecting rare trees 30 years later


(06/25/2014) Restricted geographic ranges, high habitat specificity, and small local population sizes all contribute to the natural rarity of many tree species. Anthropogenic activities such as selective logging can compound this rarity by modifying habitats and altering the competitive balance among tree species. According to a new study, previous logging in the forests of Vietnam continue to put rare tree species at risk.


Tropical nations make progress in slowing deforestation

(06/10/2014) Efforts to slow destruction of tropical forests seem to be paying off in a number of countries, argues a new report published by the Union of Concerned Scientists (UCS).


Chinese luxury furniture linked to murder, near extinction


(05/12/2014) Intricately carved, meticulously designed, and costing hundreds of thousands of dollars: this is "hongmu," or Chinese luxury furniture reflecting the elite styles of the Ming and Qing dynasties. But while the red-colored furniture may be aesthetically beautiful, it comes with a blood price.


Game of thorns: colorful, spiky tree frog discovered in Vietnam


(04/25/2014) Evening fog settled quickly on Mount Ngoc Linh, as the steady drone of cicadas and crickets took up their usual nighttime chorus. The night calm was broken by sudden crashing through the thick bamboo stands and excited voices. High in this isolated cloud forest in central Vietnam, researchers had come upon the first thorny tree frog known to science.


Long lost mammal photographed on camera trap in Vietnam


(03/25/2014) In 1929, two sons of Theodore Roosevelt (Teddy Junior and Kermit) led an expedition that killed a barking deer, or muntjac, in present-day Laos, which has left scientists puzzled for over 80 years. At first scientists believed it to be a distinct species of muntjac and named it Roosevelts' muntjac (Muntiacus rooseveltorum), however that designation was soon cast into doubt with some scientists claiming it was a specimen of an already-known muntjac or a subspecies. The problem was compounded by the fact that the animal simply disappeared in the wild. No one ever documented a living Roosevelts' muntjac again—until now.


NASA data reveals impact of cyclones on forests in Vietnam, Madagascar

(01/30/2014) Forest disturbance in Madagascar and Vietnam increased significantly in the aftermath of cyclones that hit the countries last year, according to a forest tracking tool developed by a team of NASA researchers.


New frog species discovered on tallest mountain in Indochina


(01/22/2014) A team of Australian and Vietnamese researchers recently discovered a new species of frog in the high elevations of Vietnam's Mount Fansipan, according to a new paper in Zootaxa. The amphibian was named Botsford's leaf-litter frog (Leptolalax botsfordi) as a tribute to Christopher Botsford for his role in amphibian biodiversity research in Asia.


Environmental groups: top secret Pacific trade agreement to sacrifice wildlife, environment

(01/16/2014) Environmental groups have blasted draft text of the Trans-Pacific Partnership (TPP) released yesterday by WikiLeaks as potentially devastating to the environment and wildlife. The massive 12-nation free trade agreement has been negotiated in secret now for almost four years, and the information release by WikiLeaks shows that key environmental safeguards in the agreement are being stripped away, including a ban on shark finning and illegal logging, as well as legally-enforced pollution regulations.


Top 10 HAPPY environmental stories of 2013


(12/19/2013) China begins to tackle pollution, carbon emissions: As China's environmental crisis worsens, the government has begun to unveil a series of new initiatives to curb record pollution and cut greenhouse emissions. The world's largest consumer of coal, China's growth in emissions is finally slowing and some experts believe the nation's emissions could peak within the decade. If China's emissions begin to fall, so too could the world's.


Consumer report uncovers why people buy rhino horn


(11/26/2013) The rhinoceros is one of the largest and most iconic animals to roam the earth. However, poaching for their horn, erroneously believed to have medicinal value, has led the IUCN Red List to classify three of the world's five species as Critically Endangered. But, a new consumer report by the wildlife trade monitoring network, TRAFFIC, finds that rhino horn consumers in Vietnam buy the illegal product as much to raise their social status as to attempt to treat a fever or hangover.


Asia's 'unicorn' photographed in Vietnam


(11/12/2013) In 1992, scientists made a spectacular discovery: a large, land mammal (200 pounds) that had somehow eluded science even as humans visited the moon and split the atom. Its discoverers, with WWF and Vietnam's Ministry of Forestry, dubbed the species the saola (Pseudoryx nghetinhensis). Found in the Annamite Mountains in Laos and Vietnam, the saola is a two-horned beautiful bovine that resembles an African antelope and, given its rarity, has been called the Asian unicorn. Since its discovery, scientists have managed to take photos via camera trap of a wild saola (in 1999) and even briefly studied live specimens brought into villages in Laos before they died (in 1996 and again in 2010), however the constant fear of extinction loomed over efforts to save the species. But WWF has announced good news today: a camera trap has taken photos of a saola in an unnamed protected area in Vietnam, the first documentation of the animal in the country in 15 years.


Unlikely success: how Zimbabwe has become a global leader in rhino conservation


(10/02/2013) With its collapsed economy, entrenched poverty, and political tremors, one would not expect that a country like Zimbabwe would have the capacity to safeguard its rhinos against determined and well-funded poachers, especially as just across the border South Africa is currently losing over two rhinos a day on average. And indeed, without the Lowveld Rhino Trust (LRT), rhinos in Zimbabwe would probably be near local extinction. But the LRT, which is centrally involved in the protection of around 90 percent of the country's rhinos in private reserves along with conservancy members, has proven tenacious and innovative in its battle to safeguard the nation's rhinos from the poaching epidemic.


Hydro projects a front for logging in Vietnam

(09/18/2013) Small hydroelectric projects in forested areas in Vietnam may be a front for logging operations in the country's national parks, reports Vietnam Net.


New shrew discovered in Vietnam forest

(07/08/2013) Researchers have described a previously unknown species of white toothed shrew in the forests of Vietnam. The study was published July 2 in the open access journal ZooKeys.


Mekong region has lost a third of its forests in 30 years, may lose another third by 2030

(05/03/2013) The Greater Mekong region of Cambodia, Laos, Myanmar (Burma), Thailand and Vietnam will lose a third of its remaining forest cover by 2030 unless regional governments improve management of natural resources and transition toward a greener growth model, warns a new report issued by WWF.


The river of plenty: uncovering the secrets of the amazing Mekong


(04/23/2013) Home to giant catfish and stingrays, feeding over 60 million people, and with the largest abundance of freshwater fish in the world, the Mekong River, and its numerous tributaries, brings food, culture, and life to much of Southeast Asia. Despite this, little is known about the biodiversity and ecosystems of the Mekong, which is second only to the Amazon in terms of freshwater biodiversity. Meanwhile, the river is facing an existential crisis in the form of 77 proposed dams, while population growth, pollution, and development further imperil this understudied, but vast, ecosystem.


Cobra bust in Vietnam

(04/23/2013) Authorities in Vietnam arrested a man who they say was transporting 53 king cobras — a protected snake species — in his car, reports the Associated Press.


Rhino horn madness: over two rhinos killed a day in South Africa

(04/22/2013) Rhino poachers have killed 232 rhinos during 2013 so far in South Africa, reports Annamiticus, which averages out to 2.1 a day. The country has become a flashpoint for rhino poaching as it holds more rhinos than any other country on Earth. Rhinos are being slaughter for their horns, which are believed to be a curative in Chinese traditional medicine, although there is no evidence this is so.


The beautiful amphibian from Hell: scientists discover new crocodile newt in Vietnam (photos)


(03/19/2013) Researchers have discovered a new species of Vietnamese salamander that looks like it was birthed from an abyssal volcano. Found tucked away in Tokyo's National Museum of Nature and Science, the scientists described the species in the new edition of Current Herpetology. Coal-black with orange-tinted toes, the new crocodile newt (in the genus Tylototriton) was determined to be a new species when it showed morphological and genetic differences from near relatives. Despite its remarkable appearance, the researchers say these are typical colors for crocodile newts.


Elephant woes: conservationists mixed on elephant actions at CITES


(03/14/2013) Conservationists couldn't agree if the glass was half-full or half-empty on action to protect elephants at the Convention on International Trade in Endangered Species (CITES) in Bangkok, Thailand. Elephants, especially in Africa, have faced a massive rise in poaching over the last decade with tens-of-thousands shot dead every year. Forests elephants in central Africa have been especially targeted: new research estimates that an astounding 60 percent of the world's forest elephants have been slaughtered for their tusks in the last ten years alone. While conservationists had hopes that CITES would move aggressively against elephant poaching, the results were a decidedly mixed-bag.


Captive frogs may be spreading diseases to wild cousins across Southeast Asia

(03/07/2013) Scientists have documented a series of links between exotic frogs for trade and diseases in wild frogs in Southeast Asia, including the first documented case of the chytrid fungus—a virulent and lethal disease—in Singapore. According to researchers writing in a new study in EcoHealth, frogs imported into Southeast Asia as pets, food, or traditional medicine are very likely spreading diseases to wild populations.


Pity the pangolin: little-known mammal most common victim of the wildlife trade


(02/11/2013) Last year tens-of-thousands of elephants and hundreds of rhinos were butchered to feed the growing appetite of the illegal wildlife trade. This black market, largely centered in East Asia, also devoured tigers, sharks, leopards, turtles, snakes, and hundreds of other animals. Estimated at $19 billion annually, the booming trade has periodically captured global media attention, even receiving a high-profile speech by U.S. Secretary of State, Hillary Clinton, last year. But the biggest mammal victim of the wildlife trade is not elephants, rhinos, or tigers, but an animal that receives little notice and even less press: the pangolin. If that name doesn't ring a bell, you're not alone.


Cute animal picture of the day: white-cheeked gibbon baby

(01/16/2013) A northern white-cheeked gibbon pair (Nomascus leucogenys) at the Wildlife Conservation Society's (WCS) Bronx Zoo have given birth to a brand new infant. This is the mother gibbon's 11th infant.


Photos: Neon blue dragon discovered in Vietnamese rainforest


(01/15/2013) German and Russian biologists have discovered a stunning new species of lizard in Vietnam. The species, dubbed Calotes bachae, is described in a recent issue of the journal Zootaxa. Calotes bachae is a type of agama, a group of lizards commonly known as 'forest dragons.'


Rhino poaching hits new record in 2012

(01/11/2013) 668 rhinos were killed in South Africa during 2012 according to new figures released by the South African government. The total, which represents a 49 percent rise over the 448 killed in 2011, reveals the heavy toll the black market trade in rhino horn is taking on one of Africa's best known and most endangered animals.


New giant flying frog discovered near city of 9 million


(01/09/2013) Jodi Rowley is no stranger to discovering new amphibians—she's helped describe over 10 in her short career thus far—but still she was shocked to discover a new species of flying frog less than 100 kilometers from a major, bustling Southeast Asian metropolis, Ho Chi Minh City. Unfortunately, the new frog, dubbed Helen's tree frog (Rhacophorus helenae), may be on the verge of extinction, according to the description published in the Journal of Herpetology.


Pictures: 126 new species discovered in Greater Mekong region last year

(12/18/2012) Some 126 new species were described in Asia'a Mekong region last year, notes a new report published by the World Wildlife Fund (WWF).


Pledge to end wildlife trafficking for Wildlife Conservation Day

(12/04/2012) Today has been dubbed the first ever global Wildlife Conservation Day. To honor it, a coalition of conservation groups—including WWF and Wildlife Conservation Society (WCS)—are working to raise awareness of illegal wildlife trafficking. Poaching for traditional medicine, bushmeat, and other products has put innumerable species at risk, including tigers, rhinos, sharks, and elephants.


China and India plan 818 new coal plants

(11/26/2012) Even as the clamor to reduce greenhouse gas emissions reaches a new high—echoed recently by such staid institutions as the World Bank and the International Energy Agency (IEA)—a new analysis by the World Resources Institute (WRI) finds that 818 new coal-fired plants are under proposal in China and India. In all 1,199 new coal-fired plants are currently planned worldwide, according to the report, totaling 1.4 million megawatts of energy.


Controversial dam gets approval in Laos

(11/07/2012) Laos has given approval to the hugely-controversial $3.5 billion Xayaburi Dam on the Mekong River, reports the BBC. The massive dam, which would provide 95 percent of its energy production to Thailand, has been criticized for anticipated impacts on the river's fish populations, on which many locals depend.


South Africa hits another new record in rhino killings

(10/18/2012) Four hundred and fifty-five rhinos have been killed by poachers in South Africa since the beginning of the year. The number surpasses the record set last year (448) and proves that national efforts to stem poaching have not yet made a dent in actual killings. The mass killing has been spurred on by high demand for powdered rhino horn in Vietnam and China. A traditional curative in Asia, rhino horn has no medicinal properties according to scientists.


The world's 25 most endangered primates: nearly a quarter in Madagascar


(10/15/2012) A coalition of conservation groups released the biannual Top 25 Primates list today, including nine species not appearing on the 2010 list, at the UN's Convention on Biological Diversity (CBD) in Hyderabad, India. Madagascar tops the list as home to the most threatened primates, including six on the list. Following Madagascar, Vietnam contains five, Indonesia three, and Brazil two. In all, over half (54 percent) of the world's primates, which have been evaluated, are considered threatened by the IUCN Red List.


The riot over rhinos: how a luxury and illegal commodity is driving the slaughter of one of the world's iconic megafauna


(10/15/2012) 23,680 = the estimated number of wild rhinoceroses in South Africa. 35,000,000 = the number of American dollars generated by rhino hunting in South Africa. 97% = the percentage increase in illegally-hunted rhinos in 2011 from the national average in 1990. 30,000 = the number of pounds of rhino horns confiscated from poachers since 2010. 65 = the number of horns that have been stolen in South Africa from public display. 430...the number of rhinos killed this year, and counting...


Corruption still plundering forests in Laos for furniture

(09/26/2012) The forests of Lao are still suffering from widespread destruction with the government turning a blind eye to a thriving black market logging trade on the border of Laos and Vietnam, according to an update report by the Environmental Investigation Agency (EIA). Last year, the EIA found that powerful players, including the Vietnamese military, were plundering Laos of its forests for raw logs. Smuggled from Laos into Vietnam, the raw logs are crafted into furniture, which are eventually exported to Europe and the U.S. Now, over a year later a new report finds little has changed.


New website highlights the plight of the pangolin


(09/25/2012) Scaly, insect-devouring, nocturnal, and notoriously shy, pangolins are strange mammals who remain unknown to many. But they are facing a major crisis as they are stolen from the wild in East Asia to serve as meat or traditional medicine. In Asia, two of the four species are now listed as Endangered due largely to poaching. Now, a new expert group through the International Union for the Conservation of Nature (IUCN) aims to work toward better research and conservation of the world's imperiled pangolins, starting with launching a new website, PangolinSG.


Yuppies are killing rhinos, tigers, elephants

(09/07/2012) Yuppies, not elderly rural consumer, are driving the trade that is decimating some of the world's most iconic endangered species, including tigers, elephants, rhinos, pangolins, and bears, said experts meeting at a workshop in Vietnam.


Mekong dam spree could create regional food crisis


(08/27/2012) Fish are a hugely important protein source for many people around the world. This is no more evident than along the lower Mekong River delta where an estimated 48 million people depend directly on the river for food and livelihoods. But now a new study in Global Environmental Change cautions that 11 planned hydroelectric dams in the region could cut vital fish populations by 16 percent while putting more strain on water and land resources.


'Penis-headed' fish discovered in Vietnam

(08/27/2012) A bizarre penis-headed fish has been discovered in Vietnam, according to a new paper published in the journal Zootaxa.


Vietnam buys stakes in controversial oil blocks threatening Peru's most vulnerable indigenous people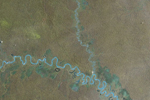 (07/11/2012) Vietnam's state oil and gas company, PetroVietnam Exploration and Production (PVEP), has announced its intention to acquire a major stake in controversial oil operations in the remote Peruvian Amazon. This area, known as Lot 67, is one of the most biodiverse in the world and home to indigenous people living without regular contact with outsiders, sometimes dubbed 'isolated' or 'uncontacted', who could be decimated by contact with oil company workers because they are highly vulnerable to disease.


The rarest rhino's last stand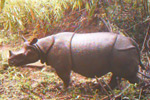 (06/04/2012) Trekking through deep mud and sawgrass we find a stinking wallow. The elite rangers, dressed completely in black despite the tropical heat, mark the site with the GPS unit, measure the mucky puddle's depth, and move on. This is the first sign of one of the planet's rarest animals—the Javan rhino. Only 35 or so remain, including none in captivity. This patch of rainforest and swamp in Ujung Kulon National Park—on the very tip of West Java—is their last and only refuge.


Does the Tasmanian tiger exist? Is the saola extinct? Ask the leeches


(04/30/2012) The use of remote camera traps, which photograph animals as they pass, has revolutionized research on endangered and cryptic species. The tool has even allowed scientists to document animals new to science or feared extinct. But as important as camera traps have become, they are still prohibitively expensive for many conservationists and require many grueling hours in remote forests. A new paper in Current Biology, however, announces an incredibly innovative and cheaper way of recording rare mammals: seek out the leeches that feed on them. The research found that the presence of mammals, at least, can be determined by testing the victim's blood for DNA stored in the leech.


Vampire and bird frogs: discovering new amphibians in Southeast Asia's threatened forests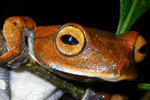 (02/06/2012) In 2009 researchers discovered 19,232 species new to science, most of these were plants and insects, but 148 were amphibians. Even as amphibians face unprecedented challenges—habitat loss, pollution, overharvesting, climate change, and a lethal disease called chytridiomycosis that has pushed a number of species to extinction—new amphibians are still being uncovered at surprising rates. One of the major hotspots for finding new amphibians is the dwindling tropical forests of Southeast Asia.


Forgotten species: the wild jungle cattle called banteng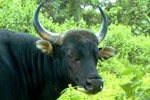 (01/31/2012) The word "cattle," for most of us, is the antithesis of exotic; it's familiar like a family member one's happy enough to ignore, but doesn't really mind having around. Think for a moment of the names: cattle, cow, bovine...likely they make many of us think more of the animals' byproducts than the creatures themselves—i.e. milk, butter, ice cream or steak—as if they were an automated food factory and not living beings. But if we expand our minds a bit further, "cattle" may bring up thoughts of cowboys, Texas, herds pounding the dust, or merely grazing dully in the pasture. But none of these titles, no matter how far we pursue them, conjure up images of steamy tropical rainforest or gravely imperiled species. A cow may be beautiful in its own domesticated sort-of-way, but there is nothing wild in it, nothing enchanting. However like most generalizations, this idea of cattle falls to pieces when one encounters, whether in literature or life, the banteng.


Earth systems disruption: Does 2011 indicate the "new normal" of climate chaos and conflict?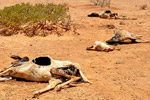 (12/21/2011) The year 2011 has presented the world with a shocking increase in irregular weather and disasters linked to climate change. Just as the 2007 "big melt" of summer arctic sea ice sent scientists and environmentalists scrambling to re-evaluate the severity of climate change, so have recent events forced major revisions and updates in climate science.


Featured video: documentary on logging mafia

(12/19/2011) A new documentary, The Real Chainsaw Massacre, follows the corrupt and violent black market of illegal timber trading in Vietnam. The documentary highlights the efforts of undercover investigators with the Environmental Investigation Agency (EIA) working to expose the lucrative trade of illegal logging from Laos to Vietnam. A trade that is not only decimating forests in Southeast Asia, but is imperiling biodiversity, harming locals, and often coupled with other illegal activities.


Herpetology curator: behind-the-scenes of 'new species' discoveries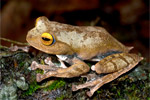 (12/18/2011) Bryan Stuart's mission as a curator of amphibians and reptiles at the North Carolina Museum of Natural Sciences is to understand the diversity of life on earth. For that, he documents what species occur where and why. He's particularly attracted to areas where there's a dearth of knowledge, like Laos, Cambodia, Vietnam and Gabon, and so far has discovered 27 species unknown previously to scientists: three species of snakes, two types of salamanders, and 22 kinds of frogs.


Photos: 208 species discovered in endangered Mekong region in 2010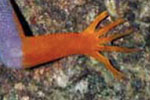 (12/14/2011) Last year researchers scoured forests, rivers, wetlands, and islands in the vanishing ecosystems of the Mekong Delta to uncover an astounding 208 new species over a twelve month period. A new report by the World Wide Fund for Nature (WWF) highlights a number of the new species—from a new snub-nosed monkey to five new meat-eating pitcher plants to a an all-female, cloning lizard—while warning that many of them may soon be gone as the Mekong Delta suffers widespread deforestation, over-hunting and poaching, massive development projects, the destruction of mangroves, pollution, climate change, and a growing population.


New species of frog sings like a bird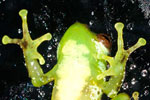 (12/12/2011) If you're trudging through the high-altitude rainforests of northern Vietnam and you hear bird song, you might want to check the trees for frogs. Yes, that's right: frogs. A new species of tree frog has been discovered in Vietnam that researchers say has a uniquely complex call that makes it sound more like a bird than a typical frog. Discovered in Pu Hoat Proposed Nature Reserve, the new species, dubbed Quang's tree frog (Gracixalus quangi), dwells in the forests at an altitude 600-1,300 meters (nearly 2,000-4,265 feet).


Photos: two new paper clip-sized frogs discovered in Vietnamese mountains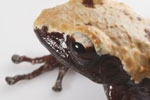 (12/07/2011) Researchers have discovered two new frog species living in the montane tropical forests of Vietnam. Known as moss frogs, these small amphibians employ camouflage as one way to keep predators at bay, in some cases resembling the moss that gives them their name.


Photos: bizarre new mammal discovered in Vietnam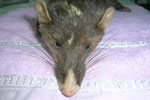 (11/28/2011) A new species of omnivorous mammal has been found in Cuc Phuong National Park, Vietnam. A part of the weasel family, the new species is known as a ferret-badger, a strange subfamily of mammals that have been little-studied by researchers. Smaller than proper badgers, ferret-badgers have elongated faces and long bushy tails.


South Africa hits record poaching of rhinos—again


(11/03/2011) Two months before the end of the year, the number of rhinos killed for their horns in South Africa has surpassed last year's breaking record, reports conservation organizations WWF and TRAFFIC. So far, 341 rhinos have been lost to poaching this year; while last year saw a total record of 333. The news follows last week's announcement that the Vietnamese rhino (Rhinoceros sondaicus annamiticus), a subspecies of the Javan rhino, has gone extinct—the last individual killed by a poachers' bullet. Rhinos are killed for their horns which are used in traditional Chinese medicine, even though numerous studies have shown there is no medicinal benefit to consuming rhino horn.


Photos: three bizarre bats discovered in Southeast Asia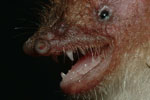 (10/30/2011) In the forests of Cambodia and Vietnam, researchers have discovered three new species of tube-nosed bats, known for extraordinary nostrils that look like blooming flowers. The new bats, described in the Journal of Mammalogy, are likely imperiled by deforestation. "They all possess specially shaped nostrils (hence the name for the group) the exact role of which not known yet," Gabor Csorba, lead author of the paper with the Hungarian Natural History Museum, told mongabay.com.


Vietnamese rhino goes extinct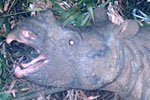 (10/25/2011) In 2009 poachers shot and killed the world's last Vietnamese rhinoceros (Rhinoceros sondaicus annamiticus), a subspecies of the Javan rhino, confirms a report from International Rhino Foundation (IRF) and the World Wide Fund for Nature (WWF). The Vietnamese rhino was the last Javan rhino to survive on the Asian mainland and the second subspecies to vanish, following the extinction of the Indian Javan rhino (rhinoceros sondaicus inermis). The Javan rhino is the world's most imperiled rhino species with now only around 50 individuals surviving in a single park on its namesake island in Indonesia.


Cute animal picture of the day: ginger-haired baby monkey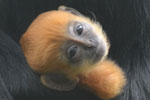 (09/29/2011) One of the world's most endangered primates recently gave birth to an orange-haired baby at the Zoological Society of London (ZSL) Zoo in London. It's the mother Francois langur (Trachypithecus francoisi)'s first birth. The fire-orange hair of the baby is typical of this species and will only last around six months.


The Vietnam War's ongoing effect on conservation

(09/16/2011) In the Phong Dien Nature Reserve in central Vietnam, an unlikely resource is hindering formal conservation efforts. Deep in the forest, villagers scavenge for scrap metal left during the Vietnam War. Unprecedented research from the Center for International Forestry Research (CIFOR) and the Institute of Tropical Forest Conservation (ITFC) finds scrap metal gathering is a primary driver in forest degradation and trade in non-timber forest products in Vietnam.


New 'demon' bat discovered in Vietnam (PHOTO)

(09/01/2011) Scientists have discovered three previously unknown bat species in southern Indochina, reports Fauna & Flora International.


Vietnamese military illegally plundering Laos' forests

(07/28/2011) Dwindling forests in the Asian nation of Laos are being illegally destroyed and traded by Vietnamese companies with the Vietnamese army as one of the biggest players in this multi-million dollar smuggling operation, according to an investigation by the Environmental Investigation Agency (EIA). EIA agents went undercover as timber purchasers to discover a long trail of corruption and poor enforcement from the destruction of Laos forests to furniture factories in Vietnam to stores in the USA and Europe. Even a ban on exporting raw timber out of Laos has done little to stop the plunder of the nation's forests for outside gain.


How to fight organized wildlife crime in East Asia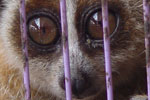 (07/27/2011) Organized criminal syndicates are wiping out some of the world's most charismatic wildlife to feed a growing appetite for animal parts in East Asia#8212;and so far governments and law enforcement are dropping the ball. This is the conclusion from a new paper in Oryx, which warns unless officials start taking wildlife crime seriously a number of important species could vanish from the Earth.


Hundreds of Critically Endangered apes found in remote Vietnam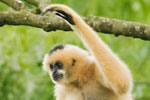 (07/18/2011) A new population—hundreds strong—of northern white-cheeked crested gibbon (Nomascus leucogenys) has been found in Vietnam by researchers with Conservation International (CI). The group estimates that around 130 gibbon groups—455 individuals—survive in Pu Mat National Park, making it the only known viable population of this species in the world and effectively tripling the global populations. Unfortunately, these newly-discovered gibbons are imperiled by road-building through the park.


Eating rhino horn sends woman to hospital

(06/30/2011) A Vietnamese woman ended up in the hospital after consuming rhino horn, reports savingrhinos.org. Used for a rash around her mouth, the rhino horn instead caused a serious allergic reaction, including reddening skin, itching, and fever. Listed under the Convention on International Trade in Endangered Species of Wild Fauna and Flora (CITES), rhino horn is illegal to purchase or sell worldwide.


Vietnam plans to build 90 coal plants

(06/12/2011) Vietnam's government has announced plans to build 90 coal-fired plants over the next 15 years even while being listed as among the top 11 most vulnerable nation's to climate change in the world, according to Eco-Business.


Bear bile trade, both legal and illegal, ubiquitous in Asia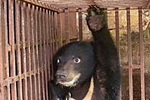 (05/16/2011) Surveying 13 nations and territories in Asia, the wildlife trade organization TRAFFIC found that the bear bile trade remains practically ubiquitous in the region. In many cases the trade, which extracts bile from captive bears' gall bladders for sale as a pharmaceutical, flouts both local and international law, including Appendix I of Convention on International Trade in Endangered Species of Wild Fauna and Flora (CITES ).


Belief and butchery: how lies and organized crime are pushing rhinos to extinction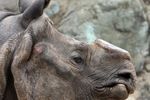 (05/11/2011) Few animals face as violent, as well organized, and as determined an enemy as the world's rhinos. Across the globe rhinos are being slaughtered in record numbers; on average more than one rhino is killed by poachers everyday. After being shot or drugged, criminals take what they came for: they saw off the animal's horn. Used in Traditional Chinese Medicine, which claims that it has curative properties, rhino horn is worth more than gold and cocaine on the black market. However, science proves all this cash and death is based on a lie. 'There is no medicinal benefit to consuming rhino horn. It has been extensively analyzed in separate studies, by different institutions, and rhino horn was found to contain no medical properties whatsoever,' says Rhishja Larson.


Vietnam creates reserve for newly-discovered, nearly-extinct mammal, the saola

(04/14/2011) The Vietnam government and local people have approved a Saola Natural Reserve to protect one of the world's most endangered—and most elusive—mammals. Only discovered by the outside world in 1992, the saola (Pseudoryx nghetinhensis) inhabits the lush forests of the Annamite Mountains. No one knows how many saola remain, but it has been classified as Critically Endangered as it is likely very few. Recently, conservationist William Robichaud told mongabay.com that the saola was "perhaps the most spectacular zoological discovery of the 20th century", comparing it only to the discovery of the okapi in central Africa in 1900.


Opposition rises against Mekong dam as governments ponder decision


(04/13/2011) As the governments of Laos, Thailand, Cambodia, and Vietnam ready to meet on April 19th to decide whether or not to move forward on the Xayaburi Dam, critics of Mekong River hydroelectric project have warned that the dam will devastate freshwater biodiversity and impact the livelihoods of hundreds of thousands, if not more. Last month a coalition of 263 organizations from 51 countries released a letter in opposition of the dam's construction.


The saola: rushing to save the most 'spectacular zoological discovery' of the 20th Century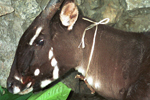 (04/04/2011) The saola (Pseudoryx nghetinhensis) may be the most enigmatic, beautiful, and endangered big mammal in the world—that no one has ever heard of. The shy ungulate looks like an African antelope—perhaps inhabiting the wide deserts of the Sahara—but instead it lives in the dense jungles of Vietnam and Laos, and is more related to wild cattle than Africa's antelopes. The saola is so unusual that is has been given its own genus: Pseudoryx, due to its superficial similarities to Africa's oryx. In the company of humans this quiet forest dweller acts calm and tame, but has yet to survive captivity long. Yet strangest of all, the 200 pound (90 kilogram) animal remained wholly unknown to science until 1992.


Photo: new vipers discovered in Asia's rainforests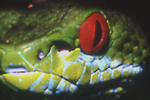 (03/30/2011) Researchers have discovered two new species of pitviper in Southeast Asia. After collecting snakes throughout the Asian tropics—Thailand, Laos, Vietnam, and Cambodia—researchers were able to parse out a more complex set of species than had been recognized. One of the new vipers has been dubbed Cryptelytrops rubeus for its ruby-colored eyes.


Logged forests in Vietnam retain significant biodiversity, including dipterocarp trees

(03/28/2011) Little remains of Vietnam's primary forest: as of 2005 only 12% of Vietnam forest was classified as primary. While deforestation rates have lessened since the end of the 1990s, survival of species in Vietnam depends in part on secondary, logged, and degraded forests. A new study in mongabay.com's open access journal Tropical Conservation Science finds that logged forests in southern Vietnam still retain significant biodiversity of trees, including important conservation species, such as Dipterocarp trees.


Top forest policies recognized

(03/23/2011) 19 forest policies have been nominated for an award by the World Future Council, a global think tank.


From Cambodia to California: the world's top 10 most threatened forests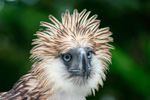 (02/02/2011) Growing populations, expanding agriculture, commodities such as palm oil and paper, logging, urban sprawl, mining, and other human impacts have pushed many of the world's great forests to the brink. Yet scientists, environmentalists, and even some policymakers increasingly warn that forests are worth more standing than felled. They argue that by safeguarding vulnerable biodiversity, sequestering carbon, controlling erosion, and providing fresh water, forests provide services to humanity, not to mention the unquantifiable importance of having wild places in an increasingly human-modified world. Still, the decline of the world's forests continues: the FAO estimating that around 10 million hectares of tropical forest are lost every year. Of course, some of these forests are more imperiled than others, and a new analysis by Conservation International (CI) has catalogued the world's 10 most threatened forests.


Updating the top 100 weirdest and most imperiled mammals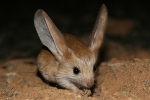 (01/24/2011) A lot can change in three years. In January 2007, the Zoological Society of London (ZSL) jumpstarted a program unique in the conservation world: EDGE, which stands for Evolutionarily Distinct and Globally Endangered, selects the species it works with not based on popularity or fund-raising potential but on how endangered and evolutionary unique (in laymen's terms: weird) they are. When EDGE first arrived in 2007, it made news with its announcement of the world's top 100 most unique and endangered mammals. While this list included a number of well-known species—such as the blue whale and the Asian elephant—it also introduced the public to many little-recognized mammals that share our planet, such as the adorable long-eared jerboa, the ancient poisonous solenodon, and the ET-like aye-aye. However, after three years the EDGE program found that their top 100 mammals list already need updating.


Good stewards of forests at home outsource deforestation abroad

(11/24/2010) As more nations adopt better laws and policies to save and restore forests at home, they may, in fact, be outsourcing deforestation to other parts of the world, according to a new study in the Proceedings of the National Academy of Sciences (PNAS). Looking at six developing nations where forests are recovering—instead of receding—the study found only one of them did not outsource deforestation to meet local demand for wood-products and food, a process known as 'leakage'.


Rebuttal: Slaughtering farmed-raised tigers won't save tigers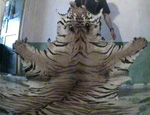 (11/18/2010) A recent interview with Kirsten Conrad on how legalizing the tiger trade could possibly save wild tigers sparked off some heated reactions, ranging from well-thought out to deeply emotional. While, we at mongabay.com were not at all surprised by this, we felt it was a good idea to allow a critic of tiger-farming and legalizing the trade to officially respond. The issue of tiger conservation is especially relevant as government officials from tiger range states and conservationists from around the world are arriving in St. Petersburg to attend next week's World Bank 'Tiger Summit'. The summit hopes to reach an agreement on a last-ditch effort to save the world's largest cat from extinction.


Would legalizing the trade in tiger parts save the tiger?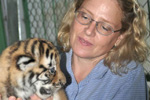 (11/15/2010) Just the mention of the idea is enough to send shivers down many tiger conservationists' spines: re-legalize the trade in tiger parts. The trade has been largely illegal since 1975 under the Convention on International Trade in Endangered Species (CITES). The concept was, of course, a reasonable one: if we ban killing tigers for traditional medicine and decorative items worldwide then poaching will stop, the trade will dry up, and tigers will be saved. But 35 years later that has not happened—far from it. "Words such as 'collapse' are now being used to describe the [tiger's] situation both in terms of population and habitat. Wild tiger numbers continue to drop so that we have about 3,500 today across 13 range states occupying just 7% of their original habitat. It's universally acknowledged that we're losing the battle," Kirsten Conrad, tiger conservation expert, told mongabay.com in a recent interview.


Authorities confiscated over 1000 tigers in past decade

(11/09/2010) Highlighting the poaching crisis facing tigers, a new report by the wildlife trade organization, TRAFFIC, found that from 2000-2010 authorities have confiscated the parts of 1,069 tiger individuals, many of them dead. The tigers, or their body parts, were confiscated from 11 of the species' 13 range countries, according to the report entitled Reduced to Skin and Bones. Yet the number only hints at the total number of tigers (Panthera tigris) vanishing in the wild due to the illegal trade in tiger parts for traditional Asian medicine and decorative items, such as skins.


Illegal logging rampant in Vietnam

(11/01/2010) Illegal logging is rampant in Vietnam, according to a new report from the the Ministry of Agriculture and Rural Development's General Forestry Department.


Chinese court sentences rhino horn smuggler to 12 years

(10/07/2010) A traditional Chinese medicine businessman has been sentenced to 12 years in prison for attempting to smuggler rhino horn from Vietnam to China, according to Saving Rhinos which has been following the case on ChinaCourt.org.


New ape species uncovered in Asia

(09/21/2010) Discovering a species unknown to science is a highlight of any biologist's career, but imagine discovering a new ape? Researchers with the German Primate Center (DPZ) announced today the discovery of a new species of ape in the gibbon family, dubbed the northern buffed-cheeked gibbon (Nomascus annamensis), according to the AFP. The new species was discovered in rainforests between the borders of Vietnam, Laos, and Cambodia: an area that contains a number of gibbon species.


Scientists warn little known gibbons face immediate extinction



(09/19/2010) It's not easy to be a gibbon: although one of the most acrobatic, fast, and marvelously loud of the world's primates, the gibbon remains largely unknown to the global public and far less studied than the world's more 'popular' apes. This lack of public awareness, scientific knowledge, and, thereby, conservation funding combined with threats from habitat loss to hunting to the pet trade have pushed seven gibbon species, known as 'crested', to the edge of extinction according to scientists attending the 23rd Congress of the International Primatological Society.


Crackdown on illegal wildlife trade in Vietnam

(09/02/2010) A sweep of restaurants in Vietnam's Lam Dong Province turned up hundreds of pounds of illegal wildlife products, reports the Wildlife Conservation Society (WCS).


Poachers kill world's rarest rhino in Vietnam

(05/11/2010) Poachers have killed a Javan rhino in Vietnam for its horn according to the World Wildlife Fund (WWF). With only an estimated 60 individuals left the Javan rhino is the world's rarest and classified by the IUCN Red List as Critically Endangered. The rhino was found dead from a gunshot wound and its horn cut off in Cat Tien National Park in Vietnam.


Cyber attacks against mine opponents in Vietnam, says Google

(04/02/2010) Malicious software is being used to spy on critics of a controversial bauxite mine in Vietnam, reports Google.


Vietnam implements project to save one of the world's rarest mammals, the shy soala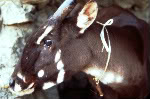 (02/24/2010) Vietnam's central province of Thua Thien-Hue has approved a project to save the enigmatic saola. Listed as Critically Endangered, the saola (Pseudoryx nghetinhensis)—a type of forest antelope—is so rare and secretive that it was only discovered in 1992. It is considered by many to be one of the world's rarest mammals. The project, funded by the Darwin Initiative, Cambridge University, and WWF, will be largely carried out by forest rangers during the next 33 months in Bach Ma National Park and a saola preservation zone. The project includes research, raising public awareness, and managing the protected areas to help the saola's survival.


Humans push half of the world's primates toward extinction, lemurs in particular trouble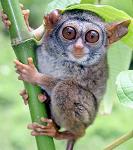 (02/18/2010) Of the known 634 primate species in the world 48 percent are currently threatened with extinction, making mankind's closes relatives one of the most endangered animal groups in the world. In order to bring awareness to the desperate state of primates, a new report by the International Union for the Conservation of Nature highlights twenty-five primates in the most need of rapid conservation action. Compiled by 85 experts the report, entitled Primates in Peril: The World's 25 Most Endangered Primates, 2008–2010, includes six primates from Africa, eleven from Asia, three from Central and South America, and five from the island of Madagascar.


Unique call gives away new bird species in Laos and Vietnam



(12/21/2009) A beautiful little warbler inhabiting limestone karsts in Vietnam and Laos has been named a new species. When the limestone leaf warbler ( Phylloscopus calciatilis) was first sighted in 1994 it was thought to be a member of the similar-looking species, the sulphur-breasted warbler, but ornithologists began to question that assumption when the bird produced a call significantly different from the sulphur-breasted's.


Video: rare footage of the sun bear, the world's smallest, making a nest in the canopy

(12/06/2009) Sun bear expert, Siew Te Wong, has captured rare footage of the world's smallest bear making a nest high in the canopy. The sun bear in the video is a radio-collared individual that Wong is keeping tabs on in Borneo.


Nations vulnerable to global warming present demands: carbon levels below 350ppm and billions in aid

(11/10/2009) A group of nations especially vulnerable to the effects of climate change have released a declaration calling for developed countries to keep CO2 emission below 350 parts per million (ppm) and to give 1.5 percent of their gross domestic product to aid developing nations in adapting to the myriad impacts of climate change.


Two of the world's most endangered (and strangest) primates receive protection from new reserves in China and Vietnam


(09/24/2009) There are 200 Tonkin snub-nosed monkeys left in the world. The cao vit gibbon, however, is even worse off with only 110 individuals remaining, giving it the dubious honor of being the second most endangered primate in the world (the closely-related Hainan gibbon with only 17 individuals is likely number one). Both of these species—the cao vit gibbon and Tonkin snub nosed monkey—have received good news recently as new reserves in China and Vietnam have been created in part to aid their survival.


Last chance to save a 'singular beauty' of Asia: the shy soala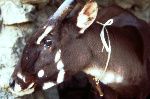 (09/03/2009) Only discovered in 1992, the reclusive and beautiful saola Pseudoryx nghetinhensis may soon vanish from the Earth, if rapid action isn't taken to save one of Asia's most enigmatic and rare mammals. Listed as Critically Endangered, the species has experienced a sharp decline since its discovery due largely to poaching. "The animal's prominent white facial markings and long tapering horns lend it a singular beauty, and its reclusive habits in the wet forests of the Annamites an air of mystery," says Barney Long, of the IUCN Asian Wild Cattle Specialist Group.


Vietnam outsources deforestation to neighboring countries


(09/02/2009) Taking a cue from its much larger neighbor to the north, Vietnam has outsourced deforestation to neighboring countries, according to a new study that quantified the amount of displacement resulting from restrictions on domestic logging. Like China, Vietnam has experienced a resurgence in forest cover over the past twenty years, largely as a result a forestry policies that restricted timber harvesting and encouraged the development of processing industries that turned raw log imports into finished products for export. These measures contributed to a 55 percent of Vietnam's forests between 1992 and 2005, while bolstering the country's stunning economic growth. But the environmental benefit of the increase in Vietnam's forest cover is deceptive: it came at the expense of forests in Laos, Cambodia, and Indonesia. Authors Patrick Meyfroidt and Eric F. Lambin of the Universite Catholique de Louvain in Belgium calculate that 39 percent of Vietnam's forest regrowth between 1987 and 2006 was effectively logged in other countries. Half of the wood imports into Vietnam were illegal.



Page 1 | Page 2