News articles on timber

---
Mongabay.com news articles on timber in blog format. Updated regularly.






Brazil to allow large-scale monitored harvesting of the Amazon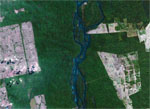 (02/23/2007) The International Tropical Timber Organization (ITTO) reports the Brazilian government plans to allow large-scale monitored harvesting of the Amazon rainforest. The new plan expands on an initiative proposed last year by Brazilian president Luiz Inacio Lula da Silva that would allow sustainable logging across 3 percent of the Amazon rain forest.
Biofuels, logging may spur deforestation in Guyana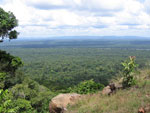 (02/15/2007) Growing timber exports and rising interest in biofuels are raising concerns that deforestation could accelerate in the South American country of Guyana. Guyana is a small, lightly populated country on the north coast of South America. About three-quarters of Guyana is forested, roughly 60 percent of which is classified as primary forest. Guyana's forests are highly diverse: the country has some 1,263 known species of amphibians, birds, mammals, and reptiles, and 6,409 species of plants.
U.S. forests suffer from beauty products packaging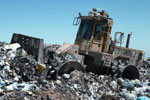 (02/14/2007) Every year millions of acres of forests in the southern United States are cut to fuel the pulp and paper industry. Nearly 25 percent of this demand comes from paper packaging, which usually ends up in landfills after a brief life as a disposable product. To support this industry, millions of acres of natural forest have been converted into fast-growing pine plantations -- in fact, the U.S. Forest Service estimates that nearly twenty percent of Southern forests are now pine plantations. Nationwide the United States lost an average of 831 square miles of old-growth forest per year according to official figures, the seventh highest loss in the world.
Amazon deforestation damaging critical ecosystem services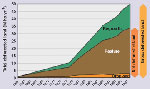 (02/08/2007) Human disturbance of the Amazon rainforest is more extensive than previously thought say a team of scientists writing in the current edition of the journal Frontiers in Ecology. Reviewing recent research on the Amazon ecosystem, they note that human activities are affecting the health of the forest and impacting the ecological goods and services the Amazon provides mankind.
98% of orangutan habitat in Borneo, Sumatra gone by 2022
(02/06/2007) A report from the United Nations Environment Programme (UNEP) today warns that illegal logging is rapidly destroying the last remaining habitat for orangutans in Borneo and Sumatra. The report says that up to 98 percent may be destroyed by 2022 without urgent action.





Satellite imagery to be used to detect illegal logging, determine sustainability

(12/21/2006) A new project aims to use advanced satellite imagery to monitor illegal logging activities and help certify the sustainability of timber harvesting in some of the world's most remote forests. The effort could reduce the cost of forest management and certification, while helping to crack down on illicit tree-felling.





China launches green buying policy

(12/19/2006) China's Ministry of Finance and the State Environmental Protection Administration (SEPA) announced that starting in 2007, the country's central and provincial governments will prioritize their purchasing of environmentally friendly products and services.







New Zealand implements 'green timber' policy

(12/19/2006) New Zealand's government will only buy timber and wood products only from legally and sustainably managed forests according to a new policy paper put out Monday by the minstry of forestry.





Logging roads lead to disease, social breakdown in Ecuador rainforest communities

(12/04/2006) Logging roads are linked to increased incidence of diarrheal disease and new social problems among communities along the Ecuadorian coast, according to a new study published in the Online Early Edition of Proceedings of the National Academy of Sciences (PNAS) for the week of December 4-8, 2006. Lead by Joseph Eisenberg, assistant professor of epidemiology at the University of Michigan School of Public Health, an international team of researchers examined diarrheal infections and social networks in 21 villages recently connected to a new government-constructed road network in the Choco rainforest of coastal Ecuador. They found that the new roads bring colonists to the region and allow villagers to travel more easily between villages and larger cities. Increased mobility increases the spread of bacteria, viruses and parasites according to Eisenberg.





U.S. stymies attempt to crack down on illegal logging

(11/14/2006) Monday the United States stymied an attempt by timber exporting and importing nations to establish new trade rules to tackle illegal logging, according to a report from Reuters. The news agency said that the U.S. may have neutered the initiative by insisting that all agreements had to be voluntary and failing to show up a Houses of Parliament meeting where proposals for the 2008 G8 summit in Tokyo were being developed.





Largest seizure of illegally logged Amazon rainforest timber announced by authorities

(10/23/2006) IBAMA, Brazil's environmental agency, announced the largest seizure ever of illegally logged timber from the Amazon rainforest. During a week-long operation -- code named Kojima -- in late September, authorities impounded nearly 15,000 cubic meters of unlicensed wood in the Amazonian state of Para. The agency said it was probably the largest seizure ever in the state. Para was the state where last year Sister Dorothy Stang, an American nun who worked with rural poor, was killed by gunman associated with local plantation owners. In response to the murder, the Brazilian government sent in the army to quell violence in the region and promised to step up environmental monitoring efforts.





China needs 5 million cubic meters more of tropical timber by 2010

(10/16/2006) China needs 5 million cubic meters more of tropical timber by 2010 according to the September 15-30 ITTO Tropical Timber Market Report, a publication published by the International Tropical Timber Organization. China is already the world's largest consumer of tropical wood, importing more than twice the volume of tropical logs as India, the second largest importer on the list.







46 arrested for illegal Amazon logging

(08/11/2006) The Associated Press reports that 46 people, including 16 agents of the federal environmental protection agency, were arrested for allegedly operating illegal logging operations in the Amazon rainforest and southern Brazil.









Tropical Asia needs to act to save biodiversity, say scientists

(07/22/2006) A group of scientists urged governments of tropical Asia to take steps to stem biodiversity loss across the region. At the annual meeting for the Association for Tropical Biology and conservation, hosted at the Tropical Botanical Garden (XTBG) of the Chinese Academy of Sciences in the Yunnan province of China, scientists said that population growth and booming economic expansion are fueling illegal logging, wildlife poaching, and habitat destruction. The scientists noted that populations of elephants, rhinoceroses, tigers, sun bears, orangutans, and other species unique to tropical Asia have fallen significantly in recent years as a result of these activities.





Logging resumes in Liberia

(07/17/2006) As former US president Bill Clinton arrives in Liberia to meet with President Ellen Johnson Sirleaf, it's time to take a look at the state of the forests in the country. While Liberia's brutal civil war delayed the commercial exploitation of its tropical forests during the 1990s, 'conflict timber' was a key source of revenue for warring factions. The harvesting of this wood, combined with collateral damage from military operations and wildlife poaching, took a heavy toll on Liberia's forests. With the end of the war, Liberia's new government--which took power at end of the war in 1998--immediately established forestry as a national priority and instituted a five-year tax holiday on timber industries. This policy, combined with the return of commercial interests to the country, repopulation, and reconstruction efforts, has put pressure on Liberia's remaining forest resources. Since the close of the 1990s, deforestation rates have increased by 17 percent, and primary forest cover in the country has fallen to just over 1.3 percent of the total land area (or 4.1 percent of the forest cover).





Japan depletes Borneo's rainforests; China remains largest log importer

(07/10/2006) Almost three quarters of Japan's tropical timber imports come from the endangered rainforests of Borneo according to figures from the International Tropical Timber Organization (ITTO), an industry group. Meanwhile, ITTO says that China remains, by a large margin, the largest consumer of tropical logs. Japan is the third largest importer of tropical logs after China and India. 74 percent of tropical logs brought into Japan come from Sarawak, a Malaysian state on the island of Borneo. Sawarak has seen a rapid decline in its forest cover since the 1980s, raising the ire of environmental groups and causing the Malaysian government to recently announce it would phase out logging in some areas. About 20 percent of Japan's tropical logs originate in Papua New Guinea.





Color-changing chameleon snake discovered in jungles of Borneo

(06/27/2006) Scientists discovered a species of snake capable of changing colors. The snake, called the Kapuas mud snake, resides in the rainforest on the island of Borneo, an ecosystem that is increasingly threatened by logging and agricultural development.





Previously undiscovered species found in Tanzania

(06/22/2006) The first field surveys of the Rubeho Mountains in Tanzania revealed over 160 animal species--including a new species of frog and eleven endemic species--according to an article published in the African Journal of Ecology this month. The findings elevate the importance of protecting this biologically-rich wilderness area and the broader Eastern Arc Mountain range from destructive activities underway such as clear-cutting for agriculture, logging and poaching.





Saving Orangutans in Borneo

(05/24/2006) A look at conservation efforts in Kalimantan, on the island of Borneo. I'm in Tanjung Puting National Park in southern Kalimantan on the island of Borneo. At 400,000 hectares (988,000 acres) Tanjung Puting is the largest protected expanse of coastal tropical heath and peat swamp forest in southeast Asia. It's also one of the biggest remaining habitats for the critically endangered orangutan, the population of which has been great diminished in recent years due to habitat destruction and poaching. And orangutans have become the focus of a much wider effort to save Borneo's natural environment. We are headed to Campy Leakey, named for the renowned Kenyan paleontologist Louis Leakey. Here lies the center of the Orangutan Research conservation Project. Established by Birute Mary Galdikas, a preeminent primatologist and founder of the Orangutan Foundation International (OFI), the project seeks to support the conservation and understanding of the orangutan and its rain forest habitat while rehabilitating ex-captive individuals. The Orangutan Research conservation Project is the public face of orangutan conservation in this part of Kalimantan, the Indonesia-controlled part of Borneo. Borneo, the third largest island in the world, was once home to some of the world's most majestic, and forbidding forests. With swampy coastal areas fringed by mangrove forests and a mountainous interior, much of the terrain was virtually impassable and unexplored. Headhunters ruled the remote parts of the island until a century ago.





Shippers in Indonesia fight decree on illegal logging

(05/21/2006) According to a report from the International Tropical Timber Organization (ITTO), shippers in Indonesia are threatening to stop transporting logs if the government insists on enforcing a new decree on the transportation of illegal timber. The Indonesian National Ship-owners Association says that the Indonesian government's proposal to impound ships carrying illegal timber would cause massive losses to the local shipping industry, according to the ITTO Tropical Timber Market Report. The association contends that authorities should only confiscate illegal wood, not the ships.





China's timber imports surge in 2006

(05/21/2006) According to China Customs, China's timber imports surged during the first quarter of 2006. Log imports increased 18 percent to 8.1 million cubic meters. China customs valued these imports at $897.42 million. Most of the log imports (64 percent) consisted of softwood logs from Russia. Sawnwood imports amounted to 1.45 million cubic meters worth some $385.72 million. Separately, the ITTO Tropical Timber Market Report reported that paper multinationals are aggressively investing in China's paper industry.





What do bikini models and Merrill Lynch have to do with deforestation?

(05/14/2006) Last week a bikini-clad woman made international news wires when she disrupted a group photo shoot at a business summit in Vienna, Austria. The woman -- identified as Evangelina Carrozo, a beauty queen from Gualeguaychu, Argentina -- protesting the construction of two wood pulp plants under construction in Uruguay on the border with Argentina. The $1.8 billion project is the largest investment deal in the history of Uruguay, but has strained relations between Uruguay and Argentina, which says the plant may pollute downstream areas. Earlier this month, Argentina announced it had filed a claim against its neighbor before the International Court of Justice at the Hague, arguing that Uruguay failed to conduct a thorough environmental impact study.





Pacaya Samiria National Reserve: Macaws, monkeys, and...illegal loggers?

(05/02/2006) Yesterday started out like a normal day. We swatted bugs, and slowly baked in the hot, equatorial sun. However, as the day progressed, large, dark clouds appeared on the horizon, and the trees top began to sway violently back and forth. Within seconds the sky let loose. It began raining so hard that it was difficult to tell where the river stopped and the air began.





Forest restoration important in Guyana

(05/01/2006) Located on the northern edge of South America, bordered by Suriname, Brazil, Venezuela, and the Atlantic Ocean, lays a small but vibrant country with a wealth of culture, biodiversity and opportunity. During the week of 13-17 March 2006, representatives from Guyanese government departments, civil society and indigenous peoples' organizations met in the capital city, Georgetown, with the World conservation Union (IUCN) and the International Tropical Timber Organization at a national workshop on Forest Landscape Restoration (FLR). The workshop introduced the concept of FLR with the intention of better understanding how it may be applied in the Guyana context.





China's Olmypics may destroy New Guinea's rainforests

(05/01/2006) Construction for the 2008 Olympics in China may fuel deforestation in New Guinea according to an article published last week in the Jakarta Post. The article reports that a Chinese company has asked the Indonesian government for permission to establish a timber processing factory in Indonesia's Papua province to produce 800,000 cubic meters of merbau timber in time for the Olympic games to be held in Bejing. Merbau -- a dark hardwood found in the rainforests of New Guinea -- is used for hardwood floors and currently commands prices of up to US$138 per square meter, making the proposal potentially worth more than a billion dollars.





Why is palm oil replacing tropical rainforests?

(04/25/2006) In a word, economics, though deeper analysis of a proposal in Indonesia suggests that oil palm development might be a cover for something more lucrative: logging. Recently much has been made about the conversion of Asia's biodiverse rainforests for oil-palm cultivation. Environmental organizations have warned that by eating foods that use palm oil as an ingredient, Western consumers are directly fueling the destruction of orangutan habitat and sensitive ecosystems. So, why is it that oil-palm plantations now cover millions of hectares across Malaysia, Indonesia, and Thailand? Why has oil palm become the world's number one fruit crop, trouncing its nearest competitor, the humble banana? The answer lies in the crop's unparalleled productivity. Simply put, oil palm is the most productive oil seed in the world. A single hectare of oil palm may yield 5,000 kilograms of crude oil, or nearly 6,000 liters of crude.





Environmentalists awarded prestigious prize for grassroots work

(04/24/2006) Tonight six grassroots environmentalists will be awarded the prestigious Goldman Environmental Prize. This year's winners include a Vietnam veteran fighting Pentagon plans to incinerate chemical weapons stockpiles, a man who tipped the United Nations to illegal logging in war-torn Liberia, the person behind the creation of the world's largest area of protected tropical rainforest, a lawyer in Ukraine who helped block the construction of canal that would have cut through the heart of the Danube Delta, a woman who won resitution for indigenous land owners from logging interests in Papua New Guinea, and a researcher who pushed social impact assessments for major dam developments in China.





Brazil closes down illegal timber operation, seizes wood

(04/11/2006) Brazilian environmental authorities closed down an illegal logging operation in the Amazon according to a report from the Associated Press. An agent with Ipaam, the environmental authority of Amazonas state, told Michael Astor of the Associated Press that the Norte Wood logging company was operating without a license in town of Novo Aripuana. The agency made one arrest and seized 500 cubic meters of wood in the raid.





United States and Indonesia to fight illegal logging

(04/05/2006) The United States and Indonesia today agreed to fight illegal logging in some of the world's most diverse rainforests. Indonesian Trade Minister Mari Elka Pangestu and Chief of the US Trade Office (USTR) Robert Portman said the two countries will coordinate efforts of protect Indonesia's forests which have been significantly degraded and destroyed by the illicit timber trade. While Indonesia houses the most extensive rainforest cover in all of Asia, its natural forest area is rapidly being reduced by logging--most of which is illegal. Between 1990 and 2005 the country lost more than 28 million hectares of forest, including 21.7 million hectares of virgin forest, according to data from the United Nations.





Home Depot, Lowe's selling illegal wood from Papua New Guinea-Report

(03/23/2006) Consumers in the United States are being mislead as to the origin of merbau hardwood flooring being sold by Home Depot and Lowe's. According to a new report published by the Environmental Investigation Agency and their Indonesian NGO partner Telepak, such timber is coming from the forests of Indonesia's remote Papua Province, where 80 percent of logging is estimated to be illegal.





Malaysia to phase out Borneo logging in parts of Sabah state

(03/16/2006) The Malaysian state of Sabah on the island of Borneo announced it will phase out logging in large parts of its remaining rainforests. Sabah, once home to some of the world's most biodiverse forests, was largely logged out during the 1980s and 1990s but some parts of the state still support wild populations of endangered orangutans. In recent years, the Malaysian government has set aside protected areas and sponsored reforestation projects in the state.









Amazon to be logged sustainably says Brazil

(03/06/2006) Last week Brazilian president Luiz Inacio Lula da Silva announced a plan to allow sustainable logging across 3 percent of the Amazon rain forest. The law is aimed at undermining destructive illegal logging activities while generating revenue for forest management and protection, and income for rural Brazilians in the region who often must rely on subsistence agriculture or employment on ranches and plantations under sometimes slave-like conditions.







Logging may increase the risk of forest fire

(01/05/2006) Logging increases the risk of fire according to a new assessment in the aftermath of a large fire in Oregon. The study also found that undisturbed areas may be at lower fire risk.









Dangerous times on Brazil's Amazon frontier

(12/22/2005) Amazon land activist Deurival Santiago has the look of a hunted man. Activists like Santiago often protect peasant settlers in jungle areas where the government still has little control. That puts them in conflict with large-scale loggers, ranchers and land speculators pushing into an area of Para state known as the Terra do Meio, or Middle Land. It's the main battleground in the fight to slow destruction of the world's largest rain forest.







Tsunami relief risks rainforest destruction

(12/19/2005) Today WWF warned that donor countries must include sustainably sourced building materials in their long-term aid packages to avoid a second ecological disaster stemming from deforestation. According to WWF, Indonesia's Aceh province will require at least 860,000 cubic meters of sawn timber for the construction of 200,000 homes over the next five years. The conservation organization says that only a small fraction of this additional demand can be met locally without resorting to illegal logging that would be damaging to Sumatra's biologically important rain forests.





Congo's forests get some relief from World Bank grant

(12/15/2005) Last week the Democratic Republic of Congo (DRC) received a $90-million grant from the World Bank to support the central African country's transition from instability and civil war. The grant addresses key areas in DRC's forestry sector and alleviates some of the concerns expressed by environmentalists shortly before the resolution was passed.





Congo rainforest - 600,000 sq km slated for logging

(12/05/2005) The World Bank will meet Thursday to decide whether it will fund large-scale logging in the Democratic Republic of Congo's rainforests. The country, home to the second largest rainforest in the world after Brazil, is emerging from years of civil strife which resulted in the deaths of some 3.8 million people from violence and disease.





70 years after logging, forests don't hold as much carbon as original forests

(12/05/2005) New research out of Ohio State University suggests that following logging, temperate forests take long periods of time to recover their carbon storing capacity. The scientists examined forests of of the upper Great Lakes region, which were 90% logged at the turn of the century, and found that they store only half the carbon the original forests contained. Poor forest management is blamed for the shortfall.








Page 1 | Page 2 | Page 3 | Page 4 | Page 5