News articles on technology

---
Mongabay.com news articles on technology in blog format. Updated regularly.





Could the Tasmanian tiger be hiding out in New Guinea?


(05/20/2013) Many people still believe the Tasmanian tiger (Thylacinus cynocephalus) survives in the wilds of Tasmania, even though the species was declared extinct over eighty years ago. Sightings and reports of the elusive carnivorous marsupial, which was the top predator on the island, pop-up almost as frequently as those of Bigfoot in North America, but to date no definitive evidence has emerged of its survival. Yet, a noted cryptozoologist (one who searches for hidden animals), Dr. Karl Shuker, wrote recently that tiger hunters should perhaps turn their attention to a different island: New Guinea.


Researchers develop highest-resolution global forest cover dataset to date

(05/17/2013) Researchers at the University of Maryland have developed a 30-meter resolution forest cover data set that could boost efforts to track deforestation and forest degradation.


Google Time-lapse offers view of Earth over 3 decades


(05/10/2013) Google has released a series of time-lapse images showing global change between 1984 and 2012. The images are sourced from NASA's Landsat mission, a series of Earth-observation satellites that have orbited the planet since 1972, providing scientists, policymakers, and the general public with a wealth of data and imagery used for a wide range of applications.


Brazil's satellite monitoring reduced Amazon deforestation by 60,000 sq km in 5 years

(05/08/2013) Brazil's advanced satellite monitoring system, coupled with increased law enforcement, was responsible for nearly 60 percent of the 101,000 square kilometer-drop in deforestation observed between 2007 and 2011, argues a new study published an international think tank.


Frankenfish or scientific marvel?: giant GM salmon await U.S. approval

(05/07/2013) It is hard to think of a more unlikely setting for genetic experimentation or for raising salmon: a rundown shed at a secretive location in the Panamanian rainforest miles inland and 1,500m above sea level. But the facility, which is owned by an American company AquaBounty Technologies, stands on the verge of delivering the first genetically modified food animal—a fast-growing salmon—to supermarkets and dinner tables.


Bat's tongue could inspire miniature surgical robot design

(05/06/2013) Nectar-feeding bats shift the shape of their tongue to slurp up sugar from flowers upon which they feed, finds a new study published in the Proceedings of the National Academy of Sciences.


A new tool against illegal logging: tree DNA technology goes mainstream


(04/22/2013) Modern DNA technology offers a unique opportunity: you could pinpoint the origin of your table at home and track down if the trees it was made from were illegally obtained. Each wooden piece of furniture comes with a hidden natural barcode that can tell its story from a sapling in a forest all the way to your living room.


Entire planet will soon have rapid deforestation detection system

(04/09/2013) World Resources Institute (WRI) today previewed a long-awaited tool that could revolutionize global forest monitoring, reports the UN Forum on Forests, which is meeting this week in Istanbul, Turkey.


Conservation gets boost from new Landsat satellite


(04/03/2013) Efforts to monitor the world's forests and other ecosystems got a big boost in February with the launch of Landsat 8, NASA's newest earth observation satellite, which augments the crippled Landsat 7 currently orbiting Earth (technically Landsat 8 is still named the Landsat Data Continuity Mission (LDCM) and will remain so until May when the USGS turns control of the satellite over to NASA). Landsat 8/LDCM is the most advanced Earth observation satellite to date. It is the eighth Landsat since the initial launch in 1972.


Scientists a step closer toward creating biofuels directly from atmospheric CO2

(03/29/2013) Researchers have taken a step closer to using atmospheric carbon dioxide as a biofuel, potentially helping mitigate climate change while at the same time meeting rising energy demand, according to a study published in the Proceedings of the National Academy of Sciences.


Energy efficiency gains failing to keep pace with Internet's growth

(03/29/2013) Energy efficiency is failing to keep pace with the Internet's rapid rate of expansion, meaning that web use is consuming an increasing amount of energy, warns a new perspective published in the journal Science.


Male lions require dense vegetation for successful ambush hunting


(03/20/2013) For a long time male lions were derided as the lazy ones in the pride, depending on females for the bulk of hunting and not pulling their weight. Much of this was based on field observations—female lions hunt cooperatively, often in open savannah, and therefore are easier to track at night. But new research in Animal Behaviour is showing that males are adroit hunters in their own right, except prickly males hunt alone and use dense vegetation as cover; instead of social hunting in open savannah, they depend on ambushing unsuspecting prey.


Scientists successfully freeze Barbary sheep embryos for conservation purposes

(03/18/2013) The Barbary sheep (Ammotragus lervia), or aoudad, is a goat-antelope found in northern Africa. It is currently listed as Vulnerable by the IUCN Red List, with populations imperiled by hunting, habitat loss, and competition with livestock. Still little is known about its remaining population, prompting scientists in Mexico to test possible assisted reproduction of captive individuals.


Deforestation in key Madagascar park accelerated after 2009 coup d'etat, finds satellite analysis

(03/18/2013) Deforestation and forest disturbance in Madagascar's largest national park increased significantly less than a year after a coup displaced the country's democratically-elected president in 2009, finds a new study that analyzed forest cover in Masoala National Park.


A promising initiative to address deforestation in Brazil at the local level


(03/05/2013) The history of the Brazilian Amazon has long been marked by deforestation and degradation. Until recently the situation has been considered out of control. Then, in 2004, the Brazilian government launched an ambitious program to combat deforestation. Public pressure—both national and international—was one of the reasons that motivated the government to act. Another reason was that in 2004, deforestation contributed to more than 55 percent of Brazil's total greenhouse gas emissions, making Brazil the fourth-largest greenhouse gas emitter in the world.


Frogs radio-tracked for first time in Madagascar


(03/01/2013) Researchers have radio-tracked frogs for the first time in Madagascar. Attaching tiny radio transmitters weighing 0.3-0.35 grams (1/100 of an ounce) to 36 rainbow frogs (Scaphiophryne gottlebei), the research team tracked the movement of the colorful frogs through rugged canyons in Madagascar's Isalo Massif. They found that the frogs have a short breeding period that occurs after the first intense rainfall at the start of the rainy season.


Good news about climate change? Evolving technology could make cleaning the air more profitable than fouling it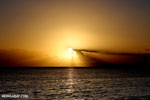 (02/26/2013) In the wake of the hottest and driest summer in memory throughout much of North America, and Super-storm Sandy that flooded cities and ravaged large swaths of the Mid-Atlantic coast, many now recognize that the climate change isn't just real, but that it is already at our doorstep. As this realization continues to sink in, the political will may ripen to take more aggressive action to put a brake CO2 emissions. Already, President Obama, who had remained mostly silent on the issue during his reelection campaign, has made it clear that tackling climate change will be among his top second-term priorities. But the fact remains that even if the entire world switched magically to 100 percent solar and other non-polluting power sources tomorrow, it's too late to roll back some of the impacts of climate change.


Featured video: Saving the Amazon through maps

(02/20/2013) In a new video ethnobotanist, Mark Plotkin, talks about recent—and historical—efforts to preserve the Amazon rainforest through map-making and technology. Today scientists like Plotkin are teaching indigenous people how to digitally map their territory to win land rights over the forest they've used for centuries.


NASA data registers strong deforestation signals in Sumatra, Borneo, Brazil, Gabon

(01/29/2013) NASA satellites picked up signals of extensive potential deforestation in Sumatra, Borneo, Central Africa, the Brazilian and Peruvian Amazon, the Chocó in Colombia and Ecuador, and the Chaco region of Paraguay between October 1 and December 31, 2012, according to the latest update on Mongabay.com's Global Forest Disturbance Alert System (GloF-DAS).


Illegally logged trees to start calling for help

(01/24/2013) Illegal loggers beware: trees will soon be calling—literally—for backup. The Brazilian government has begun fixing trees with a wireless device, known as Invisible Tracck, which will allow trees to contact authorities after being felled and moved.


Bloodsucking flies help scientists identify rare, hard-to-find mammals


(01/16/2013) Last year scientists released a study that is likely to revolutionize how conservationists track elusive species. Researchers extracted the recently sucked blood of terrestrial leeches in Vietnam's remote Annamite Mountains and looked at the DNA of what they'd been feeding on: remarkably researchers were able to identify a number of endangered and rarely-seen mammals. In fact two of the species gleaned from these blood-meals had been discovered by scientists as late as the 1990s. In the past, trying to find rare and shy jungle animals required many man hours and a lot of funding. While the increasing use of remote camera traps has allowed scientists to expand their search, DNA sampling from leeches could be the next big step in simplifying (and cheapening) the quest for tracking the world's mammals.


How a text message could save an elephant or a rhino from a poacher

(01/15/2013) Soon a text message may save an elephant's or rhino's life. The Kenya Wildlife Service (KWS) is implementing a new alarm system in some protected areas that will alert rangers of intruders via a text message, reports the Guardian. Elephants and rhinos have been killed in record numbers across Africa as demand for illegal rhino horns and ivory in Asia has skyrocketed.


Paradigm shift needed to avert global environmental collapse, according to author of new book The Blueprint: Averting Global Collapse


(01/10/2013) Global strategist, trained educator, and international lecturer Daniel Rirdan set out to create a plan addressing the future of our planet. His book The Blueprint: Averting Global Collapse, published this year, does just that. "It has been a sixty hour a week routine," Rirdan told mongabay.com in a recent interview. "Basically, I would wake up with the burden of the world on my shoulders and go to sleep with it. It went on like this for eighteen months." It becomes apparent when reading The Blueprint that it was indeed a monumental undertaking.


Fires burn over a third more land than estimated

(01/02/2013) Scientists currently detect fires around the world using moderate resolution satellite imagery, however a new study in the Journal of Geophysical Research finds that this tool misses many of the world's smaller fires, which add up.


Google puts $5M toward anti-poaching drone technology

(12/18/2012) Google.org, Google Corp's philanthropic arm, earlier this month pledged $5 million toward efforts combat wildlife poaching.


Advanced technology reveals massive tree die-off in remote, unexplored parts of the Amazon


(12/12/2012) Severe drought conditions in 2010 appear to have substantially increased tree mortality in the Western Amazon, a region thought largely immune from the worst effects of changes occurring in other parts of the world's largest rainforest, reported research presented last week at the fall meeting of the American Geophysical Union (AGU). The findings suggest that the Amazon may face higher-the-expected vulnerability to climate change, potentially undercutting its ability to help mitigate greenhouse gas emissions by absorbing carbon dioxide through faster growth.


Could marine cloud machines cool the planet?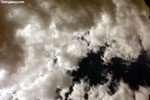 (11/26/2012) In 1990, British cloud physicist John Latham published a paper arguing he could cool global climate by brightening clouds over the ocean. Most colleagues ignored the paper, titled 'Control global warming?'—probably because this thing called global warming was not yet a hot topic. Now, more than two decades later, Latham continues to develop what has become one of the most promising and controversial ideas in climate control. 'Marine cloud brightening' might sound benign, but hairs rise when it's called 'geoengineering.'


Cell phones help decipher malaria transmission in Kenya


(11/19/2012) Malaria parasites can stow away silently in a person's bloodstream. Without any symptoms to betray them, their human host can unwittingly transport the parasites hundreds or thousands of miles. Tracking them has been nearly impossible, especially in poor countries. Now, researchers have harnessed a new tool: the burgeoning number of cell phone users in Africa, which help trace how malaria spreads.


Conservationists turn camera traps on tiger poachers


(11/12/2012) Remote camera traps, which take photos or video when a sensor is triggered, have been increasingly used to document rare and shy wildlife, but now conservationists are taking the technology one step further: detecting poachers. Already, camera traps set up for wildlife have captured images of park trespassers and poachers worldwide, but for the first time conservationists are setting camera traps with the specific goal of tracking illegal activity.


Strong deforestation signals from Central and West Africa in July, August, and September 2012


(11/06/2012) NASA satellites picked up signals of potential deforestation across extensive parts of Latin America, West and Central Africa, and Southeast Asia between July 1 and September 30, according to the latest update on Mongabay.com's Global Forest Disturbance Alert System (GloF-DAS).


Indonesia could plant 14.5m ha of oil palm in Borneo without further deforestation

(10/31/2012) Indonesia could establish some 14.5 million hectares of oil palm plantations in Borneo without needing to clear rainforest or high-carbon peatlands, finds a new interactive mapping tool developed by the World Resources Institute (WRI).


Will we need to pull carbon out of the atmosphere to save ourselves?


(10/17/2012) This year saw the Arctic sea ice extent fall to a new and shocking low, while the U.S. experienced it warmest month ever on record (July), beating even Dust Bowl temperatures. Meanwhile, a flood of new research has convincingly connected a rise in extreme weather events, especially droughts and heatwaves, to global climate change, and a recent report by the DARA Group and Climate Vulnerability Forum finds that climate change contributes to around 400,000 deaths a year and costs the world 1.6 percent of its GDP, or $1.2 trillion. All this and global temperatures have only risen about 0.8 degrees Celsius (1.44 degrees Fahrenheit) since the early Twentieth Century. Scientists predict that temperatures could rise between 1.1 degrees Celsius (2 degrees Fahrenheit) to a staggering 6.4 degrees Celsius (11.5 degrees Fahrenheit) by the end of the century.


Emissions from Amazon deforestation in Brazil fall 57% since 2004

(08/29/2012) Annual emissions from deforestation in the Brazilian Amazon fell by about 57 percent between 2004 and 2011, 20 percentage points lower than the recorded drop in deforestation, reports a new study published in the journal Global Change Biology by Brazilian scientists. Overall, Brazilian deforestation represented roughly 1.5 percent of global carbon emissions from human activities.


Printed petri-meat gets boost from Internet billionaire

(08/17/2012) A company attempting a new approach to in-vitro meat production received up to $350,000 from The Thiel Foundation, a philanthropy started by Internet billionaire Peter Thiel, reports CNET.


Nintendo is 'worst' company on conflict minerals

(08/16/2012) Gaming giant Nintendo is the worst company for ensuring that materials used in its electronics are not linked to bloodshed in war-torn regions like the Democratic Republic of the Congo (DRC), according to an assessment released today by the Enough Project, an initiative that aims to boost transparency around minerals sourcing.


A new tool for taking on elephant poaching: DNA forensics

(08/08/2012) One of the difficulties plaguing law enforcement and authorities when it comes to tackling elephant poaching is determining where the ivory originates. Now, research published in the journal Evolutionary Applications, has found a new way of tracking ivory back to wild elephants populations: forensic genetic studies.


3-D laser mapping shows elephants have big impact on trees

(08/06/2012) Scientists have long known that African elephants (Loxodonta africana) are talented tree-topplers, able to take down even large trees in order to gobble out-of-reach leaves. However the extent of his behavior across a large area has been difficult to quantify. But a new study in Ecology Letters has used a bird's-eye view—with 3-D—of Kruger National Park in South Africa to determine the impact of elephants on trees.


10 African countries to develop satellite-based deforestation tracking systems with help of Brazil

(07/30/2012) Ten tropical African countries will receive training and support to develop national forest monitoring systems, reports the United Nations. Brazil, which has an advanced deforestation tracking system, will guide the initiative in partnership with the Central Africa Forests Commission (COMIFAC) and the UN Food and Agriculture Organization (FAO).


165,000 sq km of Colombian rainforest mapped in stunning detail using lasers, satellites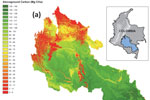 (07/25/2012) Scientists have created high-resolution carbon maps for 165,000 square kilometers (64,000 square miles) of forest across roughly 40 percent of the Colombian Amazon, greatly boosting the ability of the South American nation to measure emissions from deforestation and forest degradation, reports the Carnegie Institution for Science at Stanford University, which led the effort.


Smartphones promoted as a tool for indigenous forest protection

(07/23/2012) Smartphones beeping in the woods may be a welcome presence that augurs the increased ability of indigenous communities to be stewards of their own biodiverse forests. Representatives of these communities and their supporters have advocated that international conservation policies like Reduced Emissions through Deforestation and Degradation (REDD) be increasingly managed by the communities themselves.


NASA satellites register deforestation hotspots in Cambodia, Myanmar, Ecuador for Apr-Jun 2012 period

(07/19/2012) NASA satellites picked up extensive signals of potential deforestation across large parts of the tropics between April 1, 2012 and June 30, 2012, according to the latest update on Mongabay.com's Global Forest Disturbance Alert System.


Soccer lights up kids' lives: new technology produces cheap, portable power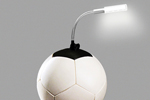 (07/16/2012) Recently, Jessica O. Matthews and Julia Silverman, both Harvard graduates, were awarded Harvard Foundation's Scientists of the Year award for their invention of a soccer ball that converts kinetic energy to electricity. The two women, who were both social science majors, came up with the idea when they were taking an engineering class for non-majors and were required to create a project that would address a social problem.


Apple reverses course, rejoins green tech registry

(07/14/2012) Facing criticism from customers and potential loss of government contracts, computer giant Apple rejoined a green product registry it abandoned earlier this month.


Indonesia, Brazil, Mexico, Peru get big boost in deforestation tracking, biomass measurement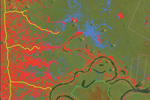 (07/11/2012) Efforts to rapidly and accurately track deforestation and forest degradation in Indonesia, Brazil, Mexico, and Peru got a boost this week with a special technical training session organized by the Governors Climate and Forest Task Force. The meeting, convened at Stanford University and Google's Silicon Valley campus, paired staffers from government agencies and NGOs in the four tropical countries with technical experts from the Amazon Environmental Research Institute (IPAM), the Carnegie Institution for Science, the Forum on Readiness for REDD, Woods Hole Research Center, and Google Earth Outreach. The participants received training to augment existing deforestation, forest degradation and biomass monitoring capabilities, which are highly variable both between countries and within sub-national agencies and jurisdictions.


San Francisco bars officials from buying Apple computers for city business

(07/11/2012) Employees at San Francisco agencies will no longer be able to buy Apple products for official city business due to the computer giant's decision to pull out of a green certification scheme for consumer electronics, reports the Wall Street Journal.


Remote-controlled model planes offer bird's-eye approach to conservation

(07/10/2012) Inexpensive aerial drones can help conservationists map forests, monitor land use change like deforestation, and track wildlife in remote and inaccessible areas, reports a new study published in the journal Tropical Conservation Science.


Google Earth used to discover unknown forest in Angola, scientists find it full of rare birds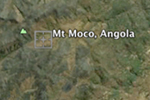 (07/09/2012) An expedition, followed up by some computer hunting on Google Earth, has discovered large remnants of old growth forest, including thriving bird communities, in the mountains of Angola. The Namba Mountains in Angola were expected to contain around 100 hectares of forest, but an on-the-ground survey, coupled with online research, has discovered numerous forest fragments totaling around 590 hectares in the remote mountains, boosting the chances for many rare species.


New geojournalism mapping platform for the Amazon

(06/21/2012) A new mapping platform combines georeferenced environmental news articles with data on deforestation, fires, protected areas, and oil and gas concessions in the Amazon.


Near-real time Amazon deforestation alert system added to Google Earth Engine

(06/20/2012) A system providing monthly alerts on deforestation and forest degradation in the Brazilian Amazon will soon be generated on the Google Earth platform Engine, reducing the time it takes to process and disseminate data, reports Imazon, the Brazilian NGO that developed the Alert System of Deforestation (SAD).


Global deforestation alert tool developed from NASA satellite imagery launches

(05/30/2012) Mongabay.com is pleased to announce the beta version of a global forest disturbance alert system (GloF-DAS) developed in partnership with Cal State Monterey Bay and NASA Ames Research Center. The tool offers the potential to pinpoint areas that are being deforested on a quarterly basis.



Page 1 | Page 2 | Page 3 | Page 4 | Page 5 | Page 6 | Page 7