News articles on sumatra

---
Mongabay.com news articles on sumatra in blog format. Updated regularly.





Riddled with tumors: another blow to the Sumatran rhino species


(04/14/2014) Conservation for Sumatran rhinos suffered another blow last week, only days after Suci—one of only ten rhinos in captive breeding efforts—died at Cincinnati Zoo. Scientists in the Malaysian state of Sabah revealed that a newly captured female, Iman, suffers from an assortment of tumors in her uterus, hugely complicating reproduction efforts.


Death of young Sumatran rhino shouldn't discourage captive breeding efforts say conservationists


(04/01/2014) Just over two weeks ago, conservationists in the Malaysian state of Sabah managed to finally catch a wild Sumatran rhino female after months of failed attempts. But following such hopeful events, comes bad news thousands of miles away: a young female rhino, named Suci, died over the weekend at the Cincinnati Zoo.


Community's push to clear forest for plantation challenges efforts to conserve in Indonesia


(03/20/2014) In the swampy peatlands of Basilam Baru in Sumatra's Riau Province a conflict between a community and a woodpulp company is illustrating some of the intractable challenges of conserving forests and addressing deforestation in Indonesia. On first glance the story seems depressingly familiar. One actor wants to preserve the forest, which serves as critical habitat for endangered Sumatran tigers and clouded leopards. The other wants to clear it for a plantation.


Photos: Forests, peatlands, plantations, and deforestation in Riau


(03/19/2014) Indonesia's Riau Province on the island of Sumatra has experienced rapid deforestation since the early 1990's, with primary forest cover plummeting by 85 percent in twenty years. Most of this forest loss has been driven by plantation development for timber, woodpulp, and palm oil production.


APP pledges to restore forests, if given the opportunity


(03/18/2014) Over the past 20 years, Sumatra's lowland rainforests have been destroyed at a virtually unmatched rate and scale. Since 1990, the island's primary forests shrank by 40 percent while its overall forest cover declined by 36 percent, mostly the result of logging, agricultural expansion, and conversion for oil palm and timber plantations. What little forest does survive is often degraded — today less than 8 percent of Sumatra retains primary forest.


Logging giant suspends operations to fend off plantations from fires


(03/15/2014) Indonesian Pulp & paper giant Asia Pacific Resources International Limited (APRIL) says it has suspended operations at a concession in Riau Province in order to shift staff toward fighting back fires that threaten its plantations. In a statement issued Friday, APRIL said its plantations on Pulau Padang, a peat island off the coast of Sumatra, are at risk due to fires illegally set outside its concessions.


Sumatra on fire: burning spikes in Indonesia

(03/13/2014) Fires in Sumatra's Riau province have spiked to levels unseen since last June, finds new analysis from the World Resources Institute (WRI) that reveals widespread burning within concessions managed by pulpwood, palm oil, and logging companies.


Indonesia politician gets 14 years in jail for illegal permits, forest corruption


(03/13/2014) The former governor of Indonesia's Riau province has been sentenced to 14 years in prison and ordered to pay almost $90,000 in fines for illegally issuing logging permits in Riau and bribes linked to construction projects for sports facilities. On Wednesday, the anti-corruption court in Pekanbaru found former Riau Governor Rusli Zainal guilty of embezzlement relating to the illegal issuance of logging permits in the central Sumatran province, which has seen huge areas of forest lost to palm oil and pulp and paper companies in recent years.


West Sumatra joins Indonesia's REDD+ program

(03/12/2014) West Sumatra has officially joined Indonesia's effort to cut forest loss as a pilot province under the country's REDD+ program.


Peatlands biosphere reserve facing severe encroachment in Sumatra

(03/06/2014) An important reserve that contains a block of fast-dwindling lowland swamp forest in Riau Province is facing an onslaught of encroachment for illegal oil palm plantations, worsening choking haze in the region, reports Mongabay-Indonesia.


Clash with palm oil company leaves one indigenous community member dead in Sumatra


(03/06/2014) A member of the Suku Anak Dalam indigenous community was killed and five others were injured during a clash with security forces on an oil palm concession owned by PT Asiatic Persada in Sumatra, reports Mongabay-Indonesia. The incident occurred Wednesday evening in Bungku, Jambi.


NASA photo reveals ongoing haze problem in Sumatra

(03/01/2014) A new satellite image released by NASA highlights Indonesia's ongoing problem with haze caused by land-clearing fires set across carbon-dense peatlands on the island of Sumatra.


Palm oil plantations allegedly poison seven Critically Endangered elephants in Sumatra

(02/28/2014) Wildlife officials suspect foul play in the deaths of seven Sumatran elephants on the outskirts of Tesso Nilo National Park. Officials stumbled on the corpses of one female elephant, five young males, and one male calf in mid-February. Although the males had their tusks hacked off, the officials suspect the elephant were poisoned in revenge for disturbing illegal palm oil plantations inside the park.


Procter & Gamble's palm oil suppliers linked to deforestation (photos)


(02/26/2014) A year-long investigation by Greenpeace has found companies that supply Procter & Gamble (P&G) (NYSE:PG) with palm oil are engaged in clearing of rainforests and peatlands in Indonesia, suggesting that Head & Shoulders shampoo and other consumer products made by the company may be linked to forest destruction.


If Indonesia can't protect its orangutans, why doesn't it just 'sell' them?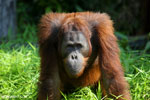 (02/23/2014) It is obvious that at the moment Indonesia neither has the political commitment nor ability to safeguard its dwindling populations of orangutans. Despite its Presidentially supported Action Plan to stabilize all remaining wild populations by 2017, orangutan habitats in Sumatra and Borneo are disappearing as rapidly as ever.


APP, environmentalists talk future of Indonesia's forests


(02/20/2014) In February 2013, one of the world's most notorious forestry companies announced it would no longer chop down rainforests and peatlands to produce pulp and paper. The move was met with considerable skepticism by critics who had seen the company break previous high profile commitments to end deforestation. Why would this time be any different?


One person killed, two injured in elephant attacks in Indonesia this year


(02/12/2014) It was near dawn on Jan. 4 when a critically endangered Sumatran elephant (Elephas maximus sumatranus) destroyed a small shack near a plantation in Indonesia's Aceh province, killing a local farmer from West Aceh district and injuring his 13-year-old son. Yusmani, 59, was trampled to death while his son, Reverendi, escaped with a broken leg.


Indonesia rejects, delays 1.3m ha of concessions due to moratorium

(02/12/2014) The Indonesian government has rejected nearly 932,000 hectares (2.3 million acres) of oil palm, timber, and logging concessions due to its moratorium on new permits across millions of hectares of peatlands and rainforests, reports Mongabay-Indonesia.


Despite falling palm oil price, premium for 'sustainable' product rises


(02/12/2014) Despite a sharp drop in the price of palm oil since 2011, premiums for certificates representing palm oil produced under the Roundtable on Sustainable Palm Oil (RSPO) standard have risen due to increased demand for greener palm kernel oil (CPKO), reveals data released by GreenPalm.


Peatland plantations drive steep GHG emissions in Indonesia's Riau Province


(02/05/2014) Versatile is the best way to describe the reddish brown fruit born from oil palm trees. Both the flesh and seed of the fruit is used in many applications including cooking, cosmetics, and biofuel. In addition, the fruit is composed of 50 percent oil, making it a highly efficient product that requires less land than other oil producing crops.


Endangered tiger killed in Sumatra

(02/01/2014) A young Sumatran Tiger (Panthera tigris sumatrae) was shot and killed by a coffee farmer in Jambi Province. With an estimated 400 individuals left in the wild, the species is Critically Endangered, while habitat loss increasingly forces them into populated areas to search for food.


APRIL's green pledge falls short, say environmentalists

(01/31/2014) Asia Pacific Resources International Holdings Ltd (APRIL), Indonesia's second-largest pulp and paper producer, has announced a new environmental policy that aims to stem criticism about its forestry practices, which include large-scale conversion of rainforests and peatlands in Sumatra. But environmentalists say the pledge falls far short of the commitment made by APRIL's biggest competitor, Asia Pulp & Paper (APP), last year.


Indonesian logger faces expulsion from business sustainability group

(01/17/2014) Indonesian pulp and paper giant Asia Pacific Resources International Limited (ARPIL) faces expulsion from the World Business Council for Sustainable Development (WBCSD), a body of 200 large companies that have made sustainability commitments, if it fails to stop clearing rainforests and peatlands on the island of Sumatra, reports Greenpeace.


WALHI Jambi: Forestry giant allegedly evaded $15m in taxes


(01/16/2014) Sinar Mas Group allegedly defrauded the Indonesian government of $15 million by avoiding reforestation taxes on 2,000 hectares in Jambi province. The land is reportedly managed by subsidiaries of Sinar Mas Group which do not have the proper concession permits. The discovery came after analysis of public reports and an audit conducted last year by BPK (The Audit Board of the Republic of Indonesia), as reported by the non-profit Indonesian Forum for the Environment (WALHI), an Indonesian affiliate of Friends of the Earth.


Indonesia police nab illegal wildlife traffickers in sting operation


(01/12/2014) Police in Indonesia's Aceh province have arrested two wildlife trafficking suspects allegedly behind five tiger poaching rings operating in the forests of northern Sumatra. The arrests followed a months-long investigation and an undercover sting operation in which police seized thousands of dollars worth of illegal animal parts.


In precedent-setting case, palm oil company fined $30M for destroying orangutan forest


(01/09/2014) In a precedent-setting case, an Indonesian court has found a palm oil company guilty of violating environmental laws and ordered it to pay $30 million in fines and reparations for clearing an area of protected peat forest that is a stronghold for endangered orangutans in Indonesia's Aceh Province. In a ruling handed down Wednesday, the Meulaboh district court concluded that PT Kallista Alam illegally cleared and burned forest within the the protected Tripa peat swamp in northwestern Sumatra.


Requiem or recovery?: the Sumatran rhino 200 years after its description


(01/08/2014) In 1893, William Bell, a surgeon in the service of the Dutch East India Company stationed in Bencoolen, Sumatra, examined the body of a dead rhinoceros. The animal, a male, was relatively small as rhinoceroses go, measuring only four feet four inches at the shoulder and eight feet five inches from its nose to the tip of its tail. Dr. Bell noted that the animal resembled a large hog and judged it to be a young individual based upon the condition of the bones and teeth.


Company accused of logging endangered rainforest trees in breach of timber legality certificate


(01/07/2014) An Indonesian wood supplier that was recently certified under the country's legal timber verification scheme has been clearing natural forests – including stands of endangered ramin trees – and draining peat swamps on its concession, alleges a local environmental watchdog. The company, the group says, is also implicated in corruption linked to its concession permit. The organization is calling for the company's legal timber certification to be revoked and urging auditors not to issue legality certificates to companies involved in corruption.


Rainforest news review for 2013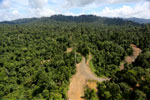 (12/26/2013) 2013 was full of major developments in efforts to understand and protect the world's tropical rainforests. The following is a review of some of the major tropical forest-related news stories for the year. As a review, this post will not cover everything that transpired during 2013 in the world of tropical forests. Please feel free to highlight anything this post missed via the comments section at the bottom. Also please note that this review focuses only on tropical forests.


Environmentalists call for recognition of orangutan, rhino habitat as heritage site

(12/11/2013) Environmentalists in Indonesia's Aceh Province are calling upon the local governor to nominate the Leuser Ecosystem as a UNESCO World Heritage Site to help protect the area — one of the last places where rhinos, elephants, tigers, and orangutans share the same habitat — from new legislation that would grant large blocks of forest for logging concessions, mining, and industrial plantations.


Rent-a-mob disrupts court proceedings against Indonesian palm oil company


(11/14/2013) A mob of 150 palm oil workers has disrupted court proceedings against Kalista Alam, an Indonesian palm oil company accused of illegally converting blocks of protected peat forests for an oil palm plantation in Aceh, Sumatra. The Kalista Alam case is widely seen as a test of Indonesia's commitment to forestry sector reform.


3.5 million ha of Indonesian and Malaysian forest converted for palm oil in 20 years


(11/12/2013) Some 3.5 million hectares (8.7 million acres) of forest in Indonesia, Malaysia, and Papua New Guinea was converted for oil palm plantations between 1990 and 2010, finds a comprehensive set of assessments released by the Roundtable on Sustainable Palm Oil (RSPO). The research, conducted by an international team of scientists from a range of institutions, is presented in a series of seven academic papers that estimate change in land use and greenhouse gas emissions from oil palm expansion in the three countries, review the social and environmental impacts of palm oil production, forecast potential growth in the sector across the region, and detail methods for measuring emissions and carbon stocks of plantations establishing on peatlands.


Bolivia, Madagascar, China see jump in forest loss

(11/01/2013) Loss of forest cover increased sharply in Bolivia, Madagascar, and Ecuador during the third quarter of 2013, according to an update from NASA scientists.


Greenpeace: APP making 'encouraging' progress on zero deforestation commitment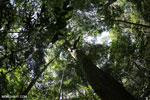 (10/29/2013) Asia Pulp & Paper (APP), an Indonesian forestry giant once notorious for destroying rainforests and peatlands, is making 'encouraging' progress in phasing forest destruction out of its supply chain, reports a new assessment from Greenpeace, which until recently was one of APP's fiercest critics. The review, released today, evaluates APP's progress on its Forest Conservation Policy, which commits the company to exclude fiber sourced from logging of natural forests and conversion of peatlands, and requires it to obtain Free, Prior Informed Consent from local communities in developing new plantations.


Mining Road Plan Threatens Forest Restoration Project in Indonesia

(10/29/2013) A plan for a coal transport road continues to threaten a project to restore one of the last remaining lowland forests in Sumatra. The status of the permit for the road, which would run through the Hutan Harapan (Forest of Hope) ecosystem restoration project, remains in limbo, despite multiple objections by the forest's concession holders. However, a representative from Indonesia's Ministry of Forestry has promised to convene a meeting with stakeholders to discuss the issue.


Stuffed tigers send two soldiers to jail in Indonesia

(10/28/2013) A military court in Indonesia's Aceh province has jailed two soldiers for illegally possessing two stuffed Sumatran tigers (Pathera tigris sumatrae) and a stuffed sun bear (Helarctos malayanus), a rare verdict in the Sumatran province where crimes involving wildlife are seldom prosecuted.


Palm oil giant profiting off tiger habitat destruction, alleges Greenpeace

(10/22/2013) The world's largest palm oil trader is continuing to traffic in palm oil linked to deforestation and illegal peatlands conversion, alleges a new report from Greenpeace.


The palm oil debate: can the world's most productive oilseed be less damaging to the environment?


(10/21/2013) On Thursday, 17 October 2013 Mongabay.com and the Roundtable on Sustainable Palm Oil (RSPO) co-hosted a discussion on environmental issues related to palm oil. The discussion involved representatives from WWF, Greenpeace and the RSPO. Mongabay.com Founder Rhett A. Butler served as the moderator.


June fires concentrated in peatlands, burned 1,500 sq km in Sumatra

(10/16/2013) Fires that sent a choking haze across Singapore and Malaysia in June burned some 1,500 square kilometers in Riau Province and were predominantly concentrated on peatlands, reports the World Resources Institute (WRI).


Palm oil deal undermines efforts to resolve 25-year conflict in Sumatra


(10/15/2013) Local groups have called on the governor of Jambi province to cancel PT Asiatic Persada's permit after Wilmar's sale of the company stalls IFC-mediated talks. Indigenous people in Indonesia's Jambi province on the island of Sumatra have urged the local government to revoke the permit of PT Asiatic Persada, a palm oil company at the center of a more than two-decade-long land conflict.


Pulp and paper giant gets $1.8B loan from China for Indonesia's largest mill

(10/11/2013) Asia Pulp & Paper (APP) secured a $1.8 billion loan from China Development Bank (CDB) to finance the development of what will be Indonesia's large pulp mill, according to a statement released by the company.


In transparency push, APP self-reports breach of its deforestation moratorium

(09/11/2013) In what may be an unprecedented move in the Indonesian forestry sector, Asia Pulp & Paper (APP) has announced two breaches of its moratorium on natural forest clearance. In a report published Wednesday, APP said an audit of its operations by The Forest Trust, the NGO charged with implementing the forestry giant's forest conservation policy, turned up two incidents of forest clearance that has taken place since the logging ban took effect in February 2013.


Indonesian villagers sue president over climate change


(09/11/2013) Eight Indonesian villagers have sued the country's president and a number of other high-level government officials over the impacts of climate change and environmental destruction in their province, reports Mongabay-Indonesia. The villagers say they have suffered health problems, experienced financial losses and seen a general decline in their quality of life due to forest and peatland clearing, and they are pinning the blame on some of Indonesia's highest elected and appointed officials.


Palm oil now biggest cause of deforestation in Indonesia


(09/03/2013) Conversion of forests for palm oil production now appears to be the single largest driver of deforestation in Indonesia, accounting for roughly a quarter of forest loss between 2009 and 2011, asserts a new Greenpeace report that accuses the sector's main certification standard of failing to stop forest destruction. The report, titled Certifying Destruction, uses satellite imagery, government concession data, field investigations, and third party analysis to conclude that several recent and current members of the Roundtable on Sustainable Palm Oil (RSPO) — the industry's chief eco-certification body — are continuing to buy or trade palm oil produced via the conversion of rainforests and carbon-dense peatlands in the Southeast Asian nation.


500 fires rage across Sumatra

(08/29/2013) Nearly 500 fires are burning across the Indonesian island of Sumatra, raising fears that choking air pollution could return to Singapore and Malaysia.


Five Aceh elephants die in just six weeks

(08/14/2013) Police in Indonesia's Aceh province are investigating the killings of three critically endangered Sumatran elephants, as conflicts with humans led to a series of elephant deaths across the province last month. Five elephants have died in Aceh since late June, including two orphaned calves, highlighting the need to mitigate conflicts between elephants and local communities as deforestation drives the animals into villages and plantations in search of food.


Featured video: Sumatra's last elephants versus palm oil

(08/05/2013) A new video by The Ecologist documents the illegal destruction of the Leuser protected area in Sumatra for palm oil production, a vegetable oil which has become ubiquitous in many mass-produced foods and cosmetics. The destruction of the forest has pushed elephants and people together, leading to inevitable conflict with casualties on both sides. Elephants are increasingly viewed as agricultural pests for crop-raiding while locals—some of them squatting in protected land—lack the means and resources to keep elephants at bay. Meanwhile, palm oil plantations often see elephants as a threat to the palms.


Fires burning again in Sumatra, triggering haze alerts in Malaysia

(07/23/2013) Deforested areas and degraded peatlands are again burning on the island of Sumatra, triggering haze alerts in nearby Malaysia, despite last week's commitment by regional authorities to address the ongoing fire problem in Indonesia.


Sinar Mas buys stake in Indonesian pulp, paper, and tissue firm

(07/22/2013) Sinar Mas subsidiary Tjiwi Kimia bought a 35 percent stake in pulp, paper and tissue maker Oki Pulp & Paper Mills for $30 million earlier this month.


Elephant killers should be brought to justice, Indonesia's president tweets [WARNING: brutally graphic images]


(07/20/2013) Indonesia's president spoke out against the killing of a critically endangered Sumatran elephant (Elephas maximus sumatranus) last week, using his Twitter account to urge local authorities to take action in the case. The large male elephant was found dead last Saturday morning near Rantau Sabon village in Indonesia's Aceh province. The elephant's face was crushed, its tusks had been removed and taken and its trunk was detached from its body. Photos of the grisly scene were quickly circulated via social media, generating over 10,000 mentions on Twitter less than 24 hours after the animal was found, prompting a response from the president and other high-level officials.


Haze summit proposes sharing concession data, but keeping it hidden from the public

(07/17/2013) A high-level meeting to discuss approaches for curbing fires that drive haze over Southeast Asia ended today with a recommendation that governments establish a haze monitoring system that would share detailed land-use and concession maps to help coordinate action against companies that set illegal fires, reports the World Resources Institute (WRI).


Billions lost to corruption in Indonesia's forest sector, says report


(07/17/2013) Corruption and mismanagement in Indonesia's forest sector have cost the government billions of dollars in losses in recent years, including over $7 billion in losses from 2007-2011, Human Rights Watch said in a report released yesterday. The report also blasted the country's 'green growth' strategy, saying that despite recent reforms, Indonesia's forestry policies as they are implemented today continue to allow widespread forest clearing and threaten the rights and livelihoods of forest-dependent communities.


Palm oil body, Greenpeace spar over Indonesia fire blame

(07/16/2013) Greenpeace and the Roundtable on Sustainable Palm Oil (RSPO), a body that sets criteria for greener palm oil production, are caught up in a row over the origin of fires that cast a pall over Sumatra, Singapore, and Malaysia last month. The dispute started when media outlets, based on independent analysis of satellite data, identified several members of the RSPO as possible culprits in the fires in Riau Province. Greenpeace said the findings indicated that the RSPO is failing to hold its members accountable for burning. The activist group also criticized the RSPO for not expressly prohibiting deforestation and conversion of peatlands.


Baby elephant safe in new home after standoff with Aceh village


(07/15/2013) Abdul Thaleb could not hold back tears as he watched rescuers prepare Raju, a baby Sumatran elephant (Elephas maximus sumatranus) likely no more than a few weeks old, for the six-hour journey from Aceh's Blang Pante village to the Saree Elephant Conservation Center (PKG), which would be his new home. Thaleb had been caring for Raju since villagers found the baby elephant alone without its mother in a nearby forest on June 18. For ten days, he had been feeding the still-nursing calf by hand, fashioning makeshift bottles from plastic bags and purchasing baby formula with donations and money from his own pocket.


5 men rescued, 1 killed, after 5-day Sumatran tiger standoff


(07/12/2013) Five men were finally rescued on Monday after spending five days trapped in a tree by a group of Sumatran tigers. A team of around 30 people rescued the men after several tiger tamers were able to lure the animals away using chants and mantras. The men were attacked inside Aceh's Gunung Leuser National Park by a mother tiger after accidentally killing its cub in a trap the group had set to hunt deer. The tiger killed one of the men, 28-year-old David, and forced the others to escape up a tree.


Haze fires concentrated in deforested peatlands, not forest areas, confirms satellite analysis


(07/10/2013) A new mapping tool based on NASA satellite data confirms that the majority of fires that drove the recent haze over Sumatra and Malaysia were concentrated in deforested peatlands and scrub, rather than natural forest areas.


Palm oil lobby group misleads on origin of haze, fires

(07/09/2013) World Growth International, a group that lobbies on behalf of industrial forestry and palm oil companies, is clouding the origin of the fires that triggered 'haze' air pollution alerts across Singapore and Malaysia last month.


Illegal palm oil from an Indonesian national park used by Asian Agri, Wilmar, WWF report says

(07/05/2013) Illegal palm oil expansion inside Indonesia's Tesso Nilo National Park is threatening protected forests and the reputation of two companies who claim to be sources of sustainably-produced palm oil, says a new WWF-Indonesia report.


APP reports accidental breach of deforestation moratorium

(07/01/2013) Asia Pulp & Paper (APP) has reported an accidental breach of its moratorium on deforestation.


Wilmar to cut off suppliers found to be setting fires

(07/01/2013) Wilmar International Ltd., the world's largest palm oil trader, will sever ties with any Indonesian suppliers found to be using fire illegal to clear land or manage their plantations, reports Bloomberg.


Sumatran tiger density lower than previously thought

(06/28/2013) The critically endangered Sumatran tiger may be even rarer than previously thought, reports a study published in the journal Oryx.


Indonesia NGOs call on govt to investigate 117 companies for alleged involvement in forest fires

(06/28/2013) As forest fires on the island of Sumatra continue to blanket parts of Indonesia, Malaysia and Singapore with a thick haze, a coalition of civil society groups has called on Indonesia's Ministry of the Environment to investigate timber and palm oil companies they believe may be behind the fires.


Indonesia to spend $10M on cloud-seeding scheme to slow haze

(06/27/2013) The Indonesian government will spend 100 billion rupiah — $10 million — on a cloud-seeding scheme to reduce the haze plaguing Sumatra, Singapore, and Malaysia.


Cause of haze? Up to 87% of recent deforestation in fire zone due to palm oil, timber


(06/26/2013) New analysis of land cover in Riau Province reveals the outsized role industrial plantations play in driving deforestation and associated haze. The analysis, conducted by Eyes on the Forest, finds that up to 56% of deforestation in Riau between 2007 and 2012 can be linked to timber plantations for pulp and paper production. The figure for oil palm plantations may be as high as 31%.


Wind, not big increase in forest fires, driving haze in Singapore

(06/26/2013) Wind patterns, rather than a sharp increase in fires, is to blame for the record setting air pollution affecting Singapore and Malaysia, finds new analysis by the World Resources Institute (WRI).


Palm oil companies linked to haze see share prices drop

(06/24/2013) Three firms linked to fires in Sumatra saw their share prices decline since the haze crisis worsened a week ago.


Greenpeace releases dramatic pictures of haze and fires in Indonesia (photos)


(06/24/2013) Greenpeace has released a series of photos from the front lines of the peat fires that are casting a pall of haze and triggering health warnings across Singapore and Malaysia. The images were taken by Getty photographer Ulet Infansasti in Sumatra, where the fires are burning. Analysis of NASA hotspot data has revealed that the majority of fires are occurring within plantation concessions operated by palm oil and timber companies.


5 RSPO companies linked to haze


(06/24/2013) Five members of the Roundtable and Sustainable Palm Oil (RSPO) will be asked to submit digital maps of their plantations after media reports linked them to fires in Sumatra that are driving the haze across Singapore and Malaysia. The RSPO has given the companies — PT Jatim Jaya Perkasa, Tabung Haji Plantations, Sinar Mas, Kuala Lumpur Kepong, and Sime Darby — 48 hours to submit maps of their plantations in Sumatra and Kalimantan so the eco-certification body can compare them to fire hotspot data from NASA and NOAA.


Indonesian logging giant pulls out of FSC certification scheme

(06/22/2013) Following a complaint filed by environmental groups, Indonesian forestry giant Asia Pacific Resources International Limited (APRIL) has pulled out of the Forest Stewardship Council (FSC), an eco-labeling initiative for timber and other forest products.


Indonesia drops water bombs on fires, may resort to cloud-seeding

(06/22/2013) In an effort to control peat fires casting a pall of haze over neighboring Singapore and Malaysia, Indonesia is using airplanes to drop water across hotspots in Riau Province on the island of Sumatra, reports AFP. Officials say they may try cloud-seeding — dumping silver iodide at high altitude — if current fire-fighting efforts fall short.


Singapore air pollution hits worst level on record, government blames palm oil and timber plantations in Sumatra

(06/21/2013) Singapore's Pollutant Standards Index hit the highest level on record Friday as 'haze' driven by fires burning across plantations, peatlands, and forest areas continued to rage across Sumatra. The air pollution gauge touched a record 400 at 11 am local time on Friday, according to the National Environment Agency's website. The level is considered "very unhealthy" with people advised to 'minimize all outdoor exposure' and wear masks when outside.


Singapore chokes on haze from deforestation fires

(06/17/2013) Singapore and Malaysian officials have asked Indonesia to take 'urgent measures' to address forest fires in Sumatra that are sending choking haze northward, reports AFP.


Tigers, orangutans, rhinos: Sumatra's big mammals on the edge of extinction

(06/12/2013) Karman Lubis's body was found near where he had been working on a Sumatran rubber plantation. His head was found several days later a mile away and they still haven't found his right hand. He had been mauled by a Sumatran tiger that has been living in Batang Gadis National Park and he was one of five people killed there by tigers in the last five years.


Illegal wildlife trade flourishes in Sumatra


(06/10/2013) In a chilly rain on Sunday, in a town just a few kilometers beyond the edge of a protected Sumatran rainforest, a young orangutan sat perched on a piece of plywood and grabbed the metal wires of his tiny cage. He has sat in that cage for six months and, like dozens of other species on display in this 'zoo' in the town of Kadang in Aceh, he has a price tag. This packed assembly is an acknowledged front for illegal trafficking in wildlife.


Mining in Indonesia taking a heavy social, environmental toll


(06/03/2013) In a patch of rainforest in northern Sumatra, a 28-year-old in jeans and tall rubber boots snubs out his cigarette and pulls a headlamp over his short black hair. Standing under a tarp, he flicks the light on and leans over the entrance of a narrow shaft lined with wooden planks that he and other miners cut from trees that once stood here. He gives a sharp tug on a rope that dangles 100 meters, plateauing in sections, and slides down. For hours, the man, Sarial, will use a pick to scrape away and bag rocks that are hauled to the surface by another miner, using a wooden wheel.


Top Indonesian official calls out misinformation in environmental campaign

(05/20/2013) Indonesia's top REDD+ official confirmed there is no plan to open 1.2 million hectares of forest in Sumatra's Aceh Province, calling into question numbers used by environmentalists in their bid to stop reclassification of the province's forest land.


Petition targeting plan to open protected forests in Indonesia for mining, logging reaches 1M signatures

(05/15/2013) An AVAAZ petition calling upon Indonesian officials to put a stop to a proposal to open tens of thousands of hectares of protected rainforest to mining, logging, and oil palm plantations has surpassed one million signatures.


Rhino populations in Sumatra, Borneo should be combined to save Sumatran rhino from extinction


(05/15/2013) A new study argues for treating endangered Sumatran populations in Borneo and Sumatra as 'a single conservation unit', lending academic support to a controversial proposal to move wild rhinos from Malaysia to Indonesia.


Paper giant APRIL to restore peat forest in Sumatra, but green groups say it continues to deforest

(05/14/2013) Pulp and paper giant Asia Pacific Resources International Limited (APRIL) has launched a $7 million ecosystem restoration project to restore and protect over 20,000 hectares of peat forest in Indonesia's Riau province, Mongabay-Indonesia reported last week.


Palm oil company violated RSPO standards, evicted from sustainability body

(05/13/2013) The Roundtable on Sustainable Palm Oil (RSPO) has evicted Indonesian palm oil giant Dutapalma Nusantara for violating key principles for sustainability.


New UN report gives Indonesia low marks in forest governance


(05/09/2013) A new UN report exposes serious flaws in Indonesia's forest governance, serving as a wake up call to policy makers aiming to conserve forests in the country, which boasts the third largest area of tropical forest coverage in the world. On Monday, the United Nations Development Programme (UNDP) together with the Government of Indonesia launched a comprehensive forest governance index, which evaluates forest governance at the central, provincial and district levels and offers policy recommendations designed to better equip the country to conserve forests and peatlands.


Court rules for palm oil company in controversial deforestation case


(05/05/2013) Court orders Aceh governor to reverse decision to cancel palm oil concession in protected peatlands. An Indonesian court has ruled in favor of plantation company PT Kallista Alam in a lawsuit brought against the governor of Indonesia's Aceh province for revoking the company's license to develop palm oil plantations in a protected peat swamp forest.


Endangered primates and cats may be hiding out in swamps and mangrove forests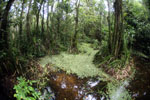 (05/02/2013) What happens to animals when their forest is cut down? If they can, they migrate to different forests. But in an age when forests are falling far and fast, many species may have to shift to entirely different environments. A new paper in Folia Primatologica theorizes that some 60 primate species and 20 wild cat species in Asia and Africa may be relying more on less-impacted environments such as swamp forests, mangroves, and peat forests.


Malaysia may loan Indonesia rhinos to save species from extinction


(04/30/2013) Conservationists and officials meeting last month at a rhino crisis summit in Singapore agreed to a radical plan to loan Sumatran rhinos between nations if it means saving the critically endangered species from extinction. The proposal, which could still be thwarted by red tape and political opposition, could lead Malaysia to send some of its Sumatran rhinos to semi-captive breeding facilities in Indonesia.


APP answers questions on new forest conservation policy

(04/29/2013) In February, Asia Pulp & Paper, one the world's largest paper producers, announced a forest conservation policy that would effectively exclude fiber sourced through conversion of rainforests and peatlands. The announcement however was met by skepticism by many in the environmental movement due to APP's failures to abide by previous commitments to avoid rainforest logging.


Samsung admits to using tin linked to child labor, deforestation; Apple mum on sourcing


(04/25/2013) Mobile device giant Samsung has admitted to using tin sourced from a controversial mining operation on the Indonesian island of Bangka, where unregulated mining kills 150 miners a year and causes substantial environmental damage, reports The Guardian and Mongabay-Indonesia.


Indonesian palm oil giant clearing peat forest despite its RSPO membership, alleges Greenpeace

(04/25/2013) A major Indonesian palm oil producer continues to clear rainforests in Sumatra despite being a prominent member of the Roundtable on Sustainable Palm Oil (RSPO), casting doubts on the body's effectiveness in limiting deforestation, alleges a new report from Greenpeace.


To win concessions in Aceh, mining company hires official being investigated for graft


(04/18/2013) A Toronto Stock Exchange-listed mining company has hired an official being investigated for corruption under its effort to convince the Aceh provincial government to re-zone protected forest areas for a gold mine on Indonesia's Sumatra island, according to an alliance of Indonesian environmentalists. The official, former Golkar Deputy Chairman Fadel Muhammad, has been retained by East Asia Minerals to help it win a carve-out for its Miwah project, a 30,000-hectare concession atop a forested mountain in Aceh.


Mining company working with Indonesian govt to strip forest of protected status


(04/16/2013) A Toronto-listed mining company says it is working closely with the Indonesian government to strip the protected status of some 1.2 million hectares of forest on the island of Sumatra. In a statement issued Tuesday, East Asia Minerals Corporation (TSX:EAS) claimed it is actively involved in the process of devising a new spatial plan for Aceh province, Sumatra's western-most province. The proposed changes to the spatial plan, which governs land use in the province, would re-zone large areas of protected forest in Aceh for industrial activities.


Sumatran rhino population plunges, down to 100 animals



(04/08/2013) Less than 100 Sumatran rhinos survive in the world today, according to a bleak new population estimate by experts. The last survey in 2008 estimated that around 250 Sumatran rhinos survived, but that estimate now appears optimistic and has been slashed by 60 percent. However conservationists are responding with a major new agreement between the Indonesian and Malaysian governments at a recent summit by the International Union for Conservation of Nature's Species Survival Commission (IUCN SSC).


Sumatran rhino found in Kalimantan after unseen in region for 20 years

(04/02/2013) Conservationists working to save the Sumatran rhino—one of the world's most imperiled mammals—heard good news this week as WWF-Indonesia has found evidence of at least one Sumatran rhino persisting in the Indonesian state of Kalimantan, located on the island of Borneo. Small populations of Sumatran rhinos (Dicerorhinus sumatrensis) survive on Sumatra and on Borneo (in the Malaysian state of Sabah), but this is the first time scientists have confirmed the presence of the notoriously shy animal in Kalimantan in over two decades.


Cargill to boost investment in Indonesian oil palm plantations

(03/26/2013) Cargill plans to 'aggressively' expand its palm oil holdings in Sulawesi, Indonesian Borneo, and Sumatra, reports The Wall Street Journal.


As massive deforestation continues in Sumatra's Tesso Nilo, Indonesian lawmakers pin blame on 'foreign' NGOs

(03/25/2013) Indonesian lawmakers criticized the World Wide Fund for Nature (WWF) for its inability to stop deforestation in Sumatra, accusing the group of trying to destroy Indonesia's reputation abroad and hurting the country's economy.


Conservation scientists: Aceh's spatial plan a risk to forests, wildlife, and people


(03/22/2013) A group of biologists and conservation scientists meeting in Sumatra warned that potential changes to Aceh's spatial plan could undermine some of the ecological services that underpin the Indonesian province's economy and well-being of its citizens. After its meeting from March 18-22 in Banda Aceh, the Asia chapter of the Association for Tropical Biology and Conservation (ATBC) issued a declaration [PDF] highlighting the importance of the region's tropical forest ecosystem, which is potentially at risk due to proposed changes to its spatial plan.


APP conservation policy came after it pulped most of its forests


(03/19/2013) Asia Pulp & Paper's widely heralded forest conservation policy came after the forestry giant had already cleared nearly all of the legally protected forests within its concessions in Sumatra, alleges a new report published by Greenomics, an Indonesian environmental group.


Facing extinction, conservationists call emergency summit to save Sumatran rhinos

(03/17/2013) With the number of Sumatran Rhinoceros (Dicerorhinus sumatrensis) now under 200 and declining rapidly, a group of conservationists have organized an emergency summit to discuss courses of action to save the world's smallest remaining rhino from extinction.


Aceh claims deal to open 1.2M ha of protected forest to logging, mining is near

(03/14/2013) Indonesia's Ministry of Forestry is close to accepting a proposal to open 1.2 million hectares of forest in Aceh for mining, logging, and palm oil production, reports the Aceh Post.


Dozens arrested after community fights deforestation by paper company in Indonesia

(03/07/2013) Dozens of villagers from Indonesia's North Sumatra province traveled to Jakarta this week to demand the release of 16 farmers who remain in detention after conflicts erupted between indigenous communities in Humbang Hasundutan district and PT Toba Pulp Lestari, a unit of the pulp and paper giant Asia Pacific Resources International Holdings (APRIL).


Featured video: rare, strange mammal caught on camera in Sumatra

(03/05/2013) A video camera trap expedition into Sumatra's Leuser ecosystem has captured a rarely-seen, bizarre mammal on tape. The Sumatran serow (Capricornis sumatraensis) is a goat-antelope found both on Sumatra and mainland Southeast Asia. Rarely seen and little-studied, the animals inhabit highland areas.


Indonesian governor proposes opening protected areas to logging

(02/12/2013) The governor of Indonesia's Aceh Province on the island of Sumatra has proposed opening up more than 50,000 hectares of protected forest to logging, according to a new analysis by an Indonesian environmental group.



Page 1 | Page 2 | Page 3 | Page 4