News articles on sharks

---
Mongabay.com news articles on sharks in blog format. Updated regularly.






Fracas over Costa Rican shark-fin exports leads American Airlines to stop shipping fins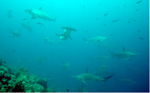 (04/24/2015) On December 24, an American Airlines plane carried 411 kilos of dried hammerhead shark fins from Alajuela, Costa Rica, to Hong Kong, touching down partway through the journey in Miami. The shipment, valued at nearly $53,000, contained fins from around 411 animals, more than seven times the number on its export permit from the Costa Rican government.
Madagascar establishes a sanctuary for sharks
(02/06/2015) The government of Madagascar has established the Indian Ocean island's first shark sanctuary in an area famous for its marine biodiversity, reports the Wildlife Conservation Society (WCS).
Shark pups may not survive climate change
(12/01/2014) Fierce predatory sharks rule the oceans from the apex of the food pyramid. But climate change may be tougher than these marine hunters, a new study suggests. As oceans warm and their waters become more acidic, fewer sharks may survive their infancies.
Demand for shark fin plunging
(08/12/2014) Shark fin demand has dropped precipitously in China in just a few years, according to a new report by WildAid. Shark fin traders in Guangzhou—the current informal capital of the shark fin trade—say their sales have fallen by 82 percent in just two years, according to WildAid.
Weird and mysterious: scientists find new shark species
(04/16/2014) A long snout with teeth jutting from the sides? Check. Catfish-like barbels dangling from its chin? Got them. Gills on the side of its body? It has those, too. These are characteristics of a bizarre group of sharks known as sawsharks. And until recently, only seven species were recognized. However, a new discovery raises that number by one more.
Saving sharks one sandwich at a time: conservationists target 'shark bake'
(02/28/2014) Thousands of Carnival revelers in Trinidad wouldn't think of missing the chance to go to Maracas Beach, the most famous strip of sand on the small Caribbean island off the northeast coast of Venezuela. Beachgoers might not think twice about eating a favorite food called "shark bake" either – at least, until now. But this week, conservationists launched a shark-saving campaign timed to get maximum exposure out of the celebration that will bring throngs of visitors to the island.
35 pictures of the sharkfin trade that will shock and dismay you
(02/07/2014) Last month scientists released a study warning that one quarter of all sharks and rays are threatened with extinction. The research was the result of collaboration between 300 scientists from 64 countries. It concluded that overfishing is the biggest threat to the most number of species, noting that up to 73 million sharks are killed each year for their fins alone.
One quarter of sharks and rays threatened with extinction
(01/22/2014) One quarter of all shark and ray species are threatened with extinction, according to a new study published in the open-access journal eLife. The paper analyzed the threat and conservation status of 1,041 species of chondrichthyans—the class of fish whose skeletons are made of cartilage instead of bone which includes sharks, rays, skates and chimaeras—and found this group to be among the most threatened animals in the world.
The smoothtooth blacktip shark and four other species rediscovered in markets
(01/21/2014) Scientific American) magazine recently ran an article on the rediscovery of the smoothtooth blacktip shark (Carcharhinus leiodon) in a Kuwaiti fish market. Believed extinct for over 100 years, the smoothtooth had not been seen since the naturalist Wilhelm Hein returned from a trip to Yemen in 1902. With its reappearance, scientists scoured Kuwaiti markets and discovered an astounding 47 individual smoothtooth blacktips.
Environmental groups: top secret Pacific trade agreement to sacrifice wildlife, environment

(01/16/2014) Environmental groups have blasted draft text of the Trans-Pacific Partnership (TPP) released yesterday by WikiLeaks as potentially devastating to the environment and wildlife. The massive 12-nation free trade agreement has been negotiated in secret now for almost four years, and the information release by WikiLeaks shows that key environmental safeguards in the agreement are being stripped away, including a ban on shark finning and illegal logging, as well as legally-enforced pollution regulations.
Top 10 HAPPY environmental stories of 2013
(12/19/2013) China begins to tackle pollution, carbon emissions: As China's environmental crisis worsens, the government has begun to unveil a series of new initiatives to curb record pollution and cut greenhouse emissions. The world's largest consumer of coal, China's growth in emissions is finally slowing and some experts believe the nation's emissions could peak within the decade. If China's emissions begin to fall, so too could the world's.
Indonesia's national airline carrier bans shark fins
(11/23/2013) Indonesia's national carrier Garuda Indonesia has joined a growing number of airlines looking to curb the international shark fin trade by banning the transport of shark fins and other shark products on their aircraft. The airline had previously transported 36 tons of shark fin products a year, the conservation group said in a media release on Nov. 15.
Fishermen get crafty to circumvent shark fin ban
(11/10/2013) Authorities in Costa Rica have identified a new method used by fishermen to circumvent a ban on killing sharks for their fins. According to an INTERPOL alert, fishermen are now leaving a band of skin to keep the fin attached to the spine when they kill sharks. This approach takes advantage of an apparent loophole in regulations governing the shark fin trade.
Fishermen illegally killing dolphins for shark-bait in Peru (video)
(10/23/2013) Peruvian fishermen slaughtered dolphins to use as bait for shark fishing, an undercover investigation has revealed. Footage showed infant and adult dolphins being harpooned then stabbed and clubbed before, in some cases, being cut open and butchered while still alive. The slaughtered dolphins were cut up and used as bait. Dolphins are also killed for human consumption in Peru even though it is illegal.
Video: scientists discover new walking shark species in Indonesia

(09/11/2013) A species of shark that uses its fins to 'walk' along the bottom of the ocean floor has been discovered off the coast of Indonesia. The shark, Hemiscyllium halmahera, uses its fins to wiggle along the seabed and forage for small fish and crustaceans, scientists from Conservation International said on Friday.
Whale shark mapping: scientists uncover global distribution for the largest fish in the world
(08/27/2013) Polka-dotted and striped. Massive but docile. That's the whale shark for you - the largest fish and shark in the world. But despite being major tourist attractions, the lives of these awe-inspiring creatures of the ocean remain far from being demystified. However, a team of researchers from Australia may now have some answers to where these whale sharks (Rhinocodon typus) occur.
Zoos call on governments to take urgent action against illegal wildlife trade (photos)
(07/24/2013) In a single night in March, a band of heavily-armed, horse-riding poachers slaughtered 89 elephants in southern Chad, thirty of which were pregnant females. The carnage was the worst poaching incident of the year, but even this slaughter paled in comparison to the 650 elephants killed in a Cameroon park in 2012. Elephant poaching is hitting new records as experts say some 30,000 elephants are being killed every year for their ivory tusks. But the illegal wildlife trade—estimated at $19 billion—is not just decimating elephants, but also rhinos, big cats, great apes, and thousands of lesser-known species like pangolins and slow lorises. This growing carnage recently led to representatives of over 40 zoos and dozens of wildlife programs to call on governments around the world to take immediate action on long-neglected wildlife crime.
Monster shark sparks talk of overfishing

(06/06/2013) A giant mako shark caught by a sports-fisherman Monday in California has spurred a conversation about declining shark populations worldwide, reports the Associated Press.
Heavy metal shark meat: dangerous lead levels found in sharks used as fish food
(03/18/2013) A recent study published in mongabay.com's open access journal Tropical Conservation Science raises concerns about levels of heavy metals, particularly lead (Pb), present in shark meat, as well as the decline of shark abundance due to global fishing pressures. Sharks are primarily caught as by-catch for other fishing industries. By one account, 70% of the total catch in swordfish long-line fisheries was sharks. Due to consumer demand, this by-catch is sold to Asian fish markets as fin and trunk meat. Much of the trunk and organ meat is used to make fish-meal, which is then fed to farmed fish.
Sharks and rays win protections at CITES
(03/11/2013) Today, for the first time, sharks and rays have won the vote for better protection under CITES (the Convention on International Trade in Endangered Species), the world's regulating body on trade in threatened species. Five shark species and manta rays, which includes two species, have received enough votes to be listed under Appendix II of CITES, which means tougher regulations, but not an outright ban. However, the votes could still be overturned before the end of the meeting.
Has shark fin consumption peaked at 100M dead sharks per year?
(03/05/2013) While a new study warns that up to 100M sharks are killed annually, there are signs out of China that demand for shark fin may be on the decline. A study published last week in the journal Marine Policy estimated shark deaths at 100 million in 2000 and 97 million in 2010, suggesting a slight drop in shark killing. Meanwhile reports out of China in recent months suggest an accelerating decline in shark fin consumption. China is the top market for shark fin, which is consumed as a status symbol, typically at wedding ceremonies and business dinners.
Saving manta rays from the fin trade
(01/15/2013) Tens of millions of sharks and rays are killed each year to meet demand for shark fin, a delicacy across East Asia. But while the plight of sharks has gained prominence in international environmental circles in recent years, the decline in rays has received considerably less attention. A new film, Manta Ray of Hope, aims to change that. Produced by cinematographer, scuba diver, and marine conservationist Shawn Heinrichs, Manta Ray of Hope offers a look at the mysterious and magnificent world of the world's largest ray, the manta ray. The film highlights both the threats mantas face as well as some of the people who are working to save them.
Jeff Corwin talks sharks
(12/04/2012) Sharks are among the most feared of all the world's predators, yet humans kill tens of millions of sharks for every person who falls victim to shark attack. Part of our fear stems from lack of understanding. A new eBook however tries to change that. Jeff Corwin, an Emmy Award Winning TV host, has this week released Jeff's Explorer Series: SHARKS, the first of a new eBook series, which Corwin likens to the 21st century version of an encyclopedia. The eBook is rich with video, images, and text. It is narrated by Corwin.
Pledge to end wildlife trafficking for Wildlife Conservation Day

(12/04/2012) Today has been dubbed the first ever global Wildlife Conservation Day. To honor it, a coalition of conservation groups—including WWF and Wildlife Conservation Society (WCS)—are working to raise awareness of illegal wildlife trafficking. Poaching for traditional medicine, bushmeat, and other products has put innumerable species at risk, including tigers, rhinos, sharks, and elephants.
Clever whale shark video goes viral

(07/17/2012) Researchers have a caught a juvenile—though still massive—whale shark on camera sucking fish out of a hole in an Indonesian fishing net. Posted on YouTube.com, the video has gone viral and has been viewed by 1.2 million people to date. The footage was captured during a program to tag 30 whale sharks (Rhincodon typus) in Indonesia's Cendrawasih Bay National Marine Park in order to learn more about the world's largest fish.
Bad science journalism: articles spread misinformation about whale sharks
(07/09/2012) The death of one of the world's largest recorded whale sharks (Rhincodon typus) in the Arabian Sea provoked a sudden global interest in these massive shark. Weighing 14.5 tons, the fish in question made 'whale shark 'whale shark' the number 3 top search in Google Trends on the day the news hit. But, according to a new study in mongabay.com's open access journal Tropical Conservation Science, more than half the reports filed by journalists were "factually wrong."
Genetic analysis reveals 79 new species of sharks and rays, many likely endangered

(06/27/2012) Analyzing the DNA sequences of 4,383 specimens of sharks and rays, researchers have discovered 79 potentially new species, raising both the known diversity of this predacious family and concerns that many species are likely more imperiled than thought. Already 32 percent of open ocean sharks and rays are considered threatened with extinction by the IUCN Red List, due largely to overfishing, finning, bycatch, and prey depletion.
Manta rays tracked by satellite

(05/11/2012) Satellite tracking technology has revealed new insights into the behavior of manta rays, reports the Wildlife Conservation Society (WCS). The findings are published in this week's issue of the journal PLoS.
Camera traps go under the ocean, seeking sharks

(03/12/2012) Remote camera traps, which have become a hugely important conservation tool on land during the past decade, have now gone underwater. Marine biologists have used underwater video camera traps to compare the population of Caribbean reef sharks (Carcharhinus perezii) in Belize's protected areas versus fishing areas in a new study in the open-access journal PLoS ONE. Conducted from 2005-2010, the study found that reef sharks benefited significantly from conservation areas.
Top 10 Environmental Stories of 2011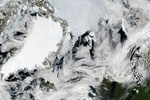 (12/22/2011) Many of 2011's most dramatic stories on environmental issues came from people taking to the streets. With governments and corporations slow to tackle massive environmental problems, people have begun to assert themselves. Victories were seen on four continents: in Bolivia a draconian response to protestors embarrassed the government, causing them to drop plans to build a road through Tipnis, an indigenous Amazonian reserve; in Myanmar, a nation not known for bowing to public demands, large protests pushed the government to cancel a massive Chinese hydroelectric project; in Borneo a three-year struggle to stop the construction of a coal plant on the coast of the Coral Triangle ended in victory for activists; in Britain plans to privatize forests created such a public outcry that the government not only pulled back but also apologized; and in the U.S. civil disobedience and massive marches pressured the Obama Administration to delay a decision on the controversial Keystone XL pipeline, which would bring tar sands from Canada to a global market.
Matt Miller: don't oversimplify issues in environmental debates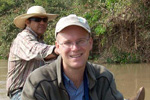 (12/21/2011) Matt Miller is director of communications for The Nature Conservancy in Idaho, a position he's held for ten years. He is responsible for the chapter's publications and digital media. He writes for the Conservancy's blogs Cool Green Science and Idaho Nature Notes. He has also completed two conservation fellowships for the Conservancy's programs in Colombia and Micronesia. In his spare time, he is editor of Backcountry Journal and a freelance writer with credits in Grist, Living Bird, Bugle, Sports Afield and many other publications. Matt is a board member of the Outdoor Writers Association of America and a regular speaker on conservation topics. He has traveled to six continents in search of wildlife and stories. Most recently, he's written about the plight of Pacific Islanders caused by rising sea levels and economic hardships. Matt lives in Boise, Idaho with his wife Jennifer, who promotes sustainable agriculture for the Northwest Center for Alternatives to Pesticides.
Marshall Islands creates world's biggest shark park

(10/03/2011) The Republic of the Marshall Islands has created the world's biggest shark reserve: so large that all of Mexico could fit comfortably inside. With new legislation, commercial shark fishing is now completely banned in Marshall Islands' 768,547 square miles (1,990,530 square kilometers) of ocean.
California moves closer to banning shark fin trade

(09/07/2011) California moved a step closer to banning the sale and trade of shark fin with the passage Tuesday of Senate Bill 376. The bill, which passed 25-9, now goes the governor, whose approval would make the ban law. The bill was introduced to the California State Assembly February this year by Paul Fong (D-Cupertino) and Jared Huffman (D-San Rafael).
Honduras protects sharks in all its waters

(06/26/2011) Endangered sharks are finding more sanctuaries. Honduras has announced that commercial shark fishing will be banned from its 92,665 square miles (240,000 square kilometers) of national waters. Honduras says the ban, which follows a moratorium on shark fishing, will bring in tourism revenue and preserve the marine environment.
Left alive and wild, a single shark worth $1.9 million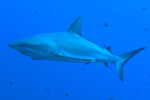 (05/02/2011) For the Pacific island nation of Palau, sharks are worth much more alive than dead. A new study by the Australian Institute of Marine Science (AIMS) has found that one reef shark during its full life is worth $1.9 million to Palau in tourism revenue. Sold for consumption the shark is worth around $108. In this case a shark is worth a stunning 17,000 times more alive than dead.
California proposes ban on selling shark fin

(02/16/2011) Last year Hawaii banned the sale of shark fins; California may be next. Bill 376, introduced by two Democrats, would outlaw the sale of shark fins, including the popular Asian delicacy shark fin soup, in the US's most populous state.
Massive shark sanctuary declared in the Coral Triangle

(11/17/2010) A shark sanctuary has been declared around the Raja Ampat islands in Indonesia. Larger than Denmark, the new sanctuary covers 17,760 square miles (46,000 square kilometers) of one of the world's richest marine biodiverse region, the Coral Triangle. Protections not only cover sharks, but dugongs, marine turtles, mobulas, and manta rays as well. In addition, reef bombing and fishing for the aquarium trade are banned.
What do wolves and sharks have in common?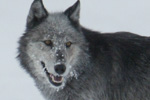 (11/15/2010) Sharks dwell in the ocean, wolves on land; sharks are a type of fish, wolves are a mammal; sharks go back some 400 million years, wolves only some 2 million years. So, these animals should have little in common, right? However, a new study in Frontiers in Ecology and the Environment points to surprising similarities among these disparate animals. As top predators, both wolves and sharks impact their prey and other species in similar ways.
Island nation announces Ukraine-sized sanctuary for whales and dolphins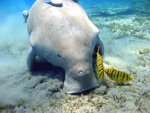 (10/24/2010) Dolphins, whales, and dugongs will be safe from hunting in the waters surrounding the Pacific nation of Palau. At the Convention on Biological Diversity (CBD) in Nagoya, Japan, Palau's Minister of the Environment, Natural Resources and Tourism, Harry Fritz, announced the establishment of a marine mammal sanctuary covering over 230,000 square miles (60,000 square kilometers) of the nation's waters, an area the size of Mongolia.
Shark attack victims: save sharks!

(09/13/2010) Shark attack survivors urged the United Nations to take measures to protect sharks, which are increasingly threatened by unsustainable fishing practices.
Coral reef survival depends on the super small, an interview with Forest Rohwer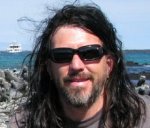 (08/30/2010) If you take a teaspoon and dip it into the ocean what will you have? Some drops of lifeless water? Only a few decades ago this is what scientists would have said, however, the development of increasingly powerful microscopes have shown us a world long unknown, which has vital importance for the survival of one of the world's most threatened and most treasured ecosystems: coral reefs. A single milliliter of water is now known to contain at least a million living microbes, i.e. organisms too small to see without a microscope. After discovering their super-abundant presence, researchers are now beginning to uncover how these incredibly tiny life-forms shape the fate of the world's coral reefs.
The biology and conservation of declining coral reefs, an interview with Kristian Teleki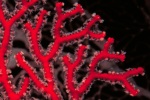 (08/15/2010) Coral reefs are often considered the "rainforests of the sea" because of their amazing biodiversity. In fact, coral reefs are one of the most diverse ecosystems on earth. It is not unusual for a reef to have several hundred species of snails, sixty species of corals, and several hundred species of fish. While they comprise under 1% of the world's ocean surface, one-quarter of all marine species call coral reefs their home. Fish, mollusks, sea stars, sea urchins, and more depend on this important ecosystem, and humans do too. Coral reefs supply important goods and services–from shoreline protection to tourism and fisheries–which by some estimates are worth $375 billion a year.
Citibank's shark fin soup promotion draws ire, ends early

(07/22/2010) Citibank Hong Kong has canceled its promotion of shark fin soup after activists cried foul, according to the New York Times. The branch had offered Citibank card holders 15 percent off a shark fin soup dinner at Maxim's Chinese Cuisine for the month of July.
Hawaii bans shark fin soup

(05/31/2010) Governor of Hawaii, Linda Lingle, has signed into law a ban on shark-fin soup beginning July 1st, 2011, according to Reuters. The soup is currently served in a number of Chinese restaurants in Hawaii, but the trade has decimated certain shark species due to overfishing.
World failing on every environmental issue: an op-ed for Earth Day
(04/22/2010) The biodiversity crisis, the climate crisis, the deforestation crisis: we are living in an age when environmental issues have moved from regional problems to global ones. A generation or two before ours and one might speak of saving the beauty of Northern California; conserving a single species—say the white rhino—from extinction; or preserving an ecological region like the Amazon. That was a different age. Today we speak of preserving world biodiversity, of saving the 'lungs of the planet', of mitigating global climate change. No longer are humans over-reaching in just one region, but we are overreaching the whole planet, stretching ecological systems to a breaking point. While we are aware of the issues that threaten the well-being of life on this planet, including our own, how are we progressing on solutions?
History repeats itself: the path to extinction is still paved with greed and waste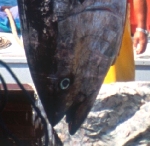 (04/05/2010) As a child I read about the near-extinction of the American bison. Once the dominant species on America's Great Plains, I remember books illustrating how train-travelers would set their guns on open windows and shoot down bison by the hundreds as the locomotive sped through what was left of the wild west. The American bison plunged from an estimated 30 million to a few hundred at the opening of the 20th century. When I read about the bison's demise I remember thinking, with the characteristic superiority of a child, how such a thing could never happen today, that society has, in a word, 'progressed'. Grown-up now, the world has made me wiser: last month the international organization CITES (Convention on International Trade in Endangered Species) struck down a ban on the Critically Endangered Atlantic bluefin tuna. The story of the Atlantic bluefin tuna is a long and mostly irrational one—that is if one looks at the Atlantic bluefin from a scientific, ecologic, moral, or common-sense perspective.
CITES chooses 'commerce' over sharks, leaving endangered species vulnerable

(03/23/2010) Only the porbeagle shark received protection today from the Convention on International Trade in Endangered Species (CITES). Seven other shark species failed to win international protection despite plummeting populations due to overfishing. Once again, Japan led the opposition to regulating the trade in white-tipped sharks and scalloped hammerheads, including two look-alike species: the great hammerhead and the smooth hammerhead. Japan has dominated the CITES meeting, successfully leading resistance to banning the trade in the Critically Endangered Atlantic bluefin tuna and against monitoring the coral trade.
Sharks lose out at UN meeting

(03/17/2010) An effort to bolster conservation measures for plummeting shark populations was defeated yesterday at the Convention on International Trade in Endangered Species (CITES), according to the AP. The nonbinding measure would have increased transparency in the shark trade and produced research on illegal fishing for sharks.
Sharks swim safe around the Maldives

(03/11/2010) Sharks that dwell in the Maldives can breathe a sigh of relief: the island nation has declared 90,000 square kilometers of the Indian Ocean a safe-haven for sharks, banning shark fishing as well as any trade in shark fins.
With increased protection, Gulf of California marine life could recover

(02/22/2010) The Gulf of California's once rich marine ecosystem is in trouble. Surveys from 1999 and 2009 revealed that during the ten-year-period 60 percent of the areas showed signs of degradation, including the loss of top predators necessary to keep an ecosystem healthy, for example sharks, groupers, and snappers.
UN to protect seven migratory sharks, but Australia opts out

(02/17/2010) One hundred and thirteen countries have signed on to an agreement to protect seven migratory sharks currently threatened with extinction byway of the Convention on the Conservation of Migratory Species of Wild Animals (CMS), according to the UN Environment Program (UNEP). The agreement prohibits hunting, fishing, or deliberate killing of the great white shark, basking shark, whale shark, porbeagle shark, spiny dogfish, as well as the shortfin and longfin mako sharks. However, Australia has declared it will ignore certain protections.
Actions taken to save sharks 'disappointing'

(11/15/2009) Environmentalists say that the International Commissions for the Conservation of Atlantic Tuna (ICCAT) did not do enough in their yearly meeting to protect the ocean's sharks.
California's great white sharks are a distinct population

(11/04/2009) Researchers have long thought that white sharks migrated across oceans, but a new study in the Proceedings of the Royal Society B shows that the population in the northeastern Pacific Ocean, along California, hasn't mixed with other white sharks for tens of thousands of years.
New species of ghostshark discovered off California's coast

(09/22/2009) The discovery of Eastern Pacific black ghostshark Hydrolagus melanophasma is notable for a number of reasons. It is the first new species of cartilaginous fish—i.e fish whose skeletons are made entirely of cartilage, such as sharks, rays, and skate—to be described in California water since 1947. It is also a representative of an ancient and little-known group of fish.
Over 30 percent of open ocean sharks and rays face extinction
(06/25/2009) The first global study of open ocean (pelagic) sharks and rays found that 32 percent of the species are threatened with extinction largely due to overfishing and bycatch, making pelagic sharks and rays more threatened than birds (12 percent), mammals (20 percent), and even amphibians (31 percent), which are considered to be undergoing an extinction crisis. The situation worsens when only sharks taken in high-seas fisheries are considered: 52 percent of these species are threatened.
Secret movements of the basking shark uncovered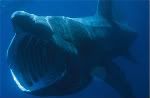 (05/07/2009) Researchers with the Massachusetts Mariner Fisheries have uncovered the secret life of the world's second largest fish, known for its cavernous mouth. The basking shark, which measures over 10 meters and weighs as much as seven tons, has long baffled scientists by disappearing from view half of every year. A new study from Current Biology found that the basking shark spends this time deep in the Atlantic's tropical waters.
Whale sharks threatened by interbreeding
(04/08/2009) The world's largest living fish, the whale shark, is threatened by interbreeding, according to a new study in PLoS ONE. Comparing the DNA of 68 individual whale sharks from eleven locations across the globe, geneticists found that the whale sharks had little genetic variation between the populations.
Hundreds of rare and bizarre marine species discovered

(11/09/2008) The evolutionary origin of deep sea octopuses, new species populating an underwater "continent", 12,000 amphipods crowding a square meter in the Gulf of Mexico, massive gatherings of white sharks in the middle of the Pacific: these are just a few highlights from the Census of Marine Life (COML)'s fourth report.
Sharks in trouble after nations fail to create sustainable management programs

(11/06/2008) Sharks are disappearing from the ocean at startling rates: currently one-in-five of these famous marine predators are threatened with extinction. According to a report from the Australian Government and TRAFFIC—an organization that monitors wildlife trade both legal and illegal—the collapse of shark populations is being caused largely by rising demand for shark fin in Asia. The report shows that legal fishing for sharks has become nearly as detrimental as illegal, since few fisheries have management strategies concerned with sustainability.
The long-ignored ocean emergency and what can be done to address it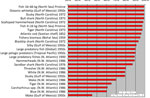 (08/18/2008) This year has been full of bad news regarding marine ecosystems: one-third of coral species threatened with extinction, dead-zones spread to 415 sites, half of U.S. reefs in fair or bad condition, increase in ocean acidification, tuna and shark populations collapsing, and only four percent of ocean considered pristine. Jeremy Jackson, director of the Scripps Center for Marine Biodiversity and Conservation at the University of California, San Diego, synthesizes such reports and others into a new paper, published in the journal Proceedings of the National Academy of Sciences, that boldly lays out the scope of the oceanic emergency and what urgently needs to be done.
Large shark populations fall 97% in the Mediterranean

(06/12/2008) Populations of some shark species in the Mediterranean have plunged by more than 97 percent over the past 200 years, report researchers writing in the journal conservation Biology. Several species are at risk of extinction.
Fatal San Diego Shark Attack a Rare Event

(04/25/2008) Friday morning a 66-year-old swimmer was attacked and killed by a shark off Solana Beach in San Diego county. It was the first fatal shark attack in San Diego since 1994.
Expedition finds inverted pyramid where sharks dominate marine ecology

(02/25/2008) A survey of a remote Pacific archipelago turned up pristine coral reefs that could offer a "baseline" for measuring the human impact on reefs worldwide, report researchers from the Scripps Institution of Oceanography (SIO) at the University of California at San Diego.
Mysteries of the Great White Shark unveiled

(02/17/2008) The Great White Shark has always been a creature of mystery. The world's largest shark has long fascinated humanity from the novel and film Jaws to recent sumptuous footage of the sharks catching sea lions in Planet Earth. The behemoth, who at times can reach seven meters in length, has also become famous for occasionally attacking swimmers and surfers, though scientists believe the sharks do not intentionally hunt humans. However, the great predator's behvaior and lifecycle remains mostly mysterious to science. Some of these mysteries are just now being unraveled thanks to the Tagging of Pacific Predators (TOPP) program.
Giant manta ray born in captivity for first time

(06/18/2007) For the first time, a giant manta ray was born in captivity at an aquarium in Japan, reports the Associated Press. The baby manta ray was born Saturday at the Okinawa Churaumi Aquarium, 374 days after its parents mated. The birth was recorded on film.
Trade in sawfish banned

(06/11/2007) Trade restrictions for the endangered sawfish have been approved at the Convention on International Trade in Endangered Species (CITES) meeting the The Hague. All seven species of sawfish has been added to Appendix I of the convention, banning international commercial trade. One species, found in Australia, was added to Appendix II, restricting trade to live animals for conservation purposes.
Sharks do not win CITES protection

(06/08/2007) Two endangered species of sharks failed to win protection at the Convention on International Trade in Endangered Species (CITES) meeting in The Hague.
Shark fin does not cure cancer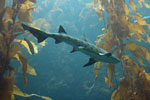 (06/03/2007) Shark cartilage, long believed in traditional medicine to be an anti-cancer agent, confers no health benefits in lung cancer survival reports an extensive study presented at the 43rd annual meeting of the American Society of Clinical Oncology. The lead author said the findings cast major skepticism on shark cartilage products that are being sold for profit and have no data to support their efficacy as cancer-fighting agent.
Shark has virgin birth

(05/23/2007) A captive hammerhead shark gave birth to a pup without mating, reported researchers on Wednesday. It is the first time that parthenogenesis, as virginal birth as called, has been observed in a shark.
Overfishing of sharks causing shellfish decline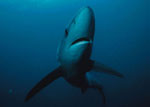 (03/29/2007) Overfishing of large sharks is reducing the abundance of shellfish reports a study published in the March 30 issue of the journal Science. A team of Canadian and American biologists has found that population declines in large predatory shark species -- including bull, great white, dusky, and hammerhead sharks -- due to overfishing has led to a boom in their ray, skate, and small shark prey species along the Atlantic Coast of the United States. Now these smaller species are depleting commercially important shellfish.
New shark species discovered in Indonesia

(02/28/2007) Scientists discovered at least 20 previously unknown species in the first comprehensive survey of Indonesia's sharks and rays in nearly 150 years. Six of their discoveries have now been formally described, while the others will be documented in forthcoming scientific papers.
Sharks increasingly endangered as finning, overfishing take toll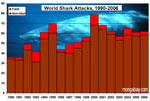 (02/23/2007) Scientists added several species of pelagic sharks to IUCN Red List of Threatened Species after research found them to be more endangered than previously thought. Three species of thresher sharks were listed as Vulnerable globally, while the shortfin mako was upgraded (or downgraded depending on one's perspective) from Near Threatened in 2000 to Vulnerable and the scalloped hammerhead shark was moved from Near Threatened to Endangered. The decisions are based on work by the IUCN SSC Shark Specialist Group (SSG).
U.S. leads world in shark attacks in 2006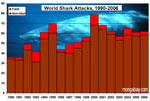 (02/13/2007) The United States led the world in shark attacks in 2006, according to figures released from the University of Florida's International Shark Attack File. The U.S. had 38 shark attacks, down from 40 in 2005. Globally there were 62 known shark attacks in 2006, an increase of 1 from 2005, but well below the 79 attacked recorded in 2000.
Unusual prehistoric shark beast captured in Japan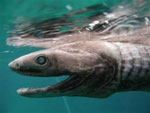 (01/24/2007) A rare frilled shark was captured live by fishermen off the coast of Japan. The toothy eel-like creature was taken to Awashima Marine Park in Shizuoka where it later died according to Reuters.
Great Barrier Reef shark populations collapsing finds study

(12/04/2006) Coral reef shark populations are declining rapidly due to fishing according to research published in the December 5th issue of the journal Current Biology. The paper says that "no-take zones" -- areas where fishing is prohibited -- can be effective in protecting sharks but only when the no-take regulations are strictly enforced. Examining two common species of sharks on the Great Barrier Reef in Australia, the researchers found that both populations are in the midst of a rapid population decline -- 7% per year for white tip sharks and 17% per year for gray reef sharks, showing that current shark conservation strategies are not effective.
Up to 73 million sharks killed per year for their fins

(10/04/2006) Between 26 million and 73 million sharks are killed each year for their fins according to a new paper published in the October 2006 edition of Ecology Letters. The estimates are three times higher than those projected by the United Nations.
New species of 'walking' shark discovered

(09/18/2006) Two recent expeditions led by conservation International (CI) to the heart of Asia'Coral Triangle' discovered dozens of new species of marine life including epaulette sharks, 'flasher' wrasse and reef-building coral, confirming the region as the Earthapos;s richest seascape.
Sharks tracked by satellite

(10/09/2005) Electronic tags broadcasting from the dorsal fins of salmon sharks reveal that these top predators migrate from the glacial waters of Alaska to the warm seas off Hawaii, according to a new study in the journal Science.
Great White Shark swims 12,400 miles, shocks scientists

(10/06/2005) A female great white shark tagged in waters off South Africa has completed the first known transoceanic trip for an individual shark, traveling farther than any other shark known, more than 12,400 miles (more than 20,000 kilometers) to the coast of Australia and back again, according to the Bronx Zoo-based Wildlife conservation Society (WCS) and other organizations in the most recent edition of the journal Science.