News articles on sarawak

---
Mongabay.com news articles on sarawak in blog format. Updated regularly.








Bunge palm oil supplier plans to clear peatlands for plantations
(06/22/2015) BLD Plantation Bhd, a Malaysian palm oil company, plans to clear some 14,000 hectares of peatlands in Sarawak, on the island of Borneo, potentially putting it in conflict with the deforestation-free sourcing policy established by American agribusiness giant Bunge, say campaigners who filed a grievance over the matter.
Sarawak increases fines for illegal logging

(05/01/2015) After decades of intense logging that has left its rainforests degraded, fragmented, and stripped of valuable timber in many areas, the Malaysian state of Sarawak has passed a new forestry bill that could boost penalties for illegal logging.
Reports slam Malaysian timber companies, urge reforms in forest management
(02/27/2015) Two international NGOs have called out Malaysia in recent months over the country's widespread illegal logging. Malaysia has been accused of not doing enough to protect its diminishing forests and thwart the illicit timber trade, particularly in Sarawak, the site of the country's worst deforestation. Lax oversight, endemic corruption and limited transparency have allowed for Malaysia's forests to be plundered by both the government and the private sector.
Reports blame illegal logging for felling Sarawak forest
(02/25/2015) A recent report by the international affairs think tank Chatham House has highlighted Malaysia's lack of progress in dealing with illegal logging, blaming corruption and a lack of transparency on the country's sluggish approach to environmental policy reform.
Human infections by 'monkey malaria' increasing as forests disappear
(11/10/2014) 68% of malaria hospitalizations in Malaysia last year were caused by a once-rare strain of the disease traditionally limited to macaque monkeys. However, as deforestation has put humans and wild animals in closer proximity, Plasmodium knowlesi infections and deaths have increased rapidly. The strain is now responsible for three times the severe malaria infections in Malaysian Borneo than P. falciparum—the world's deadliest form of the parasite.
30% of Borneo's rainforests destroyed since 1973
(07/16/2014) More than 30 percent of Borneo's rainforests have been destroyed over the past forty years due to fires, industrial logging, and the spread of plantations, finds a new study that provides the most comprehensive analysis of the island's forest cover to date. The research, published in the open-access journal PLOS ONE, shows that just over a quarter of Borneo's lowland forests remain intact.
Malaysia at risk of falling behind in push for more sustainable palm oil
(04/17/2014) The Malaysian state should play a more active role in supporting the transition toward less environmentally destructive palm oil production, says a coalition of Malaysian NGO's. In a statement issued Sunday, the Malaysian Palm Oil NGO Coalition (MPONGOC) urged Malaysian banks, palm oil associations, and other government-backed institutions to commit to 'improving social and environmental standards in the palm oil industry'.
Murum dam blockaders may be suffering human rights violations warns NGOs

(11/12/2013) A coalition of nearly 30 organizations has sent a letter to top authorities in Sarawak and Malaysia warning them of possible human right violations against a group of indigenous Penan who are blocking roads to the construction site for Murum Dam. Over 100 indigenous people have been blocking a road for over a month as they demand more compensation and land after being forced to move from their traditional lands to make way for the 900 megawatt dam.
Influential British editor banned from Sarawak

(07/03/2013) Clare Rewcastle Brown, the editor of Sarawak Report and Radio Free Sarawak, has been deported from Sarawak reports the Bruno Manser Fund. Both the Sarawak Report and Radio Free Sarawak are known for high-profile and investigative journalism that is often critical of Sarawak's chief minister, Abdul Taib Mahmud or 'Taib', and his family for alleged corruption.
Indigenous groups protest hydropower congress as controversy hits meeting in Malaysia
(05/22/2013) The opening of the International Hydropower Association (IHA) World Congress in the Malaysian state of Sarawak was marred today by indigenous protests and controversy after a local indigenous leader was barred from attending a pre-conference workshop. Over 300 people from local indigenous people protested the ongoing construction of around a dozen mega-dams in the state that threaten to flood traditional lands, force villages to move, and upend lives in the state. The Sarawak hydropower plans are some of the most controversial in the world—making the choice of Kuching, Sarawak for the IHA meeting an arguably ironic one—with critics contending that the dams are have been mired in political corruption, including kickbacks and bribes. IHA brings together dam builders, banks, and various related organizations worldwide every two years.
Sarawak to protect population of rarest orangutan sub-species

(04/10/2013) After facilitating large-scale logging and conversion of extensive areas of rainforest habitat, the government of Sarawak says it will protect a population of up to 200 of the world's rarest Bornean orangutans recently identified during field surveys by conservationists, reports the Wildlife Conservation Society (WCS).
NGO says Malaysian regulators should shut down two Sarawak companies after damning video

(03/26/2013) The fallout from a video by Global Witness exposing widespread corruption in Sarawak continues, as the Bruno Manser Fund, a European NGO, has called on the Companies Commission of Malaysia to "dereigster" land corporations highlighted in the video. The video purports to connect the head of Sarawak, Chief Minister Taib Mahmud, to illegal land deals on indigenous territory.
Video uncovers top level corruption in Sarawak over indigenous forests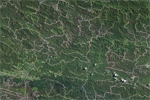 (03/20/2013) Tax evasion, kick-backs, bribery, and corruption all make appearances in a shocking new undercover video by Global Witness that shows how top individuals in the Sarawak government may be robbing the state of revenue for their own personal gain. Anti-corruption groups have believed that corruption has been rife in the Malaysian state of Sarawak for decades, but Global Witness says their investigation offers undeniable proof.
Malaysian candidate pledges to drop controversial dam in Sarawak if elected

(01/14/2013) Malaysia's current opposition leader, Anwar Ibrahim, has pledged to cancel the controversial Baram Dam in Sarawak if upcoming general elections sweep him into the office of Prime Minister. Ibrahim made the announcement while visiting the state of Sarawak, located on the island of Borneo, over the weekend, according to the indigenous rights NGO, Bruno Manser Fund.
Penan suspend dam blockade, give government one month to respond to demands

(11/15/2012) Members of the Penan tribe have suspended their month long blockade of the Murum dam in the Malaysian state of Sarawak, reports Survival International. However, according to the indigenous group the fight is not over: the departing Penan said the Sarawak government had one month to respond to demands for sufficient compensation for the dam's impact or face another blockade. Over 300 Penan people participated in the blockade, which stopped traffic leading to the construction site.
Indigenous blockade expands against massive dam in Sarawak
(10/08/2012) Indigenous people have expanded their blockade against the Murum dam in the Malaysian state of Sarawak, taking over an additional road to prevent construction materials from reaching the dam site. Beginning on September 26th with 200 Penan people, the blockade has boomed to well over 300. Groups now occupy not just the main route to the dam site, but an alternative route that the dam's contractor, the China-located Three Gorges Project Corporation, had begun to use.
NGO: Malaysian leader worth $15 billion despite civil-servant salary; timber corruption suspected

(09/19/2012) Abdul Taib Mahmud, who has headed the Malaysian state of Sarawak for over 30 years, is worth $15 billion according to a new report by the Bruno Manser Fund. The report, The Taib Timber Mafia, alleges that Taib has used his position as head-of-state to build up incredible amounts of wealth by employing his family or political nominees to run the state's logging, agriculture, and construction businesses. Some environmental groups claim that Sarawak has lost 90 percent of its primary forests to logging, while indigenous tribes in the state have faced the destruction of their forests, harassment, and eviction.
Sarawak tribe calls on German company to walk away from controversial dam

(06/19/2012) Indigenous people from the Malaysian state of Sarawak have sent a letter to the German company, Fichtner GmbH & Co. KG, demanding that the consulting group halt all activities related to the hugely-controversial Baram dam, reports the NGO Bruno Manser Fund. Critics of the dam and it parent project known as the Sarawak Corridor of Renewable Energy (SCORE) initiative, say the hydroelectric dam will displace 20,000 people and flood 40,000 hectares of primary rainforest.
Mining cancellation throws wrench into Sarawak dam-building spree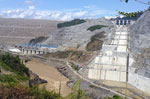 (03/27/2012) The world's third largest mining company, Rio Tinto, and a local financial and construction firm, Cahya Mata Sarawak (CMS), have cancelled plans for a $2 billion aluminum smelter to be constructed in the Malaysian state of Sarawak. The cancellation calls into question Sarawak's plan to build a dozen massive dams—known as the Sarawak Corridor of Renewable Energy (SCORE) initiative—that were proposed, in part, to provide power to the massive aluminum smelter. However, the mega-dam proposal has been heavily criticized for its impact on Sarawak's rivers, rainforest and indigenous people.
Activists form network to fight Sarawak dam-building spree

(02/15/2012) Last October indigenous groups, local people, and domestic NGOs formed the Save Sarawak's Rivers Network to fight the planned construction of a dozen dams in the Malaysian state on the island of Borneo. The coalition opposes the dam-building plans, known as the Sarawak Corridor of Renewable Energy (SCORE) initiative, due to its impacts on indigenous and river communities, the destruction of pristine rainforest, and the degradation of the state's rivers.
Borneo's most elusive feline photographed at unexpected elevation

(01/11/2012) Although known to science for 138 years, almost nothing is actually known about the bay cat (Pardofelis badia). This reddish-brown wild feline, endemic to the island of Borneo, has entirely eluded researchers and conservationists. The first photo of the cat wasn't taken until 1998 and the first video was shot just two years ago, but basic information remains lacking. A new camera trap study, however, in the Kelabit Highlands of the Malaysian state of Sarawak has added to the little knowledge we have by photographing a bay cat at never before seen altitudes.
The other side of the Penan story: threatened tribe embraces tourism, reforestation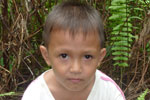 (12/19/2011) News about the Penan people is usually bleak. Once nomadic hunter-gatherers of the Malaysian state of Sarawak on Borneo, the indigenous Penan have suffered decades of widespread destruction of their forests and an erosion of their traditional culture. Logging companies, plantation developments, massive dams, and an ambivalent government have all played a role in decimating the Penan, who have from time-to-time stood up to loggers through blockades, but have not been successful in securing recognition of legal rights to their traditional lands. Yet even as the Penan people struggle against the destruction of their homelands, they are not standing still. Several Penan villages have recently begun a large-scale reforestation program, a community tourism venture, and proclaimed their a portion of their lands a "Peace Park."
Malaysian court blocks rainforest tribes' fight against mega-dam in Borneo

(09/09/2011) Indigenous tribes in Borneo suffered a stinging defeat Thursday after Sarawak's highest court ruled against them in 12-year-long legal battle. Tribal groups had challenged the Malaysian state government for seizing indigenous lands in order to build a massive hydroelectric power plant, dubbed the Bakun dam, but the three-person top court found unanimously against the tribes.
Australian 'green' buildings used illegally logged wood from rainforests allege activists

(07/27/2011) A 'green' building development being built by Frasers Property Australia in Sydney has been accused of using illegally-sourced plywood from Malaysian state of Sarawak in Borneo, according to a new Greenpeace report. The wood in question comes from a subsidiary of Samling, a company that has been connected to illegal logging and abusing the rights of indigenous groups in the past. After the revelations came to light, Frasers Property Australia said they would conduct an audit of the wood which was provided to them by Australian Wood Panels (AWP).
First ever picture of long lost rainbow toad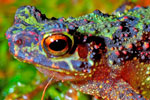 (07/13/2011) Scientists are elated after the surprise rediscovery of a wildly-colored frog not seen for 87 years and never before photographed—until now. The Bornean rainbow toad, also known as the Sambas Stream toad (Ansonia latidisca) was rediscovered on Borneo in the Malaysian state of Sarawak by local scientists inspired by a 2010 search for the world's missing amphibians by Conservation International (CI). Leading up to its search CI released the World's Top 10 Most Wanted Lost Frogs (out of a hundred being searched for): the Bornean rainbow toad was listed as number 10.
Rainforest tribe forcibly removed from dam area to palm oil plantation

(06/23/2011) A thousand Penan indigenous people have been forcibly moved from their rainforest home to monoculture plantations, reports Survival International. To make way for the Murum dam, the Malaysian state government of Sarawak is moving a thousand Penan from their traditional homes, but as apart of the deal the government promised to move the Penan to another part of their ancestral land. The government has since sold that land to a palm oil company, which is currently clearcutting the forests for plantations.
Report: corruption in Sarawak led to widespread deforestation, violations of indigenous rights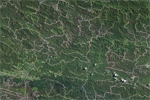 (03/10/2011) At the end of this month it will be 30 years since Abdul Taib Mahmud came to power in the Malaysian state of Sarawak. Environmentalists are using the occasion, along with new revelations, to highlight corruption and nepotism they say have characterized his regime. Chief Minister Taib and his decades-long administration are no strangers to such allegations, but a new report from the indigenous-rights group Bruno Manser Fund (BMF)—amid criticism from independent media sources, such as Sarawak Report and Radio Free Sarawak—are adding fuel to the fire. Most recently, the report describes in great detail how the tropical timber trade in Sarawak has undercut indigenous groups while toppling some of the world's greatest rainforests, all at the expense of the Sarawak people.
Sarawak's last nomad: indigenous leader and activist, Along Sega, dies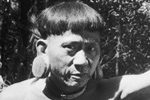 (02/03/2011) Along Sega never knew exactly how old he was, but when he passed away yesterday in a hospital far from the forest where he born, he was likely in his 70s. Leader among the once-nomadic hunter and gatherer Penan people of Borneo and mentor to Swiss activist, Bruno Manser, Along Sega will be remembered for his work to save the Penan's forest—and their lifestyle and culture—from logging companies, supported by the Sarawak government and provided muscle by the state police.