News articles on ryan king

---
Mongabay.com news articles on ryan king in blog format. Updated regularly.






How solar thermal curbs pollution and improves health

(06/16/2015) Modern environmental crises of global resources often threaten both human health as well as biodiversity. Many of these concerns have consistently escaped remediation by public health institutions and mainstream environmental organizations. The compounding severity of these threats requires solutions that are cheap, local, scalable, easily replicated and immediately beneficial to local populations and wildlife.
Biochar: a brief history and developing future

(01/02/2013) Biochar - charcoal produced from pyrolysis of biomass - has received tremendous attention and support in recent years, and championed as one of the potentially most useful techniques for soil restoration and carbon sequestration in the modern era. Although a multitude of initiatives in biochar research and application have sprung into action many critical details remain uncertain.
Climate and culture: abrupt change and rapid response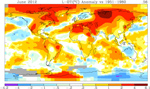 (08/06/2012) As the world experiences record heat, increased drought and fires, unprecedented ice melt and similar extreme weather anomalies decades before expected, climatologists have been forced to reconsider previous climate change projections and research techniques. Less than a decade ago, scientific consensus considered warming of more than 2 C and atmospheric levels of carbon dioxide near 450 parts per million (ppm) as acceptable or "safe". Revised climate science literature and expert opinion now regard safe atmospheric levels of carbon dioxide as below 350 ppm, or less than 1 C rise in average planetary temperature. Many researchers and environmentalists, however, recognize that the present deviation from pre-industrial temperatures of 0.8 C may be unacceptable to prevent runaway climate change and widespread disasters.
Doing good and staying sane amidst the global environmental crisis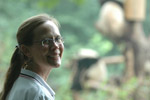 (04/23/2012) Several years ago while teaching a course in environmental science a student raised her hand during our discussion of the circumstances of modern ecological collapse and posed the question, "what happens when there is no more environment?" At the time I had no response and stumbled to formulate some sort of reply based on the typical aseptic, apathetic logic with which we are programmed through education in the scientific tradition: that there will always be some sort of environment, that life has prospered through the five previous mass extinctions and that something will survive. While this may be the case, the time has come for more of us to consider the broader spectrum of what global humanity is facing as the planet's ecology is decimated.
Innovative program seeks to safeguard Peruvian Amazon from impacts of Inter-Oceanic Highway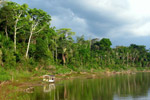 (03/06/2012) Arbio was begun by Michel Saini and Tatiana Espinosa Q. in the Peruvian Amazon region of Madre de Dios. The project focuses on a protective response to the increased encroachment and destructive land use driven by development. The recent construction of the Inter-Oceanic Highway in the Madre de Dios area presents an enormous threat to forest biodiversity. Arbio provides opportunities to help establish a buffer zone near the road to limit intrusive agricultural and deforestation activities.
Tourism for biodiversity in Tambopata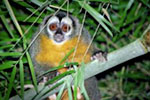 (02/27/2012) Research and exploration in the Neotropics are extraordinary, life-changing experiences. In the past two decades, a new generation of collaborative projects has emerged throughout Central and South America to provide access to tropical biodiversity. Scientists, local naturalists, guides, students and travelers now have the chance to mingle and share knowledge. Fusion programs offering immersion in tropical biology, travel, ecological field work, and adventure often support local wilderness preservation, inspire and educate visitors.
Earth First! activist Nathan Coe: radical cultural shifts required to stave off ecological collapse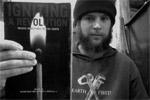 (02/21/2012) Many ideals, actions, and movements considered as fringe or radical by the standards of mainstream culture have gained prominence as global biodiversity withers and the biogeochemical cycles of the entire Earth System are upset by human activities. As endangered species and ecosystems are increasingly threatened, direct confrontation between activists and the entities that drive environmental damage seems also to be increasing. At the same time, concern that present global governance and distribution systems are unable to provide security, clean water, affordable food and a stable future to most of society, is spurring some to move toward new models, including sustainable, autonomous communities and decentralized production. Mongabay recently had the opportunity to discuss some of these issues with activist and writer Nathan Coe.
Black Swans and bottom-up environmental action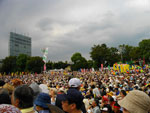 (02/08/2012) The defining events shaping the modern world - economic, social, environmental, progressive and disruptive - are frequently characterized as "Black Swans."The Black Swan term and theory were characterized by author and analyst Nassim Nicholas Taleb who explains, "What we call here a Black Swan (and capitalize it) is an event with the following three attributes. First, it is an outlier, as it lies outside the realm of regular expectations, because nothing in the past can convincingly point to its possibility. Second, it carries an extreme impact. Third, in spite of its outlier status, human nature makes us concoct explanations for its occurrence after the fact, making it explainable and predictable." Taleb identifies the emergence of the internet, the attacks of September 11, 2001, the popularity of Facebook, stock market crashes, the success of Harry Potter, and World War I as among Black Swan events.
Kelly Blynn: activists not "letting the pressure off" on Keystone pipeline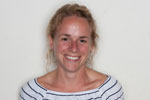 (02/06/2012) Along with Bill McKibben and a small cadre of passionate environmental activists, Kelly Blynn co-founded the climate activism group "350." 350 exemplifies the power of online networks combined with activism and has coordinated some of the largest and most successful environmental protests in history. The 350 team has organized more than 5,200 events in 181 countries around the world. Kelly graduated from Middlebury College with a degree in Geography and Environmental Studies and experience coordinating one of the largest university campus environmental activism groups in the United States. Blynn is currently situated in Washington, D.C.
Cara Hoffman: Direct action is 'the only real solution' to environmental problems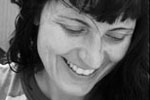 (12/20/2011) Our generation of ecological writers, scientists, and activists confront a situation without historical analog. 21st Century naturalists and environmentalists genuinely concerned about enjoying and preserving wilderness are forced to accept the harsh realities that what little remains of untouched nature is increasingly subjected to seemingly unstoppable destructive forces. The magnitude of the situation is difficult to accept and understand. The perceptive abilities of the human mind and collective consciousness are thrust into a surreal and uncertain future. Even industrial society's cornerstones of technological progress and institutionalized science have proven insufficient. Especially since the dramatic "big melt" of arctic ice in 2007, scientists have been forced to admit their models and predictions of climate change have been grossly understated.
Civilization shifting: a new leaderless era
(11/15/2011) For well over a decade global change scientists have ushered calls for urgent alteration in what they refer to as the "Business-as-Usual (BAU) paradigm" to cope with the interlinking social, economic, and environmental issues of the 21st Century. In 2001, one of the world's largest Earth Science collaborative organizations, the International Geosphere-Biosphere Program (IGBP), published their "A Planet Under Pressure" summary report for policy makers.
Major Chinese Lead Smelter Admits Fault in Poisoning, Environmental Contamination

(10/17/2009) The largest lead smelting company in China has recently admitted responsibility in contributing to pollution leading to poisoning in almost 1,000 children residing near lead factories. Out of 2,743 children tested for lead poisoning, 968 were determined to have excessive lead levels in their blood. Lead poisoning causes anemia, brain damage, and muscle atrophy, among other serious medical and environmental problems. Lead levels in blood samples from the children were 5 times higher than safe limits.
Global Day of Climate Action Approaches

(10/06/2009) As part of an ongoing international campaign to raise awareness of the severity of climate change and solutions, Bill McKibben's 350 movement is preparing for a massive worldwide day of action. Over 1,600 individual events have been planned in at least 128 countries.
Climate Crisis Sparks Radical Response

(09/17/2009) The global political process to counter runaway climate change has become, for practical purposes, irrelevant. None of the currently proposed emissions reductions being seriously considered in policy making are appropriate to meet the severity of the situation. This overwhelming failure on the part of world governments is pushing the rapid unification of environmentalists, activists, scientists, and others to push for direct, immediate change.
Militarization of scientific research could spawn deadlier weapons

(08/24/2009) The prestigious international science journal Nature recently exposed the issue of the militarization of scientific research. While research into chemical and biological compounds and weapons has been supported by many governments for decades, advances in modern technology could lead to weapons with much greater potential for harm.
Plastic Vortexes Leaching Chemicals into World's Oceans

(08/20/2009) While scientists have acknowledged the existence of billions of pounds of plastic containers, Styrofoam, and similar waste have created massive oceanic trash vortexes (floating islands of garbage), little is known of the effects of the dissolution of these materials into the water.
Lion population in Kenya could disappear in 10 to 20 years

(08/20/2009) The Kenyan Wildlife Service recently announced that massive declines in lion population may lead to their disappearence from the region within less than 2 decades. Kenya currently has an estimated 2000 lions, but is losing the large cats at a rate of around 100 each year.
The Tipping Point in Civilizational Collapse

(08/14/2009) Just as biological systems exhibit tipping points which once passed catalyze irreversible and often unpredictable patterns of change, so do civilizations and social structures. In past civilizational collapses, these tipping points were generally catalyzed by soil depletion, resource shortages, environmental degradation, and social upheaval.
Climate Activists Push the Limits

(08/14/2009) As major polluters and industrial countries continually postpone commitments to reduce carbon emissions, climate change activists are stepping up their efforts.
Climate change will challenge US military

(08/11/2009) US military intelligence analysts claim that climate change will present significant strategic issues around the world. The increased occurrences and severity of storms, droughts, resource shortages, and the spread of disease are all linked to climate change.
Millenium Project's "State of the Future" Report Cites 21st Century Threats

(08/05/2009) The United Nations Millenium Project has recently published its 2009 "State of the Future" report. The publication states that 50% of the global population is at risk of social conflict and violence due to unemployment from the recent recession, as well as pervasive threats such as lack of water, food, and energy resources. The report also cites the cumulative effects of climate change and poor environmental and economic conditions as contributing, problematic issues.
Imbalance in Earth's Biogeochemical Cycles

(08/05/2009) Scientists are currently meeting at the 94th annual Ecological Society of America (ESA) symposium in New Mexico to discuss, among other topics, the massive upset of the natural biogeochemical cycles of the Earth System.
Chinese factory closes following cadmium pollution protest

(08/05/2009) The Xianghe Chemical Factory in China was closed after protests from local residents in the central Human Province. The plant had recently been the target of several widely-covered "mass-incidents" of violent protest. Nearly 1,000 protestors called for immediate closure of the plant last week.
Indigenous communities threatened by climate change

(08/03/2009) Indigenous cultures around the world are facing increasing threats with the effects of climate change. In addition to the myriad organisms condemned to extinction by climate change, many indigenous human cultures are also in danger. Entire island populations must relocate as rising ocean levels bring devastating storm surges, food supplies for tropical communities are becoming scarcer, and remote Arctic populations are becoming more isolated as polar ice vanishes.
Monsanto GM Corn a Disaster in South Africa

(07/31/2009) Three different varieties of genetically modified (GM) corn provided by the Monsanto Corporation to farmers in South Africa have been reported to be failing to seed. The company claims that "less than 25 percent" of the seeds were susceptible to the problem, and that the crop failure was caused by "underfertilization processes in the laboratory."
Increasing pollution in US beaches

(07/31/2009) A recent water quality assessment by the Natural Resources Defense Council cites that the levels of ocean pollution required more than 20,000 mandatory closing and advisory days at beaches across the United States this year. Pollution and contamination levels have not been diminishing, and this was the fourth consecutive year for beach closures to reach record numbers.
Brazil returns massive shipment of waste to the UK

(07/31/2009) Brazil has charged $419,000 in fines to import companies Stefenon Estrategia e Marketing, Bes Assessoria e Comercio Exterior and Alphatec for their attempted illegal importing of some 1,600 tons of waste. The assorted waste containers arrived in Brazilian ports in 89 shipping containers in November and are filled with rotting food products, diapers, medical waste, cleaning product containers, and computer parts, among other items.
Factoring social and economic instability into ecological catastrophe and the decline of western civilization

(11/12/2008) When proposing and exploring solutions to environmental crises we rarely, if ever, consider social and geopolitical factors such as massive refugee migrations, economic market instability and collapse, wars for resources, the peaking of oil, civil uprisings/riots, and the rise of fascism/military oppression. If we hope to create lasting and effective solutions to environmental issues of the 21st Century it is clear we must consider facets beyond the realm of traditional environmental science and shift towards multi-disciplinary systems-level approaches. In addition to the long list of existing and impending environmental crises (passing points-of-no-return in tropical deforestation and climate change, widespread coral bleaching, and the accelerating mass extinction of biodiversity) we must recognize and adapt to the effects of current and emerging social issues (resource wars, economic collapse, and the rise of fascism).
Welcome to the Jungle: An Introduction to the End of the Industrial Era

(07/03/2008) The existing state of industrial civilization has brought our planet and global populations into a worldwide crisis unprecedented in the history of life on Earth. Human activities have sent many living systems into decline or collapse, brought about the 6th mass extinction of biodiversity, upset our planet's biogeochemical cycles, and rapidly and dangerously altered our climate. We stand at the bifurcation point of our species: whether or not we are able to question the maladaptive behvaiors which have brought about these travesties and adapt on a global scale will determine the course of human evolution and the survival of a multitude of living organisms with which we share this planet. As the only reflectively conscious organism to have existed, we also hold the fate of (reflective) sentience itself in our actions. I believe our chance at pulling ourselves out of this mess is through an analytical dissection of human nature and behvaior — to expose, extract, examine, revise and communicate the elements of our existence which drive us into maladaptive behvaiors followed by an application of technology and action grounded in a new and emerging understanding of humanity and our position in the biosphere.