News articles on redd

---
Mongabay.com news articles on redd in blog format. Updated regularly.





Deforestation puts cultural survival of forest-dependent peoples at risk


(12/10/2014) Forest-dependent peoples face grave threats from deforestation and other depredations, warns a new report that urges greater recognition of traditional land use and support of community-led initiatives to fight forest loss. The report, published Monday during climate talks in Lima, is based on research by dozens of indigenous and forest communities from Africa, Asia and Latin America.


Indonesia sets reference level for cutting deforestation

(12/05/2014) The Indonesian government has established reference levels for measuring reductions in emissions from deforestation and forest and peatland degradation, reports Antara.


Biodiversity protection is key to REDD+ success, study shows


(12/05/2014) Protecting biodiversity may be crucial for successfully storing carbon in forests, scientists say. A recent publication on Oryx - The International Journal of Conservation suggests that biodiversity loss –especially through hunting – will hinder the success of Reducing Emissions from Deforestation and Forest Degradation (REDD) projects.


Ending deforestation won't stop carbon emissions from land use change

(11/17/2014) Even if the world stopped cutting down forests, carbon dioxide emissions from land use change would still pose a major challenge, according to a new paper in Nature Climate Change. The research finds that eliminating deforestation would mean agriculture would be pushed into non-forest ecosystems and still release significant quantities of carbon dioxide.


Peru has massive opportunity to avoid emissions from deforestation


(11/10/2014) Nearly a billion tons of carbon in Peru's rainforests is at risk from logging, infrastructure projects, and oil and gas extraction, yet opportunities remain to conserve massive amounts of forest in indigenous territories, parks, and unprotected areas, finds a study published this week in Proceedings of the National Academy of Sciences (PNAS).


Indigenous uprising earned tribe territories, but greatest challenges lie ahead


(11/06/2014) In 1925, Nele Kantule led a revolution that would make Guna Yala an independent and sovereign indigenous territory within Panama. Since then, the Guna have maintained a way of life that has allowed them to preserve their natural resources and mainland forest to an exceptional degree. But today, like many indigenous groups around the world, the Guna face some of their greatest challenges yet: the impacts of climate change, encroaching outside influences, and a younger generation that many elders feel is drifting from its roots.


Between the Forest and the Sea: The Yarsuisuit Collective - Part II


(10/31/2014) In this multimedia piece by SRI fellow Bear Guerra, we follow Andrés de León and the Yarsuisuit collective, a group of men who grow and harvest food sustainably in the Guna mainland forest. They also run a store on the island of Ustupu that helps support their families, serving as a model for the wider community.


Between the forest and the sea: life and climate change in Guna Yala - Part I


(10/27/2014) The island-dwelling Guna people of Panama are one of the most sovereign indigenous communities in the world, but now severe weather and sea level rise are causing regular flooding on many of the islands, and will likely force the Guna to have to abandon their island homes for the mainland. This multimedia piece offers an introduction to everyday life and customs in Guna Yala and touches upon the uncertain future the Guna are now facing thanks to the impacts of climate change.


Brazil unlikely to sustain gains in reducing deforestation without new incentives for ranchers, says study


(10/09/2014) Cattle ranchers that drive the vast majority of forest clearing in the Brazilian Amazon are unlikely to be held at bay indefinitely unless they are afforded new incentives for keeping trees standing, argues new analysis published by an economic research group. The findings suggest that Brazil's recent progress in reducing deforestation — annual forest loss in the region has dropped by roughly 80 percent since 2004 — could easily be reversed.


Balu Wala, or the Kuna 'good life': how one indigenous tribe is passing on its traditions (photos)


(10/03/2014) Jesús Smith is sitting at his old wooden desk facing the entrance to his house. He's hunched over, shirtless, and wearing his chunky reading glasses while writing copious notes by hand — a favorite pastime. When he sees the profile of one of his students, Julio, walking past his doorway, he yells, 'Hey! I'll see you in class tomorrow!'


Leaders pledge to end deforestation by 2030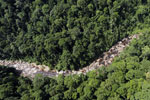 (09/24/2014) Dozens of companies, non-profit organizations, and governments pledged to work together to halve forest loss by 2020 and end it altogether by 2030. If implemented, the commitment could reduce annual carbon dioxide emissions by 4.5-8.8 billion tons annually, equivalent to removing a billion cars from the world's roads.


Scientists rebut NYTimes op-ed 'To Save the Planet, Don't Plant Trees'


(09/22/2014) The following is a response from a group of scientists' -- including 6 members of the National Academy, 3 IPCC Lead Authors, and 1 IPCC Co-Chair -- to Dr. Nadine Unger's September 21, New York Times Op-Ed, "To Save the Planet, Don't Plant Trees"


The cheap option on climate change: recognize indigenous rights to forests


(09/18/2014) Since 2008, governments have invested $1.64 billion in funds to kick-start REDD+, or Reducing Emissions from Deforestation and Degradation, the global effort to conserve the world's forests in order to better mitigate climate change. However, a new report by the Rights and Resources Initiative (RRI) finds that same amount of money could have secured the legal rights of indigenous and local people to 450 million hectares of forest, an area 40 percent larger than India.


World's rainforests could be mapped in 3D at high resolution by 2020 for under $250M


(09/05/2014) Mapping the world's tropical forests with a fleet of airplanes outfitted with advanced LiDAR could rapidly and accurately assess global forest carbon stocks for a fraction of the cost of a typical Earth observation satellite mission — and far less than field-based sampling — argues a new paper published in Carbon Balance and Management.


REDD+ versus indigenous people? Why a tribe in Panama rejected pay for their carbon-rich forests


(09/04/2014) There isn't a word or phrase in the Kuna language for "carbon trading," and much less for something as complex as REDD+. Standing for Reducing Emissions from Deforestation and Degradation, REDD+ is the worldwide UN-backed climate change mitigation scheme that relies on carbon trading within forest landscapes to fund forest conservation programs. And yet, since 2008, the Kuna people have been hearing lots about it and referring to it often in their private conversations.


How do we save the world's vanishing old-growth forests?


(08/26/2014) There's nothing in the world like a primary forest, which has never been industrially logged or cleared by humans. They are often described as cathedral-like, due to pillar-like trees and carpet-like undergrowth. Yet, the world's primary forests—also known as old-growth forests—are falling every year, and policy-makers are not doing enough to stop it.


Norway puts $1.6B into rainforest conservation


(08/19/2014) Since 2008 Norway has been the single largest foreign donor to tropical forest conservation, putting more than 10 billion Norwegian Krone, or $1.6 billion, toward programs in several countries under its International Climate and Forest Initiative. But how effective have those funds been in actually protecting forests?


Governors pledge massive cuts in deforestation

(08/12/2014) Governors from 13 states have pledged to reduce deforestation 80 percent by 2020 provided rich companies step forward with adequate levels of financial support.


Stunning high-resolution map reveals secrets of Peru's forests


(07/30/2014) Peru's landmass has just been mapped like never before, revealing important insights about the country's forests that could help it unlock the value healthy and productive ecosystems afford humanity.


Good intentions, collateral damage: forest conservation may be hurting grasslands


(07/10/2014) Trees absorb CO2 and trap carbon molecules, and countless are lost as forests are felled around the world. So why not plant as many as we can? A recent paper suggests otherwise; the planting of more trees through international reforestation schemes may actually be harming tropical grasslands, which harbor endemic species and offer unique ecosystem services.


Despite moratorium, Indonesia now has world's highest deforestation rate


(06/29/2014) Despite a high-level pledge to combat deforestation and a nationwide moratorium on new logging and plantation concessions, deforestation has continued to rise in Indonesia, according to a new study published in Nature Climate Change. Annual forest loss in the southeast Asian nation is now the highest in the world, exceeding even Brazil.


Is REDD+ bad for wildlife? New study says lowland forest protection bias unfair, urges change


(06/27/2014) A study published this week found tree cover does not necessarily correlate with habitat importance. It suggests that using such a metric may be leading to false assumptions of habitat importance, and that REDD+ and other carbon-centric conservation programs may actually be propelling some species towards extinction.


Despite early headwinds, Indonesia's biggest REDD+ project moves forward in Borneo


(06/26/2014) Just over a year ago, the Indonesian government officially approved the country's first REDD+ forest carbon conservation project: Rimba Raya, which aims to protect more than 64,000 hectares of peat forest in Central Kalimantan. The approval came after years of delays from the Ministry of Forestry and a substantial reduction in the project's concession area. But InfiniteEarth, the firm behind the project, pressed on. Now a year later, Rimba Raya's is not only still in business, but is scaling up its operations.


Protecting rainforests could sequester equivalent of a third of global emissions annually


(06/13/2014) liminating deforestation, peatlands and forest degradation, and forest fires in the tropics could reduce global carbon emissions by two billion tons a year, or nearly a fifth, argues a new study published in Global Change Biology. The research analyzed various emissions sources and sinks across the tropics. They found that carbon emissions from activities that damage and destroy forests are nearly counterbalanced by forest regrowth, reforestation, and afforestation.


Next big idea in forest conservation? Learning from innovations to make REDD+ work


(06/12/2014) A scientist at the Center for International Forestry Research (CIFOR) in Brazil, Dr. Amy Duchelle coordinates research on the effectiveness, efficiency, equity, and co-benefits of REDD+ initiatives at the sub-national level in Latin America as part of CIFOR's Gloal Comparative Study on REDD+.


Tropical nations make progress in slowing deforestation

(06/10/2014) Efforts to slow destruction of tropical forests seem to be paying off in a number of countries, argues a new report published by the Union of Concerned Scientists (UCS).


In cutting deforestation, Brazil leads world in reducing emissions


(06/05/2014) Brazil's success in reducing deforestation in the world's largest rainforest has been much heralded, but progress may stall unless farmers, ranchers and other land users in the region are provided incentives to further improve the environmental sustainability of their operations, argues a study published this week in the journal Science.


U.S. govt puts financial muscle behind REDD+ forest carbon conservation projects

(05/30/2014) The U.S. government will put financial support behind an initiative that offers finance for emissions-reducing forest conservation projects.


Next big idea in forest conservation? Making community protection economically viable


(05/29/2014) After years of discovering new species and setting up protected areas, Neil Burgesses' career changed. Currently he is focused on community-driven conservation and on how to improve protected areas in Africa's Eastern Arc mountains region. Neil Burgess has worked in the conservation field for over twenty years, mainly in Tanzania where he also lived for five years.


Logging, fires take a hidden toll on Amazon rainforest


(05/28/2014) Selective logging and small sub-canopy fires are degrading vast areas of rainforest across the Brazilian Amazon, contributing to largely hidden carbon emissions, argues a study published today in Global Change Biology. The research found stark differences in carbon storage between primary forests, selectively logged forests, logged and burned forests, and regrowing or secondary forests.


DRC seeks $1B to save its rainforest

(05/22/2014) The Democratic Republic of Congo is seeking a billion dollars for a plan to protect up to 9 million hectares of rainforests, reports the Financial Times.


Letting forests regrow on cattle pasture yields cheap conservation benefits

(04/28/2014) Letting forests regrow naturally on grazing lands in the tropics offers substantial climate and biodiversity at a low cost, reports a study published in the journal Nature Climate Change.


Emissions from rainforest logging average 16% of those from deforestation


(04/08/2014) Carbon emissions from selective logging operations in tropical rainforests are roughly a sixth of those from outright forest clearing, finds a new study that evaluated 13 forestry concessions in six countries. The study analyzed carbon losses from elements of logging operations, including timber extraction, collateral damage to surrounding vegetation, and logging infrastructure like roads and skid trails.


Study warns of possible REDD+ land grab


(03/30/2014) A UN program to reduce global carbon emissions may be putting indigenous communities at risk, jeopardizing local land rights and laying the groundwork for large-scale "carbon grabs" by governments and private investors, argues a new report.


Indigenous communities demand forest rights, blame land grabs for failure to curb deforestation


(03/25/2014) Indigenous and forest-dependent peoples from Asia, Africa and Latin America have called for increased recognition of customary land rights in order to curb deforestation and ensure the survival of their communities. The Palangkaraya Declaration on Deforestation and the Rights of Forest Peoples calls on governments to uphold forest peoples' rights to control and manage their customary lands and to halt rights-violating development projects being carried out without consent from local communities.


U.N.: We can save world's forests at a fraction of cost of fossil fuels subsidies


(03/21/2014) Investing $30 billion a year in forest conservation — less than seven percent of the $480 billion spent annually on fossil fuels subsidies — could help stop deforestation while accelerating a transition toward a greener global economy, asserts a new report published by the International Resource Panel (IRP) and the UN REDD Programme.


Community's push to clear forest for plantation challenges efforts to conserve in Indonesia


(03/20/2014) In the swampy peatlands of Basilam Baru in Sumatra's Riau Province a conflict between a community and a woodpulp company is illustrating some of the intractable challenges of conserving forests and addressing deforestation in Indonesia. On first glance the story seems depressingly familiar. One actor wants to preserve the forest, which serves as critical habitat for endangered Sumatran tigers and clouded leopards. The other wants to clear it for a plantation.


West Sumatra joins Indonesia's REDD+ program

(03/12/2014) West Sumatra has officially joined Indonesia's effort to cut forest loss as a pilot province under the country's REDD+ program.


New web tool aims to help indigenous groups protect forests and navigate REDD+

(03/12/2014) A new online tool, dubbed ForestDefender, aims to help indigenous people understand and implement their rights in regard to forests. The database, developed by the Center for International Environmental Law (CIEL), brings together vast amounts of legal information—both national and international—on over 50 countries.


Microsoft buys Madagascar carbon credits

(02/15/2014) Technology giant Microsoft has bought the first carbon credits generated under a rainforest conservation project in Madagascar, reports Wildlife Conservation Society (WCS), which organized and backed the initiative.


REDD+ should finance corridors between protected areas, argues study

(02/14/2014) The Reducing Emissions from Deforestation and Forest Degradation (REDD+) program should finance protection of corridors linking existing protected areas in order to better safeguard biodiversity while simultaneously helping mitigate climate change, argues a study published last month in Nature Climate Change.


Reduced impact logging failing to cut emissions in Indonesia


(02/10/2014) Advocates for reduced impact logging in tropical forests often make a case that better forest management cuts carbon emissions relative to traditional forms of timber harvesting. While the argument for altering logging approaches to limit forest damage makes intuitive sense, a new study suggests that the carbon benefits may not bear out in practice.


Next big idea in forest conservation? Incentivizing keeping primary forests intact


(02/07/2014) Much of Dr. Corey Bradshaw's work has a singular aim: to keep primary habitats and functioning ecosystems intact. According to Bradshaw, the existing system of carbon trading rules needs to be changed so that primary forests are given a higher value than other forms of land use. 'Nothing, can replace primary vegetation, both in terms of biodiversity value and other ecosystem services.'


REDD+ could fail without near-term financial support


(02/06/2014) An ambitious plan to save the world's tropical forests by valuing them for the carbon the store may fail to reduce deforestation unless governments and multilateral institutions significantly scale up financial commitments to the program, argues a new report published by the Global Canopy Programme, the Amazon Environmental Research Institute, Fauna & Flora International, and UNEP Finance Initiative.


How "insect soup" might change the face of conservation


(01/23/2014) Much of what we know about patterns of biodiversity has come from extensive fieldwork, with expert researchers sampling and identifying species in a process that takes thousands of man-hours. But new technologies may revolutionize this process, allowing us to monitor changes in biodiversity at speeds and scales unimaginable just a decade ago.


Rainforest news review for 2013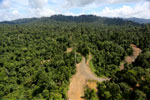 (12/26/2013) 2013 was full of major developments in efforts to understand and protect the world's tropical rainforests. The following is a review of some of the major tropical forest-related news stories for the year. As a review, this post will not cover everything that transpired during 2013 in the world of tropical forests. Please feel free to highlight anything this post missed via the comments section at the bottom. Also please note that this review focuses only on tropical forests.


Indonesia appoints head of REDD+ agency to implement forest conservation plan


(12/20/2013) Indonesia has selected the first chief of its new REDD+ agency: Heru Prasetyo, an administrator and former private sector management consultant, reports Indonesian President Susilo Bambang Yudhoyono's office. Prasetyo will take up the challenging task of implementing Indonesia's REDD+ program, which aims to steer the Southeast Asian nation away from business-as-usual management of its fast dwindling forests. The REDD+ program is part of the broader government plan to cut Indonesia's greenhouse has emissions by at least 26 percent from a projected 2020 baseline.


REDD+ program to cut deforestation gets final approval in Warsaw


(11/22/2013) Negotiators in Warsaw have reached formal agreement on Reducing Emissions from Deforestation and Degradation (REDD+), a program that aims to compensate tropical countries for protecting their forests. After seven years of discussions, countries approved the final REDD+ text on Friday at the COP17.


Govts pledge $280M to slow deforestation for agriculture


(11/21/2013) The governments of Norway, Britain and the United States pledged $280 million toward a new initiative that aims to reduce emissions associated with forest conversion for agriculture, reports Reuters. The money will come out of previously committed funds for climate change. The initiative, called the BioCarbon Fund Initiative for Sustainable Forest Landscapes and administered by the World Bank, focuses on the 80 percent of deforestation that is driven by agriculture.


Why is Amazon deforestation climbing?


(11/17/2013) The 28 percent increase in deforestation in the Brazilian Amazon over last year that was reported this week is bad news, but it is not surprising. It is bad news because the decline in deforestation since 2005 has given us the single largest contribution to climate change mitigation on the planet, far surpassing the reductions in emissions achieved by any Annex 1 country under the Kyoto Protocol. Brazil's achievement is particularly noteworthy because it did not come at the expense of agricultural production; beef and soybean production continued to grow.


Prize exploring the next big idea in rainforest conservation announced


(11/16/2013) Mongabay.org, a non-profit that aims to raise awareness about social and environmental issues relating to tropical forests and other ecosystems, has announced the first winner of its environmental reporting prize its Special Reporting Initiative (SRI) program. The prize sought proposals to explore the question of what's the next big idea in tropical biodiversity conservation. After a two-month application window and a month of deliberations, this week an independent panel of journalists and tropical forest specialists selected environmental journalist Wendee Nicole as the first recipient of the Mongabay Prize for Environmental Reporting.


Zero net deforestation is the wrong target, warn experts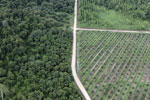 (11/14/2013) Environmental initiatives that target zero net deforestation may miss their mark when it comes to slowing climate change and protecting biodiversity, warns a commentary published in this week's issue of the journal Science. While zero net deforestation may seem like a worthy target in efforts to curb forest loss, Sandra Brown and Daniel Zarin argue that the goal is at best, ambiguous, and at worst, may lead to perverse outcomes for the world's forests.


Redeeming REDD: a conversation with Michael Brown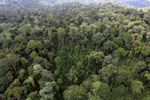 (11/11/2013) In Redeeming REDD: Policies, Incentives and Social Feasibility for Avoided Deforestation, anthropologist Michael Brown relays a constructive critique of the contemporary aims, standards and modalities for mitigating climate change by reducing emissions from deforestation and degradation (REDD). Brown advocates for REDD as a viable mechanism for the long-term pro-poor conservation and restoration of tropical forests as well—but only if local forest dwellers and Indigenous. Peoples can join the negotiating table and act as forest stewards. Local people must first be empowered to make 'socially feasible' decisions that are necessary for their livelihoods and well-being. In other words, there can be no environmentalism without credible local leadership, which requires investment in capacity building at the local level for sustainable institutions.


With training, local communities can accurately and cost-effectively measure forest carbon

(10/29/2013) Provided two to three days of training, forest communities can accurately and cost-effectively measure biomass and other data needed to assess REDD+ projects, finds a new study published in the journal Ecology and Society.


40% of Brazil's rural area owned by 1.4% of landholders

(10/16/2013) Forty percent of the 509 million hectares of land classified as 'rural property' in Brazil is owned by 1.4 percent of rural households, finds a new analysis conducted by a group of Brazilian NGO's.


3 Peruvian states join sub-national push for REDD+

(10/11/2013) An initiative that is developing a framework for REDD+ programs at state and provincial levels gained three more members last week.


Credits from first African government-backed REDD+ project go on sale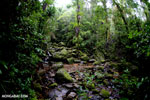 (09/17/2013) Carbon credits generated from protecting thousands of hectares of endangered rainforest in northeastern Madagascar have now been certified for sale, reports the Wildlife Conservation Society (WCS), the project's main organizer. The development represents the first time that credits generated by African government-owned project have been put on the voluntary carbon market.


Indigenous people of Honduras granted one million hectares of rainforest

(09/12/2013) One-hundred and fifty years after a treaty with England granted the Miskito people rights over their land--a treaty which was never fully respected--the government of Honduras has officially handed over nearly a million hectares (970,000 hectares) of tropical forest along the Caribbean Coast to the indigenous people. The Miskito are found along the eastern coast of both Honduras and Nicaragua and number around 200,000.


Amazon rainforest tribe sells REDD+ credits to Brazilian cosmetics giant

(09/10/2013) The Paiter-Suruí, a rainforest tribe that in June became the first indigenous group to generate REDD+ credits under the Verified Carbon Standard (VCS), has now closed their first deal. As reported by Ecosystem Marketplace, Brazilian cosmetics giant Natura Cosméticos has purchased 120,000 tons of carbon offsets from the the Surui Forest Carbon Project in Rondônia, Brazil.


Indonesia finally establishes REDD+ agency to tackle deforestation


(09/07/2013) Indonesia has finally established an agency to implement the country's Reducing Emissions from Deforestation and Degradation (REDD+) program. The REDD+ agency, established by a decree from President Susilo Bambang Yudhoyono on Friday, is a ministry-level body that will coordinate a national REDD+ strategy between various ministries that influence and control land use policy across the sprawling archipelago.


$450/ha tax on deforestation could help curb forest loss in Bolivia, suggests new simulation

(09/01/2013) Levying a $450 per hectare tax on deforested lands could help curb forest clearing in Bolivia, suggests a new game-based simulation developed by researchers.


UN REDD program failing to build capacity for indigenous people in Panama

(08/22/2013) The U.N.'s Reducing Emissions from Deforestation and Degradation (UN-REDD) program may be faltering in Panama due to its failure to build capacity for indigenous people who should play a central role in the initiative, argue researchers writing in the journal Nature.


Ecuador shelves big idea for saving the Amazon

(08/16/2013) The fate of the most biodiverse rainforest on Earth has been decided: it will be drilled for oil.


Researchers produce the most accurate carbon map for an entire country


(07/22/2013) Researchers working in Panama have produced the most accurate carbon map for an entire country. Using satellite imagery and extremely high-resolution Light Detection and Ranging (LiDAR) data from airplane-based sensors, a team led by Greg Asner produced a detailed carbon map across the Central American country's forests. The map reveals variations in forest carbon density resulting from elevation, slope, climate, vegetation type, and canopy coverage.


California's next innovation: performance-based rainforest conservation (Commentary)


(07/22/2013) Californians are known as innovation leaders, and once again, we are on the verge of demonstrating critical leadership. Only this time it isn't about the Internet, social networking, reality television, venture capital or electric cars. It is about stopping tropical deforestation and supporting local communities. 'What!?' you say? How is the great state of California, home of bankrupt and massive, thirsty desert cities and Silicon Valley, a place that elected such juggernauts of history as Ronald Reagan and Arnold Schwarzenegger, about to lead in avoiding tropical deforestation?


Deforestation rate falls in Congo Basin countries


(07/22/2013) Deforestation has fallen in Congo Basin countries over the past decade despite a sharp increase in the rate of forest clearing in the Democratic Republic of the Congo, according to a new study published in the Philosophical Transactions of the Royal Society B as part of a set of 18 papers on the region's tropical forests. The special issue, which was put together by Oxford University's Yadvinder Malhi, covers a range of issues relating to the rainforests of the Congo Basin, including deforestation, the impacts of global change, the history and key characteristics of the region's forests, and resource extraction, among others.


Developer of Indonesia's first REDD+ project confirms status of forest conservation initiative

(07/19/2013) Infinite Earth, the developer behind Indonesia's first approved REDD+ project, has refuted an NGO's claims that the project has not been approved by the Indonesian government.


Panel lays out best practices for REDD+ credits in California's carbon market

(07/19/2013) A panel of scientific experts has released a final report outlining how carbon credits generated from tropical forest conservation could be used under California's cap-and-trade system while minimizing risks to forest-dependent communities and wildlife.


80% of rainforests in Malaysian Borneo logged


(07/17/2013) 80 percent of the rainforests in Malaysian Borneo have been heavily impacted by logging, finds a comprehensive study that offers the first assessment of the spread of industrial logging and logging roads across areas that were considered some of Earth's wildest lands less than 30 years ago. The research, conducted by a team of scientists from the University of Tasmania, University of Papua New Guinea, and the Carnegie Institution for Science, is based on analysis of satellite data using Carnegie Landsat Analysis System-lite (CLASlite), a freely available platform for measuring deforestation and forest degradation. It estimated the state of the region's forests as of 2009.


Billions lost to corruption in Indonesia's forest sector, says report


(07/17/2013) Corruption and mismanagement in Indonesia's forest sector have cost the government billions of dollars in losses in recent years, including over $7 billion in losses from 2007-2011, Human Rights Watch said in a report released yesterday. The report also blasted the country's 'green growth' strategy, saying that despite recent reforms, Indonesia's forestry policies as they are implemented today continue to allow widespread forest clearing and threaten the rights and livelihoods of forest-dependent communities.


Australia terminates landmark REDD+ project in Borneo

(07/03/2013) Australia is ending its major forest restoration project in Indonesian Borneo, reports the Sydney Morning Herald.


Smoke over Sumatra: Why Indonesia's fires are a global concern

(06/26/2013) During the smoky season, or 'musim kabut' as it is called in Indonesia, skeletons of leaves fall from the sky and disintegrate like melting snowflakes in children's hands.


Why Panama's indigenous pulled out of the UN's REDD program

(06/25/2013) This week in Lombok, Indonesia, the Policy Board of the United Nations climate change program known as UNREDD is addressing the first major test of the 2007 UN Declaration on the Rights of Indigenous Peoples of the United Nations, which recognizes the right of Indigenous People to stop projects in their territories that could endanger their traditions and livelihoods. The National Coordinating Body of the Indigenous People of Panama pulled out of UNREDD's national program in February and have called on the United Nations to close the program.


Peru opens deforestation data to the public, shows drop in Amazon forest clearing

(06/13/2013) Peru has made its comprehensive deforestation data available to the public.


Indonesia's first REDD project finally approved

(05/30/2013) Rimba Raya, the world's largest REDD+ project, has finally been approved by the Indonesian government and verified under the Verified Carbon Standard (VCS), a leading certification standard for carbon credits.


Indigenous carbon conservation project gets verification, will start generating credits

(05/30/2013) An effort by an Amazonian tribe to protect their rainforest home against encroachment and illegal logging has finally been validated and verified under a leading carbon accounting standard, enabling it to begin selling carbon credits.


Market for REDD+ carbon credits declines 8% in 2012

(05/30/2013) The market for carbon credits generated from projects that reduce deforestation and forest degradation — a climate change mitigation approach known as REDD+ — dipped eight percent in 2012 according to an annual assessment of the global voluntary carbon market.


Indigenous association to sue to shut down Panama's REDD+ program

(05/17/2013) Panama's largest association of indigenous people will sue the Panamanian government to shut down the country's Reducing Emissions from Deforestation and Degradation (REDD+) program.


Analysis: Indonesia renews moratorium on logging, palm plantations

(05/16/2013) Indonesia's President Susilo Bambang Yudhoyono made a bold and courageous decision this week to extend the country's forest moratorium. With this decision, which aims to prevent new clearing of primary forests and peat lands for another two years, the government could help protect valuable forests and drive sustainable development.


Indonesia officially extends forestry moratorium

(05/15/2013) The Indonesian government has officially extended its moratorium on new logging and plantation concessions in 65 million hectares of forests and peatlands for another two years. The move, which had been expected, was announced Wednesday by Indonesian President Susilo Bambang Yudhoyono.


Microsoft puts price on carbon, buys credits from forest conservation project

(05/09/2013) Microsoft is 'offsetting' some of its greenhouse gas emissions by buying credits generated by a forest conservation project in Kenya.


Brazil's satellite monitoring reduced Amazon deforestation by 60,000 sq km in 5 years

(05/08/2013) Brazil's advanced satellite monitoring system, coupled with increased law enforcement, was responsible for nearly 60 percent of the 101,000 square kilometer-drop in deforestation observed between 2007 and 2011, argues a new study published an international think tank.


Debate heats up over California's plan to reduce emissions via rainforest protection


(05/07/2013) As the public comment period for California's cap-and-trade program draws to a close, an alliance of environmental activists have stepped up a heated campaign to keep carbon credits generated by forest conservation initiatives in tropical countries out of the scheme. These groups say that offsets generated under the so-called Reducing Emissions from Deforestation and Degradation (REDD+) mechanism, will undermine efforts to cut emissions as home, while potentially leading to abuses abroad. However supporters of forest conservation-based credits say the program may offer the best hope for saving the world's beleaguered rainforests, which continue to fall at a rate of more than 8 million hectares per year.


Indigenous tribes say effects of climate change already felt in Amazon rainforest


(04/30/2013) Tribal groups in Earth's largest rainforest are already being affected by shifts wrought by climate change, reports a paper published last week in the British journal Philosophical Transactions of the Royal Society B. The paper, which is based on a collection of interviews conducted with indigenous leaders in the Brazilian Amazon, says that native populations are reporting shifts in precipitation patterns, humidity, river levels, temperature, and fire and agricultural cycles. These shifts, measured against celestial timing used by indigenous groups, are affecting traditional ways of life that date back thousands of years.


Featured video: local communities successfully conserve forests in Ethiopia

(04/17/2013) A participatory forest management (PFM) program in Ethiopia has made good on forest preservation and expansion, according a recent article and video interview (below) from the Guardian. After 15 years, the program has aided one community in expanding its forest by 9.2 percent in the last decade, while still allowing community access to forest for smallscale logging in Ethiopia's Bale Mountains.


Conservation policies that boost farm yields may ultimately undermine forest protection, argues study

(04/17/2013) Rising agricultural profitability due to higher prices, improved crop productivity, and forest conservation itself could make it increasingly difficult for conservation programs tied to payments for ecosystem services to succeed, warns a study published this week in the journal Proceedings of the National Academy of Sciences.


Fighting deforestation—and corruption—in Indonesia


(04/11/2013) The basic premise of the Reducing Emissions from Deforestation and Degradation (REDD+) program seems simple: rich nations pay tropical countries for preserving their forests. Yet the program has made relatively limited progress on the ground since 2007, when the concept got tentative go-ahead during U.N. climate talks in Bali. The reasons for the stagnation are myriad, but despite the simplicity of the idea, implementing REDD+ is extraordinarily complex. Still the last few years have provided lessons for new pilot projects by testing what does and doesn't work. Today a number of countries have REDD+ projects, some of which are even generating carbon credits in voluntary markets. By supporting credibly certified projects, companies and individuals can claim to "offset" their emissions by keeping forests standing. However one of the countries expected to benefit most from REDD+ has been largely on the sidelines. Indonesia's REDD+ program has been held up by numerous factors, but perhaps the biggest challenge for REDD+ in Indonesia is corruption.


6 lessons for stopping deforestation on the frontier


(04/09/2013) In 1984, at the tail end of the Brazilian dictatorship, I took up residence in a frontier town called Paragominas in the eastern Amazon. I went to study rainforests and pasture restoration, but soon became captivated as well by the drama of the frontier itself. Forests were hotly contested among cattle ranchers, smallholder communities, land speculators and more than a hundred logging companies, sometimes with fatal results. If we are to meet rising global demand for food, conserve tropical forests, and mitigate climate change at the pace that is necessary, we must become much better at taming aggressive, lawless tropical forest frontiers where people are making a lot of money cutting forests down.


REDD+ and Business Sustainability: A Guide to Reversing Deforestation for Forward Thinking Companies – book review

(04/08/2013) Brian McFarland has published a concise, yet comprehensive, DōShort book titled REDD+ and Business Sustainability.


Can we meet rising food demand and save forests?


(04/03/2013) A few weeks ago the Skoll World Forum hosted an online debate on how increased global consumption can be balanced with sustainability. The debate asks how a rapidly growing world that is ever consuming can hope to feed everyone, and at the same time address the deforestation that is emitting massive amounts of carbon into the atmosphere and destroying the world's greatest tropical forests. Many contributors made very strong points—even contradicting one another in their approaches and ideas.


Improving the rigor of measuring emissions from deforestation, agriculture


(04/03/2013) While much has been written about the potential of reducing greenhouse gas emissions by protecting tropical forests, a proposed program to do just that has been challenged by a number of factors, including concerns about the accuracy of measuring for carbon reductions. Failure to properly account for carbon could undermine the effectiveness of the Reducing Emissions from Deforestation and Degradation (REDD+) program as a tool for mitigating climate change and securing benefits for local people. To help address the technical issues that underpin carbon measurement, the University of California, San Diego (UC San Diego) and the World Wildlife Fund (WWF) have launched a new Certificate in Advanced Terrestrial Carbon Accounting.


Conservation gets boost from new Landsat satellite


(04/03/2013) Efforts to monitor the world's forests and other ecosystems got a big boost in February with the launch of Landsat 8, NASA's newest earth observation satellite, which augments the crippled Landsat 7 currently orbiting Earth (technically Landsat 8 is still named the Landsat Data Continuity Mission (LDCM) and will remain so until May when the USGS turns control of the satellite over to NASA). Landsat 8/LDCM is the most advanced Earth observation satellite to date. It is the eighth Landsat since the initial launch in 1972.


Disney buys $3.5M in REDD credits from rainforest conservation project in Peru

(03/20/2013) The Walt Disney Company has purchased $3.5 million dollars' worth of carbon credits generated via rainforest conservation in Peru, reports Point Carbon.


Panama's indigenous people drop REDD+

(03/19/2013) The National Coordinator of Indigenous Peoples in Panama (COONAPIP) has announced it is withdrawing from the United Nation's REDD+ program following a series of disagreements. The exit of COONAPIP from the negotiating table with UN officials and the Panamanian government will likely be a blow to the legitimacy of REDD+ in the central American country. REDD, or Reducing Emissions from Deforestation and Degradation, is a program to reduce emissions by safeguarding forests.


Strong 'no deforestation' commitments save forests and feed people


(03/12/2013) As a global community, we have so far failed to answer this most pressing question; we have yet to build our cloud. Deforestation rates are down in some places, but overall, our forests continue to disappear much as they have for the past 50 years, driven principally by increasing global demand for food. Can we feed the world and save our forests? Yes, we can, and the solution lies in the global supply chain and the message some companies are now sending their suppliers: 'If you cut down trees, I won't buy your product.' This has the power to silence bulldozers. It's already doing so and now it's time to go to scale.


The need to jump-start REDD to save forests


(03/08/2013) At least US$7.3 billion has been pledged for REDD+ over the period from 2008 to 2015, with $4.3 billion pledged for REDD+ readiness during the fast-start period alone (2010-2012). In addition to these funds, private investors, private foundations, and others have been channeling financial support to developing countries for REDD+ and related programs for several years now.


A promising initiative to address deforestation in Brazil at the local level


(03/05/2013) The history of the Brazilian Amazon has long been marked by deforestation and degradation. Until recently the situation has been considered out of control. Then, in 2004, the Brazilian government launched an ambitious program to combat deforestation. Public pressure—both national and international—was one of the reasons that motivated the government to act. Another reason was that in 2004, deforestation contributed to more than 55 percent of Brazil's total greenhouse gas emissions, making Brazil the fourth-largest greenhouse gas emitter in the world.


Can saving forests help feed the world?


(02/28/2013) As world population climbs from 7 to a projected 9 billion people and emerging and developing economies demand ever more of the food and fiber that drive deforestation, many environmentalists ask with increasing urgency whether and how tropical forests can survive. But the question may actually be whether and how the world's increasing, and increasingly rich, population can be fed unless tropical forests survive.


World Bank's forestry investments failing to meet conservation, rights, and anti-poverty goals, finds internal audit

(01/30/2013) The World Bank's investments in forestry over the past decade have failed to meet key objectives of reducing poverty, preserving forests, slowing climate change, or benefitting local communities, according to a report developed by its internal auditing body.


Large blocks of Sumatra's endangered rainforest may be put up for mining, logging


(01/28/2013) The Indonesian province of Aceh on the western tip of the island of Sumatra may be preparing to lift the protected status of key areas of lowland rainforest potentially ending its bid to earn carbon credits from forest conservation and putting several endangered species at increased risk, according to reports.



Page 1 | Page 2 | Page 3 | Page 4 | Page 5 | Page 6 | Page 7