News articles on rainforests

---
Mongabay.com news articles on rainforests in blog format. Updated regularly.





Cheerios maker linked to rainforest destruction

(01/19/2010) An activist group linked General Mills to destruction of rainforests in Southeast Asia in dramatic fashion on Tuesday, when it unfurled a giant banner, reading "Warning: General Mills Destroys Rainforests", outside the company's Minneapolis headquarters building.


Photos: park in Ecuador likely contains world's highest biodiversity, but threatened by oil



(01/19/2010) In the midst of a seesaw political battle to save Yasuni National Park from oil developers, scientists have announced that this park in Ecuador houses more species than anywhere else in South America—and maybe the world. "Yasuní is at the center of a small zone where South America's amphibians, birds, mammals, and vascular plants all reach maximum diversity," Dr. Clinton Jenkins of the University of Maryland said in a press release. "We dubbed this area the 'quadruple richness center.'"


Indonesian government report recommends moratorium on peatlands conversion


(01/19/2010) A study issued by Indonesian government recommends a moratorium on peatlands conversion in order to meet its greenhouse gas emissions target pledged for 2020, reports the Jakarta Post. The report, commissioned by the National Development Planning Agency (Bappenas), says that conversion of peatlands accounts for 50 percent of Indonesia's greenhouse gas emissions but only one percent of GDP. A ban on conversion would therefore be a cost-effective way for the country to achieve its goal of reducing carbon emissions 26 percent from a projected baseline by 2020. But the recommendation is likely to face strong resistance from plantation developers eager to expand operations in peatland areas. Last year the Agricultural Ministry lifted a moratorium on the conversion of peatlands of less than 3 meters in depth for oil palm plantations. Environmentalists said the move would release billions of tons of carbon dioxide.


The Caribbean's wonderfully weird (and threatened) mammals, an interview with Jose Nunez-Mino



(01/18/2010) Not many people know the solenodon and the hutia, yet for the fortunate few that have encountered them, these strange little-studied mammals—just barely holding on in the Caribbean island of Hispaniola—deserve to be stars of the animal kingdom. "I could not quite believe it the first time I held a solenodon; I was in utter awe of this mesmerizing mammal. […] They have a long flexible snout which is all down to the fact that it is joined to the skull by a unique ball-and-socket joint. This makes it look as if the snout is almost independent to the rest of the animal. You can't help but feel fascinated by the snout and inevitably it does make you smile," Dr. Jose Nunez-Mino, the Project Manager for a new initiative to study and conserve the island's last mammals, told mongabay.com in an interview.


Orangutans vs palm oil in Malaysia: setting the record straight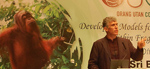 (01/16/2010) The Malaysian palm oil industry has been broadly accused of contributing to the dramatic decline in orangutan populations in Sabah, a state in northern Borneo, over the past 30 years. The industry has staunchly denied these charges and responded with marketing campaigns claiming the opposite: that oil palm plantations can support and nourish the great red apes. The issue came to a head last October at the Orangutan Colloquium held in Kota Kinabalu. There, confronted by orangutan biologists, the palm oil industry pledged to support restoring forest corridors along rivers in order to help facilitate movement of orangutans between remaining forest reserves across seas of oil palm plantations. Attending NGOs agreed that they would need to work with industry to find a balance that would allow the ongoing survival of orangutans in the wild. Nevertheless the conference was still marked by much of the same rhetoric that has characterized most of these meetings — chief palm oil industry officials again made dubious claims about the environmental stewardship of the industry. However this time there was at least acknowledgment that palm oil needs to play an active role in conservation.


Company seeks to log forest reserve for palm oil in Uganda

(01/15/2010) A company in Uganda is pressuring the environment ministry to allow it to log a protected forest reserve to establish a palm oil plantation, reports The New Vision.


Congo basin rainforest countries

(01/15/2010) Payments for ecosystem services may be a key component in maintaining Central Africa's rainforests as healthy and productive ecosystems, finds a comprehensive assessment of the region's forests.


Photos: new bird discovered in well-known rainforest in Borneo



(01/14/2010) The Danum Valley Conservation Area in Sabah, Malaysia is a huge draw for tourists and scientists; a research station has been operating in Danum Valley since 1986. But the rainforest still has surprises left: in June two employees with a tour company named Field Guide came upon every ornithologist's dream, a bird species entirely unknown to science.


Forest carbon conservation projects top $100 million

(01/14/2010) The market for carbon credits generated through forest conservation topped $100 million from 2007 through the first half of 2009, despite a global recession and plunging carbon prices in regulated markets, reports a new assessment by Ecosystem Marketplace.


REDD must address corruption to save rainforests in Indonesia, says report


(01/13/2010) The Indonesian government squandered billions of dollars in funds set aside for reforestation through corruption and mismanagement in the 1990s, raising important questions as the country prepares for the influx of money from a proposed climate change mitigation scheme known as REDD+ (reduced emissions from deforestation and degradation), warns a new report released Tuesday by the Center for International Forestry Research (CIFOR), a forest policy research group.


World of Avatar: in real life



(01/13/2010) A number of media outlets are reporting a new type of depression: you could call it the Avatar blues. Some people seeing the new blockbuster film report becoming depressed afterwards because the world of Avatar, sporting six-legged creatures, flying lizards, and glowing organisms, is not real. Yet, to director James Cameron's credit, the alien world of Pandora is based on our own biological paradise—Earth. The wonders of Avatar are all around us, you just have to know where to look.


Dams a 'monument of corruption': Baru Bian, new leader of Sarawak's People's Justice Party

(01/12/2010) In an interview with the Bruno Manser Fond, the new leader of the Malaysian state Sarawak's People's Justice Party (PKR), Baru Bian, spoke out against the state government's plans for mega-dams in the middle of the rainforest, as well as continued rainforest destruction and corruption.


Uncontacted natives confirmed in Brazil

(01/10/2010) An uncontacted tribe of about 60 people has been confirmed by FUNAI (Brazil's Indigenous Affairs Department) in the Indigenous Territory of Arariboia, located in the eastern Amazonian state, Maranhao.


Indonesia to plant and restore vast area of forest to reach emissions target

(01/07/2010) Indonesia will rehabilitate degraded forests and plant millions of hectares of new forests to meet its target of reducing greenhouse gas emissions 26 percent from projected levels by 2020, reports Reuters.


Facing cash crunch, will Madagascar's politicians sanction rainforest plunder?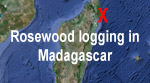 (01/07/2010) Facing a severe cash crunch in the aftermath of a March military coup which triggered donor governments to suspend aid and crippled its economy, Madagascar's top politicians are reportedly mulling the export of tens of millions of dollars' worth of precious hardwoods illegally logged from the country's rainforest parks, according to high-placed sources in the Indian Ocean island nation.


Gone: a look at extinction over the past decade



(01/03/2010) No one can say with any certainty how many species went extinct from 2000-2009. Because no one knows if the world's species number 3 million or 30 million, it is impossible to guess how many known species—let alone unknown—may have vanished recently. Species in tropical forests and the world's oceans are notoriously under-surveyed leaving gaping holes where species can vanish taking all of their secrets—even knowledge of their existence—with them.


Bridge development in Kalimantan threatens rainforest, mangroves, and coral reef



(01/03/2010) Balikpapan Bay in East Kalimantan is home to an incredible variety of ecosystems: in the shallow bay waters endangered dugong feed on sea grasses and salt water crocodiles sleep; along the bay proboscis monkeys leap among mangroves thirty meters tall and Irrawaddy dolphins roam; beyond the mangroves lies the Sungai Wain Protection forest; here, the Sunda clouded leopard hunts, sun bears climb into the canopy searching for fruits and nuts, and a reintroduced population of orangutans makes their nests; but this wilderness, along with all of its myriad inhabitants, is threatened by a plan to build a bridge and road connecting the towns of Penajam and Balikpapan.


Sierra Leone cracks down on illegal logging by banning log exports

(01/02/2010) Sierra Leone has banned the transport and export of logs in an effort to crack down on illegal logging, reports AFP.


Shipment of questionable Madagascar rosewood canceled after international outcry

(12/28/2009) A planned shipment of rosewood that had been illegally logged from Madagascar'a rainforest parks has been canceled following international outcry, report sources in Madagascar. The shipment, which would have been transported by Delmas, a French shipping company, had been scheduled for December 21st or 22nd out of the port of Vohemar.


Rainforest conservation: a year in review


(12/27/2009) 2009 may prove to be an important turning point for tropical forests. Lead by Brazil, which had the lowest extent of deforestation since at least the 1980s, global forest loss likely declined to its lowest level in more than a decade. Critical to the fall in deforestation was the global financial crisis, which dried up credit for forest-destroying activities and contributed to a crash in commodity prices, an underlying driver of deforestation.


Ecuador to be paid to leave oil in the ground

(12/23/2009) Ecuador will establish a trust fund for receiving payments to leave oil reserves unexploited in Yasuni National Park, one of the world's most biodiverse rainforest reserves, reports the UN Development Programme, the agency that will administer the fund.


Brazil establishes 20,000 sq mi of new indigenous reserves in the Amazon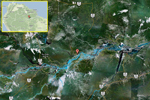 (12/23/2009) On Monday, Brazil decreed nine new indigenous reserves covering 51,000 square kilometers (19,700 square miles) of the Amazon rainforest, an areas larger than Denmark or Switzerland, reports the AFP. Five of the reserves are located in the state of Amazonas, two are in Pará, one is in Roraima, and another is in Mato Grosso do Sul. The protected areas house about seven thousand Indians from 29 ethnic groups, according to FUNAI (Fundação Nacional do Índio), Brazil's indigenous affairs agency.


The real Avatar story: indigenous people fight to save their forest homes from corporate exploitation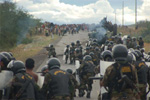 (12/22/2009) In James Cameron's newest film Avatar an alien tribe on a distant planet fights to save their forest home from human invaders bent on mining the planet. The mining company has brought in ex-marines for 'security' and will stop at nothing, not even genocide, to secure profits for its shareholders. While Cameron's film takes place on a planet sporting six-legged rhinos and massive flying lizards, the struggle between corporations and indigenous people is hardly science fiction.


Guyana to increase oversight of gold mining under deal to save forests with Norway

(12/21/2009) As apart of a deal with Norway to preserve its rainforests, Guyana will step up oversight of its gold mining industry, which has been accused of causing significant environmental damage including deforestation and mercury and cyanide pollution.


Brazil: king of conservation, deforestation for the 2000s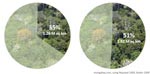 (12/21/2009) Brazil set aside more land in protected areas than any other country during the 2000s, accounting for nearly 60 percent of total terrestrial conservation during the decade, according to mongabay.com's analysis of data from the U.N Environment Program and the World Conservation Monitoring Center. Paradoxically, Brazil also lost the most forest of any country during the decade.


Dead REDD? Not quite, but plan to protect forests suffers set back in Copenhagen

(12/20/2009) A plan to reduce tropical deforestation by paying developing countries to protect forests was postponed Saturday after world leaders failed to produce a binding climate agreement, reports the Associated Press.


Coal plant could damage rainforest reserves, coral reefs, palm oil plantations in Malaysian Borneo

(12/20/2009) A proposed coal-fired power plant in Malaysian Borneo could damage the region's world-renowned coral reefs, pollute air and water supplies, open Sabah's biodiverse rainforests to mining, and undermine the state's effort to promote itself as a destination for "green" investment and ecotourism, warn environmentalists leading an effort to block the project. The scheme, which is backed by the federal Tenaga Nasional Berhad and state energy company, Sabah Electricity Sdn. Bhd, has faced strong opposition and already been forced to re-locate twice since it was conceived more than two years ago. The 300-MW plant is now planned for a coastal area that is situated in the middle of the Coral Triangle/Sulu Sulawesi Marine Ecoregion, an area renowned for astounding levels of biodiversity.


Biggest private funder of Amazon conservation teams with Google and scientists to develop earth monitoring platform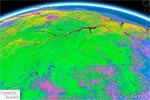 (12/18/2009) The Gordon and Betty Moore Foundation, the largest private funder of Amazon rainforest conservation, is playing an unheralded but integral role in the development of the Earth Engine platform, a system that combines the computing power of Google with advanced monitoring and analysis technologies developed by leading environmental scientists. The platform, which was officially unveiled at climate talks in in Copenhagen, promises to enable near real-time monitoring of the world's forests and carbon at high resolution at selected sites before COP-16 in Mexico.


French company CMA-CGM facilitating destruction of Madagascar's rainforests, undermining France's position in Copenhagen

(12/17/2009) Delmas, a subsidiary of French shipping giant CMA-CGM, is facilitating the destruction of Madagascar's endangered rainforests by providing transport for timber illegally logged from the country's national parks, report multiple sources that have been investigating the illegal rosewood trade in the Indian Ocean island nation. The accusations put Delmas directly in conflict with the French government's push at climate talks in Copenhagen to establish stronger safeguards against illegal logging.


Uninhabited tropical island paradise seeks REDD funding to save it from loggers

(12/17/2009) Tetepare may be one of the last tropical island paradises left on earth. Headhunting and a mysterious illness drove its original inhabitants from the island two hundred years ago, making Tetepare today the largest uninhabited island in the tropical Pacific. The 120 square kilometer island (46 square miles), long untouched by industry or agriculture, is currently threatened by logging interests. However, the island is not without champions: in 2002 descendents of the original inhabitants of Tetepare formed the Tetepare Descendents Association (TDA) to preserve the island. Recently they have teamed up with the Solomon Islands Government and the Solomon Islands Community Conservation Partnership to develop financing through REDD.


Malaysia to allow logging in indigenous 'peace park' to proceed

(12/17/2009) Malaysia, the country with the fastest rate of greenhouse gas emissions growth since 1990 among middle and upper income countries, will allow logging to proceed in a contested rainforest area in Sarawak, on the island of Borneo.


More than half world's science academies support call to save rainforests

(12/17/2009) More than half world's science academies have signed a statement supporting a plan to save tropical forests as a means to fight climate change, reports the Global Canopy Program, an initiative that has worked closely with Prince Charles to promote rainforest conservation. The statement argues that tropical forest protection is a critical strategy for reducing greenhouse gas emissions over the next 15-20 years. It calls upon world leaders to reach a consensus on a path forward for a funding package that would support the infrastructure needed to develop an effective reducing emissions from deforestation and degradation (REDD) mechanism.


U.S. pledges $1B towards rainforest conservation

(12/17/2009) The U.S. will contribute $1 billion towards an effort to reduce emissions from deforestation, according to Agriculture Secretary Tom Vilsack.


Google's Earth Engine to help tropical countries monitor forests

(12/16/2009) A powerful forest monitoring application unveiled last week by Google will be made freely available to developing countries as a means to build the capacity to quality for compensation under REDD, a proposed climate change mitigation mechanism that would pay tropical countries for protecting forests, according to a senior Google engineer presenting at a side event at COP15 in Copenhagen.


Major international banks, shipping companies, and consumers play key role in Madagascar's logging crisis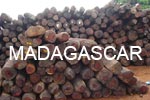 (12/16/2009) In the midst of cyclone season, a 'dead' period for tourism to Madagascar's east coast, Vohémar, a sleepy town dominated by the vanilla trade, is abuzz. Vanilla prices have scarcely been lower, but the hotels are full and the port is busy. "This afternoon, it was like a 4 wheel drive show in front of the Direction Regionale des Eaux & Forets," one source wrote in an email on November 29th: "Many new 4x4, latest model, new plane at the airport, Chinese everywhere."


Rich logging countries open logging loophole in plan to reduce deforestation

(12/15/2009) While one tropical forest policy group saw hopeful signs emerging in the most recent revision of the negotiating text on the reducing emissions from deforestation and degradation (REDD) mechanism at climate talks in Copenhagen, activist groups are warning that there remains a substantial logging loophole for developed countries.


Progress made on two key REDD issues in Copenhagen

(12/15/2009) Negotiators in Copenhagen have made progress on two key issues for the reducing emissions from deforestation and degradation (REDD) mechanism, reports a forest policy group.


Brazil grants deforestation amnesty for farmers and ranchers

(12/14/2009) A decree issued by President Luiz Inacio Lula da Silva suspends up to $5.7 billion in fines and gives ranchers and farmers in the Amazon two more years to come into compliance with environmental laws aimed to curtain deforestation, reports the Associated Press.


Forest destruction by Sinar Mas undermines efforts to develop and promote greener palm oil

(12/14/2009) An investigation commissioned by Unilever, the world's largest buyer of palm oil, confirms that Indonesian group Sinar Mas, the world's second largest producer of palm oil, has been destroying forests and peatlands despite committing to "greener" palm oil production as a member of the Roundtable on Sustainable Palm Oil (RSPO). Unilever has now suspended its $32.6 million contract with Sinar Mas.


Ecuador's Rafael Correa: Copenhagen Climate Hero or Environmental Foe?

(12/14/2009) As climate change negotiations continue full force in the Danish city of Copenhagen, Latin American countries are hoping the Global North will commit to its "climate debt" by reducing greenhouse gas emissions and providing resources to poor nations. It's certainly an understandable aspiration: Latin America only produces five per cent of global emissions of carbon dioxide, a chief greenhouse gas, yet the region has borne the brunt of extreme weather ranging from droughts to flooding.


New REDD text is weak, say activists

(12/12/2009) Activist group have condemned the latest draft text of an agreement that aims to protect rainforests as a means to mitigate climate change.


Unilever suspends palm oil contract after supplier found to be destroying rainforests


(12/12/2009) The world's largest user of palm oil, Unilever, has suspended its $32.6 million contract with the Indonesian group Sinar Mas after an independent audit proved that Sinar Mas is involved in the destruction of rainforest, reports Reuters. The audit was conducted early this year after a report by Greenpeace alleged that Sinar Mas was engaged in deforestation and the draining of peatlands, both of which release significant amounts of greenhouse gases into the atmosphere. Deforestation across Indonesia and Malaysia, in part for oil palm plantations, has also added pressure on many many endangered species, including orangutans, tigers, elephants, and rhinos.


REDD may miss up to 80 percent of land use change emissions



(12/11/2009) The political definition of 'forest' used in REDD (Reduce Emissions from Deforestation and forest Degradation) threatens to undermine the program's objective to conserve ecosystems for their ability to sequester carbon, according to a new analysis by the Alternatives to Slash and Burn (ASB) Partnership for Tropical Forest Margins. In an analysis of three Indonesian provinces using REDD proposals for carbon accounting, ASB found that REDD may miss up to 80 percent of the actual emissions due to land use change. The carbon accounting problems could be fixed, according to ASB, by expanding REDD's purpose from reducing emissions linked to deforestation (considering the problematic definition of forests) to reducing emission from all land use changes that either release or capture greenhouse gases, including but not limited to forests.


Global forest map moves forward

(12/11/2009) A plan to create a pan-tropical map of forest cover and carbon stocks is moving ahead with data now available on Google Earth, reports the Woods Hole Research Center.


US provides 3 billion in subsidies for Exxon-mobil project in Papua New Guinea

(12/10/2009) While officials from around their world are working night-and-day to come up with an international agreement to combat climate change in Copenhagen, the US Export-Import Bank confirmed it will subsidize a natural gas project in Papua New Guinea to the tune of 3 billion dollars—a record for the bank.


Obama on global warming and forest protection

(12/10/2009) President of the United States, Barack Obama, was in Oslo, Norway this morning accepting the Nobel Peace Prize, which he won in part for promising to bring the United States to the negotiating table on climate change—something he has recently done.


Google Earth to monitor deforestation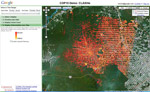 (12/10/2009) It what could be a critical development in helping tropical countries monitor deforestation, Google has unveiled a partnership with scientists using advanced remote sensing technology to rapidly analyze and map forest cover in extremely high resolution. The effort could help countries detect deforestation shortly after it occurs making it easier to prevent further forest clearing.


REDD+ could turn deforesters into forest protectors

(12/09/2009) Payments for conservation and sustainable management of forests could turn agents of forest destruction into forest protectors, according to a comprehensive analysis of national policy options to reduce deforestation released in Copenhagen by the Center for International Forestry Research (CIFOR).


New tree species discovered in Guyana is rich source of oil

(12/09/2009) Botanists working have described a new species of tree with commercial significance in Guyana. The discovery is published in Brittonia, a journal put out by the New York Botanical Garden.


Changing drivers of deforestation provide new opportunities for conservation


(12/09/2009) Tropical deforestation claimed roughly 13 million hectares of forest per year during the first half of this decade, about the same rate of loss as the 1990s. But while the overall numbers have remained relatively constant, they mask a transition of great significance: a shift from poverty-driven to industry-driven deforestation and geographic consolidation of where deforestation occurs. These changes have important implications for efforts to protect the world's remaining tropical forests in that environmental lobby groups now have identifiable targets that may be more responsive to pressure on environmental concerns than tens of millions of impoverished rural farmers. In other words, activists have more leverage than ever to impact corporate behavior as it relates to deforestation.



Page 1 | Page 2 | Page 3 | Page 4 | Page 5 | Page 6 | Page 7 | Page 8 | Page 9 | Page 10 | Page 11 | Page 12 | Page 13 | Page 14 | Page 15 | Page 16 | Page 17 | Page 18 | Page 19 | Page 20 | Page 21 | Page 22 | Page 23 | Page 24 | Page 25 | Page 26 | Page 27 | Page 28 | Page 29 | Page 30 | Page 31 | Page 32 | Page 33 | Page 34 | Page 35 | Page 36 | Page 37 | Page 38 | Page 39 | Page 40 | Page 41 | Page 42 | Page 43 | Page 44