News articles on rainforest

---
Mongabay.com news articles on rainforest in blog format. Updated regularly.






Camera traps snap first ever photo of Myanmar snub-nosed monkey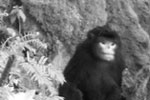 (01/10/2012) In 2010 researchers described a new species of primate that reportedly sneezes when it rains. Unfortunately, the new species was only known from a carcass killed by a local hunter. Now, however, remote camera traps have taken the first ever photo of the elusive, and likely very rare, Myanmar snub-nosed monkey (Rhinopithecus strykeri), known to locals as mey nwoah, or 'monkey with an upturned face'. Locals say the monkeys are easy to locate when it rains, because the rain catches on their upturned noses causing them to sneeze.
Extreme mouth-sewing protest in Indonesia leads to logging inquiry

(01/09/2012) A protest in which 28 Indonesian sewed their mouths shut has led to an inquiry into a logging concession on Padang Island. The Ministry of Forestry has formed a mediation team to look into the controversial concession, reports Kompas. Around a hundred natives of Padang Island rallied for weeks against the logging concession held by PT Riau Andalan Pulp and Paper (RAPP), which covers 37 percent of the island's total land.
How lemurs fight climate change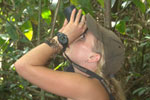 (01/09/2012) Kara Moses may have never become a biologist if not for a coin toss. The coin, which came up heads and decided Moses' direction in college, has led her on a sinuous path from studying lemurs in captivity to environmental writing, and back to lemurs, only this time tracking them in their natural habitat. Her recent research on ruffed lemurs is attracting attention for documenting the seed dispersal capabilities of Critically Endangered ruffed lemurs as well as theorizing connections between Madagascar's lemurs and the carbon storage capacity of its forests. Focusing on the black-and-white ruffed lemur's (Varecia variegata) ecological role as a seed disperser—animals that play a major role in spreading a plant's seeds far-and-wide—Moses suggests that not only do the lemurs disperse key tree species, but they could be instrumental in dispersing big species that store large amounts of carbon.
Mouths are sewn shut in protest against deforestation in Indonesia

(01/03/2012) Twenty-eight Indonesians have taken the extreme measure of sewing their mouths shut in a protest turned hunger-strike against a forest concession on Padang Island, reports the Jakarta Globe. Around a hundred protesters, mostly natives of Padang Island, have camped outside the Indonesian Senate building since December 19th to protest a logging concession held by PT Riau Andalan Pulp and Paper (RAPP) on their island, which lies off the east coast of Sumatra.
Ecuador makes $116 million to not drill for oil in Amazon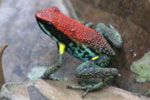 (01/02/2012) A possibly ground-breaking idea has been kept on life support after Ecuador revealed its Yasuni-ITT Initiative had raked in $116 million before the end of the year, breaking the $100 million mark that Ecuador said it needed to keep the program alive. Ecuador is proposing to not drill for an estimated 850 million barrels of oil in the Ishpingo-Tambococha-Tiputinin (ITT) blocs of Yasuni National Park if the international community pledges $3.6 billion to a United Nations Development Fund (UNDF), or about half of what the oil is currently worth. The Yasuni-ITT Initiative would preserve arguably the most biodiverse region on Earth from oil exploitation, safeguard indigenous populations, and keep an estimated 410 million tons of CO2 out of the atmosphere. However, the initiative is not without its detractors, some arguing the program is little more than blackmail; meanwhile proponents say it could prove an effective way to combat climate change, deforestation, and mass extinction.
Top 10 Environmental Stories of 2011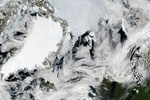 (12/22/2011) Many of 2011's most dramatic stories on environmental issues came from people taking to the streets. With governments and corporations slow to tackle massive environmental problems, people have begun to assert themselves. Victories were seen on four continents: in Bolivia a draconian response to protestors embarrassed the government, causing them to drop plans to build a road through Tipnis, an indigenous Amazonian reserve; in Myanmar, a nation not known for bowing to public demands, large protests pushed the government to cancel a massive Chinese hydroelectric project; in Borneo a three-year struggle to stop the construction of a coal plant on the coast of the Coral Triangle ended in victory for activists; in Britain plans to privatize forests created such a public outcry that the government not only pulled back but also apologized; and in the U.S. civil disobedience and massive marches pressured the Obama Administration to delay a decision on the controversial Keystone XL pipeline, which would bring tar sands from Canada to a global market.
Camera trap videos capture stunning wildlife in Thailand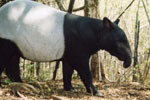 (12/20/2011) A year's worth of camera trap videos (see photos and video below) are proving that scaled-up anti-poaching efforts in Thailand's Western Forest Complex are working. Capturing rare glimpses of endangered, elusive animals—from clouded leopards (Neofelis nebulosa) to banteng (Bos javanicus), a rarely seen wild cattle—the videos highlight the conservation importance of the Western Forest Complex, which includes 17 protected areas in Thailand and Myanmar.
Philippines disaster may have been worsened by climate change, deforestation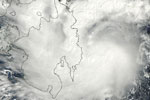 (12/20/2011) As the Philippines begins to bury more than a 1,000 disaster victims in mass graves, Philippine President Benigno Aquino has ordered an investigation into last weekend's flash flood and landslide, including looking at the role of illegal logging. Officials have pointed to both climate change and vast deforestation as likely exacerbating the disaster.
The other side of the Penan story: threatened tribe embraces tourism, reforestation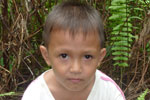 (12/19/2011) News about the Penan people is usually bleak. Once nomadic hunter-gatherers of the Malaysian state of Sarawak on Borneo, the indigenous Penan have suffered decades of widespread destruction of their forests and an erosion of their traditional culture. Logging companies, plantation developments, massive dams, and an ambivalent government have all played a role in decimating the Penan, who have from time-to-time stood up to loggers through blockades, but have not been successful in securing recognition of legal rights to their traditional lands. Yet even as the Penan people struggle against the destruction of their homelands, they are not standing still. Several Penan villages have recently begun a large-scale reforestation program, a community tourism venture, and proclaimed their a portion of their lands a "Peace Park."
Featured video: documentary on logging mafia

(12/19/2011) A new documentary, The Real Chainsaw Massacre, follows the corrupt and violent black market of illegal timber trading in Vietnam. The documentary highlights the efforts of undercover investigators with the Environmental Investigation Agency (EIA) working to expose the lucrative trade of illegal logging from Laos to Vietnam. A trade that is not only decimating forests in Southeast Asia, but is imperiling biodiversity, harming locals, and often coupled with other illegal activities.
Mysterious pygmy hippo filmed in Liberia

(12/19/2011) Conservationists have captured the first ever footage (see video below) of the elusive pygmy hippo (Choeropsis liberiensis) in Liberia. The forest-dwelling, nocturnal species—weighing only a quarter of the size of the well-known common hippo (Hippopotamus amphibius)—has proven incredibly difficult to study. But the use of camera traps in Liberia's Sapo National Park has allowed researchers a glimpse into its cryptic life.
Is the Russian Forest Code a warning for Brazil?
(12/19/2011) Brazil, which last week moved to reform its Forest Code, may find lessons in Russia's revision of its forest law in 2007, say a pair of Russian scientists. The Brazilian Senate last week passed a bill that would relax some of forest provisions imposed on landowners. Environmentalists blasted the move, arguing that the new Forest Code — provided it is not vetoed by Brazilian President Dilma Rousseff next year — could undermine the country's progress in reducing deforestation.
Cultural shifts in Madagascar drive lemur-killing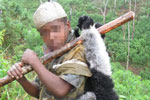 (12/15/2011) Conservationists have often found that some cultural norms, religious beliefs, and taboos play a role in holding back traditional peoples from overusing their environment. Examples of such beliefs include days wherein one cannot hunt or fish, or certain species or regions that are off limits to exploitation. But the influence of the modern world can rapidly extinguish such beliefs, sometimes for the better, in other cases not. In many parts of Madagascar, lemurs are off the menu. These primates, found only in Madagascar, play a big role in Malagasy 'fady' or taboo-related folk stories: lemurs are protectors and, in some cases, even relatives. However, according to a new paper in PLoS ONE an influx of migrants, widespread poverty, lack domestic meat, and poor law enforcement has caused a sudden rise in eating lemurs, many of which are already near-extinction due to habitat loss.
Photos: 208 species discovered in endangered Mekong region in 2010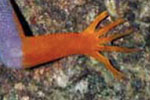 (12/14/2011) Last year researchers scoured forests, rivers, wetlands, and islands in the vanishing ecosystems of the Mekong Delta to uncover an astounding 208 new species over a twelve month period. A new report by the World Wide Fund for Nature (WWF) highlights a number of the new species—from a new snub-nosed monkey to five new meat-eating pitcher plants to a an all-female, cloning lizard—while warning that many of them may soon be gone as the Mekong Delta suffers widespread deforestation, over-hunting and poaching, massive development projects, the destruction of mangroves, pollution, climate change, and a growing population.
Paper commitments for the Indonesian industry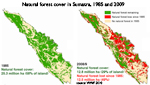 (12/13/2011) The Indonesian group Asia Pulp & Paper (APP) has been the target of many NGOs for years due to its alleged negative impacts on tropical forests. This culminated in a spectacular campaign launched by Greenpeace in 2011 based on Ken "dumping" Barbie. The rationale was that toy brand Mattel was accused of using APP paper products linked to the clear-cutting of natural forests in the Indonesian archipelago. APP organized a counter-attack in the media with the daily publication of advertisements promoting its sustainable development practices. Journalists from all over the world were also invited to attend guided tours of APP concessions to demonstrate their conservation efforts, and a number of articles were subsequently written.
New species of frog sings like a bird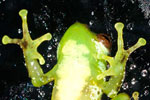 (12/12/2011) If you're trudging through the high-altitude rainforests of northern Vietnam and you hear bird song, you might want to check the trees for frogs. Yes, that's right: frogs. A new species of tree frog has been discovered in Vietnam that researchers say has a uniquely complex call that makes it sound more like a bird than a typical frog. Discovered in Pu Hoat Proposed Nature Reserve, the new species, dubbed Quang's tree frog (Gracixalus quangi), dwells in the forests at an altitude 600-1,300 meters (nearly 2,000-4,265 feet).
Locals key to saving primate-rich wetlands in Cote D'Ivoire

(12/12/2011) Saved from being converted into a vast palm oil plantation by PALM-CI in 2009, the Ehy Tanoé wetlands and forest in the Cote D'Ivoire (Ivory Coast) is home to three gravely endangered primates and as well as many other species. Since 2006, a pilot community management program has been working to protect the 12,000 hectare area, and a new study in mongabay.com's open access journal Tropical Conservation Science finds that long-term conservation of the Ehy Tanoé wetlands and forest is, in fact, vital for locals who depend on the area for hunting, fishing, firewood, building materials, and medicinal plants. In addition, the study finds that the ecosystem has special cultural and spiritual importance to locals.
Madagascar tree diversity among the highest worldwide

(12/12/2011) In terms of biodiversity, the hugely imperiled forests of Madagascar may be among the world's richest. Researchers estimate that the island off the coast of Africa is home to at least 10,000 tree and shrub species with over 90 percent of them found no-where else in the world. With little baseline data collected on Madagascar's ecosystems, a new study, the first ever of tree diversity in Madagascar lowland rainforests, hopes to begin the process. Published in mongabay.com's open access journal Tropical Conservation Science, the new study surveyed tree species in eastern Madagascar's Betampona Special Reserve.
Peru's Cocha Cashu biological station changes management

(12/08/2011) The San Diego Zoo Global Wildlife Conservancy is taking over management of the productive Cocha Cashu field station in Manu National Park, Peru. To date, nearly 600 scientific papers have come out of research conducted at the station, making it among the five most productive research stations in the Amazon and Andes. Located in a part of the Amazon rainforest that has seen little human impact, the station was founded in 1969, four years before Manu National Park was gazetted.
Evidence mounts that Maya did themselves in through deforestation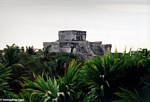 (12/08/2011) Researchers have garnered further evidence for a smoking gun behind the fall of the great Maya civilization: deforestation. At the American Geophysical Union (AGU) conference, climatologist Ben Cook presented recent research showing how the destruction of rainforests by the Mayan ultimately led to declines in precipitation and possibly civilization-rocking droughts. While the idea that the Maya may have committed ecological-suicide through deforestation has been widely discussed, including in Jared Diamond's popular book Collapse, Cook's findings add greater weight to the theory.
Yasuni ITT: the virtues and vices of environmental innovation

(12/07/2011) As the 17th Conference of the Parties to the United Nations Framework Convention on Climate Change (UNFCCC) is taking place in Durban, Ecuador has embarked on the development of a project presented as highly innovative. This project targets Yasuni National Park, which has been protected since 1979. Yasuni is home to several indigenous peoples and is a biodiversity hotspot. But it so happens that the park also sits atop a vast oil field of 846 million barrels, representing about 20 percent of the country's oil reserves. The acronym Yasuni ITT stands for Ishpingo-Tambococha-Tiputinin, which are the names of three potential zones for oil extraction.
Wildlife official: palm oil plantations behind decline in proboscis monkeys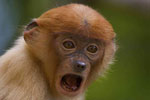 (12/05/2011) The practice of palm oil plantations planting along rivers is leading to a decline in proboscis monkeys (Nasalis larvatus) in the Malaysian state of Sabah on Borneo, says the director of the Sabah Wildlife Department, Laurentius Ambu. Proboscis monkeys, known for their bulbous noses and remarkable agility, depend on riverine forests and mangroves for survival, but habitat destruction has pushed the species to be classified as Endangered by the IUCN Red List.
World's most endangered primate still losing habitat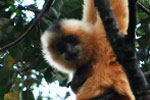 (12/04/2011) Just twenty-three Hainan gibbons (Nomascus hainanus) survive in the world. Confined to a single protected area on a lone island, Hainan gibbons are losing their habitat at a steady rate of 20 hectares per day finds a new study by Greenpeace. In all, nearly a quarter of the Critically Endangered lesser ape's habitat has been lost since 2001.
Royal Society offers free special issue on rainforest conservation
(12/01/2011) For one month the Royal Society is offering a special theme issue of its Philosophical Transaction B journal on rainforest conservation for free. Entitled 'The future of Southeast Asian rainforests in a changing landscape and climate', the issue looks largely at studies conducted in Malaysian Borneo's Danum Valley. The issue includes a wide-range of studies, including comparing biodiversity in protected forests versus palm oil plantations, seed dispersal in fragmented forests, and in-depth looks at the chemistry of rainforests.
Deforestation could be stopped by 2020
(11/28/2011) If governments commit to an international program to save forests known as REDD+, deforestation could be nearly zero in less than a decade, argues the Living Forests Report from the World Wide Fund for Nature (WWF). REDD+, which stands for Reduced Emissions from Deforestation and Degradation, is a program that would pay developing nations to preserve forests for their ability to sequester carbon. Government officials begin meeting tomorrow in Durban, South Africa for the 17th UN climate summit, and REDD+ will be among many topics discussed.
Photos: two dozen new beetles discovered in Papua New Guinea hotspot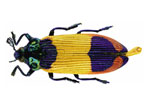 (11/23/2011) Over the past two decades, at least 24 new beetles species have been discovered in a remote mountainous rainforest region of Papua New Guinea by Swedish entomologists Ulf Nylander. Described in the new book Biodiversity, Biogeography and Nature Conservation in Wallacea and New Guinea, the new beetles found in the Aseki Province are all ecologically linked to rotting wood.
Ecotourism isn't bad for wildlife in the Amazon

(11/23/2011) Ecotourism doesn't hurt biodiversity, and in some cases may even safeguard vulnerable areas, concludes a new study from the Amazon in Mammalian Biology. Surveying large mammals in an ecotourism area in Manu National Biosphere, the researchers found that ecotourists had no effect on the animals. However, the researchers warn that not all ecotourism is the same, and some types may, in fact, hurt the very animals tourists come to see.
One night only: new orchid species surprises scientists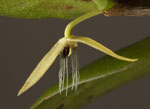 (11/22/2011) A mysterious new orchid blooms for one night only, opening around 10 PM and closing at 10 AM. Discovered on the island of New Britain near Papua New Guinea, the new species is the world's first orchid that flowers only at night. Scientists found the new flower, named Bulbophyllum nocturnum, in a logging concession on the tropical island.
Dole abandons banana plantation in National Park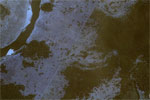 (11/21/2011) After a threat of lawsuit, Dole Inc. has abandoned a banana plantation in Somawathiya National Park in Sri Lanka. The US-based food giant had partnered with a local company, Letsgrow Ltd, to grow bananas for export markets at the bank of the Mahaweli River, but Dole ran into trouble when local conservation organizations pointed out they were illegally destroying forest and planting crops in Somawathiya National Park, home to elephants and many other imperiled species. Local group, Environmental Foundation Limited (EFL), obtained past and current satellite images to prove that the company was operation within the park.
Photos: five wild cat species documented in Sumatran forest imperiled by logging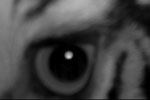 (11/16/2011) A single forest corridor in Sumatra has yielded camera trap photos of five wild cats species, including the Critically Endangered Sumatran tiger (Panthera tigris sumatrae). Photos were also taken of the Sunda clouded leopard (Neofelis diardi), the marbled cat (Pardofelis marmorata), the Asian golden cat (Pardofelis temminckii), and the leopard cat (Prionailurus bengalensis). The five species were all filmed by a WWF camera trap survey in a single forest corridor linking the forest of Bukit Tigapuluh and the Rimbang Baling Wildlife Sanctuary in Riau Province. Unfortunately this forest remains unprotected.
Giant rat plays big ecological role in dispersing seeds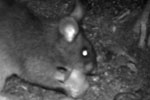 (11/16/2011) Rats are rarely thought of as heroes. In fact, in many parts of the world they are despised, while in others they serve largely as food. But, scientists are now discovering that many tropical forest rodents, including rats, serve as heroic seed dispersers, i.e. eating fruits and nuts, and carrying seeds far from the parent tree, giving a chance to a new sapling. While this has been documented with tropical rodents in South America like agoutis and acouchis, a new study in Biotropica documents the first successful seed dispersal by an African rodent: the Kivu giant pouched rat (Cricetomys kivuensis), one of four species of giant African rats.
Critically Endangered lemurs disperse seeds, store carbon
(11/13/2011) Many tropical plants depend on other species to carry their progeny far-and-wide. Scientists are just beginning to unravel this phenomenon, known as seed dispersal, which is instrumental in supporting the diversity and richness of tropical forests. Researchers have identified a number of animal seed dispersers including birds, rodents, monkeys, elephants, and even fish. Now a new study in the Journal of Tropical Ecology adds another seed disperser to that list: the Critically Endangered black-and-white ruffed lemur (Varecia variegata). Capable of dispersing big tree species, the black-and-white ruffed lemur may even play a big role in carbon sequestration.
First ever survey shows Sumatran tiger hanging on as forests continue to vanish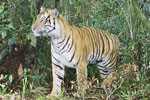 (11/10/2011) The first-ever Sumatran-wide survey of the island's top predator, the Sumatran tiger (Panthera tigris sumatrae), proves that the great cat is holding on even as forests continue to vanish. The study, carried out by eight NGOs and the Indonesian government, shows that the tiger is still present in 70 percent of the forests surveyed, providing hope for the long-term survival of the subspecies if remaining forests are protected.
Beetle bonanza: 84 new species prove richness of Indo-Australian islands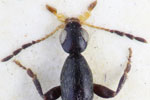 (11/08/2011) Re-examining beetle specimens from 19 museums has led to the discovery of 84 new beetle species in the Macratria genus. The new species span the islands of Indonesia, New Guinea, and the Solomon Islands, tripling the number of known Macratria beetles in the region. "Species of the genus Macratria are cosmopolitan, with the highest species diversity in the tropical rainforests. Only 28 species of this genus were previously known from the territory of the Indo-Australian transition," Dr. Dmitry Telnov with the Entomological Society of Latvia, who discovered the new species, told mongabay.com.
Unsung heroes: the life of a wildlife ranger in the Congo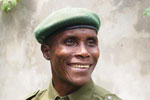 (11/01/2011) The effort to save wildlife from destruction worldwide has many heroes. Some receive accolades for their work, but others live in obscurity, doing good—sometimes even dangerous—work everyday with little recognition. These are not scientists or big-name conservationists, but wildlife rangers, NGO staff members, and low level officials. One of these conservation heroes is Bunda Bokitsi, chief guard of the Etate Patrol Post for Salonga National Park in the Democratic Republic of the Congo. In a nation known for a prolonged civil war, desperate poverty, and corruption—as well as an astounding natural heritage—Bunda Bokitsi works everyday to secure Salonga National Park from poachers, bushmeat hunters, and trappers.
11 challenges facing 7 billion super-consumers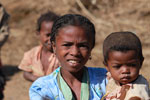 (10/31/2011) Perhaps the most disconcerting thing about Halloween this year is not the ghouls and goblins taking to the streets, but a baby born somewhere in the world. It's not the baby's or the parent's fault, of course, but this child will become a part of an artificial, but still important, milestone: according to the UN, the Earth's seventh billionth person will be born today. That's seven billion people who require, in the very least, freshwater, food, shelter, medicine, and education. In some parts of the world, they will also have a car, an iPod, a suburban house and yard, pets, computers, a lawn-mower, a microwave, and perhaps a swimming pool. Though rarely addressed directly in policy (and more often than not avoided in polite conversations), the issue of overpopulation is central to environmentally sustainability and human welfare.
Photos: three bizarre bats discovered in Southeast Asia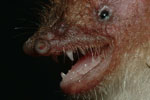 (10/30/2011) In the forests of Cambodia and Vietnam, researchers have discovered three new species of tube-nosed bats, known for extraordinary nostrils that look like blooming flowers. The new bats, described in the Journal of Mammalogy, are likely imperiled by deforestation. "They all possess specially shaped nostrils (hence the name for the group) the exact role of which not known yet," Gabor Csorba, lead author of the paper with the Hungarian Natural History Museum, told mongabay.com.
Vietnamese rhino goes extinct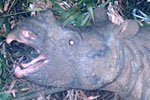 (10/25/2011) In 2009 poachers shot and killed the world's last Vietnamese rhinoceros (Rhinoceros sondaicus annamiticus), a subspecies of the Javan rhino, confirms a report from International Rhino Foundation (IRF) and the World Wide Fund for Nature (WWF). The Vietnamese rhino was the last Javan rhino to survive on the Asian mainland and the second subspecies to vanish, following the extinction of the Indian Javan rhino (rhinoceros sondaicus inermis). The Javan rhino is the world's most imperiled rhino species with now only around 50 individuals surviving in a single park on its namesake island in Indonesia.
Bolivian road project through Amazon reserve canceled

(10/23/2011) Following a violent crackdown on protestors which deeply embarrassed the Bolivian government, president Evo Morales has thrown-out plans to build a road through an indigenous reserve, reports the BBC. Protestors marched 310 miles (498 kilometers) from the Amazon to La Paz to show their opposition to the road, saying that the project would destroy vast areas of biodiverse rainforest and open up their land to illegal settlers.
Malaysian sustainable timber certification fails Dutch standards
(10/23/2011) An independent panel in the Netherlands has found that the Malaysian Timber Certification Scheme (MTCS) falls short of Dutch standards for sustainable forestry. The final decision comes after a series of judgements and appeals with the latest panel concluding that MTCS still allows natural forest to be destroyed for monoculture plantation and that the scheme ignores the rights of indigenous people.
Illuminating Africa's most obscure cat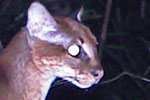 (10/18/2011) Africa is known as the continent of big cats: cheetahs, leopards, and of course, the king of them all, lions. Even servals and caracals are relatively well-known by the public. Still, few people realize that Africa is home to a number of smaller wild cat species, such as the black-footed cat and the African wild cat. But the least known feline on the continent is actually a cryptic predator that inhabits the rainforest of the Congo and West Africa. "The African golden cat has dominated my thoughts and energy for over a year and a half now. When carrying out a study like this one, you find yourself trying to think like your study animal," Laila Bahaa-el-din, University of Kwazulu Natal graduate student, told mongabay.com in a recent interview.
Old trees necessary for nesting animals

(10/17/2011) Aged, living trees are essential for over 1,000 birds and mammals that depend on such trees for nesting holes, according to a study in Frontiers in Ecology and the Environment. In much of the world, tree-nesting animals depend on holes formed through maturity and decay—and not woodpeckers—requiring standing old trees.
Tea Party rallies in favor of Gibson Guitar, ignores reasons instrument-maker is under investigation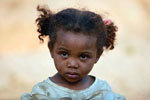 (10/10/2011) This weekend around 500 people showed up for a rally and concert in Nashville, Tennessee. The rally was in support of Gibson Guitars, a US-company currently under investigation for allegedly importing illegally logged wood into the country, an action that breaks a recent bipartisan amendment to the Lacey Act. While the Tea Party-affiliated groups that held the rally were expressing frustration with perceived over-regulation by the federal government, the issue at stake—a global effort to help stem illegal logging—was actually overlooked by the organizers.
Little-known animal picture of the day: Thomas's leaf monkey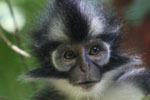 (10/06/2011) With unmistakable coloring and a philosophical, at times almost melancholy expression, the Thomas's leaf monkey (Presbytis thomasi) is one of Asia's little-known primates. Thomas's leaf monkey (also known as Thomas's langur) is found only on the island of Sumatra in Indonesia. The monkeys roam forests eating fruits and flowers, and sometimes snails, mushrooms, and coconut stalks.
Toy giant Mattel drops paper from APP and other 'controversial sources'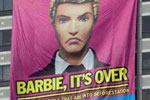 (10/05/2011) The world's biggest toy-maker Mattel has pledged to overhaul its paper sourcing policies after a hard-hitting campaign from Greenpeace linked the toy giant to rainforest destruction in Indonesia by Asia Pulp and Paper (APP). Today, Mattel pledged to increase the use of recycled paper and sustainably-certified fiber to 70 percent by the year's end, and 85 percent by 2015. In addition, the company has said any 'controversial' company engaged in natural forest destruction will be kept out of its supply line, referring to, but not naming directly, APP. Surprisingly, APP told mongabay.com that it 'applauds' Mattel's new commitments.
Satellite imagery confirms Dole destroying national park land for bananas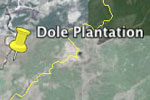 (10/04/2011) Environmental NGOs in Sri Lanka have accused US food giant Dole of illegally growing bananas in Somawathiya National Park, however Dole has denied the charge saying the land in question is 'not in the [park]'. Mongabay.com has received the coordinates of the Dole plantation from an anonymous source in Sri Lanka familiar with the issue, and using Google Earth has found that the plantation in question is clearly inside park boundaries.
Tea party versus Madagascar's forests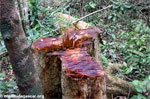 (10/02/2011) The Tea Party and the African island-nation of Madagascar are having dueling concerts over the issue of illegal logging, reports the Associated Press. A concert in Madagascar over the weekend was meant to highlight the problem of illegal deforestation in one of the world's poorest countries. Meanwhile the Tea Party is holding a rally and concert on October 8th to support Gibson Guitar, a musical instruments company currently under investigation for breaking US law by allegedly purchasing illegally logged wood products from Madagascar.
After protracted campaign, Girl Scouts pledges to cut out some palm oil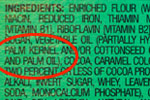 (10/02/2011) Girl Scouts USA has announced that it will lessen palm oil in its ubiquitous cookies by using alternatives when possible and cutting overall usage. The organization also committed to purchasing GreenPalm certificates for all of its palm oil in order to financially support more environmentally sustainable palm oil, even if the palm oil in the cookies is not.





US swaps debt for rainforest preservation in Indonesia

(10/02/2011) The US is forgiving $28.5 million in debt to Indonesia for forest preservation efforts in Kalimantan, Indonesian Borneo. The debt-for-nature program is a part of the US Tropical Forest Conservation Act (TFCA).





Dole responds to allegations it is illegally growing bananas in national park

(10/02/2011) Dole Food Company has responded to allegations that it is clearing land in a national park in Sri Lanka known for its population of elephants as well as a number of threatened species. According to reports, the US-based food giant has partnered with a local company, Letsgrow Ltd, to grow bananas for export markets in Somawathiya National Park.




Page 1 | Page 2 | Page 3 | Page 4 | Page 5 | Page 6 | Page 7 | Page 8 | Page 9 | Page 10 | Page 11 | Page 12 | Page 13 | Page 14 | Page 15 | Page 16 | Page 17 | Page 18