News articles on pulp and paper

---
Mongabay.com news articles on pulp and paper in blog format. Updated regularly.





Paper giant APRIL to restore peat forest in Sumatra, but green groups say it continues to deforest

(05/14/2013) Pulp and paper giant Asia Pacific Resources International Limited (APRIL) has launched a $7 million ecosystem restoration project to restore and protect over 20,000 hectares of peat forest in Indonesia's Riau province, Mongabay-Indonesia reported last week.


APP answers questions on new forest conservation policy

(04/29/2013) In February, Asia Pulp & Paper, one the world's largest paper producers, announced a forest conservation policy that would effectively exclude fiber sourced through conversion of rainforests and peatlands. The announcement however was met by skepticism by many in the environmental movement due to APP's failures to abide by previous commitments to avoid rainforest logging.


International Paper commits to working with longtime foe to protect endangered forests

(04/10/2013) In another sign that the global paper industry may be steering toward more sustainable practices following years of bruising activist campaigns and pressure from buyers, International Paper (IP) has committed to identifying and protecting endangered forests and high conservation value areas in the southern U.S. The company, which is the world's largest paper maker, will be partnering with its tenacious NGO critic, the Dogwood Alliance, in order to map out forests in the region and, furthermore, move away from converting natural forests into pine plantations.


Yum! Brands announces 'greener' paper policy

(04/08/2013) After a prolonged campaign by environmental activists, the world's largest fast food company has announced a new sourcing policy that will shift it toward greener packaging materials.


Investigation clears APP of deforestation allegations in Borneo


(04/04/2013) Two logging companies that supply Asia Pulp & Paper (APP) with timber have not violated the Indonesian forestry giant's new zero deforestation commitment, according to a field investigation by The Forest Trust, a conservation group. The investigation was a direct response to allegations raised in a report published last week by Relawan Pemantau Hutan Kalimantan (RPHK), a consortium of local NGOs in West Kalimantan, the western-most province in Indonesian Borneo. The RPHK report found evidence of active clearing within two concession areas linked to Asia Tani Persada (ATP) and Daya Tani Kalbar (DTK), companies that supply APP with timber for its pulp mills.


U.S. book industry using 24 percent recycled paper on average


(04/01/2013) From 2004 to 2010, book publishers increased their use of recycled fiber by nearly five times, from 5 percent to 24 percent on average, according to a new report by the Book Industry Environmental Council (BIEC) and Green Press Initiative. The report, which depends on voluntary statistics from the book industry, also found that nearly all (89 percent) of book publishers have environmental policies.


Jumping the gun? Confusion over APP deforestation report


(03/29/2013) On Thursday AFP reported that green groups have accused Indonesian forestry giant Asia Pulp & Paper (APP) of breaking its commitment to stop clearing natural forests and peatlands. But that's not entirely accurate. What the coalition of environmental groups in Indonesian Borneo actually reported was clearing by two companies that supply APP with fiber, not deforestation by APP-owned companies.


APP suppliers allegedly slashing forests and peatlands in Indonesia, despite new 'no deforestation' policy


(03/27/2013) Less than two months after its implementation, two Asia Pulp & Paper (APP) suppliers in Indonesian Borneo have been accused of violating the company's new sustainability policy, which includes a zero deforestation commitment throughout its entire supply chain.


Recycled paper gets high marks for low eco impact in use for publication-grade paper in magazines

(03/21/2013) Using recycled paper instead of virgin fiber for magazine paper offers strong environmental benefits, finds a new study involving National Geographic, Green America, Natural Resources Defense Council (NRDC), World Resources Institute (WRI), and other groups.


Monthly updates to track APP's progress on 'no deforestation' policy


(03/21/2013) The Forest Trust (TFT), the NGO that brokered Asia Pulp & Paper's no deforestation commitment in February 2013, will produce monthly updates on Indonesian forestry giant progress toward avoiding conversion of natural forests and reducing social conflict with communities. The reports aim to both allay fears among some environmental groups that APP will not respect the commitment and advance the paper producer's goal of eliminating rainforest and peatland destruction from its supply chain.


APP conservation policy came after it pulped most of its forests


(03/19/2013) Asia Pulp & Paper's widely heralded forest conservation policy came after the forestry giant had already cleared nearly all of the legally protected forests within its concessions in Sumatra, alleges a new report published by Greenomics, an Indonesian environmental group.


Dozens arrested after community fights deforestation by paper company in Indonesia

(03/07/2013) Dozens of villagers from Indonesia's North Sumatra province traveled to Jakarta this week to demand the release of 16 farmers who remain in detention after conflicts erupted between indigenous communities in Humbang Hasundutan district and PT Toba Pulp Lestari, a unit of the pulp and paper giant Asia Pacific Resources International Holdings (APRIL).


Is APP deal a sign of a changing forestry sector?

(02/15/2013) Asia Pulp & Paper (APP), one of the world's largest paper companies, announced earlier this month that it will no longer cut down natural forests in Indonesia and will demand similar commitments from its suppliers. The announcement was received with guarded optimism by Greenpeace, Rainforest Action Network, World Wildlife Fund, and other NGOs who have waged a persistent campaign to change APP's forest policies.


After Indonesian paper giant commits to no deforestation, pressure mounts on its biggest competitor


(02/12/2013) After Indonesian paper giant Asia Pulp & Paper's announcement last week that it will no longer source fiber produced from destruction of tropical rainforests, environmental groups are now urging Indonesia's other major paper company to make a similar commitment. On Tuesday, WWF echoed Greenpeace's call for Asia Pacific Resources International Limited (APRIL) to eliminate deforestation from its supply chain. Like APP, APRIL has been linked to large-scale conversion of Sumatra's endangered rainforests for industrial tree plantations to produce pulp and paper.


The beginning of the end of deforestation in Indonesia?


(02/05/2013) Asia Pulp & Paper, a forestry giant that has been widely criticized for its role in driving deforestation and contributing to social conflict in Indonesia, today announced a zero deforestation policy that could have a dramatic impact on efforts to slow the Southeast Asian nation's high rate of deforestation. The policy, which went into effect February 1, is ambitious enough that one of APP's most vocal critics and agitators, Greenpeace, will suspend its highly-damaging campaign against the paper giant. The campaign against APP has cost the paper giant tens of millions of dollars in lost business since 2009. The new policy targets several of the major criticisms against APP, including deforestation, degradation of high carbon peatlands, conservation of critical wildlife habitat, and social conflict with local communities.


Palm oil, paper, biofuels production on peatlands drive large GHG emissions

(01/31/2013) Degradation of peat swamps for oil palm and timber plantations is a substantially larger source of greenhouse gas emissions than previously believed, finds a new study published in the journal Nature.


HarperCollins establishes policy barring paper sourced from rainforest destruction


(01/29/2013) HarperCollins has established a policy that excludes paper sourced from destruction of tropical rainforests and old growth forests. The revised policy, posted on its web site earlier this month, is a response to a campaign by the Rainforest Action Network (RAN), an activist group that is targeting companies linked to clearing of Indonesian rainforests and peatlands for pulp and paper production:


Dead tigers, dead people: logging by paper industry worsens human-tiger conflict in Sumatra, alleges report


(01/10/2013) Destruction of rainforests and peatlands on the Indonesian island of Sumatra by the pulp and paper industry is worsening conflict between tigers and humans, including fatal encounters, alleges a new report published by a coalition of environmental groups in Riau, Sumatra. The report looks specifically at five concessions operated by companies that supply wood to Asia Pulp & Paper (APP) and its corporate parent, the Sinar Mas Group (SMG). The report says that the majority of human-tiger conflict incidents in Riau between 1997 and 2009 occurred within these concessions.


The year in rainforests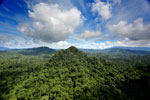 (12/31/2012) 2012 was another year of mixed news for the world's tropical forests. This is a look at some of the most significant tropical rainforest-related news stories for 2012. There were many other important stories in 2012 and some were undoubtedly overlooked in this review. If you feel there's something we missed, please feel free to highlight it in the comments section. Also please note that this post focuses only on tropical forests.


Paper giant breaks pledge to end rainforest logging in Sumatra, says group


(12/26/2012) Pulp and paper giant Asia Pacific Resources International Limited (APRIL) continues to destroy large areas of rainforests and peatlands despite a commitment to end natural forest logging by 2009, says a new report issued by a coalition of Indonesian environmental groups. The Eyes on the Forest report finds that APRIL and its suppliers cleared at least 140,000 hectares (346,000 acres) of natural forest between 2008 and 2011 in Riau, accounting for 27 percent of all forest loss in the province during the period. Some of the area cleared by APRIL and its subsidiaries consisted of deep peat swamp forest, which stores massive amount of carbon.


Children's Christmas books published by HarperCollins linked to deforestation in Indonesia, says group

(12/14/2012) Fancy Nancy's Splendiferous Christmas and other children's books sold by publisher HarperCollins show traces of rainforest fiber and are therefore linked to deforestation in Indonesia, says the Rainforest Action Network (RAN), an environmental activist group.


Asia Pulp & Paper hires top U.S. lobbyist to help 'green' its image


(12/05/2012) Indonesian forestry giant Asia Pulp & Paper (APP) has hired a top U.S. official to help it work through trade and environmental issues. In November, APP announced it had retained Stuart Eizenstat of Covington & Burling, a U.S.-based law firm, to help 'ensure APP's trade and sustainability compliance in North America'. Eizentstat's hiring is notable because he led the U.S. delegation that negotiated the Kyoto Protocol and has served in a number of high-level government positions, including U.S. Ambassador to the European Union; Under Secretary of Commerce for International Trade; Under Secretary of State for Economic, Business and Agricultural Affairs; and Deputy Secretary of the Treasury in the Clinton Administration.


Indonesia lost 8.8m ha of forest in the 2000s, generating 7 billion tons of CO2

(12/02/2012) Indonesia's greenhouse gas emissions from deforestation could have been reduced by hundreds of millions of tons had a moratorium on new concessions in high carbon forest areas and peatlands been implemented earlier, reported a researcher presenting at a forests conference on the sideline of climate talks in Doha.


Rights groups, environmentalists aim to block funding for new Sumatran pulp mill

(11/16/2012) A coalition of more than 60 civil society groups has warned bankers and insurers not to invest in a massive new mill slated for construction on the island of Sumatra. The NGOs say the mill will drive deforestation and increase conflict in a region already wracked with social and environmental problems.


After protracted Greenpeace campaign, KFC UK says it will no longer source from Asia Pulp & Paper


(10/31/2012) After months of pressure from Greenpeace on its alleged links to deforestation in Indonesia, KFC UK/Ireland has adopted a forest policy that excludes fiber sourced via conversion of tropical rainforests. The policy excludes suppliers like Asia Pulp & Paper (APP), the Chinese/Indonesian forestry giant that has been the primary target of the Greenpeace campaign, but appears to apply only to Kentucky Fried Chicken operations in Britain and Ireland.


APP overstates significance of its logging moratorium in Indonesia, says report

(10/25/2012) Beleaguered forestry giant Asia Pulp & Paper (APP) is overstating the conservation significance of its recently announced moratorium on forest conversion on the islands of Sumatra and Borneo, argues a new report issued by an Indonesian activist group.


Disney drops paper suppliers linked to deforestation

(10/12/2012) Disney this week announced sweeping changes to its paper-sourcing policy that will exclude fiber produced via the destruction of tropical rainforests.


Dollar General drops APP due to rainforest destruction concerns

(10/11/2012) U.S. retailer Dollar General has stopped sourcing paper products from controversial brand Asia Pulp and Paper (APP), according to the World Wide Fund for Nature (WWF) which has targeted 20 companies for selling APP-sourced tissue and paper towels. APP has been under fire for years for deforestation on the Indonesian island of Sumatra, the last home to the Sumatran tiger (Panthera tigris sumatrae), Sumatran orangutan (Pongo abelii), and Sumatran elephant (Elephas maximus sumatranus), each of which is listed as Critically Endangered by the IUCN Red List.


Illegal logging worth $30-100B annually

(10/01/2012) Illegal logging accounts for 15-30 percent of forestry in the tropics and is worth $30-100 billion worldwide, alleges a new report published by the United Nations Environment Programme (UNEP) and INTERPOL. Consuming countries play a major role in the trade, which is increasingly sophisticated and in some places is facilitated by the expansion of industrial plantations.


Sustainability pact aside, Greenpeace says paper giant APP must stop facilitating deforestation

(09/27/2012) Asia Pulp & Paper (APP) must stop accepting timber sourced from clearance of rainforests and peatlands for its sustainability pact to have any credibility, says Greenpeace.


In eco-pact, will controversial paper giant APP turn over a new leaf?


(09/26/2012) Over the past decade-and-a-half there has arguably been no paper supplier as controversial as Asia Pulp & Paper (APP), an umbrella brand for several Indonesian forestry companies. The paper giant has been dogged by allegations that is destroying key wildlife habitat, driving substantial greenhouse gas emissions through the conversion of peat forests, dispossessing local communities of land, and engaging in a heavy-handed campaign to undermine its critics within Indonesia and abroad. Its reputation hasn't be helped by its financial record — in 2001 it defaulted on $13.9 billion in debt, making it difficult for APP to raise money for expansion.


APP establishes deforestation moratorium in Jambi; greens remain skeptical

(09/06/2012) Asia Pulp & Paper (APP) has established a moratorium on natural forest conversion in Jambi province on the island of Sumatra, according to a report issued by the Indonesian forestry giant.


Rainforests decline sharply in Sumatra, but rate of deforestation slows


(08/28/2012) The extent of old-growth forest in Sumatra shrank by 40 percent over the past 20 years, while overall forest on the Indonesian island declined by 36 percent, finds a comprehensive new satellite-based assessment published in Environmental Research Letters. The research, conducted by an international team led by Belinda Arunarwati Margono of South Dakota State University and Indonesia's Ministry of Forestry, reveals the dire condition of Sumatra's once extensive rainforests. Overall Sumatra lost 7.5 million hectares of forest between 1990 and 2010, of which about 2.6 million hectares was primary forest. The bulk of forest loss occurred in secondary forests that had been previously degraded by logging.


Indonesia's pulp and paper targets incompatible with green growth goals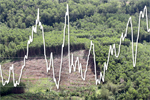 (08/10/2012) Indonesia's pulp and paper targets incompatible with green growth goals Indonesia's ambitious targets for boosting pulp and paper production to make it the world's lowest-cost producer are at odds with its push for green economic growth should expansion proceed on its current business-as-usual path, said a forestry expert presenting at the annual meeting of the Association for Tropical Biology and Conservation (ATBC) in Bonito, Brazil.


APP's new 'sustainability roadmap' won't spare unprotected tiger habitat in Sumatra

(07/27/2012) Asia Pulp & Paper's new sustainability commitment represents a scaling back of earlier environmental pledges and does not offer new protection for natural forests in Sumatra, alleges a new report from Eyes on the Forest, a coalition of green groups based in Riau, Sumatra.


Experts: sustainable logging in rainforests impossible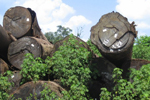 (07/19/2012) Industrial logging in primary tropical forests that is both sustainable and profitable is impossible, argues a new study in Bioscience, which finds that the ecology of tropical hardwoods makes logging with truly sustainable practices not only impractical, but completely unprofitable. Given this, the researchers recommend industrial logging subsidies be dropped from the UN's Reducing Emissions from Deforestation and Forest Degradation (REDD+) program. The study, which adds to the growing debate about the role of logging in tropical forests, counters recent research making the case that well-managed logging in old-growth rainforests could provide a "middle way" between conservation and outright conversion of forests to monocultures or pasture.


Industrial logging leaves a poor legacy in Borneo's rainforests


(07/17/2012) For most people "Borneo" conjures up an image of a wild and distant land of rainforests, exotic beasts, and nomadic tribes. But that place increasingly exists only in one's imagination, for the forests of world's third largest island have been rapidly and relentlessly logged, burned, and bulldozed in recent decades, leaving only a sliver of its once magnificent forests intact. Flying over Sabah, a Malaysian state that covers about 10 percent of Borneo, the damage is clear. Oil palm plantations have metastasized across the landscape. Where forest remains, it is usually degraded. Rivers flow brown with mud.


KFC-Indonesia suspends purchases from Asia Pulp & Paper due to deforestation, says Greenpeace

(07/13/2012) The Indonesian arm of Kentucky Fried Chicken (KFC) has suspended purchases from Asia Pulp & Paper (APP) due to concerns over deforestation, says Greenpeace, which is campaigning to reform the paper giant's forestry practices and fiber sourcing policy.


Indonesia green news review: Sulawesi regent arrested for alleged palm oil corruption

(07/09/2012) Indonesia's Corruption Eradication Commission (KPK) arrested Amran Batalipu, the regent of Buol, Central Sulawesi, on charges that he received bribes in issuing palm oil plantation permits in his regency.


Pressured in West, APP looks toward markets in Middle East, Africa

(06/03/2012) Facing pressure in Europe and the United States over its environmental practices and the E.U.'s Timber Legality and Verification System (SVLK), Asia Pulp & Paper is planning to increase sales in Africa and the Middle East, the paper giant told the Investor Daily.


Another red herring from Asia Pulp & Paper on its deforestation problem


(05/29/2012) In a press release issued last Thursday, Asia Pulp & Paper (APP) asserted that the presence of mixed tropical hardwood fiber (MTH) in its products 'does not come from the felling of virgin tropical rainforest trees in Indonesia'. The embattled paper giant goes on to say that 'the presence of MTH fiber says nothing about whether the product is sustainable or not" and that "MTH can be found easily in recycled paper.' All these points are true. But what APP doesn't tell you is that its response is yet another facade in its effort to deflect criticism from its forestry practices.


KFC linked to destruction of Indonesia's rainforests

(05/23/2012) Fast food giant Kentucky Fried Chicken (KFC) is linked to the destruction of Indonesia's rainforests through its packaging sourcing practices, alleges a new report published today by Greenpeace.


Asia Pulp & Paper to temporarily suspend rainforest clearing in Indonesia

(05/16/2012) Asia Pulp & Paper (APP), a forestry giant that has been heavily criticized for destroying rainforests and peatlands in Indonesia, will temporarily suspend clearing of natural forest areas until conservation assessments have been conducted.


Can loggers be conservationists?


(05/10/2012) Last year researchers took the first ever publicly-released video of an African golden cat (Profelis aurata) in a Gabon rainforest. This beautiful, but elusive, feline was filmed sitting docilely for the camera and chasing a bat. The least-known of Africa's wild cat species, the African golden cat has been difficult to study because it makes its home deep in the Congo rainforest. However, researchers didn't capture the cat on video in an untrammeled, pristine forest, but in a well-managed logging concession by Precious Woods Inc., where scientist's cameras also photographed gorillas, elephants, leopards, and duikers.


Indonesia's Environment Ministry to sue APP, APRIL in $225B illegal logging case

(05/03/2012) Indonesia's Ministry of Environment is planning to sue 14 pulp and paper companies for illegally logging forests in Riau Province on the island of Sumatra, reports Tempo Magazine. 12 of the 14 companies are linked to Asia Pulp & Paper (APP) and Asian Pacific Resources International Holdings Limited (APRIL), pulp and paper giants that have been heavily criticized by environmentalists for destroying rainforests and peatlands that serve as critical habitat for endangered tigers, elephants, and orangutans.


New attack on Greenpeace in Indonesia

(05/01/2012) As fallout from its campaign against Asia Pulp & Paper grows, Greenpeace's critics have opened a new front on the environmental group, accusing it of "embezzlement", reports Mongabay-Indonesia.


Asia Pulp & Paper loses another customer: Danone


(04/02/2012) French food company, Danone, has suspended all purchases from Asia Pulp & Paper (APP) following a Greenpeace investigation that linked APP to illegal logging of ramin, a protected tree species, on the Indonesian island of Sumatra. Danone is only the most recent company to publicly sever ties with APP following the Greenpeace report, including National Geographic and Xerox among others.


Ongoing deforestation puts APP in breach of debt restructuring agreements, finds report

(03/27/2012) Asia Pulp & Paper (APP) has broken "legally binding" debt restructuring agreements by continuing to clear native forests in Sumatra, alleges a new report from Eyes on the Forest, a coalition of Indonesian environmental groups.


Xerox: we no longer buy from Asia Pulp & Paper

(03/21/2012) Xerox no longer buys paper products from Asia Pulp & Paper (APP), a Singapore-based paper giant under fire for its forest management practices in Indonesia, according to a statement published on the company's official blog late last week.


APP affiliates in U.S., Australia, pledge to drop controversial pulp supplier linked to deforestation

(03/17/2012) Two affiliates of Asia Pulp & Paper (APP) have announced they are severing at least some ties with the beleaguered paper giant, according to the Northern Virginia Daily and Greenpeace, an environmental group whose recent undercover investigation found ramin, a protected species, at APP's pulp mill in Sumatra.



Page 1 | Page 2 | Page 3