News articles on palm oil

---
Mongabay.com news articles on palm oil in blog format. Updated regularly.






Malaysian state eyes 100% certified palm oil by 2025
(05/30/2015) Sabah, a state in Malaysian Borneo, is weighing a proposal to produce only palm oil certified under the Roundtable on Sustainable Palm Oil (RSPO), an eco-certification initiative, by 2025. The move, if approved, would represent the first time a sub-national or state entity has committed to 100% certified palm oil production.
GAR, Wilmar punish palm oil supplier for clearing rainforest in New Guinea
(05/28/2015) Palm oil trader Golden Agri-Resources announced today that it would suspend purchases of crude palm oil from plantation developer Austindo Nusantara Jaya Agri, which was outed in an NGO report last week for the third time in the past year for clearing forest in Indonesia's West Papua province, in violation of Golden Agri's no-deforestation commitment. Wilmar has also frozen its dealings with the company, though Asian Agri and Musim Mas, which also buy from it, have given no indication they will do the same.
Ghosts of problems past and present loom over Nigerian palm oil plans
(05/28/2015) Palm oil giant Wilmar has set up shop in Nigeria in a big way, with plans to operate over 30,000 hectares in the country's Cross River State. Some say the project is little more than a land grab, has caused environmental damage and seen people turned off their land and lose their livelihoods in areas such as Ibiae and Biase.
Palm oil activist murdered in Jakarta
(05/23/2015) An Indonesian activist who opposed unbridled oil palm expansion was stabbed to death by a group of men before dawn this morning outside a nightclub in South Jakarta. Whether the attack was related to his activism or the spontaneous result of a barroom brawl is not yet clear. But Indonesian media are reporting that one of the assailants shouted that he was a soldier as he brandished the knife that killed Jopi Peranginangin, the 39-year-old head of campaigns for Sawit Watch, which strives for social and ecological justice in the palm oil industry.
Primary rainforest cleared for massive palm oil plantations in Peru
(05/20/2015) More than 9,400 hectares of closed-canopy Amazonian rainforest has been removed for two oil palm plantations in the Peruvian region of Ucayali since 2011, according to scientists working for MAAP, the Monitoring of the Andean Amazon Project. The two plantations are linked to Czech entrepreneur Dennis Melka.
VICE's 'Indonesia's Palm Bomb' presents a tragic view of palm oil driven deforestation from the frontlines
(05/20/2015) For the sixth episode of its third season, HBO's Emmy-winning news series, VICE, focused its lens on Indonesia's palm oil industry. The episode, entitled, 'Indonesia's Palm Bomb', follows VICE correspondent, Ben Anderson, as he investigates the environmental and social impact of widespread (and, at times, illegal) deforestation on wildlife and indigenous communities in Sumatra.
Golden Agri takes another hit as sustainability guru suspends its membership
(05/20/2015) The charity that Indonesia's Golden Agri-Resources has enlisted to devise and implement its zero-deforestation and community-engagement commitments suspended its cooperation with the palm oil giant yesterday, following breaches of the policies they had designed together. A few hours later, Golden Agri announced the resignation of its chief sustainability officer.
Luxury hotel chain linked to destruction of rainforests
(05/19/2015) The Mandarin Oriental hotel chain has landed in environmentalists' crosshairs for the practices of its sister company Astra Agro Lestari, a rapidly expanding palm oil producer with fully developed plantations on an area larger than Singapore. The new She's Not a Fan campaign – a play off Mandarin's celebrity-fan endorsement drive – launched yesterday with a petition calling on Astra to stop destroying forests and elephant habitat. Multinational conglomerate Jardine Matheson owns both firms.
Malaysian palm oil body encourages fiction over fact
(05/17/2015) In this commentary, David Dellatore, Program Manager at the Sumatran Orangutan Society, questions the value of the Malaysian Palm Oil Council's essay-writing contest which will pay contributors to conclude that palm oil is not a driver of deforestation
Wilmar, Musim Mas supplier caught clearing elephant habitat for palm oil in Aceh
(05/12/2015) A new report provides evidence that a supplier of palm oil giants Wilmar and Musim Mas is bulldozing valuable forests in Indonesia's Leuser Ecosystem in violation of the companies' zero-deforestation policies as well as the Indonesia Palm Oil Pledge (IPOP), a high-profile, joint sustainability pact that also includes Golden Agri-Resources, Asian Agri, Musim Mas and the Indonesian Chamber of Commerce and Industry (Kadin).
World's critical habitats lost Connecticut-size area of forest in a decade
(05/08/2015) Many of the world's endangered animals live in only one place, making them hugely susceptible to environmental upset. One fell swoop, and entire species could disappear from existence forever. New analysis shows that possibility may be edging closer and closer to reality in some areas, with forests known to harbor high-risk species losing an area of tree cover the size of Connecticut in a little over a decade.
Golden Agri's wings clipped by RSPO in West Kalimantan
(05/08/2015) The Roundtable on Sustainable Palm Oil has prohibited Golden Agri-Resources, one of its most prominent members, from "acquiring or developing any new areas" pending the resolution of a formal complaint against the palm oil giant in Indonesia's West Kalimantan province. The decision is a stern directive from an organization that has been criticized for failing to take action against companies that flout its standards.
Palm oil certification body to establish stronger voluntary standard
(05/08/2015) Due to its widening impact on tropical forests yet high profit margins, palm oil is one of the most polarizing crops in the tropics. Scientists and environmentalists warn of the high ecological costs caused by converting peatlands and rainforests for oil palm plantation, but growers and food producers argue that as the highest-yielding oilseed, palm oil is a critical part of the solution to feeding a growing human population as well as a profitable form of land use in otherwise poor areas.
West Papua 'oil palm atlas' portrays industry's explosion in region
(05/06/2015) There's a saying in the Indonesian palm oil industry: Sumatra is yesterday, Kalimantan is today, and Papua is tomorrow. Tomorrow might well have arrived. A new report sheds light on the industry's rapid expansion in Indonesia's Papua and West Papua provinces – and on the companies behind the plantation drive. The result is a portrayal of a frontier region's early encounters with a crop that has come to dominate the Sumatran and Bornean landscapes – a portrait made that much starker by the central government's foreign media blackout in the territory.
Orangutan rescued amid sea of palm oil
(05/04/2015) The rescue, which took place in early April, was conducted by the Orangutan Information Centre (OIC) in response to a report of an adult male orangutan isolated in an fragment forest surrounded by oil palm plantations. The orangutan was found to be in poor health, according to Krisna, OIC's Human Orangutan Conflict Response Unit field coordinator.
Palm giants ask Indonesian gov't to clear path toward sustainability
(05/01/2015) Executives from palm oil giants Wilmar, Cargill and Golden Agri Resources appeared at a green investment summit in Jakarta this week, providing a window into the nature of a high-profile, joint sustainability pact the companies have entered into together with Asian Agri, Musim Mas and the Indonesian Chamber of Commerce and Industry. The agreement, known as the Indonesia Palm Oil Pledge, has been lauded in some quarters for its potential to transform the sector and dismissed in others as mere lip service to protecting the environment.
Leuser Park authorities still trying to move thousands of squatters
(04/28/2015) The Indonesian government will take another stab at relocating thousands of squatters from Mount Leuser National Park, most of whom were dispaced by the decades-long insurgency in Aceh province and whose presence has fueled deforestation in the protected area.
Jokowi must strengthen Indonesia's forest moratorium, not just extend it: activists
(04/25/2015) Less than a month before the expiry of a moratorium on new licenses for land-based exploitation in primary forests and on peat, environmentalists are calling for the Indonesian president to not only prolong the policy but strengthen it too, hampered as they say it has been by chaotic implementation, weak enforcement, standards that don't go far enough and, some suggest, a lack of political will to see it through.
Officials: Sumatran rhino is extinct in the wild in Sabah
(04/23/2015) There are no Sumatran rhinos left in the wild in the Malaysian state of Sabah, confirmed Masidi Manjun, the Tourism, Culture and Envi­ronment Minister, over the weekend. In 2008, conservationists estimated there were around 50 rhinos in the state. Five years later, it dropped that estimate to just ten. Now, it's admitted the awful truth: the wild rhino is very likely gone.
Criticism of GAR and Wilmar African oil palm projects highlight global 'no-deforestation' challenges
(04/16/2015) Despite high-profile no-deforestation policies, palm oil giants Golden Agri-Resources and Wilmar have attracted criticism recently over their projects in Africa, particularly regarding the correct implementation of free, prior and informed consent (FPIC) of affected communities. Some NGOs have suggested these persistent problems indicate no lessons have been learned from years of bad practice in Indonesia.
Fighting fire with money: can finance protect Indonesia's forests?
(04/06/2015) In previous articles, we have seen an overview of the problems with the Indonesian palm oil industry. Such problems are largely caused by rent-seeking politicians and businessmen, who are willing to sacrifice endangered wildlife, the health of their countrymen and long-term environmental stability in the pursuit of profit. These actors exert a significant influence on and within the Indonesian government. As a result, Indonesia remains conflicted between the opposing goals of conservation and economic growth.
Aceh's purge of illegal oil palm at 3,000 hectares and counting
(04/06/2015) A joint effort to eradicate illegal oil palm in an area of Indonesia's Aceh province that was devastated by flash flooding in 2006 has passed the 3,000-hectare mark. The plantations lie within the protected Leuser Ecosystem, the last place on earth where the Sumatran rhino, elephant, tiger and orangutan coexist in the wild.
KFC, Taco Bell, Pizza Hut adopt zero deforestation policy for palm oil
(04/03/2015) Yum! Brands, the company that owns KFC, Taco Bell and Pizza Hut, on Thursday announced a zero deforestation policy for its palm oil sourcing. The move came after aggressive campaigns by environmental groups that argued the chains weren't doing enough to ensure the palm oil they used to fry foods wasn't linked to human rights abuses, destruction of peatlands, and logging of rainforests.
Blockade at Wilmar mill could erupt into full-blown strike
(04/03/2015) Local people blocked the road to a Wilmar palm oil mill in Indonesia's West Kalimantan province, demanding the release of nine day laborers who were arrested during an earlier protest over delayed wages. Trucks carrying fresh fruit bunches from nearby plantations were unable to deliver their cargo.
Indonesia, Brazil subsidizing forest loss far more than REDD+ slows it
(04/01/2015) International aid to protect forests in Indonesia and Brazil pales in comparison to domestic subsidies for commodities driving deforestation there. A study finds that while the countries received an annual average of $1 billion via REDD+, their agricultural and biofuel subsidies for palm oil, timber, soy and beef amounted to $41 billion per year.
Archer Daniels Midland to demand suppliers stop chopping down forests
(03/31/2015) Agribusiness giant Archer Daniels Midland (NYSE:ADM) will establish a zero deforestation policy for its global commodity supply chains, potentially forcing its soy, palm oil, and cattle suppliers to also eliminate deforestation from their operations or face losing business with the firm. The move, announced today and expected to be formally approved in May, came after a campaign by institutional investors and environmentalist groups.
Tracking companies' zero deforestation commitments
(03/31/2015) Over the past three years dozens of companies have made 'zero deforestation commitments', establishing policies that set social and environmental safeguards for commodity sourcing and production. However these agreements are highly variable — some policies are quite strong, while others aren't worth the paper they're printed on. Furthermore, no one knows whether there will be follow through on the pledges.
Why palm oil expanded, and what keeps it growing
(03/26/2015) Today, oil palm is Indonesia's most important cash crop. In 2014, Indonesia produced 33.5 million tons of palm oil, generating $18.9 billion in export revenue. This makes palm oil Indonesia's third most valuable export, behind only coal and petroleum gas. However, the rise of Indonesian palm oil is only a relatively recent phenomenon. The chart below shows the remarkable growth that the industry has displayed over the past 30 years.
Who's funding palm oil?
(03/19/2015) Palm oil may be the single most important crop that you never heard of. A vegetable fat that resembles reddish butter at room temperature, palm oil is derived from the fruit of the oil palm tree. Both nutritious and highly versatile, palm oil is now an important component of products ranging from biofuels and food to soaps and cosmetics. Estimates indicate that as much as 50 percent of the products used by the average Western consumer every day contain palm oil or its derivatives.
Can voluntary sustainability standards survive in emerging markets?
(03/17/2015) Last month, Price Waterhouse Coopers (PwC) published a new edition of its The World in 2050 report. Confirming the findings of previous studies, the report describes a shift in economic power from the global north to the south. PwC projects that the US' and EU's share of world GDP will face a steady decline from around 33 percent in 2014 to about 25 percent by 2050. At the same time, emerging markets like China, India, Brazil, Russia, Indonesia, Mexico, and Turkey (the so-called E7 countries) are gaining in importance as both producers and consumers in the global economy.
Declining palm oil prices: Good news and bad news for smallholders
(03/16/2015) Declining crop prices usually spell bad news for farmers, and poor smallholders in particular. The drop in the price of palm oil from a recent high of US$860 per metric ton in March 2014 to below US$640 in March 2015 (and far below 2010-2012 prices which exceeded US$1000) heralds a shift in perceptions of oil palm from an economic boon to poverty-stricken smallholders, to a liability that ties small-scale farmers to a less profitable commodity.
Local land rights may be in danger from push for palm oil in Liberia
(03/12/2015) The rights of local and indigenous peoples aren't being adequately protected in the drive for economic development, according to a report published in February by the Rights and Resources Initiative (RRI), a coalition of forest-oriented organizations. For a place like Liberia, reeling from both decades of persistent poverty and the recent Ebola epidemic, economic development seems critical at just about any cost.
East Kalimantan reaffirms moratorium on new mining, logging concessions

(03/06/2015) The governor of East Kalimantan, Indonesia, has reaffirmed his commitment to a 2013 moratorium on mining, logging, and plantation permits. The policy, which was originally outlined in a letter to the province's regents and mayors will be elevated to a higher status, he said.
Palm oil certification body purges membership
(03/05/2015) The Roundtable on Sustainable Palm Oil (RSPO) has purged membership of a number of companies and organizations that have failed to comply with reporting requirements. The move could be a sign that the certification body is getting more serious about enforcing its standards, says WWF, one of the founders of the initiative.
Jokowi's environmental commitments in Indonesia
(02/26/2015) Last fall Indonesia elected its first president with no ties to the established political order or the military. Joko Widodo's election was widely heralded by reformers who hoped the politician's capable management in his stints as mayor of the town of Solo and metropolis of Jakarta could transform Indonesia's chronically underperforming bureaucracy, potentially ushering in a new era of improved human rights, better environmental stewardship, reduced corruption, and healthier economic growth.
New Guinea rainforest being leveled for palm oil, revealing gaps in zero deforestation pacts
(02/23/2015) An Indonesian palm oil firm is destroying rainforests in New Guinea despite high profile zero deforestation pledges from its customers, finds research by Greenomics-Indonesia. Landsat imagery acquired and analyzed by Greenomics shows that Austindo Nusantara Jaya Agri (ANJ) is clearing high carbon stock forests in the southern part of West Papua's Bird's Head Peninsula in Indonesian New Guinea.
Ranking the best and worst companies in terms of deforestation
(02/11/2015) While a number of high profile companies have adopted policies designed to exclude deforestation from their commodity supply chains, such commitments remain outside the norm, indicating that most companies still lack forest-friendly safeguards, finds a comprehensive survey conducted by the Global Canopy Programme. The assessment ranks 250 companies, 50 jurisdictions, 150 banks and investors, and 50 'powerbrokers' by the extent and scope of their souring policies for six 'forest risk commodities': soy palm oil, beef, leather, timber, pulp and paper.
Norway sovereign fund drops coal, tar sands, gold-mining companies

(02/09/2015) In its first-ever report on responsible investing, Norway's pension fund announced last week that it has divested from 114 companies in the past three years due to concerns over global warming, deforestation, and sustainability as well as long-term financial viability. Worth a staggering $861 billion, Norway's Government Pension Fund Global (GPFG) is the world's largest sovereign wealth fund.
Palm oil major makes deforestation-free commitment

(02/03/2015) IOI Corporation officially committed to what its subsidiary, palm oil trader IOI Loders Croklaan, pledged last November: it will no longer source palm oil linked to deforestation and human rights abuses.
When is a forest a forest? How definitions affect monitoring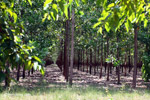 (01/29/2015) What exactly is a forest? With forest definitions differing from country to country, and primary forests, secondary forests, and even tree plantations all perceived collectively as "tree cover" by satellite data, how does one accurately keep tabs on land changes?
Radical transparency: tracking deforestation through satellite imagery
(01/28/2015) Floating softly through the vacuum of space, the Landsat 7 satellite has faithfully provided imaging of the entirety of earth's surface, every 16 days, since 1999. Now a series of technological developments has made this silent spectator a dominant force in tracking forests worldwide.
Deforestation may be ramping up in Papua, West Papua
(01/27/2015) Despite being covered in commodity concessions and becoming a focal point for the Indonesian government's palm oil development in the country's eastern half, the provinces of Papua and West Papua have, rather mysteriously, recorded very low deforestation rates compared to the rest of the archipelago. However, emerging data, reports, and photos suggest the region's forest loss may be escalating.
High deforestation rates in Malaysian states hit by flooding
(01/19/2015) Five states hard hit by flooding last month in Malaysia had high rates of forest loss in recent years, bolstering assertions that environmental degradation may have worsened the disaster. According to satellite data from researchers led by the University of Maryland's Matt Hansen and displayed on Global Forest Watch, the states of Johor, Kelantan, Pahang, Perak, and Terengganu each lost more than 10 percent of their forest cover between 2001 and 2012. Loss was greatest in areas with dense tree cover.
Fake Doritos ad pressures Pepsi over palm oil policy
(01/18/2015) A dispute between environmentalists and PepsiCo over the food company's palm oil sourcing policy is escalating after activists released a video spoofing the Doritos Super Bowl campaign. Earlier this month SumofUs.org posted a clip stating that PepsiCo's current palm oil policy fails to exclude deforestation from its supply chain, meaning that Pepsi products like Doritos could be contributing to the destruction of rainforests in Malaysia and Indonesia.
Sulawesi village seeks protection for sacred forest threatened by development
(01/16/2015) Home to some 400 fishermen, Manurung village appears unremarkable at first glance: quiet houses along a winding river lined with boats. However, behind the village lies something remarkable: a tract of old-growth forest nearly untouched by human exploitation. Pensimoni Hill stands as a rare outpost of towering trees rising above freshwater springs that provide clean water and life for the villages below.
Half of Indonesia's deforestation occurs outside concession areas
(01/06/2015) Roughly half of Indonesia's natural forest loss occurs outside officially designated concession areas, concludes a new assessment that also finds higher deforestation rates in places with worse forest governance scores. The report, released last month by Forest Watch Indonesia, is based on analysis of satellite data spanning the archipelago. Unlike assessments by the Ministry of Forestry, the data includes areas outside the 'forest estate'.
Featured video: new documentary highlights 'Sumatra Burning'

(01/05/2015) A new half-hour documentary investigate the impact of the palm oil industry in Indonesia, including burning forests and peatlands as well as haze spreading across Indonesian borders. Entitled Sumatra Burning, the documentary explores palm oil production on the island of Sumatra, which is experiencing some of the highest deforestation rates on the planet.
Rainforests: 10 things to watch in 2015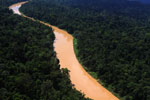 (01/02/2015) 2014 was a landmark year for tropical rainforests, with dozens of major companies committing to eliminating deforestation from their supply chains, the launch of new platforms for monitoring forests, and sharp drop in clearing in the Brazilian Amazon, among other big developments. Here's a quick look ahead at what might be in store for tropical forests in 2015.
2014: the year in rainforests
(12/30/2014) 2014 could be classified as 'The Year of the Zero Deforestation Commitment'. During 2014, nearly two dozen major companies, ranging from palm oil producers to fast food chains to toothpaste makers, established policies to exclude palm oil sourced at the expense of rainforests and peatlands.
Connecting the Dots: from Christmas Cookies to Climate Change
(12/26/2014) Harrison Ford checking out everyday products to see which ones contain palm oil. Not exactly the high-octane activity we associate with an adventurer like Ford…so what gives? Ford cares about the ingredients used to make these products because our high demand for these everyday consumer goods is directly tied to high rates of deforestation and climate change. He was in the frozen food aisle to find out just how prevalent palm oil is in our food supply.
Palawan palm oil presence likely to grow, industry rep denies harmful impact
(12/23/2014) Plans to convert eight million hectares of land for palm oil production on Palawan island in the Philippines have been met with opposition from environmental and social advocacy groups, with a petition to cease development sent to the United Nations Commission on Human Rights by an anti-palm oil expansion group. But an industry representative denies claims that all eight million hectares will be cultivated to the detriment of wildlife and human communities, maintaining palm oil expansion will be beneficial to the people of Palawan.
Advocacy group lashes out against palm oil expansion on Philippine island
(12/23/2014) In the first week of November, an anti-oil palm expansion group sent a copy of their petition to the Special Rapporteur on the Rights of the Indigenous People for the United Nations Commission on Human Rights hoping to elevate their concerns over land-grabbing issues faced by tribes in Palawan, Philippines, due to planned palm oil expansion in the province.
Child labor and palm oil in Indonesia
(12/23/2014) Meet Bimo Kencana Arief. At 13 years old, this Indonesian middle school student is not spending his afternoons doing homework, helping around the house, or getting into trouble with the neighborhood children. Instead, Bimo is working up a sweat, hauling heavy oil palm fruits from the trees to a waiting truck. If he moves quickly, he can help his father earn up to $2 between 3:00 pm and dark.
Greenpeace: zero deforestation pioneer makes progress, but still has work to do
(12/22/2014) Half a decade ago, Golden-Agri Resources (GAR) was losing customers right and left in the midst of a Greenpeace campaign that blamed the Singapore-based palm oil giant for destroying forests in Indonesia. Then in February 2011, GAR surprised the world when it announced it would no longer clear rainforests or peatlands for new plantations. The company also committed to resolving social conflicts and respecting the right of local communities to reject plantation development on their traditional lands. Observers thought it could be mark the beginning a transformation in how palm oil was produced.
125M ha of degraded lands identified for forest-friendly agricultural expansion
(12/19/2014) A team of researchers has identified 125 million hectares (309 million acres) of land suitable for agricultural expansion that won't come at the expense of tropical forests. The study argues that shifting agricultural expansion away from forests to these 'degraded lands' would avoid 13 billion tons of carbon dioxide emissions that would be released were they converted for plantations, pasture, and croplands.
Palm oil facilitates large-scale illegal logging in Indonesia
(12/16/2014) Development of oil palm plantations is providing cover for large-scale illegal logging in Indonesian Borneo, driving destruction of some of the island's most biodiverse forests and undermining efforts to reform the country's forestry sector, alleges a new report published by the Environmental Investigation Agency (EIA).
EU adopts law mandating palm oil labeling on food products

(12/12/2014) Tomorrow the European Union will begin enforcing legislation that mandates labeling of specific vegetable oils on food products. The move means consumers will soon know whether the products they consume contain palm oil, canola, or one of many other sources of plant-based fat.
A landmark year for forests (commentary)
(12/05/2014) About one year ago today, I was pretty down. It was Thanksgiving night, and the Forest Heroes campaign, which I chair, had been running a big global campaign to persuade Wilmar International, Asia's largest agribusiness company, to eliminate deforestation and human rights abuse throughout its enormous supply chain.
Tradeoff: Sabah banks on palm oil to boost forest protection
(12/05/2014) Last month Sabah set aside an additional 203,000 hectares of protected forest reserves, boosting the Malaysian state's extent of protected areas to 21 percent of its land mass. But instead of accolades, Sabah forestry leaders were criticized for how they went about securing those reserves: allowing thousands of hectares of deforested land within an officially designated forestry area to be converted for oil palm plantations
Musim Mas says its palm oil will be deforestation-free
(12/04/2014) Singapore-based Musim Mas has established a new sustainability policy that it says will eliminate deforestation, peatlands conversion, and social conflict from its palm oil supply chain. The company, which operates plantations in Sumatra and Indonesian Borneo, has been under pressure from environmentalists to join a growing number of palm oil producers and traders that have made zero deforestation pledges.
Indonesia to audit licenses of palm oil companies that clear peatlands
(11/30/2014) New Indonesian president Joko Widodo has ordered the Ministry of Environment and Forestry to review licenses for companies that have converted peatlands for oil palm plantations, reports Antara. Jokowi, as the president is popularly known, announced the move after a visit last week to Sungai Tohor, a community in Riau that has been particularly affected by peatlands degradation and haze caused by fires set for land clearing.
Indonesia's anti-corruption agency questions former Minster of Forestry

(11/21/2014) Indonesia's Corruption Eradication Commission (KPK) questioned the former Minister of Forestry about his role in altering zoning to facilitate oil palm expansion into public lands. The case centers around Riau Governor Annas Maamun, who allegedly accepted bribes to convert an area's status from 'production forest' into 'non-forested land'.
Palm oil interest surges in Papua New Guinea
(11/19/2014) As the lands of traditional palm oil powerhouses like Indonesia and Malaysia have become saturated with plantations, companies looking to profit have turned to vast areas of seemingly untouched tropical forest in other parts of the world – places like Papua New Guinea. But, in fact, say advocates of local communities, those forests often support the lives and livelihoods of millions of people who must have their rights taken into account.
Palm oil giant suspends supplier over deforestation allegations

(11/17/2014) Palm oil giant Musim Mas Group has suspended purchases from the PT Pati Sari mill over allegations that the facility is processing fruit illegally grown within a biodiversity hotspot in Sumatra, reports the Rainforest Action Network (RAN), which recently published an investigation on the mill's sourcing practices.
Over 60% of world's traded palm oil now bound by zero deforestation commitments
(11/13/2014) Over sixty percent of palm oil traded internationally is now bound by zero deforestation policies after IOI Loders Croklaan committed to excluding forest destruction from its supply chain, says Forest Heroes, a campaign that aims to reduce the environmental impact of palm oil production. IOI Loders Croklaan's parent corporation IOI Group has been aggressively targeted by environmentalists for its links to deforestation and controversies over conflicts with local communities.
Reducing deforestation is good for business, argues report

(11/12/2014) Some of the world's largest companies are making progress in disclosing and addressing deforestation risk within their commodity supply chains, but much work is left to be done to shift to more sustainable practices, argues a new report from the Climate Disclosure Project.
Only place where rhinos, tigers, elephants, and orangutans coexist is under threat
(11/12/2014) A forest that is the only place where rhinos, tigers, elephants, and orangutans coexist is under threat from planned infrastructure, mining, logging, and plantation projects, warns a new report from the Rainforest Action Network. The report looks at one of the last vestiges of wilderness on the island of Sumatra, which for the past three decades has been heavily ravaged by logging, fires, and conversion to industrial timber and oil palm plantations. This area, known as the Leuser Ecosystem, is today a battleground between business-as-usual interests seeking to mine its forests and a collection of conservationists, local communities, and a collection of companies seeking to steward its resources.
'Militarized occupation': local communities pay the price for palm oil
(11/11/2014) There's little doubt that the use of palm oil is expanding rapidly throughout the world, and with it the need for millions of hectares of land to grow oil palm trees. The results can be devastating for local communities who depend on the agriculture and forests that these lands support. A recent report catalogs the issues that arise with oil palm expansion.
Peru has massive opportunity to avoid emissions from deforestation
(11/10/2014) Nearly a billion tons of carbon in Peru's rainforests is at risk from logging, infrastructure projects, and oil and gas extraction, yet opportunities remain to conserve massive amounts of forest in indigenous territories, parks, and unprotected areas, finds a study published this week in Proceedings of the National Academy of Sciences (PNAS).
'Too many people': Philippine island being deforested despite extensive protections
(10/31/2014) About an hour and a half plane ride from the Philippine capital Manila is Palawan, a long, narrow island home to about a quarter of all the animal species found in the country. But the province is losing its forests at a rapid clip due to human population increases, logging, quarrying, mining, and even a huge palm plantation.
Beef, palm oil, soy, and wood products from 8 countries responsible for 1/3 of forest destruction

(10/23/2014) Four commodities produced in just eight countries are responsible for a third of the world's forest loss, according to a new report. Those familiar with the long-standing effort to stop deforestation won't be surprised by the commodities named: beef, palm oil, soy, and wood products (including timber and paper). Nor will they be very surprised by most of the countries: Brazil, Indonesia, and Malaysia.
'No forests, no cash': palm oil giants commit to sustainability, but will they follow through?
(10/21/2014) Four of Indonesia's largest palm oil producers signed a landmark commitment in New York in September to further implement sustainable practices across one of the country's largest commercial sectors. Then-President Susilo Bambang Yudhoyono and the Indonesia Chamber of Commerce (KADIN) witnessed the undertaking, which is hoped to expand the country's palm oil industry while making it more environmentally friendly.
Saving Asia's other endangered cats (photos)
(10/21/2014) It's no secret that when it comes to the wild cats of Asia—and, really, cats in general—tigers get all the press. In fact, tigers—down to an estimated 3,200 individuals—arguably dominate conservation across Asia. But as magnificent, grand, and endangered as the tigers are, there are a number of other felines in the region that are much less studied—and may be just as imperiled.
Indonesian law bars palm oil companies from protecting forests
(10/21/2014) A law passed by the Indonesian government last month makes it even more difficult for palm oil companies to conserve tracts of wildlife-rich and carbon-dense forests within their concessions, potentially undermining these producers' commitments to phase deforestation out of their supply chains, warns a new report published by Greenomics, an Indonesian environmental group.
Walking the walk: zoo kicks off campaign for orangutans and sustainable palm oil
(10/20/2014) If you see people wearing orange this October, it might not be for Halloween, but for orangutans. Chester Zoo's conservation campaign, Go Orange for Orangutans, kicks off this month for its second year. The campaign aims to raise money, and awareness, for orangutans in Borneo, which have become hugely impacted by deforestation often linked to palm oil plantations.
To become less damaging, target non-forest lands for palm oil, says book
(10/16/2014) Palm oil production has been spectacularly profitable but ecologically disastrous across Southeast Asia, consuming millions of hectares of indigenous lands, rainforests, and peatlands in recent decades. That paradox has made the crop highly controversial despite its importance in providing a high-yielding source of vegetable oil. A new book, published freely online by the Center for International Forestry Research (CIFOR), weighs in on the debate and concludes — like many before it — that the problem is not the crop itself, but how it is produced.




Page 1 | Page 2 | Page 3 | Page 4 | Page 5 | Page 6 | Page 7 | Page 8 | Page 9