News articles on ozone layer

---
Mongabay.com news articles on ozone layer in blog format. Updated regularly.





China to phase out super greenhouse gas

(04/24/2013) Some eight billion tonnes of greenhouse gases could be kept out of the atmosphere if China sticks to a deal with the United Nation's Montreal Protocol to eliminate the production of hydro-fluorocarbons (HCFCs). In return for phasing out HCFC production by 2030, the Multilateral Fund of the Montreal Protocol on Substances has promised China of funding up to $385 million.


Air pollution killed 7 million people in 2010

(04/09/2013) Seven million people died from air pollution in 2010, according to new data from the Global Burden of Disease Study 2010, published in the medical journal Lancet. The research found that indoor air pollution killed 3.5 million people in 2010, outdoor air pollution 3.3 million, and ground level ozone pollution 200,000 people.


Antarctica's sea ice increasing due to ozone hole, but scientists predict global warming will catch-up

(04/23/2009) Increasing ice in Antarctica is not a sign that the earth is actually cooling instead of warming as some climate change-skeptics have attested. A new study finds that the growth in Antarctic ice during the last 30 years is actually due to shifting weather patterns caused by the hole in the ozone layer. The researchers predict that eventually global warming will catch up to Antarctica leading to overall melting as it has in the Arctic.


Ozone hole is second-largest on record in 2008

(10/30/2008) The Antarctic ozone hole reached its second-largest size on record in 2008, reports NASA.


Geoengineering solution to global warming could destroy the ozone layer

(04/24/2008) A proposed plan to fight global warming by injecting sulfate particles into Earth's upper atmosphere could damage the ozone layer over the Arctic and Antarctic, report researchers writing in the journal Science.


Ozone-hole recovery may spur Antarctic warming

(04/24/2008) A full recovery of the stratospheric ozone hole could strongly modify climate change in the Southern Hemisphere and possibly amplify warming of the Antarctic continent, a new study finds.


Rich countries grow at ecological expense of poor countries

(01/21/2008) The costs of environmental degradation caused by rich countries are disproportionately falling on the world's poorest countries, reports an analysis published in the journal Proceedings of the National Academy of Sciences.


Ozone Hole makes Early Appearance in 2007

(08/28/2007) The Antarctic ozone hole was discovered in 1985 by British scientists Joseph Farman, Brian Gardiner, and Jonathan Shanklin of the British Antarctic Survey. Though called a hole, it is rather a location in the ozone shield -- a layer that keeps ultra-violet rays from affecting us directly -- that is substantially lacking in ozone concentration.


China to ban ozone-depleting CFCs

(06/28/2007) China has moved to ban the production of ozone-depleting chlorofluorocarbons (CFCs), according to a statement from the country's environmental protection agency. The action is in accordance with the 1987 Montreal Protocol to phase out the use of ozone layer-depleting products . China, which signed the agreement in 1991, says it will end all CFC production by 2010.


Climate change leaving amphibians behind in extinction race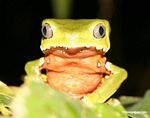 (04/30/2007) Despite surviving the age of dinosaurs and numerous bouts of severe climate change, amphibians are not keeping pace with the current rate of global change, reports a new study published in the journal Bioscience.


Ozone ban has been more effective in fighting global warming than Kyoto Protocol

(03/05/2007) The 1987 Montreal Protocol, which restricted the use of ozone-depleting substances, has helped slow the rate of global warming in addition to protecting the ozone layer, report scientists writing in a paper published online in the early edition of PNAS.


Antarctic ozone depletion exceeds that of Arctic

(12/25/2006) A new study comparing ozone depletion between the poles shows that the Antarctic is experiencing the most severe depletion of the ozone layer.


Ozone hole near record size

(09/22/2006) The World Meteorological Organization (WMO) said Friday that hole in the ozone layer over Antarctica will expand this year to 27.9 million square kilometers (10.8 million square miles), its second-highest recorded level in history.


Ozone hole recovery slower than expected

(06/29/2006) Scientists from NASA and other agencies have concluded that the ozone hole over the Antarctic will recover around 2068, nearly 20 years later than previously believed. Researchers from NASA, the National Oceanic and Atmospheric Administration (NOAA) and the National Center for Atmospheric Research (NCAR) have developed a new tool, a math-based computer model, to predict the timing of ozone hole recovery. Their findings will be published tomorrow in Geophysical Research Letters.


Ozone Layer Recovering Finds Boulder Study

(05/03/2006) While Earth's ozone layer is slowly being replenished following an international 1987 agreement banning CFCs, the recovery is occurring in a changing atmosphere and is unlikely to stabilize at pre-1980 levels, says a new University of Colorado at Boulder study. The recovery is a result of the 1987 Montreal Protocol banning chlorine pollutants from the atmosphere, said Betsy Weatherhead, a researcher with the Cooperative Institute for Research in Environmental Sciences, a joint institute of CU-Boulder and the National Oceanic and Atmospheric Administration. But by the end of the century, ozone levels could be slightly higher or slightly lower than before 1980 because of high natural variability and human caused changes like warming temperatures, said Weatherhead.