News articles on orangutans

---
Mongabay.com news articles on orangutans in blog format. Updated regularly.








Well grounded: orangutans are more terrestrial than previously thought
(06/08/2015) For years scientists have believed that orangutans are primarily arboreal. Indeed, most photographs and videos of orangutans depict them up in the trees. But a recent study challenges that thinking with photographic evidence that orangutans spend a lot more time on the ground than previously thought.
30 illegal orangutan pets seized in West Kalimantan
(05/05/2015) Thirty orangutans being kept as household pets in Indonesia's West Kalimantan province have been seized and placed in a rehabilitation center, where they are learning to fend for themselves so they can be released into their natural habitats, local conservation authorities report.
Orangutan rescued amid sea of palm oil
(05/04/2015) The rescue, which took place in early April, was conducted by the Orangutan Information Centre (OIC) in response to a report of an adult male orangutan isolated in an fragment forest surrounded by oil palm plantations. The orangutan was found to be in poor health, according to Krisna, OIC's Human Orangutan Conflict Response Unit field coordinator.
Destruction of elephant, tiger, and orangutan habitat doubles
(03/25/2015) The rate of forest loss in Indonesia's Leuser Ecosystem — the only place on Earth where rhinos, orangutans, tigers, and elephants live in the same habitat — has more than doubled due to logging, encroachment, and conversion to industrial plantations, warn conservationists. In a statement issued Tuesday, the Sumatran Orangutan Society reported that 80,316 hectares of forest were lost between 2008 and 2013, a sharp increase from the 30,830 hectares cleared between 2002 and 2008.
When apes have choices and preferences (commentary)
(03/16/2015) One question that desperately needs to be asked when we talk about the rights of an intelligent species like apes is whether we allow them choices and preferences in the rights we give them. This issue and other issues of rights have been raised by me and a small team of orangutan experts in a report we prepared to be used in the court case of the 29-year-old orangutan Sandra in the zoo in Buenos Aires, Argentina. The story of Sandra has been given prominence by the media.
Reports slam Malaysian timber companies, urge reforms in forest management
(02/27/2015) Two international NGOs have called out Malaysia in recent months over the country's widespread illegal logging. Malaysia has been accused of not doing enough to protect its diminishing forests and thwart the illicit timber trade, particularly in Sarawak, the site of the country's worst deforestation. Lax oversight, endemic corruption and limited transparency have allowed for Malaysia's forests to be plundered by both the government and the private sector.
Reports blame illegal logging for felling Sarawak forest
(02/25/2015) A recent report by the international affairs think tank Chatham House has highlighted Malaysia's lack of progress in dealing with illegal logging, blaming corruption and a lack of transparency on the country's sluggish approach to environmental policy reform.
One clever ape: new book celebrates real-life Orangutan Houdini
(01/07/2015) An interview with Laurel Neme about her new children's book, Orangutan Houdini. When no one is looking, a gangly orangutan named Fu Manchu reaches into his mouth and pulls out a wire. Carefully, Fu, housed at the Henry Doorly Zoo in Nebraska, begins to pick the lock to his enclosure's door, and escapes! He and his orangutan cohort have the run of the zoo, until his keeper Jerry brings them all back home.
'No forests, no cash': palm oil giants commit to sustainability, but will they follow through?
(10/21/2014) Four of Indonesia's largest palm oil producers signed a landmark commitment in New York in September to further implement sustainable practices across one of the country's largest commercial sectors. Then-President Susilo Bambang Yudhoyono and the Indonesia Chamber of Commerce (KADIN) witnessed the undertaking, which is hoped to expand the country's palm oil industry while making it more environmentally friendly.
Walking the walk: zoo kicks off campaign for orangutans and sustainable palm oil
(10/20/2014) If you see people wearing orange this October, it might not be for Halloween, but for orangutans. Chester Zoo's conservation campaign, Go Orange for Orangutans, kicks off this month for its second year. The campaign aims to raise money, and awareness, for orangutans in Borneo, which have become hugely impacted by deforestation often linked to palm oil plantations.
Helping orangutans survive: new project aims to connect habitat fragments in Kalimantan (PART II)
(10/08/2014) Two decades ago, a project to convert one million hectares of forest to rice paddies was undertaken by the Indonesian government in southern Kalimantan. The project was a massive failure and was eventually abandoned, but not before it destroyed critical orangutan habitat. Now a new project is trying to knit together what's left and turn the area's isolated orangutan populations into one of Borneo's largest.
Why are great apes treated like second-class species by CITES?

(09/11/2014) The illegal trade in live chimpanzees, gorillas, bonobos and orangutans showed no signs of weakening in the first half of 2014—and may actually be getting worse—since the Great Apes Survival Partnership (GRASP) published the first-ever report to gauge the global black market trade in great apes in 2013.
20 orangutan pictures for World Orangutan Day
(08/19/2014) August 19 is World Orangutan Day, a designation intended to raise awareness about the great red ape, which is threatened by habitat loss, the pet trade, and hunting. Once distributed across much of southeast Asia, today orangutans are only found on the islands of Borneo and Sumatra. Both species of orangutan — the Sumatran and the Bornean — are considered endangered.
Aceh's largest peat swamp at risk from palm oil

(08/11/2014) Oil palm plantations and other developments are threatening Rawa Singkil Wildlife Preserve—Aceh's largest peat swamp, and home to the densest population of Sumatran orangutan in the Leuser Ecosystem. The lack of clear boundaries, and construction of roads bisecting the area has fostered encroachment by local and outside entrepreneurs, including some former local officials, reports Abu Hanifah Lubis, Program Manager of Yayasan Leuser Internasional (YLI).
What is peat swamp, and why should I care?
(07/20/2014) Long considered an unproductive hindrance to growth and development, peat swamp forests in Southeast Asia have been systematically cleared, drained and burned away to make room plantations and construction. Now, as alternating cycles of fires and flood create larger development problems, while greenhouse gas emissions skyrocket, it is time to take a closer look at peat, and understand why clearing it is a very bad idea.
30% of Borneo's rainforests destroyed since 1973
(07/16/2014) More than 30 percent of Borneo's rainforests have been destroyed over the past forty years due to fires, industrial logging, and the spread of plantations, finds a new study that provides the most comprehensive analysis of the island's forest cover to date. The research, published in the open-access journal PLOS ONE, shows that just over a quarter of Borneo's lowland forests remain intact.
Despite early headwinds, Indonesia's biggest REDD+ project moves forward in Borneo
(06/26/2014) Just over a year ago, the Indonesian government officially approved the country's first REDD+ forest carbon conservation project: Rimba Raya, which aims to protect more than 64,000 hectares of peat forest in Central Kalimantan. The approval came after years of delays from the Ministry of Forestry and a substantial reduction in the project's concession area. But InfiniteEarth, the firm behind the project, pressed on. Now a year later, Rimba Raya's is not only still in business, but is scaling up its operations.
Broken promises no more? Signs Sabah may finally uphold commitment on wildlife corridors
(06/23/2014) Five years ago an unlikely meeting was held in the Malaysian state of Sabah to discuss how to save wildlife amid worsening forest fragmentation. Although the meeting brought together longtime adversaries—conservationists and the palm oil industry—it appeared at the time to build new relationships and even point toward a way forward for Sabah's embattled forests.
The palm oil diet: study finds displaced orangutans have little else to eat
(06/20/2014) In a recent study, researchers assessed how orangutans have adapted to living among oil palm plantations on Borneo. They found that while orangutans have adapted to the island's human-transformed landscapes better than expected, oil palm plantations are unable to sustain orangutan populations in the long-term.
Apeidemiology: researchers model ape disease transmission for the first time
(06/20/2014) In a nine-year-long study published recently in PLOS ONE, a team of researchers attempted to understand how diseases spread and differ among orangutans (Pongo pygmaeus wurmbii) and chimpanzees (Pan troglodytes schweinfurthii), creating the first-ever epidemiological model for great ape populations.
Facebook, Twitter to carry 24 hours of live rainforest animal sightings on Monday
(05/29/2014) Next week, the rainforests of Southeast Asia are going live. On June 2nd, 11 organizations in the region will be posting lives video, photos, and wildlife sightings over 24 hours on Facebook and Twitter (see #rainforestlive). Dubbed Rainforest: Live, the initiative hopes to raise awareness of quickly vanishing ecosystems and species.
When the orangutan and the slow loris met - and no one was eaten
(05/05/2014) In 2004 and 2012, scientists recorded rare encounters between two very different primates: southern Bornean orangutans (Pongo pygmaeus wurmbii) and Philippine slow loris (Nycticebus menagensis). But in neither case did the Bornean orangutan appear to attempt to kill the slow loris for consumption, which Sumatran orangutans are known to do, albeit very rarely.
Indonesia's orangutan action plan failing to save great red apes
(03/24/2014) In December 2007, President Susilo Bambang Yudhoyono launched Indonesia's Strategy and Action Plan for National Conservation of Orangutans. Quoting the president from his speech, 'this will serve as a blueprint for our efforts to save some of our most exotic but endangered wildlife.' Furthermore, the president said that 'the Orangutan action plan formally endorses Indonesia's commitment to orangutan conservation as expressed in 2005 when Indonesia signed the Kinshasa Declaration on the Protection of Great Apes in the Democratic Republic of Congo.'
Next big idea in forest conservation? Offer health care for forest protection
(03/21/2014) Dr. Kinari Webb has a superpower: the ability to provide high-quality health care in a remote and rural landscape. And she uses her power not only to save lives, but also to protect the remaining Bornean rainforests. Twenty-one years ago, Kinari Webb traveled to Borneo to work with orangutans. She witnessed the faltering health of both the people and the environment and saw that the two issues were inseparable. When families must choose between the health of their children and the health of the forest that supports them, everyone loses. But in the region of Gunung Palung National Park — where an estimated 10 percent of the world's orangutans live — illegal logging and slash and burn farming methods paid the bills and locals saw few alternatives. Kinari vowed to study medicine and return with more to offer.
Procter & Gamble's palm oil suppliers linked to deforestation (photos)
(02/26/2014) A year-long investigation by Greenpeace has found companies that supply Procter & Gamble (P&G) (NYSE:PG) with palm oil are engaged in clearing of rainforests and peatlands in Indonesia, suggesting that Head & Shoulders shampoo and other consumer products made by the company may be linked to forest destruction.
If Indonesia can't protect its orangutans, why doesn't it just 'sell' them?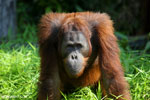 (02/23/2014) It is obvious that at the moment Indonesia neither has the political commitment nor ability to safeguard its dwindling populations of orangutans. Despite its Presidentially supported Action Plan to stabilize all remaining wild populations by 2017, orangutan habitats in Sumatra and Borneo are disappearing as rapidly as ever.
In precedent-setting case, palm oil company fined $30M for destroying orangutan forest
(01/09/2014) In a precedent-setting case, an Indonesian court has found a palm oil company guilty of violating environmental laws and ordered it to pay $30 million in fines and reparations for clearing an area of protected peat forest that is a stronghold for endangered orangutans in Indonesia's Aceh Province. In a ruling handed down Wednesday, the Meulaboh district court concluded that PT Kallista Alam illegally cleared and burned forest within the the protected Tripa peat swamp in northwestern Sumatra.
Environmentalists call for recognition of orangutan, rhino habitat as heritage site

(12/11/2013) Environmentalists in Indonesia's Aceh Province are calling upon the local governor to nominate the Leuser Ecosystem as a UNESCO World Heritage Site to help protect the area — one of the last places where rhinos, elephants, tigers, and orangutans share the same habitat — from new legislation that would grant large blocks of forest for logging concessions, mining, and industrial plantations.
Palm oil company Bumitama under fire for clearing rainforest, endangering orangutans
(12/02/2013) Bumitama Agri, an Indonesian palm oil producer, is breaking the law by clearing forests and developing plantations without the proper licenses, a coalition of NGOs said in a report released on Nov. 21. The groups have called on financiers to either force Bumitama to shape up or cut ties with the company and with global palm oil traders such as Wilmar and IOI that do business with Bumitama.
Greenpeace photos expose palm oil giant's deforestation in Indonesia
(11/22/2013) A series of photos released this week by Greenpeace shows that an Indonesian palm oil company is continuing to clear orangutan habitat in Borneo despite a pledge to stop destroying the forest. Flyovers of a concession owned by PT Andalan Sukses Makmur, a subsidiary of Bumitama Agri Ltd, show excavators clearing peat forests and digging drainage canals just outside Tanjung Puting National Park in Central Kalimantan. Tanjung Puting is famous for its population of orangutans that have been intensely studied by Birute Galdikas, a noted researcher and conservationist.
Celebrities aim to raise $1.6 million to keep orangutan forests from the the chopping block in Borneo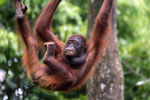 (10/02/2013) Sir David Attenborough, Bill Oddie and Chris Packham are supporting an effort to save the orangutan from extinction by raising £1m in just two weeks. Orangutans in their natural environment live in undisturbed ancient forests and for many years it was believed they shunned any other habitats. But researchers have discovered they can survive just as well and perhaps even better in forests that have been intensively thinned out by loggers, giving renewed hope for the species.
Activists target major snack makers over 'conflict' palm oil
(09/12/2013) Environmental activists have launched a major campaign targeting 20 of the largest snack food companies that use palm oil in their products. The campaign, led by the Rainforest Action Network (RAN), says that food giants are failing to ensure the palm oil they source does not drive deforestation or worsen social conflict.
Bornean orangutans travel along the ground
(09/12/2013) A recent study of forest in East Kalimantan, Borneo has found that orangutans travel on the ground far more often than expected. The study, published in the American Journal of Primatology, was carried out in Wehea Forest involving the use of 78 camera traps across 38 square kilometres of forest.
Beaten and captured orangutan dies in Indonesia's Aceh Province

(07/02/2013) An orangutan in Indonesia's Aceh province died last Thursday after being beaten by residents of a local village attempting to capture the animal. The case casts a tragic spotlight on what is becoming an increasingly serious problem in the region, as habitat decline and weak law enforcement leave wild orangutans at risk of being killed or captured and kept illegally as pets.
Tigers, orangutans, rhinos: Sumatra's big mammals on the edge of extinction

(06/12/2013) Karman Lubis's body was found near where he had been working on a Sumatran rubber plantation. His head was found several days later a mile away and they still haven't found his right hand. He had been mauled by a Sumatran tiger that has been living in Batang Gadis National Park and he was one of five people killed there by tigers in the last five years.
Illegal wildlife trade flourishes in Sumatra
(06/10/2013) In a chilly rain on Sunday, in a town just a few kilometers beyond the edge of a protected Sumatran rainforest, a young orangutan sat perched on a piece of plywood and grabbed the metal wires of his tiny cage. He has sat in that cage for six months and, like dozens of other species on display in this 'zoo' in the town of Kadang in Aceh, he has a price tag. This packed assembly is an acknowledged front for illegal trafficking in wildlife.
Sarawak to protect population of rarest orangutan sub-species

(04/10/2013) After facilitating large-scale logging and conversion of extensive areas of rainforest habitat, the government of Sarawak says it will protect a population of up to 200 of the world's rarest Bornean orangutans recently identified during field surveys by conservationists, reports the Wildlife Conservation Society (WCS).
Conservation scientists: Aceh's spatial plan a risk to forests, wildlife, and people
(03/22/2013) A group of biologists and conservation scientists meeting in Sumatra warned that potential changes to Aceh's spatial plan could undermine some of the ecological services that underpin the Indonesian province's economy and well-being of its citizens. After its meeting from March 18-22 in Banda Aceh, the Asia chapter of the Association for Tropical Biology and Conservation (ATBC) issued a declaration [PDF] highlighting the importance of the region's tropical forest ecosystem, which is potentially at risk due to proposed changes to its spatial plan.
New palm oil concession imperils orangutan population in Borneo

(01/28/2013) Three conservation groups warn that a proposed palm oil plantation puts a significant Bornean orangutan (Pongo pygmaeus) population at risk in the Malaysian state of Sabah. The plantation, which would cover 400 hectares of private forest land, lies adjacent to Kulamba Wildlife Reserve, home to 480 orangutans.
Complaint filed with palm oil body over orangutan rescue case
(11/29/2012) Conservationists have filed a complaint against an Indonesian palm oil company for allegedly clearing an area of forest that contained orangutans. Earlier this month, the Sumatran Orangutan Society (SOS) filed a complaint against PT Sisirau for allegedly breaching the Roundtable on Sustainable Palm Oil's rules on sparing high conservation value forest. PT Sisirau is a member of the Roundtable on Sustainable Palm Oil (RSPO), a multistakeholder body that sets criteria for more environmentally responsible palm oil production.
Great apes suffer mid-life crisis too
(11/19/2012) Homo sapiens are not alone in experiencing a dip in happiness during middle age (often referred to as a mid-life crisis) since great apes suffer the same according to new research in the Proceedings of the National Academy of Sciences (PNAS). A new study of over 500 great apes (336 chimpanzees and 172 orangutans) found that well-being patterns in primates are similar to those experience by humans. This doesn't mean that middle age apes seek out the sportiest trees or hit-on younger apes inappropriately, but rather that their well-being starts high in youth, dips in middle age, and rises again in old age.
Borneo may lose half its orangutans to deforestation, hunting, and plantations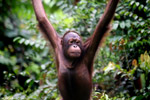 (11/13/2012) Borneo will likely lose half of its orangutans if current deforestation and forest conversion trends continue, warns a comprehensive new assessment by an international team of researchers. The study, published in the journal PLoS ONE, overlays orangutan distribution with land use regulations in Malaysian and Indonesian Borneo. Borneo has suffered high rates of deforestation, logging, and forest conversion for industrial plantations in recent decades, endangering the world's largest surviving populations of orangutans.
Rehabilitated orangutans in danger if industrial project proceeds in Borneo
(10/22/2012) The proposed extension of an industrial area in East Kalimantan, Indonesia will likely mean the end of a population of rehabilitated orangutans who reside there, according to the Indonesian environmental group Peduli Teluk Balikpapan. The Kariangau Industrial Area (KIK) will comprise 5,130 hectares of land currently covered by hardwood forests and mangroves when completed, including one third of orangutan habitat in Sungai Wain forest—a crucial portion that is not within the boundaries of the Sungai Wain Protection Forest and therefore not under any governmental protection.
Is your Halloween candy linked to rainforest destruction?

(10/11/2012) A campaign by the Cheyenne Mountain Zoo hopes to raise awareness about the link between Halloween candy and deforestation in Indonesia and Malaysia. Employing the images of Critically Endangered orangutans, the zoo urges consumer to only buy candy containing eco-certified palm oil by the Round Table on Sustainable Palm Oil (RSPO).
Dollar General drops APP due to rainforest destruction concerns

(10/11/2012) U.S. retailer Dollar General has stopped sourcing paper products from controversial brand Asia Pulp and Paper (APP), according to the World Wide Fund for Nature (WWF) which has targeted 20 companies for selling APP-sourced tissue and paper towels. APP has been under fire for years for deforestation on the Indonesian island of Sumatra, the last home to the Sumatran tiger (Panthera tigris sumatrae), Sumatran orangutan (Pongo abelii), and Sumatran elephant (Elephas maximus sumatranus), each of which is listed as Critically Endangered by the IUCN Red List.
Photos: camera traps capture wildlife bonanza in Borneo forest corridor
(09/10/2012) Camera traps placed in a corridor connecting two forest fragments have revealed (in stunning visuals) the importance of such linkages for Borneo's imperiled mammals and birds. Over 18 months, researchers with the Sabah Wildlife Department (SWD) and the Danau Girang Field Centre (DGFC) have photographed wildlife utilizing the corridor located in the Lower Kinabatangan Wildlife Sanctuary in Malaysian Borneo.
Scientists propose a new way forward on orangutan conservation
(07/16/2012) Orangutans are in dire need of a revised conservation approach, according to a new study in the Annals of the New York Academy of Sciences. While the plight of the species is widely recognized within the conservation community—receiving international attention in the form of scientific research, funding, and NGO efforts—the authors argue that "there has been frustratingly little progress."
Noel Rowe: all the world's primates "in one place"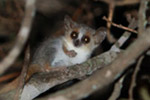 (05/14/2012) Spanning the gamut from mouse lemurs to mountain gorillas, All The World's Primates is a comprehensive database of primate species. Founded in 2004 by Noel Rowe and Marc Myers and designed primarily to aid scientists and college students in primatology research, ATWP is also readily accessible to anyone who would like to know a little more about primates. The database is continually updated when new species are discovered; from its inception in 2004 until 2010, 58 new species had been added to the site. In addition to discoveries made by primatologists in the field, All The World's Primates compiles information from the latest genetic studies. The site also includes photos and videos of many species, and was recently expanded to include a visual key for identification.
Governor of Aceh who signed palm oil permit: plantation in Tripa "morally wrong"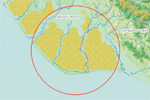 (04/05/2012) The former governor of Aceh, Irwandi Yusuf, told The Sydney Morning Herald today that an oil palm plantation he approved was "not wrong legally, but wrong morally." Irwandi, who is currently seeking re-election, signed off on the hugely controversial plantation in deep peat forest last August, but the issue came to a head this week as satellite images showed a dozen fires burning in the concession area known as Tripa. Environmental groups, which are running an online campaign, warn that the burning is imperiling an important population of Critically Endangered Sumatran orangutans (Pongo abelii).
Featured video: the battle for Tripa is about people too

(04/05/2012) Environmentalists have largely focused on the plight of orangutans as fires burn in Aceh, Sumatra to clear rainforest for a hugely controversial palm oil plantation, however as the video above highlights, local people will also feel the impacts of the destruction of forest for palm oil.
Environmentalists, orangutans lose court case over palm oil

(04/03/2012) Environmentalists were handed a set back in a dispute over a palm oil plantation granted in a protected peat swamp that is home to a population of critically endangered orangutans, reports the Aceh Globe and the Sydney Morning Herald.
Palm oil case against 'Green Governor' in Indonesia heats up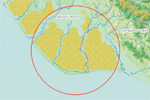 (03/22/2012) Environmental activists have launched an urgent appeal calling for a 'just decision' in a court case that has pitted Aceh's 'Green Governor' and palm oil developers against efforts to save endangered orangutans in a Sumatran peat forest. In letters directed toward judges weighing the case in Sumatra's Aceh Provice, Indonesian President Susilo Bambang Yudhoyono, the country's REDD+ authority, the World Bank, and the Governors' Climate and Forests Task Force (GCF), a coalition of conservation groups says the outcome of the case could have substantial implications for efforts to conserve Indonesia's remaining forests and peatlands.
Investigation links APP to illegal logging of protected trees
(03/01/2012) A year-long undercover investigation has found evidence of Asia Pulp and Paper (APP) companies cutting and pulping legally protected ramin trees, a practice that violates both Indonesian and international law. Found largely in Sumatra's peatswamp forests, the logging of ramin trees (in the genus Gonystylus) has been banned in Indonesia since 2001; the trees are also listed under Appendix II of the Convention on International Trade in Endangered Species (CITES) and thus require special permits to export. The new allegations come after APP, an umbrella paper brand, has lost several customers due to its continued reliance on pulp from rainforest and peatland forests in Sumatra.
National Geographic linked to rainforest destruction
(03/01/2012) A new report by Greenpeace has found a direct link between National Geographic Society (NGS) products and rainforest destruction in Indonesia that threatens tigers and orangutans. An analysis on National Geographic books found Sumatran rainforest fiber from Asia Pulp and Paper (APP), a brand whose suppliers have been linked to rainforest destruction in Sumatra, and, in the most recent Greenpeace report, alleged illegal logging of protected rainforest trees. One of the world's largest non-profit science and educational organizations, National Geographic is known worldwide for its magazines, documentaries, and award-winning photos. The organization also has a long-standing history of championing environmental and conservation issues. However, National Geographic says it has not sourced APP paper for "several years."
Wild orangutans to watch film about orangutans
(02/22/2012) Born to be Wild 3D, an IMAX documentary in part about the plight of orphaned and injured Bornean orangutans (Pongo pygmaeus), will soon be aired in the rainforest that inspired it. Producer Drew Fellman is setting up a screen in the rainforest to screen the film for orphaned orangutans. "They came to be like members of the crew," Fellman told the Associated Press.
The camera trap revolution: how a simple device is shaping research and conservation worldwide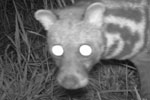 (02/14/2012) I must confess to a recent addiction: camera trap photos. When the Smithsonian released 202,000 camera trap photos to the public online, I couldn't help but spend hours transfixed by the private world of animals. There was the golden snub-monkey (Rhinopithecus roxellana), with its unmistakably blue face staring straight at you, captured on a trail in the mountains of China. Or a southern tamandua (Tamandua tetradactyla), a tree anteater that resembles a living Muppet, poking its nose in the leaf litter as sunlight plays on its head in the Peruvian Amazon. Or the dim body of a spotted hyena (Crocuta crocuta) led by jewel-like eyes in the Tanzanian night. Or the less exotic red fox (Vulpes vulpes) which admittedly appears much more exotic when shot in China in the midst of a snowstorm. Even the giant panda (Ailuropoda melanoleuca), an animal I too often connect with cartoons and stuffed animals, looks wholly real and wild when captured by camera trap: no longer a symbol or even a pudgy bear at the zoo, but a true animal with its own inner, mysterious life.
Feared extinct, obscure monkey rediscovered in Borneo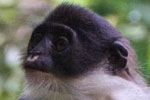 (01/20/2012) A significant population of the rarely seen, little-known Miller's grizzled langurs (Presbytis hosei canicrus) has been discovered in Indonesian Borneo according to a new paper published in the American Journal of Primatology. Feared extinct by some and dubbed one of the world's 25 most threatened primates in 2005 by Conservation International (CI), the langur surprised researchers by showing up on camera trap in a region of Borneo it was never supposed to be. The discovery provides new hope for the elusive monkey and expands its known range, but conservationists warn the species is not out of the woods yet.
Featured video: plight of orangutans highlighted with new rock song

(01/17/2012) An Indonesian rock band, Navicula, is highlighting the plight of orangutans in their native country through a new song entitled, aptly, "Orangutan." The band has created a music video for the song, including footage of a documentary, Green: The Film that follows a starving female orangutan named Green. The band "dedicated the song to encourage people to do more in orangutan conservation, to protect this endangered species."
Indonesia grants exemption from logging moratorium for 3.6m ha of forest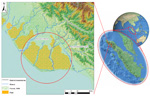 (12/21/2011) Indonesia exempted 3.6 million hectares of forests and peatlands from protected status under its two-year moratorium on forest concessions, according to a revised version of its moratorium map released near the end of climate talks in Durban. The new Indicative Map includes 10.7 million hectares of peatlands, down from 15.5 million hectares in the previous version of the map that defines areas off-limits for new concessions. Some 1.2 million hectares of previously unprotected "primary forest" has been added to the moratorium area, resulted in a net decline of 3.6 million hectares under the moratorium, according to analysis by Daemeter Consulting, an Indonesia-based forestry consultancy.
Palm oil, pulp companies commit to zero-tolerance policy for orangutan killing
(12/06/2011) Two Indonesian plantation companies have signed an agreement to train workers not to kill or injure orangutans and other protected species. The agreement was brokered by the Indonesian government between Orangutan Foundation International (OFI), a non-profit with operations in Central Kalimantan, Indonesian Borneo, and two major plantation firms: PT Smart, one of Indonesia's largest palm oil producers, and PT Lontar Papyrus, which supplies wood-pulp to Asia Pulp & Paper (APP). Both companies are holdings of the Sinar Mas Group. Under the terms of the deal, OFI will assist the companies 'in delivering a best management practices training program on orangutans and endangered species for its employees, affiliates and pulpwood suppliers.'
Eat like an orangutan to save rainforests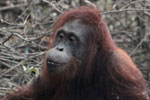 (11/30/2011) One doesn't have to be a scientist or a government official to help save the world's vanishing rainforests, one can also be a chef. World-renowned chef Andre Chiang has added a new item to his menu called Orangutan Salad, reports the Wall Street Journal, which he hopes will raise awareness for the endangered apes at his Singapore eatery, Restaurant Andre. The new salad gives restaurant-goers the chance to enjoy all the subtle, earthy tastes of a typical orangutan meal, including ferns, tree fungi, figs, berries, orchid leaves, and durian flowers.
Orangutans in Indonesian Borneo doomed to extinction?
(11/14/2011) A new study finds orangutans in Indonesian Borneo in unprotected areas are being killed at a rate faster than what population viability analysis considers sustainable. Conflict between orangutans and humans is worst in areas that have been fragmented and converted for timber, wood-pulp, and palm oil production, but hunting is occurring in relatively intact forest zones away from industrial development.
How fruit defines Borneo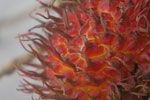 (08/01/2011) Among conservationists and biologists, the mega-island of Borneo is a sort of Mecca. Its rich plant and animal biodiversity, as well as high degree of endemism (unique species found nowhere else) make it a naturalist's dream. There is one aspect of this biological richness which applies to the wellbeing and happiness of all of Borneo's residents, human and animal, in a very direct way: fruit. From wild forest berries to juicy cultivated rambutans, fruit permeates the ecology, landscape and culture of Borneo. On the island there are over 70 wild fruit trees species and around 45 cultivated species that are consumed by people (1). Science has certainly not yet documented all the fruit consumed by wildlife, but we know that the total must be over 500 species.
WWF partnering with companies that destroy rainforests, threaten endangered species
(07/25/2011) Arguably the globe's most well-known conservation organization, the World Wide Fund for Nature (WWF), has been facilitating illegal logging, vast deforestation, and human rights abuses by pairing up with notorious logging companies in a flagging effort to convert them to greener practices, alleges a new report by Global Witness. Through its program, the Global Forest and Trade Network (GFTN), WWF—known as World Wildlife Fund in the US and Canada—has become entangled with some dubious companies, including one that is imperiling orangutans in Borneo and another which has been accused of human rights abuses in the Congo rainforest. Even with such infractions, these companies are still able to tout connections to WWF and use its popular panda logo. The Global Witness report, entitled Pandering to the Loggers, calls for WWF to make large-scale changes in order to save the credibility of its corporate program.
Google Earth animation reveals Indonesian forest targeted for destruction by pulp and paper companies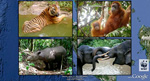 (05/14/2011) A new animation created using Google Earth offers a tour of an area of forest slated for destruction by logging companies. The animation, created by WWF-Indonesia and David Tryse, with technical assistance from Google Earth Outreach, highlights the rainforest of the Bukit Tigapuluh landscape in Sumatra, the only island in the world that is home to Sumatran tigers, elephants, rhinos, and orangutans. All of these species are considered endangered or critically endangered due to habitat destruction or poaching.
Counting orangutans: the best way to survey the great apes

(03/28/2011) How do you count orangutans when they are difficult to spot in the wild given that they are shy, arboreal, and few and far between? To find a solution, biologists have turned to estimating orangutan populations by counting their nests, which the great apes make anew every night. In order to make the most accurate count possible, researchers have studied the different factors that could impact the success, or lack thereof, of nest-counters in mongabay.com's open access journal Tropical Conservation Science.
Teaching orangutans to be wild – orangutan rehabilitation
(12/15/2010) Michelle Desilets, Executive Director of the Orangutan Land Trust, spoke with Laurel Neme on her 'The WildLife' radio show and podcast about the process of rehabilitating orphaned orangutans and teaching them to be wild. This is the second in a two-part interview. The first part covered orangutan biology, habits and the interconnected threats, from the pet trade to habitat loss and expansion of oil palm plantations, facing these creatures. This second part focuses on what happens to surviving orangutans.
Primatologists: the best hope for apes is the best hope for us
(12/15/2010) Distinguished conservation luminaries, eminent primate experts, ape-suited bucket wielders, a group of African drummers and nearly 1,500 people gathered in London last week for an evening of talks to shine the spotlight on the plight of apes and the forests in which they live, sending a strong message to the climate negotiators hammering out a REDD+ mechanism in Cancun. Hosted by conservation heavyweight Sir David Attenborough, Hope 4 Apes was something of a reunion of the first Hope 4 Apes event that took place ten years ago to raise awareness of -- and funding for -- ape conservation.
The problem-solving ape: what makes orangutans special and why they are threatened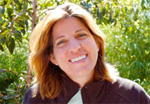 (12/13/2010) Michelle Desilets, Executive Director of the Orangutan Land Trust, spoke with Laurel Neme on her "The WildLife" radio show and podcast about orangutans. In the first part of her interview, they discussed orangutan biology, habits and the interconnected threats, from the pet trade to habitat loss and expansion of oil palm plantations, facing these creatures. The second part covers the process of rehabilitating orangutans and teaching them to be wild.
Logging concession could extinguish endangered Sumatran elephant population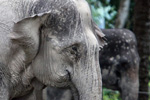 (11/30/2010) Local conservationists are urging the Indonesian government to halt the destruction of a 42,000 hectare forest in the renowned Bukit Tigapuluh Forest Landscape for a pulpwood plantation. According to researchers, the forest concession—owned by PT Lestari Asri Jaya, a subsidiary of Barito Pacific Group—contains the last population of Sumatran elephants (Elephas maximus sumatranus) in the Bukit Tigapuluh and approximately 5% of the island's total population. In a letter being sent to the Ministry of Forests, conservationists write that the destruction of the forest "would immediately lead to local extinction of elephants in Bukit Tigapuluh". They argue that given its ecological importance, the PT Lestari Asri Jaya forest concession should be placed under permanent protection.
Reforestation effort launched in Borneo with nearly-extinct rhinos in mind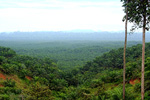 (11/18/2010) The Rhino and Forest Fund (RFF) has partnered with the Forestry Department of Sabah in northern Borneo to launch a long-term reforestation project to aid Malaysia's threatened species with particular emphasis on the Bornean rhino (Dicerorhinus sumatrensis harrissoni), one of the world's most imperiled big mammals. The reforestation project will be occurring in and adjacent to Tabin Wildlife Reserve, which is surrounded on all sides by oil palm plantations.
RSPO to recognize secondary forests as conservation priority

(11/12/2010) The Roundtable on Sustainable Palm Oil (RSPO), a body that sets environmental standards for palm oil production, has passed a resolution to reconfirm that secondary and degraded forests can classified as High Conservation Value (HCV) areas. The designation could increase the area of forest conserved within oil palm plantations provided it has high conservation significance, such as serving as habitat for endangered species like orangutans, Sumatran tigers, and rhinos.
Saving the best for last: a journey into the final phases of orangutan rehabilitation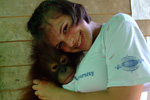 (11/08/2010) Rehabilitation is a powerful word these days. Fashionable, too. In wildlife conservation, rehabilitation can serve functions ranging from augmenting threatened animal populations to desperate attempts to save species from permanent extinction. At its base, rehabilitation consists of handling, preparing and releasing wild animals that have been in some way negatively affected by humans. Rehabilitation programs cover the globe (from cottage-scale sparrow and raccoon rescues in suburban parks to well-established raptor protection programs, wolf rehabilitation and public education about these wild predators in Colorado, semi-touristy rehabilitation centers in Thailand housing everything from gibbons to elephants, vet hospitals dedicated to flu-ridden bobtail lizards in Australia, and sexy lion and cheetah hubs in southern Africa which breed endangered serval cats). The motivations behind these programs are also diverse, but the umbrella goal is unified: to aid the continued survival, so often precarious, of animals valued by people.
Corporations, conservation, and the green movement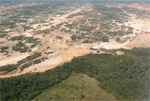 (10/21/2010) The image of rainforests being torn down by giant bulldozers, felled by chainsaw-wielding loggers, and torched by large-scale developers has never been more poignant. Corporations have today replaced small-scale farmers as the prime drivers of deforestation, a shift that has critical implications for conservation. Until recently deforestation has been driven mostly by poverty—poor people in developing countries clearing forests or depleting other natural resources as they struggle to feed their families. Government policies in the '60s, '70s, and '80s had a multiplier effect, subsidizing agricultural expansion through low-interest loans, infrastructure projects, and ambitious colonization schemes, especially in the Amazon and Indonesia. But over the past two decades, this has changed in many countries due to rural depopulation, a decline in state-sponsored development projects, the rise of globalized financial markets, and a worldwide commodity boom. Deforestation, overfishing, and other forms of environmental degradation are now primarily the result of corporations feeding demand from international consumers. While industrial actors exploit resources more efficiently and cause widespread environmental damage, they also are more sensitive to pressure from consumers and environmental groups. Thus in recent years, it has become easier—and more ethical—for green groups to go after corporations than after poor farmers.
Environmentalists must recognize 'biases and delusions' to succeed

(10/18/2010) As nations from around the world meet at the Convention on Biological Diversity in Nagoya, Japan to discuss ways to stem the loss of biodiversity worldwide, two prominent researchers argue that conservationists need to consider paradigm shifts if biodiversity is to be preserved, especially in developing countries. Writing in the journal Biotropica, Douglas Sheil and Erik Meijaard argue that some of conservationists' most deeply held beliefs are actually hurting the cause.
Orangutans can survive in timber plantations, selectively logged forests
(09/23/2010) Selectively logged forests and timber plantations can serve as habitat for orangutans, suggesting that populations of the endangered ape may be more resilient than previously believed, reports research published in the journal PlosONE. The study, conducted by a team of researchers led by Erik Meijaard of Jakarta-based People and Nature Consulting International, found roughly equivalent population densities between natural forest areas and two pulp and paper plantation concessions in East Kalimantan, Indonesian Borneo.
APP refutes Greenpeace charges on deforestation, though audit remains absent

(08/12/2010) Asia Pulp & Paper, which has long been a target of green groups for deforestation and threatening imperiled species, is touting a new audit the pulping company says finds allegations made by environmental NGOs, including Greenpeace and WWF, are "baseless, inaccurate, and without validity". Conducted by the international accounting and auditing firm Mazars, the audit itself has not been released; however Mazars has signed off on the validity of a 24 page document entitled "Getting the Facts Down on Paper".
Orangutan populations collapse in pristine forest areas
(08/12/2010) Orangutan encounter rates have fallen six-fold in Borneo over the past 150 years, report researchers writing in the journal PLoS One. Erik Meijaard, an ecologist with People and Nature Consulting International, and colleagues compared present-day encounter rates with collection rates from naturalists working in the mid-19th Century. They found orangutans are much rarer today even in pristine forest areas. The results suggest hunting is taking a toll on orangutan populations.
Camp merges technology and conservation for local students

(08/03/2010) From July 23-25, Taiwanese undergraduates held a camp in Bukit Lawang, Sumatra, that taught local high school students to use technology as a conservation tool. The Taiwanese volunteers aimed to help local people in this popular rainforest tourism destination to use the Internet to research and promote sustainable tourism practices. The high school students, who had no formal training in using the Internet, learned to use email, produce a blog, conduct research, and use GPS devices to create a map of part of the local trail system.
Scientists condemn current development plan in Kalimantan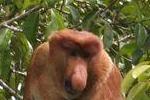 (08/02/2010) Scientists with the Association for Tropical Biology and Conservation (ATBC) have released a resolution opposing the current development plan for a road and bridge crossing Balikpapan Bay in the Indonesian state of Kalimantan. The resolution states that the plan threatens not only the fragile ecosystems within the bay, but of the nearby mangroves as well as the Sungai Wain forest and its watershed, vital for local industry and people. According to ATBC, the plan could be easily remedied by officials picking an alternate route, which is also favored by locals since it would be 80 kilometers shorter.
Indonesian people-not international donors or orangutan conservationists-will determine the ultimate fate of Indonesia's forests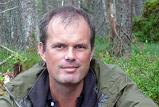 (07/29/2010) Many of the environmental issues facing Indonesia are embodied in the plight of the orangutan, the red ape that inhabits the islands of Borneo and Sumatra. Orangutan populations have plummeted over the past century, a result of hunting, habitat loss, the pet trade, and human-ape conflict. Accordingly, governments, charities, and concerned individuals have ploughed tens of millions of dollars into orangutan conservation, but have little to show in terms of slowing or reversing the decline. The same can be said about forest conservation in Indonesia: while massive amounts of money have been put toward protecting and sustainable using forests, the sum is dwarfed by the returns from converting forests into timber, rice, paper, and palm oil. So orangutans—and forests—continue to lose out to economic development, at least as conventionally pursued. Poor governance means that even when well-intentioned measures are in place, they are often undermined by corruption, apathy, or poorly-designed policies. So is there a future for Indonesia's red apes and their forest home? Erik Meijaard, an ecologist who has worked in Indonesia since 1993 and is considered a world authority on orangutan populations, is cautiously optimistic, although he sees no 'silver bullet' solutions.
Captive orangutans: enriching bodies, minds, and lives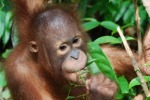 (07/22/2010) Visitors to the Orangutan Care Center and Quarantine (OCCQ) are always delighted by the sight of playful young orangutans. Hairy orange youngsters swinging through the branches or tossing balls around always induce fits of cooing and camera clicking. These activities appear to be so natural that it is easy to forget these are orphans in rehabilitation school and one of the main classes is Enrichment. The term enrichment has become a catchword in the world of captive animal husbandry in the past few years and for many organizations, enrichment has become a new focus as more and more research reveals how critical enrichment is to the physical, mental, and emotional wellbeing of captive animals.
Violence a part of the illegal timber trade, says kidnapped activist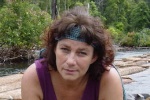 (07/07/2010) The European parliament made a historical move today when it voted overwhelmingly to ban illegal timber from its markets. For activists worldwide the ban on illegal timber in the EU is a reason to celebrate, but for one activist, Faith Doherty of the Environmental Investigation Agency (EIA), the move has special resonance. In early 2000, Doherty and an Indonesian colleague were kidnapped, beaten, and threatened with a gun by illegal loggers in Indonesian Borneo.




Page 1 | Page 2