News articles on ocean acidification

---
Mongabay.com news articles on ocean acidification in blog format. Updated regularly.






Chemical clues in fossil shells may help us understand today's ocean acidification
(02/04/2015) As atmospheric CO2 levels rise, so too do those in the sea, leading to ocean acidification that outpaces that of any other time in tens of millions of years. Some effects of ocean acidification are imminent, like the fact that calcified organisms such as corals and shellfish will have access to less and less of the chemical components they need to build their shells and skeletons.
Empty seas? Scientists warn of an industrialized ocean
(01/15/2015) This is obvious, but still important: humans are not a marine species. Even as we have colonized most of our planet's terrestrial landscapes, we have not yet colonized the oceans. And for most of our history, we have impacted them only on the periphery. A new review in Science finds that this has saved marine species and ecosystems from large-scale damage—that is, until the last couple centuries.
Extreme cold and drought in U.S. linked to climate change
(05/23/2014) The U.S. Midwest and Northeast experienced one of the coldest, snowiest winters on record this past season. This might seem contrary to warming trends forecast by climate scientists, but a new analysis released today in Science points out that climate change caused by greenhouse gas emissions may actually have contributed to the well-below average temperatures seen in parts of the U.S.
Underwater horrors: shells of marine life melting off the coast of the U.S.
(05/08/2014) It could be the plot of a horror movie: humans wake up one day to discover that chemical changes in the atmosphere are dissolving away parts of their bodies. But for small marine life known as sea butterflies, or pteropods, this is what's happening off the West Cost of the U.S. Increased carbon in the ocean is melting away shells of sea butterflies.
Apocalypse now? Climate change already damaging agriculture, acidifying seas, and worsening extreme weather
(03/31/2014) It's not just melting glaciers and bizarrely-early Springs anymore; climate change is impacting every facet of human civilization from our ability to grow enough crops to our ability to get along with each other, according to a new 2,300-page report from the Intergovernmental Panel on Climate Change (IPCC). The massive report states definitively that climate change is already affecting human societies on every continent.
Corals thriving despite acidified conditions in remote Pacific bay
(02/25/2014) Scientists have discovered a small island bay in the Pacific which could serve as a peephole into the future of the ocean. Palau's Rock Island Bay harbors a naturally occurring anomaly – its water is acidified as much as scientists expect the entire ocean to be by 2100 as a result of rising carbon dioxide emissions.
Ocean acidifying 10 times faster than anytime in the last 55 million years, putting polar ecosystems at risk
(02/24/2014) An assessment of ocean acidification, presented at the UN Climate Change Conference in Warsaw in November 2013, starkly concluded that acidity is on track to rise 170 percent by the end of this century. As many key species are sensitive to changes in acidity, this would drastically impact ocean ecosystems, with effects especially pronounced in polar regions where the cold waters intensify acidification, and which are home to many organisms that are particularly vulnerable to acidification.
Global warming could upset Antarctic food chain
(01/02/2014) Resting near the bottom of the foodchain, Antarctic krill (Euphausia superba) underpin much of the Southern Ocean's ecosystem. But in a rapidly warming world, these hugely-abundant crustaceans could see their habitat shrink considerably. In a recent paper in PLOS ONE, scientists predict that Antarctic krill could lose 20 percent of their growth habitat, or 1.2 million square kilometers.
Governments should respond to ocean acidification 'as urgently as they do to national security threats'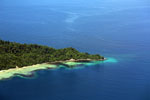 (10/03/2013) The oceans are more acidic now than they have been for at least 300m years, due to carbon dioxide emissions from burning fossil fuels, and a mass extinction of key species may already be almost inevitable as a result, leading marine scientists warned on Thursday. An international audit of the health of the oceans has found that overfishing and pollution are also contributing to the crisis, in a deadly combination of destructive forces that are imperiling marine life, on which billions of people depend for their nutrition and livelihood.
Bad feedback: ocean acidification to worsen global warming

(08/28/2013) As if ocean acidification and climate change weren't troubling enough (both of which are caused by still-rising carbon emissions), new research published in Nature finds that ocean acidification will eventually exacerbate global warming, further raising the Earth's temperature.
Google Earth presents fish-eye view of coral reefs

(08/20/2013) You can now visit up-close and personal some of the world's most imperiled ecosystems on Google Earth: coral reefs. The Google team is working with scientists to provide 360 degree panoramas, similar to Google street-view, to give armchair ecologists a chance to experience the most biodiverse ecosystems under the waves.
Ocean acidification pushing young oysters into 'death race'

(06/11/2013) Scientists have long known that ocean acidification is leading to a decline in Pacific oyster (Crassostrea gigas) in the U.S.'s Pacific Northwest region, but a new study in the American Geophysical Union shows exactly how the change is undercutting populations of these economically-important molluscs. Caused by carbon dioxide emissions, ocean acidification changes the very chemistry of marine waters by lowering pH levels; this has a number consequences including decreasing the availability of calcium carbonate, which oysters and other molluscs use to build shells.
Warnings of global ecological tipping points may be overstated
(03/05/2013) There's little evidence that the Earth is nearing a global ecological tipping point, according to a new Trends in Ecology and Evolution paper that is bound to be controversial. The authors argue that despite numerous warnings that the Earth is headed toward an ecological tipping point due to environmental stressors, such as habitat loss or climate change, it's unlikely this will occur anytime soon—at least not on land. The paper comes with a number of caveats, including that a global tipping point could occur in marine ecosystems due to ocean acidification from burning fossil fuels. In addition, regional tipping points, such as the Arctic ice melt or the Amazon rainforest drying out, are still of great concern.
Animals dissolving due to carbon emissions
(12/03/2012) Marine snails, also known as sea butterflies, are dissolving in the Southern Seas due to anthropogenic carbon emissions, according to a new study in Nature GeoScience. Scientists have discovered that the snail's shells are being corroded away as pH levels in the ocean drop due to carbon emissions, a phenomenon known as ocean acidification. The snails in question, Limacina helicina antarctica, play a vital role in the food chain, as prey for plankton, fish, birds, and even whales.
Threatened Galapagos coral may predict the future of reefs worldwide
(11/07/2012) The Galapagos Islands have been famous for a century and a half, but even Charles Darwin thought the archipelago's list of living wonders didn't include coral reefs. It took until the 1970s before scientists realized the islands did in fact have coral, but in 1983, the year the first major report on Galapagos reef formation was published, they were almost obliterated by El Niño. This summer, a major coral survey found that some of the islands' coral communities are showing promising signs of recovery. Their struggle to survive may tell us what is in store for the rest of the world, where almost three-quarters of corals are predicted to suffer long-term damage by 2030.
Coral calcification rates fall 44% on Australia's Great Barrier Reef

(09/04/2012) Calcification rates by reef-building coral communities on Australia's Great Barrier Reef have slowed by nearly half over the past 40 years, a sign that the world's coral reefs are facing a grave range of threats, reports a new study published in the Journal of Geophysical Research - Biogeosciences.
Earth's ecosystems still soaking up half of human carbon emissions
(08/06/2012) Even as humans emit ever more carbon dioxide into the atmosphere, Earth's ecosystems are still sequestering about half, according to new research in Nature. The study finds that the planet's oceans, forests, and other vegetation have stepped into overdrive to deal with the influx of carbon emitted from burning fossil fuels, but notes that this doesn't come without a price, including the acidification of the oceans.
2,600 scientists: climate change killing the world's coral reefs
(07/10/2012) In an unprecedented show of concern, 2,600 (and rising) of the world's top marine scientists have released a Consensus Statement on Climate Change and Coral Reefs that raises alarm bells about the state of the world's reefs as they are pummeled by rising temperatures and ocean acidification, both caused by greenhouse gas emissions. The statement was released at the 12th International Coral Reef Symposium.
World failing to meet promises on the oceans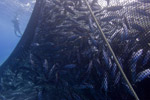 (06/14/2012) Despite a slew of past pledges and agreements, the world's governments have made little to no progress on improving management and conservation in the oceans, according to a new paper in Science. The paper is released just as the world leaders are descending on Rio de Janeiro for Rio+20, or the UN Summit on Sustainable Development, where one of the most watched issues is expected to be ocean policy, in part because the summit is expected to make little headway on other global environmental issues such as climate change and deforestation. But the new Science paper warns that past pledges on marine conservation have moved too slowly or stagnated entirely.
Featured video: Google Earth highlights imperiled coral reefs around the world

(04/18/2012) A new video by Google Earth and the World Resources Institute (WRI) highlights the world's many endangered coral reefs. A part of the WRI's Reefs at Risk program, the video highlights regional and global threats to the oceans' most biodiverse ecosystem. According to the WRI, a stunning 75 percent of the world's reefs are currently threatened.
Carbon emissions paving way for mass extinction in oceans

(03/05/2012) Human emissions of carbon dioxide may be acidifying the oceans at a rate not seen in 300 million years, according to new research published in Science. The ground-breaking study, which measures for the first time the rate of current acidification compared with other occurrences going back 300 million years, warns that carbon emissions, unchecked, will likely lead to a mass extinction in the world's oceans. Acidification particularly threatens species dependent on calcium carbonate (a chemical compound that drops as the ocean acidifies) such as coral reefs, marine mollusks, and even some plankton. As these species vanish, thousands of others that depend on them are likely to follow.
11 challenges facing 7 billion super-consumers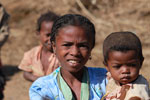 (10/31/2011) Perhaps the most disconcerting thing about Halloween this year is not the ghouls and goblins taking to the streets, but a baby born somewhere in the world. It's not the baby's or the parent's fault, of course, but this child will become a part of an artificial, but still important, milestone: according to the UN, the Earth's seventh billionth person will be born today. That's seven billion people who require, in the very least, freshwater, food, shelter, medicine, and education. In some parts of the world, they will also have a car, an iPod, a suburban house and yard, pets, computers, a lawn-mower, a microwave, and perhaps a swimming pool. Though rarely addressed directly in policy (and more often than not avoided in polite conversations), the issue of overpopulation is central to environmentally sustainability and human welfare.
Ocean prognosis: mass extinction
(06/20/2011) Multiple and converging human impacts on the world's oceans are putting marine species at risk of a mass extinction not seen for millions of years, according to a panel of oceanic experts. The bleak assessment finds that the world's oceans are in a significantly worse state than has been widely recognized, although past reports of this nature have hardly been uplifting. The panel, organized by the International Program on the State of the Ocean (IPSO), found that overfishing, pollution, and climate change are synergistically pummeling oceanic ecosystems in ways not seen during human history. Still, the scientists believe that there is time to turn things around if society recognizes the need to change.
Ocean acidification dissolves algae, deafens fish

(06/02/2011) As if being a major contributor to global warming wasn't enough, the increasing amount of carbon dioxide produced through human activity is also acidifying our oceans - and doing so more rapidly than at any other time in more than half a million years. New projections show that at current rates of acidification, clownfish and many species of algae may be unable to survive by 2100.
Coral crisis: 75% of the world's coral reefs in danger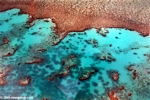 (02/23/2011) Marine scientists have been warning for years that coral reefs, the most biodiverse ecosystems in the ocean, are facing grave peril. But a new comprehensive analysis by the World Resources Institute (WRI) along with twenty-five partners ups the ante, finding that 75% of the world's coral reefs are threatened by local and global impacts, including climate change. An updating of a 1996 report, the new analysis found that threats had increased on 30% of the world's reefs. Clearly conservation efforts during the past decade have failed to save reefs on a large-scale.
The ocean crisis: hope in troubled waters, an interview with Carl Safina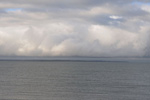 (02/07/2011) Being compared—by more than one reviewer—to Henry Thoreau and Rachel Carson would make any nature writer's day. But add in effusive reviews that compare one to a jazz musician, Ernest Hemingway, and Charles Darwin, and you have a sense of the praise heaped on Carl Safina for his newest work, The View from Lazy Point: A Natural Year in an Unnatural World. Like Safina's other books, The View from Lazy Point focuses on the beauty, poetry, and crisis of the world's oceans and its hundreds-of-thousands of unique inhabitants. Taking the reader on a journey around the world—the Arctic, Antarctic, and the tropics—Safina always returns home to take in the view, and write about the wildlife of his home, i.e. Lazy Point, on Long Island. While Safina's newest book addresses the many ways in which the ocean is being degraded, depleted, and ultimately imperiled as a living ecosystem (such as overfishing and climate change) it also tweezes out stories of hope by focusing on how single animals survive, and in turn how nature survives in an increasingly human world. However, what makes Safina's work different than most nature writing is his ability to move seamlessly from contemporary practical problems to the age-old philosophical underpinnings that got us here. By doing so, he points a way forward.
Photos: Scientists race to protect world's most endangered corals

(01/11/2011) As corals around the world disappear at alarming rates, scientists are racing to protect the ones they can. At a workshop led by the Zoological Society of London (ZSL), the world's foremost coral experts met in response to a decade of unprecedented reef destruction to identify and develop conservation plans for the ten most critically endangered coral species.
Beyond gloom: solutions to the global coral reef decline

(11/10/2010) The world's coral reefs are in trouble. Due to a variety of factors—including ocean acidification, warming temperatures from climate change, overfishing, and pollution—coral cover has decline by approximately 125,000 square kilometers in the past 50 or so years. This has caused some marine biologists, like Charlie Veron, Former Chief Scientist of the Australian Institute of Marine Science, to predict that coral reefs will be largely extinguished within a century. This year alone, large-scale coral bleaching events, whereby coral lose their symbiotic protozoa and become prone to disease and mortality, were seen off the coasts of Indonesia, the Philippines, and some Caribbean islands. However a new paper in Trends in Ecology and Evolution attempts to dispel the gloom over coral reefs by pointing to strategies, and even some successes, to save them.
Carbon emissions hurting coral recruitment

(11/08/2010) While research has shown that ocean acidification from rising CO2 levels in the ocean imperils the growth and survival mature coral reefs, a new study has found that it may also negatively impact burgeoning corals, by significantly lowering the success of coral recruitment. A study in the Proceedings of the National Academy of Sciences (PNAS) has found that coral recruitment could fall by 73% over the next century due to increasing acidification.
World needs to protect 32 million square kilometers of ocean in two years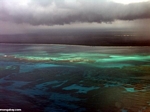 (10/20/2010) According to goals set in 2002 by the Convention on Biological Diversity (CBD) and the World Summit on Sustainable Development, nations must spend the next two years catching-up on creating ocean reserve. Currently, about 1.17 percent of the ocean is under some form of protection, but the 2002 goal was 10 percent by 2012. That means protecting over 32.5 million square kilometers, of the ocean twice the size of Russia. According to a recent report, Global Ocean Protection by the Nature Conservancy, not only is the world failing on its goals to protect a significant portion of the ocean, it's also failing to protect 10 percent of various marine ecosystems.
Majority of Americans confused on climate change basics

(10/17/2010) Most Americans don't understand the basics of climate change, according to a new poll by researchers with Yale. The poll found that over half of Americans deserve an 'F' on basic understanding of climate science and climate change, while only 1% would receive an 'A'.
Coral reef survival depends on the super small, an interview with Forest Rohwer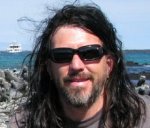 (08/30/2010) If you take a teaspoon and dip it into the ocean what will you have? Some drops of lifeless water? Only a few decades ago this is what scientists would have said, however, the development of increasingly powerful microscopes have shown us a world long unknown, which has vital importance for the survival of one of the world's most threatened and most treasured ecosystems: coral reefs. A single milliliter of water is now known to contain at least a million living microbes, i.e. organisms too small to see without a microscope. After discovering their super-abundant presence, researchers are now beginning to uncover how these incredibly tiny life-forms shape the fate of the world's coral reefs.
Backbone of marine food chain in alarming decline

(07/28/2010) Tiny marine algae, known as phytoplankton, are the backbone of the marine food chain, yet a new study in Nature has found that this backbone is disintegrating. Researchers discovered that since 1950 phytoplankton has declined by approximately 40 percent across the Northern Hemisphere, a decline that corresponds to warming waters due to climate change. Given that phytoplankton feed the oceans' abundance all the way up the food chain—from zooplankton to fish to seabird to sharks to humans—the decline has likely impacted the very structure of the ocean.
Coral reefs doomed by climate change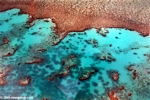 (07/22/2010) The world's coral reefs are in great danger from dual threats of rising temperatures and ocean acidification, Charlie Veron, Former Chief Scientist of the Australian Institute of Marine Science, told scientists attending the Association for Tropical Biology and Conservation meeting in Sanur, Bali. Tracing the geological history of coral reefs over hundreds of millions of years, Veron said reefs lead a boom-and-bust existence, which appears to be correlated with atmospheric carbon dioxide levels. With CO2 emissions rising sharply from human activities, reefs—which are home to perhaps a quarter of marine species and provide critical protection for coastlines—are poised for a 'bust' on a scale unlike anything seen in tens of millions of years.
Amazing reefs: how corals 'hear', an interview with Steve Simpson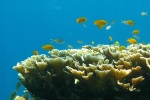 (07/21/2010) Corals aggregate to form vast reefs, which are home to numerous species and provide vital ecological services such as protecting shorelines. However, coral reefs are one of the most threatened ecosystems in the world due to many factors, such as global warming and ocean acidification. Recent research by Simpson and his team of scientists has shown that corals, rather than drifting aimlessly after being released by their parent colonies and by chance landing back on reefs, instead find their way purposefully to reefs by detecting the sound of snapping shrimps and grunting fish on the reef. However, that discovery also means that the larvae might struggle to find reefs when human noises, like drilling or boats, mask the natural ocean sounds.
In the midst of marine collapse will we save our last ocean?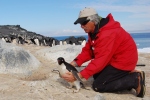 (07/05/2010) Imagine an ocean untouched by oil spills: a sea free of pollution, invasive species, dead zones, and over-exploitation; waters where marine animals exist in natural abundance and play ecological roles undimmed by mankind. Such a place may sound impossible in today's largely depleted oceans, but it exists: only discovered in 1841, the Ross Sea spreads over nearly a million kilometers adjacent to the Antarctic continent. Here killer whales, penguins, sea birds, whales, and giant fish all thrive. However, even with its status as the world's 'last ocean', the Ross Sea has not escaped human impact. Over the last 15 years commercial fisheries have begun to catch one of its most important species in the ecosystem to serve them up on the dinner plates of the wealthy.
World failing on every environmental issue: an op-ed for Earth Day
(04/22/2010) The biodiversity crisis, the climate crisis, the deforestation crisis: we are living in an age when environmental issues have moved from regional problems to global ones. A generation or two before ours and one might speak of saving the beauty of Northern California; conserving a single species—say the white rhino—from extinction; or preserving an ecological region like the Amazon. That was a different age. Today we speak of preserving world biodiversity, of saving the 'lungs of the planet', of mitigating global climate change. No longer are humans over-reaching in just one region, but we are overreaching the whole planet, stretching ecological systems to a breaking point. While we are aware of the issues that threaten the well-being of life on this planet, including our own, how are we progressing on solutions?
If protected coral reefs can recover from global warming damage

(01/10/2010) A study in the Caribbean has found that coral reefs can recover from global warming impacts, such as coral bleaching, if protected from fishing. Marine biologists have long been worried that coral reefs affected by climate change may be beyond recovery, however the new study published in PLoS ONE shows that alleviating another threat, overfishing, may allow coral reefs to cope with climate change.
Climate change causing irreversible acidification in world's oceans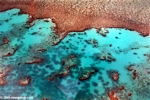 (12/15/2009) A new study from the Secretariat of the Convention on Biological Diversity has synthesized over 300 reports on ocean acidification caused by climate change. The report finds that increasing acidification will lead to irreversible damage in the world's oceans, creating a less biodiverse marine environment. Released today the report determines that the threat to marine life by ocean acidification must be considered by policymakers at the UN Climate Change Conference in Copenhagen.
Photos: ten beloved species threatened by global warming

(12/14/2009) The International Union for the Conservation of Nature (IUCN) has released a list of ten species that are likely to be among the hardest hit by climate change, including beloved species such as the leatherback sea turtle, the koala, the emperor penguin, the clownfish, and the beluga whale. The timing of the list coincides with the negotiations by world leaders at the UN Climate Change Conference to come up with an international agreement to combat climate change.
Oceans' ability to sequester carbon diminishing

(11/18/2009) A new study—the first of its kind—has completed an annual accounting of the oceans' intake of carbon over the past 250 years, and the news is troubling. According to the study, published in Nature, the oceans' ability to sequester carbon is struggling to keep-up with mankind's ever-growing emissions. Since 2000 researchers estimate that while every year the oceans continue to sequester more anthropogenic carbon emission, the overall proportion of carbon taken in by the oceans is declining.
Declaration calls for more wilderness protected areas to combat global warming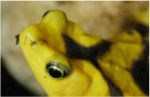 (11/11/2009) Meeting this week in Merida, Mexico, the 9th World Wilderness Congress (WILD9) has released a declaration that calls for increasing wilderness protections in an effort to mitigate climate change. The declaration, which is signed by a number of influential organizations, argues that wilderness areas—both terrestrial and marine—act as carbon sinks, while preserving biodiversity and vital ecosystem services.
Coral reef troubles indicate broader ecological problems

(11/10/2009) Today, many of our planet's natural areas are seriously threatened by human incursion, overexploitation and global warming: Less than a fifth of the world's original forest cover remains in unfragmented tracts, while just one-third of coastal mangroves survive to protect coastlines from storms and erosion. But none of these are declining as rapidly as coral reefs. By revealing what could be in store for other natural systems, reefs resemble the proverbial canary in a coal mine.
New report predicts dire consequences for every U.S. region from global warming
(06/17/2009) Government officials and scientists released a 196 page report detailing the impact of global warming on the U.S. yesterday. The study, commissioned in 2007 during the Bush Administration, found that every region of the U.S. faces large-scale consequences due to climate change, including higher temperatures, increased droughts, heavier rainfall, more severe weather, water shortages, rising sea levels, ecosystem stresses, loss of biodiversity, and economic impacts.
Starfish may benefit from global warming

(05/25/2009) Climate change is expected to cause widespread disruptions to ecosystems and their resident species. Some creatures will go extinct, others will expand their ranges and thrive. A new study identifies starfish as one of the likely winners from rising ocean temperatures and carbon dioxide concentrations.
Shells thinning due to ocean acidification

(03/13/2009) By soaking up excess CO2 from the atmosphere oceans are undergoing a rise in acidity which is having ramifications across their ecosystems, most frequently highlighted in the plight of coral reefs around the world. However, a new study in Nature Geoscience shows that the acidification is affecting another type of marine life. Foraminifera, a tiny amoeba-like entity numbering in the billions, have experienced a 30 to 35 percent drop in their shell-weight due to the high acidity of the oceans.
Seven new species of deep sea coral discovered

(03/09/2009) In the depths of the Papahānaumokuākea Marine National Monument, which surrounds ten Hawaiian islands, scientists discovered seven new species of bamboo coral. Supported by the National Ocean and Atmospheric Administration (NOAA), the discoveries are even more surprising in that six of the seven species may represent entirely new genus of coral.
Nemo at risk from CO2 emissions? Ocean acidification may hurt baby fish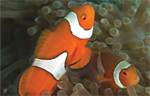 (02/02/2009) Increasing carbon dioxide concentrations in the atmosphere may have an unexpected impact on marine ecosystems: disorienting fish larvae. Research published in this week's issue of the Proceedings of the National Academy of Sciences (PNAS) found that ocean acidification disrupts the olfactory sense of clownfish larvae, making it difficult for the fish to find a habitat, which for clownfish is a sea anemone.
Fish may help fight ocean acidification

(01/19/2009) Fish are a major source of calcium carbonate production in marine ecosystems, a finding that has implications for ocean acidification, report scientists writing in the journal Science.
Ocean acidification is killing the Great Barrier Reef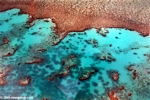 (01/01/2009) Since 1990 the growth of coral in Australia's Great Barrier Reef has slowed its lowest rate in at least 400 years as a result of warming waters and ocean acidification, report researchers writing in Science. The finding portends a bleak near-term future for the giant reef ecosystem as well as calcifying marine organisms around the world.
Climate change will transform the chemical-makeup of the ocean

(12/11/2008) By studying the ocean's past, scientists have discovered that climate change has a much larger affect on ocean chemistry than expected. The study, published in Science, reveals that 13 million years ago climate change significantly altered the chemical composition of the oceans. Such changes in the ocean's chemical makeup today could have a great impact on marine life, already stressed by overfishing and pollution.
Tropical ocean dead zones could increase 50 percent by 2050

(11/18/2008) If carbon dioxide levels continue to rise as expected, marine dead zones in the tropics are expected to increase by 50 percent in just over four decades, according to a new study from the Leibniz Institute of Marine Sciences in Germany. The expansion of marine dead zones in tropical seas could have devastating impacts on ocean ecosystems and fisheries.
'Safe' CO2 level may destroy the fishing industry, wreck reefs

(09/23/2008) An atmospheric carbon dioxide concentration of 450 parts-per-million (ppm) — a target level deemed safe by the United Nations Framework Convention on Climate Change (UNFCCC) — would be devastating to marine ecosystems warn scientists writing in the journal Geophysical Research Letters.
The long-ignored ocean emergency and what can be done to address it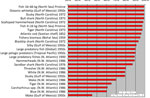 (08/18/2008) This year has been full of bad news regarding marine ecosystems: one-third of coral species threatened with extinction, dead-zones spread to 415 sites, half of U.S. reefs in fair or bad condition, increase in ocean acidification, tuna and shark populations collapsing, and only four percent of ocean considered pristine. Jeremy Jackson, director of the Scripps Center for Marine Biodiversity and Conservation at the University of California, San Diego, synthesizes such reports and others into a new paper, published in the journal Proceedings of the National Academy of Sciences, that boldly lays out the scope of the oceanic emergency and what urgently needs to be done.
Ocean acidification may hurt reproduction in marine life

(07/30/2008) Ocean acidification due to rising carbon dioxide levels in the atmosphere may be putting the reproductive capabilities of some marine species at risk, reports a new study published in Current Biology by Swedish and Australian scientists.
Climate change will increase the erosion of coral reefs

(07/28/2008) Coral reefs are particularly susceptible to climate change. Warming waters have been shown to bleach coral, killing off symbiotic algae that provide them with sustenance, and often leading to the death of the coral itself. Much attention has been placed on bleaching coral, but now scientists have discovered an additional danger to coral reefs in a warming world: erosion.
1/3 of corals face extinction

(07/10/2008) Nearly one-third of reef-building corals are vulnerable to extinction, according to an assessment of 845 species of coral. Rising temperatures, increased incidence of disease, and human disturbance are driving the trend.
Good news for reefs: giant coral structure found off Brazil

(07/07/2008) Amid a series of dire reports on the status of coral reefs, scientists announced the discovery of a reef off the southern coast of Brazil's Bahia state that doubles the size of the Southern Atlantic Ocean's largest and richest reef system, the Abrolhos Bank.
U.S. coral reefs in trouble

(07/07/2008) Nearly half of U.S. coral reefs are in "poor" or "fair" condition according to a new study by the National Oceanic and Atmospheric Administration (NOAA).
CO2 emissions could doom fishing industry

(07/03/2008) Aside from warming climate, rising carbon dioxide emissions are contributing to ocean acidification, threatening sea live, warn researchers writing in the journal Science. This trend makes it all the more important to reduce emissions, argue the authors.
Ocean acidification worse than expected, threatens sea life

(05/22/2008) Increasing ocean acidification along the continental shelf of North America will likely have negative impacts on marine ecosystems, including the corrosion of calcium carbonate exoskeletons in many organisms, warn researchers writing in the journal Science.
How will global warming affect marine food chains?

(02/17/2008) Rising temperatures and acidity of the world's oceans due to human emissions of carbon dioxide is putting marine food webs at risk warned a researcher speaking at a press briefing at the annual meeting of the American Association for the Advancement of Science in Boston.
Why are oceans at risk from global warming?

(02/17/2008) Climate change is putting the world's oceans at risk by increasing the temperature and acidity of seawater, and altering atmospheric and oceanic circulation, warned a panel of scientists this week at the American Association for the Advancement of Science (AAAS) annual meeting in Boston.
Scientists suggest new geological epoch: ours

(01/30/2008) It would be called the Anthropocene. The word was coined by chemist and Nobel Prize winner Paul Crutzen at a conference in 2000. It denotes a new geological epoch, beginning about 200 years ago at the time of the Industrial Revolution, when our planet's systems were increasingly affected by our species. While the term Anthropocene has been used informally for years, a recent peer-reviewed British paper argues that it is now time to officially accept Anthropocene as a distinct era and to leave the Holocene to the pre-Industrial past.
Global warming will degrade 98% of coral reefs by 2050

(12/13/2007) Ocean acidification caused by human-induced carbon dioxide emissions could dramatically alter the planet's coral reefs and marine food chains, warns research published in the December 14 issue of Science and presented at the fall meeting of the American Geophysical Union (AGU) in San Francisco.
Ocean CO2 collector could fight global warming and ocean acidification

(11/19/2007) Researchers have proposed a geoengineering solution to global warming that involves building a series of water treatment plants that enhance the ability of the ocean to absorb carbon dioxide from the atmosphere by removing hydrochloric acid from seawater by electrolysis.
Global warming is melting soft corals

(11/13/2007) Soft corals are "simply melting and wasting away" due to global warming-induced environmental stress says Dr. Hudi Benayahu, head of Tel Aviv University's Porter School of Environmental Studies.
CO2 emissions cause ocean acidification, threaten sea life

(09/21/2007) Human-induced carbon dioxide (CO2) emissions could alter ocean chemistry to the point where it will violate U.S. Environmental Protection Agency Quality Criteria by mid-century if emissions are not significantly reduce, reports a team of scientists writing in the September 25, 2007 issue of Geophysical Research Letters. The commentary is the first to warn that atmospheric CO2 emissions will cause ocean waters to violate EPA water quality criteria.
Industrial pollution acidifies ocean, threatens marine animals

(09/03/2007) Ocean acidification, already a concern due to rising levels of carbon dioxide, is worsening due to nitric acid and sulfuric acid from industry, report researchers writing in this week's issue of the journal Proceedings of the National Academy of Science (PNAS).
Ocean acidification monitoring system launched

(06/13/2007) The first buoy to monitor ocean acidification has been launched in the Gulf of Alaska reports the National Science Foundation (NSF). Scientists hope the instrument, which will transmit data via satellite, will help examine how ocean circulation and ecosystems interact to determine how much carbon dioxide the north Pacific Ocean absorbs each year.
Coral diseases largely result from human activities

(05/17/2007) The apparent increase in infectious disease among coral is likely the result of environmental change and, as such, researchers should focus on understanding the relationship between coral diseases and environmental changes, rather than the diseases themselves, argues a paper published in the August 2007 issue of the Journal of Experimental Marine Biology and Ecology.
Some corals may survive acidification caused by rising CO2 levels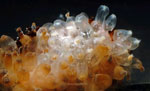 (03/29/2007) Several studies have shown that increased atmospheric carbon dioxide levels are acidifying the world's oceans. This is significant for coral reefs because acidification strips carbonate ions from seawater, making it more difficult for corals to build the calcium carbonate skeletons that serve as their structural basis. Research has shown that many species of coral, as well as other marine microorganisms, fare quite poorly under the increasingly acidic conditions forecast by some models. However, the news may not be bad for all types of corals. A study published in the March 30 issue of the journal Science, suggests that some corals may weather acidification better than others.
Some corals can adapt to ocean acidification

(07/06/2006) While scientists warn that increasing ocean acidity will doom marine animals that build skeletons and structural elements out of calcium carbonate, new research has found that corals can change their skeletons, building them out of different minerals depending on the chemical composition of the seawater around them. However, the research provides further evidence that corals are extremely sensitive to rapid environmental change and will be negatively affected by increased carbon dioxide levels in the short-term.
Increasingly acidic oceans damaging to marine life

(07/05/2006) Carbon dioxide emissions are altering ocean chemistry and putting sea life at risk according to a new report released today. The report, "Impacts of Ocean Acidification on Coral Reefs and Other Marine Calcifiers," summarizes known effects of increased atmospheric carbon dioxide on marine organisms that produce calcium carbonate skeletal structures, such as corals. Oceans worldwide absorbed approximately 118 billion metric tons of carbon between 1800 and 1994 according to the report, resulting in increased ocean acidity, which reduces the availability of carbonate ions needed for the production of calcium carbonate structures.
Pacific Ocean getting warmer and more acidic

(03/31/2006) The Pacific Ocean is getting warmer and more acidic, while the amount of oxygen is decreasing, due to increased absorption of atmospheric carbon dioxide say scientists from the National Oceanic and Atmospheric Administration's Pacific Marine Environmental Laboratory and the University of Washington.