News articles on mining

---
Mongabay.com news articles on mining in blog format. Updated regularly.





10 years following tsunami, Aceh aims to create its own, new, and totally preventable disaster


(12/11/2014) In the run-up to the tenth anniversary of the devastating 2004 tsunami, that claimed the lives of around 200,000 of Aceh's people, there is much concern that Aceh seems now to be deliberately steering itself towards yet another, entirely avoidable disaster. One that will harm yet more people and cause even more long-term economic damage to the province.


Indigenous leader murdered before he could attend Climate Summit


(12/08/2014) Days before José Isidro Tendetza Antún was supposed to travel to the UN Climate Summit in Lima to publicly file a complaint against a massive mining operation, he went missing. Now, the Guardian reports that the body of the Shuar indigenous leader has been found, bound and buried in an unmarked grave on the banks of the Zamora River.


Giant stone face unveiled in the Amazon rainforest (video)


(12/04/2014) A new short film documents the journey of an indigenous tribe hiking deep into their territory in the Peruvian Amazon to encounter a mysterious stone countenance that was allegedly carved by ancient peoples. According to Handcrafted Films, which produced the documentary entitled The Reunion, this was the first time the Rostro Harakbut has been filmed.


Chinese logging company takes over Guyana's forests


(11/26/2014) Foreign companies investing in Guyana's substantial forests are supposed to adhere to national laws and international agreements. But civil society leaders and activists inside and outside the South American country are crying foul, saying foreign corporations and government officials are paying lip service to the accords while quietly building a timber-harvesting empire in the country with few benefits for the average Guyanese.


Developing land without approval of local people 'a human rights issue of grave concern,' says new report


(11/20/2014) Throughout the tropics, staggering amounts of land have been designated for natural resource extraction—as much as 40 percent of Peru, 30 percent of Indonesia and 35 percent of Liberia. However, much of this land is already in use; it is being inhabited by local communities and indigenous peoples. And while it is possible to live on and extract resources from the same land, when local communities are not consulted in this exchange, conflict may erupt.


A tale of 2 Perus: Climate Summit host, 57 murdered environmentalists


(11/18/2014) On September 1st, indigenous activist, Edwin Chota, and three other indigenous leaders were gunned down and their bodies thrown into rivers. Chota, an internationally-known leader of the Asháninka in Peru, had warned several times that his life was on the line for his vocal stance against the destruction of his peoples' forests, yet the Peruvian government did nothing to protect him—or others.


Mapping mistake leaves wildlife at risk


(11/12/2014) Scientists have discovered a new, endangered plant species in the Democratic Republic of Congo (DRC), in an area that is supposed to be protected as a reserve. However, mapping errors effectively moved the reserve's boundaries 50 kilometers to the west, opening up the region and its vulnerable wildlife to human disturbance.


Only place where rhinos, tigers, elephants, and orangutans coexist is under threat


(11/12/2014) A forest that is the only place where rhinos, tigers, elephants, and orangutans coexist is under threat from planned infrastructure, mining, logging, and plantation projects, warns a new report from the Rainforest Action Network. The report looks at one of the last vestiges of wilderness on the island of Sumatra, which for the past three decades has been heavily ravaged by logging, fires, and conversion to industrial timber and oil palm plantations. This area, known as the Leuser Ecosystem, is today a battleground between business-as-usual interests seeking to mine its forests and a collection of conservationists, local communities, and a collection of companies seeking to steward its resources.


New laws may turn Brazil's forests into mines


(11/07/2014) With the world's largest system of protected areas and a 70 percent drop in the deforestation rate of the Amazon over the past decade, Brazil has made huge strides in safeguarding what's left of its wilderness. However, this progress now hangs in the balance, with new laws threatening to turn many of the country's protected areas into mines and dams.


Flying under the radar in Central Africa, Chinese companies may be wreaking environmental havoc


(11/07/2014) Tchimpounga, chimpanzees, and extractive industries in the Republic of Congo. 'Tchimpounga is not just a sanctuary,' shouted Rebeca Atencia above the din of the outboard motor, as she pointed to our progress up the Kouilou River on her tablet, donated by Google, which included access to high-resolution satellite maps. The GPS tracking showed us as a small, blue diamond moving slowly up the murky river.


Another mining company found operating in flagrant violation of Indonesian law

(11/06/2014) A Harita group mining company in West Kalimantan, Indonesia has been operating well outside of its permit boundary, reports local NGO, Forest Monitoring Volunteers of Borneo (RPHK). Their investigation found that PT. Karya Utama Tambang Jaya, is operating illegally on 78 hectares of land. The company holds permits to mine bauxite (aluminum ore) on 8,878 hectares.


'Too many people': Philippine island being deforested despite extensive protections


(10/31/2014) About an hour and a half plane ride from the Philippine capital Manila is Palawan, a long, narrow island home to about a quarter of all the animal species found in the country. But the province is losing its forests at a rapid clip due to human population increases, logging, quarrying, mining, and even a huge palm plantation.


Gold mining expanding rapidly along Guiana Shield, threatening forests, water, wildlife


(10/22/2014) Gold mining is on the rise in the Guiana Shield, a geographic region of South America that holds one of the world's largest undisturbed tract of rainforest. A new mapping technology using a radar and optical imaging combination has detected a significant increase in mining since 2000, threatening the region's forests and water quality.


Coal, climate and orangutans – Indonesia's quandary


(10/21/2014) What do the climate and orangutans have in common? They are both threatened by coal - the first by burning it, and the second by mining it. At the recent United Nations Climate Summit in New York, world leaders and multinational corporations pledged a variety of actions to reduce greenhouse gas emissions and deforestation to avert a looming disaster caused by global warming.


Top scientists raise concerns over commercial logging on Woodlark Island


(10/21/2014) A number of the world's top conservation scientists have raised concerns about plans for commercial logging on Woodlark Island, a hugely biodiverse rainforest island off the coast of Papua New Guinea. The scientists, with the Alliance of Leading Environmental Scientists and Thinkers (ALERT), warn that commercial logging on the island could imperil the island's stunning local species and its indigenous people.


Indonesia developing mega coal mine five times larger than Singapore


(10/20/2014) Global miner BHP Billiton and Indonesian partner PT Adaro are developing what could become the single largest mine in Indonesia in terms of land area, with BHP owning 75 percent. The IndoMet mine complex in Central and East Kalimantan provinces on Borneo comprises seven coal concessions, which cover 350,000 hectares, or about five times the size of Singapore.


Indonesia's tough choice: capping coal as Asian demand grows


(10/17/2014) Indonesia cannot build power stations fast enough. And neither can most of its Asian neighbors. Rapid economic and population growth are driving equally rapid demands for electricity as the region builds out power grids to connect up millions of people to fuel prosperity.


Indonesia tries to clamp down on coal sector's worst excesses


(10/16/2014) Out of the jungles of East Borneo in Indonesia comes the fire that fuels Asia's burgeoning economies: coal. Miners dig deep open pits, clearing forests and farmlands to extract coal from thick black seams, which is then crushed and loaded onto trucks and barges for shipment to China, India, Japan and other destinations in Asia.


'River wolves' recover in Peruvian park, but still remain threatened inside and out (photos)


(10/14/2014) Lobo de río, or river wolf, is the very evocative Spanish name for one of the Amazon's most spectacular mammals: the giant river otter. This highly intelligent, deeply social, and simply charming freshwater predator almost vanished entirely due to a relentless fur trade in the 20th Century. But decades after the trade in giant river otter pelts was outlawed, the species is making a comeback.


The Zanaga iron ore mine – a test of best laid plans for preserving wildlife


(10/06/2014) One of the largest iron ore deposits in Africa is located in a strip 47 kilometers long and three kilometers wide in the Republic of the Congo (RoC), bordering Gabon. A core section of the Guineo-Congolian Forest rises above this vast mineral deposit, and provides a home to flagship endangered species like western lowland gorillas, chimpanzees, and forest elephants.


Coal mine has heavy impact in Indonesian Borneo


(09/26/2014) Baharuddin should be happy. The rambutan and durian trees flanking his home are heavy with fruit. Two hectares of chilies stretch before his house. The price of chili — a staple commodity in Indonesia — has been stable for six months. From his 2,000 plants he hopes to earn 40 million rupiah ($3,400), much of which he wants to invest in expanding his crop. That is, if his farm can survive the threats that have destroyed so many of his neighbor's.


Turning point for Peru's forests? Norway and Germany put muscle and money behind ambitious agreement


(09/24/2014) From the Andes to the Amazon, Peru houses some of the world's most spectacular forests. Proud and culturally-diverse indigenous tribes inhabit the interiors of the Peruvian Amazon, including some that have chosen little contact with the outside world. And even as scientists have identified tens-of-thousands of species that make their homes from the leaf litter to the canopy.


Scientists name new endangered species after the company that will decide its fate


(08/24/2014) Scientists have discovered a new snail species near a cement quarry in Malaysia, which as far as they know lives nowhere else in the world. It lives on a limestone hill called Kanthan given as a concession to an international company Lafarge. The cement producer quarries the hill for raw materials. As a result, the scientists have named the species after the company that will decide if it goes extinct.


Under pressure over pollution complaints, Aceh calls for closure of gold mines

(08/22/2014) In the wake of massive fish die-offs and repeated calls from environmental groups to do more than just talk about the issue, the government of Aceh has called for the closure of all illegal gold mines throughout the province. Several members of the Regional Leadership Coordination Forum signed a written appeal for illegal miners to immediately stop their operations.


Have scientists discovered a new primate in the Philippines?


(08/21/2014) Despite some media reports, scientists have not yet discovered a new species of big-eyed, nocturnal primate—known as tarsiers—in the Philippines. Instead what they have discovered is an intriguing population that is genetically-distinct even from nearby relatives, according to a new open-access paper in PLOS ONE.


Looming mining 'tsunami' set to take Africa by storm


(08/20/2014) Africa remains something of an untapped mineral resource, as the vast majority of extraction occurs elsewhere. However, a new report documents a surging tide of foreign interest in mining in Africa and cautions that the sector's unchecked development and expansion could devastate the environment.


Aceh backtracking on mining moratorium, continues to issue permits


(08/13/2014) The Governor of Aceh Province, Indonesia appears unwilling to implement a mining moratorium, despite repeated statements he intends to do so. Governor Zaini Abdullah, a co-founder of the separatist Free Aceh Movement (GAM), has said on several occasions that he believes there should be a moratorium on mining licenses, however watch-groups claim no official policy has been enacted.


Titanium vs. Millipedes: new species discovered in Madagascar threatened by mining


(08/13/2014) A team of scientists from the United States and Germany has recently described seven new species of Malagasy giant pill-millipede. All but one of these species are considered "microendemics," in that they have only been found in small, isolated forest patches.


A paradise being lost: Peru's most important forests felled for timber, crops, roads, mining


(08/12/2014) In 1988, when British environmentalist Norman Myers first described the concept of a "biodiversity hotspot," he could have been painting a picture of the highly threatened Peruvian Andes mountain range. Today, the Andes are an immediate and looming portent of the fate of the Peruvian Amazon rainforest.


Oil palm, mining prompts local govt in Borneo to declare water unsafe for drinking

(08/06/2014) The Environment Ministry of Sintang Regency, West Kalimantan, Indonesia declared that the water in many rivers and lakes is unsuitable for consumption due to high levels of pollution.


Tin mining, palm oil plantations wreaking havoc on small Indonesian island


(08/04/2014) Belitung, a picturesque island off the east coast of Sumatra, has experienced an uptick in tourism recently due to its unspoiled white sand beaches and turquoise waters. But next to all of the beauty, an environmental tragedy is quietly unfolding: the island's primary forests are being cut down at an alarming rate in favor of mining and palm oil plantations.


Peru slashes environmental protections to attract more mining and fossil fuel investment


(07/23/2014) In an effort to kickstart investment in mining and fossil fuels, Peru has passed a controversial law that overturns many of its environmental protections and essentially defangs its Ministry of Environment. The new law has environmentalists not only concerned about its impact on the country but also that the measures will undermine progress at the up-coming UN Climate Summit in December.


Surrounded by deforestation, critically endangered gorillas hang on by a thread


(07/17/2014) The mountain forests at the Nigeria-Cameroon border are home to one of the rarest and most threatened subspecies of African apes – the Cross River gorilla (Gorilla gorilla diehli). Today, fewer than 300 individuals survive in the wild. These occur in 14 small, fragmented populations spread over a 12,000-square kilometer (4,633-square mile) landscape, characterized by rugged, hilly terrain and a matrix of farmlands, villages, and forests.


An end to India's 'Wild West'? Meghalaya bans coal mining... for now


(07/08/2014) Meghalaya, a state in India's northeast, has thick forests above ground and valuable minerals below. Uncontrolled mining in the area has cleared forests, degraded rivers, and led to many accidents and deaths as few health and safety standards exist for mine workers. A ban effected earlier this year halted all mining in the state, but is set to be reconsidered at a hearing scheduled for August.


Scientists discover carnivorous water rat in Indonesia, good example of convergent evolution


(06/19/2014) Researchers have discovered a new carnivorous water rat on the island of Sulawesi that's so unique it represents an entirely new genus. They believe many more new rodent species await discovery in this relatively undisturbed part of Indonesia, but mining and other types of development may threaten vital habitat before it's even surveyed.


Extractive industries and apes


(06/13/2014) Current thinking in the private and public sectors asserts that economic development needs are in conflict with, or mutually exclusive of, the need to conserve the biosphere on which we depend. So, we are asked either to reduce development in the name of conservation or to reduce conservation in the name of development.


Scientists discover 'shark' in Sumatran forest


(05/28/2014) In early April, Indonesian scientists discovered an endangered freshwater fish in the Harapan rainforest of Jambi. The species had never before been observed in the region, and is declining elsewhere throughout its range.


Dangerous work: how one man empowered communities and stopped a coal mine


(04/29/2014) For many years, Ramesh Agrawal has worked to spread awareness of the environmental repercussions of India's coal industry to local residents, empowering them with information and speaking out on their behalf. In 2012, his tireless efforts shut down development of a major coal mine, which would have been the largest in the state of Chhattisgarh.


Nearly a thousand environmental activists murdered since 2002


(04/15/2014) At least 908 people were murdered for taking a stand to defend the environment between 2002 and 2013, according to a new report today from Global Witness, which shows a dramatic uptick in the murder rate during the past four years. Notably, the report appears on the same day that another NGO, Survival International, released a video of a gunman terrorizing a Guarani indigenous community in Brazil.


Forests in Indonesia's concession areas being rapidly destroyed


(04/10/2014) Forest clearing within areas zoned for timber, logging, oil palm, and mining accounted for nearly 45 percent of deforestation in Indonesia between 2000 and 2010, finds a new study that examined forest loss within industrial concessions.


Indigenous communities demand forest rights, blame land grabs for failure to curb deforestation


(03/25/2014) Indigenous and forest-dependent peoples from Asia, Africa and Latin America have called for increased recognition of customary land rights in order to curb deforestation and ensure the survival of their communities. The Palangkaraya Declaration on Deforestation and the Rights of Forest Peoples calls on governments to uphold forest peoples' rights to control and manage their customary lands and to halt rights-violating development projects being carried out without consent from local communities.


Norway's pension fund continues to invest in coal companies destroying Indonesia's forests

(03/06/2014) Norway's massive sovereign wealth fund is continuing to invest in coal companies that are destroying forests in Indonesia despite divesting from forestry and plantation companies with poor environmental track records, reports the Rainforest Foundation Norway.


The price of gold: winners and losers in Latin America's mining industry


(03/05/2014) On a Friday afternoon in June, the Plaza de Armas in Cajamarca is pulsing with life. It's winter here, and although thick white clouds hover low in the distance, the sun in this northern Peruvian city is warm. Couples sit on benches facing one another. Kids run in the grass between flowerbeds. Men in suits stride along the perimeter. It's an idyllic day. But signs of something more ominous are not far from sight. On the mountainside overlooking the town the words Nova Conga have been carved into the vegetation. It is a constant reminder that beyond the square, hemmed with international hotels and expensive restaurants, there is another reality.


Uprising against illegal mining in Indonesia pits villagers against miners, police

(02/19/2014) Hundreds of villagers and fishermen on Bangka Island in North Sulawesi attempted to stop a ship owned by PT Mikgro Metal Perdana (MMP) from offloading heavy machinery to be used in mining operations. The Indonesian Supreme Court ruled in November that the company's mining permits, issued by the local government, should be invalidated.


The making of Amazon Gold: once more unto the breach


(02/19/2014) When Sarah duPont first visited the Peruvian Amazon rainforest in the summer of 1999, it was a different place than it is today. Oceans of green, tranquil forest, met the eye at every turn. At dawn, her brain struggled to comprehend the onslaught of morning calls and duets of the nearly 600 species of birds resounding under the canopy. Today, the director of the new award-winning film, Amazon Gold, reports that "roads have been built and people have arrived. It has become a new wild west, a place without law. People driven by poverty and the desire for a better life have come, exploiting the sacred ground."


Environmentalists call for recognition of orangutan, rhino habitat as heritage site

(12/11/2013) Environmentalists in Indonesia's Aceh Province are calling upon the local governor to nominate the Leuser Ecosystem as a UNESCO World Heritage Site to help protect the area — one of the last places where rhinos, elephants, tigers, and orangutans share the same habitat — from new legislation that would grant large blocks of forest for logging concessions, mining, and industrial plantations.


Average American consumes 50,000 pounds of raw materials annually for the stuff they buy


(12/10/2013) The average American car weighs about 3,000 pounds. But to produce that vehicle, a lot more raw materials were used than its final weight! Maybe as much as 100 times more, as reported by scientists in a recent paper in the Proceedings of National Academy of Science. For this car to be produced, iron ore is mined in Australia and made into steel. Steel is then shipped to Japan and made into a car, which is then sold in the U.S. Most studies until now, measured national consumption by accounting only for the final weight of the products we purchase.


Gold mine near controversial Belo Monte dam suspended

(11/22/2013) A gold mining project proposed near the Belo Monte dam site in the Amazon rainforest has been suspended by a Brazilian court, reports Reuters.


The quicksilver demon: rogue gold-mining is the world's largest source of mercury pollution


(11/20/2013) In 1956, in the quiet seaside town of Minamata on the southwestern coast of Japan's Kyushu Island, cats began to behave very strangely. They convulsed, displayed excessive salivation, and gradually lost the ability to walk. Then, dead birds began to fall out of the sky. Shellfish opened and decomposed. Fish also displayed abnormal behaviors, eventually floating up to the surface of the Shiranui Sea. Many of the ailing cats wandered into the sea and drowned. Soon, there were no more cats alive in the area.


Mining the Heart of Borneo: coal production in Indonesia


(11/20/2013) Indonesia is the world's top exporter of coal – supplying energy to China, India, and elsewhere. Indonesia is also ranked the fourth top emitter of greenhouse gases in the world (after China, the USA, and the European Union), largely due to high deforestation rates and peatland fires. This ranking does not take into consideration the carbon emissions that Indonesia 'exports' in the form of coal.


Renewable energy revolution will require better management of metals

(10/30/2013) If we are to avoid catastrophic climate change, scientists say global society will need a rapid and aggressive replacement of fossil fuel energy for renewable, such as solar, wind, geo-thermal, and tidal. While experts say a renewable revolution would not only mitigate climate change but also likely invigorate economies and cut life-threatening pollution, such a revolution would not come without challenges. According to a new commentary piece in Nature Geoscience one of the largest challenges of the renewable revolution will be rising demand for metals, both rare and common.


Mining Road Plan Threatens Forest Restoration Project in Indonesia

(10/29/2013) A plan for a coal transport road continues to threaten a project to restore one of the last remaining lowland forests in Sumatra. The status of the permit for the road, which would run through the Hutan Harapan (Forest of Hope) ecosystem restoration project, remains in limbo, despite multiple objections by the forest's concession holders. However, a representative from Indonesia's Ministry of Forestry has promised to convene a meeting with stakeholders to discuss the issue.


Gold mining in the Amazon rainforest surges 400%


(10/28/2013) The extent of gold mining in the Peruvian Amazon has surged 400 percent since 1999 due to rocketing gold prices, wreaking havoc on forests and devastating local rivers, finds a new study published in the Proceedings of the National Academy of Sciences (PNAS). The assessment, led by Greg Asner of the Carnegie Institution for Science, is based on a combination of satellite imagery, on-the-ground field surveys, and an advanced airplane-based sensor that can accurately measure the rainforest canopy and sub-canopy vegetation at a resolution of 1.1 meters (42 inches).


Coal railway could cause 'ecological disaster' in Indonesian Borneo, warn environmentalists

(09/30/2013) Activists have urged the Indonesian government to cancel or reassess plans to build a 148-kilometer coal railway in Indonesian Borneo, claiming the project will be an 'ecological disaster' that will destroy watersheds and lead to increased coal exploitation in the region, threatening ecosystems and undermining local government commitments to reduce greenhouse gas emissions.


Has Brazil turned against its progressive environmental policies?


(09/30/2013) Last year, Brazil rolled back crucial parts of its landmark Forestry Code, potentially opening vast tracts of forest for destruction; it is also moving ahead on a number of Amazon dams, including the infamous Belo Monte, despite international condemnation and conflict with indigenous people. Meanwhile, a new law under consideration proposes allowing large-scale mining in protected areas. Given this a new paper in mongabay.com's open access journal Tropical Conservation Science argues that Brazil has thrown off its once admired mantle of environmental legislation, imperiling hundreds of thousands of species in the most biodiverse country on Earth.


Video of Amazon gold mining devastation goes viral in Peru


(09/26/2013) Video of illegal gold mining operations that have turned a portion of the Amazon rainforest into a moonscape went viral on Youtube after a popular radio and TV journalist in Peru highlighted the story. Last week Peruvian journalist and politician Guido Lombardi directed his followers to video shot from a wingcam aboard the Carnegie Airborne Observatory (CAO), an airplane used by researchers to conduct advanced monitoring and analysis of Peru's forests. The video quickly received more than 60,000 views on Youtube.


Last disease-free Tasmanian devils imperiled by mine


(08/07/2013) The federal environment minister, Mark Butler, has given the go-ahead to a controversial mine that the courts halted amid concerns it could drastically affect the last stronghold of the Tasmanian devil. Butler said he had granted approval to Shree Minerals to proceed with its iron ore mine at Nelson Bay River in the north-west of Tasmania, subject to 30 conditions.


Deforestation rate falls in Congo Basin countries


(07/22/2013) Deforestation has fallen in Congo Basin countries over the past decade despite a sharp increase in the rate of forest clearing in the Democratic Republic of the Congo, according to a new study published in the Philosophical Transactions of the Royal Society B as part of a set of 18 papers on the region's tropical forests. The special issue, which was put together by Oxford University's Yadvinder Malhi, covers a range of issues relating to the rainforests of the Congo Basin, including deforestation, the impacts of global change, the history and key characteristics of the region's forests, and resource extraction, among others.


Apple investigating if tin for smart phones involved child labor

(07/17/2013) Apple is investigating whether tin mined from Bangka Island in Indonesia, where child labor and environmental damage from the mining has been reported, is used in its iPhones and other products.


Colombian mining dispute highlights legislative disarray

(06/27/2013) Colombian authorities have ruled that local environmental officials acted correctly in ordering South African mining giant AngloGold Ashanti to halt their work, following demands from the multinational corporation for their disciplining. Cortolima, the environmental authority of the department of Tolima in central Colombia, stopped AngloGold from conducting unsanctioned exploration activities in the Tolima municipality of Piedras in March.


Indonesian NGOs demand inquiry into natural resource graft

(06/26/2013) A coalition of anti-corruption and environmental NGOs has urged Indonesia's anti-graft body to investigate cases of corruption in the natural resources sector. Corruption linked to the forestry, mining and plantation industries leads to billions of dollars in state losses each year, the coalition said, with the country's natural resources being used as a virtually bottomless piggy bank by corrupt officials.


Mining in Indonesia taking a heavy social, environmental toll


(06/03/2013) In a patch of rainforest in northern Sumatra, a 28-year-old in jeans and tall rubber boots snubs out his cigarette and pulls a headlamp over his short black hair. Standing under a tarp, he flicks the light on and leans over the entrance of a narrow shaft lined with wooden planks that he and other miners cut from trees that once stood here. He gives a sharp tug on a rope that dangles 100 meters, plateauing in sections, and slides down. For hours, the man, Sarial, will use a pick to scrape away and bag rocks that are hauled to the surface by another miner, using a wooden wheel.


Scientists discover high mercury levels in Amazon residents, gold-mining to blame


(05/28/2013) The Madre de Dios region in Peru is recognized for its lush Amazon rainforests, meandering rivers and rich wildlife. But the region is also known for its artisanal gold mining, which employs the use of a harmful neurotoxin. Mercury is burned to extract the pure gold from metal and ore producing dangerous air-borne vapors that ultimately settle in nearby rivers. 'Mercury in all forms is a potent neurotoxin affecting the brain, central nervous system and major organs,'Luis Fernandez, an ecologist and research associate at the Carnegie Institution's Department of Global Ecology, told mongabay.com. 'At extremely high exposure levels, mercury has been documented to cause paralysis, insanity, coma and death.'


U.S. company's open pit gold mine in UNESCO reserve in Mexico raises concerns


(05/28/2013) Sierra la Laguna is a unique ecosystem reserve spanning more than 100,000 hectares in the southern tip of the California peninsula. It is one of the best-preserved natural areas in Mexico and home to about 100 traditional farmer families as well as multiple endemic animal and plant species. But there is one more thing that makes the region unique: approximately 2 million ounces of gold reserves underground worth $2.8 billion at current gold prices.


Top Indonesian official calls out misinformation in environmental campaign

(05/20/2013) Indonesia's top REDD+ official confirmed there is no plan to open 1.2 million hectares of forest in Sumatra's Aceh Province, calling into question numbers used by environmentalists in their bid to stop reclassification of the province's forest land.


NGO: conflict of interests behind Peruvian highway proposal in the Amazon


(05/16/2013) As Peru's legislature debates the merits of building the Purús highway through the Amazon rainforest, a new report by Global Witness alleges that the project has been aggressively pushed by those with a financial stake in opening up the remote area to logging and mining. Roads built in the Amazon lead to spikes in deforestation, mining, poaching and other extractive activities as remote areas become suddenly accessible. The road in question would cut through parts of the Peruvian Amazon rich in biodiversity and home to indigenous tribes who have chosen to live in "voluntary isolation."


Petition targeting plan to open protected forests in Indonesia for mining, logging reaches 1M signatures

(05/15/2013) An AVAAZ petition calling upon Indonesian officials to put a stop to a proposal to open tens of thousands of hectares of protected rainforest to mining, logging, and oil palm plantations has surpassed one million signatures.


Uranium mine at edge of Grand Canyon National Park approved


(05/08/2013) Uranium mining on the doorstep of the Grand Canyon national park is set to go ahead in 2015 despite a ban imposed last year by Barack Obama. Energy Fuels Resources has been given federal approval to reopen its old Canyon Mine, located six miles south of the canyon's popular South Rim entrance, that attracts nearly 5 million visitors a year.


Health effects of toxic waste sites in developing countries could rival malaria, air pollution, new study shows


(05/07/2013) Exposure to dangerous chemicals from toxic waste sites may be creating a public health crisis in developing countries comparable to that caused by malaria or even air pollution, a new study suggests, highlighting the urgent need to clean up toxic waste. In a study published on Saturday in Environmental Health Perspectives, researchers calculated the number of 'healthy years of life lost' due to ill-health, disability or early death in individuals at risk of exposure to chemicals at 373 toxic waste sites in India, the Philippines and Indonesia.


Cement producers hunting for limestone could threaten Borneo caves

(04/30/2013) Steep towers and rock formations jut out of the Borneo rainforest, sitting atop a vast network of caves and underground waterways in Indonesia's Mangkalihat-Sangkulirang region. This dramatic karst landscape, created by the slow erosion of limestone mountains in Indonesia's East Kalimantan province, also contains prehistoric fossils and cave paintings created by some of Borneo's earliest inhabitants and serves as an important source of water for the surrounding area.


Mining companies must turn to recycling as demand for metals grows

(04/30/2013) Demand for metals is likely to increase tenfold as developing economies surge ahead, putting severe stress on the natural environment, a new report from the United Nations Environment Program (Unep) has warned. The organization has suggested a novel response: bring in the mining companies—often seen as the environmental villains—to sort out the recycling.


Samsung admits to using tin linked to child labor, deforestation; Apple mum on sourcing


(04/25/2013) Mobile device giant Samsung has admitted to using tin sourced from a controversial mining operation on the Indonesian island of Bangka, where unregulated mining kills 150 miners a year and causes substantial environmental damage, reports The Guardian and Mongabay-Indonesia.


To win concessions in Aceh, mining company hires official being investigated for graft


(04/18/2013) A Toronto Stock Exchange-listed mining company has hired an official being investigated for corruption under its effort to convince the Aceh provincial government to re-zone protected forest areas for a gold mine on Indonesia's Sumatra island, according to an alliance of Indonesian environmentalists. The official, former Golkar Deputy Chairman Fadel Muhammad, has been retained by East Asia Minerals to help it win a carve-out for its Miwah project, a 30,000-hectare concession atop a forested mountain in Aceh.


Mining company working with Indonesian govt to strip forest of protected status


(04/16/2013) A Toronto-listed mining company says it is working closely with the Indonesian government to strip the protected status of some 1.2 million hectares of forest on the island of Sumatra. In a statement issued Tuesday, East Asia Minerals Corporation (TSX:EAS) claimed it is actively involved in the process of devising a new spatial plan for Aceh province, Sumatra's western-most province. The proposed changes to the spatial plan, which governs land use in the province, would re-zone large areas of protected forest in Aceh for industrial activities.


Anti-mining activist from Indonesia wins top green honor


(04/15/2013) Aleta Baun, an activist who led a movement to block a destructive mine in a remote part of Indonesia, was today awarded the prestigious Goldman Prize, the top honor for green campaigners. Aleta is an indigenous Mollo from Timor, an island in Eastern Indonesia. Raised among small farmers, Aleta's activism emerged as a response to marble mining in the mountains above her community's fields. Deforestation and mining by the companies resulted in landslides, soil erosion, and water pollution.


Investigation clears APP of deforestation allegations in Borneo


(04/04/2013) Two logging companies that supply Asia Pulp & Paper (APP) with timber have not violated the Indonesian forestry giant's new zero deforestation commitment, according to a field investigation by The Forest Trust, a conservation group. The investigation was a direct response to allegations raised in a report published last week by Relawan Pemantau Hutan Kalimantan (RPHK), a consortium of local NGOs in West Kalimantan, the western-most province in Indonesian Borneo. The RPHK report found evidence of active clearing within two concession areas linked to Asia Tani Persada (ATP) and Daya Tani Kalbar (DTK), companies that supply APP with timber for its pulp mills.


China's hunger for resources has big environmental impact in Latin America

(03/29/2013) Amazonian forest cleared in Ecuador, a mountain leveled in Peru, the Cerrado savannah converted to soy fields in Brazil and oil fields under development in Venezuela's Orinoco belt.


APP suppliers allegedly slashing forests and peatlands in Indonesia, despite new 'no deforestation' policy


(03/27/2013) Less than two months after its implementation, two Asia Pulp & Paper (APP) suppliers in Indonesian Borneo have been accused of violating the company's new sustainability policy, which includes a zero deforestation commitment throughout its entire supply chain.


Conservation scientists: Aceh's spatial plan a risk to forests, wildlife, and people


(03/22/2013) A group of biologists and conservation scientists meeting in Sumatra warned that potential changes to Aceh's spatial plan could undermine some of the ecological services that underpin the Indonesian province's economy and well-being of its citizens. After its meeting from March 18-22 in Banda Aceh, the Asia chapter of the Association for Tropical Biology and Conservation (ATBC) issued a declaration [PDF] highlighting the importance of the region's tropical forest ecosystem, which is potentially at risk due to proposed changes to its spatial plan.


Roads could help protect the environment rather than destroy it, argues Nature paper


(03/22/2013) Rapidly expanding road networks are causing large-scale damage to forests but proper infrastructure planning and implementation could actually turn them into a net positive for the environment, argue researchers writing in the journal Nature. William Laurance and Andrew Balmford highlight the severe environmental impacts of roads in wilderness areas, including fostering illegal logging, poaching, colonization, and land speculation.


Into the unknown mountains of Cambodia: rare birds, rice wine, and talk of tigers


(03/14/2013) Ringed with forested mountains forming the borders with Laos and Vietnam, the northeast corner of Cambodia has been an intriguing blank spot among my extensive travels through the country. Nestled up against this frontier is Virachey National Park, created in 1993. I began searching for a way to explore this area a couple of years ago, hoping to connect with conservation NGOs to get me into the park; no one seemed to know much about it. I learned that the area had been written off by these groups due to massive land concessions given to logging and rubber concerns. The World Bank abandoned its 8-year effort to create a management scheme for Virachey after the concessions were granted in 2007. A moratorium on the concessions is temporarily in place, but illegal logging incursions into the park continue.


Aceh claims deal to open 1.2M ha of protected forest to logging, mining is near

(03/14/2013) Indonesia's Ministry of Forestry is close to accepting a proposal to open 1.2 million hectares of forest in Aceh for mining, logging, and palm oil production, reports the Aceh Post.


Burning coal may be killing over 100,000 people in India every year


(03/13/2013) India's dependence on coal-fired power plants for energy may be leading directly to the deaths of 80,000 to 115,000 of its citizens every year, according to the first ever report on the health impacts of coal in the country. The report, commissioned by the Conservation Action Trust and Greenpeace-India, deals only with the direct health impact of coal and not climate change. But even ignoring the rising pain of global warming, the bleak report outlines that coal consumption in India is causing over 20 million asthma attacks, nearly a million emergency room visits, and killing some 10,000 children under five annually.


Brazilian agency rejects Canadian company's bid to mine controversial Amazon dam site for gold

(02/13/2013) Brazil's Federal Public Ministry rejected a proposed gold mining project adjacent to a controversial dam site in the heart of the Amazon rainforest, reports Amazon Watch, an environmental activist group that is campaigning against both the mine and the dam.


In search of conflict-free tin from the Congo

(02/12/2013) I am excited to be returning to the Democratic Republic of Congo (DRC) this weekend. My previous visit in January and February of last year was with a delegation aiming to analyze and audit the first conflict-free supply of tantalum from the DRC via the Solutions for Hope 'closed pipe' project. The success of Solutions for Hope, which Motorola Solutions helped to found with AVX, proved that it is possible to source minerals from the DRC through a secure, traceable chain of custody from mine to smelter. This trip extends from that work with the Conflict-Free Tin Initiative (CFTI).


Amazon river ecosystems being rapidly degraded, but remain neglected by conservation efforts

(02/08/2013) The world's largest river system is being rapidly degraded and imperiled by dams, mining, overfishing, and deforestation, warns a study published last week by an international team of scientists.


Investors beware: global land grabbing ends in 'financial damage' and human rights violations


(02/07/2013) Investing in companies that flout local community rights in developing countries often leads to severe economic losses, according to a new report from the Rights and Resources Initiative (RRI). A rising trend in "land grabbing" from Africa to South America by corporations and even foreign governments results in social instability, which can lead to large-scale protests, violence, and even murder, delaying and sometimes derailing projects. Such instability poses massive risk to any investor, not to mention supporting corporate entities that are accused of ignoring human rights.


Indonesian province of East Kalimantan imposes moratorium on deforestation

(02/02/2013) The Indonesian province of East Kalimantan has imposed a one-year moratorium on new permits for logging, mining, and oil palm plantations, reports Reuters.


Miners win ruling over indigenous groups in Guyana

(01/29/2013) A judge in Guyana's high court has ruled that indigenous groups do not have the right to expel legal miners from their land. The judge, Diana Insanally, found that if the miners in question held a government-approved license than the local community had no right to dispute the mining. The ruling has sparked protests by indigenous groups and is expected to be appealed.


Large blocks of Sumatra's endangered rainforest may be put up for mining, logging


(01/28/2013) The Indonesian province of Aceh on the western tip of the island of Sumatra may be preparing to lift the protected status of key areas of lowland rainforest potentially ending its bid to earn carbon credits from forest conservation and putting several endangered species at increased risk, according to reports.


New website tracks protected areas under attack


(01/16/2013) The struggle to safeguard wild lands and species doesn't end when a park or protected area is created. In fact, social scientists and conservationists are increasingly uncovering a global trend whereby even long-established protected areas come under pressure by industrial, governmental, or community interests. This phenomenon, recently dubbed PADDD (which stands for Protected Area Downgrading, Downsizing, and Degazettement), includes protected areas that see their legal status lowered (downgraded), lose a section of their land (downsized), or are abolished entirely (degazetted). Now, a new website from WWF seeks to track PADDD events worldwide.


Troops in Madagascar free miners held hostage by local protesters

(01/16/2013) Troops in Madagascar last weekend freed nearly 200 employees of Rio Tinto who were trapped inside by a mine by local people protesting the project, reports AFP.


Gold mine approved in French Guiana's only national park


(01/15/2013) Tensions have risen in the small Amazonian community of Saül in French Guiana after locals discovered that the French government approved a large-scale gold mining operation near their town—and inside French Guiana's only national park—against their wishes. Run by mining company, Rexma, locals and scientists both fear that the mine would lead to deforestation, water pollution, and a loss in biodiversity for a community dependent on the forest and ecotourism.


Environment ministry drops copper mine in Zambezi park

(01/07/2013) A proposed copper mine set to be built in Lower Zambezi National Park has been rejected by Zambia's environmental management agency. Australian company Zambezi Resources Ltd, a subsidiary of Proactive Investors, had scheduled the $494 million Kangaluwi Copper Project to begin production in 2015. But their proposal sparked an outcry from environmentalists and government lobbyists concerned about the effects of the open pit mine in the park. Though mining is not generally permitted in the park, Zambezi Resources obtained a Large-Scale Mining License from the government which would have allowed them to mine for 25 years right in the middle of Lower Zambezi National Park.


The year in rainforests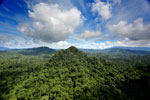 (12/31/2012) 2012 was another year of mixed news for the world's tropical forests. This is a look at some of the most significant tropical rainforest-related news stories for 2012. There were many other important stories in 2012 and some were undoubtedly overlooked in this review. If you feel there's something we missed, please feel free to highlight it in the comments section. Also please note that this post focuses only on tropical forests.


108 million ha of Amazon rainforest up for oil and gas exploration, development

(12/08/2012) Concessions for oil and gas exploration and extraction are proliferating across Amazon countries, reports a comprehensive new atlas of the region.


Mining boom in the Amazon

(12/08/2012) The world's largest rainforest is in the midst of a mining boom fueled by high mineral prices, reveals a new assessment of the Amazon's resources.


Illegal logging, mining worsened impact of Philippines' killer typhoon

(12/06/2012) According to Filipino officials, rampant illegal logging and mining were likely a part of the cause for the high casualty count from Category 5 Typhoon Bopha (Pablo), especially in the Compostela Valley where government officials had warned people to stop the illegal activities. So far, 370 people have been found dead on the island of Mindanao with another 400 missing. Waters rose so high even emergency shelters were inundated.


Deforestation rate falls across Amazon rainforest countries


(12/06/2012) The average annual rate of deforestation across Amazon rainforest countries dropped sharply in the second half of the 2000s, reports a comprehensive new assessment of the region's forest cover and drivers of deforestation. While the drop in deforestation in the Brazilian Amazon has been widely reported, several other Amazon countries saw their rates of forest loss drop as well, according to the report, which was published by a coalition of 11 Latin American civil society groups and research institutions that form the Amazonian Network of Georeferenced Socio-Environmental Information (RAISG).


Featured video: how locals depend on Kalimantan's vanishing forests

(11/27/2012) A new video explores local indigenous views of the forests of Kalimantan or Indonesian Borneo. Having depended on the rainforest ecosystems for centuries, indigenous groups now find themselves under pressure to exploit forest for logging, coal mining, or industrial plantations. While biodiversity, carbon sequestration, and other ecosystem services are at stake, the forests are also deeply intertwined with the culture and way-of-life for indigenous group.



Page 1 | Page 2 | Page 3