News articles on mammals

---
Mongabay.com news articles on mammals in blog format. Updated regularly.





New global network bridges gap for primate conservation educators


(05/21/2013) Drawing from her personal experience as a primate educator and the challenges she saw others facing, Amy Clanin envisioned a network that would advance the field of primate conservation education by addressing three needs of educators: connections, resources, and services. It was this vision that led her to create the Primate Education Network (PEN). PEN is at the forefront of primate conservation education, providing a community and collaboration platform for primate educators.


Scientists capture one of the world's rarest big cats on film (photos)


(05/21/2013) Less than a hundred kilometers from the bustling metropolis of Jakarta, scientists have captured incredible photos of one of the world's most endangered big cats: the Javan leopard (Panthera pardus melas). Taken by a research project in Gunung Halimun-Salak National Park, the photos show the magnificent animal relaxing in dense primary rainforest. Scientists believe that fewer than 250 mature Javan leopard survive, and the population may be down to 100.


Could the Tasmanian tiger be hiding out in New Guinea?


(05/20/2013) Many people still believe the Tasmanian tiger (Thylacinus cynocephalus) survives in the wilds of Tasmania, even though the species was declared extinct over eighty years ago. Sightings and reports of the elusive carnivorous marsupial, which was the top predator on the island, pop-up almost as frequently as those of Bigfoot in North America, but to date no definitive evidence has emerged of its survival. Yet, a noted cryptozoologist (one who searches for hidden animals), Dr. Karl Shuker, wrote recently that tiger hunters should perhaps turn their attention to a different island: New Guinea.


Crazy cat numbers: unusually high jaguar densities discovered in the Amazon rainforest


(05/16/2013) Jaguars (Panthera onca) are the biggest cat in the Americas and the only member of the Panthera genus in the New World; an animal most people recognize, the jaguar is also the third largest cat in the world with an intoxicatingly dangerous beauty. The feline ranges from the harsh deserts of southern Arizona to the lush rainforests of Central America, and from the Pantanal wetlands all the way down to northern Argentina. These mega-predators stalk prey quietly through the grasses of Venezuelan savannas, prowl the Atlantic forests of eastern Brazil, hunt along the river of the Amazon, and even venture into lower parts of the Andes.


Rhino populations in Sumatra, Borneo should be combined to save Sumatran rhino from extinction


(05/15/2013) A new study argues for treating endangered Sumatran populations in Borneo and Sumatra as 'a single conservation unit', lending academic support to a controversial proposal to move wild rhinos from Malaysia to Indonesia.


Why responsible tourism is the key to saving the mountain gorilla


(05/13/2013) The sunlight poured through the canopy, casting dappled shade over Makara, a large silverback mountain gorilla, as he cast his eyes around the forest clearing, checking on the members of his harem. A female gorilla reclined on a bank of dense vegetation of the most brilliant green, clutching her three day old infant close to her chest, and elsewhere, two juvenile gorillas played around a small tree, running rings around it until one crashed into the other and they rolled themselves into a roly-poly ball of jet black fluff that came to a halt a few meters in front of our delighted group.


Are seagulls killing whales in Patagonia?


(05/08/2013) It sounds ludicrous, but it could just be true: scientists say seagulls may be responsible for hundreds of southern right whale moralities off the Argentine coastline. Since 2003, scientists have documented the deaths of 605 southern right whales (Eubalaena australis) near Península Valdés which the whales use as a nursery. Notably, 88 percent of these were newborn calves. The death rate is so high that researchers now fear for the whales' long-term survival.


17 poachers allegedly enter elephant stronghold in Congo, conservationists fear massacre


(05/07/2013) Local researchers and wildlife guards say 17 armed elephant poachers have gained access to Dzanga Bai, a large waterhole and clearing where up to 200 forest elephants visit daily in the Central African Republic (CAR)'s Dzanga-Ndoki National Park. WWF, which works in the region but has recently evacuated due to rising violence, is calling on the CAR government to rapidly mobilize its military to stop another elephant bloodbath in central Africa. Elephants are being killed across their range for their ivory, which is mostly smuggled to East Asia.


A Tale of Two Elephants: celebrating the lives and mourning the deaths of Cirrocumulus and Ngampit


(05/07/2013) On March 21st, the organization Save the Elephants posted on their Facebook page that two African elephants had been poached inside a nearby reserve: "Sad news from the north of Kenya. Usually the national reserves are safe havens for elephants, and they know it. But in the last two weeks two of our study animals have been shot inside the Buffalo Springs reserve. First an 18 year-old bull called Ngampit and then, yesterday, 23 year-old female called Cirrocumulus (from the Clouds family)."


Munching on marine plastic kills sperm whale


(05/07/2013) What do children's toys, balloons, mattresses and plastic bags have in common? They can, along with more non-biodegradable pollutants, be found in the belly of a sperm whale, the topic of a new study in the Marine Pollution Bulletin. The same whale that swallowed Jonah from the Bible, Geppetto from Collodi's Pinocchio, and the crew of the Pequod from Melville's Moby-Dick is now swallowing trash from the Spanish-Mediterranean coast, and in the Strait of Gibraltar.


Unconventional swine: how invasive pigs are helping preserve biodiversity in the Pantanal


(05/06/2013) Ordinarily, invasive and exotic species are a grave threat to native wildlife: outcompeting local species, introducing parasites and disease, and disturbing local ecological regimes. A unique case in the Brazilian Pantanal, however, has turned the tables; here, an introduced mammal has actually aided the conservation of native wildlife.


Featured video: If I were a panda...

(05/06/2013) A new powerful video by the conservation program, APES, highlights the threat faced by many species: not being cute enough. The creative short video was produced pro bono by Ogilvy & Mather Chicago.


Lemur has unexpectedly wide range, diversity of color variations

(05/05/2013) An endangered lemur has a larger range than originally believed but is still at risk due to forest fragmentation and land clearing, reports a study published in the journal Primate Conservation.


Hibernating primates: scientists discover three lemur species sleep like bears


(05/02/2013) Bears do it, bats do it, and now we know lemurs do it too: hibernate, that is. Since 2005, scientists have known that the western fat-tailed dwarf lemur hibernates, but a new study in Scientific Reports finds that hibernation is more widespread among lemurs than expected. At least two additional lemur species—Crossley's dwarf lemur and Sibree's dwarf lemur—have been discovered hibernating. So far lemurs, which are only found on the island of Madagascar, are the only primates known to undergo hibernation, raising curious questions about the relationship between lemur hibernation and more well-known deep sleepers.


Endangered primates and cats may be hiding out in swamps and mangrove forests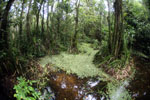 (05/02/2013) What happens to animals when their forest is cut down? If they can, they migrate to different forests. But in an age when forests are falling far and fast, many species may have to shift to entirely different environments. A new paper in Folia Primatologica theorizes that some 60 primate species and 20 wild cat species in Asia and Africa may be relying more on less-impacted environments such as swamp forests, mangroves, and peat forests.


Drill baby drill! The fate of African biodiversity and the monkey you've never heard of


(05/02/2013) Equatorial Guinea is not a country that stands very large in the American consciousness. In fact most Americans think you mean Papua New Guinea when you mention it or are simply baffled. When I left for Bioko Island in Equatorial Guinea, I also knew almost nothing about the island, the nation, or the Bioko drills (Mandrillus leucophaeus poensis). The subspecies of drill is unique to Bioko Island and encountering them was an equally unique experience. I initially went to Bioko as a turtle research assistant but ended up falling in love with the entire ecosystem, especially the Bioko drills as I tagged along with drill researchers.


Malaysia may loan Indonesia rhinos to save species from extinction


(04/30/2013) Conservationists and officials meeting last month at a rhino crisis summit in Singapore agreed to a radical plan to loan Sumatran rhinos between nations if it means saving the critically endangered species from extinction. The proposal, which could still be thwarted by red tape and political opposition, could lead Malaysia to send some of its Sumatran rhinos to semi-captive breeding facilities in Indonesia.


Conservation without supervision: Peruvian community group creates and patrols its own protected area


(04/30/2013) When we think of conservation areas, many of us think of iconic National Parks overseen by uniformed government employees or wilderness areas purchased and run from afar by big-donor organizations like The Nature Conservancy, Wildlife Conservation Society, WWF, or Conservation International. But what happens to ecosystems and wildlife in areas where there's a total lack of government presence and no money coming in for its protection? This is the story of one rural Peruvian community that took conservation matters into their own hands, with a little help from a dedicated pair of primate researchers, in order to protect a high biodiversity cloud forest.


Scientists discover new giant mole rat in Africa (photos)


(04/30/2013) Although the term "giant mole rat" may not immediately inspire love, the mole rats of Africa are a fascinating bunch. They spend practically their entire lives underground building elaborate tunnel systems and feeding on plant stems. This underground lifestyle has led them to evolve small ears, tiny eyes, forward-pointing teeth for digging, and nostrils they can shut at will while digging. Some species are quite social, such as the most famous, the naked mole rat (Heterocephalus glaber), while others live largely solitary lives. If that's not enough, the family of mole rats, dubbed Blesmols, may even help us find a cure for cancer.


Obama Administration to propose stripping protection from all gray wolves

(04/29/2013) The U.S. Fish and Wildlife Service (USFWS) is proposing to end protection for all gray wolves (Canis lupus) in the lower 48 states, save for a small population of Mexican wolves in New Mexico, reports the Los Angeles Times. The proposal comes two years after wolves were removed from the Endangered Species Act (ESA) in western states by a legislative rider on a budget bill, and soon after in the midwest. Since then hunting and trapping has killed over 1,500 wolves in these two regions.


Emergency: large number of elephants being poached in the Central African Republic (warning: graphic image)


(04/25/2013) WWF and the Wildlife Conversation Society (WCS) are issuing an immediate call for action as they report that poachers are killing sizable numbers of forest elephants near the Dzanga-Sangha protected areas in the Central African Republic (CAR). The two large conservation groups have evacuated their staff from the area after a government coup, but local rangers are still trying to determine the scale of the killing while defending remaining elephants. In total the conservation groups believe the parks are home to over 3,000 elephants.


Working to save the mystery antelope that's little bigger than a pet cat (photos)


(04/25/2013) Little is known about the silver dik-dik (Madoqua piacentinii) population that roams the dense coastal bushlands of eastern Africa, but experts are working to learn more about the mysterious species. Weighing little more than a domestic cat, the small antelopes are found in a long, narrow coastal strip spreading across 250 kilometers (155 miles) from Somalia's capital of Mogadishu north to the port town of Hobyo. This coastal strip is known as the Hobyo Grassland and Shrubland eco-region, according to the WWF.


Malaysia may be home to more Asian tapirs than previously thought (photos)


(04/23/2013) You can't mistake an Asian tapir for anything else: for one thing, it's the only tapir on the continent; for another, it's distinct black-and-white blocky markings distinguishes it from any other tapir (or large mammal) on Earth. But still little is known about the Asian tapir (Tapirus indicus), including the number surviving. However, researchers in Malaysia are working to change that: a new study for the first time estimates population density for the neglected megafauna, while another predicts where populations may still be hiding in peninsular Malaysia, including selectively-logged areas.


Rhino horn madness: over two rhinos killed a day in South Africa

(04/22/2013) Rhino poachers have killed 232 rhinos during 2013 so far in South Africa, reports Annamiticus, which averages out to 2.1 a day. The country has become a flashpoint for rhino poaching as it holds more rhinos than any other country on Earth. Rhinos are being slaughter for their horns, which are believed to be a curative in Chinese traditional medicine, although there is no evidence this is so.


Bison return to Germany after 300 year absence

(04/18/2013) Earlier this month, officials took down a fence allowing the first herd of European bison (Bison bonasus) to enter the forests freely in Germany in over 300 years, reports Wildlife Extra. The small herd, consisting of just eight animals (one male, five females and two calves) will now be allowed to roam unhindered in the Rothaar Mountains as their ancestors did long ago.


Unidentified toxin caused the deaths of Borneo elephants

(04/18/2013) After three months, officials still don't know for certain what killed at least 14 Bornean elephants (Elephas maximus borneensis) in the Malaysian state of Sabah. However tests do indicate that the herd perished from a "caustic intoxicant," possibly ingested accidentally or just as easily intentionally poisoned. A distinct subspecies, Bornean elephants are the world's smallest with a population that has fallen to around 2,000 on the island.


Lions for sale: big game hunting combines with lion bone trade to threaten endangered cats


(04/18/2013) Koos Hermanus would rather not give names to the lions he breeds. So here, behind a 2.4-meter high electric fence, is 1R, a three-and-a-half-year-old male, who consumes 5kg of meat a day and weighs almost 200kg. It will only leave its enclosure once it has been "booked"' by a hunter, most of whom are from the United States. At that point the big cat will be set loose in the wild for the first time in its life, 96 hours before the hunt begins. It usually takes about four days to track down the prey, with the trophy hunter following its trail on foot, accompanied by big-game professionals including Hermanus. He currently has 14 lions at his property near Groot Marico, about two and a half hours by road west of Johannesburg.


Civet poop coffee may be threatening wild species


(04/16/2013) Popularization of the world's strangest coffee may be imperiling a a suite of small mammals in Indonesia, according to a new study in Small Carnivore Conservation. The coffee, known as kopi luwak (kopi for coffee and luwak for the civet), is made from whole coffee beans that have passed through the guts of the animal and out the other side. The coffee is apparently noted for its distinct taste, though some have argued it is little more than novelty.


Yangtze porpoise down to 1,000 animals as world's most degraded river may soon claim another extinction


(04/16/2013) A survey late last year found that the Yangtze finless porpoise (Neophocaena asiaeorientalis asiaeorientalis) population has been cut in half in just six years. During a 44-day survey, experts estimated 1,000 river porpoises inhabited the river and adjoining lakes, down from around 2,000 in 2006. The ecology of China's Yangtze River has been decimated the Three Gorges Dam, ship traffic, pollution, electrofishing, and overfishing, making it arguably the world's most degraded major river. These environmental tolls have already led to the likely extinction of the Yangtze river dolphin (Lipotes vexillifer), or baiji, and possibly the Chinese paddlefish (Psephurus gladius), which is one of the world's longest freshwater fish.


Double bad: Chinese vessel that collided with protected coral reef holding 22,000 pounds of pangolin meat

(04/15/2013) What do you do when you're smuggling 22,000 pounds of an endangered species on your boat? Answer: crash into a protected coral reef in the Philippines. Last Monday a Chinese vessel slammed into a coral reef in the Tubbataha National Marine Park; on Saturday the Filipino coastguard discovered 400 boxes of pangolin meat while inspecting the ship. Pangolins, which are scaly insect-eating mammals, have been decimated by the illegal wildlife trade as their scales are prized in Chinese Traditional Medicine and their meat is considered a delicacy.


Future generations to pay for our mistakes: biodiversity loss doesn't appear for decades

(04/15/2013) The biodiversity of Europe today is largely linked to environmental conditions decades ago, according to a new large-scale study in the Proceedings of the National Academy of Sciences (PNAS). Looking at various social and economic conditions from the last hundred years, scientists found that today's European species were closely aligned to environmental impacts on the continent from 1900 and 1950 instead of more recent times. The findings imply that scientists may be underestimating the total decline in global biodiversity, while future generations will inherit a natural world of our making.


South African reserve poisons rhinos' horns to deter poaching

(04/11/2013) A game reserve in South Africa has taken the radical step of poisoning rhino horns so that people risk becoming 'seriously ill' if they consume them.


New species tree-dwelling porcupine discovered in critically threatened Brazilian habitat

(04/11/2013) Scientists in Brazil have described a new species of tree-dwelling porcupine in the country's most endangered ecosystems. The description is published in last week's issue of Zootaxa.


Saviors or villains: controversy erupts as New Zealand plans to drop poison over Critically Endangered frog habitat


(04/10/2013) New Zealand's Department of Conservation (DOC) is facing a backlash over plans to aerially drop a controversial poison, known as 1080, over the habitat of two endangered, prehistoric, and truly bizarre frog species, Archey's and Hochsetter's frogs, on Mount Moehau. Used in New Zealand to kill populations of invasive mammals, such as rats and the Australian long-tailed possum, 1080 has become an increasingly emotive issue in New Zealand, not just splitting the government and environmentalists, but environmental groups among themselves. Critics allege that the poison, for which there is no antidote, decimates local animals as well as invasives, while proponents say the drops are the best way to control invasive mammals that kill endangered species like birds and frogs and may spread bovine tuberculosis (TB).


Beautiful striped bat is the "find of a lifetime" (photos)


(04/10/2013) Scientists have uncovered a rare, brilliantly-striped bat in South Sudan that has yielded new secrets after close study. Working in Bangangai Game Reserve during July of last year, biologist DeeAnn Redeer and conservationist Adrian Garsdie with Fauna & Flora International (FFI) came across an unmissable bat, which has been dubbed by various media outlets as the "badger bat" and the "panda bat."


Amur leopard population rises to 50 animals, but at risk from tigers, poachers


(04/09/2013) In the remote Russian far east, amid pine forests and long winters, a great cat may be beginning to make a recovery. A new survey estimates that the Amur leopard (Panthera pardus orientalis) population has risen to as many as 50 individuals. While this may not sound like much, it's a far cry from the a population that may have fallen to just 25 animals. Sporting the heaviest coat of any leopard, the Amur leopard largely hunts hoofed animals, such as deer and boar, in a forest still ruled by the Siberian tiger.


Sumatran rhino population plunges, down to 100 animals



(04/08/2013) Less than 100 Sumatran rhinos survive in the world today, according to a bleak new population estimate by experts. The last survey in 2008 estimated that around 250 Sumatran rhinos survived, but that estimate now appears optimistic and has been slashed by 60 percent. However conservationists are responding with a major new agreement between the Indonesian and Malaysian governments at a recent summit by the International Union for Conservation of Nature's Species Survival Commission (IUCN SSC).


Has WWF just condemned the last rhino in Kalimantan?


(04/04/2013) WWF-Indonesia recently caught the attention of the global media with their announcement that the Sumatran rhinoceros still exists in Indonesian Borneo, some 40 years after being declared extinct there. This sounds like great news for biodiversity conservation. But is it really?


An insidious threat to tropical forests: over-hunting endangers tree species in Asia and Africa


(04/04/2013) A fruit falls to the floor in a rainforest. It waits. And waits. Inside the fruit is a seed, and like most seeds in tropical forests, this one needs an animal—a good-sized animal—to move it to a new place where it can germinate and grow. But it may be waiting in vain. Hunting and poaching has decimated many mammal and bird populations across the tropics, and according to two new studies the loss of these important seed-disperser are imperiling the very nature of rainforests.


Infamous elephant poacher turns cannibal in the Congo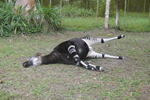 (04/03/2013) Early on a Sunday morning last summer, the villagers of Epulu awoke to the sounds of shots and screaming. In the eastern reaches of the Democratic Republic of the Congo, that can often mean another round of violence and ethnic murder is under way. In this case, however, something even more horrific was afoot.


Sumatran rhino found in Kalimantan after unseen in region for 20 years

(04/02/2013) Conservationists working to save the Sumatran rhino—one of the world's most imperiled mammals—heard good news this week as WWF-Indonesia has found evidence of at least one Sumatran rhino persisting in the Indonesian state of Kalimantan, located on the island of Borneo. Small populations of Sumatran rhinos (Dicerorhinus sumatrensis) survive on Sumatra and on Borneo (in the Malaysian state of Sabah), but this is the first time scientists have confirmed the presence of the notoriously shy animal in Kalimantan in over two decades.


Poachers enlisting impoverished wildlife rangers as accomplices in elephant, rhino killing

(04/01/2013) Corruption among wildlife rangers is becoming a serious impediment in the fight against poaching, fuelled by soaring levels of cash offered by criminal poacher syndicates, senior conservation chiefs have admitted. Rangers in countries as diverse as Tanzania and Cambodia are being bribed by increasingly organised poaching gangs keen to supply ivory, rhino horn and tiger parts to meet huge consumer demand in Asia.


Is it the end for Britain's hedgehogs?


(03/28/2013) As hedgehogs all over the United Kingdom wake up from their winter hibernation, activists will be carefully counting their hogs. Every year, the hedgehog population in Britain's rural towns declines by an estimated 5 percent. But between 2011 and 2012, a survey conducted by the People's Trust for Endangered Species (PTES), a UK-based animal activism group, saw the country's European hedgehog (Erinaceus europaeus) population fall a dismal 32 percent.


2 'giant' yet tiny mouse lemurs identified in Madagascar

(03/27/2013) Scientists have discovered two new species of mouse lemurs in Madagascar, bringing the total number of diminutive primates known to science to 20.


Researchers sequence Aye-aye genome - lemur is more genetically diverse than humans

(03/26/2013) Scientists sequenced the genome of the aye-aye, a bizarre lemur species, for the first time. The research is published in the journal Proceedings of the National Academy of Sciences (PNAS).


A thousand soldiers sent after marauding elephant poachers [warning: graphic photos]


(03/26/2013) Eight Central African nations have announced they will send a thousand soldiers after poachers responsible for slaughtering 89 elephants, including over 30 pregnant mothers, in Chad earlier this month. The mobilization of soldiers and law enforcement officers could be a sign that Central African countries are beginning to take elephant poaching, which has decimated populations across Africa, more seriously.


Male lions require dense vegetation for successful ambush hunting


(03/20/2013) For a long time male lions were derided as the lazy ones in the pride, depending on females for the bulk of hunting and not pulling their weight. Much of this was based on field observations—female lions hunt cooperatively, often in open savannah, and therefore are easier to track at night. But new research in Animal Behaviour is showing that males are adroit hunters in their own right, except prickly males hunt alone and use dense vegetation as cover; instead of social hunting in open savannah, they depend on ambushing unsuspecting prey.


Poachers slaughter 89 elephants in Chad, including over 30 pregnant mothers [warning: graphic photos]

(03/19/2013) In what is being called the worst elephant massacre in Africa this year, poachers have recently killed as many as 89 elephants in Chad. Stephanie Vergniault, the Chairman of SOS Elephants in Chad, says the elephants were slaughtered in a two-day period late last week near Tikem, on the southwest border of Chad and Cameroon. At least 30 of the elephants were pregnant. Images from a television news report show what appear to be an elephant still connected to its umbilical cord on the ground. Separately, 12 calves were also slaughtered.


Peruvian night monkey threatened by vanishing forests, lost corridors


(03/18/2013) The Peruvian night monkey (Aotus miconax) is one of the world's least known primates, having never been studied in the wild--until now. Found only in the cloud forests of northern Peru, a group of scientists with Neotropical Primate Conservation and the National University of Mayor San Marcos have spent 12 months following a single group of this enigmatic monkey species in a small forest patch. The results of their research, published in mongabay.com's open access journal Tropical Conservation Science, shows that protecting forests, even small forest fragments, is vital to the species' survival.


Scientists successfully freeze Barbary sheep embryos for conservation purposes

(03/18/2013) The Barbary sheep (Ammotragus lervia), or aoudad, is a goat-antelope found in northern Africa. It is currently listed as Vulnerable by the IUCN Red List, with populations imperiled by hunting, habitat loss, and competition with livestock. Still little is known about its remaining population, prompting scientists in Mexico to test possible assisted reproduction of captive individuals.



Page 1 | Page 2 | Page 3 | Page 4 | Page 5 | Page 6 | Page 7 | Page 8 | Page 9 | Page 10 | Page 11 | Page 12 | Page 13 | Page 14 | Page 15 | Page 16 | Page 17 | Page 18 | Page 19 | Page 20 | Page 21 | Page 22 | Page 23