News articles on malaysia

---
Mongabay.com news articles on malaysia in blog format. Updated regularly.






Corporations rush to make zero-deforestation commitments, but is it working?
(06/29/2015) Every year, more companies pledge to stop using ingredients whose production cause tropical deforestation. Retailers and brands making voluntary commitments – mostly involving palm oil – include Johnson & Johnson, Unilever, Colgate and Wilmar, the world's largest palm oil trader. Among 2014 joiners were Cargill, Krispy Kreme, Dunkin's Donuts and Baskin' Robbins, with 2015 bringing the addition of McDonald's, Archer Daniels Midland and Yum! Brands (owner of Pizza Hut, KFC, and Taco Bell).
Bunge palm oil supplier plans to clear peatlands for plantations
(06/22/2015) BLD Plantation Bhd, a Malaysian palm oil company, plans to clear some 14,000 hectares of peatlands in Sarawak, on the island of Borneo, potentially putting it in conflict with the deforestation-free sourcing policy established by American agribusiness giant Bunge, say campaigners who filed a grievance over the matter.
Can we save the Sumatran rhino? Indonesia holds out hope
(06/19/2015) 'One percent of the world's population,' veterinarian Zulfi Arsan says as he nods towards Bina, a 714-kilogram, 30-year-old female Sumatran rhinoceros leisurely crunching branches whole. A gentle and easygoing rhino, pink-hued Bina doesn't seem to mind the two-legged hominids snapping pictures and awing at her every move at the Sumatran Rhino Sanctuary.
A toad's relationship with its prey endures in the face of deforestation for palm oil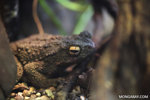 (06/15/2015) Biologists and conservationists have studied the effects of habitat degradation on individual species, but have rarely investigated how logging and conversion of rainforests to oil palm agriculture change interspecies relationships. A study of a toad and its ant prey found that while the toad dwindled in disturbed habitats, a shortage of food was not the reason.
Rising seas, sinking peat to swamp Malaysian and Indonesian palm oil
(06/13/2015) With global sea levels going up at a rate of about 9 millimeters per year, the livelihoods of many coastal people in the world look increasingly threatened, especially in those parts of the world with limited financial or technical means to adapt. A rate of a thumb-width of water per year may not sound like much, but the half to one meter higher water levels mean that many coastal people will have to abandon their homes and fields before the end of the century.
Malaysian state eyes 100% certified palm oil by 2025
(05/30/2015) Sabah, a state in Malaysian Borneo, is weighing a proposal to produce only palm oil certified under the Roundtable on Sustainable Palm Oil (RSPO), an eco-certification initiative, by 2025. The move, if approved, would represent the first time a sub-national or state entity has committed to 100% certified palm oil production.
Butterflies stand out as useful bioindicators in Malaysia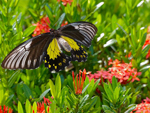 (05/29/2015) In choosing sites to target for protection, conservationists often turn to what they call bioindicators: species, or small groups of species, that when present suggest that a place has high biodiversity. A recent study tested several potential bioindicators in Malaysia, and found that butterflies came out on top.
Timber 'mass graves' uncovered as Malaysian authorities pursue illegal loggers

(05/21/2015) A crackdown on illegal logging in Peninsular Malaysia's largest continuous forest complex has uncovered three timber 'mass graves' – burial sites where valuable logs have been stashed beneath tons of earth to hide evidence. The loggers apparently made haste in fleeing the hilly terrain where they left the timber. A joint operation by Malaysia's antigraft agency and Forestry Department found parts of logs sticking out of the ground and the red earth still unsettled, indications their quarry had hurriedly concealed the felled trees.
High pressure: is U.S. policy deterring illegal wood imports?
(05/19/2015) Some countries, such as the U.S., have imposed legislation at the consumer level, banning the import of illegally sourced wood through their borders. A new study finds that such legislation can be effective, with a 2008 amendment to the Lacey Act significantly reducing the influx of illegal wood into the U.S.
Malaysian palm oil body encourages fiction over fact
(05/17/2015) In this commentary, David Dellatore, Program Manager at the Sumatran Orangutan Society, questions the value of the Malaysian Palm Oil Council's essay-writing contest which will pay contributors to conclude that palm oil is not a driver of deforestation
Borneo's rainforest may get high-tech 3D scan to boost conservation
(05/04/2015) Conservation efforts in Borneo's embattled rainforest may get a boost with the launch of the newest version of an advanced airplane-based monitoring and assessment system. On Friday, the Carnegie Institution officially unveiled the latest upgrade of the Carnegie Airborne Observatory, an airplane equipped with technologies that enable scientists to conduct extremely high resolution scans of forest structure, biomass, and biological diversity. The platform has generated a wealth of information in places where it has been flown before.
Sarawak increases fines for illegal logging

(05/01/2015) After decades of intense logging that has left its rainforests degraded, fragmented, and stripped of valuable timber in many areas, the Malaysian state of Sarawak has passed a new forestry bill that could boost penalties for illegal logging.
Officials: Sumatran rhino is extinct in the wild in Sabah
(04/23/2015) There are no Sumatran rhinos left in the wild in the Malaysian state of Sabah, confirmed Masidi Manjun, the Tourism, Culture and Envi­ronment Minister, over the weekend. In 2008, conservationists estimated there were around 50 rhinos in the state. Five years later, it dropped that estimate to just ten. Now, it's admitted the awful truth: the wild rhino is very likely gone.
Growing need for deforestation-free rubber as tire demand destroys native forests
(04/18/2015) Surging demand for natural rubber is decimating some of the world's most endangered forests, putting wildlife and critical ecosystem services at risk, warn scientists writing in the journal Conservation Letters. Reviewing a large body of published research, Eleanor Warren-Thomas of the University of East Anglia and colleagues detail the crop's expansion across across Southeast Asia in recent decades.
Palm oil companies, NGOs endorse new deforestation-limiting toolkit
(04/06/2015) Forests not only house many of the world's species, but also much of its carbon. Now, a toolkit has been developed by a group of companies and organizations with the aim of helping other companies and NGOs identify High Carbon Stock (HCS) forests. The toolkit was endorsed last week by major NGOs and plantation companies in Singapore.
Kaiduan dam in Borneo meets fierce opposition
(04/06/2015) Activists are calling on the government of Sabah, Malaysia, to reconsider the proposed Kaiduan dam, saying it has not considered other solutions to Sabah's looming water crisis and has failed to consult with the indigenous people who will be displaced if the project proceeds.
Could inland aquaculture help save the oceans and feed the world?
(04/02/2015) Mark Kwok has always loved the ocean. An avid diver and spear fisherman, he has travelled the planet in search of exotic fish and undersea adventure. Born into a wealthy Hong Kong family, he had the freedom to explore the world's oceans. But in the last decade or so, he hasn't been content just looking at fish. He's been growing them. In a squat, unassuming cluster of buildings in an industrial suburb north of Hong Kong, Kwok is experimenting with a potentially revolutionary technology.
Russia and Canada lead the world in forest loss in 2013
(04/02/2015) Russia and Canada led the world in forest loss, accounting for nearly forty percent of the 18 million hectares of forest lost globally in 2013, reveals a new analysis based on high resolution satellite imagery. The research — released today on Global Forest Watch, a forest monitoring and research platform — was led by Matt Hansen of the University of Maryland and involved Google, World Resources Institute (WRI), and other institutions
Study finds roads in Southeast Asia may be devastating forests, wildlife
(03/20/2015) Habitat loss and illegal hunting are leading drivers behind mammal population decline and extinction in the tropical forests of Southeast Asia. But what's driving these drivers? Road infrastructure, according to research. Researchers conducted the first-ever comprehensive study examining the impacts of road infrastructure on mammal populations in Southeast Asia; their findings were recently published in PLOS One.
Who's funding palm oil?
(03/19/2015) Palm oil may be the single most important crop that you never heard of. A vegetable fat that resembles reddish butter at room temperature, palm oil is derived from the fruit of the oil palm tree. Both nutritious and highly versatile, palm oil is now an important component of products ranging from biofuels and food to soaps and cosmetics. Estimates indicate that as much as 50 percent of the products used by the average Western consumer every day contain palm oil or its derivatives.
Reports slam Malaysian timber companies, urge reforms in forest management
(02/27/2015) Two international NGOs have called out Malaysia in recent months over the country's widespread illegal logging. Malaysia has been accused of not doing enough to protect its diminishing forests and thwart the illicit timber trade, particularly in Sarawak, the site of the country's worst deforestation. Lax oversight, endemic corruption and limited transparency have allowed for Malaysia's forests to be plundered by both the government and the private sector.
Reports blame illegal logging for felling Sarawak forest
(02/25/2015) A recent report by the international affairs think tank Chatham House has highlighted Malaysia's lack of progress in dealing with illegal logging, blaming corruption and a lack of transparency on the country's sluggish approach to environmental policy reform.
Rainforest loss increased in the 2000s, concludes new analysis
(02/25/2015) Loss of tropical forests accelerated roughly 60 percent during the 2000s, argues a paper published in the journal Geophysical Research Letters. The findings contradict previous research suggesting that deforestation slowed since the 1990s. The study is based on a map of 1990 forest cover developed last year by Do-Hyung Kim and colleagues from the University of Maryland. The map, which includes 34 countries that contain 80 percent of the world's tropical forests, enabled the researchers to establish a consistent baseline for tracking forest cover change across regions and countries over time.
Sabah shocked by banteng poaching

(02/16/2015) Malaysia's Daily Express recently published graphic photos of poachers in the Malaysian state of Sabah posing proudly with a number of illegally slaughtered large animals, including the incredibly rare and cryptic banteng. Wild, forest cattle, banteng are scattered across parts of Southeast Asia, but Borneo is home to a distinct subspecies: Bos javanicus lowi.
Illegal logging contributed to deadly Malaysian floods, according to government minister
(02/11/2015) Heavy rains hit peninsular Malaysia in December, leading to severe floods that resulted in at least 21 deaths and the displacement of some 200,000 residents in the states of Kelantan, Pahang, Perak, and Terengganu. Now a minister with the federal government says he has proof that the flooding was caused in part by illegal deforestation.
When is a forest a forest? How definitions affect monitoring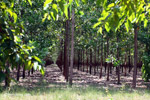 (01/29/2015) What exactly is a forest? With forest definitions differing from country to country, and primary forests, secondary forests, and even tree plantations all perceived collectively as "tree cover" by satellite data, how does one accurately keep tabs on land changes?
Half of Borneo's mammals could lose a third of their habitat by 2080
(01/22/2015) Borneo consistently makes the list of the world's "biodiversity hotspots" – areas full of a wide variety of forms of life found nowhere else, but which are also under threat. To better understand the hazards, a study published today in the journal Current Biology examines the effects of climate change and deforestation in the coming decades on mammals living on the island.
High deforestation rates in Malaysian states hit by flooding
(01/19/2015) Five states hard hit by flooding last month in Malaysia had high rates of forest loss in recent years, bolstering assertions that environmental degradation may have worsened the disaster. According to satellite data from researchers led by the University of Maryland's Matt Hansen and displayed on Global Forest Watch, the states of Johor, Kelantan, Pahang, Perak, and Terengganu each lost more than 10 percent of their forest cover between 2001 and 2012. Loss was greatest in areas with dense tree cover.
2014: the year in rainforests
(12/30/2014) 2014 could be classified as 'The Year of the Zero Deforestation Commitment'. During 2014, nearly two dozen major companies, ranging from palm oil producers to fast food chains to toothpaste makers, established policies to exclude palm oil sourced at the expense of rainforests and peatlands.
Hunting is a greater threat than logging for most wildlife in Borneo
(12/16/2014) Persistence is the key factor in the two most common human stressors on tropical wildlife. In Malaysian Borneo, hunting continually diminishes wildlife populations, whereas the negative impacts from selective logging are more transient, according to a recent study in Conservation Biology.
Tradeoff: Sabah banks on palm oil to boost forest protection
(12/05/2014) Last month Sabah set aside an additional 203,000 hectares of protected forest reserves, boosting the Malaysian state's extent of protected areas to 21 percent of its land mass. But instead of accolades, Sabah forestry leaders were criticized for how they went about securing those reserves: allowing thousands of hectares of deforested land within an officially designated forestry area to be converted for oil palm plantations
Musim Mas says its palm oil will be deforestation-free
(12/04/2014) Singapore-based Musim Mas has established a new sustainability policy that it says will eliminate deforestation, peatlands conversion, and social conflict from its palm oil supply chain. The company, which operates plantations in Sumatra and Indonesian Borneo, has been under pressure from environmentalists to join a growing number of palm oil producers and traders that have made zero deforestation pledges.
Is captive breeding the final resort for the Sumatran rhino?
(12/03/2014) Nearing extinction, the Sumatran rhino is running out of options. A native of Indonesia and Malaysia, the Sumatran rhino has declined in the past 30 years from an estimated 800 individuals to no more than 75 remaining today. So far there have been three ad hoc meetings held in 1984, 1993, and 2013, each attempting to develop policies that would potentially save this critical species.
Human infections by 'monkey malaria' increasing as forests disappear
(11/10/2014) 68% of malaria hospitalizations in Malaysia last year were caused by a once-rare strain of the disease traditionally limited to macaque monkeys. However, as deforestation has put humans and wild animals in closer proximity, Plasmodium knowlesi infections and deaths have increased rapidly. The strain is now responsible for three times the severe malaria infections in Malaysian Borneo than P. falciparum—the world's deadliest form of the parasite.
When cute turns deadly – the story of a wildlife biologist who was bit by a venomous slow loris, and lived to tell the tale
(10/24/2014) Slow lorises are YouTube stars. A quick search on the website will greet you with several videos of these endearing little primates--from a slow loris nibbling on rice cakes and bananas, to a loris holding a tiny umbrella. Lady Gaga, too, tried to feature a slow loris in one of her music videos. But the loris nipped her hard, and she dropped her plans. This was probably for the best, because the bite of a slow loris is no joke. Being the only known venomous primate in the world, its bite can quickly turn deadly.
Beef, palm oil, soy, and wood products from 8 countries responsible for 1/3 of forest destruction

(10/23/2014) Four commodities produced in just eight countries are responsible for a third of the world's forest loss, according to a new report. Those familiar with the long-standing effort to stop deforestation won't be surprised by the commodities named: beef, palm oil, soy, and wood products (including timber and paper). Nor will they be very surprised by most of the countries: Brazil, Indonesia, and Malaysia.
Saving Asia's other endangered cats (photos)
(10/21/2014) It's no secret that when it comes to the wild cats of Asia—and, really, cats in general—tigers get all the press. In fact, tigers—down to an estimated 3,200 individuals—arguably dominate conservation across Asia. But as magnificent, grand, and endangered as the tigers are, there are a number of other felines in the region that are much less studied—and may be just as imperiled.
Walking the walk: zoo kicks off campaign for orangutans and sustainable palm oil
(10/20/2014) If you see people wearing orange this October, it might not be for Halloween, but for orangutans. Chester Zoo's conservation campaign, Go Orange for Orangutans, kicks off this month for its second year. The campaign aims to raise money, and awareness, for orangutans in Borneo, which have become hugely impacted by deforestation often linked to palm oil plantations.
To become less damaging, target non-forest lands for palm oil, says book
(10/16/2014) Palm oil production has been spectacularly profitable but ecologically disastrous across Southeast Asia, consuming millions of hectares of indigenous lands, rainforests, and peatlands in recent decades. That paradox has made the crop highly controversial despite its importance in providing a high-yielding source of vegetable oil. A new book, published freely online by the Center for International Forestry Research (CIFOR), weighs in on the debate and concludes — like many before it — that the problem is not the crop itself, but how it is produced.
India plans huge palm oil expansion, puts forests at risk
(10/14/2014) The world's largest importer of palm oil, India is seeking to slake its thirst domestically. The Ministry of Agriculture estimates that India has the potential to cultivate oil palm in 1.03 million hectares of land--nearly the size of the U.S. state of Connecticut--and produce four to five million metric tons of palm oil per year.
Helping orangutans survive: new project aims to connect habitat fragments in Kalimantan (PART II)
(10/08/2014) Two decades ago, a project to convert one million hectares of forest to rice paddies was undertaken by the Indonesian government in southern Kalimantan. The project was a massive failure and was eventually abandoned, but not before it destroyed critical orangutan habitat. Now a new project is trying to knit together what's left and turn the area's isolated orangutan populations into one of Borneo's largest.
Report rates palm oil companies on sustainability commitments
(10/05/2014) A new report published Forest Heroes, an advocacy campaign pushing for an end to deforestation, ranks global palm oil companies on their sustainability commitments. The Green Tigers, authored by Glen Hurowitz, reviews the recent history of environmental policies in the palm oil sector, beginning with the formation of the Roundtable on Sustainable Palm Oil (RSPO) in 2004 through the wave of comprehensive zero deforestation commitments in 2013-2014.
Termites suffer in logged forests and palm oil plantations
(09/25/2014) Ants appear more resilient to forest degradation than termites. Scientists have long studied how birds, mammals, and amphibians respond to forest degradation, but what about the most abundant animals in the forest? Insects. A new study in Biodiversity and Conservation looks at how ants and termites reacted to forest changes in Malaysian Borneo.
Malayan tiger population plunges to just 250-340 individuals
(09/16/2014) Malaysia is on the edge of losing its tigers, and the world is one step nearer to losing another tiger subspecies: the Malayan tiger. Camera trap surveys from 2010-2013 have estimated that only 250-340 Malayan tigers remain, potentially a halving of the previous estimate of 500 individuals.
Bizarre lizard newest victim of reptile pet trade
(09/15/2014) If you've never heard of the earless monitor lizard, you're not alone: this cryptic lizard has long-escaped the attention of the larger public. But over the past couple years its bizarre appearance has been splashed across social media sites for reptile collectors. While this decidedly-quirky attention may seem benign, it could actually threaten the species' existence.
Elephants pay the price for palm oil in Malaysian Borneo, impact may reach far beyond reported kills
(09/10/2014) More than a dozen elephant kills were reported in Sabah in 2013 alone, but it is unknown exactly how many have lost their lives in recent years as palm plantations encroach further and further into the rainforest. What is clear is that if the loss of their forest habitat continues to drive conflicts with humans at the rate it is now, Borneo elephants' long-term survival may be in jeopardy.
Canada, Russia, Brazil lead world in old-growth forest loss
(09/05/2014) Every day, the world loses about 50,000 hectares of forest to agricultural clearing, road development, and other human activities, constricting true wilderness into smaller and smaller areas – along with the species that inhabit them. New analysis and maps released this week show these last vestiges are disappearing at a quick pace, with more than 104 million hectares degraded from 2000 to 2013.
Scientists name new endangered species after the company that will decide its fate
(08/24/2014) Scientists have discovered a new snail species near a cement quarry in Malaysia, which as far as they know lives nowhere else in the world. It lives on a limestone hill called Kanthan given as a concession to an international company Lafarge. The cement producer quarries the hill for raw materials. As a result, the scientists have named the species after the company that will decide if it goes extinct.
20 orangutan pictures for World Orangutan Day
(08/19/2014) August 19 is World Orangutan Day, a designation intended to raise awareness about the great red ape, which is threatened by habitat loss, the pet trade, and hunting. Once distributed across much of southeast Asia, today orangutans are only found on the islands of Borneo and Sumatra. Both species of orangutan — the Sumatran and the Bornean — are considered endangered.
Forgotten species: the exotic squirrel with a super tail
(08/13/2014) With among the world's largest tails compared to body-size, the tufted ground squirrel just might be the most exotic squirrel species on the planet. Found only on the island of Borneo, this threatened species is also surrounded by wild tales, including the tenacity to take down a deer for dinner. New research explores the squirrel's monster tail and whether other tales about it may be true.
What is peat swamp, and why should I care?
(07/20/2014) Long considered an unproductive hindrance to growth and development, peat swamp forests in Southeast Asia have been systematically cleared, drained and burned away to make room plantations and construction. Now, as alternating cycles of fires and flood create larger development problems, while greenhouse gas emissions skyrocket, it is time to take a closer look at peat, and understand why clearing it is a very bad idea.
30% of Borneo's rainforests destroyed since 1973
(07/16/2014) More than 30 percent of Borneo's rainforests have been destroyed over the past forty years due to fires, industrial logging, and the spread of plantations, finds a new study that provides the most comprehensive analysis of the island's forest cover to date. The research, published in the open-access journal PLOS ONE, shows that just over a quarter of Borneo's lowland forests remain intact.
New palm oil sustainability manifesto met with criticism from environmentalists
(07/11/2014) This week several palm oil giants announced new environmental criteria for palm oil production. The companies say the initiative goes beyond the industry-leading standard set by the Roundtable on Sustainable Palm Oil (RSPO), but two prominent environmental groups quickly disagreed, arguing the measure has substantial loopholes that will allow growers to continue destroying forests.
A fine line: new program predicts when human impact becomes too much
(07/03/2014) Scientists at Stanford University recently unveiled a new modeling program that can predict the response of the environment to the land-use changes of human communities. Using their model, they found that natural resources can support humanity – up to a certain point.
Malaysian citizens want govt to spend more to save native rainforests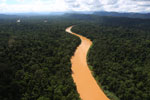 (06/30/2014) As developing countries reach upper middle income (UMI) status, their populations are willing to pay increasing amounts toward tropical forest conservation, yet government spending on these programs lags far behind, concludes a study available today in the PNAS Online Early Edition.
Monkeys reset camera trap, capture first-ever images of flat-headed cats in park
(06/23/2014) Photo trapping is a popular technique for gathering images and information about elusive wildlife. Recently, camera traps captured the first-ever images of wild flat-headed cats in the Pasoh Forest Reserve, an unexpected find in the forestland southeast of Kuala Lumpur, according to a new report in mongabay.com's open access journal Tropical Conservation Science.
Broken promises no more? Signs Sabah may finally uphold commitment on wildlife corridors
(06/23/2014) Five years ago an unlikely meeting was held in the Malaysian state of Sabah to discuss how to save wildlife amid worsening forest fragmentation. Although the meeting brought together longtime adversaries—conservationists and the palm oil industry—it appeared at the time to build new relationships and even point toward a way forward for Sabah's embattled forests.
The palm oil diet: study finds displaced orangutans have little else to eat
(06/20/2014) In a recent study, researchers assessed how orangutans have adapted to living among oil palm plantations on Borneo. They found that while orangutans have adapted to the island's human-transformed landscapes better than expected, oil palm plantations are unable to sustain orangutan populations in the long-term.
Newly discovered snails at risk of extinction
(06/03/2014) A team of Dutch and Malaysian scientists has recently completed one part of a taxonomic revision of Plectostoma, a genus of tiny land snails in Southeast Asia. Unfortunately, according to their article published recently in ZooKeys, it seems that these animals may be going extinct as fast as they are being discovered.
Facebook, Twitter to carry 24 hours of live rainforest animal sightings on Monday
(05/29/2014) Next week, the rainforests of Southeast Asia are going live. On June 2nd, 11 organizations in the region will be posting lives video, photos, and wildlife sightings over 24 hours on Facebook and Twitter (see #rainforestlive). Dubbed Rainforest: Live, the initiative hopes to raise awareness of quickly vanishing ecosystems and species.
Malaysian palm oil company stock drops after environmental complaint

(05/06/2014) Genting Plantations Bhd's stock price fell by more than two percent after the palm oil company's membership in the Roundtable of Sustainable Palm Oil (RSPO) was suspended due to a complaint by the Borneo Rhino Alliance for failing to abide by the body's principles on establishing new plantations, reports The Edge Financial Daily.
Will they hold on? Three new gecko species found in threatened habitat
(05/02/2014) Malaysia is set to lose ancient limestone formations to quarrying despite the discovery of new species of geckos in the area. The species are described in three studies recently published in the journal Zootaxa. One of the discoveries, Cyrtodactylus metropolis, is the first endemic vertebrate species discovered in the Batu Caves area.
Malaysia at risk of falling behind in push for more sustainable palm oil
(04/17/2014) The Malaysian state should play a more active role in supporting the transition toward less environmentally destructive palm oil production, says a coalition of Malaysian NGO's. In a statement issued Sunday, the Malaysian Palm Oil NGO Coalition (MPONGOC) urged Malaysian banks, palm oil associations, and other government-backed institutions to commit to 'improving social and environmental standards in the palm oil industry'.
Malaysia imperils forest reserves and sea turtle nesting ground for industrial site (photos)
(04/15/2014) Plans for an industrial site threaten one of Malaysia's only marine turtle nesting beaches and a forest home to rare trees and mammals, according to local activists. Recently, the state government of Perak approved two industrial project inside Tanjung Hantu Permanent Forest Reserve. But activists say these will not only cut into the reserve, but also scare away nesting turtles from Pasir Panjang.
Riddled with tumors: another blow to the Sumatran rhino species
(04/14/2014) Conservation for Sumatran rhinos suffered another blow last week, only days after Suci—one of only ten rhinos in captive breeding efforts—died at Cincinnati Zoo. Scientists in the Malaysian state of Sabah revealed that a newly captured female, Iman, suffers from an assortment of tumors in her uterus, hugely complicating reproduction efforts.
Cargill commits to zero deforestation, but environmentalists have questions
(04/09/2014) After years of criticism from environmental groups, Cargill says it will establish policies to eliminate deforestation, peatlands conversion, and social conflict from its palm oil supply chain. But activists aren't yet sure what to make of the agribusiness giant's pledge. On Tuesday Cargill released a letter it sent to the Roundtable on Sustainable Palm Oil (RSPO), a body that sets eco-certification standards, in response to a Greenpeace Report linking it to deforestation.
Emissions from rainforest logging average 16% of those from deforestation
(04/08/2014) Carbon emissions from selective logging operations in tropical rainforests are roughly a sixth of those from outright forest clearing, finds a new study that evaluated 13 forestry concessions in six countries. The study analyzed carbon losses from elements of logging operations, including timber extraction, collateral damage to surrounding vegetation, and logging infrastructure like roads and skid trails.
Malaysian palm oil giant tied to social conflict, deforestation, says report
(04/03/2014) Unlike other palm oil giants that have recently made strong commitments to eliminating deforestation and social conflict from their supply chains, Malaysia-based Kuala Lumpur Kepong (KLK) continues to source palm oil associated with forest destruction and community conflict, argues a new report published by the Rainforest Action Network (RAN).
General Mills, Colgate-Palmolive announce deforestation-free policies for palm oil sourcing
(03/24/2014) Two consumer products giants have joined the wave of companies committing to deforestation-free palm oil. On Monday General Mills and Colgate-Palmolive both announced palm oil policies that go beyond standards set by the Roundtable on Sustainable Palm Oil (RSPO), the industry's main certification body. The policies include provisions to protect wildlife-rich rainforests and carbon-dense peatlands, while respecting the rights of local communities.
Meet Iman: the Sumatran rhino's newest hope for survival
(03/24/2014) Hopes for one of the world's most imperiled megafauna rose this month when wildlife conservationists succeeded in catching a female Sumatran rhino named Iman in the Malaysian state of Sabah. The female, which experts believe to be fertile, has since been successfully transferred via helicopter to the Borneo Rhino Sanctuary where experts plan to mate her with the local male, Tam. Located in Tabin Wildlife Reserve, the Borneo Rhino Sanctuary is an uncompleted semi-wild enclosure and home to one of several last-ditch efforts to save the vanishing species from extinction.
Conservationists catch wild Sumatran rhino, raising hope for world's most endangered rhinoceros
(03/12/2014) Conservationists have succeeded in catching a wild Sumatran rhino in the Malaysia state of Sabah in Borneo, according to local media reports. Officials are currently transferring the rhino, an unnamed female, to a rhino sanctuary in Tabin National Park where experts will attempt to mate it with the resident male, Tam. The Sumatran rhino (Dicerorhinus sumatrensis) is one of the world's most imperiled species with less than 100 individuals left.
Fast food companies are laggards on palm oil sourcing safeguards
(03/05/2014) Fast food companies are lagging behind other consumer products companies in efforts to establish policies that favor deforestation-free and conflict-free palm oil, finds a new assessment published by the Union of Concerned Scientists, an advocacy group. The report, titled 'Donuts, Deodorant, Deforestation: Scoring America's Top Brands on Their Palm Oil Commitments', looked at palm oil sourcing policies of 30 of the largest fast food, personal care, and packaged food corporations in the United States. It found leadership by a handful of firms.
Can palm oil move past its bad reputation?
(03/02/2014) Indonesia's palm oil industry has gained a notorious reputation in recent years. Palm oil companies are routinely accused of clearing primary forests, destroying the habitats of endangered species, releasing massive amounts of carbon by draining peat swamps and fueling land conflicts with local communities. In the face of this widespread criticism, some palm oil companies are exploring ways to clean up their operations by implementing innovative programs to minimize harm to the environment and ensure local communities benefit from palm oil investments, according to a new study.





Sarawak's top official accused of violating constitution

(02/27/2014) Sarawak Chief Minister Taib Mahmud has been accused of violating Sarawak's constitution by engaging in commercial activities while serving as the state's top official over the past thirty plus years, reports the Bruno Manser Fund, an NGO that campaigns on behalf of Sarawak's forest people.





Palm oil's climate impact worse than thought due to methane emissions

(02/27/2014) Methane leaks from palm oil wastewater significantly increases the climate impact of palm oil production beyond emissions from land clearance, fire, and peatlands drainage, reports a new study published in Nature Climate Change. The research, led by Philip. G. Taylor of the University of Colorado, finds that annual methane emissions from palm oil wastewater effluent amount to the equivalent of 115 million tons carbon dioxide in Malaysia and Indonesia alone, or roughly 15 percent of total emissions from peat oxidation and land use change in the two countries.




Page 1 | Page 2 | Page 3 | Page 4 | Page 5 | Page 6