News articles on madagascar

---
Mongabay.com news articles on madagascar in blog format. Updated regularly.








Photos: periodic closure of fishing grounds boosts octopuses and helps coastal communities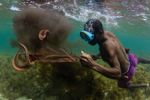 (06/17/2015) For communities that depend on fishing for their livelihoods, fishing bans as a way to conserve marine life are not always popular. But some villages in southwest Madagascar seem to have hit upon a strategy to reap economic gains from bans. Temporarily closing down portions of their octopus-fishing areas every year not only helps villages revive declining octopus populations, but also generates more income for fishermen and fisherwomen, according to a new study.
Up to 11 stunningly colorful chameleon species discovered in Madagascar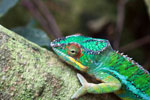 (05/26/2015) The panther chameleon, a lizard prized in the pet trade for its remarkable color changing abilities, may actually represent 11 different species, report researchers writing in the journal Molecular Ecology. Analyzing the genetics of more than 300 individual panther chameleons, Swiss and Malagasy researchers make a case that different color morphs of Furcifer pardalis may be distinct species.
Borneo's rainforest may get high-tech 3D scan to boost conservation
(05/04/2015) Conservation efforts in Borneo's embattled rainforest may get a boost with the launch of the newest version of an advanced airplane-based monitoring and assessment system. On Friday, the Carnegie Institution officially unveiled the latest upgrade of the Carnegie Airborne Observatory, an airplane equipped with technologies that enable scientists to conduct extremely high resolution scans of forest structure, biomass, and biological diversity. The platform has generated a wealth of information in places where it has been flown before.
Innovative community fisheries initiative wins top social entrepreneurship prize
(04/13/2015) A program that helps restore overfished areas through community-based marine conservation has won the Skoll Foundation's top prize for social entrepreneurship. Today the Skoll announced Blue Ventures, which piloted its approach in Madagascar a decade ago before expanding to other regions, was one of four organizations to be honored with the $1.25 million Skoll Award for Social Entrepreneurship.
Chocolate company, NGO work together to save lemurs
(03/30/2015) Despite its biodiversity and unique plants and animals, Anjanaharibe-Sud Special Reserve hosts only around a dozen tourists each year. In an effort to increase tourism and research opportunities, the Lemur Conservation Foundation will be using the money raised during the Madécasse promotion to develop Camp Indri - the reserve's only authorized tourist site.
Madagascar's frog haven: rich, underexplored, threatened
(03/04/2015) Madagascar is a treasure trove of frogs. Located off the east coast of Africa, this large island nation has more than 500 species of frogs, many of which are found nowhere else in the world. Much of Madagascar's rich biodiversity remains understudied. As researchers comb through the country's forests, they continue to discover previously undescribed species of frogs, adding to Madagascar's amphibian diversity.
Rainforest loss increased in the 2000s, concludes new analysis
(02/25/2015) Loss of tropical forests accelerated roughly 60 percent during the 2000s, argues a paper published in the journal Geophysical Research Letters. The findings contradict previous research suggesting that deforestation slowed since the 1990s. The study is based on a map of 1990 forest cover developed last year by Do-Hyung Kim and colleagues from the University of Maryland. The map, which includes 34 countries that contain 80 percent of the world's tropical forests, enabled the researchers to establish a consistent baseline for tracking forest cover change across regions and countries over time.
$7 million could save lemurs from extinction
(02/25/2015) Last year, scientists released an emergency three-year plan that they argued could, quite literally, save the world's lemurs from mass extinction. Costing just $7.6 million, the plan focused on setting up better protections in 30 lemur hotspots. However, there was one sticking point: donating to small programs in one of the world's poorest countries was not exactly user friendly.
Campaign asks consumers to directly support forest conservation

(02/18/2015) A new campaign is calling on consumers to directly support forest conservation with their wallets. Stand For Trees is an initiative launched by Code REDD, a marketing platform for a group of organizations running REDD+ forest conservation projects.
Madagascar establishes a sanctuary for sharks
(02/06/2015) The government of Madagascar has established the Indian Ocean island's first shark sanctuary in an area famous for its marine biodiversity, reports the Wildlife Conservation Society (WCS).
Chameleon crisis: extinction threatens 36% of world's chameleons
(11/24/2014) Chameleons are an unmistakable family of wonderfully bizarre reptiles. They sport long, shooting tongues; oddly-shaped horns or crests; and a prehensile tail like a monkey's. But, chameleons are most known for their astonishing ability to change the color of their skin. Now, a update of the IUCN Red List finds that this unique group is facing a crisis that could send dozens of chameleons, if not more, to extinction.
A path to becoming a conservation scientist
(09/05/2014) The path to finding a career often involves twists and turns. Serendipity is important — one rarely anticipates what small events, chance occurrences, and seeds of inspiration will spur decisions that lead to pursuing one job or another. For Zuzana Burivalova, a PhD candidate based at the Swiss Federal Institute of Technology in Zurich (ETH Zurich), the road to becoming a tropical forest ecologist began as a child in a small Czech Republic village with a foldout children's book about rainforests.
New skeleton frog from Madagascar is already Critically Endangered
(08/20/2014) Sometimes all it takes is fewer clicks. Scientists have discovered a new species of frog from Madagascar that stuck out because it "clicked" less during calls than similar species. Unfortunately the scientists believe the new species—dubbed the Ankarafa skeleton frog—is regulated to a single patch of forest, which, despite protected status, remains hugely threatened.
China failing to take effective action against timber smugglers

(08/12/2014) Voluntary guidelines established by the Chinese government won't be enough to curb rampant timber smuggling by Chinese companies, putting 'responsible' actors at risk of having their reputations tarnished, argues a new campaign by the Environmental Investigation Agency (EIA).
Only 15 percent of world's biodiversity hotspots left intact
(07/14/2014) The world's 35 biodiversity hotspots—which harbor 75 percent of the planet's endangered land vertebrates—are in more trouble than expected, according to a sobering new analysis of remaining primary vegetation. In all less than 15 percent of natural intact vegetation is left in the these hotspots, which include well-known jewels such as Madagascar, the tropical Andes, and Sundaland.
Next big idea in forest conservation? Rewards for reforestation
(07/10/2014) Susie McGuire and Dr. Edward Louis Jr. are the powerhouse team behind the Madagascar Biodiversity Partnership (MBP), an NGO that involves local residents—both human and primate—in reforestation efforts in Madagascar. A conservation geneticist and veterinarian by training, Ed Louis has discovered 21 lemur species and successfully reintroduced two species of locally extinct lemurs back into the wild.
Over 800 species added to IUCN threatened list, including 44 lemurs
(06/16/2014) Experts have added 817 species to the threatened categories of the IUCN Red List in the latest update. Those added include 51 mammals—mostly lemurs—and over 400 plants. The new update finds that over 90 percent of lemurs and 79 percent of temperate slipper orchids are threatened with extinction.
Singapore intercepts massive illegal shipment of Madagascar rosewood
(06/03/2014) Authorities in Singapore have made the largest-ever international seizure of rosewood logs, providing further evidence that industrial-scale smuggling of Madagascar's rainforest timber continues despite an official ban on the trade. Details of the seizure remain sparse since the investigation is still active, but leaked correspondence between officials in Madagascar indicates that the shipment amounts to 3,000 tons, or more than 29,000 illicit rosewood logs.
Lemur expert becomes first woman to win top conservation prize
(05/17/2014) Lemur expert Patricia C. Wright has become the first woman to win the prestigious Indianapolis Prize, an award granted every two years for achievement in wildlife conservation. Wright was chosen for her contributions to wildlife conservation in Madagascar, where she's worked with lemurs for nearly 30 years.
Amphibian pandemic may have hit Madagascar, hundreds of species at risk of infection
(04/11/2014) Madagascar is one of the world's hotspots for amphibian diversity, home to so many frog species that many of them don't even have names. But soon the island may also harbor a fungus causing drastic declines – even extinctions – of frogs around the world. Ironically, the wildlife trade that's often blamed for helping spread the disease may also give scientists a chance to prevent it.
Panda lemur making a comeback
(03/20/2014) One of the world's biggest populations of greater bamboo lemurs (Prolemur simus)—sometimes known as the panda lemur—has doubled in just three years, giving conservationists new hope that the species can be kept from extinction. With the recent arrival of twenty babies, a community conservation project run by the Aspinall Foundation has boosted the local population to over 100 individuals in Andriantantely, one of Madagascar's only surviving lowland rainforests. Greater bamboo lemurs are currently categorized as Critically Endangered, though they were once believed extinct until hidden populations were uncovered in the 1980s.
The lemur end-game: scientists propose ambitious plan to save the world's most imperiled mammal family
(02/20/2014) Due to the wonderful idiosyncrasies of evolution, there is one country on Earth that houses 20 percent of the world's primates. More astounding still, every single one of these primates—an entire distinct family in fact—are found no-where else. The country is, of course, Madagascar and the primates in question are, of course, lemurs. But the far-flung island of Madagascar, once a safe haven for wild evolutionary experiments, has become an ecological nightmare. Overpopulation, deep poverty, political instability, slash-and-burn agriculture, illegal logging for lucrative woods, and a booming bushmeat trade has placed 94 percent of the world's lemurs under threat of extinction, making this the most imperiled mammal group on the planet. But, in order to stem a rapid march toward extinction, conservationists today publicized an emergency three year plan to safeguard 30 important lemur forests in the journal Science.
Microsoft buys Madagascar carbon credits

(02/15/2014) Technology giant Microsoft has bought the first carbon credits generated under a rainforest conservation project in Madagascar, reports Wildlife Conservation Society (WCS), which organized and backed the initiative.
Rainforest news review for 2013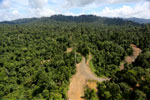 (12/26/2013) 2013 was full of major developments in efforts to understand and protect the world's tropical rainforests. The following is a review of some of the major tropical forest-related news stories for the year. As a review, this post will not cover everything that transpired during 2013 in the world of tropical forests. Please feel free to highlight anything this post missed via the comments section at the bottom. Also please note that this review focuses only on tropical forests.
Madagascar's most famous lemur facing big threats
(12/18/2013) The ring-tailed lemur (Lemur catta), perhaps the most well-known of Madagascar's endemic animals, is facing a "very high" risk of extinction in the wild. The Madagascar Section of the IUCN Primate Specialist Group reassessed the Red List status of ring-tailed lemurs and upgraded the species from Near-Threatened (2008) to Endangered (2012). Ring-tailed lemurs are facing extinction in some parts of Madagascar because of continued habitat loss, and more recently, species exploitation.
Like ancient humans, some lemurs slumber in caves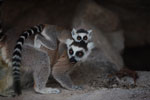 (12/05/2013) After playing, feeding, and socializing in trees all day, some ring-tailed lemurs (Lemur catta) take their nightly respite in caves, according to a new study in Madagascar Conservation and Development. The findings are important because this is the first time scientists have ever recorded primates regularly using caves (see video below).
Timber smuggling continues in Madagascar

(11/18/2013) Stocks of rosewood illegally harvested during in the aftermath of Madagascar's 2009 coup are being steadily smuggled off the Indian Ocean island, reports a paper published in the journal MADAGASCAR CONSERVATION & DEVELOPMENT.
Scientists identify 137 protected areas most important for preserving biodiversity
(11/14/2013) Want to save the world's biodiversity from mass extinction? Then make certain to safeguard the 74 sites identified today in a new study in Science. Evaluating 173,000 terrestrial protected areas, scientists pulled out the most important ones for global biodiversity based on the number of threatened mammals, birds, and amphibians found in the parks. In all they identified 137 protected areas (spread over 74 sites as many protected areas were in the same region) in 34 countries as 'irreplaceable.'
Credits from first African government-backed REDD+ project go on sale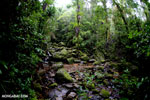 (09/17/2013) Carbon credits generated from protecting thousands of hectares of endangered rainforest in northeastern Madagascar have now been certified for sale, reports the Wildlife Conservation Society (WCS), the project's main organizer. The development represents the first time that credits generated by African government-owned project have been put on the voluntary carbon market.
Scientists outline how to save nearly 70 percent of the world's plant species

(09/05/2013) In 2010 the Convention on Biological Diversity (CBD) pledged to set aside 17 percent of the world's land as protected areas in addition to protecting 60 percent of the world's plant species—through the Global Strategy for Plant Conservation (GSPC)—by 2020. Now a new study in Science finds that the world can achieve both ambitious goals at the same time—if only we protect the right places. Looking at data on over 100,000 flower plants, scientists determined that protecting 17 percent of the world's land (focusing on priority plant areas) would conserve 67 percent of the world's plants.
The evolution of cooperation: communal nests are best for ruffed lemurs
(08/21/2013) Raising young lemurs in communal crèches benefits both mothers and offspring, a new study has found. Andrea Baden and colleagues, of Yale University, studied a group of black-and-white ruffed lemurs (Varecia variegata) in Ranomafana National Park, Madagascar. This is the first study to examine the consequences of different parenting strategies in the ruffed lemur.
Scientists map plan to save lemurs

(08/14/2013) Primatologists and researchers have devised a wide-ranging plan to protect Madagascar's most endangered lemurs from extinction.
Does size matter (for lemur smarts, that is)?
(08/09/2013) Does size matter? When referring to primate brain size and its relation to social intelligence, scientists at Duke University do not think the answer is a simple yes or no. In the past, scientists have correlated large brain size to large group size. However, in a new study published in PLoS ONE, scientists at Duke University provide evidence that large social networks, rather than large brains, contribute to social cognition, favoring the evolution of social intelligence.
Madagascar occupied by humans 2,500 years earlier than previously thought
(07/22/2013) New research indicates that Madagascar was occupied some 2,500 years earlier than previously established. The findings, published in Proceedings of the National Academy of Sciences, suggests a more complex view of the human role in the extinction of the island's mega-fauna. A large body of research holds that village communities began to appear in Madagascar around 500 AD. These were established by people of Indonesian and East African heritage, according to past studies that found linguistic similarities between the Malagasy languages of southeastern Borneo as well as genetic markers tying modern-day Malagasy people to both Indonesia and East Africa. But there have been plenty of hints that people came to the world's third largest island well before 500 AD.
Five percent of ploughshare tortoise population perishes after botched smuggling attempt

(05/14/2013) In March, two people were caught attempting to smuggle 54 ploughshare tortoises (Astrochelys yniphora) into Thailand. Listed as Critically Endangered, the tortoises' wild population is down to approximately 400-500 animals in its native Madagascar, meaning the smugglers were attempting to move over 10 percent of the total population. Now, the Scientific American blog Extinction Countdown reports that nearly half of the smuggled tortoises have died of unknown causes.
Hibernating primates: scientists discover three lemur species sleep like bears
(05/02/2013) Bears do it, bats do it, and now we know lemurs do it too: hibernate, that is. Since 2005, scientists have known that the western fat-tailed dwarf lemur hibernates, but a new study in Scientific Reports finds that hibernation is more widespread among lemurs than expected. At least two additional lemur species—Crossley's dwarf lemur and Sibree's dwarf lemur—have been discovered hibernating. So far lemurs, which are only found on the island of Madagascar, are the only primates known to undergo hibernation, raising curious questions about the relationship between lemur hibernation and more well-known deep sleepers.
World's rarest duck on the rebound in Madagascar
(05/01/2013) After a final sighting in 1991, the Madagascar pochard was thought to have vanished for good. But this diving duck was rediscovered in 2006 when a flock of 22 individuals was found on Lake Matsaborimena in northern Madagascar by conservationists during an expedition. Soon after Madagascar pochard eggs were taken and incubated in a joint captive breeding program by Durrell, the Wildfowl & Wetlands Trust (WWT), the Peregrine Fund, Asity Madagascar, and Madagascar government, which recently announced that the population—both captive and wild—has nearly quadrupled.
Madagascar swamped by locust invasion

(04/17/2013) More than 60 percent of Madagascar is suffering from a massive locust infestation that is threatening crops and livestock, potentially increasing risks to native wildlife and forests from hungry farmers, warns the U.N. Food and Agriculture Organization (FAO).
Featured video: in-depth look at Madagascar's Ranomafauna National Park

(04/03/2013) A new film Nosy Maitso takes a look at the people, researchers, and wildlife connected to Madagascar's Ranomafauna National Park. Apart of a World Heritage Site, the park was established in 1991 after a new species of lemur, the golden bamboo lemur (Hapalemur aureus), was discovered in its forests in the 1980s. The golden bamboo lemur is currently listed as Endangered by the IUCN Red List.
Scientists discover new wasp species in a field box from the 1930s (photos)
(04/03/2013) Searching through materials at the Natural History Museum in Paris, Simon van Noort recently came across a long-neglected field box of wasp specimens. Collected 80 years earlier by André Seyrig in Madagascar, the box contained several specimens of wasp in the Paramblynotus genus. The big surprise: wasps in this genus had never before been seen in Madagascar.
Madagascar's chameleons came from African mainland

(03/29/2013) Madagascar's color-changing chameleons originated in Africa and crossed over to the island some 65 million years ago, concludes a study published this week in the Proceedings of the Royal Society B.
Over ten percent of a species' total population found in smuggler's bag
(03/25/2013) On Friday, March 15th Thai authorities arrested a 38-year-old man attempting to collect a bag containing 54 ploughshare tortoises (Astrochelys yniphora) and 21 radiated tortoises (Astrochelys radiata) in Suvarnabhumi International Airport. Found only in Madagascar both species are listed as Critically Endangered and protected under the Convention on International Trade in Endangered Species (CITES), but have become lucrative targets for the black-market pet trade given their scarcity and beauty.
Dozens of tropical trees awarded new protections at CITES

(03/12/2013) Numerous species of rosewood and ebony from Madagascar, Latin America, and Southeast Asia were granted protection today at the Convention on International Trade in Endangered Species (CITES) in Bangkok, Thailand. The ruling comes one day after CITES granted the first protections ever to sharks and manta rays.
Frogs radio-tracked for first time in Madagascar
(03/01/2013) Researchers have radio-tracked frogs for the first time in Madagascar. Attaching tiny radio transmitters weighing 0.3-0.35 grams (1/100 of an ounce) to 36 rainbow frogs (Scaphiophryne gottlebei), the research team tracked the movement of the colorful frogs through rugged canyons in Madagascar's Isalo Massif. They found that the frogs have a short breeding period that occurs after the first intense rainfall at the start of the rainy season.
Travel in Madagascar: strange wildlife and stunning landscapes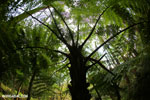 (02/27/2013) The promise of lemurs, lizards, and a bouquet of biodiversity brought mongabay.com founder Rhett Butler to Madagascar sixteen years ago. He was not disappointed by what he found and was inspired to return, many times to experience the wildlife, landscapes, and people of the dynamic island. In 2004, Rhett founded wildmadagascar.org, a site that highlights the spectacular cultural and biological richness of Madagascar and reports on environmental news for the Indian Ocean island nation.
Bloodsucking flies help scientists identify rare, hard-to-find mammals
(01/16/2013) Last year scientists released a study that is likely to revolutionize how conservationists track elusive species. Researchers extracted the recently sucked blood of terrestrial leeches in Vietnam's remote Annamite Mountains and looked at the DNA of what they'd been feeding on: remarkably researchers were able to identify a number of endangered and rarely-seen mammals. In fact two of the species gleaned from these blood-meals had been discovered by scientists as late as the 1990s. In the past, trying to find rare and shy jungle animals required many man hours and a lot of funding. While the increasing use of remote camera traps has allowed scientists to expand their search, DNA sampling from leeches could be the next big step in simplifying (and cheapening) the quest for tracking the world's mammals.
Madagascar's Rajoelina pledges not to run in presidential election

(01/16/2013) Madagascar's president Andry Rajoelina on Tuesday pledged not to run in the presidential election scheduled for May, raising hopes democracy will return to the island nation, which has suffered from stagnation and political turmoil since he took after a 2009 coup.
The year in rainforests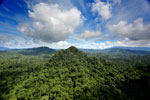 (12/31/2012) 2012 was another year of mixed news for the world's tropical forests. This is a look at some of the most significant tropical rainforest-related news stories for 2012. There were many other important stories in 2012 and some were undoubtedly overlooked in this review. If you feel there's something we missed, please feel free to highlight it in the comments section. Also please note that this post focuses only on tropical forests.
Replacing lemur meat with insect protein in Madagascar

(12/12/2012) Poaching is a major threat to endangered lemurs in some parts of Madagascar, but a group has come up with an innovative solution to the problem: replace lemur meat with silkworm pupae, a byproduct of silk production.
Despite small brains, gray mouse lemurs use calls to avoid inbreeding
(12/03/2012) As a small-brained and largely solitary primate, the gray mouse lemur (Microcebus murinus) wasn't supposed to have the capacity to distinguish the calls of its kin calls from other lemurs. However, a new study in BMC Ecology, finds that a female gray mouse lemur is able to determine the mating calls of its father, allowing it avoid inbreeding. The discovery challenges the long-held belief that only large-brained, highly social animal are capable of determining kin from calls.
'Exporting deforestation': China is the kingpin of illegal logging
(11/29/2012) Runaway economic growth comes with costs: in the case of China's economic engine, one of them has been the world's forests. According to a new report by the Environmental Investigation Agency (EIA), China has become the number one importer of illegal wood products from around the world. Illegal logging—which threatens biodiversity, emits carbon, impoverishes local communities, and is often coupled with other crimes—has come under heavy pressure in recent years from the U.S., the EU, and Australia. Each of these has implemented, or will soon implement, new laws that make importing and selling illegal wood products domestic crimes. However, China's unwillingness to tackle its vast appetite for illegal timber means the trade continues to decimate forests worldwide.
Greater bamboo lemur removed from 'most endangered primates' list

(11/13/2012) Madagascar's greater bamboo lemur has been removed from the list of the world's 25 most endangered primates after conservationists discovered previously unknown populations of the rare creature, according to the Aspinall Foundation, a charity that set in motion a species survival plan for the lemur.
Picture of the day: a bizarre baby bird with oral 'fingerprints'

(10/25/2012) The crested coua (Coua cristata) is native to island of Madagascar. Unlike much of Madagascar's wildlife, the crested coua is not considered threatened with extinction, but is listed as Least Concern by the IUCN Red List. There are around nine species of coua in the world, all found in Madagascar; the unique birds belong to the cuckoo family.
The world's 25 most endangered primates: nearly a quarter in Madagascar
(10/15/2012) A coalition of conservation groups released the biannual Top 25 Primates list today, including nine species not appearing on the 2010 list, at the UN's Convention on Biological Diversity (CBD) in Hyderabad, India. Madagascar tops the list as home to the most threatened primates, including six on the list. Following Madagascar, Vietnam contains five, Indonesia three, and Brazil two. In all, over half (54 percent) of the world's primates, which have been evaluated, are considered threatened by the IUCN Red List.
Coral diversity off Madagascar among the world's highest
(09/24/2012) The western Indian Ocean, especially the waters between Madagascar and mainland Africa, may be among the world's most biodiverse for coral species, according to a new study in PLOS ONE. Conducting dive surveys in the region for nearly a decade, David Obura with the Coastal Oceans Research and Development in the Indian Ocean (CORDIO) identified 369 coral species in the western Indian Ocean and predicts there may be nearly another 100 unidentified. If so, this would make the region as biodiverse as the Great Barrier Reef, but still behind the Coral Triangle which has over 600 species.
Madagascar gets biggest protected area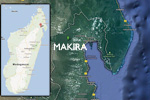 (08/17/2012) Madagascar officially designated its largest protected area in a region renowned for its tropical rainforests and rich diversity of wildlife, including 20 species of lemurs, reports the Wildlife Conservation Society (WCS), a group that was instrumental in establishing the park. Makira Natural Park covers some 372,470 hectares of forest in northeastern Madagascar, the most biodiverse part of the island nation.
Past climate change reduced lemur population in Madagascar

(07/24/2012) Climate change that took place 4,000-10,000 years ago may have contributed to the endangered status of one of Madagascar's rarest lemurs by reducing the extent of its habitat, argues a new study published in the journal Proceedings of the Natural Academy of Sciences.
Cute animal picture of the day: baby bamboo lemur

(07/16/2012) Greater bamboo lemurs (Prolemur simus) are one of over a hundred lemur species found only on the island of Madagascar. Listed as Critically Endangered, there are only around 500 individuals known in the wild, making them one of the world's most imperiled primate species. A new baby was recently born in captivity in the UK's Port Lympne Wild Animal Park.
91% of Madagascar's lemurs threatened with extinction
(07/13/2012) 94 of the world's 103 lemur species are at risk of extinction according to a new assessment by the International Union for Conservation of Nature (IUCN) released by the group's Species Survival Commission during a workshop this week. Lemurs, a group of primates that is endemic to the island of Madagascar, are threatened by habitat destruction and poaching for the bushmeat trade.
Cutting-edge research center opens in Madagascar rainforest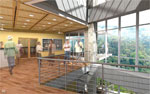 (07/03/2012) A high-tech research center opened today on the edge of a rainforest in Madagascar. The facility, known as the Centre Valbio, will support efforts to study Madagascar's unique wildlife, deliver health care to impoverished communities, and understand links between the environment and the rural economy. The project was led by Patricia Wright, a Stony Brook University biologist whose 1986 discovery of the golden bamboo lemur led to the protection of a large swathe of rainforest known as Ranomafana.
Photos: Mama lemurs with babies

(06/01/2012) Two baby lemurs were put on display this week in the Madagascar! exhibit at the Wildlife Conservation Society's Bronx Zoo.
Picture: Shaq poses with tiny lemur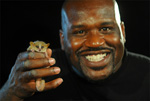 (05/18/2012) One of the world's most recognizable professional basketball players has used his stature to highlight one of the world's smallest primates: the mouse lemur from Madagascar. Shaquille O'Neal, a NBA legend who retired last year and earned a doctorate degree in education from Barry University earlier this year, posed with a mouse lemur at Zoo Miami in March. The diminutive primate, which measures only five inches and weighs two ounces, was dwarfed by the 7'1" 325-pound Shaq.
Mad frog bonanza: up to 36 new frogs discovered in tiny Madagascar forest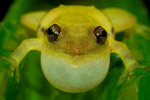 (04/19/2012) A forest less than half the size of Manhattan sports an astounding number of frogs, according to a new paper in Biodiversity Conservation. Two surveys of Madagascar's Betampona Nature Reserve, which covers 2,228 hectares, has uncovered 76 unique frogs, 36 of which may be new to science. To put this in perspective: the U.S. and Canada combined contain just 88 frog species, but cover an area nearly a million times larger than Betampona.
Baby boom: 18 of the world's rarest duck born

(04/06/2012) The global population of one of the world's rarest birds just increased 43 percent. The Durrell Wildlife Conservation Trust is reporting that 18 Madagascar pochards — the world's rarest duck — hatched and are now being reared at a facility in Madagascar. The breeding program is a joint effort between Durrell, the Wildfowl & Wetlands Trust (WWT), the Peregrine Fund, Asity Madagascar and the Government of Madagascar.
Madagascar lifts rosewood ban. Or does it?

(03/01/2012) Madagascar's transitional government lifted its ban on exports of rosewood, ebony and other precious wood last month, but the decision is now under review due to concerns about foreign dominance of the trade, say local sources. Environmentalists are nonetheless concerned that a loosening of restrictions on old-growth timber could ignite another logging frenzy in the country's rainforest parks, which are renowned for their biodiversity.
Cute baby animal photos of the day: twin Malagasy giant jumping rats born at London Zoo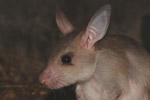 (02/28/2012) Twin Malagasy giant jumping rats (Hypogeomys antimena) were born in the Zoological Society of London's (ZSL) zoo in London this month. Found only on the island of Madagascar, also home to the world's lemurs, these rodents are the biggest on the island. These large rodents take the ecological place of rabbits in Madagascar, but unlike other rodents they form lifelong monogamous pairs and reproduce very slowly.




Page 1 | Page 2 | Page 3 | Page 4