News articles on logging

---
Mongabay.com news articles on logging in blog format. Updated regularly.





Progress being made in curbing illegal timber imports

(11/25/2014) Five major timber importers are making progress in cutting contraband wood from their markets, argues a series of reports published by Chatham House.


Saving Myanmar's red pandas by protecting land, educating people


(11/25/2014) Red pandas, bear-like arboreal mammals with red, furry tails, are poached mainly for their fur. Found primarily at higher elevation forests of the eastern Himalayas, these pandas spend most of their time in trees, and feed mainly on bamboo. But much of their forest habitat has been destroyed due to illegal logging.


Sarawak chief calls state's logging industry 'corrupt'

(11/24/2014) In a surprising statement, Sarawak's new chief minister called the state's logging sector 'corrupt'.


Scientists capture first-ever footage of wild red pandas in Myanmar (VIDEO)


(11/21/2014) This year, a team of scientists in Myanmar (also called Burma), caught a pair of reclusive red pandas on camera, for the first time ever. The bushy tailed pandas were climbing up a rocky pile of rubble left behind in the region by Chinese loggers. For the scientists, the footage was bitter-sweet.


Indonesia imposes moratorium on new logging permits


(11/20/2014) Indonesia's new Minister of Environment and Forestry Siti Nurbaya Bakar imposed a moratorium on the issuance of all new logging permits a little over a week after being appointed in late October. The move is being celebrated by conservation groups and signals that interest in reforming Indonesia's notoriously corrupt and dysfunctional forestry sector has reached the highest levels of government, with direction coming from President Joko Widodo.


A tale of 2 Perus: Climate Summit host, 57 murdered environmentalists


(11/18/2014) On September 1st, indigenous activist, Edwin Chota, and three other indigenous leaders were gunned down and their bodies thrown into rivers. Chota, an internationally-known leader of the Asháninka in Peru, had warned several times that his life was on the line for his vocal stance against the destruction of his peoples' forests, yet the Peruvian government did nothing to protect him—or others.


Greenpeace investigation prompts Belgian authorities to seize timber shipment

(11/16/2014) Authorities in Belgium seized two containers of Brazilian timber in Antwerp following a demonstration by Greenpeace, which alleged that the Ipe timber had been cut illegally and therefore violated the EU's trade laws.


Reducing deforestation is good for business, argues report

(11/12/2014) Some of the world's largest companies are making progress in disclosing and addressing deforestation risk within their commodity supply chains, but much work is left to be done to shift to more sustainable practices, argues a new report from the Climate Disclosure Project.


Only place where rhinos, tigers, elephants, and orangutans coexist is under threat


(11/12/2014) A forest that is the only place where rhinos, tigers, elephants, and orangutans coexist is under threat from planned infrastructure, mining, logging, and plantation projects, warns a new report from the Rainforest Action Network. The report looks at one of the last vestiges of wilderness on the island of Sumatra, which for the past three decades has been heavily ravaged by logging, fires, and conversion to industrial timber and oil palm plantations. This area, known as the Leuser Ecosystem, is today a battleground between business-as-usual interests seeking to mine its forests and a collection of conservationists, local communities, and a collection of companies seeking to steward its resources.


Peru has massive opportunity to avoid emissions from deforestation


(11/10/2014) Nearly a billion tons of carbon in Peru's rainforests is at risk from logging, infrastructure projects, and oil and gas extraction, yet opportunities remain to conserve massive amounts of forest in indigenous territories, parks, and unprotected areas, finds a study published this week in Proceedings of the National Academy of Sciences (PNAS).


Flying under the radar in Central Africa, Chinese companies may be wreaking environmental havoc


(11/07/2014) Tchimpounga, chimpanzees, and extractive industries in the Republic of Congo. 'Tchimpounga is not just a sanctuary,' shouted Rebeca Atencia above the din of the outboard motor, as she pointed to our progress up the Kouilou River on her tablet, donated by Google, which included access to high-resolution satellite maps. The GPS tracking showed us as a small, blue diamond moving slowly up the murky river.


Book detailing corruption allegations against Malaysian ruler moves forward

(11/05/2014) A book alleging massive corruption by Sarawak's long-time ruler, Abdul Taib bin Mahmud, is being released despite apparent legal threats against the book's publisher and author.


Indonesian government's concession policy prioritizes companies over forest communities


(11/03/2014) A report by the Rights and Resources Initiative (RRI) analyzes 100 conflicts around the world in the mining, oil and gas, logging and agricultural sectors and examines how and why they come about. The report focuses on several emerging economies, including Brazil, Colombia, Liberia, Peru, and Indonesia.


De-protection of Protected Areas ramps up in Brazil, 'compromises the capacity' of ecosystems


(10/31/2014) Brazil has reserved about 17.6 percent of its land (1.5 million square kilometers) to receive protection from unauthorized exploitation of resources. However, despite significant expansions in protected areas since the mid-2000s, the formation of Protected Areas has stagnated in the country since 2009, and many have had their protections completely revoked.


Beef, palm oil, soy, and wood products from 8 countries responsible for 1/3 of forest destruction

(10/23/2014) Four commodities produced in just eight countries are responsible for a third of the world's forest loss, according to a new report. Those familiar with the long-standing effort to stop deforestation won't be surprised by the commodities named: beef, palm oil, soy, and wood products (including timber and paper). Nor will they be very surprised by most of the countries: Brazil, Indonesia, and Malaysia.


Top scientists raise concerns over commercial logging on Woodlark Island


(10/21/2014) A number of the world's top conservation scientists have raised concerns about plans for commercial logging on Woodlark Island, a hugely biodiverse rainforest island off the coast of Papua New Guinea. The scientists, with the Alliance of Leading Environmental Scientists and Thinkers (ALERT), warn that commercial logging on the island could imperil the island's stunning local species and its indigenous people.


'River wolves' recover in Peruvian park, but still remain threatened inside and out (photos)


(10/14/2014) Lobo de río, or river wolf, is the very evocative Spanish name for one of the Amazon's most spectacular mammals: the giant river otter. This highly intelligent, deeply social, and simply charming freshwater predator almost vanished entirely due to a relentless fur trade in the 20th Century. But decades after the trade in giant river otter pelts was outlawed, the species is making a comeback.


Another environmental journalist killed in Cambodia

(10/14/2014) Another Cambodian journalist has been gunned down while investigating illegal logging by state officials.


Forest restoration commitments: driven by science or politics?


(10/10/2014) During September's UN Climate Summit, three African nations were recognized for their commitments to restore collectively millions of hectares of forest. But several organizations declined invitations to sign the pact because they say it fails to lay out "concrete action" to fight climate change, and some experts in the field worry that the announcements are little more than political posturing.


'A remarkable conservation achievement': Ecuador reserve expands as forest disappears


(10/09/2014) A strip of rainforest running along the northwestern Ecuadorian coast and up through Colombia is one of the most biodiverse places in the world. Yet, less than 10 percent of Ecuador's portion remains intact, with more forest lost every year to human development. But a little more has been saved for now, with 500 hectares added to an area reserve.


Leaders pledge to end deforestation by 2030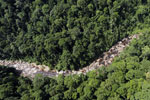 (09/24/2014) Dozens of companies, non-profit organizations, and governments pledged to work together to halve forest loss by 2020 and end it altogether by 2030. If implemented, the commitment could reduce annual carbon dioxide emissions by 4.5-8.8 billion tons annually, equivalent to removing a billion cars from the world's roads.


Extinction island? Plans to log half an island could endanger over 40 species


(09/22/2014) Woodlark Island is a rare place on the planet today. This small island off the coast Papua New Guinea is still covered in rich tropical forest, an ecosystem shared for thousands of years between tribal peoples and a plethora of species, including at least 42 found no-where else. Yet, like many such wildernesses, Woodlark Island is now facing major changes: not the least of them is a plan to log half of the island.


Legislation protecting Indonesia's indigenous communities is not good enough, says advocacy group


(09/18/2014) Approaching final legalization, an advocacy group for Indonesia's indigenous communities has asked to postpone passing a bill granting protections to indigenous people, stating some demands still need to be addressed.


'The green Amazon is red with indigenous blood': authorities pull bodies from river that may have belonged to slain leaders

(09/17/2014) Peruvian authorities have pulled more human remains from a remote river in the Amazon, which may belong to one of the four murdered Ashaninka natives killed on September 1st. It is believed the four Ashaninka men, including renowned leader Edwin Chota Valera, were assassinated for speaking up against illegal logging on their traditional lands.


From 'production' forests to protected forests, groups work to save Sumatran orangutan habitat. But will it be enough?


(09/16/2014) The orangutan is native exclusively to the islands of Borneo and Sumatra — two regions that have seen the brunt of Indonesia's recent forest destruction due primarily to logging and plantation development. Although there are anywhere from 45,000 to 69,000 Bornean orangutans remaining in the wild, the Sumatran species numbers only about 7,300 according to a 2004 survey, and is dwindling further every year.


FSC passes motion for greater protection of primary forests

(09/12/2014) The Forest Stewardship Council (FSC) has passed a motion to increase protection of old-growth forests.


FSC meeting weighs old-growth forest protection, smallholder participation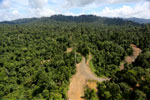 (09/11/2014) The Forest Stewardship Council (FSC), a body that sets social and environmental certification criteria for forestry products, is weighing measures that could step up protection for old-growth forests and make it easier for indigenous people and traditional forest communities to qualify for certification. The measures are set for a vote this week at the body's General Assembly, which is held every three years to establish and revise criteria that underpin the standard.


4 Ashaninka tribesmen killed by loggers in Peru

(09/08/2014) One of those killed was Edwin Chota, the leader of the Alto Tamaya-Saweto indigenous community who won fame for fighting illegal loggers. As such, Chota was a top target for assassination, according to a conservationist familiar with the situation.


Canada, Russia, Brazil lead world in old-growth forest loss


(09/05/2014) Every day, the world loses about 50,000 hectares of forest to agricultural clearing, road development, and other human activities, constricting true wilderness into smaller and smaller areas – along with the species that inhabit them. New analysis and maps released this week show these last vestiges are disappearing at a quick pace, with more than 104 million hectares degraded from 2000 to 2013.


How Islam could help save Aceh's forests

(09/05/2014) Aceh, Indonesia has found a new ally in the struggle to protect the province's remaining natural forests: Sharia law.


A path to becoming a conservation scientist


(09/05/2014) The path to finding a career often involves twists and turns. Serendipity is important — one rarely anticipates what small events, chance occurrences, and seeds of inspiration will spur decisions that lead to pursuing one job or another. For Zuzana Burivalova, a PhD candidate based at the Swiss Federal Institute of Technology in Zurich (ETH Zurich), the road to becoming a tropical forest ecologist began as a child in a small Czech Republic village with a foldout children's book about rainforests.


'A global tragedy' in the making? Thailand plans highway expansion through World Heritage Site


(08/29/2014) Dong Phayayen Khao Yai Forest Complex (DPKY-FC) is the largest tract of surviving forest in central Thailand, renowned for its biodiversity. Now, the Thai government is planning major expansions to a road that bisects the complex – which scientists say will bar animal movement throughout their natural ranges, result in higher rates of road kill, and give hunters and loggers increased access to the forest.


More trouble with tar sands: oil extraction leading to big forest loss in Alberta


(08/29/2014) Tar sands operations have been the subject of much controversy over the past few years as expected economic gains for Canada the may come at the cost of environmental damage from the proposed Keystone XL pipeline and increased greenhouse gas emissions. Now another negative impact has come to light - deforestation of the boreal forest overlying the oil deposits.


Meeting an Illegal Logger


(08/27/2014) 'I make six times the amount of money logging as I would working my small plot of land or even working legally in a pulp and paper or palm oil plantation.' An illegal logger explains the economic conditions in South Sumatra. Mongabay Special Reporting Fellow Robert S. Eshelman interviews an illegal logger in Indonesia on the topic of cleaning up commodity supply chains.


Where should the roads go? New map offers a solution to the 'Pandora's Box of environmental problems'


(08/27/2014) Roads make it possible to bring goods to market, to get to the office, to log a forest, to hunt its wildlife. Without roads, human society as we know it could not exist. However, to build roads, trees must be cleared and swamps drained, shrinking valuable wildlife habitat and fragmenting populations in the process. A new study unveils an innovative map that defines which areas of the world would be best used to build roads – and which should be left alone.


What lies within, we may never know: deforestation threatening Sulawesi's unique wildlife


(08/26/2014) For 10 million years the Indonesian island of Sulawesi has been disconnected from other landforms, almost inviting evolution to color outside the lines. Despite a growing population and limited space, Sulawesi has managed to provide a safe haven to hundreds of unique species as they evolved over millennia. But that haven may soon be lost to uncontrolled extraction of forest products from Sulawesi's many pristine ecosystems.


An uncertain future: world's last wild Siberian tigers threatened by illegal logging, global warming, disease (PART II)


(08/22/2014) Every year, between 20 and 30 tigers are poached. Illegal logging is reducing the tigers' habitat, and illegal hunting is reducing its food supply. However, these are not the only threats to wild tiger survival -- other problems are cropping up and taking a toll on the iconic big cat.


Greenpeace alleges SLAPP suit tactic by logging company

(08/22/2014) Greenpeace Canada has filed a Statement of Defense in response to a $7 million lawsuit by Resolute Forest Products (NYSE:RFP) over allegations that the logging company destroyed forests in Quebec and Ontario.


Next big idea in forest conservation? DNA fingerprinting trees to stem illegal logging


(08/21/2014) As a professor at Texas Tech, Dr. Chuck Cannon has been, among other things, working to create a system of DNA fingerprinting for tropical trees to undercut the global illegal logging trade. 'If we just enforced existing laws and management policies, things would be pretty good, but unfortunately, that is where things fall apart in many tropical countries,' Cannon said.


Selective logging hurts rainforest frogs


(08/21/2014) Selective logging in India's Western Ghats forests continues to affect frogs decades after harvesting ended, finds a new study published in Biotropica. The research assessed frog communities in logged and unlogged forests in Kalakad Mundanthurai Tiger Reserve and found that unlogged forests had twice the density of frogs as areas logged in the 1970s.


Indonesia's forests so damaged they burn whether or not there's drought


(08/21/2014) Air pollution caused by fires set for land-clearing on Sumatra has become a regularly occurrence in Southeast Asia. While these fires are often termed forest fires, the reality is much of the area that burns each year has already been deforested and today mostly consists of grass, scrub, and remnants of what was once forest. But the impacts are nonetheless very substantial, finds a new study published in the journal Scientific Reports.


Logging of Russian Far East damaging tiger habitat, few intact forests protected (Part I)


(08/19/2014) The destruction of Russian forests to supply timber to international markets is becoming one of the biggest threats to the world's largest cat, the Siberian tiger. Russia has more forests than any other country, with more than half of the world's coniferous forests. However, worldwide demand for high quality timber, along with weak regulations, has led to widespread logging of Russia's trees.


Indonesian govt reiterates plan to clear 14M ha of forest by 2020

(08/16/2014) The Indonesian government is pressing forward with plans to clear 14 million hectares of forest between 2010 and 2020 despite a commitment to curb greenhouse gas emissions.


Nothing else left to log: are eco-certified timber companies stripping Russia of its last old growth forests?


(08/15/2014) Among Russia's forested lands lie intact forest landscapes (or IFLs). These IFLs are large swaths of unbroken, old growth forests that encompass at least 50,000 hectares, harbor high biodiversity, and have remained mostly undisturbed by development. However, less than 10 percent of the world's IFLs are currently protected. Now, a new report reveals Russia's IFLs may be threatened by certified sustainable logging companies.


China failing to take effective action against timber smugglers

(08/12/2014) Voluntary guidelines established by the Chinese government won't be enough to curb rampant timber smuggling by Chinese companies, putting 'responsible' actors at risk of having their reputations tarnished, argues a new campaign by the Environmental Investigation Agency (EIA).


Ndoki Forest, charmed or cursed? Conservationists admit sustainable logging wilting in naïve chimp habitat


(08/01/2014) 'You come across that crest, and … you're going from forest that has already been exploited to this kind on no-man's land… It just felt like you were going into this vast unknown wilderness' – Mike Fay from Eating Apes by Dale Peterson and Karl Ammann. Mike Fay, famed explorer and conservationist, said this of the Ndoki Forest in the Republic of the Congo.


Ecologists are underestimating the impacts of rainforest logging


(07/31/2014) Ecologists may be underestimating the impact of logging in old-growth tropical forests by failing to account for subtleties in how different animal groups respond to the intensity of timber extraction, argues a paper published today in the journal Current Biology. The study, led by Zuzana Burivalova of ETH Zurich, is based on a meta-analysis of 48 studies that evaluated the impact of selective logging on mammals, birds, amphibians, and invertebrates in tropical forests.


Surrounded by deforestation, critically endangered gorillas hang on by a thread


(07/17/2014) The mountain forests at the Nigeria-Cameroon border are home to one of the rarest and most threatened subspecies of African apes – the Cross River gorilla (Gorilla gorilla diehli). Today, fewer than 300 individuals survive in the wild. These occur in 14 small, fragmented populations spread over a 12,000-square kilometer (4,633-square mile) landscape, characterized by rugged, hilly terrain and a matrix of farmlands, villages, and forests.


30% of Borneo's rainforests destroyed since 1973


(07/16/2014) More than 30 percent of Borneo's rainforests have been destroyed over the past forty years due to fires, industrial logging, and the spread of plantations, finds a new study that provides the most comprehensive analysis of the island's forest cover to date. The research, published in the open-access journal PLOS ONE, shows that just over a quarter of Borneo's lowland forests remain intact.


Stuff of fairy tales: stepping into Europe's last old-growth forest


(07/09/2014) There is almost nothing left of Europe's famed forests, those that provided for human communities for millennia and gave life to the world's most famous fairytales. But straddling the border between Poland and Belarus, the Bialowieza Forest is Europe's last lowland old-growth forest, parts of which have never been cut by man.


APP won't acquire companies that continue to destroy forests


(07/08/2014) Asia Pulp & Paper (APP) will not acquire companies that continue to destroy forests, according to a new procedure for association introduced by the Indonesian forestry giant. The procedure, developed after months of consultations with NGOs, effectively closes a loophole some environmentalists feared would allow APP to sidestep its zero deforestation commitment by acquiring companies that continued to clear forest after its February 5, 2013 deadline.


No restrictions: Japan's demand for illegal wood driving rampant deforestation in Siberia


(07/03/2014) Illegal logging is taking a huge toll on forests around the world. In response, many countries have banned the import of timber whose legal harvest cannot be verified. However, Japan has made no strides to reduce its import of illegal timber. Instead, it is knowingly importing mass quantities of wood sourced from vulnerable forests in Siberia, according to a recent report.


New report: illegal logging keeps militias and terrorist groups in business


(06/30/2014) Released last week by the United Nations Environment Programme (UNEP) during the first United Nations Environment Assembly in Nairobi, Kenya, a new report found that together with other other illicit activities such as poaching, illegal deforestation is one of the top money-makers for criminal groups like Boko Haram and Al-Shabaab.


Despite moratorium, Indonesia now has world's highest deforestation rate


(06/29/2014) Despite a high-level pledge to combat deforestation and a nationwide moratorium on new logging and plantation concessions, deforestation has continued to rise in Indonesia, according to a new study published in Nature Climate Change. Annual forest loss in the southeast Asian nation is now the highest in the world, exceeding even Brazil.


Logging in Vietnam still affecting rare trees 30 years later


(06/25/2014) Restricted geographic ranges, high habitat specificity, and small local population sizes all contribute to the natural rarity of many tree species. Anthropogenic activities such as selective logging can compound this rarity by modifying habitats and altering the competitive balance among tree species. According to a new study, previous logging in the forests of Vietnam continue to put rare tree species at risk.


Discarded cell phones to help fight rainforest poachers, loggers in real-time


(06/24/2014) A technology that uses discarded mobile phones to create a real-time alert system against logging and poaching will soon be deployed in the endangered rainforests of Central Africa. Rainforest Connection (RFCx), a San Francisco-based non-profit startup, is partnering with the Zoological Society of London (ZSL) to install its real-time anti-deforestation technology at sites in Cameroon. 30 RFCx devices — recycled from old Android handsets — will monitor 10,000 hectares or nearly 40 square miles of rainforest, listening for audio signals associated with logging and poaching.


Scientists discover carnivorous water rat in Indonesia, good example of convergent evolution


(06/19/2014) Researchers have discovered a new carnivorous water rat on the island of Sulawesi that's so unique it represents an entirely new genus. They believe many more new rodent species await discovery in this relatively undisturbed part of Indonesia, but mining and other types of development may threaten vital habitat before it's even surveyed.


Indonesian logger: cleared peat forest doesn't have high conservation value

(06/17/2014) An Indonesian logging company says that clearing of peat forest on an island off Sumatra is 'in line with its Sustainable Forest Management Policy' because the area wasn't found to be of high conservation value. In a letter responding to concerns raised by environmental groups, Asia Pacific Resources International Holdings Limited (APRIL) said its forest policy applies to all its concessions, including the Pulau Padang concession where Greenpeace documented deep peat clearance last month.


After Greenpeace complaint, UK timber giant removes controversial Amazon wood from shelves

(06/16/2014) After being implicated in a Greenpeace report on illegal logging in the Amazon rainforest, UK building supplier Jewson has pulled controversial wood from its shelves until it can conduct a full investigation on the timber's origin.


Protecting rainforests could sequester equivalent of a third of global emissions annually


(06/13/2014) liminating deforestation, peatlands and forest degradation, and forest fires in the tropics could reduce global carbon emissions by two billion tons a year, or nearly a fifth, argues a new study published in Global Change Biology. The research analyzed various emissions sources and sinks across the tropics. They found that carbon emissions from activities that damage and destroy forests are nearly counterbalanced by forest regrowth, reforestation, and afforestation.


Australia sees rise in greenwashing front groups

(06/13/2014) Australia is seeing a rise in groups that purport to champion environmental causes but are actually actively undermining them as front organizations for industrial interests, argues an op-ed published in The Ecologist.


Extractive industries and apes


(06/13/2014) Current thinking in the private and public sectors asserts that economic development needs are in conflict with, or mutually exclusive of, the need to conserve the biosphere on which we depend. So, we are asked either to reduce development in the name of conservation or to reduce conservation in the name of development.


APRIL's forest policy failing to stop rainforest destruction, say green groups

(06/06/2014) Asia Pacific Resources International Holdings Limited's forest policy allows the Singapore-based pulp and paper giant to continue destroying rainforests and peatlands for industrial plantations, argues a letter published by an international coalition of environmental groups.


Singapore intercepts massive illegal shipment of Madagascar rosewood


(06/03/2014) Authorities in Singapore have made the largest-ever international seizure of rosewood logs, providing further evidence that industrial-scale smuggling of Madagascar's rainforest timber continues despite an official ban on the trade. Details of the seizure remain sparse since the investigation is still active, but leaked correspondence between officials in Madagascar indicates that the shipment amounts to 3,000 tons, or more than 29,000 illicit rosewood logs.


Logger continues to destroy Indonesian rainforest despite green promises (Photos)


(06/03/2014) Indonesian logging giant Asia Pacific Resources International Limited (APRIL) is continuing to destroy endangered rainforests on Sumatra despite a high profile commitment to clean up its operations, reveal aerial photos captured by Greenpeace last month.


Logging, fires take a hidden toll on Amazon rainforest


(05/28/2014) Selective logging and small sub-canopy fires are degrading vast areas of rainforest across the Brazilian Amazon, contributing to largely hidden carbon emissions, argues a study published today in Global Change Biology. The research found stark differences in carbon storage between primary forests, selectively logged forests, logged and burned forests, and regrowing or secondary forests.


Indonesia's haze from forest fires kills 110,000 people per year


(05/28/2014) Haze caused by burning peat forests in Indonesia kills an average of 110,000 people per year and up to 300,000 during el Niño events, while releasing hundreds of millions of tons of greenhouse gases into the atmosphere, warns a new report from Greenpeace. Sumatra: Going up in smoke argues that peatland and forest protection are the best way to protect the region from the effects of haze.


Plan to shrink World Heritage forest in Tasmania 'clearly inappropriate,' says IUCN


(05/27/2014) The International Union for Conservation of Nature (IUCN) has roundly criticized Australia's proposal to remove 74,000 hectares of temperate rainforest from the World Heritage Committee. In a report to the global organization, the IUCN argues that the removal of these forests would "impact negatively" on the site's overall value.


WWF accuses APRIL of breaking sustainability commitment by logging rainforest in Borneo

(05/23/2014) Environmental group WWF has accused Singapore-based pulp and paper giant Asia Pacific Resources International Limited (APRIL) of breaking its recent conservation commitment by destroying rainforest in Indonesian Borneo. APRIL has denied the charges.


DRC seeks $1B to save its rainforest

(05/22/2014) The Democratic Republic of Congo is seeking a billion dollars for a plan to protect up to 9 million hectares of rainforests, reports the Financial Times.


Greenpeace: Timber laundering rampant in the Brazilian Amazon


(05/18/2014) A two-year investigation by Greenpeace has revealed the extent of timber laundering in two major Brazilian Amazon states: Pará and Mato Grosso. The report, published last week, suggests that fraud is widespread in the Brazilian timber industry. Loggers are using loopholes and outright deception to game regulations that aim to reduce the environmental impact of timber extraction.


Publishing industry dramatically reduces reliance on rainforest fiber


(05/17/2014) The world's largest publishing companies have adopted policies that significantly curtail use of paper sourced from rainforest destruction and social conflict, finds a new assessment published by the Rainforest Action Network (RAN). The report looks at sourcing policies for the ten biggest publishing houses and compares them with the state of the industry in 2010.


53 indigenous activists on trial for police-protester massacre in Peru


(05/15/2014) In the summer of 2009, on a highway in Peru known as Devil's Curve: everything went wrong. For months, indigenous groups had protested new laws by then President Alan Garcia opening up the Amazon to deregulated logging, fossil fuels, and other extractive industries as a part of free trade agreements with the U.S.


Chinese luxury furniture linked to murder, near extinction


(05/12/2014) Intricately carved, meticulously designed, and costing hundreds of thousands of dollars: this is "hongmu," or Chinese luxury furniture reflecting the elite styles of the Ming and Qing dynasties. But while the red-colored furniture may be aesthetically beautiful, it comes with a blood price.


Special Report: Lake Toba indigenous people fight for their frankincense forest


(05/08/2014) It was a cool and foggy day in Dolok Ginjang forest, but that did not stop villagers of Pandumaan and Sipituhuta in North Sumatra from heading to work to extract frankincense from the trunks of its tall trees. Frankincense, an aromatic tree resin used in perfumes and incense, is the primary source of income for local people in the area. However, that routine has been disrupted for the past few years as land conflict has erupted between villagers and wood pulp producer PT Toba Pulp Lestari over the forest area.


Almost 90 percent of Republic of the Congo's lowland forests open to logging


(05/06/2014) Although the Republic of the Congo has opened up nearly 90 percent of its lowland forests to logging, the majority of the logging occurring in the country is still illegal, according to a new report from the Chatham House. In fact the UK policy institute finds that illegal logging in the Republic of the Congo may make up as much as 70-75 percent of the industry.


Indonesia president lauds success of logging ban, urges continued action


(05/05/2014) A few months before his administration ends, Indonesian President Susilo Bambang Yudhoyono expressed hope that his successor would be able to prolong the ban on new logging and plantation concessions he introduced in 2011. He cited the progress it has made towards more sustainable land-use practices, and subsequent benefits in environmental conditions and public health.


Not all used up: why conserving selectively logged forests is important


(05/02/2014) Tropical forests, which provide rich biodiversity, vital carbon storage, and essential medicines, are being damaged and destroyed at a rapid rate worldwide. Loggers especially target old-growth forests for selective harvesting of their valuable timber. But while selectively logged forests are indeed degraded, these disturbed forests are valuable ecosystems for many species, with higher biological productivity than previously thought, and merit increased conservation attention, argues a new paper published in Frontiers in Ecology and the Environment


Commodity eco-certification skyrockets, but standards slip

(05/01/2014) The volume of commodities produced under various social and environmental certification standards jumped 41 percent in 2012, far outpacing the 2 percent growth across conventional commodity markets, finds a comprehensive new assessment of the global certification market.


Papua New Guinea pledges to cancel massive land grabs by timber companies

(04/29/2014) Papua New Guinea's Prime Minister, Peter O'Neill, released a statement last week saying that hugely controversial land leases under the country's Special Agricultural and Business Leases (SABLs) will be cancelled if they are found to be run for extracting timber.


3M linked to deforestation in Brazil, Canada, Europe, and U.S., says NGO


(04/29/2014) A new report from activist group, ForestEthics, alleges that U.S. company, 3M, supplies many of its products from endangered forests around the world. The NGO links 3M's masking tape and sandpaper to caribou habitat in the boreal forests of Canada, Scotch-Brite sponges to a controversial paper mill in Brazil, and those ubiquitous Post-it Notes to allegedly poor logging practices in the U.S.


Indonesian activist wins Goldman Prize for fighting palm oil, deforestation


(04/28/2014) An Indonesian has won the world's most prestigious award for environmental activism for his efforts to fight illegal logging, forest encroachment for palm oil production, and a policy that would open up vast swathes of an endangered ecosystem for mining and industrial plantations.


Loggers plan to clear 20 percent of tropical island paradise


(04/28/2014) Seven years ago, a palm oil company set its eyes on Woodlark Island—a small rainforest island nearly 200 miles off the coast of Papua New Guinea—but was rebuked by the local populace. But locals and conservationists who spoke to mongabay.com at the time felt that wouldn't be the end of it: they were right. Recently, a company, Karridale Limited, has landed machinery on the island.


Australians rally to save World Heritage Site from chopping block

(04/28/2014) Yesterday, nearly 2,000 people held a rally to show support for a Tasmanian forest that the Australian government wants stripped of its UNESCO World Heritage Sites and logged.


APP commits to conserve, restore 1M ha of Indonesian forest; WWF pledges support


(04/28/2014) Asia Pulp & Paper (APP), Indonesia's largest pulp and paper company and a long-time target of environmental campaigners, has committed to protect and restore a million hectares of forest across Indonesia. The pledge, which represents an area equivalent to the total plantation area from which it sourced pulp in 2013, was immediately welcomed by WWF, which until today has remained one of APP's staunchest critics.


'Better late than never': Myanmar bans timber exports to save remaining forests


(04/24/2014) Myanmar contains some of Asia's largest forests, but has been losing them at a rapid pace during the last two decades as logging companies emptied woodlands to meet the demands of the lumber industry. In an effort to save its disappearing forests, Myanmar implemented a ban on raw timber exports, effective March 31, 2014. However, the ban affects only raw timber exports, not milled lumber, throwing into doubt its ability to adequately protect Myanmar's forests.


After widespread deforestation, China bans commercial logging in northern forests


(04/22/2014) Forestry authorities in China have stopped commercial logging in the nation's largest forest area, marking an end to more than a half-century of intensive deforestation that removed an estimated 600 million cubic meters (21 billion cubic feet) of timber. The logging shutdown was enacted in large part to protect soil and water quality of greater China, which are significantly affected by forest loss in the mountainous region.


APRIL continued destroying high conservation rainforest up until January pledge


(04/21/2014) Plantation giant Asia Pacific Resources International Limited (APRIL) continued to source fiber produced by destruction of high conservation value forests in Sumatra right up until it committed to a new forest conservation policy, according to an investigation by Eyes of the Forest, a coalition of environmental groups in Riau.


Legal logging concessions drive illegal logging in Peru, threatening forests and indigenous people


(04/17/2014) Nearly 70 percent of officially inspected logging concessions in Peru have had their permits canceled or are under investigation for major breaches of forestry laws, finds a new study published in the journal Scientific Reports. Worryingly, the research also concludes that forestry permits are being widely used to launder timber illegally logged from outside concession areas.


Nearly a thousand environmental activists murdered since 2002


(04/15/2014) At least 908 people were murdered for taking a stand to defend the environment between 2002 and 2013, according to a new report today from Global Witness, which shows a dramatic uptick in the murder rate during the past four years. Notably, the report appears on the same day that another NGO, Survival International, released a video of a gunman terrorizing a Guarani indigenous community in Brazil.


Forests in Indonesia's concession areas being rapidly destroyed


(04/10/2014) Forest clearing within areas zoned for timber, logging, oil palm, and mining accounted for nearly 45 percent of deforestation in Indonesia between 2000 and 2010, finds a new study that examined forest loss within industrial concessions.


Emissions from rainforest logging average 16% of those from deforestation


(04/08/2014) Carbon emissions from selective logging operations in tropical rainforests are roughly a sixth of those from outright forest clearing, finds a new study that evaluated 13 forestry concessions in six countries. The study analyzed carbon losses from elements of logging operations, including timber extraction, collateral damage to surrounding vegetation, and logging infrastructure like roads and skid trails.


Nearly 90 percent of logging in the DRC is illegal


(04/08/2014) The forestry sector in the Democratic Republic of Congo (DRC) is completely out of control, according to a new eye-opening report. Put together by the Chatham House, the report estimates that at least 87 percent of logging in the DRC was illegal in 2011, making the DRC possibly the most high-risk country in the world for purchasing legal wood products.


Indonesian 'legal' timber scheme could be greenwashing illegal products, NGOs warn


(04/07/2014) Flaws in the country's system to verify legal wood products could have implications for trade with Europe, as new research suggests even certified companies in Indonesia may not be meeting EU standards. Indonesian civil society groups have called on their government to reform its legal timber certification system, pointing to widespread illegal practices among certified companies and an auditing system that is 'almost impossible' for companies to fail.


Is deforestation-free clothing possible?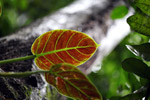 (04/02/2014) H&M and Zara/Inditex, two of the world's largest clothing companies, today pledged to eliminate old-growth forest destruction from their products. The commitment lends support to a new front on efforts to cut deforestation out of the supply chains of global brands. Until now, most of the focus of campaigners has been on pulp and paper, timber, and agricultural commodities like soy, palm oil, and cattle.


Schwarzenegger targeted by environmentalists for investments in forest-destroying companies


(03/31/2014) Former movie star and politician Arnold Schwarzenegger is facing criticism after Global Witness produced evidence that his investment company is profiting off rainforest destruction in Southeast Asia. The findings are significant because Schwarzenegger championed rainforest conservation while serving as governor of California.


Just how bad is the logging crisis in Myanmar? 72 percent of exports illegal


(03/26/2014) Just days before Myanmar, also known as Burma, implements a ban on exporting raw logs, the Environmental Investigative Agency (EIA) has released a new report that captures the sheer scale of the country's illegal logging crisis. According to the EIA, new data shows that 72 percent of logs exported from Myanmar between 2000-2013 were illegally harvested.


Alien trees use logging roads to invade Borneo forests


(03/25/2014) The spiked pepper tree (Piper aduncum) is native to the American tropics, but has made itself at home in a variety of other locales where it can crowd out local vegetation and interfere with forest recovery. Although it's been slow to spread through Borneo since its introduction to Indonesia in 1952, new logging roads appear to be driving the species farther afield. A study in mongabay.com's open access journal Tropical Conservation Science raises concerns that these roads may bring unintended plant colonists to new areas – putting the biodiversity of forests at risk.


Community's push to clear forest for plantation challenges efforts to conserve in Indonesia


(03/20/2014) In the swampy peatlands of Basilam Baru in Sumatra's Riau Province a conflict between a community and a woodpulp company is illustrating some of the intractable challenges of conserving forests and addressing deforestation in Indonesia. On first glance the story seems depressingly familiar. One actor wants to preserve the forest, which serves as critical habitat for endangered Sumatran tigers and clouded leopards. The other wants to clear it for a plantation.


Photos: Forests, peatlands, plantations, and deforestation in Riau


(03/19/2014) Indonesia's Riau Province on the island of Sumatra has experienced rapid deforestation since the early 1990's, with primary forest cover plummeting by 85 percent in twenty years. Most of this forest loss has been driven by plantation development for timber, woodpulp, and palm oil production.



Page 1 | Page 2 | Page 3 | Page 4 | Page 5 | Page 6 | Page 7 | Page 8 | Page 9 | Page 10 | Page 11 | Page 12