News articles on logging

---
Mongabay.com news articles on logging in blog format. Updated regularly.






Do we need to move 'beyond certification' to save forests?
(06/25/2015) Over the past two years dozens of companies have established 'zero-deforestation' or 'deforestation-free' policies for the commodities they source, trade, and produce. The pace of adoption has been staggeringly fast for a business that have been historically slow-moving relative to other industries. Some sectors, like the Indonesian palm oil industry and the Brazilian soy industry, even appear to be nearing a critical mass where the majority of international buyers and traders are now bound by such agreements.
Controversy emerges over alleged deforestation policy breach by APRIL supplier
(06/23/2015) Less than three weeks after APRIL unveiled a sustainability policy that is supposed to protect natural forests, an environmental group is alleging that one of the Indonesian forestry giant's subsidiaries is already breaching the commitment. But APRIL refuted the claim and says it continues to stand by the policy.
Well grounded: orangutans are more terrestrial than previously thought
(06/08/2015) For years scientists have believed that orangutans are primarily arboreal. Indeed, most photographs and videos of orangutans depict them up in the trees. But a recent study challenges that thinking with photographic evidence that orangutans spend a lot more time on the ground than previously thought.
Invasive predators, deforestation driving Tasmanian parrot over the edge
(05/29/2015) In the forests of Tasmania lives the swift parrot (Lathamus discolour), a highly threatened bird found nowhere else in the world. New research published recently in Biological Conservation finds they are more at risk of extinction than previously thought, with introduced sugar gliders (Petaurus breviceps) and logging dealing two big blows to their remaining numbers.
Timber 'mass graves' uncovered as Malaysian authorities pursue illegal loggers

(05/21/2015) A crackdown on illegal logging in Peninsular Malaysia's largest continuous forest complex has uncovered three timber 'mass graves' – burial sites where valuable logs have been stashed beneath tons of earth to hide evidence. The loggers apparently made haste in fleeing the hilly terrain where they left the timber. A joint operation by Malaysia's antigraft agency and Forestry Department found parts of logs sticking out of the ground and the red earth still unsettled, indications their quarry had hurriedly concealed the felled trees.
Tennis star responds to rainforest advocates

(05/20/2015) Roger Federer has responded to two Indonesian activists who asked the tennis star to use his influence to encourage Credit Suisse to end its relationship with a controversial logging company, reports the Bruno Manser Fund.
Scientists reconstruct what was in the Harapan Rainforest of Sumatra
(05/12/2015) A new study published in mongabay.com's open-access journal Tropical Conservation Science describes how the Harapan Rainforest was prior to extensive logging and compares it to its current condition. The authors call for the Harapan's conservation because it is still very rich in species and holds rare habitats and many endemic plants.
World's critical habitats lost Connecticut-size area of forest in a decade
(05/08/2015) Many of the world's endangered animals live in only one place, making them hugely susceptible to environmental upset. One fell swoop, and entire species could disappear from existence forever. New analysis shows that possibility may be edging closer and closer to reality in some areas, with forests known to harbor high-risk species losing an area of tree cover the size of Connecticut in a little over a decade.
Indian fabric giant adopts forest policy
(05/08/2015) One of the world's largest fabric makers for the fashion industry today announced a policy to exclude fiber produced at the expense of endangered forests, reports Canopy, an environmental group that helped broker the commitment.
Sarawak increases fines for illegal logging

(05/01/2015) After decades of intense logging that has left its rainforests degraded, fragmented, and stripped of valuable timber in many areas, the Malaysian state of Sarawak has passed a new forestry bill that could boost penalties for illegal logging.
Activists target Roger Federer as brand ambassador for bank linked to deforestation
(04/22/2015) Environmentalists are asking tennis star Roger Federer to deliver a message to Credit Suisse over the banking giant's continued financing of a logging company linked to ongoing destruction of wildlife habitat in Indonesia. According to the Bruno Manser Fund two members of a rainforest community in Sumatra have written to Federer to ask for his help in persuading Credit Suisse to stop financing logging of peat forests.
Woman defeats mine, saves wilderness, wins $175,000
(04/20/2015) When a huge open-pit mine threatened a pristine lake and surrounding forest in British Columbia, Canada, Marilyn Baptiste jumped into action, spearheading efforts to collect environmental impact data and even physically turning away construction crews. Today, Baptiste was honored for her work when she was presented the 2015 Goldman Environmental Prize at a ceremony in San Francisco.
Growing need for deforestation-free rubber as tire demand destroys native forests
(04/18/2015) Surging demand for natural rubber is decimating some of the world's most endangered forests, putting wildlife and critical ecosystem services at risk, warn scientists writing in the journal Conservation Letters. Reviewing a large body of published research, Eleanor Warren-Thomas of the University of East Anglia and colleagues detail the crop's expansion across across Southeast Asia in recent decades.
Condition of tropical forests 'worsening', could become 'critical'
(04/07/2015) World leaders are continuing to overlook the worsening condition of tropical forests despite the biome's vast potential to help mitigate climate change, support local livelihoods and ecosystem services, and stabilize global agriculture, warns a comprehensive review published by a body founded by Prince Charles.
Who's to blame for forest loss in Borneo timber concession?
(04/06/2015) The apparent loss of some 4,000 hectares of forested peatland in Indonesian Borneo is raising questions on who bears responsibility for forest clearing in un-utilized concessions. On Monday, Greenomics-Indonesia issued a report revealing the loss of significant tracts of peat forest in a West Kalimantan concession held by PT Bumi Mekar Hijau (BMH), a plantation company whose operation in South Sumatra supplies Asia Pulp & Paper (APP) with woodpulp for its mills.
Russia and Canada lead the world in forest loss in 2013
(04/02/2015) Russia and Canada led the world in forest loss, accounting for nearly forty percent of the 18 million hectares of forest lost globally in 2013, reveals a new analysis based on high resolution satellite imagery. The research — released today on Global Forest Watch, a forest monitoring and research platform — was led by Matt Hansen of the University of Maryland and involved Google, World Resources Institute (WRI), and other institutions
APRIL violates sustainability policy by clearing peat forest after Jan cut-off
(03/26/2015) New data shows Asia Pacific Resources International Holdings Limited (APRIL) is continuing to destroy rainforests on deep peat despite a high profile pledge to clean up its operations. Today Greenomics-Indonesia released an analysis of two NASA Landsat images confirming that APRIL's subsidiary PT Riau Andalan Pulp Paper (RAPP) has cleared significant tracts of peat forest on Pulau Pedang island off Sumatra's coast since January 2015.
Mexico's club mosses at risk of extinction
(03/26/2015) All nine species of the club moss genus Phlegmariurus found in the state of Veracruz in eastern Mexico are at risk of extinction, according to a new study published in the journal Tropical Conservation Science. One of these species, P. orizabae, has not been recorded in the wild since 1854.
Photos: expedition to Amazon's white sands may have found new primate
(03/24/2015) Most people think of the Amazon rainforest as one massive, homogenous ecosystem—a giant castle of green. However, within the Amazon rainforest lie a myriad of distinct ecosystems, sporting unique characteristics and harboring endemic species. One of the rarer ecosystems in the Amazon is the white sands forest.
Seeing the trees but not the forest (commentary)
(03/20/2015) Understanding forest dynamics is necessary for the sound management of forests, for both production and conservation. This includes an understanding of the extent of forest area, information about what the forest contains and how the forest resource is managed. Forest monitoring provides this information.
Scientists warn of global warming threat to temperate rainforests
(03/13/2015) In a new study published recently in Earth Systems and Environmental Sciences, researchers warn that temperate rainforests may be in for big changes in the face of global warming, and they recommend reducing greenhouse gas emissions before it's too late.
Study finds soil releases carbon for decades after forests are felled
(03/11/2015) According to a study by researchers with Dartmouth College, the carbon stored in mineral soils, which lie underneath the organic soil layer, is released for decades after a forest is cut down. This may have serious implications for how carbon emissions from deforestation are accounted for.
Photo essay: filming in the remote Amazon
(03/09/2015) You wake up at 4:30 AM, a little before the first rays of tropical sun begin to dance behind the treetops. You put on your wet clothes from the previous day, pack your bag, and pick up your tripod. The jungle is shrouded in a thick mist from the previous nights rain. As you walk, you recognize many of the strange calls that echo between the trees.
East Kalimantan reaffirms moratorium on new mining, logging concessions

(03/06/2015) The governor of East Kalimantan, Indonesia, has reaffirmed his commitment to a 2013 moratorium on mining, logging, and plantation permits. The policy, which was originally outlined in a letter to the province's regents and mayors will be elevated to a higher status, he said.
Reports slam Malaysian timber companies, urge reforms in forest management
(02/27/2015) Two international NGOs have called out Malaysia in recent months over the country's widespread illegal logging. Malaysia has been accused of not doing enough to protect its diminishing forests and thwart the illicit timber trade, particularly in Sarawak, the site of the country's worst deforestation. Lax oversight, endemic corruption and limited transparency have allowed for Malaysia's forests to be plundered by both the government and the private sector.
Reports blame illegal logging for felling Sarawak forest
(02/25/2015) A recent report by the international affairs think tank Chatham House has highlighted Malaysia's lack of progress in dealing with illegal logging, blaming corruption and a lack of transparency on the country's sluggish approach to environmental policy reform.
Santander Bank cuts off APRIL due to deforestation

(02/24/2015) Banking giant Santander says it will not extend further financing to Asia Pacific Resources International Limited (APRIL) due to evidence that the Singapore-based pulp and paper company is continuing to destroy rainforests in Indonesia. The move comes after Greenpeace launched a global campaign against the bank.
Selective logging causes long-term changes to forest structure
(02/18/2015) Selective logging is causing long-term changes to tropical forests in Africa by facilitating the growth of weeds and vines, which reduces plant diversity and diminishes carbon storage, reports a new paper published in the journal Ecological Research. The paper is based on field data from more than 500 plots in Sierra Leone, Ghana, Cameroon and Gabon.
Chinese banks funding rainforest destruction in Indonesia

(02/18/2015) While Santander Bank has made headlines in recent days for financing an Indonesian forestry giant's ongoing clearance of carbon-dense forests in Sumatra, Chinese banks among the largest funders of the company, reveals analysis conducted by BankTrack.org.
Brazilian indigenous populations grow quickly after first contact devastation

(02/18/2015) Indigenous communities in South America have long experienced devastating impacts from contact with Western society. In the Sixteenth Century, European colonists brought slavery, war, and violence, but disease proved the most devastating. In all, European contact destroyed over 95 percent of the native population.
Illegal logging still a big issue in Cameroon
(02/13/2015) Cameroon is struggling to make progress in combatting illegal logging. Regulatory budgets are too thin to protect the country's vast tracts of Congolian Rainforest. And demand domestically and abroad make the financial incentives for both the informal sector and Cameroon's leaders too difficult to pass up, leading to an illicit timber trade beset with corruption.
Ranking the best and worst companies in terms of deforestation
(02/11/2015) While a number of high profile companies have adopted policies designed to exclude deforestation from their commodity supply chains, such commitments remain outside the norm, indicating that most companies still lack forest-friendly safeguards, finds a comprehensive survey conducted by the Global Canopy Programme. The assessment ranks 250 companies, 50 jurisdictions, 150 banks and investors, and 50 'powerbrokers' by the extent and scope of their souring policies for six 'forest risk commodities': soy palm oil, beef, leather, timber, pulp and paper.
Forestry giant's zero deforestation commitment put to test
(02/05/2015) An independent audit of the world's largest pulp and paper producer found that the company had achieved a wide range of results in meeting promises to end deforestation and resolve conflicts with forest communities. In 2013 Asia Pulp and Paper (APP) announced its Forest Conservation Policy (FCP), which included a pledge to end deforestation among its suppliers, improve communication and conflict resolution with forest communities, protecting peatlands, and sourcing fiber only from responsible suppliers.
Communities create timber company to protect Sumatran forest
(02/04/2015) To reduce logging pressures on the surrounding forest, several villages in the Lampung province of Sumatra have been conducting an experiment in community managed timber plantations on public lands. For the last 10 years, instead of logging the forest, members of the local timber cooperative have planted thousands of seedlings such as white teak and acacia in and among the surrounding villages.
China tries out logging ban in northeastern province
(01/28/2015) China's Heilongjiang province, which borders Russia to its north and east, contains 18.5 million hectares of state forest - more natural forest than any other province in the country. However, since the mid-twentieth century, Heilongjiang has had over 600 million cubic meters of timber extracted from its woodlands. Now, China is trying out a complete ban on commercial logging in the province's state-owned forests.
China's recent forest tenure reforms threaten panda habitat
(01/27/2015) Since the 1950s, plantations and second-growth forests in China have been locally managed by village communities as collective forests, which today account for 58 percent of China's forestland. Many of these collective forests lie within mountainous rural areas, some of which are also home to the 1,600 or so wild giant pandas (Ailuropoda melanoleuca) that survive today.
Deforestation may be ramping up in Papua, West Papua
(01/27/2015) Despite being covered in commodity concessions and becoming a focal point for the Indonesian government's palm oil development in the country's eastern half, the provinces of Papua and West Papua have, rather mysteriously, recorded very low deforestation rates compared to the rest of the archipelago. However, emerging data, reports, and photos suggest the region's forest loss may be escalating.
Rogue cop missing from jail

(01/27/2015) An Indonesian police official busted for illegal logging in West Papua has been missing from jail for nearly a year after being granted permission to seek medication treatment, reports the The Jakarta Post.
Half of Borneo's mammals could lose a third of their habitat by 2080
(01/22/2015) Borneo consistently makes the list of the world's "biodiversity hotspots" – areas full of a wide variety of forms of life found nowhere else, but which are also under threat. To better understand the hazards, a study published today in the journal Current Biology examines the effects of climate change and deforestation in the coming decades on mammals living on the island.
Indonesia's moratorium not enough to achieve emissions reduction target
(01/20/2015) When Indonesia's former president Susilo Bambang Yudhoyono declared a moratorium in May 2012 on the issuance of new permits for logging in primary forests and on peat lands, it was widely hailed as an important, albeit far too limited, step in clamping down on the country's levels of deforestation.
High deforestation rates in Malaysian states hit by flooding
(01/19/2015) Five states hard hit by flooding last month in Malaysia had high rates of forest loss in recent years, bolstering assertions that environmental degradation may have worsened the disaster. According to satellite data from researchers led by the University of Maryland's Matt Hansen and displayed on Global Forest Watch, the states of Johor, Kelantan, Pahang, Perak, and Terengganu each lost more than 10 percent of their forest cover between 2001 and 2012. Loss was greatest in areas with dense tree cover.
Sulawesi village seeks protection for sacred forest threatened by development
(01/16/2015) Home to some 400 fishermen, Manurung village appears unremarkable at first glance: quiet houses along a winding river lined with boats. However, behind the village lies something remarkable: a tract of old-growth forest nearly untouched by human exploitation. Pensimoni Hill stands as a rare outpost of towering trees rising above freshwater springs that provide clean water and life for the villages below.
Half of Indonesia's deforestation occurs outside concession areas
(01/06/2015) Roughly half of Indonesia's natural forest loss occurs outside officially designated concession areas, concludes a new assessment that also finds higher deforestation rates in places with worse forest governance scores. The report, released last month by Forest Watch Indonesia, is based on analysis of satellite data spanning the archipelago. Unlike assessments by the Ministry of Forestry, the data includes areas outside the 'forest estate'.
Rainforests: 10 things to watch in 2015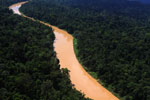 (01/02/2015) 2014 was a landmark year for tropical rainforests, with dozens of major companies committing to eliminating deforestation from their supply chains, the launch of new platforms for monitoring forests, and sharp drop in clearing in the Brazilian Amazon, among other big developments. Here's a quick look ahead at what might be in store for tropical forests in 2015.
2014: the year in rainforests
(12/30/2014) 2014 could be classified as 'The Year of the Zero Deforestation Commitment'. During 2014, nearly two dozen major companies, ranging from palm oil producers to fast food chains to toothpaste makers, established policies to exclude palm oil sourced at the expense of rainforests and peatlands.
Hunting is a greater threat than logging for most wildlife in Borneo
(12/16/2014) Persistence is the key factor in the two most common human stressors on tropical wildlife. In Malaysian Borneo, hunting continually diminishes wildlife populations, whereas the negative impacts from selective logging are more transient, according to a recent study in Conservation Biology.
Palm oil facilitates large-scale illegal logging in Indonesia
(12/16/2014) Development of oil palm plantations is providing cover for large-scale illegal logging in Indonesian Borneo, driving destruction of some of the island's most biodiverse forests and undermining efforts to reform the country's forestry sector, alleges a new report published by the Environmental Investigation Agency (EIA).
Tradeoff: Sabah banks on palm oil to boost forest protection
(12/05/2014) Last month Sabah set aside an additional 203,000 hectares of protected forest reserves, boosting the Malaysian state's extent of protected areas to 21 percent of its land mass. But instead of accolades, Sabah forestry leaders were criticized for how they went about securing those reserves: allowing thousands of hectares of deforested land within an officially designated forestry area to be converted for oil palm plantations
Giant stone face unveiled in the Amazon rainforest (video)
(12/04/2014) A new short film documents the journey of an indigenous tribe hiking deep into their territory in the Peruvian Amazon to encounter a mysterious stone countenance that was allegedly carved by ancient peoples. According to Handcrafted Films, which produced the documentary entitled The Reunion, this was the first time the Rostro Harakbut has been filmed.
Pulp and paper giant violating its sustainability policy

(12/01/2014) Asia Pacific Resources International Limited (APRRIL) is violating its own sustainability policy by continuing to source fiber produced via the destruction peatlands on the island of Pulau Padang in Riau, Sumatra, argues a new report published by a coalition of Indonesian environmental groups.
Chinese logging company takes over Guyana's forests
(11/26/2014) Foreign companies investing in Guyana's substantial forests are supposed to adhere to national laws and international agreements. But civil society leaders and activists inside and outside the South American country are crying foul, saying foreign corporations and government officials are paying lip service to the accords while quietly building a timber-harvesting empire in the country with few benefits for the average Guyanese.
APP boosting timber productivity to support zero deforestation policy
(11/26/2014) Asia Pulp & Paper (APP) appears to have enough plantation fiber to operate existing mills as well as supply a new mill under construction in South Sumatra without having to pulp natural forests, argues a new report that also finds the forestry giant is successfully improving yields to support its zero deforestation commitment.
Saving Myanmar's red pandas by protecting land, educating people
(11/25/2014) Red pandas, bear-like arboreal mammals with red, furry tails, are poached mainly for their fur. Found primarily at higher elevation forests of the eastern Himalayas, these pandas spend most of their time in trees, and feed mainly on bamboo. But much of their forest habitat has been destroyed due to illegal logging.
Scientists capture first-ever footage of wild red pandas in Myanmar (VIDEO)
(11/21/2014) This year, a team of scientists in Myanmar (also called Burma), caught a pair of reclusive red pandas on camera, for the first time ever. The bushy tailed pandas were climbing up a rocky pile of rubble left behind in the region by Chinese loggers. For the scientists, the footage was bitter-sweet.
Indonesia imposes moratorium on new logging permits
(11/20/2014) Indonesia's new Minister of Environment and Forestry Siti Nurbaya Bakar imposed a moratorium on the issuance of all new logging permits a little over a week after being appointed in late October. The move is being celebrated by conservation groups and signals that interest in reforming Indonesia's notoriously corrupt and dysfunctional forestry sector has reached the highest levels of government, with direction coming from President Joko Widodo.
A tale of 2 Perus: Climate Summit host, 57 murdered environmentalists
(11/18/2014) On September 1st, indigenous activist, Edwin Chota, and three other indigenous leaders were gunned down and their bodies thrown into rivers. Chota, an internationally-known leader of the Asháninka in Peru, had warned several times that his life was on the line for his vocal stance against the destruction of his peoples' forests, yet the Peruvian government did nothing to protect him—or others.
Reducing deforestation is good for business, argues report

(11/12/2014) Some of the world's largest companies are making progress in disclosing and addressing deforestation risk within their commodity supply chains, but much work is left to be done to shift to more sustainable practices, argues a new report from the Climate Disclosure Project.
Only place where rhinos, tigers, elephants, and orangutans coexist is under threat
(11/12/2014) A forest that is the only place where rhinos, tigers, elephants, and orangutans coexist is under threat from planned infrastructure, mining, logging, and plantation projects, warns a new report from the Rainforest Action Network. The report looks at one of the last vestiges of wilderness on the island of Sumatra, which for the past three decades has been heavily ravaged by logging, fires, and conversion to industrial timber and oil palm plantations. This area, known as the Leuser Ecosystem, is today a battleground between business-as-usual interests seeking to mine its forests and a collection of conservationists, local communities, and a collection of companies seeking to steward its resources.
Peru has massive opportunity to avoid emissions from deforestation
(11/10/2014) Nearly a billion tons of carbon in Peru's rainforests is at risk from logging, infrastructure projects, and oil and gas extraction, yet opportunities remain to conserve massive amounts of forest in indigenous territories, parks, and unprotected areas, finds a study published this week in Proceedings of the National Academy of Sciences (PNAS).
Flying under the radar in Central Africa, Chinese companies may be wreaking environmental havoc
(11/07/2014) Tchimpounga, chimpanzees, and extractive industries in the Republic of Congo. 'Tchimpounga is not just a sanctuary,' shouted Rebeca Atencia above the din of the outboard motor, as she pointed to our progress up the Kouilou River on her tablet, donated by Google, which included access to high-resolution satellite maps. The GPS tracking showed us as a small, blue diamond moving slowly up the murky river.
De-protection of Protected Areas ramps up in Brazil, 'compromises the capacity' of ecosystems
(10/31/2014) Brazil has reserved about 17.6 percent of its land (1.5 million square kilometers) to receive protection from unauthorized exploitation of resources. However, despite significant expansions in protected areas since the mid-2000s, the formation of Protected Areas has stagnated in the country since 2009, and many have had their protections completely revoked.
Beef, palm oil, soy, and wood products from 8 countries responsible for 1/3 of forest destruction

(10/23/2014) Four commodities produced in just eight countries are responsible for a third of the world's forest loss, according to a new report. Those familiar with the long-standing effort to stop deforestation won't be surprised by the commodities named: beef, palm oil, soy, and wood products (including timber and paper). Nor will they be very surprised by most of the countries: Brazil, Indonesia, and Malaysia.
Top scientists raise concerns over commercial logging on Woodlark Island
(10/21/2014) A number of the world's top conservation scientists have raised concerns about plans for commercial logging on Woodlark Island, a hugely biodiverse rainforest island off the coast of Papua New Guinea. The scientists, with the Alliance of Leading Environmental Scientists and Thinkers (ALERT), warn that commercial logging on the island could imperil the island's stunning local species and its indigenous people.
'River wolves' recover in Peruvian park, but still remain threatened inside and out (photos)
(10/14/2014) Lobo de río, or river wolf, is the very evocative Spanish name for one of the Amazon's most spectacular mammals: the giant river otter. This highly intelligent, deeply social, and simply charming freshwater predator almost vanished entirely due to a relentless fur trade in the 20th Century. But decades after the trade in giant river otter pelts was outlawed, the species is making a comeback.
Forest restoration commitments: driven by science or politics?
(10/10/2014) During September's UN Climate Summit, three African nations were recognized for their commitments to restore collectively millions of hectares of forest. But several organizations declined invitations to sign the pact because they say it fails to lay out "concrete action" to fight climate change, and some experts in the field worry that the announcements are little more than political posturing.
'A remarkable conservation achievement': Ecuador reserve expands as forest disappears
(10/09/2014) A strip of rainforest running along the northwestern Ecuadorian coast and up through Colombia is one of the most biodiverse places in the world. Yet, less than 10 percent of Ecuador's portion remains intact, with more forest lost every year to human development. But a little more has been saved for now, with 500 hectares added to an area reserve.
Leaders pledge to end deforestation by 2030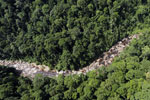 (09/24/2014) Dozens of companies, non-profit organizations, and governments pledged to work together to halve forest loss by 2020 and end it altogether by 2030. If implemented, the commitment could reduce annual carbon dioxide emissions by 4.5-8.8 billion tons annually, equivalent to removing a billion cars from the world's roads.
Extinction island? Plans to log half an island could endanger over 40 species
(09/22/2014) Woodlark Island is a rare place on the planet today. This small island off the coast Papua New Guinea is still covered in rich tropical forest, an ecosystem shared for thousands of years between tribal peoples and a plethora of species, including at least 42 found no-where else. Yet, like many such wildernesses, Woodlark Island is now facing major changes: not the least of them is a plan to log half of the island.
FSC meeting weighs old-growth forest protection, smallholder participation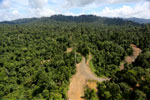 (09/11/2014) The Forest Stewardship Council (FSC), a body that sets social and environmental certification criteria for forestry products, is weighing measures that could step up protection for old-growth forests and make it easier for indigenous people and traditional forest communities to qualify for certification. The measures are set for a vote this week at the body's General Assembly, which is held every three years to establish and revise criteria that underpin the standard.
4 Ashaninka tribesmen killed by loggers in Peru

(09/08/2014) One of those killed was Edwin Chota, the leader of the Alto Tamaya-Saweto indigenous community who won fame for fighting illegal loggers. As such, Chota was a top target for assassination, according to a conservationist familiar with the situation.
Canada, Russia, Brazil lead world in old-growth forest loss
(09/05/2014) Every day, the world loses about 50,000 hectares of forest to agricultural clearing, road development, and other human activities, constricting true wilderness into smaller and smaller areas – along with the species that inhabit them. New analysis and maps released this week show these last vestiges are disappearing at a quick pace, with more than 104 million hectares degraded from 2000 to 2013.




Page 1 | Page 2 | Page 3 | Page 4 | Page 5 | Page 6 | Page 7 | Page 8 | Page 9 | Page 10 | Page 11 | Page 12