News articles on indonesia

---
Mongabay.com news articles on indonesia in blog format. Updated regularly.






Indonesia sinks 41 foreign vessels in a single day to counter illegal fishing
(05/21/2015) The Indonesian Maritime Affairs and Fisheries Ministry redefined fireworks yesterday. In coordination with the national navy, it blew up 41 illegal foreign fishing vessels to commemorate National Resurgence Day, the birthday of the country's first native political party. The mass sinking brings to 60 the number of boats new administration of President Joko "Jokowi" Widodo has scuttled on charges of illegal, underreported and unregulated (IUU) fishing.
VICE's 'Indonesia's Palm Bomb' presents a tragic view of palm oil driven deforestation from the frontlines
(05/20/2015) For the sixth episode of its third season, HBO's Emmy-winning news series, VICE, focused its lens on Indonesia's palm oil industry. The episode, entitled, 'Indonesia's Palm Bomb', follows VICE correspondent, Ben Anderson, as he investigates the environmental and social impact of widespread (and, at times, illegal) deforestation on wildlife and indigenous communities in Sumatra.
Sumatran tiger found dead in a pig trap
(05/20/2015) Authorities in the Indonesian province of West Sumatra buried the rotting carcass of a critically endangered female tiger that died after being ensnared by a pig trap on a rubber plantation earlier this month. The creature, a mother who was probably teaching her young to hunt, was found covered in wounds, its neck entangled in wire.
Golden Agri takes another hit as sustainability guru suspends its membership
(05/20/2015) The charity that Indonesia's Golden Agri-Resources has enlisted to devise and implement its zero-deforestation and community-engagement commitments suspended its cooperation with the palm oil giant yesterday, following breaches of the policies they had designed together. A few hours later, Golden Agri announced the resignation of its chief sustainability officer.
Tennis star responds to rainforest advocates

(05/20/2015) Roger Federer has responded to two Indonesian activists who asked the tennis star to use his influence to encourage Credit Suisse to end its relationship with a controversial logging company, reports the Bruno Manser Fund.
High pressure: is U.S. policy deterring illegal wood imports?
(05/19/2015) Some countries, such as the U.S., have imposed legislation at the consumer level, banning the import of illegally sourced wood through their borders. A new study finds that such legislation can be effective, with a 2008 amendment to the Lacey Act significantly reducing the influx of illegal wood into the U.S.
Luxury hotel chain linked to destruction of rainforests
(05/19/2015) The Mandarin Oriental hotel chain has landed in environmentalists' crosshairs for the practices of its sister company Astra Agro Lestari, a rapidly expanding palm oil producer with fully developed plantations on an area larger than Singapore. The new She's Not a Fan campaign – a play off Mandarin's celebrity-fan endorsement drive – launched yesterday with a petition calling on Astra to stop destroying forests and elephant habitat. Multinational conglomerate Jardine Matheson owns both firms.
Price trends a reliable, cheap indicator of wildlife declines, finds study
(05/15/2015) Market prices can provide an equally reliable indicator of wildlife declines as field data for a thirtieth of the price, according to a new study analyzing Sumatra's pet bird trade. The researchers found that species that were increasing in price but decreasing in trade volume were likely to have been identified by the ornithologists they surveyed beforehand as undergoing population declines.
Indonesia's partial forest-clearing moratorium extended, but activists wanted more
(05/14/2015) Indonesian President Joko "Jokowi" Widodo extended the country's partial forest clearing moratorium yesterday on the day of its expiration, leaving largely intact a policy civil society groups had demanded be strengthened. The environment and forestry minister said the government greatly appreciated the calls from organizations like Greenpeace, Walhi, Kemitraan, Sawit Watch, World Resources Institute and others, and would address the proposed changes.
Non-bank financiers ready to help Indonesian fishermen
(05/13/2015) The Indonesian Financial Services Authority has organized dozens of non-bank financial institutions to support the country's maritime and fisheries sector, a key priority for President Joko "Jokowi" Widodo. Smaller operators in the sector have struggled to adapt to a new ban on trawlers and seine nets, and one of the government's goals is to make credit for environmentally friendly fishing gear more widely available, as industry groups have requested.
Wilmar, Musim Mas supplier caught clearing elephant habitat for palm oil in Aceh
(05/12/2015) A new report provides evidence that a supplier of palm oil giants Wilmar and Musim Mas is bulldozing valuable forests in Indonesia's Leuser Ecosystem in violation of the companies' zero-deforestation policies as well as the Indonesia Palm Oil Pledge (IPOP), a high-profile, joint sustainability pact that also includes Golden Agri-Resources, Asian Agri, Musim Mas and the Indonesian Chamber of Commerce and Industry (Kadin).
Indonesian forestry giant calls for stronger forest moratorium
(05/11/2015) Asia Pulp & Paper (APP), an Indonesian forestry giant once targeted by environmentalists for its logging practices, has joined a growing chorus of voices calling for a stronger moratorium on deforestation and policies that enable companies to support conservation efforts. In a letter released Monday, Aida Greenbury, APP's Managing Director of Sustainability, asked Indonesian President Joko Widodo to extend the country's moratorium on new logging and plantation concessions.
Twitter campaign prompts Indonesians to free captive cockatoos in droves
(05/11/2015) Days after police at a port in Indonesia's second-largest city arrested a passenger with 24 rare birds stuffed in plastic water bottles, a public outcry has prompted the government to set up shelters to accommodate people who wish to return more of the creatures, which have up to now been highly sought after by collectors and breeders.
Golden Agri's wings clipped by RSPO in West Kalimantan
(05/08/2015) The Roundtable on Sustainable Palm Oil has prohibited Golden Agri-Resources, one of its most prominent members, from "acquiring or developing any new areas" pending the resolution of a formal complaint against the palm oil giant in Indonesia's West Kalimantan province. The decision is a stern directive from an organization that has been criticized for failing to take action against companies that flout its standards.
Indian fabric giant adopts forest policy
(05/08/2015) One of the world's largest fabric makers for the fashion industry today announced a policy to exclude fiber produced at the expense of endangered forests, reports Canopy, an environmental group that helped broker the commitment.
Bribery a matter of course for illegal Thai fishing ships in Indonesia
(05/06/2015) A convoy of blue Thai fishing boats slowly entered the mouth of the Kapuas River near Pontianak, the capital of Indonesia's West Kalimantan province, escorted by an Indonesian warship. The boats were directed to moor at the local Navy base, about 62 nautical miles from the site of their capture. The crew were transferred to the warship. There they sat on the deck. A naval personnel pointed to a fisherman in a rumpled blue shirt. His name was Sam Phong, 28. He could speak a bit of Indonesian, though not fluently. Still, his speech shed a bit of light on why he had so diligently been fishing illegally in Indonesian waters.
Aru, Mentawai peoples hit the big screen in Oslo

(05/06/2015) A pair of documentaries about small-island indigenous peoples in Indonesia were screened in Oslo on Tuesday as part of a global roadshow leading up to the UN Climate Change Conference to be held in Paris in December. The shorts, "Oil Palm Free Islands" and "The Warden of Jagarian Forest," are part of the If Not Us Than Who series, an initiative of UK-based Handcrafted Films.
West Papua 'oil palm atlas' portrays industry's explosion in region
(05/06/2015) There's a saying in the Indonesian palm oil industry: Sumatra is yesterday, Kalimantan is today, and Papua is tomorrow. Tomorrow might well have arrived. A new report sheds light on the industry's rapid expansion in Indonesia's Papua and West Papua provinces – and on the companies behind the plantation drive. The result is a portrayal of a frontier region's early encounters with a crop that has come to dominate the Sumatran and Bornean landscapes – a portrait made that much starker by the central government's foreign media blackout in the territory.
30 illegal orangutan pets seized in West Kalimantan
(05/05/2015) Thirty orangutans being kept as household pets in Indonesia's West Kalimantan province have been seized and placed in a rehabilitation center, where they are learning to fend for themselves so they can be released into their natural habitats, local conservation authorities report.
Orangutan rescued amid sea of palm oil
(05/04/2015) The rescue, which took place in early April, was conducted by the Orangutan Information Centre (OIC) in response to a report of an adult male orangutan isolated in an fragment forest surrounded by oil palm plantations. The orangutan was found to be in poor health, according to Krisna, OIC's Human Orangutan Conflict Response Unit field coordinator.
Riau forum asks Jokowi to help business save forests

(05/04/2015) A sustainable-business forum in Indonesia's Riau province urged the government to support companies' zero-deforestation commitments, which remain hampered by policies that prevent firms from preserving forests in their concessions. Under the current legal regime, if a plantation company decides to set aside land for conservation, the government reserves the right to take it back and give it to a firm that will develop it.
94 trafficked pangolins released into Sumatran wilds after massive bust
(05/04/2015) Following a major seizure of illegal wildlife goods in North Sumatra, the Indonesian authorities released 94 critically endangered pangolins into the wild last week, including a newborn whose mother died shortly after the authorities caught up with the traffickers. Five tons of pangolin meat were burned in the wake of the bust.
Palm giants ask Indonesian gov't to clear path toward sustainability
(05/01/2015) Executives from palm oil giants Wilmar, Cargill and Golden Agri Resources appeared at a green investment summit in Jakarta this week, providing a window into the nature of a high-profile, joint sustainability pact the companies have entered into together with Asian Agri, Musim Mas and the Indonesian Chamber of Commerce and Industry. The agreement, known as the Indonesia Palm Oil Pledge, has been lauded in some quarters for its potential to transform the sector and dismissed in others as mere lip service to protecting the environment.
Indonesia to zone its seas in bid to become 'global maritime axis'
(04/30/2015) The Indonesian government is preparing a spatial plan for its marine territory, the beginning of a blueprint to transform the archipelagic country into a "global maritime axis" in line with new President Joko "Jokowi" Widodo's platform. Mapping the nation's seas will support the alignment different programs and the integration of various marine sources of economic growth.
Help on the way for 'green investment' in Indonesia
(04/29/2015) The Indonesian government plans to expand the list of incentives for "green investment," cabinet members said at a summit in Jakarta on Monday. On the table are tax breaks for imports of equipment that reduces pollution; and longer permits and favorable interest rates for companies with environmentally friendly policies.
Five tons of frozen pangolin: Indonesian authorities make massive bust
(04/28/2015) Five tons of frozen pangolin, 77 kilograms (169 pounds) of pangolin scales, and 96 live pangolins: that's the grisly haul of the latest pangolin bust in Indonesia. Officials confiscated the illegal wildlife goods in Medan, Sumatra and busted the smuggler, who has only been identified as SHB. This is the largest pangolin bust in Indonesia since 2008.
Leuser Park authorities still trying to move thousands of squatters
(04/28/2015) The Indonesian government will take another stab at relocating thousands of squatters from Mount Leuser National Park, most of whom were dispaced by the decades-long insurgency in Aceh province and whose presence has fueled deforestation in the protected area.
Two more Sumatran elephants found dead in Aceh
(04/27/2015) A pair of critically endangered Sumatran elephants were found dead this month in Indonesia's Aceh province, just the latest casualties for a species that has been brought into increasing conflict with humans amid the country's oil palm boom. One was shot through the head by a poacher. The other was injured by a snare trap and perished shortly thereafter.
Jokowi must strengthen Indonesia's forest moratorium, not just extend it: activists
(04/25/2015) Less than a month before the expiry of a moratorium on new licenses for land-based exploitation in primary forests and on peat, environmentalists are calling for the Indonesian president to not only prolong the policy but strengthen it too, hampered as they say it has been by chaotic implementation, weak enforcement, standards that don't go far enough and, some suggest, a lack of political will to see it through.
Thailand, Indonesia join forces against illegal fishing amid EU ultimatum

(04/24/2015) Amid EU threats to blacklist Thai seafood if the industry fails to clean up its act by October, the Southeast Asian country and its neighbor Indonesia agreed on Thursday to form a joint task force to combat illegal fishing, which remains in the spotlight in the wake of an Associated Press investigation into slavery aboard Thai-run ships in Indonesian waters.
Officials: Sumatran rhino is extinct in the wild in Sabah
(04/23/2015) There are no Sumatran rhinos left in the wild in the Malaysian state of Sabah, confirmed Masidi Manjun, the Tourism, Culture and Envi­ronment Minister, over the weekend. In 2008, conservationists estimated there were around 50 rhinos in the state. Five years later, it dropped that estimate to just ten. Now, it's admitted the awful truth: the wild rhino is very likely gone.
In Indonesia, making REDD+ about carbon won't help biodiversity: study
(04/23/2015) Areas important for carbon correlate poorly with areas important for biodiversity in the country, a reality future REDD+ planning must take into account, a new study contends. The research was meant to address claims that REDD+ offers huge opportunities for biodiversity conservation.
Activists target Roger Federer as brand ambassador for bank linked to deforestation
(04/22/2015) Environmentalists are asking tennis star Roger Federer to deliver a message to Credit Suisse over the banking giant's continued financing of a logging company linked to ongoing destruction of wildlife habitat in Indonesia. According to the Bruno Manser Fund two members of a rainforest community in Sumatra have written to Federer to ask for his help in persuading Credit Suisse to stop financing logging of peat forests.
Photo essay: the flying fox show
(04/22/2015) Rain or clear, wind or still, full moon or no. Every night thousands of flying foxes rise from a small mangrove island among the lesser Sunda islands of Indonesia. Around sunset the Sunda flying fox begin to stir in their roots—their stomachs waking them—until the boldest among them takes off into the sky.
Farmers fall short in legal challenge to Java cement plant
(04/20/2015) A grassroots movement to halt construction of a cement factory and mine in Indonesia's Rembang regency suffered a major setback last week when a Central Java court rejected a lawsuit against a permit held by state-owned Semen Indonesia, the country's largest cement producer.
Growing need for deforestation-free rubber as tire demand destroys native forests
(04/18/2015) Surging demand for natural rubber is decimating some of the world's most endangered forests, putting wildlife and critical ecosystem services at risk, warn scientists writing in the journal Conservation Letters. Reviewing a large body of published research, Eleanor Warren-Thomas of the University of East Anglia and colleagues detail the crop's expansion across across Southeast Asia in recent decades.
Indonesia's public water movement consolidates after two of its biggest wins
(04/17/2015) With the tide of privatized water in Indonesia as close to turning since the dictator Suharto was president, an entire spectrum of stakeholders is scrambling to chart a path forward on the heels of two landmark – and unexpected – court decisions. First, the Constitutional Court struck down the main governing law on water resources. Then a Jakarta court annulled the city's contract with private operators Palyja and Aetra, which have run the city's piped network since 1998 amid continual allegations of corruption and mismanagement.
Criticism of GAR and Wilmar African oil palm projects highlight global 'no-deforestation' challenges
(04/16/2015) Despite high-profile no-deforestation policies, palm oil giants Golden Agri-Resources and Wilmar have attracted criticism recently over their projects in Africa, particularly regarding the correct implementation of free, prior and informed consent (FPIC) of affected communities. Some NGOs have suggested these persistent problems indicate no lessons have been learned from years of bad practice in Indonesia.
Americans join in protesting reclamation of Bali's Benoa Bay
(04/14/2015) Americans and Indonesians demonstrated in Washington D.C. last week in protest of a massive land reclamation project in Bali's Benoa Bay, to which opposition, activists say, is coming from increasingly international circles. Meanwhile, the governor of East Java rejected a proposal to dredge sea sand for the project off the coast of his province.
Who's to blame for forest loss in Borneo timber concession?
(04/06/2015) The apparent loss of some 4,000 hectares of forested peatland in Indonesian Borneo is raising questions on who bears responsibility for forest clearing in un-utilized concessions. On Monday, Greenomics-Indonesia issued a report revealing the loss of significant tracts of peat forest in a West Kalimantan concession held by PT Bumi Mekar Hijau (BMH), a plantation company whose operation in South Sumatra supplies Asia Pulp & Paper (APP) with woodpulp for its mills.
Fighting fire with money: can finance protect Indonesia's forests?
(04/06/2015) In previous articles, we have seen an overview of the problems with the Indonesian palm oil industry. Such problems are largely caused by rent-seeking politicians and businessmen, who are willing to sacrifice endangered wildlife, the health of their countrymen and long-term environmental stability in the pursuit of profit. These actors exert a significant influence on and within the Indonesian government. As a result, Indonesia remains conflicted between the opposing goals of conservation and economic growth.
Aceh's purge of illegal oil palm at 3,000 hectares and counting
(04/06/2015) A joint effort to eradicate illegal oil palm in an area of Indonesia's Aceh province that was devastated by flash flooding in 2006 has passed the 3,000-hectare mark. The plantations lie within the protected Leuser Ecosystem, the last place on earth where the Sumatran rhino, elephant, tiger and orangutan coexist in the wild.
Blockade at Wilmar mill could erupt into full-blown strike
(04/03/2015) Local people blocked the road to a Wilmar palm oil mill in Indonesia's West Kalimantan province, demanding the release of nine day laborers who were arrested during an earlier protest over delayed wages. Trucks carrying fresh fruit bunches from nearby plantations were unable to deliver their cargo.
Could inland aquaculture help save the oceans and feed the world?
(04/02/2015) Mark Kwok has always loved the ocean. An avid diver and spear fisherman, he has travelled the planet in search of exotic fish and undersea adventure. Born into a wealthy Hong Kong family, he had the freedom to explore the world's oceans. But in the last decade or so, he hasn't been content just looking at fish. He's been growing them. In a squat, unassuming cluster of buildings in an industrial suburb north of Hong Kong, Kwok is experimenting with a potentially revolutionary technology.
Reservations about Indonesian 'land reform' as details unclear
(04/02/2015) Indonesian civil society groups and experts welcome President Joko "Jokowi" Widodo's campaign promise to redistribute nine million hectares of land to farmers – in principle. But they remain wary of what the program, whose details have yet to be made clear, might look like in practice. These reservations were expressed at a discussion on the plan held in Jakarta on April 1.
Russia and Canada lead the world in forest loss in 2013
(04/02/2015) Russia and Canada led the world in forest loss, accounting for nearly forty percent of the 18 million hectares of forest lost globally in 2013, reveals a new analysis based on high resolution satellite imagery. The research — released today on Global Forest Watch, a forest monitoring and research platform — was led by Matt Hansen of the University of Maryland and involved Google, World Resources Institute (WRI), and other institutions
Illegal deforestation driven by EU appetite for beef, palm oil, soy, say new reports
(04/01/2015) A new report finds that the European Union is driving international trade in commodities grown on land cleared outside of the law. In 2012 alone, the report says, the EU imported $6.5 billion worth of illegally sourced beef, leather, palm oil and soy, which amounts to nearly one-fourth of all global trade and some 2.4 million hectares (59.3 million acres) of forest illegally cleared.
Indonesia, Brazil subsidizing forest loss far more than REDD+ slows it
(04/01/2015) International aid to protect forests in Indonesia and Brazil pales in comparison to domestic subsidies for commodities driving deforestation there. A study finds that while the countries received an annual average of $1 billion via REDD+, their agricultural and biofuel subsidies for palm oil, timber, soy and beef amounted to $41 billion per year.
Chinese-backed smelter plan causes concern among Sulawesi fishermen
(03/31/2015) As a pair of Chinese-owned miners companies proceed with plans to construct nickel smelters in Indonesia's Central Sulawesi province, in line with a national edict to increase in-country mineral processing capacity, locals fear the factories will only intensify environmental degradation from the same firms' mining operations and harm fishing communities that rely on the area.
Locals revolt against gold miner in Sulawesi
(03/30/2015) Residents of Indonesia's Buyat Bay and a national legal aid institute are preparing a case against a gold miner they say began operating in secret without locals' consent. They also accuse the company, owned by a prominent politician, of failing to acquire the proper licenses, clearing forest in a protected area and damaging the environment.
Low crop prices means time is ripe for new forest protection programs
(03/27/2015) Today, conservation compliance is a U.S. policy between governments and farmers that reward farmers with federal subsidies for good conservation practices on designated vulnerable lands. But economist Clayton Ogg believes it could now be used to save forests in countries like Brazil, China, India, and Indonesia. "The main drivers for deforestation in recent years are high crop prices. However, as crop prices fall to more normal levels, farmers depend very heavily on government subsidies, and the subsidies become the major driver for deforestation," Ogg told mongabay.com.
Just how useful is forest restoration? New study seeks to find out
(03/27/2015) Across the world, scientists estimate there are about two billion hectares of degraded forestland. In Indonesia alone, 25 million hectares of former logging concessions currently have no management, according to research. A study recently published in mongabay.com's open access journal Tropical Conservation Science suggests this may represent an important opportunity for biodiversity conservation through restoration.
Aceh unveils protected area in beleaguered Tripa peat swamp
(03/27/2015) As Indonesia's Supreme Court prepares to rule on an appeal from oil palm developer Kallista Alam, ordered to pay Rp366 billion in fines and reparations for cut-and-burning forest in the Tripa peat swamp region, the Aceh government has established a protected zone in the company's former concession, the culmination of a months-long program to rehabilitate the area.
APRIL violates sustainability policy by clearing peat forest after Jan cut-off
(03/26/2015) New data shows Asia Pacific Resources International Holdings Limited (APRIL) is continuing to destroy rainforests on deep peat despite a high profile pledge to clean up its operations. Today Greenomics-Indonesia released an analysis of two NASA Landsat images confirming that APRIL's subsidiary PT Riau Andalan Pulp Paper (RAPP) has cleared significant tracts of peat forest on Pulau Pedang island off Sumatra's coast since January 2015.
Why palm oil expanded, and what keeps it growing
(03/26/2015) Today, oil palm is Indonesia's most important cash crop. In 2014, Indonesia produced 33.5 million tons of palm oil, generating $18.9 billion in export revenue. This makes palm oil Indonesia's third most valuable export, behind only coal and petroleum gas. However, the rise of Indonesian palm oil is only a relatively recent phenomenon. The chart below shows the remarkable growth that the industry has displayed over the past 30 years.
Destruction of elephant, tiger, and orangutan habitat doubles
(03/25/2015) The rate of forest loss in Indonesia's Leuser Ecosystem — the only place on Earth where rhinos, orangutans, tigers, and elephants live in the same habitat — has more than doubled due to logging, encroachment, and conversion to industrial plantations, warn conservationists. In a statement issued Tuesday, the Sumatran Orangutan Society reported that 80,316 hectares of forest were lost between 2008 and 2013, a sharp increase from the 30,830 hectares cleared between 2002 and 2008.
Reforestation programs may help reduce illegal logging in Indonesian Borneo
(03/24/2015) Can the act of planting a tree change one's attitude towards forests and conservation? Erica Pohnan, Hotlin Ompusunggu, and Campbell Webb, from the conservation NGO Alam Sehat Lestari (ASRI), set out to answer this question by evaluating the effectiveness of reforestation programs in and around Gunung Palung National Park in West Kalimantan, Indonesia.
Who's funding palm oil?
(03/19/2015) Palm oil may be the single most important crop that you never heard of. A vegetable fat that resembles reddish butter at room temperature, palm oil is derived from the fruit of the oil palm tree. Both nutritious and highly versatile, palm oil is now an important component of products ranging from biofuels and food to soaps and cosmetics. Estimates indicate that as much as 50 percent of the products used by the average Western consumer every day contain palm oil or its derivatives.
Declining palm oil prices: Good news and bad news for smallholders
(03/16/2015) Declining crop prices usually spell bad news for farmers, and poor smallholders in particular. The drop in the price of palm oil from a recent high of US$860 per metric ton in March 2014 to below US$640 in March 2015 (and far below 2010-2012 prices which exceeded US$1000) heralds a shift in perceptions of oil palm from an economic boon to poverty-stricken smallholders, to a liability that ties small-scale farmers to a less profitable commodity.
UN report warns of grave consequences if mangroves not protected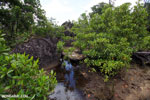 (03/11/2015) According to the United Nations Environment Program (UNEP), global destruction of mangrove forests impacts biodiversity, food security, and the lives and livelihoods of some of the most marginalized communities in the world. Mangroves, which are forests of salt-tolerant trees and shrubs that lie along coastlines in the tropics and subtropics, are also invaluable carbon sinks. And we're not doing nearly enough to protect them, says a recent report.
River flooding to affect 40M people annually by 2030

(03/11/2015) 20.7 million people are affected by river flooding each year, and the number is expected to more than double by 2030 as population growth, urban expansion, and climate change will increasingly put people at risk.
New bird species confirmed in Sulawesi 15 years after first sighting
(03/06/2015) Although it's a hotspot of avian biodiversity, the Indonesian island of Sulawesi has been "poorly studied ornithologically," according to a study published in the scientific journal PloS one. Case in point: the subject of the study, a new species of flycatcher first observed in 1997 but not formally described by scientists until November 2014.
East Kalimantan reaffirms moratorium on new mining, logging concessions

(03/06/2015) The governor of East Kalimantan, Indonesia, has reaffirmed his commitment to a 2013 moratorium on mining, logging, and plantation permits. The policy, which was originally outlined in a letter to the province's regents and mayors will be elevated to a higher status, he said.
Indonesian fisheries ministry imposes new limits on gear and fish harvests
(03/04/2015) The Indonesian fisheries ministry has introduced two divisive pieces of legislation aimed at increasing the sustainability of Indonesia's depleted ocean fisheries. Permen KP 1/2015 imposes size limits on wild-caught lobsters and crab, and forbids catching egg-bearing crustaceans. Permen KP 2/2015 bans trawl and seine fisheries. Fishermen last Thursday demonstrated outside the Ministry to protest the damage this will cause to their livelihoods.
Police investigate villager's murder in pulp and paper concession
(03/02/2015) Indonesian police are investigating the brutal killing of a villager in Jambi at the hands of security guards contracted by Wira Karya Sakti (WKS), a plantation company owned by forestry giant Asia Pulp & Paper (APP). APP quickly condemned the murder and said it is cooperating with the investigation.
Jokowi's environmental commitments in Indonesia
(02/26/2015) Last fall Indonesia elected its first president with no ties to the established political order or the military. Joko Widodo's election was widely heralded by reformers who hoped the politician's capable management in his stints as mayor of the town of Solo and metropolis of Jakarta could transform Indonesia's chronically underperforming bureaucracy, potentially ushering in a new era of improved human rights, better environmental stewardship, reduced corruption, and healthier economic growth.
Rainforest loss increased in the 2000s, concludes new analysis
(02/25/2015) Loss of tropical forests accelerated roughly 60 percent during the 2000s, argues a paper published in the journal Geophysical Research Letters. The findings contradict previous research suggesting that deforestation slowed since the 1990s. The study is based on a map of 1990 forest cover developed last year by Do-Hyung Kim and colleagues from the University of Maryland. The map, which includes 34 countries that contain 80 percent of the world's tropical forests, enabled the researchers to establish a consistent baseline for tracking forest cover change across regions and countries over time.
Cunning carnivorous plants catch more prey by letting some go
(02/25/2015) Pitcher plants (Nepenthes species) have long captivated our fascination. Typically growing in acidic and nutrient-poor soils, they have developed the ability to eat insects and other small prey to supplement their diets. Nepenthes grow modified leaf structures which form a saucer cup with a slippery rim lined with visual or edible bait. When an insect approaches to investigate the reward, they slip off the rim and into the cup which is usually filled with a viscoelastic fluid. Unable to escape, the prey is slowly digested and absorbed by the plant.
Santander Bank cuts off APRIL due to deforestation

(02/24/2015) Banking giant Santander says it will not extend further financing to Asia Pacific Resources International Limited (APRIL) due to evidence that the Singapore-based pulp and paper company is continuing to destroy rainforests in Indonesia. The move comes after Greenpeace launched a global campaign against the bank.
Sting operation nets tiger poachers

(02/24/2015) A sting operation by Indonesian officials snared a group of tiger hunters operating in Karinci Seblat National Park in Jambi Province, Sumatra. After an extended investigation, undercover officers caught three local residents as they attempted to sell a tiger skin and bones in the village of Karang Mendapo, in Sarolangun Regency.
New Guinea rainforest being leveled for palm oil, revealing gaps in zero deforestation pacts
(02/23/2015) An Indonesian palm oil firm is destroying rainforests in New Guinea despite high profile zero deforestation pledges from its customers, finds research by Greenomics-Indonesia. Landsat imagery acquired and analyzed by Greenomics shows that Austindo Nusantara Jaya Agri (ANJ) is clearing high carbon stock forests in the southern part of West Papua's Bird's Head Peninsula in Indonesian New Guinea.
Illicit timber feeds Indonesia's industrial forestry sector, alleges new report
(02/19/2015) Amid government schemes to curb illegal land clearing and systematically enhance a struggling legal wood certification system, a new report analyzing Indonesia's forestry industry alleges that more than 30 percent of wood used by the country's industrial forest sector is derived from illegal sources. But some say the report's analysis wasn't deep enough to support its claims.
Chinese banks funding rainforest destruction in Indonesia

(02/18/2015) While Santander Bank has made headlines in recent days for financing an Indonesian forestry giant's ongoing clearance of carbon-dense forests in Sumatra, Chinese banks among the largest funders of the company, reveals analysis conducted by BankTrack.org.
Campaign asks consumers to directly support forest conservation

(02/18/2015) A new campaign is calling on consumers to directly support forest conservation with their wallets. Stand For Trees is an initiative launched by Code REDD, a marketing platform for a group of organizations running REDD+ forest conservation projects.
Indonesian forestry and fishery ministries move to eradicate corruption
(02/17/2015) Today Indonesia's Corruption Eradication Commission (KPK) signed a memorandum of understanding with the national forestry and fishery ministries as well as a number of provincial governors to better integrate management and monitoring of the country's oceans and forests.
Indonesia dissolves agency charged with forestry reform
(02/11/2015) The world's first cabinet-level ministry dedicated to implementing REDD+ has been dissolved. In accordance with Indonesian Presidential Decree No. 16/2015 the agency known as BP REDD+, along with the National Council on Climate Change, has been absorbed into the newly merged Ministry of the Environment and Forestry (MoEF) as part of a massive government restructuring.




Page 1 | Page 2 | Page 3 | Page 4 | Page 5 | Page 6 | Page 7 | Page 8 | Page 9 | Page 10 | Page 11 | Page 12 | Page 13 | Page 14