News articles on indonesia

---
Mongabay.com news articles on indonesia in blog format. Updated regularly.






When is a forest a forest? How definitions affect monitoring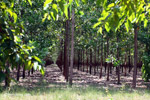 (01/29/2015) What exactly is a forest? With forest definitions differing from country to country, and primary forests, secondary forests, and even tree plantations all perceived collectively as "tree cover" by satellite data, how does one accurately keep tabs on land changes?
Radical transparency: tracking deforestation through satellite imagery
(01/28/2015) Floating softly through the vacuum of space, the Landsat 7 satellite has faithfully provided imaging of the entirety of earth's surface, every 16 days, since 1999. Now a series of technological developments has made this silent spectator a dominant force in tracking forests worldwide.
Deforestation may be ramping up in Papua, West Papua
(01/27/2015) Despite being covered in commodity concessions and becoming a focal point for the Indonesian government's palm oil development in the country's eastern half, the provinces of Papua and West Papua have, rather mysteriously, recorded very low deforestation rates compared to the rest of the archipelago. However, emerging data, reports, and photos suggest the region's forest loss may be escalating.
Rogue cop missing from jail

(01/27/2015) An Indonesian police official busted for illegal logging in West Papua has been missing from jail for nearly a year after being granted permission to seek medication treatment, reports the The Jakarta Post.
Sumatran community grows crops, aids conservation through 'village forests'
(01/23/2015) The rolling green hills covered in rice paddies and coffee plantations give Semende in the Muara Enim regency of South Sumatra a welcome and hospitable feeling. However, behind the peaceful pastoral veil, is a history of rampant forest encroachment and land conflict in the Barisan mountains.
Half of Borneo's mammals could lose a third of their habitat by 2080
(01/22/2015) Borneo consistently makes the list of the world's "biodiversity hotspots" – areas full of a wide variety of forms of life found nowhere else, but which are also under threat. To better understand the hazards, a study published today in the journal Current Biology examines the effects of climate change and deforestation in the coming decades on mammals living on the island.
Sumatran village protects environment through agroforestry
(01/21/2015) The forest behind Indudur village clings to the steep hillside. The topography itself is enough to protect it from most common threats of development. However, the area is under attack by a more pernicious force: a lack of interest by the younger generation in earning their living here. The difficulty of life compels many to migrate out, leaving the village dominated by older people.
Indonesia's moratorium not enough to achieve emissions reduction target
(01/20/2015) When Indonesia's former president Susilo Bambang Yudhoyono declared a moratorium in May 2012 on the issuance of new permits for logging in primary forests and on peat lands, it was widely hailed as an important, albeit far too limited, step in clamping down on the country's levels of deforestation.
Sulawesi village seeks protection for sacred forest threatened by development
(01/16/2015) Home to some 400 fishermen, Manurung village appears unremarkable at first glance: quiet houses along a winding river lined with boats. However, behind the village lies something remarkable: a tract of old-growth forest nearly untouched by human exploitation. Pensimoni Hill stands as a rare outpost of towering trees rising above freshwater springs that provide clean water and life for the villages below.
Farmers help restore degraded forests in Sulawesi
(01/15/2015) Irda tends to his two-hectare timber plantation in Pamulukkang Forest at the base of Tanete Kindo Mountain in West Sulawesi. Unlike some other farmers in Indonesia, he does so without fear of harassment by forest rangers or police. Since 2008, he has been involved in the Community Plantation Forest (HTR) program—an initiative by the Indonesian government to restore degraded lands by encouraging locals to plant and manage commercially sustainable forests.
Forest management by Sulawesi community attracts international attention
(01/13/2015) The Ngata Toro community in the Indonesian province of Central Sulawesi worked with the government to remap their lands and negotiate access to the forest. In the year 2000, officials from the national park signed an agreement with Ngata Toro recognizing the existence of indigenous forests, and granting them permission to maintain the forest as they had previously.
Mother and cub: researchers photograph rare cat with cub in Sumatra
(01/13/2015) Researchers working in Kerinci Seblat National Park have captured a remarkable image of a mother Asian golden cat (Catopuma temminckii) carrying her young in her mouth. The image was taken in mid-2014 as reported by Mongabay Indonesia by the Sumatran Tiger Research Team.
Will Indonesia's REDD+ Agency be dissolved?
(01/13/2015) Indonesia's cabinet-level agency tasked with reducing emissions from deforestation and degradation (BP REDD+), may be dissolved after only one year in operation. The head of the newly merged Ministries of the Environment and Forestry has indicated she intends to absorb the group into her agency—stripping BP REDD+ of its ability to operate independently.
Sulawesi community regains access to forest on which it depends
(01/09/2015) Recognizing the ecological sensitivity of an area in Central Sulawesi, the Indonesian government established two expansive protected areas in the region. Although these protective measures may be forward-thinking in terms of environmental protection, they had the unfortunate side effect of corralling the residents of the village of Namo on a tiny patch of land, forbidding them from the utilizing the forest resources that once sustained them.
Kalimantan community maps forest to thwart timber companies
(01/08/2015) The small village of Tumbang Bahanei is inhabited by 139 indigenous families that tend to 2,859 hectares of customary forest, 132 hectares of rice fields, 5,841 hectares of rubber forest, and 43 hectares of forest designated for indigenous tourism. In total, this amounts to just over 8,880 hectares. The residents know these numbers precisely, because they have been diligently mapping every corner of their territory in a desperate attempt to prevent it from being snatched up by timber companies.
Sulawesi community vies to maintain rights to forest
(01/07/2015) Around 3,000 people from 833 households live in Tompo Bulu's seven sub-villages. Traditional culture and ritual run thick in this area. The residents of Karampuang believe the area is where the cultures from eastern and western Indonesia first met. Local myth holds that the first leader of the area descended from the sky with a mandate that the locals must maintain their traditional way of life.
Palm oil threatens community forest in Central Kalimantan
(01/07/2015) Delang district is different than many parts of Central Kalimantan. Namely, on the drive in from Nangabulik, you won't see large-scale oil palm plantations, and the forest appears to be well maintained. This is because the locals are keenly aware of the importance of their land at the headwaters of the Lamandau River.
Traditional farming technique preserves soil, forest in Kalimantan
(01/06/2015) The road winds five kilometers through a thick canopy of trees before ending abruptly at a stream and a small, stout wooden cabin in West Kalimantan, Indonesia. Amid, the cabin's owner, proudly explains that he constructed it from local hardwoods—high value trees still readily available in the surrounding hills.
Coffee farmers help protect Flores forest
(01/06/2015) Located on the slopes of Inerie Mountain on the island of Flores in Indonesia, farmers in Bajawa and Golewa districts have practiced sustainable agroforestry for generations, producing coffee for export to the U.S. and Europe known as Arabica Flores Bajawa (AFB). Although not as well-known as other specialty coffees in Indonesia, its popularity is increasing, and Ngada regency now produces more than 300 tons of AFB per harvest.
Half of Indonesia's deforestation occurs outside concession areas
(01/06/2015) Roughly half of Indonesia's natural forest loss occurs outside officially designated concession areas, concludes a new assessment that also finds higher deforestation rates in places with worse forest governance scores. The report, released last month by Forest Watch Indonesia, is based on analysis of satellite data spanning the archipelago. Unlike assessments by the Ministry of Forestry, the data includes areas outside the 'forest estate'.
Featured video: new documentary highlights 'Sumatra Burning'

(01/05/2015) A new half-hour documentary investigate the impact of the palm oil industry in Indonesia, including burning forests and peatlands as well as haze spreading across Indonesian borders. Entitled Sumatra Burning, the documentary explores palm oil production on the island of Sumatra, which is experiencing some of the highest deforestation rates on the planet.
Rainforests: 10 things to watch in 2015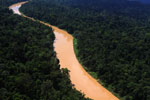 (01/02/2015) 2014 was a landmark year for tropical rainforests, with dozens of major companies committing to eliminating deforestation from their supply chains, the launch of new platforms for monitoring forests, and sharp drop in clearing in the Brazilian Amazon, among other big developments. Here's a quick look ahead at what might be in store for tropical forests in 2015.
Monkey sleep, monkey do: how primates choose their trees
(12/31/2014) Primates don't monkey around when deciding where to spend the night, but primatologists have had a poor grasp on what drives certain monkeys toward specific trees. Now, two extensive studies of Indonesian primates suggest that factors in selecting trees each evening are site-specific and different for each species—and that some overnight spots result in conflicts between monkeys and humans.
2014: the year in rainforests
(12/30/2014) 2014 could be classified as 'The Year of the Zero Deforestation Commitment'. During 2014, nearly two dozen major companies, ranging from palm oil producers to fast food chains to toothpaste makers, established policies to exclude palm oil sourced at the expense of rainforests and peatlands.
Top 10 HAPPY environmental stories of 2014
(12/29/2014) In what was widely seen as a possible breakthrough in the battle to coordinate some kind of response to global warming, China and the U.S. announced joint actions this year. On November 12th, the world's two most powerful countries surprised pretty much everyone by announcing that they would work together to tackle the crisis.
Indonesia's silent wildlife killer: hunting
(12/26/2014) By and large, Indonesia is a peaceful country. In fact, on the United Nations Office of Drugs and Crime's list of homicide rates, Indonesia ranks number 10, making Indonesians one of the least murderous people on Earth. A ban on gun ownership probably helps, although obviously there are many other ways to snuff out another person. Maybe Indonesia's general tendency to avoid conflict helps, too. Whatever the reason why Indonesians are relatively unlikely to kill each other, such favors are not extended to Indonesia's non-human wildlife. The relative safety of Indonesia's people does not guarantee similar security for its animals.
Connecting the Dots: from Christmas Cookies to Climate Change
(12/26/2014) Harrison Ford checking out everyday products to see which ones contain palm oil. Not exactly the high-octane activity we associate with an adventurer like Ford…so what gives? Ford cares about the ingredients used to make these products because our high demand for these everyday consumer goods is directly tied to high rates of deforestation and climate change. He was in the frozen food aisle to find out just how prevalent palm oil is in our food supply.
Top 10 Environmental Stories of 2014
(12/23/2014) In 2014, the unimaginable happened: companies representing the majority of palm oil production and trade agreed to stop cutting down rainforests and draining peatlands for new oil palm plantations. After years of intense campaigning by environmentalists and dire warnings from scientists, nearly two dozen major producers, traders, and buyers established zero deforestation policies.
Child labor and palm oil in Indonesia
(12/23/2014) Meet Bimo Kencana Arief. At 13 years old, this Indonesian middle school student is not spending his afternoons doing homework, helping around the house, or getting into trouble with the neighborhood children. Instead, Bimo is working up a sweat, hauling heavy oil palm fruits from the trees to a waiting truck. If he moves quickly, he can help his father earn up to $2 between 3:00 pm and dark.
Greenpeace: zero deforestation pioneer makes progress, but still has work to do
(12/22/2014) Half a decade ago, Golden-Agri Resources (GAR) was losing customers right and left in the midst of a Greenpeace campaign that blamed the Singapore-based palm oil giant for destroying forests in Indonesia. Then in February 2011, GAR surprised the world when it announced it would no longer clear rainforests or peatlands for new plantations. The company also committed to resolving social conflicts and respecting the right of local communities to reject plantation development on their traditional lands. Observers thought it could be mark the beginning a transformation in how palm oil was produced.
Palm oil facilitates large-scale illegal logging in Indonesia
(12/16/2014) Development of oil palm plantations is providing cover for large-scale illegal logging in Indonesian Borneo, driving destruction of some of the island's most biodiverse forests and undermining efforts to reform the country's forestry sector, alleges a new report published by the Environmental Investigation Agency (EIA).
New pit viper discovered in Sumatra
(12/10/2014) A new pit viper was discovered by researchers working in Sumatra, Indonesia. The viper, named Trimeresurus gunaleni, was identified by the researchers while they were studying a group of Trimeresurus sumanatrus, first described by Sir Thomas Stamford Raffles in 1822.
Musim Mas says its palm oil will be deforestation-free
(12/04/2014) Singapore-based Musim Mas has established a new sustainability policy that it says will eliminate deforestation, peatlands conversion, and social conflict from its palm oil supply chain. The company, which operates plantations in Sumatra and Indonesian Borneo, has been under pressure from environmentalists to join a growing number of palm oil producers and traders that have made zero deforestation pledges.
Is captive breeding the final resort for the Sumatran rhino?
(12/03/2014) Nearing extinction, the Sumatran rhino is running out of options. A native of Indonesia and Malaysia, the Sumatran rhino has declined in the past 30 years from an estimated 800 individuals to no more than 75 remaining today. So far there have been three ad hoc meetings held in 1984, 1993, and 2013, each attempting to develop policies that would potentially save this critical species.
Pulp and paper giant violating its sustainability policy

(12/01/2014) Asia Pacific Resources International Limited (APRRIL) is violating its own sustainability policy by continuing to source fiber produced via the destruction peatlands on the island of Pulau Padang in Riau, Sumatra, argues a new report published by a coalition of Indonesian environmental groups.
Indonesia to audit licenses of palm oil companies that clear peatlands
(11/30/2014) New Indonesian president Joko Widodo has ordered the Ministry of Environment and Forestry to review licenses for companies that have converted peatlands for oil palm plantations, reports Antara. Jokowi, as the president is popularly known, announced the move after a visit last week to Sungai Tohor, a community in Riau that has been particularly affected by peatlands degradation and haze caused by fires set for land clearing.
APP boosting timber productivity to support zero deforestation policy
(11/26/2014) Asia Pulp & Paper (APP) appears to have enough plantation fiber to operate existing mills as well as supply a new mill under construction in South Sumatra without having to pulp natural forests, argues a new report that also finds the forestry giant is successfully improving yields to support its zero deforestation commitment.
Indonesia's anti-corruption agency questions former Minster of Forestry

(11/21/2014) Indonesia's Corruption Eradication Commission (KPK) questioned the former Minister of Forestry about his role in altering zoning to facilitate oil palm expansion into public lands. The case centers around Riau Governor Annas Maamun, who allegedly accepted bribes to convert an area's status from 'production forest' into 'non-forested land'.
Indonesia imposes moratorium on new logging permits
(11/20/2014) Indonesia's new Minister of Environment and Forestry Siti Nurbaya Bakar imposed a moratorium on the issuance of all new logging permits a little over a week after being appointed in late October. The move is being celebrated by conservation groups and signals that interest in reforming Indonesia's notoriously corrupt and dysfunctional forestry sector has reached the highest levels of government, with direction coming from President Joko Widodo.
Cargill to use drones to monitor zero deforestation commitment
(11/17/2014) Cargill will use Unmanned Aerial vehicles (UAVs) and 'solar-powered, satellite-connected remote sensor networks' to monitor compliance with its new zero deforestation policy for palm oil, reports the agribusiness giant in its first progress report on its recent forest commitments.
Black market manta ray bust in Indonesia

(11/14/2014) In the largest confiscation in Indonesia to-date, authorities seized 103kg of manta gills in Bali, and arrested one suspect. The dried gill plates were harvested from as many as 85 individuals and are worth about 175 million rupiah on the local market.
Only place where rhinos, tigers, elephants, and orangutans coexist is under threat
(11/12/2014) A forest that is the only place where rhinos, tigers, elephants, and orangutans coexist is under threat from planned infrastructure, mining, logging, and plantation projects, warns a new report from the Rainforest Action Network. The report looks at one of the last vestiges of wilderness on the island of Sumatra, which for the past three decades has been heavily ravaged by logging, fires, and conversion to industrial timber and oil palm plantations. This area, known as the Leuser Ecosystem, is today a battleground between business-as-usual interests seeking to mine its forests and a collection of conservationists, local communities, and a collection of companies seeking to steward its resources.
Will merging competing ministries help save Indonesia's forests?
(11/10/2014) Newly elected Indonesian president Joko 'Jokowi' Widodo announced on October 26th that the Ministry of Forests and the Ministry of Environment would be combined and that Siti Nurbaya would become Forests and Environment Minister. The move was part of Jokowi's appointment of 34 cabinet level positions, ranging from Foreign Minister to Religious Affairs Minister.
Indonesia's new president, ministers have big plans for fish
(11/06/2014) Indonesia's new president, Joko Widodo (or Jokowi, as he's popularly called) spent half his 11-minute inaugural address thanking God, his partisans and the citizenry at large. For the rest of the speech he talked about oceans. Was this just rhetorical flourish, or does it portend a new seriousness about maritime management?
Tiger traffickers busted in Indonesia
(11/04/2014) Two online merchants of tiger parts have been arrested in Indonesia. The bust was the result of a coordinated effort between local and national authorities, and the Wildlife Conservation Society (WCS) which supports 'Wildlife Crimes Units' operating throughout the country. The arrests are a small success in the battle to curtail the trafficking of wildlife parts online—where sellers can readily connect with a broad international customer base.
Beef, palm oil, soy, and wood products from 8 countries responsible for 1/3 of forest destruction

(10/23/2014) Four commodities produced in just eight countries are responsible for a third of the world's forest loss, according to a new report. Those familiar with the long-standing effort to stop deforestation won't be surprised by the commodities named: beef, palm oil, soy, and wood products (including timber and paper). Nor will they be very surprised by most of the countries: Brazil, Indonesia, and Malaysia.
'No forests, no cash': palm oil giants commit to sustainability, but will they follow through?
(10/21/2014) Four of Indonesia's largest palm oil producers signed a landmark commitment in New York in September to further implement sustainable practices across one of the country's largest commercial sectors. Then-President Susilo Bambang Yudhoyono and the Indonesia Chamber of Commerce (KADIN) witnessed the undertaking, which is hoped to expand the country's palm oil industry while making it more environmentally friendly.
Coal, climate and orangutans – Indonesia's quandary
(10/21/2014) What do the climate and orangutans have in common? They are both threatened by coal - the first by burning it, and the second by mining it. At the recent United Nations Climate Summit in New York, world leaders and multinational corporations pledged a variety of actions to reduce greenhouse gas emissions and deforestation to avert a looming disaster caused by global warming.
Saving Asia's other endangered cats (photos)
(10/21/2014) It's no secret that when it comes to the wild cats of Asia—and, really, cats in general—tigers get all the press. In fact, tigers—down to an estimated 3,200 individuals—arguably dominate conservation across Asia. But as magnificent, grand, and endangered as the tigers are, there are a number of other felines in the region that are much less studied—and may be just as imperiled.
Indonesian law bars palm oil companies from protecting forests
(10/21/2014) A law passed by the Indonesian government last month makes it even more difficult for palm oil companies to conserve tracts of wildlife-rich and carbon-dense forests within their concessions, potentially undermining these producers' commitments to phase deforestation out of their supply chains, warns a new report published by Greenomics, an Indonesian environmental group.
Indonesia developing mega coal mine five times larger than Singapore
(10/20/2014) Global miner BHP Billiton and Indonesian partner PT Adaro are developing what could become the single largest mine in Indonesia in terms of land area, with BHP owning 75 percent. The IndoMet mine complex in Central and East Kalimantan provinces on Borneo comprises seven coal concessions, which cover 350,000 hectares, or about five times the size of Singapore.
Indonesia's tough choice: capping coal as Asian demand grows
(10/17/2014) Indonesia cannot build power stations fast enough. And neither can most of its Asian neighbors. Rapid economic and population growth are driving equally rapid demands for electricity as the region builds out power grids to connect up millions of people to fuel prosperity.
Push to undermine Indonesia's new president could stymie environmental progress, say NGOs
(10/17/2014) concerted push by political elites to undermine Indonesia's president before he even takes office could stymie progress on social and environmental issues in the country, say Indonesian civil society groups. On July 9, former Surakarta (Solo) and Jakarta mayor Joko 'Jokowi' Widodo beat ex-general Prabowo Subianto in Indonesia's presidential election by 8.4 million votes. Yet despite the wide margin, Jokowi has been stung by a series of political setbacks that will hinder his ability to govern once he assumes office Monday.
To become less damaging, target non-forest lands for palm oil, says book
(10/16/2014) Palm oil production has been spectacularly profitable but ecologically disastrous across Southeast Asia, consuming millions of hectares of indigenous lands, rainforests, and peatlands in recent decades. That paradox has made the crop highly controversial despite its importance in providing a high-yielding source of vegetable oil. A new book, published freely online by the Center for International Forestry Research (CIFOR), weighs in on the debate and concludes — like many before it — that the problem is not the crop itself, but how it is produced.
Indonesia tries to clamp down on coal sector's worst excesses
(10/16/2014) Out of the jungles of East Borneo in Indonesia comes the fire that fuels Asia's burgeoning economies: coal. Miners dig deep open pits, clearing forests and farmlands to extract coal from thick black seams, which is then crushed and loaded onto trucks and barges for shipment to China, India, Japan and other destinations in Asia.
India plans huge palm oil expansion, puts forests at risk
(10/14/2014) The world's largest importer of palm oil, India is seeking to slake its thirst domestically. The Ministry of Agriculture estimates that India has the potential to cultivate oil palm in 1.03 million hectares of land--nearly the size of the U.S. state of Connecticut--and produce four to five million metric tons of palm oil per year.
Plantation companies in Sumatra failing to meet fire prevention standards

(10/14/2014) An inter-agency audit of 17 plantation and timber concessions in Riau Province, Indonesia, found that every company is failing to meet fire prevention and control standards. In addition, several companies are working in prohibited areas, including peatlands with depths over 3 meters.
Rogue palm oil company appeals deforestation case to Indonesia's supreme court

(10/14/2014) Oil palm company PT. Kallista Alam has filed an appeal with the Supreme Court continuing the closely-watched legal battle set to redefine Indonesia's commitment to environmental justice. Lawyers for the company filed the new appeal on October 6, claiming the initial case is invalid because it failed to include all relevant parties as defendants—including the governor of Aceh, who issued the concession permit in 2011.
Helping orangutans survive: new project aims to connect habitat fragments in Kalimantan (PART II)
(10/08/2014) Two decades ago, a project to convert one million hectares of forest to rice paddies was undertaken by the Indonesian government in southern Kalimantan. The project was a massive failure and was eventually abandoned, but not before it destroyed critical orangutan habitat. Now a new project is trying to knit together what's left and turn the area's isolated orangutan populations into one of Borneo's largest.
Report rates palm oil companies on sustainability commitments
(10/05/2014) A new report published Forest Heroes, an advocacy campaign pushing for an end to deforestation, ranks global palm oil companies on their sustainability commitments. The Green Tigers, authored by Glen Hurowitz, reviews the recent history of environmental policies in the palm oil sector, beginning with the formation of the Roundtable on Sustainable Palm Oil (RSPO) in 2004 through the wave of comprehensive zero deforestation commitments in 2013-2014.
Central Kalimantan to set up palm oil monitoring system to in bid cut deforestation 80%
(10/05/2014) The Indonesian province of Central Kalimantan is moving forward on an oil palm plantation monitoring system it hopes will help meet a commitment to reduce deforestation 80 percent by 2020. The online monitoring system will include "information on the performance of plantation concessions such as productivity, the number of smallholder farmers, deforestation and other land cover change, and fire occurrence," according to Earth Innovation Institute which designed and is helping the provincial government implement the system.
Companies hire local communities to evade palm oil restrictions in Indonesia
(10/04/2014) As more palm oil companies are held accountable for deforestation in Indonesia, a growing number are hiring local communities to do their dirty work. According to the Oil Palm Farmers Union (SPKS), companies promise to buy mature fruits at attractive rates from smallholders and local villages who agree to clear and plant in protected forest areas. Through these agreements, companies distance themselves from the process, leaving the locals to bear responsibility for the destruction.
Despite high deforestation, Indonesia making progress on forests, says Norwegian official
(10/02/2014) Despite having a deforestation rate that now outpaces that of the Brazilian Amazon, Indonesia is beginning to undertake critical reforms necessary to curb destruction of its carbon-dense rainforests and peatlands, says a top Norwegian official. Speaking with mongabay.com in Jakarta on Monday, Stig Traavik, Norway's ambassador to Indonesia, drew parallels between recent developments in Indonesia and initiatives launched in Brazil a decade ago, when deforestation was nearly five times higher than it is today.
Officials bust one of the biggest players in illegal Indonesian manta ray trade
(10/01/2014) Writing this from a hotel room in Indonesia's second-largest city, Surabaya, I realize that I am filled with trepidation as I wait for the phone next to me to ring. When it does, the voice on the other end will tell me it's go time; the culmination of many years of work towards ending the global trade in manta ray gills.
High Court denies appeal by palm oil company that cleared protected peat forest
(09/30/2014) Furthering Indonesia's renewed commitment to environmental justice, the High Court of Banda Aceh denied an appeal by PT. Kallista Alam, the oil palm company found guilty of destroying over 1,000 hectares of protected peat forest in Gunung Leuser ecosystem. The Court upheld the previous ruling, which fined the company 366 billion rupiah ($30 million) in penalties and restoration fees.
Coal mine has heavy impact in Indonesian Borneo
(09/26/2014) Baharuddin should be happy. The rambutan and durian trees flanking his home are heavy with fruit. Two hectares of chilies stretch before his house. The price of chili — a staple commodity in Indonesia — has been stable for six months. From his 2,000 plants he hopes to earn 40 million rupiah ($3,400), much of which he wants to invest in expanding his crop. That is, if his farm can survive the threats that have destroyed so many of his neighbor's.
After 12 years, Indonesia finally ratifies transboundary haze agreement
(09/19/2014) Indonesia ended 12 years of stalling this week, becoming the last ASEAN nation to ratify an agreement on transboundary haze. As smoke from more than 1,200 fires in Sumatra and Kalimantan pushed air pollution in neighboring Singapore to 'unhealthy' levels, the Indonesian House of Representatives ratified the 2002 ASEAN Agreement on Transboundary Haze Pollution (AATHP).
Bizarre lizard newest victim of reptile pet trade
(09/15/2014) If you've never heard of the earless monitor lizard, you're not alone: this cryptic lizard has long-escaped the attention of the larger public. But over the past couple years its bizarre appearance has been splashed across social media sites for reptile collectors. While this decidedly-quirky attention may seem benign, it could actually threaten the species' existence.
Indonesia's secret treasures: islands passed over by loggers, hunters and conservationists
(09/14/2014) As our boat sailed towards the forest-clad island, I had no idea what surprise awaited me. A few months ago I was asked to conduct a wildlife survey on a rarely visited island somewhere in Indonesia. For reasons explained below I will not disclose its name. Suffice to say it is one of the thousands of Indonesian islands without people on it. In terms of the wildlife I saw, the absence of people really showed.
Palm oil company continues to operate illegal plantation despite court ruling

(09/12/2014) A palm oil company in Central Kalimantan continues to operate business as usual, despite a Supreme Court ruling confirming it has no legal permit to do so. Since 2009, PT Hati Prima Agro (HPA), a subsidiary of palm oil giant Bumitama Gunajaya Agro Group (BGA), has cleared over 7,000 ha of land in Central Kalimantan, even though their permits were revoked by the Ministry of Forestry in 2008.
Canada, Russia, Brazil lead world in old-growth forest loss
(09/05/2014) Every day, the world loses about 50,000 hectares of forest to agricultural clearing, road development, and other human activities, constricting true wilderness into smaller and smaller areas – along with the species that inhabit them. New analysis and maps released this week show these last vestiges are disappearing at a quick pace, with more than 104 million hectares degraded from 2000 to 2013.
APP can meet projected pulp demand without clearing more forest

(09/05/2014) Indonesian forestry giant Asia Pulp & Paper (APP) won't need to clear additional forests to meet pulp requirements for current and forecast mill expansion, finds an independent assessment conducted by The Forest Trust (TFT) and Ata Marie.
Indonesia to verify ownership of 66M ha of disputed forest land
(09/04/2014) The Indonesian government has declared it will verify ownership of 66.3 million hectares of disputed forest land by the end of the year. Through the development of a Recognition and Verification of Rights scheme (PPH), the Forestry Department will inventory and evaluate the status of all government land where indigenous people and other groups hold conflicting claims of ownership. Indonesia currently considers 122.2 million hectares of forested land—almost 64% of the country—to be state-owned. They hope to resolve all conflicting claims to the area by the end of 2015.
Indonesian authorities bust porcupine-smuggling ring

(08/28/2014) Police in Langkat, North Sumatera, Indonesia, seized 55 porcupines from smugglers preparing to ship the animals to China. Three suspects were detained during last week's operation, while their accomplices remain at large. Dozens more animals reportedly obtained from dealers in Medan are still unaccounted for.
Meeting an Illegal Logger
(08/27/2014) 'I make six times the amount of money logging as I would working my small plot of land or even working legally in a pulp and paper or palm oil plantation.' An illegal logger explains the economic conditions in South Sumatra. Mongabay Special Reporting Fellow Robert S. Eshelman interviews an illegal logger in Indonesia on the topic of cleaning up commodity supply chains.
How do we save the world's vanishing old-growth forests?
(08/26/2014) There's nothing in the world like a primary forest, which has never been industrially logged or cleared by humans. They are often described as cathedral-like, due to pillar-like trees and carpet-like undergrowth. Yet, the world's primary forests—also known as old-growth forests—are falling every year, and policy-makers are not doing enough to stop it.




Page 1 | Page 2 | Page 3 | Page 4 | Page 5 | Page 6 | Page 7 | Page 8 | Page 9 | Page 10 | Page 11 | Page 12 | Page 13