News articles on haze

---
Mongabay.com news articles on haze in blog format. Updated regularly.





Plantation companies in Sumatra failing to meet fire prevention standards

(10/14/2014) An inter-agency audit of 17 plantation and timber concessions in Riau Province, Indonesia, found that every company is failing to meet fire prevention and control standards. In addition, several companies are working in prohibited areas, including peatlands with depths over 3 meters.


Indonesia's forests so damaged they burn whether or not there's drought


(08/21/2014) Air pollution caused by fires set for land-clearing on Sumatra has become a regularly occurrence in Southeast Asia. While these fires are often termed forest fires, the reality is much of the area that burns each year has already been deforested and today mostly consists of grass, scrub, and remnants of what was once forest. But the impacts are nonetheless very substantial, finds a new study published in the journal Scientific Reports.


Singapore to fine domestic, foreign companies for causing haze

(08/07/2014) Singapore's parliament has approved a controversial measure that could penalize companies — both foreign and domestic — that are responsible for causing haze overseas, reports Reuters.


Biomass burning accounts for 18% of CO2 emissions, kills a quarter of a million people annually

(08/05/2014) Biomass burning takes many forms: wildfires, slash-and-burn agriculture, clearing forests and other vegetation, and even industrialized burning for energy production. Yet this burning—mostly manmade but also natural—takes a massive toll both on human health and the environment.


NASA: Sumatra fires in the rise

(07/22/2014) The number of fires burning in Sumatra's Riau Province doubled on Sunday, raising concerns that dry conditions could unleash an especially severe haze this dry season in Indonesia.


Do Indonesians really want more big plantations?

(07/04/2014) How to best use Indonesia's land resources? This is one of the more crucial questions facing the Presidential candidates in Indonesia's upcoming elections.


Indonesian presidential candidates ignore environmental concerns as haze returns

(06/24/2014) New data from NASA and the World Resources Institute (WRI) show that peat fires are again burning in Sumatra, yet both leading presidential contenders are ignoring the issue of climate change, says a top official.


Another year of fires, another year of inaction

(06/06/2014) With a 70% chance of an El Niño this year, Indonesia could soon be facing the ire of its nearest neighbors yet again as the dry season approaches with the ever present threat of vegetation fires.


Singapore: companies must accept responsibility in addressing haze crisis

(05/29/2014) Corporations will have to step up as better stewards of the environment if Southeast Asia's haze crisis is to be addressed, said Singaporean officials during a meeting held last week to discuss regional sustainability efforts.


Indonesia's haze from forest fires kills 110,000 people per year


(05/28/2014) Haze caused by burning peat forests in Indonesia kills an average of 110,000 people per year and up to 300,000 during el Niño events, while releasing hundreds of millions of tons of greenhouse gases into the atmosphere, warns a new report from Greenpeace. Sumatra: Going up in smoke argues that peatland and forest protection are the best way to protect the region from the effects of haze.


Indonesian activist: strong company commitments, media push government on forest issues


(05/23/2014) Indonesia has become notorious for its high rate of forest loss, but there are nascent signs of progress. The central government has implemented a moratorium across some 14.5 million hectares of forest and peatlands, while a handful of Indonesian companies have adopted policies that establish social and environmental safeguards.


NASA data: 1997 all over again for Indonesia?


(05/14/2014) The latest data from NASA shows that conditions developing in the tropical Pacific are eerily similar to those in 1997, when El Niño wreaked havoc across Indonesia, spurring a severe drought that exacerbated massive peatland and forest fires which spread choking haze across much of South and Southeast Asia.


Indonesia sets aside $173M to prepare for El Niño

(05/02/2014) The Indonesian government has set aside 2 trillion rupiah ($173 million) to prepare for the potential impacts of El Niño on food security, reports the Jakarta Post.


Logging giant suspends operations to fend off plantations from fires


(03/15/2014) Indonesian Pulp & paper giant Asia Pacific Resources International Limited (APRIL) says it has suspended operations at a concession in Riau Province in order to shift staff toward fighting back fires that threaten its plantations. In a statement issued Friday, APRIL said its plantations on Pulau Padang, a peat island off the coast of Sumatra, are at risk due to fires illegally set outside its concessions.


Indonesia's proposed peat law too weak to protect peatlands, stop haze, says Greenpeace

(03/14/2014) A new regulation aiming to protect peatlands is likely to fall short of its goals, failing to stop peat degradation, emissions, and fires that are driving the current haze crisis in Southeast Asia, asserts a new analysis from Greenpeace.


Sumatra on fire: burning spikes in Indonesia

(03/13/2014) Fires in Sumatra's Riau province have spiked to levels unseen since last June, finds new analysis from the World Resources Institute (WRI) that reveals widespread burning within concessions managed by pulpwood, palm oil, and logging companies.


Does haze from burning forests affect marine life?


(03/10/2014) Two scientists are calling on researchers, NGOs, and governments to begin studying the impact of burning forests and peatlands in Indonesia on the already-threatened marine ecosystems of Southeast Asia. Every year, Indonesian farmers set forests, vegetation, and peatlands alight to clear them for agriculture, often palm oil, and pulp and paper plantations. Not only do these practices destroy hugely-diverse tropical forests, but the resulting haze spreads to many parts of Southeast Asia, threatening regional health and impacting economies. Now, a new paper argues that the sinister impacts of Indonesia's burning may extend as far as the oceans.


Peatlands biosphere reserve facing severe encroachment in Sumatra

(03/06/2014) An important reserve that contains a block of fast-dwindling lowland swamp forest in Riau Province is facing an onslaught of encroachment for illegal oil palm plantations, worsening choking haze in the region, reports Mongabay-Indonesia.


NASA photo reveals ongoing haze problem in Sumatra

(03/01/2014) A new satellite image released by NASA highlights Indonesia's ongoing problem with haze caused by land-clearing fires set across carbon-dense peatlands on the island of Sumatra.


Deforestation may hurt U.S. agriculture, affect monsoon cycle


(11/04/2013) Unchecked deforestation will have far-reaching impacts on temperature, rainfall, and monsoon cycles in regions well outside the tropics, affecting agriculture and water availability, warns a new report published by Greenpeace International. The report is a synthesis of dozens of recent scientific papers that assess the effects of forest cover loss on weather patterns, local climate, and agricultural productivity.


Palm oil giant profiting off tiger habitat destruction, alleges Greenpeace

(10/22/2013) The world's largest palm oil trader is continuing to traffic in palm oil linked to deforestation and illegal peatlands conversion, alleges a new report from Greenpeace.


The palm oil debate: can the world's most productive oilseed be less damaging to the environment?


(10/21/2013) On Thursday, 17 October 2013 Mongabay.com and the Roundtable on Sustainable Palm Oil (RSPO) co-hosted a discussion on environmental issues related to palm oil. The discussion involved representatives from WWF, Greenpeace and the RSPO. Mongabay.com Founder Rhett A. Butler served as the moderator.


June fires concentrated in peatlands, burned 1,500 sq km in Sumatra

(10/16/2013) Fires that sent a choking haze across Singapore and Malaysia in June burned some 1,500 square kilometers in Riau Province and were predominantly concentrated on peatlands, reports the World Resources Institute (WRI).


500 fires rage across Sumatra

(08/29/2013) Nearly 500 fires are burning across the Indonesian island of Sumatra, raising fears that choking air pollution could return to Singapore and Malaysia.


Fires burning again in Sumatra, triggering haze alerts in Malaysia

(07/23/2013) Deforested areas and degraded peatlands are again burning on the island of Sumatra, triggering haze alerts in nearby Malaysia, despite last week's commitment by regional authorities to address the ongoing fire problem in Indonesia.


Haze summit proposes sharing concession data, but keeping it hidden from the public

(07/17/2013) A high-level meeting to discuss approaches for curbing fires that drive haze over Southeast Asia ended today with a recommendation that governments establish a haze monitoring system that would share detailed land-use and concession maps to help coordinate action against companies that set illegal fires, reports the World Resources Institute (WRI).


Palm oil body, Greenpeace spar over Indonesia fire blame

(07/16/2013) Greenpeace and the Roundtable on Sustainable Palm Oil (RSPO), a body that sets criteria for greener palm oil production, are caught up in a row over the origin of fires that cast a pall over Sumatra, Singapore, and Malaysia last month. The dispute started when media outlets, based on independent analysis of satellite data, identified several members of the RSPO as possible culprits in the fires in Riau Province. Greenpeace said the findings indicated that the RSPO is failing to hold its members accountable for burning. The activist group also criticized the RSPO for not expressly prohibiting deforestation and conversion of peatlands.


Haze fires concentrated in deforested peatlands, not forest areas, confirms satellite analysis


(07/10/2013) A new mapping tool based on NASA satellite data confirms that the majority of fires that drove the recent haze over Sumatra and Malaysia were concentrated in deforested peatlands and scrub, rather than natural forest areas.


Palm oil lobby group misleads on origin of haze, fires

(07/09/2013) World Growth International, a group that lobbies on behalf of industrial forestry and palm oil companies, is clouding the origin of the fires that triggered 'haze' air pollution alerts across Singapore and Malaysia last month.


World's biggest companies lay out path toward zero-deforestation commodities

(06/28/2013) With a backdrop of fires raging across oil palm and timber plantations in Sumatra, business and political leaders convened in Indonesia to discuss a path forward for producing deforestation-free commodities by 2020.


Indonesia NGOs call on govt to investigate 117 companies for alleged involvement in forest fires

(06/28/2013) As forest fires on the island of Sumatra continue to blanket parts of Indonesia, Malaysia and Singapore with a thick haze, a coalition of civil society groups has called on Indonesia's Ministry of the Environment to investigate timber and palm oil companies they believe may be behind the fires.


Indonesia to spend $10M on cloud-seeding scheme to slow haze

(06/27/2013) The Indonesian government will spend 100 billion rupiah — $10 million — on a cloud-seeding scheme to reduce the haze plaguing Sumatra, Singapore, and Malaysia.


Cause of haze? Up to 87% of recent deforestation in fire zone due to palm oil, timber


(06/26/2013) New analysis of land cover in Riau Province reveals the outsized role industrial plantations play in driving deforestation and associated haze. The analysis, conducted by Eyes on the Forest, finds that up to 56% of deforestation in Riau between 2007 and 2012 can be linked to timber plantations for pulp and paper production. The figure for oil palm plantations may be as high as 31%.


Wind, not big increase in forest fires, driving haze in Singapore

(06/26/2013) Wind patterns, rather than a sharp increase in fires, is to blame for the record setting air pollution affecting Singapore and Malaysia, finds new analysis by the World Resources Institute (WRI).


Palm oil companies linked to haze see share prices drop

(06/24/2013) Three firms linked to fires in Sumatra saw their share prices decline since the haze crisis worsened a week ago.


Greenpeace releases dramatic pictures of haze and fires in Indonesia (photos)


(06/24/2013) Greenpeace has released a series of photos from the front lines of the peat fires that are casting a pall of haze and triggering health warnings across Singapore and Malaysia. The images were taken by Getty photographer Ulet Infansasti in Sumatra, where the fires are burning. Analysis of NASA hotspot data has revealed that the majority of fires are occurring within plantation concessions operated by palm oil and timber companies.


5 RSPO companies linked to haze


(06/24/2013) Five members of the Roundtable and Sustainable Palm Oil (RSPO) will be asked to submit digital maps of their plantations after media reports linked them to fires in Sumatra that are driving the haze across Singapore and Malaysia. The RSPO has given the companies — PT Jatim Jaya Perkasa, Tabung Haji Plantations, Sinar Mas, Kuala Lumpur Kepong, and Sime Darby — 48 hours to submit maps of their plantations in Sumatra and Kalimantan so the eco-certification body can compare them to fire hotspot data from NASA and NOAA.


Indonesia drops water bombs on fires, may resort to cloud-seeding

(06/22/2013) In an effort to control peat fires casting a pall of haze over neighboring Singapore and Malaysia, Indonesia is using airplanes to drop water across hotspots in Riau Province on the island of Sumatra, reports AFP. Officials say they may try cloud-seeding — dumping silver iodide at high altitude — if current fire-fighting efforts fall short.


Singapore air pollution hits worst level on record, government blames palm oil and timber plantations in Sumatra

(06/21/2013) Singapore's Pollutant Standards Index hit the highest level on record Friday as 'haze' driven by fires burning across plantations, peatlands, and forest areas continued to rage across Sumatra. The air pollution gauge touched a record 400 at 11 am local time on Friday, according to the National Environment Agency's website. The level is considered "very unhealthy" with people advised to 'minimize all outdoor exposure' and wear masks when outside.


Singapore chokes on haze from deforestation fires

(06/17/2013) Singapore and Malaysian officials have asked Indonesia to take 'urgent measures' to address forest fires in Sumatra that are sending choking haze northward, reports AFP.


Indonesian fires trigger haze alerts in Malaysia

(06/24/2012) Fires set for land clearing in Indonesia triggered health warnings in Kuala Lumpur and other parts of Malaysia last week, reports the Associated Press.


5,000 Muslim imams to battle haze, deforestation in Indonesia

(07/18/2011) The Indonesian government plans to recruit and dispatch 5,000 Muslim imams across the archipelago to discourage forest destruction and open burning that contributes to the choking haze now spreading across Singapore and Malaysia, reports the Jakarta Post.


Plantation fires in Indonesia trigger haze-related health warnings in Malaysia

(07/13/2011) Smoke from plantation fires in Indonesian Borneo and Sumatra are casting a pall over cities in Malaysia, triggering health warnings from officials, reports The Straits Times.


Fires burn in Sumatra, drive air pollution in Malaysia

(05/13/2011) More than 100 Indonesian firefighters are battling peatland fires set by oil palm plantation developers in Riau province on the island of Sumatra, reports the AFP.


Will Indonesia's big REDD rainforest deal work?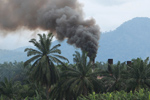 (12/28/2010) Flying in a plane over the Indonesian half of the island of New Guinea, rainforest stretches like a sea of green, broken only by rugged mountain ranges and winding rivers. The broccoli-like canopy shows little sign of human influence. But as you near Jayapura, the provincial capital of Papua, the tree cover becomes patchier—a sign of logging—and red scars from mining appear before giving way to the monotonous dark green of oil palm plantations and finally grasslands and urban areas. The scene is not unique to Indonesian New Guinea; it has been repeated across the world's largest archipelago for decades, partly a consequence of agricultural expansion by small farmers, but increasingly a product of extractive industries, especially the logging, plantation, and mining sectors. Papua, in fact, is Indonesia's last frontier and therefore represents two diverging options for the country's development path: continued deforestation and degradation of forests under a business-as-usual approach or a shift toward a fundamentally different and unproven model based on greater transparency and careful stewardship of its forest resources.


Oil palm plantation fires driving air pollution in Singapore

(10/24/2010) Oil palm plantation fires in Sumatra are contributing to air pollution in Singapore, according to Indonesia's forestry minister.


Forest fires set by Borneo dam developer contributes to haze in Malaysia, Singapore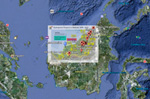 (08/17/2009) The developer of a massive hydroelectric project in Borneo plans to set fire to thousands hectares of logged over rainforest in the dam area, contributing to polluting haze already blanketing the region and raising the risk of forest fires in adjacent areas, reports a local environmental group. The Sarawak Conservation Action Network has learned that Sarawak Hidro Sdn Bhd, the operator of the Bakun Hydroelectric Power Dam project, is in the process of clear-cuting 80,000 hectares (200,000 acres) of rainforest set to be flooded by the dam. The remnants are being torched, in direct violation of Malaysia's laws against open burning.


Air quality worsens in Malaysia due to forest fires

(08/10/2009) Air quality in Malaysian Borneo is worsening as large numbers of fires rage near the Sarawak-Brunei border, reports the Star newspaper.


Burning by Asia Pulp & Paper contributes to haze in Indonesia, Malaysia

(07/28/2009) One quarter of fire hotspots recorded in the Indonesia province of Riau on the island of Sumatra in 2009 have occurred in concessions affiliated with Sinar Mas Group's Asia Pulp & Paper (APP), according to new analysis by Eyes on the Forest, a coalition of environmental groups. The fires are contributing to the "haze" that is affecting air quality and causing health problems in Malaysia.


Forest fires burn in Sumatra

(06/15/2009) Fires set by developers in Sumatra are causing a choking haze to spread across the island and over to Malaysia, reducing visibility and raising health concerns, reports Reuters.


Haze risk returns as fires increase in Indonesia

(08/26/2008) The number of forest fires burning in Indonesia is increasing, raising concerns for the potential return of choking haze to the region.


Is peat swamp worth more than palm oil plantations?

(07/16/2007) Could peat swamp be worth more intact for their carbon value than palm oil plantations for their oil? Quick analysis suggests yes, though binding limits on emissions will be needed to trigger the largest ever flow of money from the industrialized world to developing countries. At stake: the bulk of the world's biodiversity.


Poverty and corruption reduce effectiveness of rainforest parks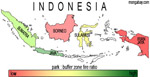 (07/09/2007) Poverty and corruption are linked to higher incidence of fire in tropical forest reserves, reports a new study published in the journal Ecological Applications. Poor, corrupt countries -- like Cambodia, Guatemala, Paraguay, and Sierra Leone -- have the least effective parks when measured in terms of the incidence of fire relative to surrounding "buffer" areas. The findings have significant implications for rainforest conservation efforts.


Indonesia pledges to cut haze-causing fires by half

(06/22/2007) Indonesia say it aims to reduce forest fires by 40-50 percent this year, following nearly a decade of devastating seasonal fires that release large amounts of CO2 into the atmosphere, threaten critical orangutan habitat, and raise regional health risks.


How to stop haze and forest fires in Indonesia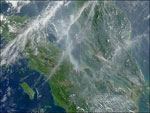 (04/19/2007) In recent years, annual forest fires in Indonesian have destroyed millions of hectares of forest and caused billions of dollars in economic damage. After each episode of fires the Indonesian government, facing criticism from neighboring governments, promises it will crack down. Nothing happens and the fires burn again the next year.


Fires burn across Burma; pollution levels rise in Thailand

(03/20/2007) Fires are raging across Myanmar (Burma) causing 'haze' pollution in neighboring Thailand, Laos, and southern China according to new satellite images release by NASA. The fires are set annually during the dry season for clearing brush and scrub for agriculture. In especially dry years the fires often spread into adjacent forest areas.


2006 Indonesian forest fires worst since 1998

(03/01/2007) NASA has linked el Nino to the worst fires in Indonesia since the 1997-1998 conflagration that burned nearly 25 million acres (10 million hectares) of land across the country.


Asian pollution fuels rain in Australia

(12/12/2006) A new study says that the haze produced by fires in southeast Asia causes increased rainfall in Australia by lowering regional ocean temperatures. Particulate matter in the upper atmosphere has been shown to reflect sunlight, hence lowering temperatures.


Southeast Asian nations propose haze fund, but fail to address root cause

(11/13/2006) Southeast Asian nations agreed to create to a fund to help fight forest fires in Indonesian according to a report from Retuers. The pledge however stops short of addressing the root cause of the choking haze: deforestation.


Fires in Indonesia kill 1,000 endangered orangutans

(11/07/2006) 1000 orangutans perished this year in forest fires that raged across Borneo and Sumatra according to a conservationist interviewed by Reuters. Willie Smits, an ecologist at the Borneo Orangutan Survival Foundation in Indonesia, told Reuters that the fires forced hungry orangutans into agricultural areas where they were killed as pests. Orangutans are known for feeding on fruit of oil palm and other crops in fields adjacent to forest areas.


Rain bring haze reprieve in Indonesia, Singapore

(10/27/2006) Rain has brought a temporary reprieve for areas affected by forest fires-caused haze in Indonesia according to a report from Reuters. Officials at Sultan Thaha airport in Jambi province, on the island of Sumatra, said that planes are again taking off and landing after a 10-day closure due to low visibility, according to Reuters. In Singapore, the pollution index was at 19, down from Thursday's reading of 38, and a high of 128 on October 7, its worst level since the 1997-1998 fires. In Kuala Lumpur, the Air Pollution Index stood at 24 on Thursday, down from 72 on Tuesday, according to local reports.


Forest fires result from government failure in Indonesia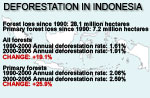 (10/16/2006) Indonesia is burning again. Smoke from fires set for land-clearing in South Kalimantan (Borneo) and Sumatra are causing pollution levels to climb in Singapore, Kuala Lumpur, and Bangkok, resulting in mounting haze-related health problems, traffic accidents, and associated economic costs. The country's neighbors are again clamoring for action but ultimately the fires will burn until they are extinguished by seasonal rains in coming months


Malaysia urges neighbors to help prevent haze

(09/27/2005) Malaysia urged its neighbours on Tuesday to ratify an agreement to control air pollution in southeast Asia, a month after forest fires in Indonesia caused some of the worst haze in the region in eight years.


Fires in peat lands cost climate

(09/06/2005) The tropical rainforests of Kalimantan have long been threatened and increasingly endangered by deforestation and other invasive types of human activity. However, a lesser known ecosystem in the region that is literally coming under fire, is the tropical peat lands, particularly in the central area of the province of Indonesian Borneo.


Forest fires have serious economic and health consequences warns FAO

(09/05/2005) Large forest fires in South-East Asia, notably in Indonesia, have caused serious health and environmental problems, in particular choking haze in the region, FAO said today.


Illegal loggers to be imprisoned in Malaysia, possibly executed in Indonesia

(08/30/2005) Illegal loggers will now face mandatory jail time in Malaysia under new laws expected to be implemented sometime early next year. Existing enforcement efforts, which rely on fines but are poorly enforced, have largely failed to curb illegal wood harvesting in the country's tropical rainforests.


Haze in Malaysia worsens, may last until October

(08/11/2005) Haze in Malaysia worsens, may last until October.


Indonesian forest fires again cause haze in Malaysia

(08/04/2005) Forest fires in Indonesia's Sumatra province covered Malaysia's main city Kuala Lumpur and 32 other towns Tuesday with a smoky haze that reduced visibility to as low as one kilometer (half a mile).


Borneo's peat lands going up in smoke

(04/21/2005) The tropical rainforests of Kalimantan have long been threatened and increasingly endangered by deforestation and other invasive types of human activity. However, a lesser known ecosystem in the region that is literally coming under fire, is the tropical peat lands, particularly in the central area of the province of Indonesian Borneo


Kalimantan at the Crossroads: Dipterocarp Forests and the Future of Indonesian Borneo

(04/17/2005) Kalimantan at the Crossroads: Dipterocarp Forests and the Future of Indonesian Borneo


Smoke from forest fires reduces rainfall and spells trouble for the Amazon rainforest

(04/14/2005) Smoke from forest fires reduces rainfall and spells trouble for the Amazon rainforest


Deforestation in Borneo

(04/13/2005) Deforestation in Borneo