News articles on happy-upbeat environmental

---
Mongabay.com news articles on happy-upbeat environmental in blog format. Updated regularly.





Amazon deforestation in Brazil drops 18% in 2013/2014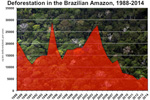 (11/26/2014) Figures published Wednesday by Brazil's National Space Research Institute (INPE) show that 4,848 square kilometers (1,871 square miles) of forest — an area about the size of the state of Rhode Island or the country of Brunei — were cleared between August 2013 and July 2014.


New calendar celebrates primates and raises money for their survival


(11/26/2014) Humans, or Homo sapiens sapiens, are really just upright apes with big brains. We may have traded actual jungles for gleaming concrete and steel ones, but we are still primates, merely one member of an order consisting of sixteen families. We may have removed ourselves from our wilder beginnings, but our extant relatives—the world's wonderful primates—serve as a gentle living reminder of those days.


Amazon deforestation moratorium extended 18 months


(11/25/2014) The Brazilian soy industry has extended its deforestation moratorium for another 18 months. The moratorium, which was established in 2006 after a high-profile Greenpeace campaign, bars conversion of forests in Brazilian Amazon for soy production. Independent analysis has shown it to be highly effective — just prior to the moratorium, soy accounted for roughly a fifth of recent deforestation, while today its share is less than one percent.


Green Climate Fund nears $7 billion after U.S. pledges $3 billion

(11/17/2014) The Green Climate Fund (GCF) is suddenly looking very lively after two announcements over the weekend. The U.S. has announced an initial pledge of $3 billion to the fund, while Japan pledged $1.5 billion. This more than doubles the current amount pledged to the key fund, which is now around $6.94 billion from thirteen countries. The new pledges also bring the fund much closer to an initial goal of $10-15 billion.


Gabon protects 23% of its coastal waters

(11/15/2014) Gabon has once again made headlines for a bold conservation initiative.


Over 60% of world's traded palm oil now bound by zero deforestation commitments


(11/13/2014) Over sixty percent of palm oil traded internationally is now bound by zero deforestation policies after IOI Loders Croklaan committed to excluding forest destruction from its supply chain, says Forest Heroes, a campaign that aims to reduce the environmental impact of palm oil production. IOI Loders Croklaan's parent corporation IOI Group has been aggressively targeted by environmentalists for its links to deforestation and controversies over conflicts with local communities.


Prelude to Paris: China and U.S. surprise world with joint climate deal


(11/12/2014) In what will likely have major ramifications for a new climate agreement in Paris in 2015, China and the U.S. surprised everyone today by announcing a joint climate deal. At a press conference in Beijing, China President, Xi Jingping, and U.S. President, Barack Obama, outlined climate actions for both juggernauts up to 2030.


Chief Curiosity Correspondent tackles sexism, aids conservation


(11/11/2014) Have you ever been offered the job of your dreams without knowing you were being interviewed? Have you ever communicated with a 5-year-old about the wonders of Salmonella? Have you ever been disappointed not to have larvae hatching from your skin? If you answered yes to all three questions, then you are either Emily Graslie herself or you should subscribe to her YouTube channel. Immediately.


Feds: gray wolf may have returned to the Grand Canyon after 70 years

(11/04/2014) Over 70 years since the last gray wolf was killed in Grand Canyon National Park, the top predator may be back. Tourists have reported numerous sightings—and taken photos—of a wolf-like animal roaming federal forest land just north of the park. Agents with the U.S. Fish and Wildlife Service now intend to capture the animal to determine if it is indeed a wolf or perhaps a wolf-dog hybrid.


Fashion industry making progress in cutting deforestation from clothing


(10/30/2014) Several more clothing companies have committed to eliminate fiber produced via destruction of endangered forests, adding momentum to a zero deforestation movement within the fashion sector, argues a new report published by Canopy, an environmental non-profit.


Demand for rhino horn drops 38 percent in Vietnam after advertising campaigns

(10/22/2014) A new poll finds that consumer demand for rhino horn in Vietnam has dropped precipitously following several advertising campaigns. According to the poll by the Humane Society International (HIS) and Vietnam CITES, demand has plunged 38 percent since last year.


'River wolves' recover in Peruvian park, but still remain threatened inside and out (photos)


(10/14/2014) Lobo de río, or river wolf, is the very evocative Spanish name for one of the Amazon's most spectacular mammals: the giant river otter. This highly intelligent, deeply social, and simply charming freshwater predator almost vanished entirely due to a relentless fur trade in the 20th Century. But decades after the trade in giant river otter pelts was outlawed, the species is making a comeback.


Jane Goodall joins mongabay


(10/13/2014) Famed primatologist and conservationist Jane Goodall—whose image is known the world over—has joined the advisory board of mongabay.org. This is the non-profit branch of mongabay.com, an environmental and science website with a special focus on tropical forests. Goodall first came to global prominence at the age of 26 when she set off to Gombe Stream National Park, Tanzania to study chimpanzee behavior.


New species named after the struggle for same-sex marriage

(10/13/2014) Scientists have named new species after celebrities, fictional characters, and even the corporations that threaten a species' very existence, but a new snail may be the first to be named after a global human rights movement: the on-going struggle for same-sex marriage. Scientists have named the new Taiwanese land snail, Aegista diversifamilia, meaning diverse human families.


Greenpeace sinks Lego's $116 million deal with Shell Oil over Arctic drilling


(10/09/2014) Lego has announced it will be severing its partnership with the oil giant, Shell, when the current contract expires after a clever campaign by environmental activist group, Greenpeace. Since 2011, Lego has been selling exclusive sets at Shell stations, but the companies' relationship actually goes back decades. In 1966, the Danish toy company first began selling Lego sets with Shell's brand stamped on them.


Saving Peru's sea turtles and marine birds: conservationists and fishermen partner to tackle bycatch


(10/07/2014) Marine conservationists often view fisheries as an enemy of sorts, vacuuming up fish with little thought to the long-term consequences and using equipment that also ends up killing other species, i.e. bycatch like sea turtles and marine birds. However, Joanna Alfaro Shigueto, the President of the Peruvian NGOProDelphinus and winner of a 2012 Whitley Award, has chosen a different tact.


What makes the jaguar the ultimate survivor? New books highlights mega-predator's remarkable past and precarious future


(10/02/2014) For thousands of years the jaguar was a God, then it was vermin to be destroyed, and today it is the inspiration for arguably the most ambitious conservation effort on the planet. A new book by renowned big cat conservationist, Alan Rabinowitz, tells this remarkable story from the jaguar's evolutionary origins in Asia to its re-emergence today as a cultural and ecological symbol.


High Court denies appeal by palm oil company that cleared protected peat forest


(09/30/2014) Furthering Indonesia's renewed commitment to environmental justice, the High Court of Banda Aceh denied an appeal by PT. Kallista Alam, the oil palm company found guilty of destroying over 1,000 hectares of protected peat forest in Gunung Leuser ecosystem. The Court upheld the previous ruling, which fined the company 366 billion rupiah ($30 million) in penalties and restoration fees.


Four countries pledge to restore 30 million hectares of degraded lands at UN Summit

(09/25/2014) In 2011, Germany and the International Union for the Conservation of Nature launched the Bonn Challenge, which pledged to restore 150 million hectares of degraded and deforested lands by 2020. Several countries have already made commitments—including the U.S.—but this week at the UN Climate Summit four more jumped on board.


Turning point for Peru's forests? Norway and Germany put muscle and money behind ambitious agreement


(09/24/2014) From the Andes to the Amazon, Peru houses some of the world's most spectacular forests. Proud and culturally-diverse indigenous tribes inhabit the interiors of the Peruvian Amazon, including some that have chosen little contact with the outside world. And even as scientists have identified tens-of-thousands of species that make their homes from the leaf litter to the canopy.


Cargill commits to zero deforestation across entire global supply chain: all commodities


(09/24/2014) Cargill, one of the world's largest agricultural companies, has extended its zero deforestation commitment for palm oil to all commodities it produces. The commitment, announced Tuesday at the United Nations Climate Summit in New York, is the most far-reaching zero deforestation policy ever established, covering Cargill's sprawling global empire of businesses, including palm oil, sugar, soy, cattle, and cocoa.


Climate coup: Rockefeller announces they are dropping fossil fuel investments

(09/22/2014) In 1870, John D. Rockefeller founded the Standard Oil Company. Rapidly becoming the world's largest oil refiner, Standard made Rockefeller a billionaire and one of the world's greatest philanthropists. 144 years later and John D. Rockefeller's descendants have announced they are stripping fossil fuels from the Rockefeller Brothers Fund, a private charity with around $860 million in assets.


Over half a million people march for climate action worldwide, shattering turnout predictions

(09/22/2014) Around 570,000 people took part in marches around the world yesterday calling for action on climate change. By far the largest event was in New York City, which had been dubbed the biggest climate march in history weeks before. Organizers estimate that 400,000 people showed up to the march in Manhattan, shattering predictions.


Palm oil giants announce deforestation moratorium -- effective immediately


(09/20/2014) Five of the world's largest palm oil producers have announced an immediate moratorium on palm oil sourced via clearance of potential high carbon stock forests. On Friday, Asian Agri, IOI Corporation Berhad, Kuala Lumpur Kepong (KLK) Berhad, Musim Mas Group and Sime Darby Plantation said they will suspend forest clearing until they have completed a year-along study that aims to establish a threshold for defining what constitutes high carbon stock (HCS) forest.


Krispy Kreme, Dunkin' Donuts to cut palm oil linked to deforestation

(09/19/2014) Two of the world's largest doughnut brands this week committed to sourcing safeguards that move them toward eliminating deforestation from their palm oil supply chains.


Protected areas do work, concludes study

(09/15/2014) Protected areas are working. That's the conclusion of a new analysis of over 80 different studies on the efficacy of parks and nature reserves in safeguarding wildlife. Published in the open access journal, PLOS ONE, the new study finds that in general protected areas house higher abundances of wildlife as well as greater biodiversity than adjacent areas.


Thought wiped out by climate change, 'extinct' snail rediscovered in Seychelles


(09/09/2014) The Aldabra banded snail was declared extinct in 1997 as one of the world's first recorded direct casualties of climate change. But last month, a monitoring team found a population on one of the atoll's islands, surprising the team and giving hope that other species whose habitats are being degraded by climate change may still be able to cling to existence.


California blue whales recover to historical levels

(09/05/2014) The population of blue whales in the Eastern Pacific has recovered to 97 percent of historic levels decades after Earth's largest animal was nearly driven to extinction in some places due to the whaling industry, reports a new study published in the journal, Marine Mammal Science.


Australia cancels plan to dump dredge in Great Barrier Reef

(09/02/2014) A consortium of companies—North Queensland Bulk Ports, GVK Hancock and Adani Group—have announced they are giving up on a hugely-controversial plan to dump five million tonnes of dredged sediment in the Great Barrier Reef. The plans ran into considerable opposition from environment, conservation, and tourism groups who feared harm to the world's largest coral reef system.


Why conservationists need a little hope: saving themselves from becoming the most depressing scientists on the planet


(08/19/2014) Here's a challenge: take a conservationist out for a drink and ask them about their work. Nine times out of ten—or possibly more—you'll walk away feeling frustrated, despondent, and utterly hopeless. Yet a few conservation scientist are not just trying to save species from extinction, but also working to save their field—their life's work—from slipping into total despair.


Google Earth spurs discovery of a 'new' chameleon species


(08/17/2014) Google Earth has spurred the discovery of another new species. In this case, the creature is a pygmy chameleon, one of four previously unknown Rhampholeon chameleon species described from the remote 'sky islands' in Mozambique. The Mount Mabu pygmy chameleon was discovered after Google Earth images of a tract of forest led Julian Bayliss to launch a scientific expedition to the region.


ConAgra adopts greener palm oil policy

(08/14/2014) U.S. food giant ConAgra has adopted a new sourcing policy that will exclude palm oil produced at the expense of rainforests and peatlands.


Demand for shark fin plunging


(08/12/2014) Shark fin demand has dropped precipitously in China in just a few years, according to a new report by WildAid. Shark fin traders in Guangzhou—the current informal capital of the shark fin trade—say their sales have fallen by 82 percent in just two years, according to WildAid.


Cargill to cut off suppliers who don't provide deforestation-free palm oil


(07/30/2014) Agricultural giant Cargill, America's largest palm oil importer, will no longer buy palm oil from sources associated with deforestation, conversion of peatlands, and social conflict. The policy follows similar commitments made by other major palm oil buyers, including Unilever and Nestle, and comes after years of campaigning led by the Rainforest Action Network.


Next big idea in forest conservation: Reconnecting faith and forests


(07/24/2014) 'In Africa, you can come across Kaya forests of coastal Kenya, customary forests in Uganda, sacred forest groves in Benin, dragon forests in The Gambia or church forests in Ethiopia...You can also come across similar forest patches in South and Southeast Asia including numerous sacred groves in India well-known for their role in conservation of biological diversity,' Dr. Shonil Bhagwat told mongabay.com.


Targeted enforcement saved a Massachusetts-worth of Amazon rainforest in 3 years

(07/24/2014) Targeted law enforcement efforts via Brazil's green municipalities programs were responsible for reducing deforestation by 10,653 square kilometers — an area the size of Massachusetts — between 2009 and 2011, argues a paper published in the journal Land Use Policy.


Brazil could meet all its food demand by 2040 without cutting down another tree


(07/24/2014) Better utilization of its vast areas of pasturelands could enable Brazil to dramatically boost agricultural production without the need to clear another hectare of Amazon rainforest, cerrado, or Atlantic forest, argues a new study published in the journal Global Environmental Change.


Lush Cosmetics launches bid to protect pangolins

(07/24/2014) Lush Cosmetics has agreed to support an effort to battle trafficking of the Sunda pangolin.


Rare bird paradise protected in war-torn Colombian mountain range (photos)


(07/22/2014) A coalition of conservation groups have established a new protected area in one of Latin America's most neglected ecosystems: the Colombian-side of the Serranía de Perijá mountain range. Following decades of bloody conflict and rampant deforestation, experts say only five percent of rainforest is left on the Colombian side of this embattled mountain range.


Coastal wildlife paradise declared biosphere reserve in Argentina (PHOTOS)


(07/15/2014) Conservationists are celebrating the announcement that UNESCO has dubbed Argentina's Península Valdés a biosphere reserve under the Man and Biosphere Program (MBA). A hatchet-shaped peninsula that juts out into the Southern Atlantic Ocean, the world's newest biosphere reserve is home to a hugely-diverse collection of both terrestrial and marine wildlife.


Next big idea in forest conservation? Rewards for reforestation


(07/10/2014) Susie McGuire and Dr. Edward Louis Jr. are the powerhouse team behind the Madagascar Biodiversity Partnership (MBP), an NGO that involves local residents—both human and primate—in reforestation efforts in Madagascar. A conservation geneticist and veterinarian by training, Ed Louis has discovered 21 lemur species and successfully reintroduced two species of locally extinct lemurs back into the wild.


Stuff of fairy tales: stepping into Europe's last old-growth forest


(07/09/2014) There is almost nothing left of Europe's famed forests, those that provided for human communities for millennia and gave life to the world's most famous fairytales. But straddling the border between Poland and Belarus, the Bialowieza Forest is Europe's last lowland old-growth forest, parts of which have never been cut by man.


On babies and motherhood: how giant armadillos are surprising scientists (photos)


(07/01/2014) Until ten years ago scientist's knowledge of the reproductive habits of the giant armadillo— the world's biggest— were basically regulated to speculation. But a long-term research project in the Brazilian Pantanal is changing that: last year researchers announced the first ever photos of a baby giant armadillo and have since recorded a second birth from another female.


Malaysian citizens want govt to spend more to save native rainforests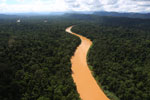 (06/30/2014) As developing countries reach upper middle income (UMI) status, their populations are willing to pay increasing amounts toward tropical forest conservation, yet government spending on these programs lags far behind, concludes a study available today in the PNAS Online Early Edition.


Global warming puts trillions at stake, but mitigation offers big economic gains

(06/25/2014) Two new reports this week look at the economics of global warming. The first, Risky Business, tallies the cost of climate change to the U.S., including tens-of-billions lost to destruction of coastal property, crop failures, drought, wildfires, and heatwaves. In contrast, the second report, by the World Bank, turns climate change economics on its head.


Scientists: Neotropical otter should not be considered threatened

(06/24/2014) The Neotropical otter (Lontra longicaudis) should not be considered threatened by the IUCN Red List, according to a new paper in mongabay.com's open-access journal Tropical Conservation Science. Currently the species is listed as Data Deficient, but was considered Vulnerable until 2000.


World Heritage Committee takes ten minutes to reject Australia's bid to strip forests of protection

(06/23/2014) The UNESCO World Heritage Committee today unanimously rejected a controversial proposal by the Australian government to strip 74,000 hectares of temperate rainforest from a World Heritage Site in Tasmania. In an embarrassing setback for the Australia government, it took the committee less than ten minutes to unanimously reject the proposal.


Regional court kills controversial Serengeti Highway


(06/23/2014) The Serengeti ecosystem got a major reprieve last week when the East African Court of Justice (EACJ) ruled against a hugely-controversial plan to build a paved road through Tanzania's Serengeti National Park. The court dubbed the proposed road 'unlawful' due to expected environmental impacts.


Chinese fishermen get the ultimate phone video: a swimming tiger

(06/19/2014) Two Chinese fishermen got the catch of their lives...on mobile phone this week. While fishing in the Ussuri River, which acts as a border between Russia and China, the fishermen were approached by a swimming Siberian tiger. These tigers, also known as Amur tigers, are down to around 350-500 animals.


U.S. raises $800 million for oceans, including $7 million from Leonardo DiCaprio

(06/19/2014) A U.S. State Department conference on the oceans raised an impressive $800 million for marine conservation this week. The conference was also notable for the announcement by President Obama of an intent to significantly expand the Pacific Remote Islands Marine National Monument.


Bigger than Mexico? Obama announces major expansion of Pacific protected area


(06/18/2014) President Obama announced yesterday he intends to drastically expand the Pacific Remote Islands Marine National Monument making what will likely be the largest marine protected area on the planet. While the full extent of the ocean park has yet to be determined, it could potentially protect over two million square kilometers, an area larger than Mexico.


Ever heard of the hirola? New survey shows world's rarest antelope holding steady


(06/18/2014) In 2008 and 2009, severe droughts killed numerous elephants, hippos and rhinos in Kenya's Tsavo East National Park. But the tiny population of the Critically Endangered Hunter's hartebeest or hirola (Beatragus hunteri) survived without any catastrophic consequences, a recent study has found.


Camera trap captures first ever video of rarely-seen bird in the Amazon...and much more


(06/17/2014) A camera trap program in Ecuador's embattled Yasuni National Program has struck gold, taking what researchers believe is the first ever film of a wild nocturnal curassow (Nothocrax urumutum). In addition, the program has captured video of other rarely-seen animals, including the short-eared dog and the giant armadillo.


What's an environmental journalist to do with so much good news?


(06/12/2014) As an environmental journalist covering stories from the great Arctic ice melt to the rhino poaching crisis in Africa, you'll forgive me if sometimes in the morning—before I turn my computer on—I have a sudden desire to spend a few extra minutes in bed or have a leisurely breakfast with my daughter or just sit in the back yard with a cup of tea and a good book.


Chile drops hugely controversial mega-dam project in wild Patagonia


(06/12/2014) One of the world's most controversial mega-dam projects met its likely end this week when Chile's Committee of Ministers voted to cancel the permits for the HidroAysén project. Costing around $8 billion and expected to produce about 2.75 gigawatts, the project involved building five large dams on two wild rivers in Chile's famously-unspoiled Patagonia region.


Oil overthrow: Soco to suspend operations in Virunga National Park after sustained campaign by WWF


(06/11/2014) In a surprise announcement, British oil company Soco International has said it will suspend exploratory operations in Virunga National Park, home to half the world's Critically Endangered mountain gorillas as well as thousands of other species. The announcement follows several years of campaigning from conservation groups led by WWF.


PhD students 'thrilled' to rediscover mammal missing for 124 years


(06/11/2014) In 1890 Lamberto Loria collected 45 specimens—all female—of a small bat from the wilds of Papua New Guinea. Nearly 25 years later, in 1914, the species was finally described and named by British zoologist Oldfield Thomas, who dubbed it the New Guinea big-eared bat (Pharotis imogene) after its massive ears. But no one ever saw the bat again.


Despite poaching, Indian rhino population jumps by 27 percent in eight years

(06/10/2014) The world's stronghold for Indian rhinos—the state of Assam—has seen its population leap by 27 percent since 2006, despite a worsening epidemic of poaching that has also seen 156 rhinos killed during the same period. According to a new white paper, the population of Indian rhinos in Assam hit 2,544 this year.


Tropical nations make progress in slowing deforestation

(06/10/2014) Efforts to slow destruction of tropical forests seem to be paying off in a number of countries, argues a new report published by the Union of Concerned Scientists (UCS).


Guatemala establishes new reserve for endangered animals


(06/04/2014) Guatemala has formally established a 19,000-hectare (47,000-acre) reserve that protects several endangered bird and amphibian species, reports the American Bird Conservancy (ABC). The Sierra Caral Water and Forest Reserve received overwhelming support during a vote by Guatemala's Congress. It is the first new protected area designated by Congress since 2005


Four donors pledge $80 million for big cats

(06/03/2014) Four donors from around the world have pledged $80 million to cat conservation group, Panthera. The money will fund projects working to preserve tigers, lions, jaguars, cheetahs, leopards, snow leopards, and cougars over ten years.


Turning point? U.S. and China announce major actions on global warming

(06/03/2014) Could 2014 be a turning point for efforts to slash global greenhouse gas emissions? Maybe: in less than 24 hours the world's two largest emitters of carbon dioxide announced plans to finally rein-in the gas most responsible for global warming.


Happy Amazon: $215 million raised for world's largest protected area network


(05/21/2014) By all standards the Amazon Region Protected Areas (ARPA) program is gargantuan: the network includes over 90 parks, covers 51 million hectares, and comprises 15 percent of Brazil's Amazon. But protecting an area bigger than Spain isn't cheap or easy. Today, a broad coalition of government donors and private funders have announced $215 million to secure ARPA over the next 25 years.


The quiet zoo revolution


(05/19/2014) A quiet zoo revolution has also been occurring over the past twenty-five years. Rather than just stand by the sidelines as species vanish in the wild, many zoos have begun funding on-the-ground conservation efforts. This revolution signals a widening realization by zoos of the positive—and wholly unique—role they could play in combating global mass extinction. But are zoos doing enough?


Publishing industry dramatically reduces reliance on rainforest fiber


(05/17/2014) The world's largest publishing companies have adopted policies that significantly curtail use of paper sourced from rainforest destruction and social conflict, finds a new assessment published by the Rainforest Action Network (RAN). The report looks at sourcing policies for the ten biggest publishing houses and compares them with the state of the industry in 2010.


Connecting forests, saving species: conservation group plans extensive wildlife corridor in Panama


(05/16/2014) With the cooperation of hundreds of ranchers and researchers, Azuero Earth Project aims to replant a swath of tropical dry forest, connecting the dry tropical forest on the coast to cloud forest further inland. The trees along the 140-kilometer (80-mile) wildlife corridor will create a continuous habitat for the Critically Endangered Azuero spider monkey (Ateles geoffroyi azuerensis) and improve the soil for people who farm and ranch along the way.


Scientists release odd-looking, Critically Endangered crocodiles back into the wild (PHOTOS)


(05/13/2014) Among the largest and most endangered crocodilians in the world, the gharial is on the verge of extinction today. This harmless fish-eating crocodile has fewer than 200 adult breeding individuals in the wild, their numbers having plummeted rapidly over the past few decades. But among this gloom and doom, conservationists have been working tirelessly to reinstate the wild populations.


Leonardo DiCaprio donates $1M toward ending elephant poaching crisis

(05/12/2014) Actor Leonardo DiCaprio has stepped up with a $1 million donation to the Elephant Crisis Fund, an initiative that aims to stop the ivory poaching crisis.


China pledges $10 million to combat poaching in Africa

(05/08/2014) The Chinese Premier, Li Keqiang, has pledged $100 million to combat poaching in Africa during a visit to the African Union headquarters in Addis Ababa.


Stanford kicks coal out of its $18 billion endowment


(05/07/2014) The fossil fuel divestment campaign won a major victory today as Stanford University announced it would drop coal companies from its massive $18.7 billion endowment, the fourth largest of any American university. The action follows a petition by student group Fossil Free Stanford and five months of research by Stanford's Advisory Panel on Investment Responsibility and Licensing.


New Caledonia officially creates world's largest protected area (photos)

(05/02/2014) The government of New Caledonia last week officially created the world's largest protected area, establishing a multi-use zone that at 1.3 million square kilometers is three times the size of Germany, reports Conservation International (CI).


Johnson & Johnson commits to zero deforestation for palm oil


(05/01/2014) Personal care products giant Johnson & Johnson (J&J - NYSE:JNJ) today unveiled a comprehensive palm oil sourcing policy that eliminates deforestation and social conflict from its global palm oil supply chain. The policy applies to all palm oil and palm oil derivatives J&J uses.


Papua New Guinea pledges to cancel massive land grabs by timber companies

(04/29/2014) Papua New Guinea's Prime Minister, Peter O'Neill, released a statement last week saying that hugely controversial land leases under the country's Special Agricultural and Business Leases (SABLs) will be cancelled if they are found to be run for extracting timber.


Chinese who eat endangered species could face over ten years in jail

(04/29/2014) It's well known that much of the world's massive illegal wildlife trade ends up in China, including poached tigers, pangolins, and bears. But now those who order pangolin fetuses, tiger blood, or bear bile at a restaurant or market may see significant jail time.


The remarkable story of how a bat scientist took on Russia's most powerful...and won


(04/28/2014) In a country increasingly known for its authoritarian-style crackdown on activists and dissidents, a bat scientist has won a number of impressive victories to protect the dwindling forests of the Western Caucasus. For his efforts, Gazaryan was awarded today with the Goldman Environmental Prize, often called the Nobel Prize for the environment, along with five other winners around the world.


Ecuador will have referendum on fate of Yasuni after activists collect over 700,000 signatures

(04/16/2014) In what is a major victory for environmentalists, campaigners with United for Yasuni have collected 727,947 signatures triggering a national referendum on whether or not oil drilling should proceed in three blocs of Yasuni National Park in Ecuador.


Procter & Gamble, Cargill pledge to cut deforestation linked to palm oil


(04/08/2014) Procter & Gamble (P&G) and Cargill today announced new measures to cut deforestation from their palm oil supply chains. P&G (NYSE:PG), a consumer products giant that owns brands like Head & Shoulders and Oil of Olay, pledged to establish traceability of palm oil to supplier mills by the end of 2015. The policy commits it to eliminate deforestation from its supply chain by 2020.


How locals and conservationists saved the elephants of Mali amidst conflict and poverty


(04/02/2014) At a time when Africa's elephants are facing a relentless poaching crisis, one community has managed to safeguard their elephants in the most unlikely of places: Mali. In a country that has suffered from widespread poverty, environmental degradation, and, most recently, warfare, a collaboration between conservationists and the local community has kept Mali's elephants from extinction.


The best of the worst: fossil-fuel extractors pave the way for the low-carbon revolution

(03/26/2014) At the end of last year, the world got some good news on the green business front concerning a very unlikely set of participants. A recent market review revealed that Exxon Mobil, Chevron, BP, ConocoPhillips, Royal Dutch Shell, Duke Energy, PG&E Corporation, American Electric Power Company, ConAgra Foods and Walmart, among others, are including shadow carbon prices in their forecasts.


Grocery giant commits to zero-deforestation policy for palm oil sourcing

(03/25/2014) Safeway has become the latest company to establish a policy that excludes deforestation-linked palm oil from its products.


Long lost mammal photographed on camera trap in Vietnam


(03/25/2014) In 1929, two sons of Theodore Roosevelt (Teddy Junior and Kermit) led an expedition that killed a barking deer, or muntjac, in present-day Laos, which has left scientists puzzled for over 80 years. At first scientists believed it to be a distinct species of muntjac and named it Roosevelts' muntjac (Muntiacus rooseveltorum), however that designation was soon cast into doubt with some scientists claiming it was a specimen of an already-known muntjac or a subspecies. The problem was compounded by the fact that the animal simply disappeared in the wild. No one ever documented a living Roosevelts' muntjac again—until now.


General Mills, Colgate-Palmolive announce deforestation-free policies for palm oil sourcing


(03/24/2014) Two consumer products giants have joined the wave of companies committing to deforestation-free palm oil. On Monday General Mills and Colgate-Palmolive both announced palm oil policies that go beyond standards set by the Roundtable on Sustainable Palm Oil (RSPO), the industry's main certification body. The policies include provisions to protect wildlife-rich rainforests and carbon-dense peatlands, while respecting the rights of local communities.


Meet Iman: the Sumatran rhino's newest hope for survival


(03/24/2014) Hopes for one of the world's most imperiled megafauna rose this month when wildlife conservationists succeeded in catching a female Sumatran rhino named Iman in the Malaysian state of Sabah. The female, which experts believe to be fertile, has since been successfully transferred via helicopter to the Borneo Rhino Sanctuary where experts plan to mate her with the local male, Tam. Located in Tabin Wildlife Reserve, the Borneo Rhino Sanctuary is an uncompleted semi-wild enclosure and home to one of several last-ditch efforts to save the vanishing species from extinction.


Next big idea in forest conservation? Offer health care for forest protection


(03/21/2014) Dr. Kinari Webb has a superpower: the ability to provide high-quality health care in a remote and rural landscape. And she uses her power not only to save lives, but also to protect the remaining Bornean rainforests. Twenty-one years ago, Kinari Webb traveled to Borneo to work with orangutans. She witnessed the faltering health of both the people and the environment and saw that the two issues were inseparable. When families must choose between the health of their children and the health of the forest that supports them, everyone loses. But in the region of Gunung Palung National Park — where an estimated 10 percent of the world's orangutans live — illegal logging and slash and burn farming methods paid the bills and locals saw few alternatives. Kinari vowed to study medicine and return with more to offer.


Panda lemur making a comeback


(03/20/2014) One of the world's biggest populations of greater bamboo lemurs (Prolemur simus)—sometimes known as the panda lemur—has doubled in just three years, giving conservationists new hope that the species can be kept from extinction. With the recent arrival of twenty babies, a community conservation project run by the Aspinall Foundation has boosted the local population to over 100 individuals in Andriantantely, one of Madagascar's only surviving lowland rainforests. Greater bamboo lemurs are currently categorized as Critically Endangered, though they were once believed extinct until hidden populations were uncovered in the 1980s.


Indian food giant to source deforestation-free palm oil

(03/19/2014) Orkla, a Nordic conglomerate that owns MTR Foods, one of India's major food companies, has established a zero deforestation policy for the palm oil it sources, reports Greenpeace.


Mother of God: meet the 26 year old Indiana Jones of the Amazon, Paul Rosolie


(03/17/2014) Not yet 30, Paul Rosolie has already lived a life that most would only dare dream of—or have nightmares over, depending on one's constitution. With the Western Amazon as his panorama, Rosolie has faced off jaguars, wrestled anacondas, explored a floating forest, mentored with indigenous people, been stricken by tropical disease, traveled with poachers, and hand-reared a baby anteater. It's no wonder that at the ripe age of 26, Rosolie was already written a memoir: Mother of God.


Photos: Weird aquatic lizard discovered in mountain streams of Peru

(03/13/2014) A 'new' species of lizard has been described from the cloud forests of Peru's Manu National Park, reports SERNANP, the Peruvian National Park Service.


Conservationists catch wild Sumatran rhino, raising hope for world's most endangered rhinoceros


(03/12/2014) Conservationists have succeeded in catching a wild Sumatran rhino in the Malaysia state of Sabah in Borneo, according to local media reports. Officials are currently transferring the rhino, an unnamed female, to a rhino sanctuary in Tabin National Park where experts will attempt to mate it with the resident male, Tam. The Sumatran rhino (Dicerorhinus sumatrensis) is one of the world's most imperiled species with less than 100 individuals left.


Snickers, Twix to be deforestation-free


(03/10/2014) Mars, Inc., the maker of M&M's, Snickers, Twix, and a variety of other food products, has committed to a zero deforestation policy for the palm oil it sources, reports Greenpeace. The policy pledges Mars to only using palm oil produced legally and without conversion of high conservation value areas, peatlands, or high carbon stock areas like tropical rainforests.


Javan rhino population jumps by over 10 percent

(03/04/2014) The Javan rhino population has increased by over ten percent from 2012 to last year, according to new figures released by Ujung Kulon National Park. Using camera traps, rangers have counted a total of 58 Javan rhinos, up from 51 in 2012. Although the species once roamed much of Southeast Asia, today it is only found in Ujung Kulon National Park in western Javan and is known as one of the most imperiled mammals on the planet.


Ecotourism pays: study finds lower poverty where nature-based tourism is prevalent


(02/25/2014) A new study has quantified a point long advocated by advocates of setting aside protected areas: ecotourism pays. The research, published in Proceedings of the National Academy of Sciences (PNAS), finds that communities neighboring conservation areas in Costa Rica had lower rates of poverty relative to other areas.


Indonesia pledges to protect manta rays


(02/21/2014) In a move signaling their commitment to CITES agreements on international trade of plants and animals, the Indonesian government declared two species of manta ray 'protected' under Indonesian law. Decree Number 4/KEPMEN-KP/2014 issued by Ministry of Maritime Affairs and Fisheries states that two manta ray species, Manta birostris and Manta alfredi, now enjoy full protection throughout their entire life cycle. The decree explicitly extends that protection to all parts of their body.


Revolutionary Google-backed system unlocks power of 'big data' to save forests


(02/20/2014) World Resources Institute (WRI) today announced the release of a tool that promises to revolutionize forest monitoring. The platform, called Global Forest Watch and developed over several years with more than 40 partners, draws from a rich array of big data related to the word's forests and translates it into interactive maps and charts that reveal trends in deforestation, forest recovery, and industrial forestry expansion. Global Forest Watch is the first tool to monitors global forests on a monthly basis, allowing authorities and conservationists to potentially take action against deforestation as it is occurring.


In Girl Scouts vs. Kellogg's over palm oil, rainforests and orangutans win

(02/14/2014) After a campaign waged by two charismatic Girl Scouts over questionably-sourced palm oil used in Girl Scout Cookies, Kellogg Company today announced a policy that will move it toward deforestation-free palm oil.


Obama announces new strategy to tackle wildlife trafficking, including toughening ivory ban

(02/12/2014) Yesterday, the Obama administration announced an ambitious new strategy to help tackle the global illegal wildlife trade, including a near-complete ban on commercial ivory. The new strategy will not only push over a dozen federal agencies to make fighting wildlife trafficking a new priority, but will also focus on reducing demand for wildlife parts and actively engaging the international community. The U.S. is the world's second largest destination for illegal wildlife trafficking after China.


Cambodia protects forest for giant ibis

(02/10/2014) Cambodia has set aside an area of forest just slightly smaller than Singapore to protect the country's national bird: the giant ibis (Thaumatibis gigantea). Listed as Critically Endangered by the IUCN Red List, the giant ibis is down to just a few hundred birds.


On edge of extinction, could drones and technology save the Little Dodo?


(02/10/2014) Almost nothing is known about the little dodo, a large, archaic, pigeon-like bird found only on the islands of Samoa. Worse still, this truly bizarre bird is on the verge of extinction, following the fate of its much more famous relative, the dodo bird. Recently, conservationists estimated that fewer than 200 survived on the island and maybe far fewer; frustratingly, sightings of the bird have been almost non-existent in recent years. But conservation efforts were buoyed this December when researchers stumbled on a juvenile little dodo hanging out in a tree. Not only was this an important sighting of a nearly-extinct species, but even more so it proved the species is still successfully breeding. In other words: there is still time to save the species from extinction so long as conservationists are able to raise the funds needed.


Madagascar's new president pledges to fight illegal logging

(02/07/2014) Madagascar's newly elected president Hery Rajaonarimampianina pledged to 'lead the fight' against illegal rosewood logging in the impoverished island nation.


Shell drops plans to drill in the Arctic for now

(01/30/2014) Facing plunging profits, Royal Dutch Shell has announced it will cut exploration and development funding by nearly $10 billion this year, including halting their long-suffering plans to drill in the Arctic ocean. Shell's new CEO, Ben van Beurden, made the announcement yesterday that controversial plans to drill off the Alaskan coast will be put on hold for another year.



Page 1 | Page 2 | Page 3 | Page 4 | Page 5 | Page 6 | Page 7 | Page 8 | Page 9 | Page 10 | Page 11 | Page 12 | Page 13 | Page 14