News articles on google earth

---
Mongabay.com news articles on google earth in blog format. Updated regularly.










Google Earth spurs discovery of a 'new' chameleon species
(08/17/2014) Google Earth has spurred the discovery of another new species. In this case, the creature is a pygmy chameleon, one of four previously unknown Rhampholeon chameleon species described from the remote 'sky islands' in Mozambique. The Mount Mabu pygmy chameleon was discovered after Google Earth images of a tract of forest led Julian Bayliss to launch a scientific expedition to the region.
Using Google Earth to protect uncontacted tribes in the Amazon rainforest
(06/19/2014) In 2008, images of an uncontacted tribe in the Amazon rainforest in Brazil created ripples. With bodies painted in bright colors, members of the tribe aimed their arrows at a Brazilian government plane flying overhead, occupants of which were attempting to photograph the tribe to prove their existence. Now, a new study has found another way to survey such tribes safely and remotely—using satellite images.
Revolutionary Google-backed system unlocks power of 'big data' to save forests
(02/20/2014) World Resources Institute (WRI) today announced the release of a tool that promises to revolutionize forest monitoring. The platform, called Global Forest Watch and developed over several years with more than 40 partners, draws from a rich array of big data related to the word's forests and translates it into interactive maps and charts that reveal trends in deforestation, forest recovery, and industrial forestry expansion. Global Forest Watch is the first tool to monitors global forests on a monthly basis, allowing authorities and conservationists to potentially take action against deforestation as it is occurring.
Malaysia has the world's highest deforestation rate, reveals Google forest map
(11/15/2013) Malaysia had the world's highest rate of forest loss between 2000 and 2012, according to a new global forest map developed in partnership with Google. Malaysia's total forest loss during the period amounted to 14.4 percent of its year 2000 forest cover. The loss translates to 47,278 square kilometers (18,244 square miles), an area larger than the country of Denmark.
Deforestation accelerates in Indonesia, finds Google forest map
(11/14/2013) Forest loss in Indonesia has sharply risen over the past 12 years, reports a new study published in the journal Science. The study, led by Matt Hansen of University of Maryland, finds that Indonesia lost 15.8 million hectares between 2000 and 2012, ranking it fifth behind Russia, Brazil, the United States, and Canada in terms of forest loss. Some 7 million hectares of forest regrew during the period.
Powered by Google, high resolution forest map reveals massive deforestation worldwide
(11/14/2013) Researchers today released a long-awaited tool that reveals the extent of forest cover loss and gain on a global scale. Powered by Google's massive computing cloud, the interactive forest map establishes a new baseline for measuring deforestation and forest recovery across all of the world's countries, biomes, and forest types. The map has far-reaching implications for efforts to slow deforestation, which accounts for roughly ten percent of greenhouse gas emissions produced by human activities, according to the authors of the paper that describes the tool and details its first findings.
Google Earth presents fish-eye view of coral reefs

(08/20/2013) You can now visit up-close and personal some of the world's most imperiled ecosystems on Google Earth: coral reefs. The Google team is working with scientists to provide 360 degree panoramas, similar to Google street-view, to give armchair ecologists a chance to experience the most biodiverse ecosystems under the waves.
Cause of haze? Up to 87% of recent deforestation in fire zone due to palm oil, timber
(06/26/2013) New analysis of land cover in Riau Province reveals the outsized role industrial plantations play in driving deforestation and associated haze. The analysis, conducted by Eyes on the Forest, finds that up to 56% of deforestation in Riau between 2007 and 2012 can be linked to timber plantations for pulp and paper production. The figure for oil palm plantations may be as high as 31%.
Google Time-lapse offers view of Earth over 3 decades
(05/10/2013) Google has released a series of time-lapse images showing global change between 1984 and 2012. The images are sourced from NASA's Landsat mission, a series of Earth-observation satellites that have orbited the planet since 1972, providing scientists, policymakers, and the general public with a wealth of data and imagery used for a wide range of applications.
Google Earth used to discover unknown forest in Angola, scientists find it full of rare birds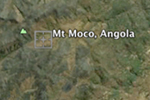 (07/09/2012) An expedition, followed up by some computer hunting on Google Earth, has discovered large remnants of old growth forest, including thriving bird communities, in the mountains of Angola. The Namba Mountains in Angola were expected to contain around 100 hectares of forest, but an on-the-ground survey, coupled with online research, has discovered numerous forest fragments totaling around 590 hectares in the remote mountains, boosting the chances for many rare species.
Google brings Street View, Maps to the Amazon (photos)

(03/22/2012) Google has posted images of a stretch of rainforest and communities along the Amazon river on its Street View product available via Google Maps. The addition makes it possible to virtually explore communities and ecosystems in Earth's largest tropical forest.
Google Earth used to identify marine animal behavior

(06/14/2011) From the all-seeing eye of Google Earth, one can spy the tip of Mount Everest, traffic on 5th Avenue in Manhattan, and the ruins of Machu Picchu, but who would have guessed everyone's favorite interactive globe would also provide marine biologists a God's-eye view of fish behavior? Well, a new study in the just-launched Scientific Reports has discovered visible evidence on Google Earth of the interactions between marine predators and prey in the Great Barrier Reef.
Google Earth enhances oceans' layer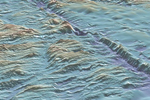 (06/08/2011) How do you celebrate World Oceans Day? Well, if you're Google you make the oceans of the world's most impressive interactive digital globe, Google Earth, come alive. With oceanographers at Columbia University's Lamont-Doherty Earth Observatory, Google Earth has fine-tuned its oceans' resolution in selected areas from 1 kilometer to just 100 meters.
New technology enables scientists to map rainforest biodiversity by airplane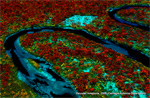 (06/02/2011) A new airplane-based remote-sensing and analysis system will enable scientists to catalog tree species as they create three-dimensional maps of tropical forests. Unveiled today at the Hiller Aviation Museum in San Carlos, California by Greg Asner of the Carnegie Institution's Department of Global Ecology, the newest version of the Carnegie Airborne Observatory (CAO) will offer powerful insights into the composition and biology of tropical forests.
Google Earth animation reveals Indonesian forest targeted for destruction by pulp and paper companies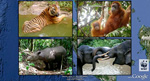 (05/14/2011) A new animation created using Google Earth offers a tour of an area of forest slated for destruction by logging companies. The animation, created by WWF-Indonesia and David Tryse, with technical assistance from Google Earth Outreach, highlights the rainforest of the Bukit Tigapuluh landscape in Sumatra, the only island in the world that is home to Sumatran tigers, elephants, rhinos, and orangutans. All of these species are considered endangered or critically endangered due to habitat destruction or poaching.
Community Forest Monitoring for the Carbon Market: Opportunities Under REDD

(05/03/2011) With over 200 million forested hectares in 60 countries transferred to community forest management over the past 20 years, this much needed book edited by Margaret Skutsch funded through the Kyoto: Think Global Act Local program (K:TGAL), provides not only various insights into how local communities and indigenous stakeholders can be engaged in community forest carbon project development and monitoring, it furthermore provides a valuable framework and models from which to discuss and analyze successful implementation of community forest carbon projects.
Monitoring deforestation: an interview with Brazilian space researcher Gilberto Camara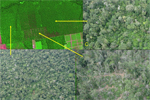 (02/08/2011) Perhaps unsurprisingly, the world's best deforestation tracking system is found in the country with the most rainforest: Brazil. Following international outcry over immense forest loss in the 1980s, Brazil in the 1990s set in motion a plan to develop a satellite-based system for tracking changes in forest cover. In 2003 Brazil made the system available to the world via its web site, providing transparency on an issue that was until then seen as a badge of shame by some. Since then Brazil has become recognized as the standard-bearer for deforestation tracking and reporting—no other country offers the kind of data Brazil provides. Space engineer Gilberto Camara has overseen much of INPE's earth sensing work and during his watch, INPE has released several new exciting capabilities.
Google lends its massive computing cloud in fight against deforestation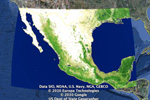 (12/03/2010) Google officially launched Earth Engine, a technology platform that enables scientists using the search giant's massive computing infrastructure to monitor and measure environmental changes. A group of scientific partners is already using the Earth Engine to track deforestation; map vegetation, biodiversity and water resources; and analyze fire patterns, but Google will open the platform to scientists around the world.
Google Earth now features 3-D trees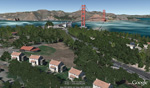 (11/29/2010) With world leaders meeting at climate talks in Cancun to discuss the future of forests, Google has added 3D trees to the latest version of Google Earth. Google has populated several major cities with more than 80 million virtual trees based on an automated process that identifies trees in satellite images. The realistic 3D representations are based on actual tree species found in urban areas. But Google has also extended realistic tree coverage to sites in some of the world's most biologically diverse forests.
Google Earth animation shows Brazilian plans to turn Amazon into 'series of stagnant reservoirs'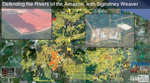 (08/30/2010) The decision last week by the Brazilian government to move forward on the $17 billion Belo Monte Dam on the Xingu river will set in motion a plan to build more than 100 dams across the Amazon basin, potentially turning tributaries of the world's largest river into 'an endless series of stagnant reservoirs', says a new short film released by Amazon Watch and International Rivers.
NASA, Google Earth catch North Korea logging protected area

(05/18/2010) Employing satellite data from NASA and Google Earth, Guofan Shao, a professor of geo-eco-informatics at Purdue University, has established that North Korea is logging Mount Paekdu Biosphere Reserve. Since North Korea is off-limits to most researchers, Shao has turned to open-access satellite data to monitor deforestation on the UN designated Man and Biosphere region.
Google Earth boosts deforestation monitoring capabilities

(02/07/2010) Google has taken a step towards ramping up the deforestation monitoring capabilities the Google Earth Engine by contracting Massachusetts-based Clark Labs to develop an online version of its Land Change Modeler application.
Biggest private funder of Amazon conservation teams with Google and scientists to develop earth monitoring platform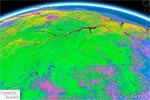 (12/18/2009) The Gordon and Betty Moore Foundation, the largest private funder of Amazon rainforest conservation, is playing an unheralded but integral role in the development of the Earth Engine platform, a system that combines the computing power of Google with advanced monitoring and analysis technologies developed by leading environmental scientists. The platform, which was officially unveiled at climate talks in in Copenhagen, promises to enable near real-time monitoring of the world's forests and carbon at high resolution at selected sites before COP-16 in Mexico.
Google's Earth Engine to help tropical countries monitor forests

(12/16/2009) A powerful forest monitoring application unveiled last week by Google will be made freely available to developing countries as a means to build the capacity to quality for compensation under REDD, a proposed climate change mitigation mechanism that would pay tropical countries for protecting forests, according to a senior Google engineer presenting at a side event at COP15 in Copenhagen.
Global forest map moves forward

(12/11/2009) A plan to create a pan-tropical map of forest cover and carbon stocks is moving ahead with data now available on Google Earth, reports the Woods Hole Research Center.
Google Earth to monitor deforestation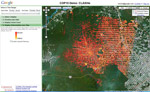 (12/10/2009) It what could be a critical development in helping tropical countries monitor deforestation, Google has unveiled a partnership with scientists using advanced remote sensing technology to rapidly analyze and map forest cover in extremely high resolution. The effort could help countries detect deforestation shortly after it occurs making it easier to prevent further forest clearing.
Brazilian tribe owns carbon rights to Amazon rainforest land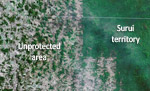 (12/09/2009) A rainforest tribe fighting to save their territory from loggers owns the carbon-trading rights to their land, according to a legal opinion released today by Baker & McKenzie, one of the world's largest law firms. The opinion, which was commissioned by Forest Trends, a Washington, D.C.-based forest conservation group, could boost the efforts of indigenous groups seeking compensation for preserving forest on their lands, effectively paving the way for large-scale indigenous-led conservation of the Amazon rainforest. Indigenous people control more than a quarter of the Brazilian Amazon.
Ethnographic maps built using cutting-edge technology may help Amazon tribes win forest carbon payments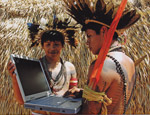 (11/29/2009) A new handbook lays out the methodology for cultural mapping, providing indigenous groups with a powerful tool for defending their land and culture, while enabling them to benefit from some 21st century advancements. Cultural mapping may also facilitate indigenous efforts to win recognition and compensation under a proposed scheme to mitigate climate change through forest conservation. The scheme—known as REDD for reducing emissions from deforestation and degradation—will be a central topic of discussion at next month's climate talks in Copenhagen, but concerns remain that it could fail to deliver benefits to forest dwellers.
Google – the new eye in the sky for protecting forests?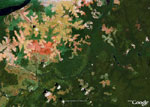 (11/22/2009) Google looks set to play a part in a called-for "new environmental world order" by satellite-monitoring the rates of deforestation of tropical rainforests and pinpointing illegal logging and land misuse, Google's Northern and Central Europe head Philipp Schindler has revealed. Schindler made the announcement in London on November 19 at a meeting at St James's Palace hosted by the Prince's Rainforests Project about a new climate change reduction mechanism, REDD (Reduced Emissions from Deforestation and Degradation). An inter-governmental report produced this month by an Informal Working Group (IWG) for Interim Funding of REDD has outlined an initiative to save the CO2 equivalent of the annual emissions of the US over five years by rewarding developing countries for reducing deforestation, with payments on a performance basis.
Google partners with Amazon tribe

(10/29/2009) The story of an indigenous Amazon tribe that has embraced technology in its fight to protect its homeland and culture is now highlighted as a layer in Google Earth.
How satellites are used in conservation
(04/13/2009) In October 2008 scientists with the Royal Botanical Garden at Kew discovered a host of previously unknown species in a remote highland forest in Mozambique. The find was no accident: three years earlier, conservationist Julian Bayliss identified the site—Mount Mabu—using Google Earth, a tool that's rapidly becoming a critical part of conservation efforts around the world. As the discovery in Mozambique suggests, remote sensing is being used for a bewildering array of applications, from monitoring sea ice to detecting deforestation to tracking wildlife. The number of uses grows as the technology matures and becomes more widely available. Google Earth may represent a critical point, bringing the power of remote sensing to the masses and allowing anyone with an Internet connection to attach data to a geographic representation of Earth.
Development of Google Earth a watershed moment for the environment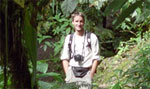 (03/31/2009) Satellites have long been used to detect and monitor environmental change, but capabilities have vastly improved since the early 1970s when Landsat images were first revealed to the public. Today Google Earth has democratized the availability of satellite imagery, putting high resolution images of the planet within reach of anyone with access to the Internet.
Deforestation maps for Sumatra now available on Google Earth

(03/31/2009) Despite many years of research in conservation biology, precise maps of tropical deforestation that document the global spatial extent of tropical forests destruction are generally not available outside of the scientific community, says David Gaveau a researcher from Durrell Institute of Conservation and Ecology (DICE) points out. For nearly seven years, Gaveau has been documenting forest destruction on the entire island of Sumatra since early 1970s using satellite technology, and he has found the way to make his full-resolution maps and scientific results public using Google Earth.
Photos: Google Earth used to find new species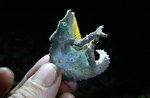 (12/22/2008) Scientists have used Google Earth to find a previously unknown trove of biological diversity in Mozambique, reports the Royal Botanic Gardens in Kew. Scouring satellite images via Google Earth for potential conservation sites at elevations of 1600 meters or more, Julian Bayliss a locally-based conservationist, in 2005 spotted a 7,000-hectare tract of forest on Mount Mabu. The scientifically unexplored forest had previously only been known to villagers. Subsequent expeditions in October and November this year turned up hundreds of species of plants and animals, including some that are new to science.