News articles on frogs

---
Mongabay.com news articles on frogs in blog format. Updated regularly.






Scientists identify frog through DNA without leaving forest
(05/05/2015) Yesterday, a team of Italian scientists caught a frog in a montane forest in Tanzania. And then they made history: using a small blood sample the team were able to extract, purify, and amplify the amphibian's DNA—all in the forest—through a new, battery-powered device called the Expedition Genomics Lab.
Recently discovered 'punkrocker' frog changes skin texture in minutes
(04/17/2015) In 2006, two scientists discovered a tiny new frog species in the Reserva Las Gralarias, a nature reserve in north-central Ecuador. They took its photograph and nicknamed it the "punkrocker" frog because of spine-like projections coming out of its skin. For the next three years, they did not find the punkrocker again. But when they did re-discover it in 2009, the team found that the punkrocker had more tricks up its sleeve.
Madagascar's frog haven: rich, underexplored, threatened
(03/04/2015) Madagascar is a treasure trove of frogs. Located off the east coast of Africa, this large island nation has more than 500 species of frogs, many of which are found nowhere else in the world. Much of Madagascar's rich biodiversity remains understudied. As researchers comb through the country's forests, they continue to discover previously undescribed species of frogs, adding to Madagascar's amphibian diversity.
Biodiversity may reduce the threat of disease
(02/19/2015) Biodiversity level changes can have consequences for species and habitats around the world. A new study published in the Proceedings of the Royal Society B, reaffirms previous findings that higher diversity in ecological communities may lead to reduced disease threat.
Scientists discover fanged frogs that give birth to tadpoles
(02/02/2015) Scientists have discovered a new species of fanged frog that is the world's only known frog able to give birth to tadpoles. If that wasn't enough, L. larvaepartus also fertilizes its eggs internally, a reproductive strategy of which only a few amphibian species are capable.
Scientists rediscover endangered Andean toad in Ecuador
(01/30/2015) In 1970 researchers uncovered the Tandayapa Andean toad, previously unknown to science, in the Pichincha Province of Ecuador. Given that only a single individual was discovered, even after further exploration in the following years, the toad was soon presumed to be extinct. Forty-two years later, however, a research team rediscovered the species in Manduriacu, Ecuador.
Scientists rediscover Critically Endangered streamside frog in Costa Rica
(12/26/2014) In the past 20 years, amphibian species around the world have experienced rapid decline due to climate change, disease, invasive species, habitat loss and degradation. Populations have decreased by approximately 40 percent with nearly 200 species thought to have gone extinct since 1980. However, despite these discouraging statistics, new research efforts are turning up lost populations of some vanished frogs.
How a frog with a strange name is helping improve conservation in Brazil
(12/23/2014) Protecting the biodiversity of the Amazon basin is an immense undertaking, and to its credit the Brazilian government has a set procedure for doing so. However, there are gaps in the process that may prevent the authorities from fully protecting the species that call this place home. To investigate this, a recent study uses as an example the brilliant-thighed frog, a species that is found across the Amazon Basin—including the area surrounding the soon-to-be dammed Xingu River.
The biggest new species discoveries in 2014 (photos)
(12/22/2014) Biologists describe upwards of 15,000 previously undocumented species every year. Some of these species are complete surprises, sometimes representing new genera. Others may be identified after genetic analysis distinguishes them from closely-related species. Some — especially conspicuous birds and mammals — are already known to local populations, but hadn't been formally described by scientists.
Pictures: the top new animal discoveries of 2014
(12/20/2014) Seemingly every year scientists set a new record with the number of species they describe. 2014 will be no exception. Below are some of the 'new species' highlights from the past year. The list includes species whose descriptions were first published in 2014. Some of the 'discoveries' occurred in years prior.
Puerto Rico's only native toad bounces back from edge of extinction
(12/19/2014) Once common on the islands of Puerto Rico and Virgin Gorda, the Puerto Rican crested toad declined by more than 80 percent over the past decade, leaving behind just some 200 individuals in the wild. But researchers have turned their fate around. Since 1992, they have successfully bred in captivity and re-introduced to the wild more than 300,000 of these threatened toads.
New poison dart frog needs immediate conservation plan
(12/15/2014) It was a surprising discovery in an unlikely location. In a leaf litter nearly four inches deep under a dense canopy of rainforest trees, researchers Marcos Ponce and Abel Batista with the Universidad Autónoma de Chiriquí worked to complete an inventory of endangered species in Panama's Isthmian-Atlantic moist forest. But they were both completely unsuspecting of what they were about to find: a new poison dart frog.
Rediscovered in 2010, rare Indian frog surprises by breeding in bamboo
(11/18/2014) For a long time, this rare white spotted bush frog lived a secretive life: the Critically Endangered Chalazodes bubble-nest frog (Raorchestes chalazodes) was last seen in 1874 and presumed to be extinct. That is until 2010 when a year-long expedition to try and locate 'lost' amphibians in India found the elusive frog in the wet evergreen forests of the Western Ghats, after more than 130 years.
The Search for Lost Frogs: one of conservation's most exciting expeditions comes to life in new book
(10/30/2014) One of the most exciting conservation initiatives in recent years was the Search for Lost Frogs in 2010. The brainchild of scientist, photographer, and frog-lover, Robin Moore, the initiative brought a sense of hope—and excitement—to a whole group of animals often ignored by the global public—and media outlets. Now, Moore has written a fascinating account of the expedition: In Search of Lost Frogs.
Scientists uncover six potentially new species in Peru, including bizarre aquatic mammal (photos)
(09/25/2014) A group of Peruvian and Mexican scientists say they have uncovered at least six new species near South America's most famous archaeological site: Machu Picchu. The discoveries include a new mammal, a new lizard, and four new frogs. While the scientists are working on formally describing the species, they have released photos and a few tantalizing details about the new discoveries.
Selective logging hurts rainforest frogs
(08/21/2014) Selective logging in India's Western Ghats forests continues to affect frogs decades after harvesting ended, finds a new study published in Biotropica. The research assessed frog communities in logged and unlogged forests in Kalakad Mundanthurai Tiger Reserve and found that unlogged forests had twice the density of frogs as areas logged in the 1970s.
New skeleton frog from Madagascar is already Critically Endangered
(08/20/2014) Sometimes all it takes is fewer clicks. Scientists have discovered a new species of frog from Madagascar that stuck out because it "clicked" less during calls than similar species. Unfortunately the scientists believe the new species—dubbed the Ankarafa skeleton frog—is regulated to a single patch of forest, which, despite protected status, remains hugely threatened.
Dancing frogs: scientists discover 14 new species in India (PHOTOS, VIDEO)
(05/16/2014) Scientists have discovered 14 new species of frogs in the mountainous tropical forests of India's Western Ghats, all of which are described in a recent study published in the Ceylon Journal of Science. The new species are all from a single genus, and are collectively referred to as "dancing frogs" due to the unusual courtship behavior of the males.
Game of thorns: colorful, spiky tree frog discovered in Vietnam
(04/25/2014) Evening fog settled quickly on Mount Ngoc Linh, as the steady drone of cicadas and crickets took up their usual nighttime chorus. The night calm was broken by sudden crashing through the thick bamboo stands and excited voices. High in this isolated cloud forest in central Vietnam, researchers had come upon the first thorny tree frog known to science.
Amphibian pandemic may have hit Madagascar, hundreds of species at risk of infection
(04/11/2014) Madagascar is one of the world's hotspots for amphibian diversity, home to so many frog species that many of them don't even have names. But soon the island may also harbor a fungus causing drastic declines – even extinctions – of frogs around the world. Ironically, the wildlife trade that's often blamed for helping spread the disease may also give scientists a chance to prevent it.
Several Amazonian tree frog species discovered, where only two existed before
(03/18/2014) We have always been intrigued by the Amazon rainforest with its abundant species richness and untraversed expanses. Despite our extended study of its wildlife, new species such as the olinguito (Bassaricyon neblina), a bear-like carnivore hiding out in the Ecuadorian rainforest, are being identified as recently as last year. In fact, the advent of efficient DNA sequencing and genomic analysis has revolutionized how we think about species diversity. Today, scientists can examine known diversity in a different way, revealing multiple 'cryptic' species that have evaded discovery by being mistakenly classified as a single species based on external appearance alone.
Frog creates chemical invisibility cloak to confuse aggressive ants
(03/14/2014) The African stink ant creates large underground colonies that are home to anywhere from hundreds to thousands of ants, and occasionally a frog or two. The West African rubber frog hides in the humid nests to survive the long dry season of southern and central Africa. However, the ant colonies are armed with highly aggressive ant militias that fight off intruders with powerful, venomous jaws. So how do these frogs escape attack?
Scientists uncover new species of Andean marsupial frog
(03/05/2014) The term marsupial frog sound like a hoax, but, believe it or not, it's real. Recently, herpetologists welcomed a new species, known as Gastrotheca dysprosita and described in the journal Phyllomedusa. Unlike mammal marsupials, which typically carry their young in pouches on their torsos and are found primarily in Australia, the Gastrotheca genus of frogs, which contains 62 species, is found in the Andes region on South America and sport their pouches on their backs (also called a "dorsal brood pouch").
287 amphibian and reptile species in Peruvian park sets world record (photos)
(01/28/2014) It's official: Manu National Park in Peru has the highest diversity of reptiles and amphibians in the world. Surveys of the park, which extends from high Andean cloud forests down into the tropical rainforest of the Western Amazon, and its buffer zone turned up 155 amphibian and 132 reptile species, 16 more than the 271 species documented in Ecuador's Yasuní National Park in 2010.
New frog species discovered on tallest mountain in Indochina
(01/22/2014) A team of Australian and Vietnamese researchers recently discovered a new species of frog in the high elevations of Vietnam's Mount Fansipan, according to a new paper in Zootaxa. The amphibian was named Botsford's leaf-litter frog (Leptolalax botsfordi) as a tribute to Christopher Botsford for his role in amphibian biodiversity research in Asia.
High-living frogs hurt by remote oil roads in the Amazon
(01/14/2014) Often touted as low-impact, remote oil roads in the Amazon are, in fact, having a large impact on frogs living in flowers in the upper canopy, according to a new paper published in PLOS ONE. In Ecuador's Yasuni National Park, massive bromeliads grow on tall tropical trees high in the canopy and may contain up to four liters of standing water. Lounging inside this micro-pools, researchers find a wide diversity of life, including various species of frogs. However, despite these frogs living as high as 50 meters above the forest floor, a new study finds that proximity to oil roads actually decreases the populations of high-living frogs.
Not seen in over 130 years, 'extinct' frog rediscovered in Sri Lanka
(01/10/2014) In 1876—the same year that the first telephone call was made—the British scientist Albert Günther described a new species of frog from Sri Lanka, but the species, known as the webless shrub frog (Pseudophilautus hypomelas), was never seen again. Having disappeared into history, scientists considered the species extinct—that is until a 2010 expedition stumbled on 40 mystery frogs.
Sky islands: exploring East Africa's last frontier
(12/04/2013) The montane rainforests of East Africa are little-known to the global public. The Amazon and Congo loom much larger in our minds, while the savannas of East Africa remain the iconic ecosystems for the region. However these ancient, biodiverse forests—sitting on the tops of mountains rising from the African savanna—are home to some remarkable species, many found only in a single forest. A team of international scientists—Michele Menegon, Fabio Pupin, and Simon Loader—have made it their mission to document the little-known reptiles and amphibians in these so-called sky islands, many of which are highly imperiled.
Microhabitats could buffer some rainforest animals against climate change

(11/25/2013) As temperatures increase worldwide due to anthropogenic climate change, scientists are scrambling to figure out if species will be able to survive rapidly warming ecosystems. A new study in Global Change Biology offers a little hope. Studying reptiles and amphibians in the Philippines, scientists say some of these species may be able to seek refuge in cooler microhabitats, such as tree holes or under the soil, in order to stay alive during intensifying heatwaves. But, the scientists' stress, the shelter from microhabitats can only protect so far.
Strange mouth-brooding frog driven to extinction by disease
(11/21/2013) An unusual species of mouth-brooding frog was likely driven to extinction by the fungus Batrachochytrium dendrobatidis (Bd), making an unusual example of 'extinction by infection', argue scientists writing in the open-access journal PLOS ONE. Rhinoderma rufum has not been seen in the wild since 1980.
Thought-to-be-extinct 'halloween' frog rediscovered in Costa Rica
(11/04/2013) A breeding population of a critically endangered harlequin toad thought to be extinct in Costa Rica has been discovered in a tract of highland forest in the Central American country, reports a paper published in Amphibia-Reptilia. Atelopus varius, an orange-and-black harlequin toad, was once relatively common from central Costa Rica to western Panama. But beginning in the 1980's the species experienced a rapid population collapse across most of its range.
Small invertebrates could be key to uncovering the mysteries of killer amphibian fungus
(10/22/2013) In 2004, the first-ever Global Amphibian Assessment (GAA) reviewed all 5,743 amphibian species known to science and concluded that 32% were threatened with extinction - a number far exceeding corresponding figures for birds and mammals (12 to 23% respectively). In addition to the usual culprits of climate change and habitat destruction, a startling 92.5% of amphibians listed as Critically Endangered were found to be undergoing enigmatic declines linked to an unexpected perpetrator - the chytrid fungus, Batrachochytrium dendrobatidis (Bd).
Scientists discover cocoa frog and 60 other new species in remote Suriname (photos)
(10/11/2013) In one of the most untouched and remote rainforests in the world, scientists have discovered some sixty new species, including a chocolate-colored frog and a super-mini dung beetle. The species were uncovered in Southeastern Suriname during a Rapid Assessment Program (RAP); run by Conservation International (CI), RAPS involve sending teams of specialists into little-known ecosystems to record as much biodiversity as they can in a short time. In this case, sixteen researchers from around the world had about three weeks to document the region's biodiversity.
Amphibians evolve resistance to popular pesticide
(10/04/2013) Rachel Carson and, more recently, Sandra Steingraber have successfully drawn popular attention to the risks of pesticides on wildlife. Many of the environmental consequences of pesticides have now been well documented by scientists; however, studies investigating the evolutionary consequences of pesticides on non-target species are largely missing. Not surprisingly, most studies looking at how species evolve in response to pesticide-use have been on target species such as mosquitoes and crop pests, which show that some target species have evolved resistance to common pesticides.
Photo essay: India's Western Ghats is a haven for endemic amphibians
(09/16/2013) The Western Ghats are a globally recognized repository of biological diversity for our planet. We know very little about most species found here, particularly the ecologically sensitive and spectacularly beautiful 179 amphibians. Astonishingly, 87% of all Western Ghats frogs are endemic and found nowhere else on the planet. Our collaborative research project with Drs Paul Robbins and Ashwini Chhatre examining biodiversity in production landscapes of Ghats unearthed some spectacular amphibians in 2013.
Global warming may 'flatten' rainforests

(09/12/2013) Climate change may push canopy-dwelling plants and animals out of the tree-tops due to rising temperatures and drier conditions, argues a new study published in Proceedings of the Royal Society B. The development may be akin to 'flattening' the tiered vegetation structure that characterizes the rainforest ecosystem.
New poison dart frog discovered in 'Lost World'

(07/19/2013) Scientists have described a new species of poison dart frog after discovering it during a study to determine the impact of tourism on biodiversity in a tract of rainforest known as 'The Lost World' in Guyana.
Vocal-sac breeding frog possibly extinct
(07/02/2013) Somewhere in the wet pine forests of Chile, a male frog is gulping-up a bunch of eggs. No he's not eating them, he's just being a good dad. Darwin's frogs are known for their unique parenting-style: tadpoles are incubated in the vocal sac of the father. First recorded by Charles Darwin during his world famous voyage aboard the Beagle, the amphibians were common in the native Chilean pine forests until the last few decades. Now, scientists believe that one of the two species, the northern Darwin's frog (Rhinoderma rufum), may have vanished for good. And the other is hanging on by a thread.
Amazonian students help monitor threatened frog populations
(07/01/2013) According to the International Union for Conservation of Nature, amphibians are the most threatened group of animals on Earth: currently around 30 percent of the world's amphibians are listed as threatened with extinction. However this percentage doesn't include those species about which too little is known to evaluate (26 percent). Amphibians face many threats but two of the largest are habitat loss and the lethal chytrid fungus, which has rapidly spread worldwide and is likely responsible for numerous extinctions. But conservationists are coming up with innovative and creative ways to keep amphibians from disappearing, including a program from the Detroit Zoological Society (DZS) that is working with students in the Peruvian Amazon to monitor frog populations.
Turning up the temperature might save frogs' lives
(05/28/2013) Over the past 30 years, amphibians worldwide have been infected with a lethal skin disease known as the amphibian chytrid fungus (Batrachochytrium dendrobatidis). "The disease can cause rapid mortality, with infected frogs of susceptible species dying within weeks of infection in the laboratory." Jodi Rowley, a herpetologist with the Australian Museum told mongabay.com. "This disease has now been associated with declines and extinctions in hundreds of species of amphibians worldwide, and is a serious threat to global amphibian biodiversity."
Saviors or villains: controversy erupts as New Zealand plans to drop poison over Critically Endangered frog habitat
(04/10/2013) New Zealand's Department of Conservation (DOC) is facing a backlash over plans to aerially drop a controversial poison, known as 1080, over the habitat of two endangered, prehistoric, and truly bizarre frog species, Archey's and Hochsetter's frogs, on Mount Moehau. Used in New Zealand to kill populations of invasive mammals, such as rats and the Australian long-tailed possum, 1080 has become an increasingly emotive issue in New Zealand, not just splitting the government and environmentalists, but environmental groups among themselves. Critics allege that the poison, for which there is no antidote, decimates local animals as well as invasives, while proponents say the drops are the best way to control invasive mammals that kill endangered species like birds and frogs and may spread bovine tuberculosis (TB).
Scientists discover 8 new frogs in one sanctuary, nearly all Critically Endangered (photos)
(03/21/2013) Two surveys in the mountainous forests of Sri Lanka's Peak Wilderness Sanctuary have uncovered eight new species of frogs, according to a massive new paper in the Journal of Threatened Taxa. While every year over a hundred new amphibians are discovered, eight new discoveries in a single park is especially notable. Sri Lanka is an amphibian-lovers paradise with well over 100 described species, most of which are endemic, i.e. found only on the small island country. Unfortunately the country has also seen more frog extinctions than anywhere else, and seven of the eight new species are already thought to be Critically Endangered.
Captive frogs may be spreading diseases to wild cousins across Southeast Asia

(03/07/2013) Scientists have documented a series of links between exotic frogs for trade and diseases in wild frogs in Southeast Asia, including the first documented case of the chytrid fungus—a virulent and lethal disease—in Singapore. According to researchers writing in a new study in EcoHealth, frogs imported into Southeast Asia as pets, food, or traditional medicine are very likely spreading diseases to wild populations.
Starry frog rediscovered after thought extinct for 160 years (photos)
(03/07/2013) In 1853 Edward Frederick Kelaart, a physician and naturalist, collected a strange frog on the island of Sri Lanka then a British colony known as Ceylon. The specimen was a large shrub frog (about 2 inches or 5.5 centimeters long) with black-outlined white specks on lime-green skin. He dubbed it "starry" after its pale specks, but that was last anyone heard of it. Even the holotype—the body of the amphibian collected by Kelaart—went missing. Fast forward nearly 160 years—two world wars, Sri Lanka's independence, and a man on the moon—when a recent expedition into Sri Lanka's Peak Wilderness rediscovered a beguiling frog with pinkish specks.
Frogs radio-tracked for first time in Madagascar
(03/01/2013) Researchers have radio-tracked frogs for the first time in Madagascar. Attaching tiny radio transmitters weighing 0.3-0.35 grams (1/100 of an ounce) to 36 rainbow frogs (Scaphiophryne gottlebei), the research team tracked the movement of the colorful frogs through rugged canyons in Madagascar's Isalo Massif. They found that the frogs have a short breeding period that occurs after the first intense rainfall at the start of the rainy season.
Popular pesticides kill frogs outright
(01/28/2013) Commonly used agrochemicals (pesticides, fungicides and herbicides) kill frogs outright when sprayed on fields even when used at recommended dosages, according to new research in Scientific Reports. Testing seven chemicals on European common frogs (Rana temporaria), the scientists found that all of them were potentially lethal to amphibians. In fact, two fungicides—Headline and Captain Omya—wiped out the entire population of frogs at the recommended dosage. The study warns that agricultural chemicals could be having a large-scale and largely unrecorded impact on the world's vanishing amphibians.
Common toads ravaged by killer disease in Portugal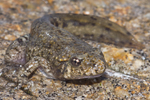 (01/14/2013) The chytrid fungus—responsible for millions of amphibian deaths worldwide—is now believed to be behind a sudden decline in the common midwife toad (Alytes obstetricans), according to a new paper in Animal Conservation. Researchers have detected the presence of the deadly fungus in the Serra da Estrela, north-central Portugal, home to a population of the midwife toad.
New giant flying frog discovered near city of 9 million
(01/09/2013) Jodi Rowley is no stranger to discovering new amphibians—she's helped describe over 10 in her short career thus far—but still she was shocked to discover a new species of flying frog less than 100 kilometers from a major, bustling Southeast Asian metropolis, Ho Chi Minh City. Unfortunately, the new frog, dubbed Helen's tree frog (Rhacophorus helenae), may be on the verge of extinction, according to the description published in the Journal of Herpetology.
New rare frog discovered in Sri Lanka, but left wholly unprotected
(11/05/2012) Sri Lanka, an island country lying off the southeast coast of India, has long been noted for its vast array of biodiversity. Islands in general are renowned for their weird and wonderful creatures, including high percentages of endemic species—and Sri Lanka, where scientists recently discovered a new frog species, is no exception.
Artificial 'misting system' allows vanished toad to be released back into the wild
(11/01/2012) In 1996 scientists discovered a new species of dwarf toad: the Kihansi spray toad (Nectophrynoides asperginis). Although surviving on only two hectares near the Kihansi Gorge in Tanzania, the toads proved populous: around 17,000 individuals crowded the smallest known habitat of any vertebrate, living happily off the moist micro-habitat created by spray from adjacent waterfalls. Eight years later and the Kihansi spray toad was gone. Disease combined with the construction of a hydroelectric dam ended the toads' limited, but fecund, reign.
Private reserve safeguards newly discovered frogs in Ecuadorian cloud forest
(08/28/2012) Although it covers only 430 hectares (1,063 acres) of the little-known Chocó forest in Ecuador, the private reserve las Gralarias in Ecuador is home to an incredible explosion of life. Long known as a birder's paradise, the Reserva las Gralarias is now making a name for itself as a hotspot for new and endangered amphibians, as well as hundreds of stunning species of butterfly and moth. This is because the reserve is set in the perfect place for evolution to run wild: cloud forest spanning vast elevational shifts. "The pacific slope cloud forests [...] are among the most endangered habitats in the world," explains Reserva las Gralarias' founder, Jane Lyons, in a recent interview with mongabay.com.
Climate change may be worsening impacts of killer frog disease

(08/13/2012) Climate change, which is spawning more extreme temperatures variations worldwide, may be worsening the effects of a devastating fungal disease on the world's amphibians, according to new research published in Nature Climate Change. Researchers found that frogs infected with the disease, known as chytridiomycosis, perished more rapidly when temperatures swung wildly. However scientists told the BBC that more research is needed before any definitive link between climate change and chytridiomycosis mortalities could be made.
Scientists testing anti-fungal bacteria on diseased frogs in California

(07/23/2012) Researchers are treating tadpoles in Kings Canyon National Park with a bacteria they hope will provide immunity to an infamous fungal disease, reports the San Francisco Gate. The bacteria could be key not only to saving California's mountain yellow-legged frog (Rana muscosa), which is listed as Endangered by the IUCN Red List, but also frog species around the planet, many of which have been decimated by the chytrid fungal disease.
96 percent of the world's species remain unevaluated by the Red List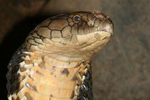 (06/28/2012) Nearly 250 species have been added to the threatened categories—i.e. Vulnerable, Endangered, and Critically Endangered—in this year's update of the International Union for Conservation of Nature's (IUCN) Red List. The 247 additions—including sixty bird species—pushes the number of threatened species globally perilously close to 20,000. However to date the Red List has only assessed 4 percent of the world's known species; for the other 96 percent, scientists simply don't know how they are faring.
Extinct toad rediscovered after hiding for 133 years in Sri Lanka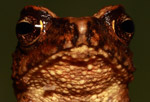 (06/18/2012) A small toad not seen since 1876, and considered by many to be extinct, has been rediscovered in a stream in Sri Lanka. First recorded in 1872, the Kandyan dwarf toad had (Adenomus kandianus) vanished for over a century before being found by scientists during a survey in 2009 in the Peak Wilderness Sanctuary, according to a new paper in Zootaxa.
EPA considers ban on herbicide that triggers sex reversal in frogs

(06/08/2012) The Environmental Protection Agency (EPA) will weigh a ban on Atrazine, a widely used herbicide linked to sex reversal and other reproductive problems in amphibians and fish. The chemical, which is manufactured by Syngenta, has been banned in the European Union since 2004 but some 80 million pounds Atrazine are applied to corn, sugarcane, sorghum and rice in the United States each year.
New frog species leaves scientists' fingers yellow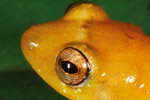 (05/22/2012) A beautiful, yellow frog species has been discovered in western Panama, according to a new paper in ZooKeys. Scientists were surprised when handling the new species to find their fingers stained bright yellow by its skin, but even after laboratory research the purpose of this dye remains a mystery. The new species, named Diasporus citrinobapheus, is a member of the large rain frog family, whose members skip the tadpole stage and instead are born directly from eggs as tiny froglets.
Frog photos for Save the Frogs Day

(04/28/2012) Today is Save the Frogs Day, a global event that aims to raise awareness on the plight of amphibians, which are increasingly endangered by climate change, habitat loss and degradation, pollution, invasive species, overexploitation, and the outbreak of a deadly fungal disease. In recognition of Save the Frogs Day, there are dozens of activities occurring around the world.
Mad frog bonanza: up to 36 new frogs discovered in tiny Madagascar forest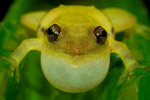 (04/19/2012) A forest less than half the size of Manhattan sports an astounding number of frogs, according to a new paper in Biodiversity Conservation. Two surveys of Madagascar's Betampona Nature Reserve, which covers 2,228 hectares, has uncovered 76 unique frogs, 36 of which may be new to science. To put this in perspective: the U.S. and Canada combined contain just 88 frog species, but cover an area nearly a million times larger than Betampona.
Two new frogs discovered in Philippines spur calls for more conservation efforts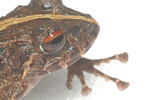 (04/19/2012) Two new frogs have been discovered on the Philippine island of Leyte during a biological survey last year by Fauna and Flora International, which also recorded a wealth of other species. Discovered in November on the island's Nacolod mountain range, the frogs have yet to be named. The Philippines is one of the world's global biodiversity hotspots, yet suffers from widespread deforestation and degradation.
Photos: the aye-aye of frogs rediscovered after 62 years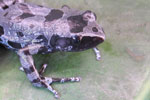 (03/27/2012) A pair of researchers have rediscovered a long-lost frog in the tiny African country of Burundi. Known as the Bururi long-fingered frog (Cardioglossa cyaneospila), the species hadn't been seen for over 60 years—since the Soviet Union tested its first nuclear weapon in 1949—but was rediscovered in Bururi Forest Reserve.
Tink frog calls allow researchers to measure population

(03/19/2012) Given their often tiny size and cryptic nature, how does one determine frog populations in the rainforest? Just eavesdrop. A new study in mongabay.com's open access journal Tropical Conservation Society (TCS) employed automated recorders to listen to amphibian calls to determine if the common tink frog (Diasporus diastema) could be found in recovering secondary forests in Costa Rica.
World's most toxic frog gets new reserve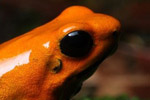 (03/05/2012) Touching a wild golden poison frog could kill you within minutes: in fact, a single golden poison frog, whose Latin name Phyllobates terribilis is even more evocative than its common one, is capable of killing 10 humans with its one milligram dose of poison. Yet the deadly nature of this tiny frog has not stopped it from nearing extinction. Now, in a bid to save the species, the World Land Trust (WLT) and Colombian NGO ProAves have teamed up to establish a 50 hectare (124 acres) reserve in the Chocó rainforest.
Celebrate frogs on leap day!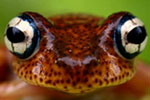 (02/20/2012) The NGO Amphibian Ark is asking frog-lovers to visit their local zoos on up-coming leap day, February 29th. Dubbed, Leaping Ahead of Extinction, the program includes 58 zoos and other amphibian breeding facilities in seventeen countries that have captive breeding populations of endangered amphibians.
Vampire and bird frogs: discovering new amphibians in Southeast Asia's threatened forests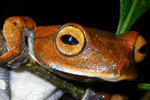 (02/06/2012) In 2009 researchers discovered 19,232 species new to science, most of these were plants and insects, but 148 were amphibians. Even as amphibians face unprecedented challenges—habitat loss, pollution, overharvesting, climate change, and a lethal disease called chytridiomycosis that has pushed a number of species to extinction—new amphibians are still being uncovered at surprising rates. One of the major hotspots for finding new amphibians is the dwindling tropical forests of Southeast Asia.
Frog perfume? Madagascar frogs communicate via airborne pheromones

(01/25/2012) Researchers have found that some frogs in Madagascar communicate by more than just sound and sight: they create distinct airborne pheromones, which are secreted chemicals used for communicating with others. A paper published in Angewandte Chemie International Edition relates that some male members of the Mantellinae family in Madagascar use large glands on their inner thighs to produce airborne pheromones. Interestingly, the pheromones are structurally similar to those produced by insects. Scientists have identified frogs producing water-borne pheromones before, but this is the first instance of airborne.
Photos: 46 new species found in little-explored Amazonian nation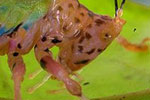 (01/25/2012) South America's tiniest independent nation still hides a number of big surprises: a three week survey to the sourthern rainforests of Suriname found 46 potentially new species and recorded nearly 1,300 species in all. Undertaken by Conservation International's (CI) Rapid Assessment Program (RAP) the survey found new species of freshwater fish, insects, and a new frog dubbed the "cowboy frog" for the spur on its heel. While Suriname may be small, much of its forest, in the Guyana Shield region of the Amazon, remains intact and pristine. The Food and Agriculture Organization (FAO) estimates that 91 percent of Suriname is covered in primary forests, however this data has not been updated in over two decades.
Photos: program devoted to world's strangest, most neglected animals celebrates five years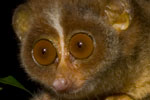 (01/16/2012) What do Attenborough's echidna, the bumblebee bat, and the purple frog have in common? They have all received conservation attention from a unique program by the Zoological Society of London (ZSL) called EDGE. Five years old this week, the program focuses on the world's most unique and imperiled animal species or, as they put it, the most Evolutionarily Distinct and Globally Endangered (EDGE) species. In the past five years the program has achieved notable successes from confirming the existence of long unseen species (Attenborough's echidna) to taking the first photos and video of a number of targeted animals (the purple frog).
New frog trumps miniscule fish for title of 'world's smallest vertebrate'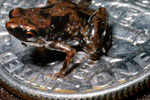 (01/12/2012) How small can you be and still have a spine? Scientists are continually surprised by the answer. Researchers have discovered a new species of frog in Papua New Guinea that is smaller than many insects and dwarfed by a dime. The frog trumps the previously known smallest vertebrate—a tiny fish—by nearly 1 millimeter.
Frog plague found in India

(01/03/2012) The chytrid fungus, which is responsible for the collapse of numerous amphibian populations as well as the extinction of entire species, has been located for the first time in India, according to a paper in Herpetological Review. Researchers took swabs of frog in the genus Indirana in the Western Ghats and found the killer fungus known as chytridiomycosis.
Our top nature pictures of 2011
(12/27/2011) My reporting for mongabay.com took me to six continents in 2011 and I managed to take photos on many of the trips. Overall I added more than 10,000 new photos to the travel section of the site. Below are some of my favorite pictures from 2011. Thank you for reading mongabay.com in 2011 and I wish you the best for 2012!
The dark side of new species discovery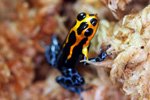 (12/21/2011) Scientists and the public usually rejoice when a new species is discovered. But biologist Bryan Stuart has learned the hard way that the discovery of new species, especially when that species is commercially valuable, has a dark side-one that could potentially wipe out the new species before protections can be put in place. Stuart has discovered 27 species unknown previously to scientists - so far. That includes 22 species of frogs, three types of snakes, and two salamanders. His experience with one of these, a warty salamander from Laos with striking markings (Laotriton laoensis), opened his eyes to a dark side of scientific discovery: commercial overexploitation before protections are in place. Shortly after Stuart described the previously unknown species Paramesotriton laoensis in a scientific paper published in 2002, commercial dealers began collecting this Lao newt for sale into the pet trade. In essence, the dealers used Stuart's geographic description in the paper as a "roadmap" to find the rare newt.
Herpetology curator: behind-the-scenes of 'new species' discoveries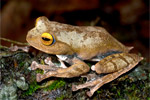 (12/18/2011) Bryan Stuart's mission as a curator of amphibians and reptiles at the North Carolina Museum of Natural Sciences is to understand the diversity of life on earth. For that, he documents what species occur where and why. He's particularly attracted to areas where there's a dearth of knowledge, like Laos, Cambodia, Vietnam and Gabon, and so far has discovered 27 species unknown previously to scientists: three species of snakes, two types of salamanders, and 22 kinds of frogs.
New species of frog sings like a bird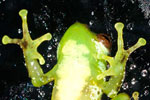 (12/12/2011) If you're trudging through the high-altitude rainforests of northern Vietnam and you hear bird song, you might want to check the trees for frogs. Yes, that's right: frogs. A new species of tree frog has been discovered in Vietnam that researchers say has a uniquely complex call that makes it sound more like a bird than a typical frog. Discovered in Pu Hoat Proposed Nature Reserve, the new species, dubbed Quang's tree frog (Gracixalus quangi), dwells in the forests at an altitude 600-1,300 meters (nearly 2,000-4,265 feet).
Picture of the day: the endangered Toad Mountain Harlequin Toad

(12/09/2011) Atelopus certus is an endangered species of harlequin toad that is endemic to the Darien region of eastern Panama. It is primarily at risk from the spread of chytridiomycosis, a deadly fungal disease, that has been killing amphibians through Central America and other parts of the world.
Picture of the day: emerald-eyed tree frog

(12/09/2011) The emerald eyed tree frog (Hypsiboas crepitans) is found widely across tropical Latin America, ranging from Panama to Peru to Brazil. It is found both in pristine habitats and areas heavily impacted by humans.
Picture of the day: Blue-and-yellow poison frog

(12/08/2011) The blue-and-yellow poison dart frog (Dendrobates tinctorius) — often called the dyeing dart frog — is found in the rainforests and savannas of Suriname, Guyana, French Guiana, and northern Brazil. Across its range there are several color forms.
Effort to save world's rarest frogs recognized with conservation award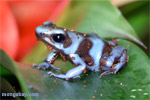 (12/05/2011) An effort to save the world's most endangered amphibians has won mongabay.com's 2011 conservation award. Amphibian Ark — a joint effort of the World Association of Zoos and Aquariums, the IUCN/SSC Conservation Breeding Specialist Group, and the IUCN/SSC Amphibian Specialist Group — is working to evaluate the status of threatened amphibians, raise awareness about the global amphibian extinction crisis, and set up captive breeding programs. The initiative is targeting 500 species that will not survive without captive breeding efforts.
Smelly frogs may be key to fighting antibiotic-resistant infections

(12/01/2011) Foul smelling frogs may save lives, according to new research in the Journal of Proteome Research. Examining nine species of Chinese frogs, known as "odorous" frogs for their off-putting smell, researchers have discovered an astounding variety of antimicrobial peptides, or put simply bacteria-killers.
Extinct frog rediscovered in Israel

(11/21/2011) After its marshland was drained, researchers thought the Hula painted frog (Discoglossus nigriventer) had vanished for good. However a patrol at the Ha-Hula lake in Israel recently discovered a single female amphibian that turned out to be the long-lost, and long-sought, Hula painted frog.
New site is a match-maker for world's endangered frogs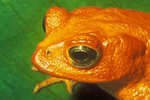 (11/03/2011) A new initiative by the conservation group, Amphibian Ark, hopes to match lonely, vanishing frogs with a prince/princess to to save them. Dubbed FrogMatchMaker.com after online dating sites, the program is working to connect supporters and donors with amphibian conservation programs in need. Currently, amphibians are among the world's most imperiled species with 41 percent threatened with extinction according to the IUCN Red list.
Saving Ghana's vanishing frogs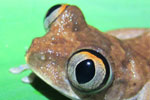 (11/02/2011) Frogs need all the help they can get. With the IUCN Red List estimating that 41 percent of amphibians are endangered, frogs are currently the world's most imperiled animal family. Scientists estimate that around 200 amphibian species have been lost to extinction in recent decades to habitat loss, pollution, and a devastating fungal disease. Yet as the frog emergency worsens, there have been positive movements in conservation. The most recent comes from the small West African country of Ghana. Partnering with the enthusiastic US-based organization, SAVE THE FROGS!, two Ghanaian herpetologists, Gilbert Baase Adum and Caleb Ofori, have started a sister branch in their country: SAVE THE FROGS! Ghana.







Scientists find frog genes that provide immunity to extinction plague

(09/27/2011) Scientists with Cornell have discovered genetics that may provide immunity to frogs in face of the killer amphibian-disease chytridiomycosis. This plague, which is spreading to amphibian populations worldwide, is responsible for a number of frog species' recent extinction. But now researchers report in a new study in the Proceedings of the National Academy of Sciences (PNAS) that they are one step closer to understanding why some frog populations are able to fend off the disease, while others succumb with lightning-speed. In time, the results may lead to breeding strategies in captivity that could produce immune populations.





Animal picture of the day: baby blue frog

(09/23/2011) The blue color form of the green-and-black poison dart frog (Dendrobates auratus) is occurs on the Pacific side of parts of Panama. This individual is a juvenile.




Page 1 | Page 2 | Page 3