News articles on forests

---
Mongabay.com news articles on forests in blog format. Updated regularly.





125M ha of degraded lands identified for forest-friendly agricultural expansion


(12/19/2014) A team of researchers has identified 125 million hectares (309 million acres) of land suitable for agricultural expansion that won't come at the expense of tropical forests. The study argues that shifting agricultural expansion away from forests to these 'degraded lands' would avoid 13 billion tons of carbon dioxide emissions that would be released were they converted for plantations, pasture, and croplands.


Tropical deforestation could disrupt rainfall globally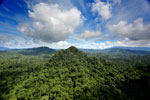 (12/18/2014) Large-scale deforestation in the tropics could drive significant and widespread shifts in rainfall distribution and temperatures, potentially affecting agriculture both locally and far from where forest loss is occurring, concludes a study published today in Nature Climate Change.


Ocelots live in super densities on Barro Colorado Island

(12/18/2014) By comparing camera trapping findings with genetic samples taken from feces, biologists have determined that the density of ocelots on Barro Colorado Island in Panama is the highest yet recorded. There are over three ocelots per every two square kilometers (0.77 square miles) on the island.


Amazonian peatlands store mega carbon

(12/17/2014) Peatlands in the Peruvian Amazon store ten times the amount of carbon as undisturbed rainforest in adjacent areas, making them critical in the battle to fight climate change, finds a new study published in Environmental Research Letters.


Deforestation taking toll on nesting birds in Cameroon


(12/17/2014) The tropical montane forests of the Cameroon mountain ranges boast fertile volcanic soils, high biodiversity of grasses and non-woody plants, as well as many endemic bird species that can be found only in this high-altitude region. Yet, many of these endemic bird species may be at risk due to increased nest predation linked with human-induced forest degradation, according to a new study.


Success of 'land sparing' will depend on global economics, regulations


(12/16/2014) Agriculture is the primary driver of tropical deforestation. Indeed, most global food production occurs in the tropics, including important commodity crops such as sugarcane, soybeans, palm oil, and beef. Recent estimates indicate that forest clearing for agriculture contributes significantly to greenhouse gas emissions. This fuels concern over how to balance food production for a growing population with climate change mitigation through conserving tropical forests.


Forests could be a thrifty way to fight ozone pollution


(12/16/2014) Planting trees may be a cost-effective way to reduce ground-level ozone, a toxic component of smog that contributes to the deaths of about 152,000 people annually worldwide, according to new research. The study is the first to lay out a practical plan and examine the economic impacts of lowering ozone levels with trees.


Palm oil facilitates large-scale illegal logging in Indonesia


(12/16/2014) Development of oil palm plantations is providing cover for large-scale illegal logging in Indonesian Borneo, driving destruction of some of the island's most biodiverse forests and undermining efforts to reform the country's forestry sector, alleges a new report published by the Environmental Investigation Agency (EIA).


Growth of forests may not be keeping pace with rising CO2 levels


(12/15/2014) Plants rely on three critical elements for growth: carbon dioxide, water, and sunlight. Rising atmospheric carbon dioxide concentrations are therefore expected to increase rates of forest growth, in turn helping counter some of humanity's influence on global climate. But a new study provides evidence that challenges that assumption.


Children 'clean' oil spill with kitchen utensils in the Sundarbans


(12/15/2014) On December 9th, a tanker slammed into another vessel along the Shela River in the world's largest mangrove forest: the Sundarbans in Bangladesh. The tanker sank, spilling an estimated 75,000 gallons (350,000 liters) of fuel oil into waterways that are a part of a reserve for threatened Ganges river dolphins and Irrawaddy dolphins.


Indigenous communities 'among the very few best protectors' of Peruvian Amazon


(12/12/2014) A new report examines the effects of timber harvesting, gold mining, agriculture, and oil and natural gas drilling that have been on the rise recently in the Peruvian Amazon, and states that ensuring indigenous land rights is a key tool in the fight to protect it.


Boosting the conservation value of 4M sq km of rainforest logging concessions


(12/12/2014) Short of buying back logging concessions, switching from conventional logging approaches to reduced impact logging techniques across existing forestry concessions may be the best way boost biodiversity in areas earmarked for timber extraction, argues paper.


Bamboo could help fight global warming


(12/11/2014) Restoring degraded land and forests with the world's fastest growing plant, bamboo, can contribute to major carbon emission reductions. This is according to a new report that discusses the massive potential of bamboo in fighting global warming, with bamboo forests projected to store more than one million tons of carbon by 2050 in China alone.


New film highlights local resistance to Nicaragua's canal


(12/11/2014) This fall, filmmakers Tom Miller and Nuin-Tara Key with Pretty Good Productions found themselves in Nicaragua where they heard about a stunning project: the Gran Canal. Approved last year, the canal is meant to compete with the Panama Canal to the south. Built by a Chinese company, it will cut through 278 kilometers, destroying forests and driving through the largest freshwater body in Central America.


10 years following tsunami, Aceh aims to create its own, new, and totally preventable disaster


(12/11/2014) In the run-up to the tenth anniversary of the devastating 2004 tsunami, that claimed the lives of around 200,000 of Aceh's people, there is much concern that Aceh seems now to be deliberately steering itself towards yet another, entirely avoidable disaster. One that will harm yet more people and cause even more long-term economic damage to the province.


Huge swath of forest in Indonesian Borneo slated for clearing by 'sustainable' company


(12/10/2014) A major wood fiber concession has moved ahead on developing a sizable chunk of forest in one of Indonesia's most vulnerable provinces before a formal conservation assessment of the land could be completed, Greenomics Indonesia reports.


Deforestation puts cultural survival of forest-dependent peoples at risk


(12/10/2014) Forest-dependent peoples face grave threats from deforestation and other depredations, warns a new report that urges greater recognition of traditional land use and support of community-led initiatives to fight forest loss. The report, published Monday during climate talks in Lima, is based on research by dozens of indigenous and forest communities from Africa, Asia and Latin America.


Striking new gecko discovered in Thailand


(12/09/2014) A research team based in western Thailand has discovered a new gecko species in the Kanchanaburi Province, a region renowned for its number of species found nowhere else in the world. A recent publication describes the Sai Yok bent-toed gecko (Cyrtodactylus saiyok), the sixth reptile species endemic to the region known to science.


Relief for Kenya's rare coastal forest


(12/09/2014) In October this year, CAMAC Energy, an oil and gas exploration and production company, announced that they would conduct seismic surveys for oil and gas within Arabuko-Sokoke Forest, one of the last remaining fragments of coastal forests in East Africa. But following immense pressure from the environmental front, CAMAC Energy cancelled their plans to conduct surveys inside the forest.


Indigenous leader murdered before he could attend Climate Summit


(12/08/2014) Days before José Isidro Tendetza Antún was supposed to travel to the UN Climate Summit in Lima to publicly file a complaint against a massive mining operation, he went missing. Now, the Guardian reports that the body of the Shuar indigenous leader has been found, bound and buried in an unmarked grave on the banks of the Zamora River.


Indonesia sets reference level for cutting deforestation

(12/05/2014) The Indonesian government has established reference levels for measuring reductions in emissions from deforestation and forest and peatland degradation, reports Antara.


How an indigenous community in Ecuador stood up to big oil - and won


(12/05/2014) The Sarayaku, a Kichwa indigenous people numbering 1,200 from the Ecuadorian Amazon, won a historic court case in 2012. The Inter-American Court of Human Rights ruled that the government of Ecuador must publicly apologize, consult with, and recompense the Sarayaku for allowing oil exploration by Argentine Compañia General de Combustibles on their territory without prior consultation


Biodiversity protection is key to REDD+ success, study shows


(12/05/2014) Protecting biodiversity may be crucial for successfully storing carbon in forests, scientists say. A recent publication on Oryx - The International Journal of Conservation suggests that biodiversity loss –especially through hunting – will hinder the success of Reducing Emissions from Deforestation and Forest Degradation (REDD) projects.


A landmark year for forests (commentary)


(12/05/2014) About one year ago today, I was pretty down. It was Thanksgiving night, and the Forest Heroes campaign, which I chair, had been running a big global campaign to persuade Wilmar International, Asia's largest agribusiness company, to eliminate deforestation and human rights abuse throughout its enormous supply chain.


Tradeoff: Sabah banks on palm oil to boost forest protection


(12/05/2014) Last month Sabah set aside an additional 203,000 hectares of protected forest reserves, boosting the Malaysian state's extent of protected areas to 21 percent of its land mass. But instead of accolades, Sabah forestry leaders were criticized for how they went about securing those reserves: allowing thousands of hectares of deforested land within an officially designated forestry area to be converted for oil palm plantations


Giant stone face unveiled in the Amazon rainforest (video)


(12/04/2014) A new short film documents the journey of an indigenous tribe hiking deep into their territory in the Peruvian Amazon to encounter a mysterious stone countenance that was allegedly carved by ancient peoples. According to Handcrafted Films, which produced the documentary entitled The Reunion, this was the first time the Rostro Harakbut has been filmed.


Musim Mas says its palm oil will be deforestation-free


(12/04/2014) Singapore-based Musim Mas has established a new sustainability policy that it says will eliminate deforestation, peatlands conversion, and social conflict from its palm oil supply chain. The company, which operates plantations in Sumatra and Indonesian Borneo, has been under pressure from environmentalists to join a growing number of palm oil producers and traders that have made zero deforestation pledges.


New endangered bird species discovered in Brazil


(12/04/2014) The Bahian mouse-colored tapaculo (Scytalopus gonzagai) has only just been discovered by scientists in the heavily logged Atlantic Forest of southeast Brazil -- and it's already believed to be endangered.


Is the Gran Canal really a 'big Christmas present' for Nicaraguans?


(12/04/2014) "A big Christmas present"—that is how Paul Oquist, an advisor to Nicaraguan president, Daniel Ortega, described the country's plan to build a mega-canal across the nation. Preliminary construction on the canal is set to begin December 24th, despite major concerns over environmental destruction, forced removal of thousands of people, and a lack of transparency.


Deforestation jumps in Peru

(12/03/2014) Deforestation in the Peruvian Amazon increased significantly last year, says a top official.


One-two punch: farming, global warming destroying unique East African forests


(12/03/2014) Lush mountains speckle East Africa's grasslands and desert, from Mozambique to Ethiopia. These isolated habitats are home to a plethora of species, and are considered by scientists to be some of the most biodiverse regions in the world. However, their forests are being cut down for farmland and are threatened by global warming, putting at risk multitudes of species that have nowhere else to go.


New survey finds surprisingly large population of endangered owl


(12/03/2014) The Anjouan scops owl—an elusive owl found only on its tiny eponymous island—was once considered among the world's most endangered owls, and even the most threatened birds. However, the first in-depth survey of the owls on the island finds that, in fact, the population is far larger than initially estimated.


Is captive breeding the final resort for the Sumatran rhino?


(12/03/2014) Nearing extinction, the Sumatran rhino is running out of options. A native of Indonesia and Malaysia, the Sumatran rhino has declined in the past 30 years from an estimated 800 individuals to no more than 75 remaining today. So far there have been three ad hoc meetings held in 1984, 1993, and 2013, each attempting to develop policies that would potentially save this critical species.


Embattled palm oil giant announces sustainability policy, but fails to win over critics

(12/02/2014) Malaysian palm oil giant Kuala Lumpur Kepong (KLK) has joined a growing list of companies committing to zero deforestation for commodity production.


Threatened indigenous forests store more than half the Amazon's carbon


(12/02/2014) A new study released today finds the total carbon load locked up in parts of the Amazon rainforest held by indigenous groups to be much higher than previously estimated – an amount that, if released, would be capable of destabilizing the earth's atmosphere. But because of flimsy land rights, these areas stand at risk of deforestation.


'New normal' approach to conservation comes under fire


(12/02/2014) A new study faults adaptive 'Novel Ecosystems' concept with ignoring true values of biodiversity and restoration. Over the past few years a new conservation approach known as the "novel ecosystems" concept has been slowly gathering steam in science, media, and policy-making circles. Based on pragmatism, it presents itself as a way forward in a world where irreversible ecosystem change is inevitable.


Pulp and paper giant violating its sustainability policy

(12/01/2014) Asia Pacific Resources International Limited (APRRIL) is violating its own sustainability policy by continuing to source fiber produced via the destruction peatlands on the island of Pulau Padang in Riau, Sumatra, argues a new report published by a coalition of Indonesian environmental groups.


Indonesia to audit licenses of palm oil companies that clear peatlands


(11/30/2014) New Indonesian president Joko Widodo has ordered the Ministry of Environment and Forestry to review licenses for companies that have converted peatlands for oil palm plantations, reports Antara. Jokowi, as the president is popularly known, announced the move after a visit last week to Sungai Tohor, a community in Riau that has been particularly affected by peatlands degradation and haze caused by fires set for land clearing.


Former Malaysian chief: legal logging also 'destructive' of forests

(11/29/2014) Former Malaysian prime minister Dr Mahathir Mohamad is calling for limits on legal logging in the Southeast Asian nation.


Amazon deforestation in Brazil drops 18% in 2013/2014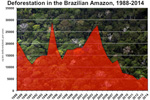 (11/26/2014) Figures published Wednesday by Brazil's National Space Research Institute (INPE) show that 4,848 square kilometers (1,871 square miles) of forest — an area about the size of the state of Rhode Island or the country of Brunei — were cleared between August 2013 and July 2014.


Chinese logging company takes over Guyana's forests


(11/26/2014) Foreign companies investing in Guyana's substantial forests are supposed to adhere to national laws and international agreements. But civil society leaders and activists inside and outside the South American country are crying foul, saying foreign corporations and government officials are paying lip service to the accords while quietly building a timber-harvesting empire in the country with few benefits for the average Guyanese.


APP boosting timber productivity to support zero deforestation policy


(11/26/2014) Asia Pulp & Paper (APP) appears to have enough plantation fiber to operate existing mills as well as supply a new mill under construction in South Sumatra without having to pulp natural forests, argues a new report that also finds the forestry giant is successfully improving yields to support its zero deforestation commitment.


Progress being made in curbing illegal timber imports

(11/25/2014) Five major timber importers are making progress in cutting contraband wood from their markets, argues a series of reports published by Chatham House.


Meet the world's rarest chameleon: Chapman's pygmy


(11/25/2014) In just two forest patches may dwell a tiny, little-known chameleon that researchers have dubbed the world's most endangered. Chapman's pygmy chameleon from Malawi hasn't been seen in 16 years. In that time, its habitat has been whittled down to an area about the size of just 100 American football fields.


Amazon deforestation moratorium extended 18 months


(11/25/2014) The Brazilian soy industry has extended its deforestation moratorium for another 18 months. The moratorium, which was established in 2006 after a high-profile Greenpeace campaign, bars conversion of forests in Brazilian Amazon for soy production. Independent analysis has shown it to be highly effective — just prior to the moratorium, soy accounted for roughly a fifth of recent deforestation, while today its share is less than one percent.


Saving Myanmar's red pandas by protecting land, educating people


(11/25/2014) Red pandas, bear-like arboreal mammals with red, furry tails, are poached mainly for their fur. Found primarily at higher elevation forests of the eastern Himalayas, these pandas spend most of their time in trees, and feed mainly on bamboo. But much of their forest habitat has been destroyed due to illegal logging.


Chameleon crisis: extinction threatens 36% of world's chameleons


(11/24/2014) Chameleons are an unmistakable family of wonderfully bizarre reptiles. They sport long, shooting tongues; oddly-shaped horns or crests; and a prehensile tail like a monkey's. But, chameleons are most known for their astonishing ability to change the color of their skin. Now, a update of the IUCN Red List finds that this unique group is facing a crisis that could send dozens of chameleons, if not more, to extinction.


Sarawak chief calls state's logging industry 'corrupt'

(11/24/2014) In a surprising statement, Sarawak's new chief minister called the state's logging sector 'corrupt'.


Rising deforestation, fossil fuels use drive Brazil's emissions 8% higher

(11/24/2014) Brazil's carbon emissions jumped 7.8 percent in 2013 due to rising deforestation and fossil fuels use, according to data released by Observatório do Clima (Climate Observatory), an alliance of mostly Brazilian non-profits.


Indonesia's anti-corruption agency questions former Minster of Forestry

(11/21/2014) Indonesia's Corruption Eradication Commission (KPK) questioned the former Minister of Forestry about his role in altering zoning to facilitate oil palm expansion into public lands. The case centers around Riau Governor Annas Maamun, who allegedly accepted bribes to convert an area's status from 'production forest' into 'non-forested land'.


Scientists capture first-ever footage of wild red pandas in Myanmar (VIDEO)


(11/21/2014) This year, a team of scientists in Myanmar (also called Burma), caught a pair of reclusive red pandas on camera, for the first time ever. The bushy tailed pandas were climbing up a rocky pile of rubble left behind in the region by Chinese loggers. For the scientists, the footage was bitter-sweet.


Ranking the world's best - and worst - palm oil companies in terms of sustainability


(11/20/2014) A new initiative ranks the world's 25 largest publicly listed palm oil companies in terms of transparency around the environmental performance of their operations. The project, called Sustainable Palm Oil Transparency Toolkit, was developed by The Zoological Society of London (ZSL).


Developing land without approval of local people 'a human rights issue of grave concern,' says new report


(11/20/2014) Throughout the tropics, staggering amounts of land have been designated for natural resource extraction—as much as 40 percent of Peru, 30 percent of Indonesia and 35 percent of Liberia. However, much of this land is already in use; it is being inhabited by local communities and indigenous peoples. And while it is possible to live on and extract resources from the same land, when local communities are not consulted in this exchange, conflict may erupt.


Indonesia imposes moratorium on new logging permits


(11/20/2014) Indonesia's new Minister of Environment and Forestry Siti Nurbaya Bakar imposed a moratorium on the issuance of all new logging permits a little over a week after being appointed in late October. The move is being celebrated by conservation groups and signals that interest in reforming Indonesia's notoriously corrupt and dysfunctional forestry sector has reached the highest levels of government, with direction coming from President Joko Widodo.


Palm oil interest surges in Papua New Guinea


(11/19/2014) As the lands of traditional palm oil powerhouses like Indonesia and Malaysia have become saturated with plantations, companies looking to profit have turned to vast areas of seemingly untouched tropical forest in other parts of the world – places like Papua New Guinea. But, in fact, say advocates of local communities, those forests often support the lives and livelihoods of millions of people who must have their rights taken into account.


A tale of 2 Perus: Climate Summit host, 57 murdered environmentalists


(11/18/2014) On September 1st, indigenous activist, Edwin Chota, and three other indigenous leaders were gunned down and their bodies thrown into rivers. Chota, an internationally-known leader of the Asháninka in Peru, had warned several times that his life was on the line for his vocal stance against the destruction of his peoples' forests, yet the Peruvian government did nothing to protect him—or others.


Disappearing oasis: northeastern India losing forests as people move in


(11/18/2014) Northeastern India is part of the Eastern Himalaya biodiversity hotspot, one of the megadiverse areas of the world. The region boasts more than 60 percent forest cover, compared to the 15 percent for India as a whole. However, not all is pristine when one visits areas designated as forest on the map.


Field plots offer biased view of the Amazon


(11/17/2014) Field plots in the Amazon are often not representative of the habitats surrounding them, potentially biasing extrapolations made across the region, argues a new paper published in the Proceedings of the National Academy of Sciences (PNAS). The research is based on advanced three-dimensional mapping of forest structure within field plots and in surrounding areas using sensors aboard the Carnegie Airborne Observatory, an airplane-based system.


Ending deforestation won't stop carbon emissions from land use change

(11/17/2014) Even if the world stopped cutting down forests, carbon dioxide emissions from land use change would still pose a major challenge, according to a new paper in Nature Climate Change. The research finds that eliminating deforestation would mean agriculture would be pushed into non-forest ecosystems and still release significant quantities of carbon dioxide.


Cargill to use drones to monitor zero deforestation commitment


(11/17/2014) Cargill will use Unmanned Aerial vehicles (UAVs) and 'solar-powered, satellite-connected remote sensor networks' to monitor compliance with its new zero deforestation policy for palm oil, reports the agribusiness giant in its first progress report on its recent forest commitments.


Brazilian government silent as deforestation rises in the Amazon


(11/17/2014) Deforestation in the Brazilian Amazon continues to outpace last year's rate by a significant margin, reveals data released today by Imazon, a Brazilian non-profit. Imazon's analysis of satellite data shows that for the 3-month period ended October 31, 2014, deforestation is running 226 percent of last year's rate. Forest degradation, which often precedes outright clearing, is pacing 691 percent ahead of last year.


Man plants forest, becomes film star


(11/14/2014) Jadav "Molai" Payeng is a 51-year-old man who lives in India's north-eastern state of Assam in the village of Aruna Chapori. A member of Assam's indigenous Mising tribe, Payeng is better known as the "Forest Man" for spending the last 35 years planting a forest bigger than New York City's Central Park.


Surprising reasons to be optimistic about saving forests


(11/14/2014) In the 1990s, the world watched with alarm as vast tracts of tropical rainforest were torn down for timber and croplands, dug up for minerals and energy, and flooded for hydroelectric projects. Conservation groups, governments, philanthropists, and institutions like the World Bank collectively spent billions of dollars on programs to stop the carnage. But as viewed from satellites high above Earth's surface, those efforts barely dented deforestation rates.


New tapir? Scientists dispute biological discovery of the century


(11/13/2014) Nearly a year ago, scientists announced an incredible discovery: a new tapir species from the western Amazon in Brazil and Colombia. The announcement was remarkable for a number of reasons: this was the biggest new land mammal discovered in more than 20 years and was only the fifth tapir known to the world. But within months other researchers expressed doubt over the veracity of the new species.


One man plants forest larger than Central Park


(11/13/2014) Jadav "Molai" Payeng resides in northeast Assam's Jorhat district in the village of Aruna Chapori. Here, for the past 35 years, he has worked to plant trees on a sandbar island in the river near his home—and in the process, single-handedly established a forest larger than New York City's Central Park.


Australia's small rainforest conservation steps overshadowed by broader assault on environment (commentary)


(11/13/2014) On the eve of the World Parks Congress in Sydney, the Australian government has just hosted the 'Asia-Pacific Rainforest Summit', a two-day event that brought together political leaders, academics, environmental managers and NGO staff in an effort to devise strategies to conserve endangered forests in the Asia-Pacific region. Here, Bill Laurance, a leading rainforest researcher, takes a critical look at the event.


Leaf bacteria are important to tree health, may help forests adapt to climate change


(11/13/2014) Leaves are vital trees organs that support many important functions. A recent study published in PNAS found that each tree species in tropical rainforests possesses distinctive bacterial communities – called microbiomes – on their leaves. Understanding how leaf microbiomes vary among species may in the future be applied for maintaining healthy forests and predicting how forests will react to climate change.


Reducing deforestation is good for business, argues report

(11/12/2014) Some of the world's largest companies are making progress in disclosing and addressing deforestation risk within their commodity supply chains, but much work is left to be done to shift to more sustainable practices, argues a new report from the Climate Disclosure Project.


Mapping mistake leaves wildlife at risk


(11/12/2014) Scientists have discovered a new, endangered plant species in the Democratic Republic of Congo (DRC), in an area that is supposed to be protected as a reserve. However, mapping errors effectively moved the reserve's boundaries 50 kilometers to the west, opening up the region and its vulnerable wildlife to human disturbance.


Local people are not the enemy: real conservation from the frontlines


(11/12/2014) Saving one of the world's most endangered primates means re-thinking conservation. When Noga Shanee and her colleagues first arrived in Northeastern Peru on a research trip to study the yellow-tailed woolly monkey (Oreonax flavicauda), she was shocked by what she observed.


'Guns kill trees too': overhunting raises extinction threat for trees


(11/12/2014) A new paper confirms what ecologists have long feared: hunting birds and mammals drastically raises the risk of extinction for tropical trees. Following the long-lifespan of a single canopy tree, Miliusa horsfieldii, researchers discovered that overhunting of animals could increase the chances of extinction for the species fourteen times over a century, from 0.5 percent to seven percent.


Only place where rhinos, tigers, elephants, and orangutans coexist is under threat


(11/12/2014) A forest that is the only place where rhinos, tigers, elephants, and orangutans coexist is under threat from planned infrastructure, mining, logging, and plantation projects, warns a new report from the Rainforest Action Network. The report looks at one of the last vestiges of wilderness on the island of Sumatra, which for the past three decades has been heavily ravaged by logging, fires, and conversion to industrial timber and oil palm plantations. This area, known as the Leuser Ecosystem, is today a battleground between business-as-usual interests seeking to mine its forests and a collection of conservationists, local communities, and a collection of companies seeking to steward its resources.


'Militarized occupation': local communities pay the price for palm oil


(11/11/2014) There's little doubt that the use of palm oil is expanding rapidly throughout the world, and with it the need for millions of hectares of land to grow oil palm trees. The results can be devastating for local communities who depend on the agriculture and forests that these lands support. A recent report catalogs the issues that arise with oil palm expansion.


New birds arise due to emigration not separation


(11/11/2014) A bird's eye view of speciation in the Neotropics. How long does it take for a new species to develop? Not long, it turns out. In fact, only a few thousand years — an evolutionary blink of an eye. A recent article published in Nature tracked neotropical bird speciation, or the process by which new species emerge.


Peru has massive opportunity to avoid emissions from deforestation


(11/10/2014) Nearly a billion tons of carbon in Peru's rainforests is at risk from logging, infrastructure projects, and oil and gas extraction, yet opportunities remain to conserve massive amounts of forest in indigenous territories, parks, and unprotected areas, finds a study published this week in Proceedings of the National Academy of Sciences (PNAS).


Will merging competing ministries help save Indonesia's forests?


(11/10/2014) Newly elected Indonesian president Joko 'Jokowi' Widodo announced on October 26th that the Ministry of Forests and the Ministry of Environment would be combined and that Siti Nurbaya would become Forests and Environment Minister. The move was part of Jokowi's appointment of 34 cabinet level positions, ranging from Foreign Minister to Religious Affairs Minister.


New laws may turn Brazil's forests into mines


(11/07/2014) With the world's largest system of protected areas and a 70 percent drop in the deforestation rate of the Amazon over the past decade, Brazil has made huge strides in safeguarding what's left of its wilderness. However, this progress now hangs in the balance, with new laws threatening to turn many of the country's protected areas into mines and dams.


Flying under the radar in Central Africa, Chinese companies may be wreaking environmental havoc


(11/07/2014) Tchimpounga, chimpanzees, and extractive industries in the Republic of Congo. 'Tchimpounga is not just a sanctuary,' shouted Rebeca Atencia above the din of the outboard motor, as she pointed to our progress up the Kouilou River on her tablet, donated by Google, which included access to high-resolution satellite maps. The GPS tracking showed us as a small, blue diamond moving slowly up the murky river.


Indigenous uprising earned tribe territories, but greatest challenges lie ahead


(11/06/2014) In 1925, Nele Kantule led a revolution that would make Guna Yala an independent and sovereign indigenous territory within Panama. Since then, the Guna have maintained a way of life that has allowed them to preserve their natural resources and mainland forest to an exceptional degree. But today, like many indigenous groups around the world, the Guna face some of their greatest challenges yet: the impacts of climate change, encroaching outside influences, and a younger generation that many elders feel is drifting from its roots.


Indonesia's new president, ministers have big plans for fish


(11/06/2014) Indonesia's new president, Joko Widodo (or Jokowi, as he's popularly called) spent half his 11-minute inaugural address thanking God, his partisans and the citizenry at large. For the rest of the speech he talked about oceans. Was this just rhetorical flourish, or does it portend a new seriousness about maritime management?


Is the world moving backwards on protected areas?


(11/06/2014) Protected areas are undoubtedly the world's most important conservation success story. But, despite this, progress on protected areas is stalling and in some cases even falling behind. According to a sobering new paper, only 20-50 percent of the world's land and marine protected areas are meeting their goals, while the rest are hampered by lack of funding, poor management, and government ambivalence.


Brazilian tribes demarcate territory in bid to block dams


(11/06/2014) Indigenous communities in Brazil have taken the unusual step of demarcating their own land — without the approval of the Brazilian government — in a bid to block two dams they say threaten their territory and traditional livelihoods, report International Rivers and Amazon Watch, advocacy groups that are fighting the projects. Last week the Munduruku people annexed the 178,000-hectare Sawré Muybu territory after authorities failed to recognize their claims.


Book detailing corruption allegations against Malaysian ruler moves forward

(11/05/2014) A book alleging massive corruption by Sarawak's long-time ruler, Abdul Taib bin Mahmud, is being released despite apparent legal threats against the book's publisher and author.


91% of Kenya's protected areas shrank in 100 years


(11/04/2014) Over the last century, 91.7 percent of all changes to protected areas in Kenya have involved reductions in their area, known as downsizing, which is an unusual and remarkable statistic from a global perspective. Analyses show, however, that a variety of factors—including some that which occurred half a century ago—could be responsible for the status of forests in Kenya today.


Reducing tax evasion could help save the Amazon

(11/04/2014) Taxing underutilized land in the Amazon could conserve forests, boost productivity, and alleviate poverty, argues study.


Indonesian government's concession policy prioritizes companies over forest communities


(11/03/2014) A report by the Rights and Resources Initiative (RRI) analyzes 100 conflicts around the world in the mining, oil and gas, logging and agricultural sectors and examines how and why they come about. The report focuses on several emerging economies, including Brazil, Colombia, Liberia, Peru, and Indonesia.


Facing severe drought, 'war effort' needed to save the Amazon, says scientist


(11/03/2014) Severe droughts in southern Brazil may be linked to deforestation and degradation of Earth's largest rainforest, argues a new report published by a Brazilian scientist. Reviewing data from roughly 200 studies, Antonio Donato Nobre of Brazil's National Institute for Space Research (INPE) warns that reducing deforestation will not be enough to restore the ecological function of the Amazon rainforest, which acts as a giant water pump that delivers precipitation across much of South America.


De-protection of Protected Areas ramps up in Brazil, 'compromises the capacity' of ecosystems


(10/31/2014) Brazil has reserved about 17.6 percent of its land (1.5 million square kilometers) to receive protection from unauthorized exploitation of resources. However, despite significant expansions in protected areas since the mid-2000s, the formation of Protected Areas has stagnated in the country since 2009, and many have had their protections completely revoked.


Between the Forest and the Sea: The Yarsuisuit Collective - Part II


(10/31/2014) In this multimedia piece by SRI fellow Bear Guerra, we follow Andrés de León and the Yarsuisuit collective, a group of men who grow and harvest food sustainably in the Guna mainland forest. They also run a store on the island of Ustupu that helps support their families, serving as a model for the wider community.


'Too many people': Philippine island being deforested despite extensive protections


(10/31/2014) About an hour and a half plane ride from the Philippine capital Manila is Palawan, a long, narrow island home to about a quarter of all the animal species found in the country. But the province is losing its forests at a rapid clip due to human population increases, logging, quarrying, mining, and even a huge palm plantation.


Dissolving pulp: a growing threat to global forests


(10/30/2014) Dissolving pulp is not just a threat to the forests of Indonesia. It is a growing industry across the globe, and it's putting several of the world's endangered forests in jeopardy.


The Search for Lost Frogs: one of conservation's most exciting expeditions comes to life in new book


(10/30/2014) One of the most exciting conservation initiatives in recent years was the Search for Lost Frogs in 2010. The brainchild of scientist, photographer, and frog-lover, Robin Moore, the initiative brought a sense of hope—and excitement—to a whole group of animals often ignored by the global public—and media outlets. Now, Moore has written a fascinating account of the expedition: In Search of Lost Frogs.


Amazon rainforest is getting drier, confirms another study

(10/30/2014) Parts of the Amazon rainforest are getting considerably less rain, leading trees to absorb less carbon, finds a study published this week in the journal Proceedings of the National Academy of Sciences.


Fashion industry making progress in cutting deforestation from clothing


(10/30/2014) Several more clothing companies have committed to eliminate fiber produced via destruction of endangered forests, adding momentum to a zero deforestation movement within the fashion sector, argues a new report published by Canopy, an environmental non-profit.


APP acknowledges historic land-grabbing in China, pledges reform


(10/30/2014) While Asia Pulp and Paper (APP) has made considerable progress on addressing social and environmental problems associated with its operations in Indonesia, the forestry giant still has much to do to rectify historic social grievances in China, says a report published by Landesa and Rights and Resources Initiative (RRI).


Destroyed habitat, fewer resources, Ebola: the many repercussions of Liberia's deforestation


(10/29/2014) Liberia is one of the last strongholds of intact forest in West Africa. These forests are the home of many unique species of plants and animals, and many Liberians rely on the forests for direct economic benefits. The presence of intact forests may even be important for preventing the future outbreak of disease such as Ebola, which can be transmitted to people from animal vectors displaced by deforestation.


Tigers vs. diamonds: India's protected areas rampantly downgraded to make room for people, industry


(10/29/2014) In India's central state of Madhya Pradesh lie 500 square kilometers (200 square miles) of protected land demarcated as the Panna Tiger Reserve. Recently, however, its protection status has been questioned, and global-scale analyses show Panna is far from alone among India's many threatened Protected Areas.


Bunge commits to zero deforestation palm oil

(10/28/2014) Agribusiness giant Bunge has joined the growing ranks of companies that have established zero deforestation policies for their palm oil supply chains.


How protected are they? Report finds world's Protected Areas may relax, shrink, even completely disappear


(10/28/2014) On March 1, 1872, the United States Congress declared 3,400 square miles of land spanning three states as the country's - and the world's - first national park. We call it Yellowstone. Today, there are over 160,000 PAs spanning 12.7 percent of the planet's land surface.


Artists, musicians, writers protest government plans for massive coal plant in the Sundarbans

(10/28/2014) Over the weekend, Bangladeshi artists performed plays, sang songs, and recited poetry all in a bid to protect the Sundarbans—the world's biggest mangrove forest—from the threat of a massive coal plant. Construction is already under way on the hugely controversial Rampal coal plant, a 1,320 megawatt plant set just 14 kilometers from the edge of the Sundarbans.



Page 1 | Page 2 | Page 3 | Page 4 | Page 5 | Page 6 | Page 7 | Page 8 | Page 9 | Page 10 | Page 11 | Page 12 | Page 13 | Page 14 | Page 15 | Page 16 | Page 17 | Page 18 | Page 19 | Page 20 | Page 21 | Page 22 | Page 23 | Page 24 | Page 25 | Page 26 | Page 27 | Page 28 | Page 29