News articles on forests

---
Mongabay.com news articles on forests in blog format. Updated regularly.






Dilma disappoints with weak rainforest target

(06/30/2015) Brazilian President Dilma Rousseff disappointed environmentalists with what they call weak commitments on reducing deforestation and supporting renewable energy announced today during her visit to the White House.
Palm oil plantations used to 'reforest' parts of Brazil despite being wildlife deserts
(06/30/2015) A recent study systematically documented bird biodiversity within oil palm plantations, finding they contain fewer species than secondary forest and even cattle pasture. As oil palm grows as a commodity in Brazil – and can legally even be used to "reforest" land – how can a country that has made big gains in reducing deforestation in recent years balance this powerhouse industry with environmental welfare?
Into the great unknown: The ability of global forests to store carbon is at risk
(06/30/2015) The world's tropical and subtropical forests absorb 1.1 trillion kg. of carbon from the atmosphere every year, storing it in soil and living and dead biomass. Amazonian forests alone store more carbon than any other ecosystem on earth. That's important because any carbon that is stored in biomass is carbon not being released to the atmosphere and contributing to climate change.
Big reserve expansion gives tigers a boost in India
(06/29/2015) A hundred years ago, there were thirteen times as many tigers in the world as there are today, ranging from Turkey across the Eurasian continent to the eastern coast of Russia. The 13 countries that contain the world's last tigers today - a mere, 2,500 mature individuals - are challenged with increasing protected tiger habitat to prevent crowding and inbreeding, while facing extreme funding and space constraints. One state in India, however, has found a cost-effective way to give tigers more room.
Corporations rush to make zero-deforestation commitments, but is it working?
(06/29/2015) Every year, more companies pledge to stop using ingredients whose production cause tropical deforestation. Retailers and brands making voluntary commitments – mostly involving palm oil – include Johnson & Johnson, Unilever, Colgate and Wilmar, the world's largest palm oil trader. Among 2014 joiners were Cargill, Krispy Kreme, Dunkin's Donuts and Baskin' Robbins, with 2015 bringing the addition of McDonald's, Archer Daniels Midland and Yum! Brands (owner of Pizza Hut, KFC, and Taco Bell).
Chinese turtle heist sends rare Philippine species to brink of extinction, international rescue underway
(06/29/2015) On Friday, June 19, Philippine authorities raided a warehouse on the island of Palawan and confiscated more than 4,000 live, illegally harvested rare turtles, only days before they were to be shipped to foreign food and pet markets. The massive haul included over 3,800 critically endangered Philippine forest turtles – animals in very poor health and showing signs of severe neglect from long captivity.
Illegal forest clearing spotted in Aceh's biggest peat swamp
(06/26/2015) Encroachers have been clearing forest at three locations in Aceh's biggest peat swamp since February, the Rawa Singkil Wildlife Reserve, analysis of Landsat satellite imagery by environmental group Greenomics-Indonesia shows. The area is home to the densest population of critically endangered Sumatran orangutans in the Leuser Ecosystem.
Do we need to move 'beyond certification' to save forests?
(06/25/2015) Over the past two years dozens of companies have established 'zero-deforestation' or 'deforestation-free' policies for the commodities they source, trade, and produce. The pace of adoption has been staggeringly fast for a business that have been historically slow-moving relative to other industries. Some sectors, like the Indonesian palm oil industry and the Brazilian soy industry, even appear to be nearing a critical mass where the majority of international buyers and traders are now bound by such agreements.
Status change to come for Indonesia's partial logging moratorium?
(06/25/2015) Indonesia's Environment and Forestry Ministry might upgrade the partial logging moratorium from a presidential instruction to a government regulation, or PP, later this year, a ministry official said this week. The change would take place after the ministry completes its semiannual revision of the moratorium map for the ninth time in November, according to The Jakarta Post.
Indonesia to revive controversial sugarcane plan in Aru?
(06/23/2015) The Indonesian agriculture minister's recent comments that the Aru archipelago in the country's eastern waters will be one of three sites for a major new sugarcane initiative has sparked an outcry among civil society groups, as a similar controversial plan was shelved only last year after activists waged a long battle against it.
Controversy emerges over alleged deforestation policy breach by APRIL supplier
(06/23/2015) Less than three weeks after APRIL unveiled a sustainability policy that is supposed to protect natural forests, an environmental group is alleging that one of the Indonesian forestry giant's subsidiaries is already breaching the commitment. But APRIL refuted the claim and says it continues to stand by the policy.
Bengkulu governor orders review of mining permits
(06/23/2015) The governor of Indonesia's Bengkulu province reiterated his commitment to bringing mining in the province under control, as environmentalists urge his administration to crack down on rampant illegality in the sector and the threat it poses to protected areas.
Bunge palm oil supplier plans to clear peatlands for plantations
(06/22/2015) BLD Plantation Bhd, a Malaysian palm oil company, plans to clear some 14,000 hectares of peatlands in Sarawak, on the island of Borneo, potentially putting it in conflict with the deforestation-free sourcing policy established by American agribusiness giant Bunge, say campaigners who filed a grievance over the matter.
Many tropical species surprisingly resilient, if not actively persecuted
(06/19/2015) Dr. Richard Corlett is the current Director of the Center for Integrative Conservation at the Xishuangbanna Tropical Botanical Garden, which is part of the Chinese Academy of Sciences. He is also a former president of ATBC, and one of the keynote speakers for this year's conference in Hawaii. Dr. Corlett recently spoke with Mongabay.com about some of the insights he's gained from his research in tropical ecology and conservation.
Can we save the Sumatran rhino? Indonesia holds out hope
(06/19/2015) 'One percent of the world's population,' veterinarian Zulfi Arsan says as he nods towards Bina, a 714-kilogram, 30-year-old female Sumatran rhinoceros leisurely crunching branches whole. A gentle and easygoing rhino, pink-hued Bina doesn't seem to mind the two-legged hominids snapping pictures and awing at her every move at the Sumatran Rhino Sanctuary.
It can be done! – Building better dams in the Andean Amazon
(06/18/2015) More than 150 dams are currently planned for five of the six major Andean tributaries of the Amazon River. Damming those large, free-flowing streams would provide hydropower to half a dozen South American countries – meeting their energy needs for decades to come, but with unknown, potentially calamitous environmental and social impacts.
Rainforest parks cut malaria transmission

(06/16/2015) Strictly protected areas in the Brazilian Amazon are associated with lower rates of malaria transmission than extractive reserves, mining zones, and areas with roads, reports a paper published this week in Proceedings of the National Academy of Sciences. The findings add to a growing body of data suggesting that conservation efforts contribute to human welfare.
'Trying to follow the money': Opacity rules in Southeast Asia's land rush, finds study
(06/15/2015) As the rush for land in Southeast Asia continues at breakneck speed, often bringing with it social and environmental destruction, a new study by a major environmental research group explores how well investors really know where their money is going, and the possibilities and limits of existing data in achieving greater accountability.
Forest governance index shows Indonesia has long way to go
(06/13/2015) Weak spatial planning and law enforcement, land tenure problems and a lack of transparency in licensing are some of the issues highlighted in an annual report on forest governance the Indonesian Environment and Forestry Ministry presented to the president last week. The Forest Governance Index 2014, as it was packaged, gave Indonesia score of 35.97 on a scale of one to 100.
Rising seas, sinking peat to swamp Malaysian and Indonesian palm oil
(06/13/2015) With global sea levels going up at a rate of about 9 millimeters per year, the livelihoods of many coastal people in the world look increasingly threatened, especially in those parts of the world with limited financial or technical means to adapt. A rate of a thumb-width of water per year may not sound like much, but the half to one meter higher water levels mean that many coastal people will have to abandon their homes and fields before the end of the century.
Inside The Toxic Tour: Not for prime-time Ecuador (PHOTOS)
(06/12/2015) Ecuador spent $4 million to promote itself during the 2015 Super Bowl as an ecotourism destination. The ad was backed by the Beatles' booming anthem 'All You Need is Love.' The Toxic Tour offers a different perspective: taking visitors into the belly of the beast, the epicenter of Ecuador's petroleum exploitation grid, a trip best accompanied by REM's anti-anthem, 'It's the end of the World.'
Palm oil giant announces deforestation freeze amid NGO campaign
(06/12/2015) Palm oil giant Astra Agro Lestari has announced an immediate moratorium on land clearing, less than a month after the launch of an environmental campaign targeting one of its sister companies, the Mandarin Oriental hotel chain. The prohibition applies to Astra Agro's own plantations as well as to those of its suppliers. Astra Agro characterized the freeze as a major step toward bringing its operations into line with the standards of the Indonesia Palm Oil Pledge, a high-profile, joint sustainability commitment signed by palm giants Wilmar, Cargill, Golden Agri-Resources, Asian Agri and Musim Mas as well as the Indonesian Chamber of Commerce.
Tapajós and other Amazon dams not sustainable development say reports
(06/11/2015) Plans to build hydroelectric dams globally -- especially in the Amazon and other tropical locales -- are often touted as 'sustainable development.' However, according to a trio of new reports, these large infrastructure projects will do enormous harm to rainforest ecosystems and indigenous peoples, while also emitting far more greenhouse gases than the U.N. and other organizations officially estimate, with potentially disastrous results.
Oil palm company accused of violating RSPO, IPOP standards in Indonesia
(06/11/2015) The reputation of oil palm business group Sawit Sumbermas Sarana, a holding of one of Indonesia's richest men, has in recent days taken hits on multiple fronts, with a pair of NGOs separately accusing the firm of violating various sustainability commitments it is party to. The criticism highlights holes in both the Indonesia Palm Oil Pledge (IPOP), a high-profile sustainability pact to which palm giants Wilmar, Golden Agri-Resources, Musim Mas, Asian Agri and Cargill are signatories, and the Roundtable on Sustainable Palm Oil (RSPO).
151 dams could be catastrophic to Amazon ecological connectivity
(06/10/2015) As South American countries begin to move beyond fossil fuels, many are looking to hydropower. The rivers flowing from the Andes Mountains down into the Amazon basin could provide a wealth of liquid potential to meet the energy demands of expanding populations, economies, and development.
Bolivia's aggressive agricultural development plans threaten forests
(06/08/2015) Bolivia's government, supported by some small and most large producers, pushes to expand agricultural lands at the expense of the nation's environment. In April 2015, small-scale Bolivian farmers gathered for a summit with stakeholders from a very different part of the agricultural sector: commercial farmers who oversee vast farms and watch international exchange markets just as closely as the weather.
In Sumatra, an oasis in a sea of oil palm
(06/08/2015) Sumatra is estimated to have lost 85 percent of its forests in the past half century, primarily due to widespread conversion for oil palm and pulp plantations. In the village of Tangkahan, however, residents have managed to preserve their forests and create one of Indonesia's ecotourism hotspots.
In Aceh, an illegal logger reformed
(06/05/2015) Mukhtar used to be an illegal logger. Now he coordinates community forest rangers in Indonesia's Aceh province. His job involves preventing dangerous human-elephant encounters and helping communities protect themselves from environmental offenders - like Mukhtar once was.
Proposed Andean headwater dams an ecological calamity for Amazon Basin
(06/04/2015) High in the Andes Mountains, countless minor streams begin their pilgrimage downward, joining forces with the rain to form the tributaries of the Amazon River. The sediments and organic matter they carry with them on their journey seaward are the nutrient-rich lifeblood that nurtures and sustains the vast aquatic and terrestrial web of life in the Amazon Basin.
As mangroves disappear at 'an alarming rate,' conservationists urge more protection
(06/04/2015) In 2010, the Jakarta Post reported that, according to a local NGO called People's Coalition for Justice in Fisheries, Indonesia lost 2.2 million hectares of mangroves in less than 30 years. Conservationists hope Sri Lanka's move to protect all its mangroves could help push other South and Southeast Asian mangrove range countries in the same direction.
Sri Lanka becomes first country to completely protect mangroves
(06/04/2015) In a press conference held in May 2015 in the Sri Lankan capital of Colombo, U.S.-based nonprofit Seacology, Sri Lanka-based NGO Sudeesa (formerly known as the Small Fisheries Federation of Sri Lanka) and the government of Sri Lanka announced a joint program that makes Sri Lanka the first country in the world to grant full protection to all its mangrove forests.
Pulp giant APRIL updates sustainability policy with Greenpeace's tentative approval
(06/03/2015) Indonesia's second-largest pulp and paper producer has announced a new sustainability policy it hopes will win it the good graces of NGOs like Greenpeace, which has campaigned with some success for a boycott of the company due to its destructive environmental practices. Unlike the previous policy, the new one protects carbon-rich peatlands and forests of high-carbon stock.
Director-generals inaugurated as merger of Indonesian Environment, Forestry Ministries continues
(06/02/2015) Indonesia's newly merged Environment and Forestry Ministry completed a major step in its restructuring last week with the inauguration of 13 director-generals, with important implications for President Joko "Jokowi" Widodo's agendas on climate change, land reform and more. Notable appointments include Climate Change Oversight Director-General Nur Masripatin, Environmental and Forestry Spatial Planning Director-General San Afri Awang and Social Forestry and Environmental Partnerships Director-General Hadi Daryanto.
How many tree species are found in the world's rainforests?
(06/01/2015) The world's tropical rainforests are likely home to 40,000 to 53,000 tree species, argues a paper published this week in PNAS. Analyzing abundance data spanning 657,000 individual tress across 11,371 species, Ferry Slik and 140 other researchers developed estimates for each of the world's three major tropical regions.
Malaysian state eyes 100% certified palm oil by 2025
(05/30/2015) Sabah, a state in Malaysian Borneo, is weighing a proposal to produce only palm oil certified under the Roundtable on Sustainable Palm Oil (RSPO), an eco-certification initiative, by 2025. The move, if approved, would represent the first time a sub-national or state entity has committed to 100% certified palm oil production.
Invasive predators, deforestation driving Tasmanian parrot over the edge
(05/29/2015) In the forests of Tasmania lives the swift parrot (Lathamus discolour), a highly threatened bird found nowhere else in the world. New research published recently in Biological Conservation finds they are more at risk of extinction than previously thought, with introduced sugar gliders (Petaurus breviceps) and logging dealing two big blows to their remaining numbers.
First-of-its-kind mapping technique sheds new light on tropical forests
(05/29/2015) Scientists at the Woods Hole Research Center in Massachusetts have developed vegetation height maps for the entire tropics at very fine spatial scales. These first-of its-kind high resolution maps can help researchers estimate forest cover, monitor biodiversity and wildlife habitats, and manage and monitor timber.
New bird uncovered in South American conflict region, researchers urge protection
(05/28/2015) For many years, study skins of a bird languished in a dusty drawer in the Smithsonian Institution National Museum of Natural History, classified hurriedly (and erroneously,) as Scytalopus atratus nigricans, a songbird found in lower montane forests. Recently, scientists rediscovered the bird on the Venezuelan slopes of the Perijá Mountains, and were able to use twenty-first century techniques to describe its genetics, ecology and appearance. In doing so, they identified it as a new species: the Perijá tapaculo.
GAR, Wilmar punish palm oil supplier for clearing rainforest in New Guinea
(05/28/2015) Palm oil trader Golden Agri-Resources announced today that it would suspend purchases of crude palm oil from plantation developer Austindo Nusantara Jaya Agri, which was outed in an NGO report last week for the third time in the past year for clearing forest in Indonesia's West Papua province, in violation of Golden Agri's no-deforestation commitment. Wilmar has also frozen its dealings with the company, though Asian Agri and Musim Mas, which also buy from it, have given no indication they will do the same.
China unveils plans for huge railway in South America
(05/27/2015) China is looking to add another rung to its investment presence in Latin America, with an announcement of plans to build an expansive railway bisecting the continent from Brazil to Peru. The bid has raised the hackles of conservation groups, which are concerned the railway will run through sensitive ecosystems, harm threatened wildlife, and affect indigenous communities.
Amazon deforestation speeding global warming
(05/27/2015) Human activity has destroyed huge swaths of the Amazon rainforest's biomass as trees are cleared to make way for pasture, soy fields, and other developments. Now, a new study has determined how much that destruction has contributed to climate change.
Timber 'mass graves' uncovered as Malaysian authorities pursue illegal loggers

(05/21/2015) A crackdown on illegal logging in Peninsular Malaysia's largest continuous forest complex has uncovered three timber 'mass graves' – burial sites where valuable logs have been stashed beneath tons of earth to hide evidence. The loggers apparently made haste in fleeing the hilly terrain where they left the timber. A joint operation by Malaysia's antigraft agency and Forestry Department found parts of logs sticking out of the ground and the red earth still unsettled, indications their quarry had hurriedly concealed the felled trees.
Primary rainforest cleared for massive palm oil plantations in Peru
(05/20/2015) More than 9,400 hectares of closed-canopy Amazonian rainforest has been removed for two oil palm plantations in the Peruvian region of Ucayali since 2011, according to scientists working for MAAP, the Monitoring of the Andean Amazon Project. The two plantations are linked to Czech entrepreneur Dennis Melka.
VICE's 'Indonesia's Palm Bomb' presents a tragic view of palm oil driven deforestation from the frontlines
(05/20/2015) For the sixth episode of its third season, HBO's Emmy-winning news series, VICE, focused its lens on Indonesia's palm oil industry. The episode, entitled, 'Indonesia's Palm Bomb', follows VICE correspondent, Ben Anderson, as he investigates the environmental and social impact of widespread (and, at times, illegal) deforestation on wildlife and indigenous communities in Sumatra.
Sumatran tiger found dead in a pig trap
(05/20/2015) Authorities in the Indonesian province of West Sumatra buried the rotting carcass of a critically endangered female tiger that died after being ensnared by a pig trap on a rubber plantation earlier this month. The creature, a mother who was probably teaching her young to hunt, was found covered in wounds, its neck entangled in wire.
Tennis star responds to rainforest advocates

(05/20/2015) Roger Federer has responded to two Indonesian activists who asked the tennis star to use his influence to encourage Credit Suisse to end its relationship with a controversial logging company, reports the Bruno Manser Fund.
High pressure: is U.S. policy deterring illegal wood imports?
(05/19/2015) Some countries, such as the U.S., have imposed legislation at the consumer level, banning the import of illegally sourced wood through their borders. A new study finds that such legislation can be effective, with a 2008 amendment to the Lacey Act significantly reducing the influx of illegal wood into the U.S.
62M ha of Latin American forests cleared for agriculture since 2001
(05/19/2015) Over 62 million hectares (240,000 square miles) of forest across Latin America — an area roughly the size of Texas or the United Kingdom — were cleared for new croplands and pastureland between 2001 and 2013, find a study published in Environmental Research Letters.
Luxury hotel chain linked to destruction of rainforests
(05/19/2015) The Mandarin Oriental hotel chain has landed in environmentalists' crosshairs for the practices of its sister company Astra Agro Lestari, a rapidly expanding palm oil producer with fully developed plantations on an area larger than Singapore. The new She's Not a Fan campaign – a play off Mandarin's celebrity-fan endorsement drive – launched yesterday with a petition calling on Astra to stop destroying forests and elephant habitat. Multinational conglomerate Jardine Matheson owns both firms.
China's investment in Latin America taking toll on the environment, setting the stage for conflict
(05/18/2015) China has been investing heavily in Latin America's natural resources and crude oil. Recently, the country even pledged to invest $250 billion over the next decade to strengthen its presence in the region, and compete with the U.S. But this increasing Chinese trade and investment in Latin America is also increasing environmental and social conflict, finds a new report published by Boston University.
What's the current deforestation rate in the Amazon rainforest?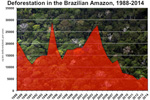 (05/15/2015) Nearly two-thirds of the Amazon rainforest is located in Brazil, making it the biggest component in the region's deforestation rate. Helpfully, Brazil also has the best systems for tracking deforestation, with the government and Imazon, a national civil society organization, releasing updates on a quarterly and monthly basis using MODIS satellite data, respectively. Both the Brazilian government and Imazon release more accurate data on an annual basis using higher resolution Landsat satellite imagery.
Satellite images show deforestation on fringes of UNESCO World Heritage Site in Cameroon
(05/14/2015) In the push to become a middle-income country in the next two decades, Cameroon has courted investments in its vast natural resource wealth in the form of mining, logging and large-scale agriculture. But deforestation revealed by a recent Greenpeace Africa investigation highlights a lack of coordination in determining how to use the country's land.
Indonesia's partial forest-clearing moratorium extended, but activists wanted more
(05/14/2015) Indonesian President Joko "Jokowi" Widodo extended the country's partial forest clearing moratorium yesterday on the day of its expiration, leaving largely intact a policy civil society groups had demanded be strengthened. The environment and forestry minister said the government greatly appreciated the calls from organizations like Greenpeace, Walhi, Kemitraan, Sawit Watch, World Resources Institute and others, and would address the proposed changes.
New mapping project uncovers road networks in Peru's primary forests
(05/13/2015) A research team unearthed a suspicious network of roads in northern Peru in early 2013. For two years, they watched the network grow to over 150 kilometers in length, split into two networks. The southern part of the network is located entirely in the protected buffer region of the Cordillera de Azul National Park, and is characteristic of roads meant for logging.
Zero deforestation commitments bearing fruit in the Amazon
(05/13/2015) A high profile pledge by the world's largest meat company to limit deforestation for cattle production in the Amazon appears to be working, resulting in a dramatic increase in compliance with environmental registries and reduced forest clearing among supplier ranches, finds a comprehensive study published in the journal Conservation Letters.
Satellite data shows how deforestation is impacting our weather and our food
(05/12/2015) The conversion of forests to cropland can drive local temperatures up or down by as much as a few degrees, according to a new report. Ironically, the authors write that these temperature fluctuations can lead to less productivity from the very same agricultural operations the forests were cleared to make way for.
Scientists reconstruct what was in the Harapan Rainforest of Sumatra
(05/12/2015) A new study published in mongabay.com's open-access journal Tropical Conservation Science describes how the Harapan Rainforest was prior to extensive logging and compares it to its current condition. The authors call for the Harapan's conservation because it is still very rich in species and holds rare habitats and many endemic plants.
Wilmar, Musim Mas supplier caught clearing elephant habitat for palm oil in Aceh
(05/12/2015) A new report provides evidence that a supplier of palm oil giants Wilmar and Musim Mas is bulldozing valuable forests in Indonesia's Leuser Ecosystem in violation of the companies' zero-deforestation policies as well as the Indonesia Palm Oil Pledge (IPOP), a high-profile, joint sustainability pact that also includes Golden Agri-Resources, Asian Agri, Musim Mas and the Indonesian Chamber of Commerce and Industry (Kadin).
Indonesian forestry giant calls for stronger forest moratorium
(05/11/2015) Asia Pulp & Paper (APP), an Indonesian forestry giant once targeted by environmentalists for its logging practices, has joined a growing chorus of voices calling for a stronger moratorium on deforestation and policies that enable companies to support conservation efforts. In a letter released Monday, Aida Greenbury, APP's Managing Director of Sustainability, asked Indonesian President Joko Widodo to extend the country's moratorium on new logging and plantation concessions.
Peru considers fate of Amazon wildlife paradise
(05/08/2015) The fate of La Sierra del Divisor, a 1.5 million hectare reserve lauded for its megadiversity of wildlife, will soon to be decided. According to El Comercio, next week the Peruvian government is expected to rule whether Divisor will be declared a national park. The designation, which was requested by local groups nearly a decade ago, would strengthen legal protection of the area, which faces logging, mining, coca cultivation, and agricultural encroachment. It would also establish rules for the buffer zone around the potential protected area.
World's critical habitats lost Connecticut-size area of forest in a decade
(05/08/2015) Many of the world's endangered animals live in only one place, making them hugely susceptible to environmental upset. One fell swoop, and entire species could disappear from existence forever. New analysis shows that possibility may be edging closer and closer to reality in some areas, with forests known to harbor high-risk species losing an area of tree cover the size of Connecticut in a little over a decade.
Indian fabric giant adopts forest policy
(05/08/2015) One of the world's largest fabric makers for the fashion industry today announced a policy to exclude fiber produced at the expense of endangered forests, reports Canopy, an environmental group that helped broker the commitment.
Facing Future Storms: Poor Honduran Communities Unite to Protect Watersheds and Nature
(05/05/2015) There hasn't been much good news out of Honduras recently. One of the poorest Latin American nations, it has been afflicted by a series of natural and political calamities. There is, however, another Honduras, a place where -- despite adversity -- small, rural communities are getting on with the business of living sustainably and dealing effectively with the vagaries of extreme weather, all on a shoestring budget.
Orangutan rescued amid sea of palm oil
(05/04/2015) The rescue, which took place in early April, was conducted by the Orangutan Information Centre (OIC) in response to a report of an adult male orangutan isolated in an fragment forest surrounded by oil palm plantations. The orangutan was found to be in poor health, according to Krisna, OIC's Human Orangutan Conflict Response Unit field coordinator.
Borneo's rainforest may get high-tech 3D scan to boost conservation
(05/04/2015) Conservation efforts in Borneo's embattled rainforest may get a boost with the launch of the newest version of an advanced airplane-based monitoring and assessment system. On Friday, the Carnegie Institution officially unveiled the latest upgrade of the Carnegie Airborne Observatory, an airplane equipped with technologies that enable scientists to conduct extremely high resolution scans of forest structure, biomass, and biological diversity. The platform has generated a wealth of information in places where it has been flown before.
Sarawak increases fines for illegal logging

(05/01/2015) After decades of intense logging that has left its rainforests degraded, fragmented, and stripped of valuable timber in many areas, the Malaysian state of Sarawak has passed a new forestry bill that could boost penalties for illegal logging.
Palm giants ask Indonesian gov't to clear path toward sustainability
(05/01/2015) Executives from palm oil giants Wilmar, Cargill and Golden Agri Resources appeared at a green investment summit in Jakarta this week, providing a window into the nature of a high-profile, joint sustainability pact the companies have entered into together with Asian Agri, Musim Mas and the Indonesian Chamber of Commerce and Industry. The agreement, known as the Indonesia Palm Oil Pledge, has been lauded in some quarters for its potential to transform the sector and dismissed in others as mere lip service to protecting the environment.
Featured video: the Uncharted Amazon trailer
(04/29/2015) The up-coming documentary, Uncharted Amazon, promises to highlight both the little-seen wildlife and the people of the Las Piedras River system in the Peruvian Amazon, one of the most remote wildernesses on the planet.
Gov't officials permitted deforestation in Dominican Republic national park
(04/29/2015) In late 2014, an irregularity in the issuance of permits for agriculture-related deforestation was brought to light by an environmental conservation association working to curb deforestation within the park. On July 30, the Pedernales office of the Ministry of the Environment and Natural Resources granted permission to local landowners to deforest an area within the National Park, close to an area that was being assessed for hutia and solenodon presence by a team of researchers.
Kenya's Karura Forest, symbol of GreenBelt Movement, suffering death by 1,000 cuts
(04/29/2015) The founder of Kenya's GreenBelt Movement, Wangari Maathai, won the Nobel Peace Prize in 2004 because she talked environmental truth to power. She also walked the walk. Especially on a January morning in 1999 when she strode into the Karura Forest, Nairobi's flagship preserve, to plant trees to protest government approved plans to build a private golf course on protected land there.
EU votes to scale back on biofuels linked to deforestation

(04/28/2015) The European Parliament voted overwhelmingly today on a new cap on biofuels derived from edible crops, which critics say not only compete with feeding a growing global population but also contribute to deforestation and release unacceptably high levels of greenhouse gas emissions. The new legislation sets the cap on edible food crop biofuels—such as palm oil, corn, rapeseed, and soy—at seven percent.
Predicting deforestation before it happens

(04/28/2015) The world's leading forest monitoring platform may soon help predict deforestation before it occurs, potentially enabling authorities to prevent it altogether.
'Deforestation fronts' revealed
(04/27/2015) Environmental group WWF has released a new report projecting where the organization believes the bulk of global deforestation is likely to occur over the next 15 years. The analysis, published today, highlights eleven regions where 'the bulk of global deforestation is projected to take place' by 2030.
'Zero Deforestation' not necessarily the answer, environmentalists warn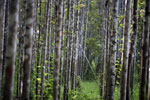 (04/27/2015) Last week, the London-based think tank Innovation Forum convened a two-day conference on the subject of sustainable forestry in Washington, D.C. Titled 'How Business Can Tackle Deforestation,' the conference brought together leaders from both public and private spheres, including forest commodities companies, NGOs and think tanks. Though the topics of discussion were diverse, ranging from the role of 'green' certification to the viability of GMO crops, there was widespread agreement that significant changes need to be made to current supply chain policies if we are to avoid further damaging the world's forests.








Page 1 | Page 2 | Page 3 | Page 4 | Page 5 | Page 6 | Page 7 | Page 8 | Page 9 | Page 10 | Page 11 | Page 12 | Page 13 | Page 14 | Page 15 | Page 16 | Page 17 | Page 18 | Page 19 | Page 20 | Page 21 | Page 22 | Page 23 | Page 24 | Page 25 | Page 26 | Page 27 | Page 28 | Page 29 | Page 30 | Page 31 | Page 32 | Page 33