News articles on forestry

---
Mongabay.com news articles on forestry in blog format. Updated regularly.






'Sea change' in clothing industry means more protections for forests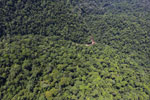 (06/30/2015) Sateri has become the latest major viscose producer to adopt a new wood- and pulp-sourcing policy aimed at removing deforestation from its supply chain. The company, the world's third-largest viscose producer, joins Aditya Birla and Lenzing, the two biggest, in making commitments to stop buying wood pulp from natural or endangered forests.
After two decades, Indonesia publishes plan for tackling invasive species
(06/29/2015) Twenty years after ratifying a legally binding UN convention which obligates parties to deal with invasive alien species, considered to be main direct drivers of biodiversity loss across the globe, Indonesia has drawn up a national strategic plan on the matter. The plan outlines steps to mitigate invasive species through policy, institution-building, information management, research and education, capacity-building and public awareness.
Illegal forest clearing spotted in Aceh's biggest peat swamp
(06/26/2015) Encroachers have been clearing forest at three locations in Aceh's biggest peat swamp since February, the Rawa Singkil Wildlife Reserve, analysis of Landsat satellite imagery by environmental group Greenomics-Indonesia shows. The area is home to the densest population of critically endangered Sumatran orangutans in the Leuser Ecosystem.
Do we need to move 'beyond certification' to save forests?
(06/25/2015) Over the past two years dozens of companies have established 'zero-deforestation' or 'deforestation-free' policies for the commodities they source, trade, and produce. The pace of adoption has been staggeringly fast for a business that have been historically slow-moving relative to other industries. Some sectors, like the Indonesian palm oil industry and the Brazilian soy industry, even appear to be nearing a critical mass where the majority of international buyers and traders are now bound by such agreements.
Status change to come for Indonesia's partial logging moratorium?
(06/25/2015) Indonesia's Environment and Forestry Ministry might upgrade the partial logging moratorium from a presidential instruction to a government regulation, or PP, later this year, a ministry official said this week. The change would take place after the ministry completes its semiannual revision of the moratorium map for the ninth time in November, according to The Jakarta Post.
Indonesia to revive controversial sugarcane plan in Aru?
(06/23/2015) The Indonesian agriculture minister's recent comments that the Aru archipelago in the country's eastern waters will be one of three sites for a major new sugarcane initiative has sparked an outcry among civil society groups, as a similar controversial plan was shelved only last year after activists waged a long battle against it.
Controversy emerges over alleged deforestation policy breach by APRIL supplier
(06/23/2015) Less than three weeks after APRIL unveiled a sustainability policy that is supposed to protect natural forests, an environmental group is alleging that one of the Indonesian forestry giant's subsidiaries is already breaching the commitment. But APRIL refuted the claim and says it continues to stand by the policy.
Bengkulu governor orders review of mining permits
(06/23/2015) The governor of Indonesia's Bengkulu province reiterated his commitment to bringing mining in the province under control, as environmentalists urge his administration to crack down on rampant illegality in the sector and the threat it poses to protected areas.
'Trying to follow the money': Opacity rules in Southeast Asia's land rush, finds study
(06/15/2015) As the rush for land in Southeast Asia continues at breakneck speed, often bringing with it social and environmental destruction, a new study by a major environmental research group explores how well investors really know where their money is going, and the possibilities and limits of existing data in achieving greater accountability.
Forest governance index shows Indonesia has long way to go
(06/13/2015) Weak spatial planning and law enforcement, land tenure problems and a lack of transparency in licensing are some of the issues highlighted in an annual report on forest governance the Indonesian Environment and Forestry Ministry presented to the president last week. The Forest Governance Index 2014, as it was packaged, gave Indonesia score of 35.97 on a scale of one to 100.
Palm oil giant announces deforestation freeze amid NGO campaign
(06/12/2015) Palm oil giant Astra Agro Lestari has announced an immediate moratorium on land clearing, less than a month after the launch of an environmental campaign targeting one of its sister companies, the Mandarin Oriental hotel chain. The prohibition applies to Astra Agro's own plantations as well as to those of its suppliers. Astra Agro characterized the freeze as a major step toward bringing its operations into line with the standards of the Indonesia Palm Oil Pledge, a high-profile, joint sustainability commitment signed by palm giants Wilmar, Cargill, Golden Agri-Resources, Asian Agri and Musim Mas as well as the Indonesian Chamber of Commerce.
Oil palm company accused of violating RSPO, IPOP standards in Indonesia
(06/11/2015) The reputation of oil palm business group Sawit Sumbermas Sarana, a holding of one of Indonesia's richest men, has in recent days taken hits on multiple fronts, with a pair of NGOs separately accusing the firm of violating various sustainability commitments it is party to. The criticism highlights holes in both the Indonesia Palm Oil Pledge (IPOP), a high-profile sustainability pact to which palm giants Wilmar, Golden Agri-Resources, Musim Mas, Asian Agri and Cargill are signatories, and the Roundtable on Sustainable Palm Oil (RSPO).
In Sumatra, an oasis in a sea of oil palm
(06/08/2015) Sumatra is estimated to have lost 85 percent of its forests in the past half century, primarily due to widespread conversion for oil palm and pulp plantations. In the village of Tangkahan, however, residents have managed to preserve their forests and create one of Indonesia's ecotourism hotspots.
In Aceh, an illegal logger reformed
(06/05/2015) Mukhtar used to be an illegal logger. Now he coordinates community forest rangers in Indonesia's Aceh province. His job involves preventing dangerous human-elephant encounters and helping communities protect themselves from environmental offenders - like Mukhtar once was.
Pulp giant APRIL updates sustainability policy with Greenpeace's tentative approval
(06/03/2015) Indonesia's second-largest pulp and paper producer has announced a new sustainability policy it hopes will win it the good graces of NGOs like Greenpeace, which has campaigned with some success for a boycott of the company due to its destructive environmental practices. Unlike the previous policy, the new one protects carbon-rich peatlands and forests of high-carbon stock.
Director-generals inaugurated as merger of Indonesian Environment, Forestry Ministries continues
(06/02/2015) Indonesia's newly merged Environment and Forestry Ministry completed a major step in its restructuring last week with the inauguration of 13 director-generals, with important implications for President Joko "Jokowi" Widodo's agendas on climate change, land reform and more. Notable appointments include Climate Change Oversight Director-General Nur Masripatin, Environmental and Forestry Spatial Planning Director-General San Afri Awang and Social Forestry and Environmental Partnerships Director-General Hadi Daryanto.
Malaysian state eyes 100% certified palm oil by 2025
(05/30/2015) Sabah, a state in Malaysian Borneo, is weighing a proposal to produce only palm oil certified under the Roundtable on Sustainable Palm Oil (RSPO), an eco-certification initiative, by 2025. The move, if approved, would represent the first time a sub-national or state entity has committed to 100% certified palm oil production.
Timber 'mass graves' uncovered as Malaysian authorities pursue illegal loggers

(05/21/2015) A crackdown on illegal logging in Peninsular Malaysia's largest continuous forest complex has uncovered three timber 'mass graves' – burial sites where valuable logs have been stashed beneath tons of earth to hide evidence. The loggers apparently made haste in fleeing the hilly terrain where they left the timber. A joint operation by Malaysia's antigraft agency and Forestry Department found parts of logs sticking out of the ground and the red earth still unsettled, indications their quarry had hurriedly concealed the felled trees.
Golden Agri takes another hit as sustainability guru suspends its membership
(05/20/2015) The charity that Indonesia's Golden Agri-Resources has enlisted to devise and implement its zero-deforestation and community-engagement commitments suspended its cooperation with the palm oil giant yesterday, following breaches of the policies they had designed together. A few hours later, Golden Agri announced the resignation of its chief sustainability officer.
Luxury hotel chain linked to destruction of rainforests
(05/19/2015) The Mandarin Oriental hotel chain has landed in environmentalists' crosshairs for the practices of its sister company Astra Agro Lestari, a rapidly expanding palm oil producer with fully developed plantations on an area larger than Singapore. The new She's Not a Fan campaign – a play off Mandarin's celebrity-fan endorsement drive – launched yesterday with a petition calling on Astra to stop destroying forests and elephant habitat. Multinational conglomerate Jardine Matheson owns both firms.
Malaysian palm oil body encourages fiction over fact
(05/17/2015) In this commentary, David Dellatore, Program Manager at the Sumatran Orangutan Society, questions the value of the Malaysian Palm Oil Council's essay-writing contest which will pay contributors to conclude that palm oil is not a driver of deforestation
Indian fabric giant adopts forest policy
(05/08/2015) One of the world's largest fabric makers for the fashion industry today announced a policy to exclude fiber produced at the expense of endangered forests, reports Canopy, an environmental group that helped broker the commitment.
Sarawak increases fines for illegal logging

(05/01/2015) After decades of intense logging that has left its rainforests degraded, fragmented, and stripped of valuable timber in many areas, the Malaysian state of Sarawak has passed a new forestry bill that could boost penalties for illegal logging.
'Zero Deforestation' not necessarily the answer, environmentalists warn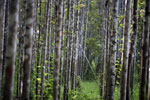 (04/27/2015) Last week, the London-based think tank Innovation Forum convened a two-day conference on the subject of sustainable forestry in Washington, D.C. Titled 'How Business Can Tackle Deforestation,' the conference brought together leaders from both public and private spheres, including forest commodities companies, NGOs and think tanks. Though the topics of discussion were diverse, ranging from the role of 'green' certification to the viability of GMO crops, there was widespread agreement that significant changes need to be made to current supply chain policies if we are to avoid further damaging the world's forests.
Jokowi must strengthen Indonesia's forest moratorium, not just extend it: activists
(04/25/2015) Less than a month before the expiry of a moratorium on new licenses for land-based exploitation in primary forests and on peat, environmentalists are calling for the Indonesian president to not only prolong the policy but strengthen it too, hampered as they say it has been by chaotic implementation, weak enforcement, standards that don't go far enough and, some suggest, a lack of political will to see it through.
Activists target Roger Federer as brand ambassador for bank linked to deforestation
(04/22/2015) Environmentalists are asking tennis star Roger Federer to deliver a message to Credit Suisse over the banking giant's continued financing of a logging company linked to ongoing destruction of wildlife habitat in Indonesia. According to the Bruno Manser Fund two members of a rainforest community in Sumatra have written to Federer to ask for his help in persuading Credit Suisse to stop financing logging of peat forests.
World's largest sovereign wealth fund takes stand against deforestation
(04/22/2015) Norway's Government Pension Fund Global — the world's largest sovereign wealth fund — is adopting standards to avoid investing in companies linked to tropical deforestation, sending a strong signal that forest destruction is not an acceptable practice for responsible businesses, reports Rainforest Foundation Norway.
Growing need for deforestation-free rubber as tire demand destroys native forests
(04/18/2015) Surging demand for natural rubber is decimating some of the world's most endangered forests, putting wildlife and critical ecosystem services at risk, warn scientists writing in the journal Conservation Letters. Reviewing a large body of published research, Eleanor Warren-Thomas of the University of East Anglia and colleagues detail the crop's expansion across across Southeast Asia in recent decades.
Condition of tropical forests 'worsening', could become 'critical'
(04/07/2015) World leaders are continuing to overlook the worsening condition of tropical forests despite the biome's vast potential to help mitigate climate change, support local livelihoods and ecosystem services, and stabilize global agriculture, warns a comprehensive review published by a body founded by Prince Charles.
Who's to blame for forest loss in Borneo timber concession?
(04/06/2015) The apparent loss of some 4,000 hectares of forested peatland in Indonesian Borneo is raising questions on who bears responsibility for forest clearing in un-utilized concessions. On Monday, Greenomics-Indonesia issued a report revealing the loss of significant tracts of peat forest in a West Kalimantan concession held by PT Bumi Mekar Hijau (BMH), a plantation company whose operation in South Sumatra supplies Asia Pulp & Paper (APP) with woodpulp for its mills.
Fighting fire with money: can finance protect Indonesia's forests?
(04/06/2015) In previous articles, we have seen an overview of the problems with the Indonesian palm oil industry. Such problems are largely caused by rent-seeking politicians and businessmen, who are willing to sacrifice endangered wildlife, the health of their countrymen and long-term environmental stability in the pursuit of profit. These actors exert a significant influence on and within the Indonesian government. As a result, Indonesia remains conflicted between the opposing goals of conservation and economic growth.
KFC, Taco Bell, Pizza Hut adopt zero deforestation policy for palm oil
(04/03/2015) Yum! Brands, the company that owns KFC, Taco Bell and Pizza Hut, on Thursday announced a zero deforestation policy for its palm oil sourcing. The move came after aggressive campaigns by environmental groups that argued the chains weren't doing enough to ensure the palm oil they used to fry foods wasn't linked to human rights abuses, destruction of peatlands, and logging of rainforests.
APRIL violates sustainability policy by clearing peat forest after Jan cut-off
(03/26/2015) New data shows Asia Pacific Resources International Holdings Limited (APRIL) is continuing to destroy rainforests on deep peat despite a high profile pledge to clean up its operations. Today Greenomics-Indonesia released an analysis of two NASA Landsat images confirming that APRIL's subsidiary PT Riau Andalan Pulp Paper (RAPP) has cleared significant tracts of peat forest on Pulau Pedang island off Sumatra's coast since January 2015.
Why palm oil expanded, and what keeps it growing
(03/26/2015) Today, oil palm is Indonesia's most important cash crop. In 2014, Indonesia produced 33.5 million tons of palm oil, generating $18.9 billion in export revenue. This makes palm oil Indonesia's third most valuable export, behind only coal and petroleum gas. However, the rise of Indonesian palm oil is only a relatively recent phenomenon. The chart below shows the remarkable growth that the industry has displayed over the past 30 years.
Seeing the trees but not the forest (commentary)
(03/20/2015) Understanding forest dynamics is necessary for the sound management of forests, for both production and conservation. This includes an understanding of the extent of forest area, information about what the forest contains and how the forest resource is managed. Forest monitoring provides this information.
Who's funding palm oil?
(03/19/2015) Palm oil may be the single most important crop that you never heard of. A vegetable fat that resembles reddish butter at room temperature, palm oil is derived from the fruit of the oil palm tree. Both nutritious and highly versatile, palm oil is now an important component of products ranging from biofuels and food to soaps and cosmetics. Estimates indicate that as much as 50 percent of the products used by the average Western consumer every day contain palm oil or its derivatives.
Palm oil certification body purges membership
(03/05/2015) The Roundtable on Sustainable Palm Oil (RSPO) has purged membership of a number of companies and organizations that have failed to comply with reporting requirements. The move could be a sign that the certification body is getting more serious about enforcing its standards, says WWF, one of the founders of the initiative.
Santander Bank cuts off APRIL due to deforestation

(02/24/2015) Banking giant Santander says it will not extend further financing to Asia Pacific Resources International Limited (APRIL) due to evidence that the Singapore-based pulp and paper company is continuing to destroy rainforests in Indonesia. The move comes after Greenpeace launched a global campaign against the bank.
Selective logging causes long-term changes to forest structure
(02/18/2015) Selective logging is causing long-term changes to tropical forests in Africa by facilitating the growth of weeds and vines, which reduces plant diversity and diminishes carbon storage, reports a new paper published in the journal Ecological Research. The paper is based on field data from more than 500 plots in Sierra Leone, Ghana, Cameroon and Gabon.
Chinese banks funding rainforest destruction in Indonesia

(02/18/2015) While Santander Bank has made headlines in recent days for financing an Indonesian forestry giant's ongoing clearance of carbon-dense forests in Sumatra, Chinese banks among the largest funders of the company, reveals analysis conducted by BankTrack.org.
Indonesia dissolves agency charged with forestry reform
(02/11/2015) The world's first cabinet-level ministry dedicated to implementing REDD+ has been dissolved. In accordance with Indonesian Presidential Decree No. 16/2015 the agency known as BP REDD+, along with the National Council on Climate Change, has been absorbed into the newly merged Ministry of the Environment and Forestry (MoEF) as part of a massive government restructuring.
Forestry giant's zero deforestation commitment put to test
(02/05/2015) An independent audit of the world's largest pulp and paper producer found that the company had achieved a wide range of results in meeting promises to end deforestation and resolve conflicts with forest communities. In 2013 Asia Pulp and Paper (APP) announced its Forest Conservation Policy (FCP), which included a pledge to end deforestation among its suppliers, improve communication and conflict resolution with forest communities, protecting peatlands, and sourcing fiber only from responsible suppliers.
Rogue cop missing from jail

(01/27/2015) An Indonesian police official busted for illegal logging in West Papua has been missing from jail for nearly a year after being granted permission to seek medication treatment, reports the The Jakarta Post.
Indigenous territories play dual role as homelands and protected areas
(01/22/2015) Indigenous communities claim—and scientific evidence increasingly shows—that indigenous forested territories are as well protected as, or better protected than, government-designated parks. In areas under pressure from roads or development projects, deforestation rates are sometimes even lower in indigenous territories than in official protected areas.
A model forest? Regional park balances local needs and conservation
(01/21/2015) Regional conservation area safeguards subsistence and spirituality in the Peruvian Amazon. For Alfredo Rojas, the history of the remote villages along the Ampiyacu River is one of enslavement. Growing up here, Rojas listened to his parents tell stories of the rubber barons who beat and killed the Indians who failed to meet their latex quota.
Indonesia's moratorium not enough to achieve emissions reduction target
(01/20/2015) When Indonesia's former president Susilo Bambang Yudhoyono declared a moratorium in May 2012 on the issuance of new permits for logging in primary forests and on peat lands, it was widely hailed as an important, albeit far too limited, step in clamping down on the country's levels of deforestation.
High deforestation rates in Malaysian states hit by flooding
(01/19/2015) Five states hard hit by flooding last month in Malaysia had high rates of forest loss in recent years, bolstering assertions that environmental degradation may have worsened the disaster. According to satellite data from researchers led by the University of Maryland's Matt Hansen and displayed on Global Forest Watch, the states of Johor, Kelantan, Pahang, Perak, and Terengganu each lost more than 10 percent of their forest cover between 2001 and 2012. Loss was greatest in areas with dense tree cover.
Tradeoff: Sabah banks on palm oil to boost forest protection
(12/05/2014) Last month Sabah set aside an additional 203,000 hectares of protected forest reserves, boosting the Malaysian state's extent of protected areas to 21 percent of its land mass. But instead of accolades, Sabah forestry leaders were criticized for how they went about securing those reserves: allowing thousands of hectares of deforested land within an officially designated forestry area to be converted for oil palm plantations
Pulp and paper giant violating its sustainability policy

(12/01/2014) Asia Pacific Resources International Limited (APRRIL) is violating its own sustainability policy by continuing to source fiber produced via the destruction peatlands on the island of Pulau Padang in Riau, Sumatra, argues a new report published by a coalition of Indonesian environmental groups.
Indonesia's anti-corruption agency questions former Minster of Forestry

(11/21/2014) Indonesia's Corruption Eradication Commission (KPK) questioned the former Minister of Forestry about his role in altering zoning to facilitate oil palm expansion into public lands. The case centers around Riau Governor Annas Maamun, who allegedly accepted bribes to convert an area's status from 'production forest' into 'non-forested land'.
Indonesia imposes moratorium on new logging permits
(11/20/2014) Indonesia's new Minister of Environment and Forestry Siti Nurbaya Bakar imposed a moratorium on the issuance of all new logging permits a little over a week after being appointed in late October. The move is being celebrated by conservation groups and signals that interest in reforming Indonesia's notoriously corrupt and dysfunctional forestry sector has reached the highest levels of government, with direction coming from President Joko Widodo.
Cargill to use drones to monitor zero deforestation commitment
(11/17/2014) Cargill will use Unmanned Aerial vehicles (UAVs) and 'solar-powered, satellite-connected remote sensor networks' to monitor compliance with its new zero deforestation policy for palm oil, reports the agribusiness giant in its first progress report on its recent forest commitments.
Over 60% of world's traded palm oil now bound by zero deforestation commitments
(11/13/2014) Over sixty percent of palm oil traded internationally is now bound by zero deforestation policies after IOI Loders Croklaan committed to excluding forest destruction from its supply chain, says Forest Heroes, a campaign that aims to reduce the environmental impact of palm oil production. IOI Loders Croklaan's parent corporation IOI Group has been aggressively targeted by environmentalists for its links to deforestation and controversies over conflicts with local communities.
Reducing deforestation is good for business, argues report

(11/12/2014) Some of the world's largest companies are making progress in disclosing and addressing deforestation risk within their commodity supply chains, but much work is left to be done to shift to more sustainable practices, argues a new report from the Climate Disclosure Project.
Only place where rhinos, tigers, elephants, and orangutans coexist is under threat
(11/12/2014) A forest that is the only place where rhinos, tigers, elephants, and orangutans coexist is under threat from planned infrastructure, mining, logging, and plantation projects, warns a new report from the Rainforest Action Network. The report looks at one of the last vestiges of wilderness on the island of Sumatra, which for the past three decades has been heavily ravaged by logging, fires, and conversion to industrial timber and oil palm plantations. This area, known as the Leuser Ecosystem, is today a battleground between business-as-usual interests seeking to mine its forests and a collection of conservationists, local communities, and a collection of companies seeking to steward its resources.
Will merging competing ministries help save Indonesia's forests?
(11/10/2014) Newly elected Indonesian president Joko 'Jokowi' Widodo announced on October 26th that the Ministry of Forests and the Ministry of Environment would be combined and that Siti Nurbaya would become Forests and Environment Minister. The move was part of Jokowi's appointment of 34 cabinet level positions, ranging from Foreign Minister to Religious Affairs Minister.
Another mining company found operating in flagrant violation of Indonesian law

(11/06/2014) A Harita group mining company in West Kalimantan, Indonesia has been operating well outside of its permit boundary, reports local NGO, Forest Monitoring Volunteers of Borneo (RPHK). Their investigation found that PT. Karya Utama Tambang Jaya, is operating illegally on 78 hectares of land. The company holds permits to mine bauxite (aluminum ore) on 8,878 hectares.
APP acknowledges historic land-grabbing in China, pledges reform
(10/30/2014) While Asia Pulp and Paper (APP) has made considerable progress on addressing social and environmental problems associated with its operations in Indonesia, the forestry giant still has much to do to rectify historic social grievances in China, says a report published by Landesa and Rights and Resources Initiative (RRI).
Indonesian law bars palm oil companies from protecting forests
(10/21/2014) A law passed by the Indonesian government last month makes it even more difficult for palm oil companies to conserve tracts of wildlife-rich and carbon-dense forests within their concessions, potentially undermining these producers' commitments to phase deforestation out of their supply chains, warns a new report published by Greenomics, an Indonesian environmental group.
To become less damaging, target non-forest lands for palm oil, says book
(10/16/2014) Palm oil production has been spectacularly profitable but ecologically disastrous across Southeast Asia, consuming millions of hectares of indigenous lands, rainforests, and peatlands in recent decades. That paradox has made the crop highly controversial despite its importance in providing a high-yielding source of vegetable oil. A new book, published freely online by the Center for International Forestry Research (CIFOR), weighs in on the debate and concludes — like many before it — that the problem is not the crop itself, but how it is produced.
Report rates palm oil companies on sustainability commitments
(10/05/2014) A new report published Forest Heroes, an advocacy campaign pushing for an end to deforestation, ranks global palm oil companies on their sustainability commitments. The Green Tigers, authored by Glen Hurowitz, reviews the recent history of environmental policies in the palm oil sector, beginning with the formation of the Roundtable on Sustainable Palm Oil (RSPO) in 2004 through the wave of comprehensive zero deforestation commitments in 2013-2014.
Central Kalimantan to set up palm oil monitoring system to in bid cut deforestation 80%
(10/05/2014) The Indonesian province of Central Kalimantan is moving forward on an oil palm plantation monitoring system it hopes will help meet a commitment to reduce deforestation 80 percent by 2020. The online monitoring system will include "information on the performance of plantation concessions such as productivity, the number of smallholder farmers, deforestation and other land cover change, and fire occurrence," according to Earth Innovation Institute which designed and is helping the provincial government implement the system.
Leaders pledge to end deforestation by 2030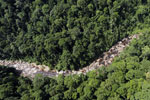 (09/24/2014) Dozens of companies, non-profit organizations, and governments pledged to work together to halve forest loss by 2020 and end it altogether by 2030. If implemented, the commitment could reduce annual carbon dioxide emissions by 4.5-8.8 billion tons annually, equivalent to removing a billion cars from the world's roads.
Cargill commits to zero deforestation across entire global supply chain: all commodities
(09/24/2014) Cargill, one of the world's largest agricultural companies, has extended its zero deforestation commitment for palm oil to all commodities it produces. The commitment, announced Tuesday at the United Nations Climate Summit in New York, is the most far-reaching zero deforestation policy ever established, covering Cargill's sprawling global empire of businesses, including palm oil, sugar, soy, cattle, and cocoa.
Palm oil company continues to operate illegal plantation despite court ruling

(09/12/2014) A palm oil company in Central Kalimantan continues to operate business as usual, despite a Supreme Court ruling confirming it has no legal permit to do so. Since 2009, PT Hati Prima Agro (HPA), a subsidiary of palm oil giant Bumitama Gunajaya Agro Group (BGA), has cleared over 7,000 ha of land in Central Kalimantan, even though their permits were revoked by the Ministry of Forestry in 2008.
FSC meeting weighs old-growth forest protection, smallholder participation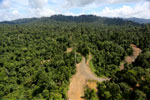 (09/11/2014) The Forest Stewardship Council (FSC), a body that sets social and environmental certification criteria for forestry products, is weighing measures that could step up protection for old-growth forests and make it easier for indigenous people and traditional forest communities to qualify for certification. The measures are set for a vote this week at the body's General Assembly, which is held every three years to establish and revise criteria that underpin the standard.
4 Ashaninka tribesmen killed by loggers in Peru

(09/08/2014) One of those killed was Edwin Chota, the leader of the Alto Tamaya-Saweto indigenous community who won fame for fighting illegal loggers. As such, Chota was a top target for assassination, according to a conservationist familiar with the situation.
APP can meet projected pulp demand without clearing more forest

(09/05/2014) Indonesian forestry giant Asia Pulp & Paper (APP) won't need to clear additional forests to meet pulp requirements for current and forecast mill expansion, finds an independent assessment conducted by The Forest Trust (TFT) and Ata Marie.
Indonesia to verify ownership of 66M ha of disputed forest land
(09/04/2014) The Indonesian government has declared it will verify ownership of 66.3 million hectares of disputed forest land by the end of the year. Through the development of a Recognition and Verification of Rights scheme (PPH), the Forestry Department will inventory and evaluate the status of all government land where indigenous people and other groups hold conflicting claims of ownership. Indonesia currently considers 122.2 million hectares of forested land—almost 64% of the country—to be state-owned. They hope to resolve all conflicting claims to the area by the end of 2015.
How do we save the world's vanishing old-growth forests?
(08/26/2014) There's nothing in the world like a primary forest, which has never been industrially logged or cleared by humans. They are often described as cathedral-like, due to pillar-like trees and carpet-like undergrowth. Yet, the world's primary forests—also known as old-growth forests—are falling every year, and policy-makers are not doing enough to stop it.







China failing to take effective action against timber smugglers

(08/12/2014) Voluntary guidelines established by the Chinese government won't be enough to curb rampant timber smuggling by Chinese companies, putting 'responsible' actors at risk of having their reputations tarnished, argues a new campaign by the Environmental Investigation Agency (EIA).




Page 1 | Page 2 | Page 3 | Page 4 | Page 5 | Page 6 | Page 7 | Page 8 | Page 9 | Page 10 | Page 11