News articles on forestry

---
Mongabay.com news articles on forestry in blog format. Updated regularly.





Fashion industry making progress in cutting deforestation from clothing


(10/30/2014) Several more clothing companies have committed to eliminate fiber produced via destruction of endangered forests, adding momentum to a zero deforestation movement within the fashion sector, argues a new report published by Canopy, an environmental non-profit.


APP acknowledges historic land-grabbing in China, pledges reform


(10/30/2014) While Asia Pulp and Paper (APP) has made considerable progress on addressing social and environmental problems associated with its operations in Indonesia, the forestry giant still has much to do to rectify historic social grievances in China, says a report published by Landesa and Rights and Resources Initiative (RRI).


Indonesian law bars palm oil companies from protecting forests


(10/21/2014) A law passed by the Indonesian government last month makes it even more difficult for palm oil companies to conserve tracts of wildlife-rich and carbon-dense forests within their concessions, potentially undermining these producers' commitments to phase deforestation out of their supply chains, warns a new report published by Greenomics, an Indonesian environmental group.


To become less damaging, target non-forest lands for palm oil, says book


(10/16/2014) Palm oil production has been spectacularly profitable but ecologically disastrous across Southeast Asia, consuming millions of hectares of indigenous lands, rainforests, and peatlands in recent decades. That paradox has made the crop highly controversial despite its importance in providing a high-yielding source of vegetable oil. A new book, published freely online by the Center for International Forestry Research (CIFOR), weighs in on the debate and concludes — like many before it — that the problem is not the crop itself, but how it is produced.


Daring activists use high-tech to track illegal logging trucks in the Brazilian Amazon


(10/15/2014) Every night empty trucks disappear into the Brazilian Amazon, they return laden with timber. This timber —illegally cut —makes its way to a sawmills that sell it abroad using fraudulent paperwork to export the ill-gotten gains as legit. These findings are the result of a daring and dangerous investigation by Greenpeace-Brazil.


Report rates palm oil companies on sustainability commitments


(10/05/2014) A new report published Forest Heroes, an advocacy campaign pushing for an end to deforestation, ranks global palm oil companies on their sustainability commitments. The Green Tigers, authored by Glen Hurowitz, reviews the recent history of environmental policies in the palm oil sector, beginning with the formation of the Roundtable on Sustainable Palm Oil (RSPO) in 2004 through the wave of comprehensive zero deforestation commitments in 2013-2014.


Central Kalimantan to set up palm oil monitoring system to in bid cut deforestation 80%


(10/05/2014) The Indonesian province of Central Kalimantan is moving forward on an oil palm plantation monitoring system it hopes will help meet a commitment to reduce deforestation 80 percent by 2020. The online monitoring system will include "information on the performance of plantation concessions such as productivity, the number of smallholder farmers, deforestation and other land cover change, and fire occurrence," according to Earth Innovation Institute which designed and is helping the provincial government implement the system.


Turning point for Peru's forests? Norway and Germany put muscle and money behind ambitious agreement


(09/24/2014) From the Andes to the Amazon, Peru houses some of the world's most spectacular forests. Proud and culturally-diverse indigenous tribes inhabit the interiors of the Peruvian Amazon, including some that have chosen little contact with the outside world. And even as scientists have identified tens-of-thousands of species that make their homes from the leaf litter to the canopy.


Leaders pledge to end deforestation by 2030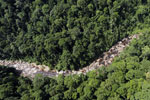 (09/24/2014) Dozens of companies, non-profit organizations, and governments pledged to work together to halve forest loss by 2020 and end it altogether by 2030. If implemented, the commitment could reduce annual carbon dioxide emissions by 4.5-8.8 billion tons annually, equivalent to removing a billion cars from the world's roads.


Cargill commits to zero deforestation across entire global supply chain: all commodities


(09/24/2014) Cargill, one of the world's largest agricultural companies, has extended its zero deforestation commitment for palm oil to all commodities it produces. The commitment, announced Tuesday at the United Nations Climate Summit in New York, is the most far-reaching zero deforestation policy ever established, covering Cargill's sprawling global empire of businesses, including palm oil, sugar, soy, cattle, and cocoa.


Plantation companies agree to process to define zero deforestation commitments

(09/17/2014) A group of palm oil and timber companies that have pledged to eliminate deforestation from their supply chains have agreed to establish a standard for determining what constitutes forest in terms of carbon storage.


Palm oil company continues to operate illegal plantation despite court ruling

(09/12/2014) A palm oil company in Central Kalimantan continues to operate business as usual, despite a Supreme Court ruling confirming it has no legal permit to do so. Since 2009, PT Hati Prima Agro (HPA), a subsidiary of palm oil giant Bumitama Gunajaya Agro Group (BGA), has cleared over 7,000 ha of land in Central Kalimantan, even though their permits were revoked by the Ministry of Forestry in 2008.


FSC passes motion for greater protection of primary forests

(09/12/2014) The Forest Stewardship Council (FSC) has passed a motion to increase protection of old-growth forests.


FSC meeting weighs old-growth forest protection, smallholder participation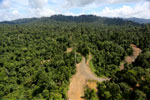 (09/11/2014) The Forest Stewardship Council (FSC), a body that sets social and environmental certification criteria for forestry products, is weighing measures that could step up protection for old-growth forests and make it easier for indigenous people and traditional forest communities to qualify for certification. The measures are set for a vote this week at the body's General Assembly, which is held every three years to establish and revise criteria that underpin the standard.


4 Ashaninka tribesmen killed by loggers in Peru

(09/08/2014) One of those killed was Edwin Chota, the leader of the Alto Tamaya-Saweto indigenous community who won fame for fighting illegal loggers. As such, Chota was a top target for assassination, according to a conservationist familiar with the situation.


APP can meet projected pulp demand without clearing more forest

(09/05/2014) Indonesian forestry giant Asia Pulp & Paper (APP) won't need to clear additional forests to meet pulp requirements for current and forecast mill expansion, finds an independent assessment conducted by The Forest Trust (TFT) and Ata Marie.


Indonesia to verify ownership of 66M ha of disputed forest land


(09/04/2014) The Indonesian government has declared it will verify ownership of 66.3 million hectares of disputed forest land by the end of the year. Through the development of a Recognition and Verification of Rights scheme (PPH), the Forestry Department will inventory and evaluate the status of all government land where indigenous people and other groups hold conflicting claims of ownership. Indonesia currently considers 122.2 million hectares of forested land—almost 64% of the country—to be state-owned. They hope to resolve all conflicting claims to the area by the end of 2015.


How do we save the world's vanishing old-growth forests?


(08/26/2014) There's nothing in the world like a primary forest, which has never been industrially logged or cleared by humans. They are often described as cathedral-like, due to pillar-like trees and carpet-like undergrowth. Yet, the world's primary forests—also known as old-growth forests—are falling every year, and policy-makers are not doing enough to stop it.


Indonesian govt reiterates plan to clear 14M ha of forest by 2020

(08/16/2014) The Indonesian government is pressing forward with plans to clear 14 million hectares of forest between 2010 and 2020 despite a commitment to curb greenhouse gas emissions.


China failing to take effective action against timber smugglers

(08/12/2014) Voluntary guidelines established by the Chinese government won't be enough to curb rampant timber smuggling by Chinese companies, putting 'responsible' actors at risk of having their reputations tarnished, argues a new campaign by the Environmental Investigation Agency (EIA).


Ecologists are underestimating the impacts of rainforest logging


(07/31/2014) Ecologists may be underestimating the impact of logging in old-growth tropical forests by failing to account for subtleties in how different animal groups respond to the intensity of timber extraction, argues a paper published today in the journal Current Biology. The study, led by Zuzana Burivalova of ETH Zurich, is based on a meta-analysis of 48 studies that evaluated the impact of selective logging on mammals, birds, amphibians, and invertebrates in tropical forests.


Forests as important as farming for some rural communities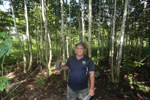 (07/14/2014) Forests have long been assumed to provide an important source of income for many of the world's poor. But determining exactly how forests contribute to rural economies – such as how much income is derived from forests, or how poverty relates to deforestation – has been difficult to pinpoint.


APP won't acquire companies that continue to destroy forests


(07/08/2014) Asia Pulp & Paper (APP) will not acquire companies that continue to destroy forests, according to a new procedure for association introduced by the Indonesian forestry giant. The procedure, developed after months of consultations with NGOs, effectively closes a loophole some environmentalists feared would allow APP to sidestep its zero deforestation commitment by acquiring companies that continued to clear forest after its February 5, 2013 deadline.


APP: Indonesia needs a new business model


(07/04/2014) In response to news that Indonesia has now surpassed Brazil as the world's top deforester, the head of sustainability at one of Indonesia's biggest forestry companies is calling for a new business model in how the Southeast Asian nation manages its forest. In a letter published Friday, Aida Greenbury, Asia Pulp & Paper's Managing Director Sustainability, said Indonesia needs to take a more comprehensive approach to tackling deforestation.


Do Indonesians really want more big plantations?

(07/04/2014) How to best use Indonesia's land resources? This is one of the more crucial questions facing the Presidential candidates in Indonesia's upcoming elections.


Next big idea in forest conservation? The 'double-edged sword' of democracy


(07/03/2014) Dr. Douglas Sheil considers himself an ecologist, but his research includes both conservation and management of tropical forests. Currently teaching at the Norwegian University of Life Sciences (NMBU) Sheil has authored and co-authored over 200 publications including scholarly articles, books, and popular articles on the subject.


Despite moratorium, Indonesia now has world's highest deforestation rate


(06/29/2014) Despite a high-level pledge to combat deforestation and a nationwide moratorium on new logging and plantation concessions, deforestation has continued to rise in Indonesia, according to a new study published in Nature Climate Change. Annual forest loss in the southeast Asian nation is now the highest in the world, exceeding even Brazil.


Indonesian logger: cleared peat forest doesn't have high conservation value

(06/17/2014) An Indonesian logging company says that clearing of peat forest on an island off Sumatra is 'in line with its Sustainable Forest Management Policy' because the area wasn't found to be of high conservation value. In a letter responding to concerns raised by environmental groups, Asia Pacific Resources International Holdings Limited (APRIL) said its forest policy applies to all its concessions, including the Pulau Padang concession where Greenpeace documented deep peat clearance last month.


Environmentalists launch push to make paper less damaging for the planet

(06/17/2014) An alliance of more than 120 environmental and human rights organizations today announced a global push to transform the paper industry.


Protecting rainforests could sequester equivalent of a third of global emissions annually


(06/13/2014) liminating deforestation, peatlands and forest degradation, and forest fires in the tropics could reduce global carbon emissions by two billion tons a year, or nearly a fifth, argues a new study published in Global Change Biology. The research analyzed various emissions sources and sinks across the tropics. They found that carbon emissions from activities that damage and destroy forests are nearly counterbalanced by forest regrowth, reforestation, and afforestation.


Extractive industries and apes


(06/13/2014) Current thinking in the private and public sectors asserts that economic development needs are in conflict with, or mutually exclusive of, the need to conserve the biosphere on which we depend. So, we are asked either to reduce development in the name of conservation or to reduce conservation in the name of development.


Despite green pledge, Wilmar partner continues to destroy forest for palm oil


(06/12/2014) Two palm oil companies partially owned by Wilmar are continuing to destroy rainforests in Indonesia despite a high profile zero deforestation pledge, alleges a new report published by Greenomics.


APRIL's forest policy failing to stop rainforest destruction, say green groups

(06/06/2014) Asia Pacific Resources International Holdings Limited's forest policy allows the Singapore-based pulp and paper giant to continue destroying rainforests and peatlands for industrial plantations, argues a letter published by an international coalition of environmental groups.


In cutting deforestation, Brazil leads world in reducing emissions


(06/05/2014) Brazil's success in reducing deforestation in the world's largest rainforest has been much heralded, but progress may stall unless farmers, ranchers and other land users in the region are provided incentives to further improve the environmental sustainability of their operations, argues a study published this week in the journal Science.


Singapore intercepts massive illegal shipment of Madagascar rosewood


(06/03/2014) Authorities in Singapore have made the largest-ever international seizure of rosewood logs, providing further evidence that industrial-scale smuggling of Madagascar's rainforest timber continues despite an official ban on the trade. Details of the seizure remain sparse since the investigation is still active, but leaked correspondence between officials in Madagascar indicates that the shipment amounts to 3,000 tons, or more than 29,000 illicit rosewood logs.


Logger continues to destroy Indonesian rainforest despite green promises (Photos)


(06/03/2014) Indonesian logging giant Asia Pacific Resources International Limited (APRIL) is continuing to destroy endangered rainforests on Sumatra despite a high profile commitment to clean up its operations, reveal aerial photos captured by Greenpeace last month.


Logging, fires take a hidden toll on Amazon rainforest


(05/28/2014) Selective logging and small sub-canopy fires are degrading vast areas of rainforest across the Brazilian Amazon, contributing to largely hidden carbon emissions, argues a study published today in Global Change Biology. The research found stark differences in carbon storage between primary forests, selectively logged forests, logged and burned forests, and regrowing or secondary forests.


Indonesia's haze from forest fires kills 110,000 people per year


(05/28/2014) Haze caused by burning peat forests in Indonesia kills an average of 110,000 people per year and up to 300,000 during el Niño events, while releasing hundreds of millions of tons of greenhouse gases into the atmosphere, warns a new report from Greenpeace. Sumatra: Going up in smoke argues that peatland and forest protection are the best way to protect the region from the effects of haze.


Indonesian activist: strong company commitments, media push government on forest issues


(05/23/2014) Indonesia has become notorious for its high rate of forest loss, but there are nascent signs of progress. The central government has implemented a moratorium across some 14.5 million hectares of forest and peatlands, while a handful of Indonesian companies have adopted policies that establish social and environmental safeguards.


Publishing industry dramatically reduces reliance on rainforest fiber


(05/17/2014) The world's largest publishing companies have adopted policies that significantly curtail use of paper sourced from rainforest destruction and social conflict, finds a new assessment published by the Rainforest Action Network (RAN). The report looks at sourcing policies for the ten biggest publishing houses and compares them with the state of the industry in 2010.


Special Report: Lake Toba indigenous people fight for their frankincense forest


(05/08/2014) It was a cool and foggy day in Dolok Ginjang forest, but that did not stop villagers of Pandumaan and Sipituhuta in North Sumatra from heading to work to extract frankincense from the trunks of its tall trees. Frankincense, an aromatic tree resin used in perfumes and incense, is the primary source of income for local people in the area. However, that routine has been disrupted for the past few years as land conflict has erupted between villagers and wood pulp producer PT Toba Pulp Lestari over the forest area.


Almost 90 percent of Republic of the Congo's lowland forests open to logging


(05/06/2014) Although the Republic of the Congo has opened up nearly 90 percent of its lowland forests to logging, the majority of the logging occurring in the country is still illegal, according to a new report from the Chatham House. In fact the UK policy institute finds that illegal logging in the Republic of the Congo may make up as much as 70-75 percent of the industry.


Speculators attempt to defraud people's forest program in Indonesia

(05/02/2014) An initiative that aims to recognize and incentivize traditional community management of forests in Indonesia has been plagued with attempts to 'hijack' the program, reports the Jakarta Post.


Johnson & Johnson commits to zero deforestation for palm oil


(05/01/2014) Personal care products giant Johnson & Johnson (J&J - NYSE:JNJ) today unveiled a comprehensive palm oil sourcing policy that eliminates deforestation and social conflict from its global palm oil supply chain. The policy applies to all palm oil and palm oil derivatives J&J uses.


Commodity eco-certification skyrockets, but standards slip

(05/01/2014) The volume of commodities produced under various social and environmental certification standards jumped 41 percent in 2012, far outpacing the 2 percent growth across conventional commodity markets, finds a comprehensive new assessment of the global certification market.


Clothing brand Stella McCartney pledges to use deforestation-free fabrics

(04/30/2014) Luxury fashion brand Stella McCartney has pledged to eliminate fabrics sourced via destruction of old-growth and endangered forests from its supply chain by April 2017.


Indonesian activist wins Goldman Prize for fighting palm oil, deforestation


(04/28/2014) An Indonesian has won the world's most prestigious award for environmental activism for his efforts to fight illegal logging, forest encroachment for palm oil production, and a policy that would open up vast swathes of an endangered ecosystem for mining and industrial plantations.


APP commits to conserve, restore 1M ha of Indonesian forest; WWF pledges support


(04/28/2014) Asia Pulp & Paper (APP), Indonesia's largest pulp and paper company and a long-time target of environmental campaigners, has committed to protect and restore a million hectares of forest across Indonesia. The pledge, which represents an area equivalent to the total plantation area from which it sourced pulp in 2013, was immediately welcomed by WWF, which until today has remained one of APP's staunchest critics.


APRIL continued destroying high conservation rainforest up until January pledge


(04/21/2014) Plantation giant Asia Pacific Resources International Limited (APRIL) continued to source fiber produced by destruction of high conservation value forests in Sumatra right up until it committed to a new forest conservation policy, according to an investigation by Eyes of the Forest, a coalition of environmental groups in Riau.


Legal logging concessions drive illegal logging in Peru, threatening forests and indigenous people


(04/17/2014) Nearly 70 percent of officially inspected logging concessions in Peru have had their permits canceled or are under investigation for major breaches of forestry laws, finds a new study published in the journal Scientific Reports. Worryingly, the research also concludes that forestry permits are being widely used to launder timber illegally logged from outside concession areas.


Malaysia at risk of falling behind in push for more sustainable palm oil


(04/17/2014) The Malaysian state should play a more active role in supporting the transition toward less environmentally destructive palm oil production, says a coalition of Malaysian NGO's. In a statement issued Sunday, the Malaysian Palm Oil NGO Coalition (MPONGOC) urged Malaysian banks, palm oil associations, and other government-backed institutions to commit to 'improving social and environmental standards in the palm oil industry'.


Forests in Indonesia's concession areas being rapidly destroyed


(04/10/2014) Forest clearing within areas zoned for timber, logging, oil palm, and mining accounted for nearly 45 percent of deforestation in Indonesia between 2000 and 2010, finds a new study that examined forest loss within industrial concessions.


Emissions from rainforest logging average 16% of those from deforestation


(04/08/2014) Carbon emissions from selective logging operations in tropical rainforests are roughly a sixth of those from outright forest clearing, finds a new study that evaluated 13 forestry concessions in six countries. The study analyzed carbon losses from elements of logging operations, including timber extraction, collateral damage to surrounding vegetation, and logging infrastructure like roads and skid trails.


Indonesian 'legal' timber scheme could be greenwashing illegal products, NGOs warn


(04/07/2014) Flaws in the country's system to verify legal wood products could have implications for trade with Europe, as new research suggests even certified companies in Indonesia may not be meeting EU standards. Indonesian civil society groups have called on their government to reform its legal timber certification system, pointing to widespread illegal practices among certified companies and an auditing system that is 'almost impossible' for companies to fail.


Is deforestation-free clothing possible?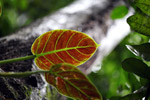 (04/02/2014) H&M and Zara/Inditex, two of the world's largest clothing companies, today pledged to eliminate old-growth forest destruction from their products. The commitment lends support to a new front on efforts to cut deforestation out of the supply chains of global brands. Until now, most of the focus of campaigners has been on pulp and paper, timber, and agricultural commodities like soy, palm oil, and cattle.


Schwarzenegger targeted by environmentalists for investments in forest-destroying companies


(03/31/2014) Former movie star and politician Arnold Schwarzenegger is facing criticism after Global Witness produced evidence that his investment company is profiting off rainforest destruction in Southeast Asia. The findings are significant because Schwarzenegger championed rainforest conservation while serving as governor of California.


Indigenous communities demand forest rights, blame land grabs for failure to curb deforestation


(03/25/2014) Indigenous and forest-dependent peoples from Asia, Africa and Latin America have called for increased recognition of customary land rights in order to curb deforestation and ensure the survival of their communities. The Palangkaraya Declaration on Deforestation and the Rights of Forest Peoples calls on governments to uphold forest peoples' rights to control and manage their customary lands and to halt rights-violating development projects being carried out without consent from local communities.


General Mills, Colgate-Palmolive announce deforestation-free policies for palm oil sourcing


(03/24/2014) Two consumer products giants have joined the wave of companies committing to deforestation-free palm oil. On Monday General Mills and Colgate-Palmolive both announced palm oil policies that go beyond standards set by the Roundtable on Sustainable Palm Oil (RSPO), the industry's main certification body. The policies include provisions to protect wildlife-rich rainforests and carbon-dense peatlands, while respecting the rights of local communities.


Photos: Forests, peatlands, plantations, and deforestation in Riau


(03/19/2014) Indonesia's Riau Province on the island of Sumatra has experienced rapid deforestation since the early 1990's, with primary forest cover plummeting by 85 percent in twenty years. Most of this forest loss has been driven by plantation development for timber, woodpulp, and palm oil production.


APP pledges to restore forests, if given the opportunity


(03/18/2014) Over the past 20 years, Sumatra's lowland rainforests have been destroyed at a virtually unmatched rate and scale. Since 1990, the island's primary forests shrank by 40 percent while its overall forest cover declined by 36 percent, mostly the result of logging, agricultural expansion, and conversion for oil palm and timber plantations. What little forest does survive is often degraded — today less than 8 percent of Sumatra retains primary forest.


Will zero deforestation commitments save Indonesia's forests?


(03/17/2014) Skirting the Malacca Strait near the Indonesian city of Dumai the air is thick with haze from peat fires burning below. As the sky clears, a landscape of sharply-cut geometric shapes becomes apparent. What was once carbon-dense peat forests and rainforests are today massive oil palm and wood pulp plantations.


Sumatra on fire: burning spikes in Indonesia

(03/13/2014) Fires in Sumatra's Riau province have spiked to levels unseen since last June, finds new analysis from the World Resources Institute (WRI) that reveals widespread burning within concessions managed by pulpwood, palm oil, and logging companies.


Indonesia politician gets 14 years in jail for illegal permits, forest corruption


(03/13/2014) The former governor of Indonesia's Riau province has been sentenced to 14 years in prison and ordered to pay almost $90,000 in fines for illegally issuing logging permits in Riau and bribes linked to construction projects for sports facilities. On Wednesday, the anti-corruption court in Pekanbaru found former Riau Governor Rusli Zainal guilty of embezzlement relating to the illegal issuance of logging permits in the central Sumatran province, which has seen huge areas of forest lost to palm oil and pulp and paper companies in recent years.


New web tool aims to help indigenous groups protect forests and navigate REDD+

(03/12/2014) A new online tool, dubbed ForestDefender, aims to help indigenous people understand and implement their rights in regard to forests. The database, developed by the Center for International Environmental Law (CIEL), brings together vast amounts of legal information—both national and international—on over 50 countries.


Scientists blast Australian leader's proposed ban on parks


(03/05/2014) A group of prominent scientists have blasted Australian Prime Minister Tony Abbott's pledge to oppose the creation of any new protected areas in Australia. The Alliance of Leading Environmental Researchers and Thinkers or ALERT, a coalition of conservation scientists, said Abbott is sending the wrong message to the world in promoting industrial logging over protection of the country's native forests.


Illegal logging surges in Mozambique

(02/25/2014) Illegal logging has spiked over the past five years in Mozambique, finds a new report by researchers at the University of Eduardo Mondlane.


Borneo monkeys lose a tenth of their habitat in a decade

(02/25/2014) Four species of langurs monkeys that are endemic to Borneo lost more than a tenth of their habitat in just ten years, finds a study published in the journal Biodiversity and Conservation.


New forest map for Sarawak reveals large-scale deforestation, encroachment on indigenous territories


(02/24/2014) A new online platform released by the Bruno Manser Fund reveals large-scale destruction of Sarawak's rainforests, peatlands, and traditional lands. Drawing from a variety of sources, the Sarawak Geoportal includes data on logging concessions, oil palm plantations, existing and proposed dams, historical forest cover, the extent of indigenous cultivated areas, election results, and area where there are current native customary rights (NCR) disputes.


Indonesian cop caught smuggling rare timber worth millions escapes with 2-year sentence


(02/21/2014) Green activists are crying foul after an Indonesian police officer believed to have laundered nearly $128 million in proceeds from illegal fuel and timber smuggling was sentenced to just two years in prison for illegal logging – a verdict described as 'shockingly lenient' and 'unbelievable' given the extent of his alleged crimes


Revolutionary Google-backed system unlocks power of 'big data' to save forests


(02/20/2014) World Resources Institute (WRI) today announced the release of a tool that promises to revolutionize forest monitoring. The platform, called Global Forest Watch and developed over several years with more than 40 partners, draws from a rich array of big data related to the word's forests and translates it into interactive maps and charts that reveal trends in deforestation, forest recovery, and industrial forestry expansion. Global Forest Watch is the first tool to monitors global forests on a monthly basis, allowing authorities and conservationists to potentially take action against deforestation as it is occurring.


APP, environmentalists talk future of Indonesia's forests


(02/20/2014) In February 2013, one of the world's most notorious forestry companies announced it would no longer chop down rainforests and peatlands to produce pulp and paper. The move was met with considerable skepticism by critics who had seen the company break previous high profile commitments to end deforestation. Why would this time be any different?


Reduced impact logging failing to cut emissions in Indonesia


(02/10/2014) Advocates for reduced impact logging in tropical forests often make a case that better forest management cuts carbon emissions relative to traditional forms of timber harvesting. While the argument for altering logging approaches to limit forest damage makes intuitive sense, a new study suggests that the carbon benefits may not bear out in practice.


Australia proposes removing old-growth forests from World Heritage Site

(02/03/2014) Last year, after decades of fighting, environmentalists and the forestry industry reached a landmark agreement that added 170,000 hectares of old-growth forest in Tasmania as a part of a World Heritage Site. But less than a year later and that so-called peace agreement is in danger of unraveling. The new Australian government, under Prime Minister Tony Abbott, is going ahead with removing 74,000 hectares (43 percent) from the World Heritage site.


APRIL's green pledge falls short, say environmentalists

(01/31/2014) Asia Pacific Resources International Holdings Ltd (APRIL), Indonesia's second-largest pulp and paper producer, has announced a new environmental policy that aims to stem criticism about its forestry practices, which include large-scale conversion of rainforests and peatlands in Sumatra. But environmentalists say the pledge falls far short of the commitment made by APRIL's biggest competitor, Asia Pulp & Paper (APP), last year.


Cambodian communities best placed to prevent illegal logging


(01/22/2014) A study on deforestation in Cambodia has found that forests are better protected when local communities are given the responsibility to manage them locally. Cambodia has one of the highest rates of deforestation in the world, losing 1.2 per cent each year from 2005-2010. The loss of forests due to illegal logging, commercial agriculture, and other factors can have a devastating impact on local communities, as well as contributing to global climate change. In a country beset by corruption and ineffectual state forest management, alternative models of forest protection are clearly needed.


WALHI Jambi: Forestry giant allegedly evaded $15m in taxes


(01/16/2014) Sinar Mas Group allegedly defrauded the Indonesian government of $15 million by avoiding reforestation taxes on 2,000 hectares in Jambi province. The land is reportedly managed by subsidiaries of Sinar Mas Group which do not have the proper concession permits. The discovery came after analysis of public reports and an audit conducted last year by BPK (The Audit Board of the Republic of Indonesia), as reported by the non-profit Indonesian Forum for the Environment (WALHI), an Indonesian affiliate of Friends of the Earth.


In precedent-setting case, palm oil company fined $30M for destroying orangutan forest


(01/09/2014) In a precedent-setting case, an Indonesian court has found a palm oil company guilty of violating environmental laws and ordered it to pay $30 million in fines and reparations for clearing an area of protected peat forest that is a stronghold for endangered orangutans in Indonesia's Aceh Province. In a ruling handed down Wednesday, the Meulaboh district court concluded that PT Kallista Alam illegally cleared and burned forest within the the protected Tripa peat swamp in northwestern Sumatra.


Company accused of logging endangered rainforest trees in breach of timber legality certificate


(01/07/2014) An Indonesian wood supplier that was recently certified under the country's legal timber verification scheme has been clearing natural forests – including stands of endangered ramin trees – and draining peat swamps on its concession, alleges a local environmental watchdog. The company, the group says, is also implicated in corruption linked to its concession permit. The organization is calling for the company's legal timber certification to be revoked and urging auditors not to issue legality certificates to companies involved in corruption.


Rainforest news review for 2013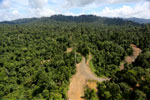 (12/26/2013) 2013 was full of major developments in efforts to understand and protect the world's tropical rainforests. The following is a review of some of the major tropical forest-related news stories for the year. As a review, this post will not cover everything that transpired during 2013 in the world of tropical forests. Please feel free to highlight anything this post missed via the comments section at the bottom. Also please note that this review focuses only on tropical forests.


Ongoing deforestation reported in Borneo concession held by APP supplier


(12/18/2013) Up to 1,400 hectares of forest have been cleared in a concession belonging to an Asia Pulp & Paper (APP) supplier in Borneo, potentially putting the company in breach of the forestry giant's zero deforestation commitment, reports a coalition of local NGO's. In a report released Tuesday, Relawan Pemantau Hutan Kalimantan (RPHK), a coalition of NGO's in part supported by WWF-Indonesia, said that blocks of natural forest have been cleared in a concession belonging to PT Daya Tani Kalbar (DTK), an APP supplier. The clearing has taken place since APP's moratorium went into effect February 1, 2013.


Logging kingpin linked to kidnapping, violent assault seeks legitimacy via IPO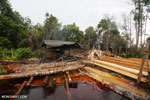 (12/11/2013) A businessman whose company kidnapped and violently assaulted environmentalists investigating illegal logging in a national park is set to earn millions of dollars from Thursday's initial public offering of Sawit Sumbermas Sarana, a palm oil company with holdings in Indonesian Borneo. Environmentalists are warning responsible investors to steer clear of the IPO.


Indonesia urged to implement decision recognizing indigenous rights to land


(12/10/2013) Indigenous rights groups are circulating a petition asking the Indonesian government to immediately implement a court ruling that would take management of million of hectares of customary forest out of the hands of the Ministry of Forestry and turn it over to traditional communities. The petition was posted on Change.org by Indigenous Peoples Alliance of the Archipelago (AMAN).


Hedge fund downgrades stock over company's links to illegal logging in Russian Far East


(12/02/2013) A hedge fund manager has downgraded Lumber Liquidators' stock over the company's alleged links to illegal logging in the Russian Far East, reports The Wall Street Journal. Speaking at the Robin Hood Investors Conference on November 22, Whitney Tilson, the founder of Kase Capital Management, said Lumber Liquidators' stock price may be inflated due to purchases of illegally sourced timber from Russia.


Journalism prizes explore community forestry, commodity supply chains, China's seafood consumption


(12/01/2013) Mongabay.org announces three new $20,000 environmental reporting prizes under its Special Reporting Initiatives program. Three new environmental journalism prizes will enable journalists to do in-depth reporting on three important environmental topics: the role of community forest management in addressing climate change, cleaning up commodity supply chains, and the market for more sustainable seafood in China. The prizes come under Mongabay.org's Special Reporting Initiatives(SRI), a program that provides funding for environmental reporting. Mongabay.org will commit up to $20,000 to fund the top proposal.


Zero net deforestation is the wrong target, warn experts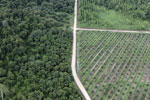 (11/14/2013) Environmental initiatives that target zero net deforestation may miss their mark when it comes to slowing climate change and protecting biodiversity, warns a commentary published in this week's issue of the journal Science. While zero net deforestation may seem like a worthy target in efforts to curb forest loss, Sandra Brown and Daniel Zarin argue that the goal is at best, ambiguous, and at worst, may lead to perverse outcomes for the world's forests.


REDD+ carbon market stabilizes, but risk of supply glut looms


(11/13/2013) The market for carbon credits generated under projects that reduce emissions from deforestation and forest degradation (REDD) showed signs of stabilizing in 2012 after a sharp drop in 2011, finds Forest Trends' new assessment of the global forest carbon market. The report shows that offsets representing 8.6 million metric tons of carbon dioxide were transacted in 2012, a 16 percent increase over 2011. But the average value of each credit dipped 8 percent from $8.50 to $7.80. Nonetheless the activity suggests the market of REDD+ credits may have stabilized after the volume fell 62 percent between 2010 and 2011.


3.5 million ha of Indonesian and Malaysian forest converted for palm oil in 20 years


(11/12/2013) Some 3.5 million hectares (8.7 million acres) of forest in Indonesia, Malaysia, and Papua New Guinea was converted for oil palm plantations between 1990 and 2010, finds a comprehensive set of assessments released by the Roundtable on Sustainable Palm Oil (RSPO). The research, conducted by an international team of scientists from a range of institutions, is presented in a series of seven academic papers that estimate change in land use and greenhouse gas emissions from oil palm expansion in the three countries, review the social and environmental impacts of palm oil production, forecast potential growth in the sector across the region, and detail methods for measuring emissions and carbon stocks of plantations establishing on peatlands.


World's most cryptic feline photographed in logging concession


(11/04/2013) The bay cat is arguably the world's least-known member of the cat family (Felidae). Although first described by scientists in 1874, no photo existed of a living specimen until 1998 and a wild cat in its rainforest habitat wasn't photographed until five years later. Given this, scientists with Zoological Society of London (ZSL) and Imperial College London were taken aback when their remote camera traps captured numerous photos of these elusive cats hanging out in a commercial logging concession in Sabah, a state in Malaysian Borneo.


Greenpeace: APP making 'encouraging' progress on zero deforestation commitment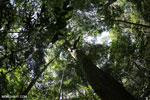 (10/29/2013) Asia Pulp & Paper (APP), an Indonesian forestry giant once notorious for destroying rainforests and peatlands, is making 'encouraging' progress in phasing forest destruction out of its supply chain, reports a new assessment from Greenpeace, which until recently was one of APP's fiercest critics. The review, released today, evaluates APP's progress on its Forest Conservation Policy, which commits the company to exclude fiber sourced from logging of natural forests and conversion of peatlands, and requires it to obtain Free, Prior Informed Consent from local communities in developing new plantations.


'Sustainable' tropical timber trade a misnomer, says group

(10/24/2013) The production and trade in 'sustainable' timber products in Southeast Asia is mostly 'a mirage' due to questionable forestry practices and loopholes in import regulations, alleges a new report from Friends of the Earth International.


Illegal logging remains rampant in Brazil

(10/23/2013) Illegal logging remains pervasive in the Brazilian state of Pará, finds an assessment released Monday by Imazon.


Norway blacklists 2 Malaysian logging companies for 'severe environmental damage' in Borneo

(10/14/2013) Norway's $760 billion pension fund has divested from two Malaysian forestry companies due to 'severe environmental damage'.


Pulp and paper giant gets $1.8B loan from China for Indonesia's largest mill

(10/11/2013) Asia Pulp & Paper (APP) secured a $1.8 billion loan from China Development Bank (CDB) to finance the development of what will be Indonesia's large pulp mill, according to a statement released by the company.


Indonesia, EU sign historic deal to end the illegal timber trade

(10/01/2013) Indonesia and the European Union signed a deal on Monday that aims to curb illegal logging by ending all trade in illegal wood products between Asia's largest exporter of timber to Europe and each of the EU's 28 member states.


Australia officially bans imports of illegally-logged timber

(10/01/2013) Australia has passed long-debated laws to prohibit the import and trade of illegally logged timber.


Malaysia clearcutting forest reserves for timber and palm oil


(09/26/2013) In July Bikam Permanent Forest Reserve in Malaysia's Perak state was degazetted, allowing the forest to be clearcut for an oil palm plantation. Only after the forest was lost, did the Forest Research Institute Malaysia (FRIM) announce that it had contained the last stands of keruing paya (Dipterocarpus coriaceus) on the Malay peninsula, a large hardwood tree that's classified as Critically Endangered on the IUCN Red List. The species is now reportedly extinct in Malaysia, although may still be found in Indonesia. However, the degazettement of the 400-hectare Bikam Forest Reserve wasn't an abnormality, according to activists. Since 2009, over 9,000 hectares of Permanent Forest Reserves have been degazetted in northwestern state, wiping out not just trees, but undercutting protected mammals and birds while threatening watersheds.


In transparency push, APP self-reports breach of its deforestation moratorium

(09/11/2013) In what may be an unprecedented move in the Indonesian forestry sector, Asia Pulp & Paper (APP) has announced two breaches of its moratorium on natural forest clearance. In a report published Wednesday, APP said an audit of its operations by The Forest Trust, the NGO charged with implementing the forestry giant's forest conservation policy, turned up two incidents of forest clearance that has taken place since the logging ban took effect in February 2013.


Japanese firms buying illegal timber from Malaysia's endangered rainforests


(09/10/2013) Japanese companies are failing to keep illegally logged timber from entering their supply chains, international human rights and environmental watchdog Global Witness said in a report released today. The report links several major Japanese firms to logging companies that are destroying tropical rainforests in Malaysian Borneo through illegal and destructive logging practices in Sarawak province.


Large-scale opposition among Borneo villagers to deforestation


(09/10/2013) Nearly two-thirds of villagers surveyed across rainforests in Indonesian and Malaysian Borneo are against large-scale deforestation due to the adverse impacts on livelihoods and the environment, finds a comprehensive new study across 185 communities. The research, conducted over a one-year period by an international team of scientists, is published in this week's issue of the journal PLOS ONE. The study found that people who live near forests place the greatest value on the benefits they afford, including medicinal plants, game, clean water, and fiber.


Palm oil now biggest cause of deforestation in Indonesia


(09/03/2013) Conversion of forests for palm oil production now appears to be the single largest driver of deforestation in Indonesia, accounting for roughly a quarter of forest loss between 2009 and 2011, asserts a new Greenpeace report that accuses the sector's main certification standard of failing to stop forest destruction. The report, titled Certifying Destruction, uses satellite imagery, government concession data, field investigations, and third party analysis to conclude that several recent and current members of the Roundtable on Sustainable Palm Oil (RSPO) — the industry's chief eco-certification body — are continuing to buy or trade palm oil produced via the conversion of rainforests and carbon-dense peatlands in the Southeast Asian nation.



Page 1 | Page 2 | Page 3 | Page 4 | Page 5 | Page 6 | Page 7 | Page 8 | Page 9 | Page 10 | Page 11