News articles on featured

---
Mongabay.com news articles on featured in blog format. Updated regularly.






Video: innovative tourism helps protect forests in Amazonian Peru
(02/05/2015) A new short documentary highlights the innovative, locally-grown tourist ventures sprouting up in the buffer zone around Peru's Tambopata National Reserve. Not only do these tourist adventures--some specializing in rehabilitating wildlife, others in finding out how locals live, and some even in jungle yoga--help provide jobs and income in a region dominated by extractive industries, but they are also help to keep forests standing.
The Amazon's oil boom: concessions cover a Chile-sized bloc of rainforest
(02/04/2015) Hungry for oil revenue, governments and fossil fuel companies are moving even further into one of the world's last great wildernesses, according to a new study in the journal Environmental Research Letters. The total area set aside for oil and gas in the Western Amazon has grown by 150,000 square kilometers since 2008, now totaling more than 730,000 square kilometers—an area the size of Chile.
Community tourism fills niche around Tambopata National Reserve
(01/29/2015) When Víctor Zambrano retired from the military and returned to his family's old homestead outside the fast-growing jungle town of Puerto Maldonado in Peru, he got an unpleasant surprise. Strangers had moved in and cleared the trees to raise cattle. As Zambrano tells it, he ran up the Peruvian flag, chased the invaders off, and set to work planting 19,000 native tree seedlings.
Accounting for natural capital on financial exchanges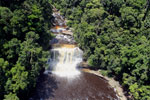 (01/26/2015) Last month, Norway's stock exchange, the Oslo Børs, introduced a way for investors to use their money to promote sustainability. A new list by the stock exchange highlights green bonds, financial products issued by companies to raise capital for environmentally friendly projects. Notably, the list requires that issuing companies obtain and publicize outside opinions on the projects' environmental features.
Indigenous territories play dual role as homelands and protected areas
(01/22/2015) Indigenous communities claim—and scientific evidence increasingly shows—that indigenous forested territories are as well protected as, or better protected than, government-designated parks. In areas under pressure from roads or development projects, deforestation rates are sometimes even lower in indigenous territories than in official protected areas.
Sundarbans still reeling from effects of December oil spill
(01/21/2015) Last month, an estimated 350,000 liters of fuel oil spilled into the Sundarbans delta on the Bay of Bengal. An oil tanker that had collided with a cargo vessel on December 9th sank into the Shela River, spilling its oil into a protected sanctuary for the rare and endangered Irrawaddy dolphins (Orcaella brevirostris) and the Ganges river dolphins (Platanista gangetica).
Environmental wisdom: keeping indigenous stories alive
(01/21/2015) Enchanted lakes and magic hills: how traditional stories support conservation and abundance. 'Long ago, when animals were gente...' Those words, uttered countless times by indigenous Amazonian storytellers, blur the boundary between humans and other creatures in the forests and rivers, revealing a different view of the way human and non-human worlds intertwine.
A model forest? Regional park balances local needs and conservation
(01/21/2015) Regional conservation area safeguards subsistence and spirituality in the Peruvian Amazon. For Alfredo Rojas, the history of the remote villages along the Ampiyacu River is one of enslavement. Growing up here, Rojas listened to his parents tell stories of the rubber barons who beat and killed the Indians who failed to meet their latex quota.
Company chops down rainforest to produce 'sustainable' chocolate
(01/20/2015) A cacao grower with roots in Southeast Asia's palm oil industry has set up shop in the Peruvian Amazon. The CEO of United Cacao has told the international press that he wants to change the industry for the better, but a cadre of scientists and conservation groups charge that United Cacao has quietly cut down more than 2,000 hectares of rainforest.
Scandal and intrigue overshadow environment at the Simandou mine in Guinea
(01/20/2015) Critically Endangered chimpanzees stand to lose their home over giant iron mine in West Africa. When I was a Peace Corps Volunteer in West Africa decades ago well-laid plans often crumbled to dust in the unpredictable confusion of life there. We just muttered with resignation, 'WAWA' – West Africa wins again. The Simandou iron ore mine in Guinea could be one of the biggest WAWAs the region has ever produced.
Ocean's 15: meet the species that have vanished forever from our seas
(01/15/2015) In the last 500 years, the oceans have suffered far fewer extinctions than on land—at least that we know of. According to a recent study in Science, 15 animals are known to have vanished forever from the oceans while terrestrial ecosystems have seen 514 extinctions. The researchers, however, warn that the number of marine extinctions could rise rapidly as the oceans are industrialized.
Empty seas? Scientists warn of an industrialized ocean
(01/15/2015) This is obvious, but still important: humans are not a marine species. Even as we have colonized most of our planet's terrestrial landscapes, we have not yet colonized the oceans. And for most of our history, we have impacted them only on the periphery. A new review in Science finds that this has saved marine species and ecosystems from large-scale damage—that is, until the last couple centuries.
No experience necessary: how studying tamarins led to an innovative research organization in the Amazon
(01/15/2015) While conducting doctoral research on tamarin reproductive biology in the Peruvian Amazon, Mrinalini Watsa realized she needed help in the field. Rather than hiring seasonal assistance she, along with Gideon Erkenswick, decided to create a life-changing non-profit organization, PrimatesPeru. The new NGO would allow students to conduct field research in one of the most biodiverse, yet threatened, places on Earth.
Did palm oil expansion play a role in the Ebola crisis?
(01/14/2015) The Ebola outbreak in West Africa may have been the result of complex economic and agricultural policies developed by authorities in Guinea and Liberia, according to a new commentary in Environment and Planning A. Looking at the economic activities around villages where Ebola first emerged, the investigators analyzed a shift in land-use activities in Guinea's forested region, particularly an increase in oil palm.
Casting for another job: will fishers take up a new livelihood?
(01/12/2015) Can alternative income programs save Fiji's reef fish? Many implicate the failure of Fiji's government to prioritize sustainable management over fisheries development projects, or suggest that Fijians' mindsets must dramatically shift first.
How black rhinos and local communities help each other in Namibia
(01/07/2015) Africa's rhinos are in a state of crisis. Poaching for their horn has resulted in the deaths of thousands of animals and pushed the continent's two species—the white and black rhino—against the wall. Yet, despite the crisis, there are pockets of rhino territory where poaching remains rare and rhinos live comparatively unmolested. Indeed, one of the brightest spots for rhinos is in Namibia.
Rainforests: 10 things to watch in 2015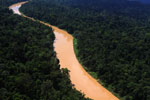 (01/02/2015) 2014 was a landmark year for tropical rainforests, with dozens of major companies committing to eliminating deforestation from their supply chains, the launch of new platforms for monitoring forests, and sharp drop in clearing in the Brazilian Amazon, among other big developments. Here's a quick look ahead at what might be in store for tropical forests in 2015.
2014: the year in rainforests
(12/30/2014) 2014 could be classified as 'The Year of the Zero Deforestation Commitment'. During 2014, nearly two dozen major companies, ranging from palm oil producers to fast food chains to toothpaste makers, established policies to exclude palm oil sourced at the expense of rainforests and peatlands.
Meet Biofaces: the Facebook for wildlife enthusiasts
(12/30/2014) Love wildlife? Wish you had a place online to share your photos, videos, and stories with other wild enthusiasts—kind of like a Facebook for wildlife lovers? Well, look no further than Biofaces, a new website meant to "make wildlife loving people happy," according to its creator, Leonardo Avelino Duarte.
Top 10 HAPPY environmental stories of 2014
(12/29/2014) In what was widely seen as a possible breakthrough in the battle to coordinate some kind of response to global warming, China and the U.S. announced joint actions this year. On November 12th, the world's two most powerful countries surprised pretty much everyone by announcing that they would work together to tackle the crisis.
Favorite nature and wildlife photos from 2014
(12/24/2014) During the course of my reporting in 2014, I had the opportunity to travel to several countries and take some pictures in the field. Below are some of my favorite images from the year. Most of these photos are from Sumatra (Indonesia), Sabah (Malaysia), and Queensland (Australia), although there are a few from the United States.
Top 10 Environmental Stories of 2014
(12/23/2014) In 2014, the unimaginable happened: companies representing the majority of palm oil production and trade agreed to stop cutting down rainforests and draining peatlands for new oil palm plantations. After years of intense campaigning by environmentalists and dire warnings from scientists, nearly two dozen major producers, traders, and buyers established zero deforestation policies.
Edited Reality: What I Learned from Filming Eaten Alive
(12/22/2014) On November 3, 2014, I woke up to check my flight status from Bangalore to New York. What I found when I opened my laptop was a mindboggling amount of emails, hate mail, death threats, and interview requests. The numbers were staggering. The night before, the Discovery Channel had aired the first trailers for the show they decided to call Eaten Alive.
Pictures: the top new animal discoveries of 2014
(12/20/2014) Seemingly every year scientists set a new record with the number of species they describe. 2014 will be no exception. Below are some of the 'new species' highlights from the past year. The list includes species whose descriptions were first published in 2014. Some of the 'discoveries' occurred in years prior.
Tropical deforestation could disrupt rainfall globally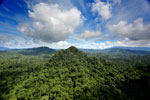 (12/18/2014) Large-scale deforestation in the tropics could drive significant and widespread shifts in rainfall distribution and temperatures, potentially affecting agriculture both locally and far from where forest loss is occurring, concludes a study published today in Nature Climate Change.
Children 'clean' oil spill with kitchen utensils in the Sundarbans
(12/15/2014) On December 9th, a tanker slammed into another vessel along the Shela River in the world's largest mangrove forest: the Sundarbans in Bangladesh. The tanker sank, spilling an estimated 75,000 gallons (350,000 liters) of fuel oil into waterways that are a part of a reserve for threatened Ganges river dolphins and Irrawaddy dolphins.
New film highlights local resistance to Nicaragua's canal
(12/11/2014) This fall, filmmakers Tom Miller and Nuin-Tara Key with Pretty Good Productions found themselves in Nicaragua where they heard about a stunning project: the Gran Canal. Approved last year, the canal is meant to compete with the Panama Canal to the south. Built by a Chinese company, it will cut through 278 kilometers, destroying forests and driving through the largest freshwater body in Central America.
To collect or not to collect? Experts debate the need for specimens
(12/10/2014) In 1912, a group of intrepid explorers led by Rollo and Ida Beck, widely acknowledged to be the foremost marine bird collectors of their time, embarked on a most remarkable effort to catalogue South America's oceanic birds. Museums of the day held opportunistically collected specimens from scattered sources, but rarely did these include ocean-bound birds that spent little time near the coast.
Indigenous leader murdered before he could attend Climate Summit
(12/08/2014) Days before José Isidro Tendetza Antún was supposed to travel to the UN Climate Summit in Lima to publicly file a complaint against a massive mining operation, he went missing. Now, the Guardian reports that the body of the Shuar indigenous leader has been found, bound and buried in an unmarked grave on the banks of the Zamora River.
Tradeoff: Sabah banks on palm oil to boost forest protection
(12/05/2014) Last month Sabah set aside an additional 203,000 hectares of protected forest reserves, boosting the Malaysian state's extent of protected areas to 21 percent of its land mass. But instead of accolades, Sabah forestry leaders were criticized for how they went about securing those reserves: allowing thousands of hectares of deforested land within an officially designated forestry area to be converted for oil palm plantations
One-two punch: farming, global warming destroying unique East African forests
(12/03/2014) Lush mountains speckle East Africa's grasslands and desert, from Mozambique to Ethiopia. These isolated habitats are home to a plethora of species, and are considered by scientists to be some of the most biodiverse regions in the world. However, their forests are being cut down for farmland and are threatened by global warming, putting at risk multitudes of species that have nowhere else to go.
New survey finds surprisingly large population of endangered owl
(12/03/2014) The Anjouan scops owl—an elusive owl found only on its tiny eponymous island—was once considered among the world's most endangered owls, and even the most threatened birds. However, the first in-depth survey of the owls on the island finds that, in fact, the population is far larger than initially estimated.
New calendar celebrates primates and raises money for their survival
(11/26/2014) Humans, or Homo sapiens sapiens, are really just upright apes with big brains. We may have traded actual jungles for gleaming concrete and steel ones, but we are still primates, merely one member of an order consisting of sixteen families. We may have removed ourselves from our wilder beginnings, but our extant relatives—the world's wonderful primates—serve as a gentle living reminder of those days.
Meet the world's rarest chameleon: Chapman's pygmy
(11/25/2014) In just two forest patches may dwell a tiny, little-known chameleon that researchers have dubbed the world's most endangered. Chapman's pygmy chameleon from Malawi hasn't been seen in 16 years. In that time, its habitat has been whittled down to an area about the size of just 100 American football fields.
Reeling in religious messages: how faith impacts fisheries in Fiji
(11/25/2014) Marrying religion and conservation could be key to making Fiji's fisheries sustainable. Fijians have strong religious beliefs, which were primarily introduced by Christian missionaries in the 1835, and today profoundly guide their daily lives. Fijians primarily depend on fisheries close to shore for their survival, which is the case for most small Pacific island countries.
Jane Goodall: 5 reasons to have hope for the planet
(11/19/2014) Jane Goodall is not only arguably the most famous conservationist who ever lived, but also the most well-known and respected female scientist on the planet today. Her path to reach that stature is an unlikely as it is inspiring. Told to 'never give up' by her mother, Goodall set out in her 20s to pursue her childhood dream: to live with animals in Africa. By the time she was 26 she doing just this.
A tale of 2 Perus: Climate Summit host, 57 murdered environmentalists
(11/18/2014) On September 1st, indigenous activist, Edwin Chota, and three other indigenous leaders were gunned down and their bodies thrown into rivers. Chota, an internationally-known leader of the Asháninka in Peru, had warned several times that his life was on the line for his vocal stance against the destruction of his peoples' forests, yet the Peruvian government did nothing to protect him—or others.
Using games to teach kids the value of nature and philanthropy
(11/18/2014) Kids are spending more time using tablets and smart phones for learning and entertainment. But hours spent gaming, Tweeting, and playing on Instagram and Facebook, may mean less engagement with nature, potentially making it more difficult for conservation organizations to inspire and influence the next generation of donors and decision makers. Given the state of the world's environment, that is a troubling thought.
A nature photographer's dream: staff photographer for the Wildlife Conservation Society
(11/17/2014) Julie Larsen Maher has what many wildlife photographers would consider a dream job: staff photographer for the Wildlife Conservation Society (WCS), a non-profit that runs five zoos and aquariums in New York City as well as numerous site-based field programs in the U.S. and overseas. As staff photographer, Maher helps tell the stories behind WCS's conservation work, which ranges from veterinary procedures with Bronx Zoo animals to working with local communities in remote parts of Zambia to protect wildlife.
Surprising reasons to be optimistic about saving forests
(11/14/2014) In the 1990s, the world watched with alarm as vast tracts of tropical rainforest were torn down for timber and croplands, dug up for minerals and energy, and flooded for hydroelectric projects. Conservation groups, governments, philanthropists, and institutions like the World Bank collectively spent billions of dollars on programs to stop the carnage. But as viewed from satellites high above Earth's surface, those efforts barely dented deforestation rates.
New tapir? Scientists dispute biological discovery of the century
(11/13/2014) Nearly a year ago, scientists announced an incredible discovery: a new tapir species from the western Amazon in Brazil and Colombia. The announcement was remarkable for a number of reasons: this was the biggest new land mammal discovered in more than 20 years and was only the fifth tapir known to the world. But within months other researchers expressed doubt over the veracity of the new species.
Prelude to Paris: China and U.S. surprise world with joint climate deal
(11/12/2014) In what will likely have major ramifications for a new climate agreement in Paris in 2015, China and the U.S. surprised everyone today by announcing a joint climate deal. At a press conference in Beijing, China President, Xi Jingping, and U.S. President, Barack Obama, outlined climate actions for both juggernauts up to 2030.
Local people are not the enemy: real conservation from the frontlines
(11/12/2014) Saving one of the world's most endangered primates means re-thinking conservation. When Noga Shanee and her colleagues first arrived in Northeastern Peru on a research trip to study the yellow-tailed woolly monkey (Oreonax flavicauda), she was shocked by what she observed.
'Guns kill trees too': overhunting raises extinction threat for trees
(11/12/2014) A new paper confirms what ecologists have long feared: hunting birds and mammals drastically raises the risk of extinction for tropical trees. Following the long-lifespan of a single canopy tree, Miliusa horsfieldii, researchers discovered that overhunting of animals could increase the chances of extinction for the species fourteen times over a century, from 0.5 percent to seven percent.
Chief Curiosity Correspondent tackles sexism, aids conservation
(11/11/2014) Have you ever been offered the job of your dreams without knowing you were being interviewed? Have you ever communicated with a 5-year-old about the wonders of Salmonella? Have you ever been disappointed not to have larvae hatching from your skin? If you answered yes to all three questions, then you are either Emily Graslie herself or you should subscribe to her YouTube channel. Immediately.
Peru has massive opportunity to avoid emissions from deforestation
(11/10/2014) Nearly a billion tons of carbon in Peru's rainforests is at risk from logging, infrastructure projects, and oil and gas extraction, yet opportunities remain to conserve massive amounts of forest in indigenous territories, parks, and unprotected areas, finds a study published this week in Proceedings of the National Academy of Sciences (PNAS).
Indigenous uprising earned tribe territories, but greatest challenges lie ahead
(11/06/2014) In 1925, Nele Kantule led a revolution that would make Guna Yala an independent and sovereign indigenous territory within Panama. Since then, the Guna have maintained a way of life that has allowed them to preserve their natural resources and mainland forest to an exceptional degree. But today, like many indigenous groups around the world, the Guna face some of their greatest challenges yet: the impacts of climate change, encroaching outside influences, and a younger generation that many elders feel is drifting from its roots.
Is the world moving backwards on protected areas?
(11/06/2014) Protected areas are undoubtedly the world's most important conservation success story. But, despite this, progress on protected areas is stalling and in some cases even falling behind. According to a sobering new paper, only 20-50 percent of the world's land and marine protected areas are meeting their goals, while the rest are hampered by lack of funding, poor management, and government ambivalence.




Page 1 | Page 2 | Page 3 | Page 4 | Page 5 | Page 6 | Page 7 | Page 8 | Page 9 | Page 10 | Page 11 | Page 12 | Page 13 | Page 14 | Page 15 | Page 16 | Page 17