News articles on eutrophication

---
Mongabay.com news articles on eutrophication in blog format. Updated regularly.








Does haze from burning forests affect marine life?
(03/10/2014) Two scientists are calling on researchers, NGOs, and governments to begin studying the impact of burning forests and peatlands in Indonesia on the already-threatened marine ecosystems of Southeast Asia. Every year, Indonesian farmers set forests, vegetation, and peatlands alight to clear them for agriculture, often palm oil, and pulp and paper plantations. Not only do these practices destroy hugely-diverse tropical forests, but the resulting haze spreads to many parts of Southeast Asia, threatening regional health and impacting economies. Now, a new paper argues that the sinister impacts of Indonesia's burning may extend as far as the oceans.
Measuring nutrient pollution in pristine waters: Puerto Rico's Vieques Island

(12/10/2012) Life in the ocean require nutrient, but too much of a good thing can be hugely detrimental. Nutrient pollution from agricultural and industrial runoff causes serious ecological harm in the world's marine waters, at times producing massive "dead zones" where much of the dissolved oxygen has been stripped making it difficult for most marine animals to live there. A new study by scientists with the U.S. National Oceanic and Atmospheric Administration (NOAA) attempts to establish a baseline of nutrient levels in the largely pristine waters around the island of Vieques off of Puerto Rico.
Australia's floods threaten Great Barrier Reef

(01/18/2011) The floods ransacking the Queensland coast have cost 20 lives and $500 million worth of property damage. Now, huge volumes of water are pouring into the ocean, threatening the Great Barrier Reef, which extends for thousands of kilometers off the coast. Although it may take years to know the full consequences of the flooding, Australian scientists are already warning of serious damage. For now, the biggest problems are concentrated on the southern part of the reef, where three overflowing rivers—the Burdekin, the Fitzroy, and the Burnett—have released millions of gallons of heavily polluted water into the sea. So far, prevailing winds have confined the majority of the floodwaters to within 65 kilometers of shore. But in time, the damage may grow to affect the entire reef system.
Growing Atlantic dead zone shrinks habitat for billfish and tuna, may lead to over-harvest

(12/29/2010) A dead zone off the coast of West Africa is reducing the amount of available habitat for Atlantic tuna and billfish species, reports the National Oceanic and Atmospheric Administration in a study published in Fisheries Oceanography. The zone is growing due to global warming and is expected to cause over-harvest of tuna and billfish as the fish seek higher levels of oxygen in areas with greater fisheries activity.
Coral reef survival depends on the super small, an interview with Forest Rohwer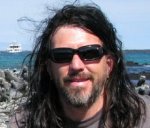 (08/30/2010) If you take a teaspoon and dip it into the ocean what will you have? Some drops of lifeless water? Only a few decades ago this is what scientists would have said, however, the development of increasingly powerful microscopes have shown us a world long unknown, which has vital importance for the survival of one of the world's most threatened and most treasured ecosystems: coral reefs. A single milliliter of water is now known to contain at least a million living microbes, i.e. organisms too small to see without a microscope. After discovering their super-abundant presence, researchers are now beginning to uncover how these incredibly tiny life-forms shape the fate of the world's coral reefs.
New NASA image reveals the oceans' dead zones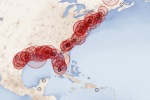 (07/22/2010) A new image by NASA reveals the extent of the world's marine dead zones, which a study in 2008 found were doubling every decade. At that time 415 dead zones had been identified worldwide. Dead zones are regions of the ocean where dissolved oxygen has fallen to such low levels that most marine species can no longer survive. Such conditions are often seasonal.
The long-ignored ocean emergency and what can be done to address it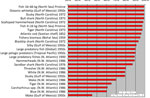 (08/18/2008) This year has been full of bad news regarding marine ecosystems: one-third of coral species threatened with extinction, dead-zones spread to 415 sites, half of U.S. reefs in fair or bad condition, increase in ocean acidification, tuna and shark populations collapsing, and only four percent of ocean considered pristine. Jeremy Jackson, director of the Scripps Center for Marine Biodiversity and Conservation at the University of California, San Diego, synthesizes such reports and others into a new paper, published in the journal Proceedings of the National Academy of Sciences, that boldly lays out the scope of the oceanic emergency and what urgently needs to be done.
Marine 'dead zones' double every decade

(08/14/2008) Dead zones have spread across the ocean at alarming rates. Currently 415 sites, usually along coastlines, have shown signs of seasonal to persistent hypoxia—a severe lack of oxygen. In a new essay in Science, researchers Robert Diaz and Rutger Rosenberg argue that marine dead zones have "become a major worldwide environmental problem". Marine dead zones now occupy a portion of the ocean equal to that of the United Kingdom and continue to grow, doubling every decade since the 1960s and showing no sign of abating.