News articles on ethanol

---
Mongabay.com news articles on ethanol in blog format. Updated regularly.





Brazil should convert pasture, not cerrado for biofuel crops

(06/25/2014) If Brazil wants to respect its commitment to reducing greenhouse gas emissions it should target low productivity cattle pasture rather than native cerrado for biofuel crops like sugar cane, argues a new paper published in Nature Climate Change.


Commodity eco-certification skyrockets, but standards slip

(05/01/2014) The volume of commodities produced under various social and environmental certification standards jumped 41 percent in 2012, far outpacing the 2 percent growth across conventional commodity markets, finds a comprehensive new assessment of the global certification market.


Brazil may lift ban on Amazon ethanol expansion

(06/09/2013) In coming weeks Brazil will vote on a bill that would lift a ban on sugar cane mills across a large extent of the Amazon region, sparking fears that ethanol production could drive new deforestation and tarnish the country's image as an attractive source biofuels for environmentally-conscious markets,


Sugarcane production impacting local climate in Brazil


(05/01/2013) Intensification of Brazil's sugarcane industry in response to rising demand for sugar-based ethanol could have impacts on the regional climate reports a new study by researchers from Arizona State University, Stanford University and the Carnegie Institution for Science. Following the conversion of cerrado grasslands into sugarcane in Brazil, a recent study in Geophysical Research Letters found local cooling that approached 1 degree Celsius during the growing season and maximum local warming near 1 degree Celsius post-harvest.


E.U. may eliminate subsidies for crop-based biofuels

(09/13/2012) The European Union may cap the use of crop-based biofuels over fears they can drive up food prices and aren't effective in reducing greenhouse gas emissions relative to conventional fuels, reports Reuters.


Emissions from palm oil biodiesel highest of major biofuels, says EU

(01/30/2012) Greenhouse gas emissions from palm oil-based biodiesel are the highest among major biofuels when the effects of deforestation and peatlands degradation are considered, according to calculations by the European Commission. The emissions estimates, which haven't been officially released, have important implications for the biofuels industry in Europe.


Palm oil does not meet U.S. renewable fuels standard, rules EPA

(01/27/2012) The U.S. Environmental Protection Agency (EPA) ruled on Friday that palm oil-based biofuels will not meet the renewable fuels standard due to carbon emissions associated with deforestation.


Expanding ethanol threatens last remnants of Atlantic Forest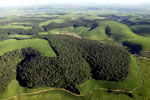 (09/26/2011) Aggressively expanding sugarcane ethanol is putting Brazil's nearly-vanished Atlantic Forest at risk, according to an opinion piece in mongabay.com's open-access journal Tropical Conservation Science. Already down to less than 12 percent of its original extent, the Atlantic Forest—home to over 7,000 species that survive no-where else—is facing a new peril from ethanol, used as an alternative to gasoline and often touted as 'green' or 'environmentally-sustainable'.


Record dead zone projected due to Midwest floods

(06/16/2011) Flooding in the Midwest is likely to cause the largest-ever dead zone in the Gulf of Mexico, reports the National Oceanic and Atmospheric Administration (NOAA).


Sugar cane cools climate when it replaces cattle pasture

(04/17/2011) Converting cattle pasture and cropland in Brazil to sugar cane helps cool local climate reports research published in Nature Climate Change.


Prairie grass-based biofuels could meet half current fuel demand without affecting forests, food

(01/26/2011) Biofuels could meet up to half the world's current fuel consumption without affecting food production or forests, argues a study published last month in the journal Environmental Science and Technology.


Attempt to reduce ethanol subsidies blocked by corn-belt senators

(12/21/2010) An attempt by Senator Dianne Feinstein (D-California) to drastically reduce subsidies for domestic ethanol production and cut the tariff on imported ethanol was ultimately unsuccessful, reports Reuters. The proposal would have cut the annual cost of subsidies by $5.3 billion.


UK failing to meet biofuel sustainability standard

(02/01/2010) Only 4 percent of biofuel imported for use in the UK meets the environmental sustainability standard set by the Renewable Transport Fuel Obligation (RFTO), reports a new assessment from the Renewable Fuels Agency.


US subsidies of oil and coal more than double the subsidies of renewable energy

(09/21/2009) During the fiscal years of 2002-2008 the United States handed out subsidies to fossil fuel industries to a tune of 72 billion dollars, while renewable energy subsidies, during the same period, reached 29 billion dollars.


Brazil may ban sugarcane plantations from the Amazon, Pantanal

(09/18/2009) Brazil will restrict sugarcane plantations for ethanol production from the Amazon, the Pantanal, and other ecologically-sensitive areas under a plan announced Thursday by President Luiz Inacio Lula da Silva's administration, reports the Associated Press.


Environmental disappointments under Obama

(08/24/2009) While the President has been bogged down for the last couple months in an increasingly histrionic health-care debate-which has devolved so far into ridiculousness that one doesn't know whether to laugh or cry-environmental decisions, mostly from the President's appointees have still been coming fast and furious. However, while the administration started out pouring sunshine on the environment (after years of obfuscated drudgery under the Bush administration), they soon began to move away from truly progressive decisions on the environment and into the recognizable territory of playing it safe-and sometimes even stupid.


Will hydrocarbon biofuels replace gasoline and ethanol?

(08/13/2009) In a Perspectives piece in Science, John R. Regalbuto argues that the world will soon see a revolution in biofuels, but not those made from corn. Instead Regalbuto, program director of Catalysis and Biocatalysis at the National Science Foundation, says that the future of biofuels is in substances that can be converted into hydrocarbons, such as switch grass, woody biomass, corn stover, and even algae.


Smart biofuels that don't hurt people or the environment are possible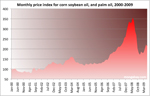 (07/16/2009) Sustainable biofuels can be a reality but only in combination with reductions in fuel demand and increased productivity on existing agricultural lands, argue researchers writing in the journal Science. Five years ago biofuels were seen as a panacea for the world's energy hunger and the need to address climate change, but increased production of biofuels soon contributed to a clutch of problems, including competition with food, resulting in rising prices, and large-scale conversion of rainforests and tropical grasslands for feedstocks, resulting in biodiversity loss and increased greenhouse gas emissions. Environmentalists and scientists condemned many biofuels — including ethanol produced from Midwestern corn ethanol and biodiesel generated from European rapeseed and Southeast Asian palm oil — as a short-sighted energy solution. Some biofuels were found to be even worse for the environment, and more costly, than conventional gasoline. However some researchers remain optimistic that smart biofuel production could help meet energy demand without hurting people or the planet. In a Science Policy Forum piece, David Tilman and colleagues explore some of these options, noting that biofuels can be produced in substantial quantities at low environmental cost


Bill Clinton speaks out for rainforests in Brazil

(06/03/2009) Former US president Bill Clinton spoke out against rainforest destruction on Monday in Brazil. Headlining the Ethanol Summit 2009 in Sao Paulo, Clinton spoke of the positive role ethanol could play in lowering carbon emissions, but not when at the expense of rainforest.


Bioelectricity bests ethanol on two fronts: land use and global warming



(05/07/2009) Yesterday the Obama Administration established a Biofuels Interagency Working Group to oversee implementation of new rules and research regarding biofuels. On the group's first day of work they would do well to look at a new study in Science Magazine comparing the efficacy of ethanol versus bioelectricity.


80% of agricultural expansion since 1980 came at expense of forests


(02/15/2009) More than half of cropland expansion between 1980 and 2000 occurred at the expense of natural forests, while another 30 percent of occurred in disturbed forests, reported a Stanford University researcher presenting Saturday at the annual meeting of the American Association for the Advancement of Science (AAAS) in Chicago.


Cellulosic ethanol healthier, better for the environment, than corn ethanol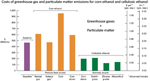 (02/03/2009) Ethanol produced from switchgrass, prairie biomass, and Miscanthus will reduce the environmental and health impacts of expanded biofuels production relative to using corn as a feedstock, report researchers writing in the journal Proceedings of the National Academy of Sciences.


Corn expansion is hurting ladybugs

(12/15/2008) Expansion of corn acreage to meet ethanol targets is reducing the ability of beneficial insects to control pests, a loss valued at $58 million in the four states studied (Michigan, Iowa, Minnesota and Wisconsin), report researchers writing in the journal Proceedings of the National Academy of Sciences.


Biodiversity of rainforests should not be compared with oil palm plantations says palm oil council chief

(11/11/2008) Scientists should compare the biodiversity oil palm plantations to other industrial monocultures, not the rainforests they replace, said Dr. Yusof Basiron, CEO of the Malaysian Palm Oil Council (MPOC), in a post on his blog. Basiron's comments are noteworthy because until now he has maintained that oil palm plantations are "planted forests" rather than an industrial crop.


First RSPO-certified ("eco-friendly") palm oil shipment to arrive in Europe

(11/10/2008) The first shipment of palm oil certified under the Roundtable on Sustainable Palm Oil (RSPO) is expected to arrive in Europe Tuesday, but an environmental group is already criticizing the initiative's credentials.


EU's sustainable biofuels push angers Malaysia, Brazil

(11/07/2008) Eight developing countries threatened to file a World Trade Organization complaint against the E.U. for its proposed legislation to require imported biofuels to meet environmental standards, reports Reuters.


Air travel may be powered by biofuels in 3-5 years

(10/27/2008) Boeing says biofuel-powered planes are only three-to-five years away from being a reality, reports The Guardian.


Cellulosic biofuels endanger old-growth forests in the southern U.S.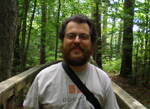 (10/16/2008) Cellulosic biofuel is on its way. This second generation biofuel — so-called because it does not involve food crops — has excited many researchers and policymakers who hope for a sustainable energy source that lowers carbon emissions. However, some believe that cellulosic biofuel may prove less-than-perfect. Just as agricultural biofuels have gone from being considered 'green' to an environmental disaster, some think the new rush to cellulosic biofuel will follow the same course. Scot Quaranda is one of those concerned about cellulosic biofuel's impact on the environment. Campaign director at Dogwood Alliance, which he describes as "the only organization in the Southern US holding corporations accountable for the impact of their industrial forestry practices on our forests and our communities", Quaranda condemns cellulosic biofuels as dangerous to forests "by its very definition".


U.S. needs environmental standards for biofuels

(10/02/2008) The U.S. lacks criteria to ensure that cellulosic ethanol production will not harm the environment, warn scientists writing in the journal Science. The researchers say that with proper safeguards, cellulosic ethanol can help the U.S. meet its energy needs sustainably.


11 species of monkeys discovered in West African biodiversity hotspot

(09/15/2008) Urgent conservation measures are needed to protect some of the world's most endangered primates from the hunting, logging, and oil palm development in a region that has only recently emerged from a period of civil strife, report researchers writing in the open-access journal Tropical Conservation Science.


Europe cuts biofuel targets to 4% in 2015, 6% in 2020

(09/12/2008) The E.U. voted to relax biofuels targets following widespread criticism of their social, economic, and environmental impacts. Thursday the European Parliament's Industry and Energy Committee said it would push a plan calling for a 5 percent share of renewables in transport fuel by 2015 and a 10 percent target by 2020, a reduction from the 20 percent target set forth in March 2007. The plan effectively cuts targets for biofuels produced from conventional feedstocks to four percent in 2015 and six percent in 2020.


Republicans backtrack, call for end to ethanol requirements in gas

(09/02/2008) Meeting at the Republican National Convention in St. Paul, Minnesota, Republicans Monday called for an end to a requirement that gasoline contain a set amount of ethanol, reports Reuters.


Biofuels 200 times more expensive than forest conservation for global warming mitigation

(08/27/2008) The British government should end subsidies for biofuels and instead use the funds to slow destruction of rainforests and tropical peatlands argues a new report issued by a U.K.-based think tank. The study, titled "The Root of the Matter" and published by Policy Exchange, says that "avoided deforestation" would be a more cost-effective way to address climate change, since land use change generates more emissions than the entire global transport sector and offers ancillary benefits including important ecosystem services.


Biofuel production in Brazil may not hurt Amazon, food supply

(08/21/2008) Biofuel production in Brazil will not affect food production or the Amazon rainforest in coming years, claimed a study released Tuesday by an economist in Sao Paulo.


Climate change to hurt Brazil's farm exports by 2020

(08/11/2008) Climate change could have a significant impact on thye value of Brazil's agricultural exports according to a study presented Monday at an agribusiness conference in Sao Paulo, reports the Financial Times.


Brazil may ban new sugar cane cultivation in the Pantanal

(08/06/2008) Brazil would restrict sugar cane cultivation in the world's largest tropical wetland under a proposed plan to protect the Pantanal, reports Reuters.


Future threats to the Amazon rainforest

(07/31/2008) Between June 2000 and June 2008, more than 150,000 square kilometers of rainforest were cleared in the Brazilian Amazon. While deforestation rates have slowed since 2004, forest loss is expected to continue for the foreseeable future. This is a look at past, current and potential future drivers of deforestation in the Brazilian Amazon.


Facing criticism, biofuels industry forms new lobby group to influence lawmakers

(07/25/2008) Under attack by politicians, aid groups, and environmentalists for driving up food prices and fueling destruction of ecologically sensitive habitats, some of the world's largest agroindustrial firms have formed a lobby group to influence consumers and lawmakers to support continued subsidies for biofuel production, reports Reuters.


Biofuels can reduce emissions, but not when grown in place of rainforests

(07/22/2008) Biofuels meant to help alleviate greenhouse gas emissions may be in fact contributing to climate change when grown on converted tropical forest lands, warns a comprehensive study published earlier this month in the journal Environmental Research Letters. Analyzing the carbon debt for biofuel crops grown in ecosystems around the world, Holly Gibbs and colleagues report that "while expansion of biofuels into productive tropical ecosystems will always lead to net carbon emissions for decades to centuries... [expansion] into degraded or already cultivated land will provide almost immediate carbon savings." The results suggest that under the right conditions, biofuels could be part of the effort to reduce humanity's carbon footprint.


Beyond high food prices, little to show for $11B/yr in biofuel support, says OECD report

(07/17/2008) Government support of biofuel production in rich countries is squandering vast amounts of amounts of money while exacerbating the global food crisis and failing to meaningfully curb greenhouse gas emissions and improve energy security, alleges a new report from the OECD, the club of industrialized nations.


Using farm waste for ethanol may hurt crop yields in some areas

(07/15/2008) Cellulosic ethanol proponents have pushed the idea of using farm waste as a way to boost biofuel production without impacting food crops, but such conversion may carry a hidden cost in areas with insufficient rainfall or lacking irrigation, warns a soil scientist from Washington State University.


Britain urges 'cautious approach' on biofuels

(07/07/2008) Britain and the E.U. should exercise caution in pushing for wider use of biofuels, warns a new study commissioned by the U.K. government.


Brazil fines 24 ethanol producers for illegal forest clearing

(07/01/2008) Brazil fined two dozen ethanol producers accused of illegal clearing the country's endangered Mata Atlântica or Atlantic rainforest, reports The Associated Press.


Clean energy gold rush in 2007

(07/01/2008) New investment in renewables and energy efficiency surpassed $148 billion in 2007, rising 60 percent rise from 2006, according to an analysis issued Tuesday July 1 by the UN Environment Programme (UNEP). High oil prices drove the trend.


Louisiana signs non-corn ethanol law to produce a better biofuel

(07/01/2008) Louisiana has signed into law legislation to develop an advanced biofuel industry that excludes corn as a feedstock, reports Biopact.


Brazil signs sustainable ethanol deal with Sweden

(06/27/2008) A group of Brazilian ethanol producers has signed the first deal to export certified sustainable ethanol, reports Reuters.


Kenya to convert 20,000 ha of key wetland for ethanol production

(06/25/2008) AThe Kenyan government will allow more than 20,000 ha (50,000) of ecologically-sensitive wetland to be converted into a sugar cane plantation for biofuel production, reports The Guardian. Environmentalists were "shocked" by the decision.


U.S. may allow corn farming on conservation land

(06/23/2008) The U.S. Department of Agriculture may allow farmers to plant corn on million of acres of conservation land to bolster the food supply in response to flooding in the Midwest and record high prices spurred by demand for domestic ethanol production, according to a report in the New York Times.


Biofuel production on abandoned lands could meet 8% of global energy needs

(06/23/2008) Using abandoned agricultural lands for biofuel production could help meet up to 8 percent of global energy needs without compromising food supplies or diminishing biologically-rich habitats, reports a new study published in the journal Environmental Science and Technology.


Nestle Chairman: Biofuels are "ethically indefensible"

(06/14/2008) The emergence and expansion of biofuels produced from food crops has exacerabted world's agriculture and water crisis and is a bigger short-term threat than global warming, argued Peter Brabeck-Letmathe in an editorial published Thursday in the Wall Street Journal Asia.


Biofuels expansion in Africa may impact rainforests, wetlands

(05/28/2008) Biofuel feedstock expansion in Africa will likely come at the expense of ecologically-sensitive lands, reports a new analysis presented by Wetlands International at the Convention of Biological Diversity in Bonn.


Next gen biofuels could decimate rainforests

(05/27/2008) Next generation biofuels could decimate tropical forests says a leading ecologist from the University of Minnesota.


Global ban on biofuels would lead to immediate decline in food prices

(05/16/2008) A global moratorium on biofuels produced from food crops would result in a significant decline in the price of corn, sugar, cassava and wheat by 2010, reports the International Food Policy Research Institute (IFPRI).


46% of Brazil's energy comes from renewable sources

(05/13/2008) Preliminary data from Brazil's energy ministry shows that bioenergy derived from sugar cane surpassed hydroelectric power as Brazil's secondary largest source of energy in 2007, reports Biopact.


Amazon soy ban seems to be effective in reducing explicit deforestation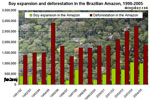 (04/03/2008) An industry-led ban on soy production in the Amazon appears to be proving effective at reducing new clearing for explicit soy production, according to a survey published Monday by Greenpeace and the Brazilian Vegetable Oils Industry Association. The moratorium, which was signed by some of the largest soy crushers in the Amazon in response to a campaign by environmental group Greenpeace, went into effect in October 2006. While soy is believed to be having an indirect impact on deforestation by driving up land prices and competing with the dominant form of land use in the Amazon — cattle ranching — the news is a hopeful sign for conservationists.


Cellulosic energy may trigger dramatic collapse in the Amazon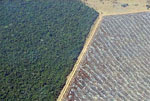 (03/11/2008) Next generation biofuels may trigger the ecological collapse of the Amazon frontier and could have profoundly unexpected economic consequences for the region, warns a paper published in Philosophical Transactions of the Royal Society B. Dr. Donald Sawyer writes that "interacting with climate change and land use, the upcoming stage of cellulosic energy could result in a collapse of the new frontier into vast degraded pasture." The shift could increase the incidence and severity of fires, reduce rainfall in key agricultural zones, exacerbate forest die-back and climate change, and worsen social instability. Sawyer says that while difficult to anticipate, the worst outcomes could likely be avoided be promoting "intensified and more sustainable use" of already cleared areas, minimizing new deforestation, and encouraging "sustainable use of natural resources by local communities."


Corn ethanol is worsening the Gulf dead zone

(03/10/2008) Proposed legislation that will expand corn-ethanol production in the United States will worsen the growing "dead zone" in the Gulf of Mexico and hurt marine fisheries, report researchers writing in the Proceedings of the National Academy of Sciences (PNAS).


Half the Amazon rainforest will be lost within 20 years



(02/27/2008) More than half the Amazon rainforest will be damaged or destroyed within 20 years if deforestation, forest fires, and climate trends continue apace, warns a study published in Philosophical Transactions of the Royal Society B. Reviewing recent trends in economic, ecological and climatic processes in Amazonia, Daniel Nepstad and colleagues forecast that 55 percent of Amazon forests will be "cleared, logged, damaged by drought, or burned" in the next 20 years. The damage will release 15-26 billion tons of carbon into the atmosphere, adding to a feedback cycle that will worsen both warming and forest degradation in the region. While the projections are bleak, the authors are hopeful that emerging trends could reduce the likelihood of a near-term die-back. These include the growing concern in commodity markets on the environmental performance of ranchers and farmers; greater investment in fire control mechanisms among owners of fire-sensitive investments; emergence of a carbon market for forest-based offsets; and the establishment of protected areas in regions where development is fast-expanding.


World fertilizer prices surge 200% in 2007, hurting the poor

(02/20/2008) World fertilizer prices surged by more than 200 percent in 2007, as farmers sought to maximize corn production for ethanol, according to the International Center for Soil Fertility and Agricultural Development (IFDC). Poor African farmers were hardest hit by the increase.


UN: biofuels are starving the poor by driving up food prices

(02/14/2008) Echoing sentiments increasingly expressed by politicians, scientists, and advocates for the poor, the U.N. Food and Agriculture Organization warned that the world's poorest people are suffering as a result of the push to use food crops for biofuel production.


Bloomberg: global warming "just as lethal" as terrorism

(02/12/2008) New York City mayor Michael Bloomberg told reporters Monday that global warming is as big a threat to humanity as terrorism, according to Reuters.


Biofuels are worsening global warming

(02/07/2008) Converting native ecosystems for production of biofuel feed stocks is worsening the greenhouse gas emissions they are intended to mitigate, reports a pair of studies published in the journal Science. The studies follow a series of reports that have linked ethanol and biodiesel production to increased carbon dioxide emissions, destruction of biodiverse forest and savanna habitats, and water and air pollution.


Sustainability mandated for biofuels used in the EU

(01/24/2008) Biofuels used in the European Union will have meet strict environmental requirements said the head of the E.U.'s energy program on Wednesday.


U.S. biofuels policy drives deforestation in Indonesia, the Amazon

(01/17/2008) U.S. incentives for biofuel production are promoting deforestation in southeast Asia and the Amazon by driving up crop prices and displacing energy feedstock production, say researchers.


Cellulosic ethanol production could fight Gulf Dead Zone, help fisheries

(01/16/2008) Feedstocks for cellulosic ethanol production could help fight the massive "dead zone" that forms each year in the Gulf of Mexico as a result of current farming practices, says a University of Alabama in Huntsville biologist.


E.U. may ban palm oil biodiesel

(01/15/2008) The E.U. may ban imports of certain biofuel feedstocks that damage the environment, reports The New York Times. Environmentalists say some biofuels like palm oil are driving the destruction of biologically-rich rainforests and may produce more emissions than conventional fossil fuels.


Indonesia seeks to cut fuel subsidies via biofuels

(01/15/2008) Biofuels will make up 10 percent of Indonesia's fuel transport consumption by 2010 under a plan announced Monday by a senior government official, according to Reuters. The initiative could ease the economic impact of fuel subsidies - currently some of the highest in the world - in Indonesia, while boosting demand for locally produced bioenergy crops including palm oil, jatropha, sugar cane and cassava.


Switchgrass a better biofuel source than corn

(01/07/2008) Switchgrass yields more than 540 percent more energy than the energy needed to produce and convert it to ethanol, making the grassy weed a far superior source for biofuels than corn ethanol, reports a study published in Proceedings of the National Academy of Sciences (PNAS).


Leading biofuels wreak environmental havoc

(01/03/2008) Biofuels made from world's dominant energy crops -- including corn, soy, and oil palm -- may have worse environment impacts than conventional fossil fuels, reports a study published in the journal Science.


U.S. corn subsidies drive Amazon destruction

(12/13/2007) U.S. corn subsidies for ethanol production are contributing to deforestation of the Amazon rainforest, reports a tropical forest scientist writing in this week's issue of the journal Science.


Termites may produce cleaner biofuels

(11/23/2007) Termites may be the key to greener, more effective biofuels, report scientists writing in the November 22 edition of the journal Nature.


Is the oil-palm industry using global warming to mislead the public?

(11/23/2007) Members of the Indonesian Palm Oil Commission are distributing materials that misrepresent the carbon balance of oil-palm plantations, according to accounts from people who have seen presentations by commission members. These officials are apparently arguing that oil-palm plantations store and sequester many times the amount of CO2 as natural forests, and therefore that converting forests for plantations is the best way to fight climate change. In making such claims, these Indonesian representatives evidently are ignoring data that show the opposite, putting the credibility of the oil-palm industry at risk, and undermining efforts to slow deforestation and rein in greenhouse gas emissions.


Oil palm does not store more carbon than forests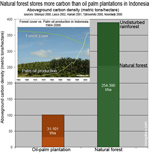 (11/08/2007) Officials from the Indonesian ministry of agriculture and the palm oil industry are distributing materials that misrepresent the carbon balance oil palm plantations, according to accounts from people who have seen presentations by members of the Indonesian Palm Oil Commission. Ministry of agricultural officials are apparently arguing that oil palm plantations store and sequester many times the amount of CO2 as natural forests and therefore converting forests for plantations is the best way to fight climate change. In making such claims, these Indonesian officials are ignoring data that show the opposite, putting the credibility of the oil palm industry at risk, and undermining efforts to slow deforestation and reign in greenhouse gas emissions.


Guidelines to ensure biofuels production won't hurt the environment

(08/30/2007) Environmentalists have long seen biofuels as a means to improve the sustainability of transportation and energy use since they are a renewable source of energy that can be replenished on an ongoing basis. Further, because biofuels are generally derived from plants, which absorb carbon from the atmosphere as they grow, biofuel production offers the potential to help offset carbon dioxide emissions and mitigate climate change. Nonetheless, in recent years, there has been considerable backlash against biofuels, which are increasingly viewed as a threat to the environment. Green groups now point to large-scale land conversion for energy crops, higher food prices, and a spate to studies that suggest net emissions from corn ethanol are little better than those from fossil fuels, to caution that biofuels can cause more problems than they address.


With Corn ethanol more costly than oil, is Jatropha a better biofuel?

(08/24/2007) Jatropha may be a more economic biofuel than corn-based ethanol, reported the The Wall Street Journal on Friday, citing research from Goldman Sachs.


Monkey mothers use "baby talk" too

(08/24/2007) Female rhesus monkeys use special vocalizations to communicate with infants much like human mothers use "baby talk" or "motherese" reports a new study by researchers at the University of Chicago.


Biofuels driving destruction of Brazilian cerrado

(08/21/2007) The cerrado, wooded grassland in Brazil that once covered an area half the size of Europe, is fast being transformed into croplands to meet rising demand for soybeans, sugarcane, and cattle. The cerrado is now disappearing more than twice as the rate as the neighboring Amazon rainforest, according to a Brazilian expert on the savanna ecosystem.


conservation more effective than biofuels for fighting global warming

(08/15/2007) Conserving forests and grasslands may be a more effective land-use strategy for fighting climate change than growing biofuel crops argues a new paper published in the journal Science. Comparing emissions from various fuel crops versus carbon storage in natural ecosystems, Renton Righelato and Dominick Spracklen write that "forestation of an equivalent area of land would sequester two to nine times more carbon over a 30-year period than the emissions avoided by the use of the biofuel."


Economics of next generation biofuels

(08/08/2007) 'Second generation' biorefineries -- those making biofuel from lignocellulosic feedstocks like straw, grasses and wood -- have long been touted as the successor to today's grain ethanol plants, but until now the technology has been considered too expensive to compete. However, recent increases in grain prices mean that production costs are now similar for grain ethanol and second generation biofuels, according to a paper published in the first edition of Biofuels, Bioproducts & Biorefining.


Corn ethanol is not the solution to energy independence

(07/18/2007) A new report claims that corn ethanol will not significantly offset U.S. fossil fuel consumption without "unacceptable" environmental and economic consequences.


US says Brazilian ethanol doesn't increase food prices, destroy Amazon rainforest

(07/13/2007) Brazil's surging ethanol production does not put the Amazon rainforest at risk and is not fueling higher food prices, claimed a U.S. energy official visiting Brazil.


Miscanthus bests switchgrass as biofuel source

(07/11/2007) In a side-by-side comparison, miscanthus (Miscanthus x giganteus) grass has been shown to be a more productive bioenergy source than switchgrass (Panicum virgatum), according to research presented at the annual meeting of the American Society of Plant Biologists in Chicago.


$100 billion invested in renewable energy in 2006

(06/20/2007) $100 billion poured into renewable energy and energy efficiency in 2006, a 25 percent jump from 2005, reports a new analysis by the UN Environment Programme (UNEP).


Globalization could save the Amazon rainforest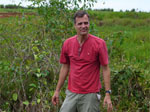 (06/03/2007) The Amazon basin is home to the world's largest rainforest, an ecosystem that supports perhaps 30 percent of the world's terrestrial species, stores vast amounts of carbon, and exerts considerable influence on global weather patterns and climate. Few would dispute that it is one of the planet's most important landscapes. Despite its scale, the Amazon is also one of the fastest changing ecosystems, largely as a result of human activities, including deforestation, forest fires, and, increasingly, climate change. Few people understand these impacts better than Dr. Daniel Nepstad, one of the world's foremost experts on the Amazon rainforest. Now head of the Woods Hole Research Center's Amazon program in Belem, Brazil, Nepstad has spent more than 23 years in the Amazon, studying subjects ranging from forest fires and forest management policy to sustainable development. Nepstad says the Amazon is presently at a point unlike any he's ever seen, one where there are unparalleled risks and opportunities. While he's hopeful about some of the trends, he knows the Amazon faces difficult and immediate challenges.


High corn price mean pigs eat candy bars, french fries

(05/20/2007) Near record high prices for corn mean that farmers are feeding their pigs people food according to an article in The Wall Street Journal.


U.S. ethanol may drive Amazon deforestation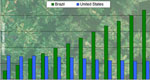 (05/17/2007) Ethanol production in the United States may be contributing to deforestation in the Brazilian rainforest said a leading expert on the Amazon. Dr. Daniel Nepstad of the Woods Hole Research Center said the growing demand for corn ethanol means that more corn and less soy is being planted in the United States. Brazil, the world's largest producer of soybeans, is more than making up for shortfall, by clearing new land for soy cultivation. While only a fraction of this cultivation currently occurs in the Amazon rainforest, production in neighboring areas like the cerrado grassland helps drive deforestation by displacing small farmers and cattle producers, who then clear rainforest land for subsistence agriculture and pasture.


Biofuels displace indigenous people

(05/15/2007) Indigenous people are being pushed off their lands to make way for an expansion of biofuel crops around the world, threatening to destroy their cultures by forcing them into big cities, the head of a U.N. panel said Monday.


UN warns on dangers of bioenergy

(05/09/2007) Biofuels offer "an extraordinary opportunity" to reduce greenhouse gas emissions but could make "substantial demands on the world's land and water resources at a time when demand for both food and forest products is also rising rapidly," said the U.N. in its first assessment on the growing bioenergy industry.


Ethanol may be greener but have higher health cost

(04/18/2007) Widespread burning of ethanol as fuel may increase the number of respiratory-related deaths and hospitalizations relative to gasoline, according to a new study by Stanford University atmospheric scientist Mark Z. Jacobson. The report comes as mounting environmental concerns cloud the benefits of using ethanol as a green alternative to fossil fuels.


Biofuels demand will increase, not decrease, world food supplies

(03/27/2007) As concerns mount over fuel-versus-food competition for crops, a Michigan State University ethanol expert says that cellulosic ethanol could render the debate moot. Bruce Dale, an MSU chemical engineering and materials science professor, notes that ethanol can be made from cellulosic materials, like farm waste, instead of corn grain.


New green biofuels process could meet all U.S. transportation needs

(03/14/2007) Purdue University chemical engineers have proposed a new environmentally friendly process for producing liquid fuels from plant matter - or biomass - potentially available from agricultural and forest waste, providing all of the fuel needed for "the entire U.S. transportation sector."


Ethanol always not as green as some believe

(02/16/2007) Ethanol is generally not as green as some people believe says Bruce Dale, Michigan State University professor of chemical engineering and materials science. Speaking at the American Association for the Advancement of Science annual meeting in San Francisco, Dale says that while corn ethanol produces less greenhouse gases than gasoline, it can cause other detrimental environmental effects if not carefully managed.


Weedy grass could free U.S. of foreign oil dependence says biologist

(02/16/2007) A weedy grass may hold the key to domestic energy security and mitigating emissions of greenhouse gasese, said a Stanford University plant biologist speaking Friday at the annual meeting of the American Association for the Advancement of Science in San Francisco.


Biofuels, logging may spur deforestation in Guyana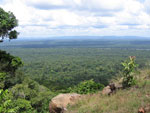 (02/15/2007) Growing timber exports and rising interest in biofuels are raising concerns that deforestation could accelerate in the South American country of Guyana. Guyana is a small, lightly populated country on the north coast of South America. About three-quarters of Guyana is forested, roughly 60 percent of which is classified as primary forest. Guyana's forests are highly diverse: the country has some 1,263 known species of amphibians, birds, mammals, and reptiles, and 6,409 species of plants.


President Museveni again moves against Uganda's forests

(12/12/2006) Ugandan president Yoweri Museveni has again taken action against rainforest conservation in Uganda, moving to hand a protected forest reserve over to private agricultural interests intent on clearing trees, according to a report from Reuters.


Switchgrass-based ethanol could cost $1 per gallon, reduce foreign oil dependence

(12/05/2006) Genetic engineering of switchgrass, a native prairie plant, could reduce the price of ethanol to $1 per gallon according to a plant geneticist at the University of Rhode Island.


Cellulosic ethanol fuels environmental concerns

(08/06/2006) In recent months, high fuel prices and national security concerns have sparked interest in biofuels. Cellulosic ethanol, which can be derived from virtually any plant matter including farm waste, looks particularly promising. The U.S. Department of Energy projects that cellulosic conversion technology could reduce the cost of producing ethanol by as much as 60 cents per gallon by 2015. Green groups see cellulosic ethanol as a carbon neutral energy source that could be used to fight the build up of atmospheric carbon dioxide responsible for global warming.


Corn waste potentially useful for more than ethanol

(07/19/2006) After the corn harvest, whether for cattle feed or corn on the cob, farmers usually leave the stalks and stems in the field, but now, a team of Penn State researchers think corn stover can be used not only to manufacture ethanol, but to generate electricity directly.


Soybean biodiesel has higher net energy benefit than corn ethanol

(07/11/2006) The first comprehensive analysis of the full life cycles of soybean biodiesel and corn grain ethanol shows that biodiesel has much less of an impact on the environment and a much higher net energy benefit than corn ethanol, but that neither can do much to meet U.S. energy demand.


High oil prices fuel bioenergy push

(05/09/2006) High oil prices and growing concerns over climate change are driving investment and innovation in the biofuels sector as countries and industry increasingly look towards renewable bioenergy to replace fossil fuels. Bill Gates, the world's richest man, has recently invested $84 million in an American ethanol company while global energy gluttons ranging from the United States to China are setting long-term targets for the switch to such fuels which potentially offer a secure domestic source of renewable energy and fewer environmental headaches. Biofuels are fuels that are derived from biomass, including recently living organisms like plants or their metabolic byproducts like cow manure. Unlike fossil fuels -- like coal, petroleum, and natural gas, which are finite resources -- biofuels are a renewable source of energy that can be replenished on an ongoing basis. In general, biofuels are biodegradable and, when burned, have fewer emissions than traditional hydrocarbon-based fuels. Typically, biofuels are blended with traditional petroleum-based fuels, though it is possible to run existing diesel, engines purely on biodiesel, something which holds a great deal of promise as an alternative energy source to replace fossil fuels. Further, because biofuels are generally derived from plants which absorb carbon from the atmosphere as they grow, biofuel production offers the potential to help offset carbon dioxide emissions and mitigate climate change.



Page 1 | Page 2