News articles on environment

---
Mongabay.com news articles on environment in blog format. Updated regularly.








Two more Sumatran elephants found dead in Aceh
(04/27/2015) A pair of critically endangered Sumatran elephants were found dead this month in Indonesia's Aceh province, just the latest casualties for a species that has been brought into increasing conflict with humans amid the country's oil palm boom. One was shot through the head by a poacher. The other was injured by a snare trap and perished shortly thereafter.
'Zero Deforestation' not necessarily the answer, environmentalists warn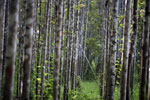 (04/27/2015) Last week, the London-based think tank Innovation Forum convened a two-day conference on the subject of sustainable forestry in Washington, D.C. Titled 'How Business Can Tackle Deforestation,' the conference brought together leaders from both public and private spheres, including forest commodities companies, NGOs and think tanks. Though the topics of discussion were diverse, ranging from the role of 'green' certification to the viability of GMO crops, there was widespread agreement that significant changes need to be made to current supply chain policies if we are to avoid further damaging the world's forests.
Jokowi must strengthen Indonesia's forest moratorium, not just extend it: activists
(04/25/2015) Less than a month before the expiry of a moratorium on new licenses for land-based exploitation in primary forests and on peat, environmentalists are calling for the Indonesian president to not only prolong the policy but strengthen it too, hampered as they say it has been by chaotic implementation, weak enforcement, standards that don't go far enough and, some suggest, a lack of political will to see it through.
Fracas over Costa Rican shark-fin exports leads American Airlines to stop shipping fins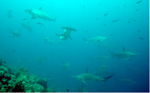 (04/24/2015) On December 24, an American Airlines plane carried 411 kilos of dried hammerhead shark fins from Alajuela, Costa Rica, to Hong Kong, touching down partway through the journey in Miami. The shipment, valued at nearly $53,000, contained fins from around 411 animals, more than seven times the number on its export permit from the Costa Rican government.
Ocean contributes $2.5 trillion to economy annually

(04/24/2015) A new study attempts to place a value of goods and services afforded by the ocean, estimating that if the planet's seas were classified as a country, it would rank as the world's seventh largest economy.
Conservation in Myanmar: a cause for optimism?
(04/24/2015) Fifty years of relative political and economic isolation have yielded slow economic growth and contributed to the conservation of many of Myanmar's native species. However, the dissolution of Myanmar's military junta in 2011 marked the beginning of a new age of increasing political and economic liberalization and international engagement. Many experts fear that possible rapid development fueled by international investment, improved infrastructure and expanded transport networks, pose a grave risk to Myanmar's biodiversity and forests.
Thailand, Indonesia join forces against illegal fishing amid EU ultimatum

(04/24/2015) Amid EU threats to blacklist Thai seafood if the industry fails to clean up its act by October, the Southeast Asian country and its neighbor Indonesia agreed on Thursday to form a joint task force to combat illegal fishing, which remains in the spotlight in the wake of an Associated Press investigation into slavery aboard Thai-run ships in Indonesian waters.
Officials: Sumatran rhino is extinct in the wild in Sabah
(04/23/2015) There are no Sumatran rhinos left in the wild in the Malaysian state of Sabah, confirmed Masidi Manjun, the Tourism, Culture and Envi­ronment Minister, over the weekend. In 2008, conservationists estimated there were around 50 rhinos in the state. Five years later, it dropped that estimate to just ten. Now, it's admitted the awful truth: the wild rhino is very likely gone.
In Indonesia, making REDD+ about carbon won't help biodiversity: study
(04/23/2015) Areas important for carbon correlate poorly with areas important for biodiversity in the country, a reality future REDD+ planning must take into account, a new study contends. The research was meant to address claims that REDD+ offers huge opportunities for biodiversity conservation.
Activists target Roger Federer as brand ambassador for bank linked to deforestation
(04/22/2015) Environmentalists are asking tennis star Roger Federer to deliver a message to Credit Suisse over the banking giant's continued financing of a logging company linked to ongoing destruction of wildlife habitat in Indonesia. According to the Bruno Manser Fund two members of a rainforest community in Sumatra have written to Federer to ask for his help in persuading Credit Suisse to stop financing logging of peat forests.
Photo essay: the flying fox show
(04/22/2015) Rain or clear, wind or still, full moon or no. Every night thousands of flying foxes rise from a small mangrove island among the lesser Sunda islands of Indonesia. Around sunset the Sunda flying fox begin to stir in their roots—their stomachs waking them—until the boldest among them takes off into the sky.
50 nature pictures for Earth Day
(04/22/2015) Here at Mongabay we've developed a bit of a policy of not making a big deal for Earth Day. We believe that people should respect the planet on a daily basis. Nonetheless, below are a few pictures I've taken since Earth Day 2014 that remind me of why I started Mongabay nearly 16 years ago.
Can shade-grown cocoa help conserve sloths?
(04/22/2015) Tropical forests support the greatest diversity of species in the world, yet we are rapidly destroying them. Most deforestation in the tropics is due to agricultural development and livestock production, the two greatest causes of declines in terrestrial biodiversity. However, one strategy that has been gaining attention for its potential to preserve biodiversity is shade-grown agriculture.
Of leopards and lemons: Superstition aids wildlife researchers in India
(04/22/2015) Many Westerners see science and superstition as lying at extreme ends of the logic spectrum. However, those familiar with India know that these two seeming strangers can walk hand-in-hand: Information technology companies are inaugurated with the breaking of the ceremonial coconut and pumpkin.
World's largest sovereign wealth fund takes stand against deforestation
(04/22/2015) Norway's Government Pension Fund Global — the world's largest sovereign wealth fund — is adopting standards to avoid investing in companies linked to tropical deforestation, sending a strong signal that forest destruction is not an acceptable practice for responsible businesses, reports Rainforest Foundation Norway.
Camera traps catch rare Amazon bird following peccaries

(04/21/2015) Although a large, attractive bird found across Latin America, scientists know almost nothing about the rufous-vented ground cuckoo (Neomorphus geoffroyi). Renzo Piana, the director of science and research with the Amazon Conservation Association, described the bird as "rare," "cryptic," "mainly solitary," and "mostly silent"—much of which explains why so little is known about it.
Woman defeats mine, saves wilderness, wins $175,000
(04/20/2015) When a huge open-pit mine threatened a pristine lake and surrounding forest in British Columbia, Canada, Marilyn Baptiste jumped into action, spearheading efforts to collect environmental impact data and even physically turning away construction crews. Today, Baptiste was honored for her work when she was presented the 2015 Goldman Environmental Prize at a ceremony in San Francisco.
Earth Day call to double native forest canopy by 2035
(04/20/2015) A group of prominent researchers, philanthropists, and activists are calling for a doubling of the planet's native forest canopy by 2035 as a way to make a 'U-turn' on global environmental degradation. The Earth Day Declaration to Double Native Forests was initiated by Randy Hayes, the head of Foundation Earth and the co-founder of the Rainforest Action Network (RAN).
Killings of environmental activists jumped by 20 percent last year
(04/20/2015) The assassination, murder, and extrajudicial killing of environmental activists rose by 20 percent last year, according to a new grim report by Global Witness. The organization documented 116 killings in 2014 across 17 countries with the highest number in Brazil, which saw 29 environmental and land defenders killed.
Commercial bushmeat hunters put previously undetected pressure on Central Africa's large birds
(04/20/2015) While conducting a bird survey in the Ebo Forest Reserve of Cameroon, Scottish ornithologist Robin Whytock noted two uncommon forest raptors in a camp regularly used by commercial bushmeat hunters. The birds, a crowned eagle (Stephanoaetus coronatus) and a Cassin's hawk-eagle (Aquila Africana) were notable sightings not only because they are infrequently spotted. Both raptors were dead, and their stripped carcasses lay discarded on the ground.
Farmers fall short in legal challenge to Java cement plant
(04/20/2015) A grassroots movement to halt construction of a cement factory and mine in Indonesia's Rembang regency suffered a major setback last week when a Central Java court rejected a lawsuit against a permit held by state-owned Semen Indonesia, the country's largest cement producer.
Growing need for deforestation-free rubber as tire demand destroys native forests
(04/18/2015) Surging demand for natural rubber is decimating some of the world's most endangered forests, putting wildlife and critical ecosystem services at risk, warn scientists writing in the journal Conservation Letters. Reviewing a large body of published research, Eleanor Warren-Thomas of the University of East Anglia and colleagues detail the crop's expansion across across Southeast Asia in recent decades.
Your name here: auctioning the naming rights to new species to fund conservation
(04/17/2015) Meg Lowman is on a mission to save northern Ethiopia's church forests, one at a time. Numbering around 3,500, these small "sacred" patches of forest surrounding churches are isolated natural oases in Ethiopia's otherwise mostly agricultural terrain, and they are losing ground to human activity at an alarming rate. Church forests are considered critical conservation areas. They are home to hundreds of species found nowhere else in the world, with new discoveries still being made.
Recently discovered 'punkrocker' frog changes skin texture in minutes
(04/17/2015) In 2006, two scientists discovered a tiny new frog species in the Reserva Las Gralarias, a nature reserve in north-central Ecuador. They took its photograph and nicknamed it the "punkrocker" frog because of spine-like projections coming out of its skin. For the next three years, they did not find the punkrocker again. But when they did re-discover it in 2009, the team found that the punkrocker had more tricks up its sleeve.
Photo Essay: Geopolitical pawns, the fishermen of Lý Sơn, Vietnam
(04/17/2015) 'When they came, what could we do?' 46-year-old fisherman Nguyên Phú asks, crouching down like a frog with his hands above his head. 'We just put our hands up like this, and said, 'Don't shoot! Don't shoot!'' Their caution is warranted. If they venture too deeply into Vietnam's claimed territorial waters, a Chinese patrol boat will swoop down on them.
Indonesia's public water movement consolidates after two of its biggest wins
(04/17/2015) With the tide of privatized water in Indonesia as close to turning since the dictator Suharto was president, an entire spectrum of stakeholders is scrambling to chart a path forward on the heels of two landmark – and unexpected – court decisions. First, the Constitutional Court struck down the main governing law on water resources. Then a Jakarta court annulled the city's contract with private operators Palyja and Aetra, which have run the city's piped network since 1998 amid continual allegations of corruption and mismanagement.
Zimbabwe selling baby elephant calves to China, says environmental group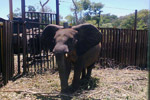 (04/17/2015) A hundred thousand African elephants were killed by poachers for their ivory between 2010 and 2012. Now a new threat looms: a growing wildlife trade in baby animals to satisfy international tourism. Zimbabwe has reportedly taken 80 elephant calves from their mothers and families in the wild, and is currently holding them in two heavily guarded facilities in Hwange National Park and near Victoria Falls. The baby animals await transport overseas for sale to unidentified buyers, possibly in China or other countries, says the international elephant rights organization, Global Action Ending Wild Capture (GAEWC).
Court rules deforestation of Peruvian rainforest for chocolate was legal
(04/16/2015) A regional court in Loreto, Peru recently ruled that the clearing of more than 2,000 hectares of forest by Cacao del Peru Norte for a plantation to grow cacao, the raw material behind chocolate, was legal, reported the investigative news site OjoPúblico on April 9. The ruling rejects contentions brought by Forestry Department that the company should have sought approval to clear the trees.
Lima to restore pre-Incan aqueducts to alleviate its water crisis
(04/16/2015) To tackle a looming water crisis, the city of Lima, Peru, is planning a series of green infrastructure projects, including the restoration of an ancient network of aqueducts in the mountains above the city. With a rapidly growing population of around 8.75 million Lima is the world's second largest desert city, and no stranger to water shortages.
Empowering women in order to save the harvest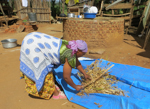 (04/16/2015) There are plenty of technological challenges to reducing food waste in sub-Saharan Africa, but a challenge that might prove more important to overcome is gender inequality. Women are responsible for nearly half of agricultural labor in sub-Saharan Africa, with some estimates reaching up to 90 percent. But they often don't have the authority to make financial decisions for their families, even when it comes to managing or selling the crops they've grown themselves.
Criticism of GAR and Wilmar African oil palm projects highlight global 'no-deforestation' challenges
(04/16/2015) Despite high-profile no-deforestation policies, palm oil giants Golden Agri-Resources and Wilmar have attracted criticism recently over their projects in Africa, particularly regarding the correct implementation of free, prior and informed consent (FPIC) of affected communities. Some NGOs have suggested these persistent problems indicate no lessons have been learned from years of bad practice in Indonesia.
The crop-saving champion of Tanzania: Bertha Mjawa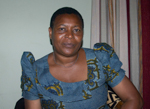 (04/15/2015) In the late 1980s, Bertha Mjawa remembers seeing endless quantities of fruits and vegetables getting thrown out across Tanzania because rot or insects had gotten to them. Years later, she has helped turn Tanzania into a model for reducing food waste.
Expert panel rebukes Japan's new whaling proposal
(04/15/2015) Last year, the International Court of Justice (ICJ) ruled that Japan must halt its whaling activities in the Southern Ocean as it found no evidence that the killing of hundreds of Antarctic minke whales was scientifically justified. The ruling sent Japan scrambling for a new plan to continue its 'scientific' whale hunt. But, now an expert panel has rebuked Japan's latest plan as well.
Unique center trains Tanzanian farmers to preserve their fruits and veggies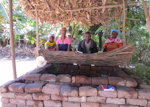 (04/14/2015) Farmers and traders throughout sub-Saharan Africa lose nearly half of their fruits and vegetables before they reach the consumer. To get more food to people who need it, the Postharvest Training and Services Center teaches them better methods of storing, processing, and transporting their crops.
Americans join in protesting reclamation of Bali's Benoa Bay
(04/14/2015) Americans and Indonesians demonstrated in Washington D.C. last week in protest of a massive land reclamation project in Bali's Benoa Bay, to which opposition, activists say, is coming from increasingly international circles. Meanwhile, the governor of East Java rejected a proposal to dredge sea sand for the project off the coast of his province.
Expedition in the Congo rediscovers lost primate
(04/14/2015) The last time there was a sighting of Bouvier's red colobus disco was all the rage, the Internet was non-existent, and Madonna still referred solely to the mother of God. But then the African monkey vanished and conservationists feared it had gone extinct—a victim of the bushmeat trade. For years, research groups called for an expedition to find out if Bouvier's red colobus still survived.
Innovative community fisheries initiative wins top social entrepreneurship prize
(04/13/2015) A program that helps restore overfished areas through community-based marine conservation has won the Skoll Foundation's top prize for social entrepreneurship. Today the Skoll announced Blue Ventures, which piloted its approach in Madagascar a decade ago before expanding to other regions, was one of four organizations to be honored with the $1.25 million Skoll Award for Social Entrepreneurship.
Anti-mining activist shot dead in Guatemala

(04/13/2015) Earlier this month, environmental activist, Telésforo Odilo Pivaral Gonzalez, was killed by unknown assailants who shot him five times. The father of six children (ages 1-11), Pivaral Gonzalez had actively opposed a conflict-ridden Escobal silver mine project run by Canadian company, Tahoe Resources, and its local subsidiary, Minera San Rafael SA.
Scientists find new monkey with unique penis
(04/10/2015) Researchers were in for a surprise when they viewed footage from a remote and little-explored area of southeastern Tibet. Among the more than 700 photos of macaques, they spotted several with physical characteristics that hadn't been documented before; namely, genitals that were shaped and colored differently than other known macaques in the region. The scientists say these differences may make these macaques a new species.
Scientists raise concern over road proposed through protected forest in Cambodia
(04/10/2015) A group of scientists have expressed 'strong concerns' about mounting threats to wilderness and wildlife in Cambodia. In a resolution issued at the conclusion of their annual gathering in Phnom Penh, the Asia-Pacific Chapter of the Association for Tropical Biology and Conservation (ATBC) urged the Cambodian government to carefully evaluate the impacts of a proposed road in Eastern Cambodia.
Study finds abandoned pasture is 'a huge resource that is not being harnessed'
(04/09/2015) As tropical forests around the world are cleared for human development, scientists and conservationists are trying to find ways to both stem their loss and reclaim areas already deforested. In a recent study, researchers investigated restoration of abandoned agricultural land in Ecuador, finding that planting trees and even re-establishing pasture may help limit conversion of more forest to farmland.
Combating food waste in sub-Saharan Africa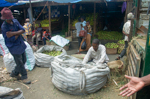 (04/09/2015) In sub-Saharan Africa, a sizeable portion of essential food crops are lost before they can be eaten or sold. Long a neglected aspect of the agricultural system, this waste stream of food is starting to attract attention from global agriculture organizations and financial institutions, offering hope that the losses can be reduced, and with them rates of rural hunger and malnutrition.
Australia becomes first country to ban lion trophies

(04/09/2015) Last month, Australia became the world's first country to ban the import or export of lion trophies, often taken from so-called canned hunting where lions are raised solely to be shot by foreign hunters.
New group hopes to raise global profile of the peace-loving bonobo
(04/08/2015) Of the world's six species of great ape (not including us), it's safe to say that bonobos (Pan paniscus) are the least studied and least known publicly. But a new organization, the Bonobo Project, is hoping to change that. To the untrained eye, a bonobo looks little different from their closest relative, the chimpanzee. But the differences between these two cousins are actually quite large.
Condition of tropical forests 'worsening', could become 'critical'
(04/07/2015) World leaders are continuing to overlook the worsening condition of tropical forests despite the biome's vast potential to help mitigate climate change, support local livelihoods and ecosystem services, and stabilize global agriculture, warns a comprehensive review published by a body founded by Prince Charles.
Tiny Brazilian opossum could be farmers' friend
(04/07/2015) André Mendonça pops open the spring-loaded door on the shoebox-sized trap and peeks inside. Two bulging, black eyes glare back at him. He pulls the trap off the tree limb and shakes the stunned, sopping wet creature into a clear plastic bag. "One more!" he says excitedly.
Brazilian farmers urge return of big cats to Cerrado to protect crops from rampaging peccaries
(04/07/2015) Margie Peixoto was driving her pickup across her farm in the Brazilian state of Mato Grosso do Sul one February afternoon when she spotted some broken corn stalks and a trio of white-lipped peccaries ambling along the red-clay road as if they owned it. The moment these wild pig relatives spotted the truck, they snorted, snarled and disappeared into the head-high crop, where dozens more likely hid.
Overfishing leads to crashes in sardines and other forage fish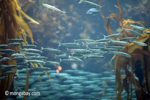 (04/07/2015) Some of the smallest fish in the sea play an outsize role in marine ecosystems. Populations of sardines, anchovies, and other so-called "forage fish" have undergone stupendous crashes whose effects ripple outward across the food web. New research shows that overfishing has caused or worsened these crashes and suggests some simple tweaks to fisheries management that could help fishermen and fish alike.
Who's to blame for forest loss in Borneo timber concession?
(04/06/2015) The apparent loss of some 4,000 hectares of forested peatland in Indonesian Borneo is raising questions on who bears responsibility for forest clearing in un-utilized concessions. On Monday, Greenomics-Indonesia issued a report revealing the loss of significant tracts of peat forest in a West Kalimantan concession held by PT Bumi Mekar Hijau (BMH), a plantation company whose operation in South Sumatra supplies Asia Pulp & Paper (APP) with woodpulp for its mills.
Palm oil companies, NGOs endorse new deforestation-limiting toolkit
(04/06/2015) Forests not only house many of the world's species, but also much of its carbon. Now, a toolkit has been developed by a group of companies and organizations with the aim of helping other companies and NGOs identify High Carbon Stock (HCS) forests. The toolkit was endorsed last week by major NGOs and plantation companies in Singapore.
Paper or paperless? Navigating the ecological impact strait between Scylla and Charybdis
(04/06/2015) Where would we be without cell phones? According to the United States Census Bureau, the USA has about as many cell phones as people. Such electronic devices are only one of many technological products, such as tablets, laptops, desktops, and television sets that are nearly ubiquitous in today's world. All of these gizmos and gadgets, as well as electronic and hybrid vehicles, cannot operate without rare earth elements.
Fighting fire with money: can finance protect Indonesia's forests?
(04/06/2015) In previous articles, we have seen an overview of the problems with the Indonesian palm oil industry. Such problems are largely caused by rent-seeking politicians and businessmen, who are willing to sacrifice endangered wildlife, the health of their countrymen and long-term environmental stability in the pursuit of profit. These actors exert a significant influence on and within the Indonesian government. As a result, Indonesia remains conflicted between the opposing goals of conservation and economic growth.
Kaiduan dam in Borneo meets fierce opposition
(04/06/2015) Activists are calling on the government of Sabah, Malaysia, to reconsider the proposed Kaiduan dam, saying it has not considered other solutions to Sabah's looming water crisis and has failed to consult with the indigenous people who will be displaced if the project proceeds.
Aceh's purge of illegal oil palm at 3,000 hectares and counting
(04/06/2015) A joint effort to eradicate illegal oil palm in an area of Indonesia's Aceh province that was devastated by flash flooding in 2006 has passed the 3,000-hectare mark. The plantations lie within the protected Leuser Ecosystem, the last place on earth where the Sumatran rhino, elephant, tiger and orangutan coexist in the wild.
KFC, Taco Bell, Pizza Hut adopt zero deforestation policy for palm oil
(04/03/2015) Yum! Brands, the company that owns KFC, Taco Bell and Pizza Hut, on Thursday announced a zero deforestation policy for its palm oil sourcing. The move came after aggressive campaigns by environmental groups that argued the chains weren't doing enough to ensure the palm oil they used to fry foods wasn't linked to human rights abuses, destruction of peatlands, and logging of rainforests.
Kenya crackdown on terrorism threatens NGOs, wildlife, media
(04/03/2015) The terrorist attack that killed at least 147 people at Garissa University on April 2nd was another tragic milestone in Kenya's ongoing battle with the al-Shabab terrorist group based in Somalia. In response to several other brutal attacks on civilians, Kenya's government recently passed and proposed harsh new laws that are alarming environmental activists, non-governmental organizations (NGOs), the media, opposition politicians and the public.
Blockade at Wilmar mill could erupt into full-blown strike
(04/03/2015) Local people blocked the road to a Wilmar palm oil mill in Indonesia's West Kalimantan province, demanding the release of nine day laborers who were arrested during an earlier protest over delayed wages. Trucks carrying fresh fruit bunches from nearby plantations were unable to deliver their cargo.
Could inland aquaculture help save the oceans and feed the world?
(04/02/2015) Mark Kwok has always loved the ocean. An avid diver and spear fisherman, he has travelled the planet in search of exotic fish and undersea adventure. Born into a wealthy Hong Kong family, he had the freedom to explore the world's oceans. But in the last decade or so, he hasn't been content just looking at fish. He's been growing them. In a squat, unassuming cluster of buildings in an industrial suburb north of Hong Kong, Kwok is experimenting with a potentially revolutionary technology.
Reservations about Indonesian 'land reform' as details unclear
(04/02/2015) Indonesian civil society groups and experts welcome President Joko "Jokowi" Widodo's campaign promise to redistribute nine million hectares of land to farmers – in principle. But they remain wary of what the program, whose details have yet to be made clear, might look like in practice. These reservations were expressed at a discussion on the plan held in Jakarta on April 1.
Russia and Canada lead the world in forest loss in 2013
(04/02/2015) Russia and Canada led the world in forest loss, accounting for nearly forty percent of the 18 million hectares of forest lost globally in 2013, reveals a new analysis based on high resolution satellite imagery. The research — released today on Global Forest Watch, a forest monitoring and research platform — was led by Matt Hansen of the University of Maryland and involved Google, World Resources Institute (WRI), and other institutions
Illegal deforestation driven by EU appetite for beef, palm oil, soy, say new reports
(04/01/2015) A new report finds that the European Union is driving international trade in commodities grown on land cleared outside of the law. In 2012 alone, the report says, the EU imported $6.5 billion worth of illegally sourced beef, leather, palm oil and soy, which amounts to nearly one-fourth of all global trade and some 2.4 million hectares (59.3 million acres) of forest illegally cleared.
Tropical soundscapes offer clues to forest and animal community health
(04/01/2015) Marine biologists were the first to continuously eavesdrop on marine mammals using a technique called passive acoustic monitoring (PAM). By simply listening to these animals' sounds, researchers could collect valuable information about animal population density and distribution, population health, and responses to human disturbance. Given the challenges of studying animal communities as they migrate across the sweep of the world's oceans, acoustic surveys gained popularity as a tool for gathering data from otherwise inaccessible study sites.
Pollution from East Asia affecting air quality in Borneo's rainforests
(04/01/2015) A study published in the journal Atmospheric Chemistry and Physics finds that industrial activities in East Asia are polluting the air in the rainforests of Borneo and that, once there, the pollutants could be traveling into the upper atmosphere and impacting Earth's ozone layer.
Indonesia, Brazil subsidizing forest loss far more than REDD+ slows it
(04/01/2015) International aid to protect forests in Indonesia and Brazil pales in comparison to domestic subsidies for commodities driving deforestation there. A study finds that while the countries received an annual average of $1 billion via REDD+, their agricultural and biofuel subsidies for palm oil, timber, soy and beef amounted to $41 billion per year.
Archer Daniels Midland to demand suppliers stop chopping down forests
(03/31/2015) Agribusiness giant Archer Daniels Midland (NYSE:ADM) will establish a zero deforestation policy for its global commodity supply chains, potentially forcing its soy, palm oil, and cattle suppliers to also eliminate deforestation from their operations or face losing business with the firm. The move, announced today and expected to be formally approved in May, came after a campaign by institutional investors and environmentalist groups.
Chinese-backed smelter plan causes concern among Sulawesi fishermen
(03/31/2015) As a pair of Chinese-owned miners companies proceed with plans to construct nickel smelters in Indonesia's Central Sulawesi province, in line with a national edict to increase in-country mineral processing capacity, locals fear the factories will only intensify environmental degradation from the same firms' mining operations and harm fishing communities that rely on the area.
Tracking companies' zero deforestation commitments
(03/31/2015) Over the past three years dozens of companies have made 'zero deforestation commitments', establishing policies that set social and environmental safeguards for commodity sourcing and production. However these agreements are highly variable — some policies are quite strong, while others aren't worth the paper they're printed on. Furthermore, no one knows whether there will be follow through on the pledges.
Big surprise in the greenhouse: study finds economic costs of climate change hugely underestimated
(03/30/2015) Look at most climate change projection graphs and you will see a smoothly rising red line of increasing temperature, melting ice and other impacts. But climate does not work that way. Studies of the paleoclimate record indicate that when heat energy is rapidly added to the atmosphere -- as humans are doing today -- the climate can experience "tipping points," with abrupt shifts and potentially disastrous results.
9 months after Amazonian oil pipeline spill, effects and fears linger
(03/30/2015) When Peru's state-run oil company pulled out of this small Kukama Indian village in mid-December after cleaning up an oil pipeline spill, residents thought life could slowly return to normal. But more than three months later, wisps of oil floating down the Cuninico River—along with a larger spill in the neighboring community of San Pedro—are a reminder that the problems are not over.
Chocolate company, NGO work together to save lemurs
(03/30/2015) Despite its biodiversity and unique plants and animals, Anjanaharibe-Sud Special Reserve hosts only around a dozen tourists each year. In an effort to increase tourism and research opportunities, the Lemur Conservation Foundation will be using the money raised during the Madécasse promotion to develop Camp Indri - the reserve's only authorized tourist site.
Large animals invaluable for tree-seed dispersal and regeneration of tropical forests
(03/30/2015) Nearly two-thirds of tropical forests in Southeast Asia have been degraded by logging, agriculture and other human uses, and their fauna have been decimated by hunting and the bushmeat trade. But if those degraded tropical forests are to recover naturally, they will need to rely on their remaining large wild animals to disperse large tree seeds, according to a new study.
Locals revolt against gold miner in Sulawesi
(03/30/2015) Residents of Indonesia's Buyat Bay and a national legal aid institute are preparing a case against a gold miner they say began operating in secret without locals' consent. They also accuse the company, owned by a prominent politician, of failing to acquire the proper licenses, clearing forest in a protected area and damaging the environment.







Record heat in Antarctica

(03/29/2015) The temperature in Antarctica hit a record high last week, reports Weather Underground.






Page 1 | Page 2 | Page 3 | Page 4 | Page 5 | Page 6 | Page 7 | Page 8 | Page 9 | Page 10 | Page 11 | Page 12 | Page 13 | Page 14 | Page 15 | Page 16 | Page 17 | Page 18 | Page 19 | Page 20 | Page 21 | Page 22 | Page 23 | Page 24 | Page 25 | Page 26 | Page 27 | Page 28 | Page 29 | Page 30 | Page 31 | Page 32 | Page 33 | Page 34 | Page 35 | Page 36 | Page 37 | Page 38 | Page 39 | Page 40 | Page 41 | Page 42 | Page 43 | Page 44 | Page 45 | Page 46 | Page 47 | Page 48 | Page 49 | Page 50 | Page 51 | Page 52 | Page 53 | Page 54 | Page 55 | Page 56 | Page 57 | Page 58 | Page 59 | Page 60 | Page 61 | Page 62 | Page 63 | Page 64 | Page 65 | Page 66 | Page 67 | Page 68 | Page 69 | Page 70 | Page 71 | Page 72 | Page 73 | Page 74 | Page 75 | Page 76 | Page 77 | Page 78 | Page 79 | Page 80 | Page 81 | Page 82 | Page 83 | Page 84 | Page 85 | Page 86