News articles on endangered species

---
Mongabay.com news articles on endangered species in blog format. Updated regularly.






120,000 dead: half of the world's saiga die in less than a month

(05/28/2015) No one knows what's killing them, but scientists estimate that almost half of the world's saiga (Saiga tatarica) have perished since May 10th. To date, researchers on-the-ground unofficially estimate that 120,000 saiga have died in Kazakhstan from what appears to be a wildly virulent disease, although no cause has been ruled out.
Uganda's elephant population has risen 600% since its 1980s low
(05/27/2015) In the 1980s, Uganda's elephants looked like they were on their way to extinction. The country had only about 700-800 elephants left, all in a single park; poachers had exterminated the rest. But a new survey as a part of the Great Elephant Census has confirmed that Uganda is today a bright spot in the current ivory poaching crisis. The country has more than 5,000 elephants and growing.
Nepal's rhino population rises by 72% in ten years

(05/26/2015) A new survey in Nepal counted 645 one-horned rhinos, up from 375 animals ten years ago and 534 animals in 2011. This represent a rise of 72 percent over the last ten years, an impressive feat given that the world's rhinos are facing a savage poaching crisis.
New hope for the world's most endangered zebra
(05/22/2015) Writer and conservation biologist Nika Levikov embarked on the team's latest field mission led by Davidson, to the arid savannah landscape of northern Kenya to help find Grevy's zebras and attach GPS collars. This sub-population has never before been formally documented. With GPS, their movements can be tracked and scientists can learn more about this most endangered zebra species.
South African Airways bans all wildlife trophies from flights
(05/14/2015) Trophy hunters may need to find another flight home, as South African Airlines (SAA) has announced a new ban on any wildlife trophies from their flights. The debate over trophy hunting in Africa is rising as many of the continent's most beloved mammals—including lions, elephants, rhinos, and giraffes—face precipitous declines.
Rhino poaching rate rises 18 percent in South Africa

(05/13/2015) In the first four months of 2015, poachers killed 393 rhinos in South Africa, the epicenter of the rhino poaching crisis. This is an 18 percent rise from last year, which saw 1,215 rhinos butchered in total. Like previous years, the biggest hotspot was Kruger National Park where 290 rhinos have died so far.
Videos reveal rare birds, wild monkeys, and jaguar family in oil-exploited park
(05/11/2015) A compilation of new camera trap videos from Yasuni National Park shows off rarely seen species like the rufuos-vented ground cuckoo and the short-eared dog as well as odd behavior, like sloths licking salt from the ground. The compilation is produced by Diego Mosquera, manager and head of the camera trap program at Tiputini Biodiversity Station.
Ranger killed by poachers in park known for grisly elephant slaughters
(05/07/2015) On April 25th, poachers shot and killed wildlife ranger, Agoyo Mbikoyo, in Garamba National Park in the Democratic Republic of the Congo (DRC), according to the organization African Parks. On the frontline of the illegal wildlife trade, Garamba Naitonal Park is known as a hotspot for elephant poaching.
Photos: new zoo exhibit dramatically displays real threat to Asian turtle

(05/04/2015) Usually animal pens in zoos are designed to resemble a species' native habitat: lions in sprawling savanna, pandas in bamboo forests, and crocodiles in mangroves. But a new pen at the Zoological Society of London (ZSL)'s London Zoo is meant to dramatically highlight not a species' habitat, but it's biggest threat.
Gov't officials permitted deforestation in Dominican Republic national park
(04/29/2015) In late 2014, an irregularity in the issuance of permits for agriculture-related deforestation was brought to light by an environmental conservation association working to curb deforestation within the park. On July 30, the Pedernales office of the Ministry of the Environment and Natural Resources granted permission to local landowners to deforest an area within the National Park, close to an area that was being assessed for hutia and solenodon presence by a team of researchers.
Five tons of frozen pangolin: Indonesian authorities make massive bust
(04/28/2015) Five tons of frozen pangolin, 77 kilograms (169 pounds) of pangolin scales, and 96 live pangolins: that's the grisly haul of the latest pangolin bust in Indonesia. Officials confiscated the illegal wildlife goods in Medan, Sumatra and busted the smuggler, who has only been identified as SHB. This is the largest pangolin bust in Indonesia since 2008.
Illegal ivory trade alive and well on Craigslist

(04/28/2015) As it has become more difficult to buy illegal ivory from slaughtered elephants on places like eBay, Etsy, and Amazon.com, traders and buyers in the U.S. have turned to another venue: Craigslist. A new report by the International Fund for Animal Welfare (IFAW) and the Wildlife Conservation Society (WCS) finds that the ivory trade is thriving on Craigslist.
Two more Sumatran elephants found dead in Aceh
(04/27/2015) A pair of critically endangered Sumatran elephants were found dead this month in Indonesia's Aceh province, just the latest casualties for a species that has been brought into increasing conflict with humans amid the country's oil palm boom. One was shot through the head by a poacher. The other was injured by a snare trap and perished shortly thereafter.
Fracas over Costa Rican shark-fin exports leads American Airlines to stop shipping fins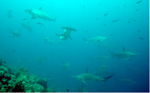 (04/24/2015) On December 24, an American Airlines plane carried 411 kilos of dried hammerhead shark fins from Alajuela, Costa Rica, to Hong Kong, touching down partway through the journey in Miami. The shipment, valued at nearly $53,000, contained fins from around 411 animals, more than seven times the number on its export permit from the Costa Rican government.
Officials: Sumatran rhino is extinct in the wild in Sabah
(04/23/2015) There are no Sumatran rhinos left in the wild in the Malaysian state of Sabah, confirmed Masidi Manjun, the Tourism, Culture and Envi­ronment Minister, over the weekend. In 2008, conservationists estimated there were around 50 rhinos in the state. Five years later, it dropped that estimate to just ten. Now, it's admitted the awful truth: the wild rhino is very likely gone.
Expedition in the Congo rediscovers lost primate
(04/14/2015) The last time there was a sighting of Bouvier's red colobus disco was all the rage, the Internet was non-existent, and Madonna still referred solely to the mother of God. But then the African monkey vanished and conservationists feared it had gone extinct—a victim of the bushmeat trade. For years, research groups called for an expedition to find out if Bouvier's red colobus still survived.
Australia becomes first country to ban lion trophies

(04/09/2015) Last month, Australia became the world's first country to ban the import or export of lion trophies, often taken from so-called canned hunting where lions are raised solely to be shot by foreign hunters.
New group hopes to raise global profile of the peace-loving bonobo
(04/08/2015) Of the world's six species of great ape (not including us), it's safe to say that bonobos (Pan paniscus) are the least studied and least known publicly. But a new organization, the Bonobo Project, is hoping to change that. To the untrained eye, a bonobo looks little different from their closest relative, the chimpanzee. But the differences between these two cousins are actually quite large.
Chocolate company, NGO work together to save lemurs
(03/30/2015) Despite its biodiversity and unique plants and animals, Anjanaharibe-Sud Special Reserve hosts only around a dozen tourists each year. In an effort to increase tourism and research opportunities, the Lemur Conservation Foundation will be using the money raised during the Madécasse promotion to develop Camp Indri - the reserve's only authorized tourist site.
Elephant poaching rate unchanged – and still devastating
(03/25/2015) New figures show essentially no change in the number of elephants killed in Africa by poachers last year, despite a high-profile meeting on the crisis which was attended by 46 countries and a number of commitments. Data from CITES' Monitoring the Illegal Killing of Elephants (MIKE) estimated that around 20,000 elephants were killed in 2014, the same as in 2013.
The great Arctic decline: another sea ice record broken

(03/23/2015) Every winter, sea ice in the Arctic expands, providing vital habitat for birthing seals, hunting polar bears, and foraging walruses. But as the Arctic has warmed faster than any place on the planet—due climate change caused by burning fossil fuels—sea ice is not expanding as far as it once did.
Conservationists catch-and-release record-smashing freshwater fish
(03/17/2015) Conservationists and scientists have managed to catch-and-release what could be the world's biggest freshwater fish ever for an upcoming episode of Ocean Mysteries. Naturalist and host of the show, Jeff Corwin—along with wildlife veterinarian, Nantarika Chansue, and the tourist fishing group, fishsiam.com—managed to reel in a giant freshwater stingray.
Newly discovered Brazilian bird may number fewer than 10 individuals
(03/12/2015) In October 2002, a team of ornithologists at Murici in northeastern Brazil observed and recorded the call of a bird. At that time, the team believed they had chanced upon a rare bird previously described by other researchers as the Alagaos foliage-gleaner (Philydor novasei).
Tiger family photo surprises scientists
(03/10/2015) In a frigid Russian forest, a camera trap snapped 21 family photos over two minutes. This wasn't a usual family, though, this was a tiger family, more specifically an Amur tiger family. And this wasn't even a usual tiger family: the cameras showed a dad leading the way.
Last ditch: Mexico finally gets serious about saving the vaquita
(03/04/2015) There are likely less than 100 vaquita on the planet. Found only in the northern pocket of the Sea of Cortez in Mexico, the vaquita is a tiny, shy porpoise that has been brought to the very edge of extinction due to drowning in gillnets used for shrimping. But after years of stalling, Mexico now appears to be making a final effort to save the world's most endangered cetacean.
Giant panda population rises by nearly 17 percent
(03/02/2015) One of the most iconic animals on the planet got good news this week. The world's giant panda population has risen by 268 individuals over the last decade, hitting a total of 1,864 animals, according to China's fourth decadal survey. This represents a total rise of 16.8 percent.
$7 million could save lemurs from extinction
(02/25/2015) Last year, scientists released an emergency three-year plan that they argued could, quite literally, save the world's lemurs from mass extinction. Costing just $7.6 million, the plan focused on setting up better protections in 30 lemur hotspots. However, there was one sticking point: donating to small programs in one of the world's poorest countries was not exactly user friendly.
Critically endangered bird gets new addition to its reserve
(02/24/2015) An unassuming brown bird, tiny both in body and population size, hovers on the edge of extinction as its habitat is cleared for agriculture and its nests are parasitized. In response, conservation organizations created a reserve expressly for the species' preservation in the late 1990s; now that reserve is being expanded to try to push one of the world's most endangered bird species farther back from the precipice.
Locals lead scientists to new population of near-extinct reptile
(02/24/2015) By the early Twentieth Century, the world had pretty much given up on the Arakan forest turtle, named after the hills where it was found in 1875 in western Myanmar. Now, this Lazarus reptile —which has been dubbed one of the 25 most threatened turtles on the planet —has more good news: researchers have documented an entirely new population where no one
Happy World Pangolin Day. What are we celebrating?
(02/21/2015) It's that crazy time of year again, World Pangolin Day, where we feverishly run out into the streets and join the thousands of pangolin protectors, fighting for the survival of our scaly friend. Well, no actually, hold on, what's a pangolin?
Authorities catch kingpin responsible for killing 20 rhinos
(02/19/2015) With the aid of Interpol, authorities have arrested the leader of a rhino poaching gang responsible for killing a 20 Indian rhinoceros in Nepal. Last month, authorities nabbed Raj Kumar Praja in Malaysia where he had been evading capture for two years. Kumar was already evicted of 15 poaching incidents in absentia and sentenced to 15 years in prison.
Scientists uncover new seadragon
(02/18/2015) For 150 years, scientists have known of just two so-called seadragons: the leafy seadragon and the weedy seadragon. But a new paper in the Royal Society Open Science has announced the discovery of a third, dubbed the ruby seadragon for its incredible bright-red coloring. Found only off the southern Australian coastline, seadragons belong to the same family as the more familiar seahorses: the Syngnathidae.
42 pangolins rescued...then sold to restaurants

(02/17/2015) On February 1st, local police seized 42 live Sunda pangolins from poachers and handed them over to forest rangers in Vietnam's northern province of Bac Ninh. While the poachers were slapped with a fine, the rangers turned around and sold the live pangolins to local restaurants for a reported $56 a kilo, netting a total of $11,300 for the Critically Endangered mammals.
Sabah shocked by banteng poaching

(02/16/2015) Malaysia's Daily Express recently published graphic photos of poachers in the Malaysian state of Sabah posing proudly with a number of illegally slaughtered large animals, including the incredibly rare and cryptic banteng. Wild, forest cattle, banteng are scattered across parts of Southeast Asia, but Borneo is home to a distinct subspecies: Bos javanicus lowi.
Scientists, NGOs race to save 'Millennium Trees'
(02/12/2015) In a tiny area of an isolated archipelago in the southwest Pacific lives a unique tree species on the precipice of extinction. Recent research has shown it is declining dramatically, and mature individuals may be completely gone in 100 years. In response, environmental organizations and scientists are coming together to try and save New Caledonia's Millennium Trees.
Super-rare carnivore photographed in Yosemite after missing for nearly a century
(02/03/2015) For years, biologists believed the Sierra Nevada fox was down to a single population of around 20 animals in California's Lassen Volcanic National Park. But then in 2010, biologists found a small population near Sonora Pass. Now, more good news: last week, scientists documented the first Sierra Nevada fox in Yosemite National Park in nearly 100 years.
Swimming against the stream: a rare crocodile captivates researchers
(02/02/2015) The Sunda gharial looks like 'just an odd crocodile' according to Robert Stuebing. He would know. Stuebing and his team have recently published an article in the International Zoo Yearbook outlining habitat information and threats to the Sunda gharial at Lake Mesangat in Indonesian Borneo.
1,215 rhinos butchered in South Africa in 2014
(01/22/2015) 1,215: that's the total number of rhinos butchered last year in South Africa for their horns. The number represents another annual record—the seventh in a row—topping last year's total by 195 rhinos. South Africa houses the bulk of the world's rhinos (around 80 percent), but has also become the center of the illegal poaching trade.
Video: clouded leopards and elephants grace drowned forest in Thailand

(01/21/2015) Camera trap video from Khlong Saeng Wildlife Sanctuary in southern Thailand has revealed an impressive array of wildlife, including scent-marking clouded leopards and a whole herd of Asian elephant. The camera traps were set by HabitatID, an organization devoted to using remote camera traps to prove to government officials that wildlife still flourishes in forgotten places.
India's tiger population up by more than 500 animals in four years

(01/20/2015) The tiger is in major trouble. In 1900, the global population was over 100,000 animals; today, it is on the precipice of extinction, hovering around just 3,000. In response, tiger range countries have pledged to double to the population by 2022. But there has been little evidence of success until now: India has announced that its tiger population has jumped a remarkable 29 percent in the last four years.
Empty seas? Scientists warn of an industrialized ocean
(01/15/2015) This is obvious, but still important: humans are not a marine species. Even as we have colonized most of our planet's terrestrial landscapes, we have not yet colonized the oceans. And for most of our history, we have impacted them only on the periphery. A new review in Science finds that this has saved marine species and ecosystems from large-scale damage—that is, until the last couple centuries.
Mother and cub: researchers photograph rare cat with cub in Sumatra
(01/13/2015) Researchers working in Kerinci Seblat National Park have captured a remarkable image of a mother Asian golden cat (Catopuma temminckii) carrying her young in her mouth. The image was taken in mid-2014 as reported by Mongabay Indonesia by the Sumatran Tiger Research Team.
California introduces bill to close ivory loophole

(01/08/2015) California congresswoman, Toni G. Atkins, introduced a bill yesterday (AB 96) that would close a major loophole allowing ivory to be sold all over the state. Thousands of miles away, across Africa, poachers are decimating elephants for their ivory tusks. A recent study estimated that one fifth of the continent's elephants have been slaughtered in just three years.
How black rhinos and local communities help each other in Namibia
(01/07/2015) Africa's rhinos are in a state of crisis. Poaching for their horn has resulted in the deaths of thousands of animals and pushed the continent's two species—the white and black rhino—against the wall. Yet, despite the crisis, there are pockets of rhino territory where poaching remains rare and rhinos live comparatively unmolested. Indeed, one of the brightest spots for rhinos is in Namibia.
Two vanishing prairie butterflies added to the Endangered Species Act
(01/05/2015) This fall, the U.S. Fish and Wildlife Service added two little-known prairie butterflies to the Endangered Species Act. One of the species, the Poweshiek skipperling, may be down to only a few hundred individuals. The Dakota skipperling is faring a little better, but both have lost the majority of their habitat in the pass few hundred years and continue to decline.
Endangered mussel still harvested for food in Laos
(12/29/2014) Only one freshwater pearl mussel species is known to inhabit tropical water systems. However, despite being listed as Endangered by the IUCN, it is also still a part of the diet of villagers in Northern Laos. A study published recently found that the dwindling populations of the bivalve would benefit from a ban on their capture.
Camera traps capture rare footage of wild bonobos (video)
(12/29/2014) Bonobos, our ape cousins, love peace. Unlike chimpanzees, also our close relatives, bonobos are known to resolve conflict through sex instead of aggression. They kiss, they caress, and females display genito-genital rubbing (also called G-G rubbing) to communicate, bond, and reconcile.
Shifting attitudes may help endangered wild dogs in Thailand
(12/22/2014) Once found throughout much of Asia, the dhole—a wild dog species that looks something like a jackal—has been displaced by humans from much of its range. But a new study published in mongabay.org's open-access journal Tropical Conservation Science, offers hope that the two species may be able to coexist, with people living next to protected forest areas in southeastern Thailand showing a favorable attitude towards increasing awareness and conservation efforts for the endangered canids.
Genetics study sheds light on Chile's most endangered bird
(12/22/2014) A member of the Furnariidae family, the small brown and beige bird possesses rusty "spine-like" tail feathers and inhabits densely vegetated areas. Scientists estimate the total population to range from 140 to 500 individuals. In 2012 the IUCN declared the Masafuera Rayadito to be a Critically Endangered species.
Edited Reality: What I Learned from Filming Eaten Alive
(12/22/2014) On November 3, 2014, I woke up to check my flight status from Bangalore to New York. What I found when I opened my laptop was a mindboggling amount of emails, hate mail, death threats, and interview requests. The numbers were staggering. The night before, the Discovery Channel had aired the first trailers for the show they decided to call Eaten Alive.
Saving the world's rarest primate: can it be done?
(12/17/2014) Endemic to China's southernmost province of Hainan, only around 30 Hainan gibbons survive today. Rapid island-wide deforestation and consequential loss of habitat, uncontrolled hunting, and failed captive breeding attempts have pushed this ape towards the precipice of becoming the first primate species to go extinct in the modern world. Will a multi-stakeholder conservation strategy be able to save it?
New mapping technique sheds light on dry forests
(12/16/2014) The extreme habitat heterogeneity of Southeast Asian forests makes it difficult to map their different compositions, resulting in a lack of study of many forest types and their underrepresentation in protected area networks. To address this issue, researchers came up with a remote sensing-based method to accurately delineate forest types, which they demonstrate in a study released this week by focusing on one particular forest type: Dry Deciduous Dipterocarp forests.
Then there were five: rhino death moves species closer to extinction

(12/15/2014) As if news for rhinos couldn't get any worse: this weekend, Angalifu, died a the San Diego Zoo. Forty four-year-old Angalifu was a male northern white rhino and his death means only five of this subspecies remains on the planet. Angalifu's death, which keepers suspect was simply from old age, follows soon after the death of another northern white rhino, Suni, in October.
Gibbon species pushed towards extinction as island loses its trees
(12/15/2014) Only about 30 Hainan gibbons currently inhabit our world and all of them are confined to the 2,100-hectare Bawangling National Nature Reserve on the western part of Hainan Island. Endemic to this island, these gibbons primarily inhabited the lowland broadleaf and semi-deciduous monsoon forests that today are almost entirely deforested.
Children 'clean' oil spill with kitchen utensils in the Sundarbans
(12/15/2014) On December 9th, a tanker slammed into another vessel along the Shela River in the world's largest mangrove forest: the Sundarbans in Bangladesh. The tanker sank, spilling an estimated 75,000 gallons (350,000 liters) of fuel oil into waterways that are a part of a reserve for threatened Ganges river dolphins and Irrawaddy dolphins.
Bamboo could help fight global warming
(12/11/2014) Restoring degraded land and forests with the world's fastest growing plant, bamboo, can contribute to major carbon emission reductions. This is according to a new report that discusses the massive potential of bamboo in fighting global warming, with bamboo forests projected to store more than one million tons of carbon by 2050 in China alone.
To collect or not to collect? Experts debate the need for specimens
(12/10/2014) In 1912, a group of intrepid explorers led by Rollo and Ida Beck, widely acknowledged to be the foremost marine bird collectors of their time, embarked on a most remarkable effort to catalogue South America's oceanic birds. Museums of the day held opportunistically collected specimens from scattered sources, but rarely did these include ocean-bound birds that spent little time near the coast.
Relief for Kenya's rare coastal forest
(12/09/2014) In October this year, CAMAC Energy, an oil and gas exploration and production company, announced that they would conduct seismic surveys for oil and gas within Arabuko-Sokoke Forest, one of the last remaining fragments of coastal forests in East Africa. But following immense pressure from the environmental front, CAMAC Energy cancelled their plans to conduct surveys inside the forest.
Tribal violence comes naturally to chimpanzees
(12/08/2014) It all went to hell when Jane Goodall started handing out bananas. Within a few years, the previously peaceful chimpanzees she was studying split into two warring tribes. Gangs of males from the larger faction systematically slaughtered their former tribemates. All over the bananas. Or so the argument goes.
New survey finds surprisingly large population of endangered owl
(12/03/2014) The Anjouan scops owl—an elusive owl found only on its tiny eponymous island—was once considered among the world's most endangered owls, and even the most threatened birds. However, the first in-depth survey of the owls on the island finds that, in fact, the population is far larger than initially estimated.
Old fishermen document declining range of the Indus River dolphin
(12/03/2014) The Indus River dolphin (Platanista gangetica minor) is an endangered freshwater mammal found only in the Indus River and tributaries draining the Himalayas. Since 1879, the dolphin—locally known as the bhulan—has vanished from 80 percent of its range. Now, a study using interviews with dozens of elders in the Pakistani fishing communities along the river documents when dolphins disappeared from different river sections.
Nano-tags track baby sea turtles during their first few hours
(12/03/2014) Baby sea turtles vanish after they scamper into the ocean. Years later, juvenile turtles may pop up thousands of kilometers away, but often scientists don't see them again until they return to their birthplaces to nest on the beach. Now, using tiny tracking tags weighing no more than two watermelon seeds, a team has followed newborn loggerhead turtles during their first critical hours at sea, revealing how they evade predators and hitch rides on the ocean's currents.
Rhino, cheetah win the world's top camera trap photo contest
(12/02/2014) Two big—and endangered—mammals took 2014's top prizes in the world's biggest camera trap photo contest: a black rhino and a Asiatic cheetah. The gorgeous shot of a black rhino at night in Zambia photo won the overall photo competition, while the image of a super-rare Asiatic cheetah in Iran took the top research prize.
New calendar celebrates primates and raises money for their survival
(11/26/2014) Humans, or Homo sapiens sapiens, are really just upright apes with big brains. We may have traded actual jungles for gleaming concrete and steel ones, but we are still primates, merely one member of an order consisting of sixteen families. We may have removed ourselves from our wilder beginnings, but our extant relatives—the world's wonderful primates—serve as a gentle living reminder of those days.
Meet the world's rarest chameleon: Chapman's pygmy
(11/25/2014) In just two forest patches may dwell a tiny, little-known chameleon that researchers have dubbed the world's most endangered. Chapman's pygmy chameleon from Malawi hasn't been seen in 16 years. In that time, its habitat has been whittled down to an area about the size of just 100 American football fields.
Saving Myanmar's red pandas by protecting land, educating people
(11/25/2014) Red pandas, bear-like arboreal mammals with red, furry tails, are poached mainly for their fur. Found primarily at higher elevation forests of the eastern Himalayas, these pandas spend most of their time in trees, and feed mainly on bamboo. But much of their forest habitat has been destroyed due to illegal logging.
Chameleon crisis: extinction threatens 36% of world's chameleons
(11/24/2014) Chameleons are an unmistakable family of wonderfully bizarre reptiles. They sport long, shooting tongues; oddly-shaped horns or crests; and a prehensile tail like a monkey's. But, chameleons are most known for their astonishing ability to change the color of their skin. Now, a update of the IUCN Red List finds that this unique group is facing a crisis that could send dozens of chameleons, if not more, to extinction.
Scientists capture first-ever footage of wild red pandas in Myanmar (VIDEO)
(11/21/2014) This year, a team of scientists in Myanmar (also called Burma), caught a pair of reclusive red pandas on camera, for the first time ever. The bushy tailed pandas were climbing up a rocky pile of rubble left behind in the region by Chinese loggers. For the scientists, the footage was bitter-sweet.
Palm oil interest surges in Papua New Guinea
(11/19/2014) As the lands of traditional palm oil powerhouses like Indonesia and Malaysia have become saturated with plantations, companies looking to profit have turned to vast areas of seemingly untouched tropical forest in other parts of the world – places like Papua New Guinea. But, in fact, say advocates of local communities, those forests often support the lives and livelihoods of millions of people who must have their rights taken into account.
Rediscovered in 2010, rare Indian frog surprises by breeding in bamboo
(11/18/2014) For a long time, this rare white spotted bush frog lived a secretive life: the Critically Endangered Chalazodes bubble-nest frog (Raorchestes chalazodes) was last seen in 1874 and presumed to be extinct. That is until 2010 when a year-long expedition to try and locate 'lost' amphibians in India found the elusive frog in the wet evergreen forests of the Western Ghats, after more than 130 years.
Of bluefin and pufferfish: 310 species added to IUCN Red List
(11/17/2014) Today, 22,413 species are threatened with extinction, according to the most recent update of the IUCN Red List. This is a rise of 310 species from the last update in the summer. The update includes the Pacific bluefin tuna, the Chinese pufferfish, and Chapman's pygmy chameleon, among others.
New tapir? Scientists dispute biological discovery of the century
(11/13/2014) Nearly a year ago, scientists announced an incredible discovery: a new tapir species from the western Amazon in Brazil and Colombia. The announcement was remarkable for a number of reasons: this was the biggest new land mammal discovered in more than 20 years and was only the fifth tapir known to the world. But within months other researchers expressed doubt over the veracity of the new species.
Mapping mistake leaves wildlife at risk
(11/12/2014) Scientists have discovered a new, endangered plant species in the Democratic Republic of Congo (DRC), in an area that is supposed to be protected as a reserve. However, mapping errors effectively moved the reserve's boundaries 50 kilometers to the west, opening up the region and its vulnerable wildlife to human disturbance.
Genetic sleuthing reveals grisly details of historic whale hunting
(11/05/2014) In 1904, Carl Anton Larsen, a Norwegian Antarctic explorer, arrived at Grytviken on the British island of South Georgia with three ships and 60 men, to establish its first commercial whaling station. The number of whaling stations soon increased, and by 1965 these had caught and processed an estimated 175,250 whales.
De-protection of Protected Areas ramps up in Brazil, 'compromises the capacity' of ecosystems
(10/31/2014) Brazil has reserved about 17.6 percent of its land (1.5 million square kilometers) to receive protection from unauthorized exploitation of resources. However, despite significant expansions in protected areas since the mid-2000s, the formation of Protected Areas has stagnated in the country since 2009, and many have had their protections completely revoked.
'Too many people': Philippine island being deforested despite extensive protections
(10/31/2014) About an hour and a half plane ride from the Philippine capital Manila is Palawan, a long, narrow island home to about a quarter of all the animal species found in the country. But the province is losing its forests at a rapid clip due to human population increases, logging, quarrying, mining, and even a huge palm plantation.
The Search for Lost Frogs: one of conservation's most exciting expeditions comes to life in new book
(10/30/2014) One of the most exciting conservation initiatives in recent years was the Search for Lost Frogs in 2010. The brainchild of scientist, photographer, and frog-lover, Robin Moore, the initiative brought a sense of hope—and excitement—to a whole group of animals often ignored by the global public—and media outlets. Now, Moore has written a fascinating account of the expedition: In Search of Lost Frogs.
Scientific association calls on Nicaragua to scrap its Gran Canal

(10/27/2014) ATBC—the world's largest association of tropical biologists and conservationists—has advised Nicaragua to halt its ambitious plan to build a massive canal across the country. The ATBC warns that the Chinese-backed canal, also known as the Gran Canal, will have devastating impacts on Nicaragua's water security, its forests and wildlife, and local people.
Top scientists raise concerns over commercial logging on Woodlark Island
(10/21/2014) A number of the world's top conservation scientists have raised concerns about plans for commercial logging on Woodlark Island, a hugely biodiverse rainforest island off the coast of Papua New Guinea. The scientists, with the Alliance of Leading Environmental Scientists and Thinkers (ALERT), warn that commercial logging on the island could imperil the island's stunning local species and its indigenous people.
Saving Asia's other endangered cats (photos)
(10/21/2014) It's no secret that when it comes to the wild cats of Asia—and, really, cats in general—tigers get all the press. In fact, tigers—down to an estimated 3,200 individuals—arguably dominate conservation across Asia. But as magnificent, grand, and endangered as the tigers are, there are a number of other felines in the region that are much less studied—and may be just as imperiled.
With death of rhino, only six northern white rhinos left on the planet
(10/20/2014) Rhino conservation suffered another tragic setback this weekend with the sudden death of Suni, a male northern white rhinoceros at the Ol Pejeta Conservancy in Kenya. Suni's passing means there are only six northern white rhinos left in the world, and only one breeding male. 'Consequently the species now stands at the brink of complete extinction, a sorry testament to the greed of the human race,' wrote the Conservancy.
Walking the walk: zoo kicks off campaign for orangutans and sustainable palm oil
(10/20/2014) If you see people wearing orange this October, it might not be for Halloween, but for orangutans. Chester Zoo's conservation campaign, Go Orange for Orangutans, kicks off this month for its second year. The campaign aims to raise money, and awareness, for orangutans in Borneo, which have become hugely impacted by deforestation often linked to palm oil plantations.
'River wolves' recover in Peruvian park, but still remain threatened inside and out (photos)
(10/14/2014) Lobo de río, or river wolf, is the very evocative Spanish name for one of the Amazon's most spectacular mammals: the giant river otter. This highly intelligent, deeply social, and simply charming freshwater predator almost vanished entirely due to a relentless fur trade in the 20th Century. But decades after the trade in giant river otter pelts was outlawed, the species is making a comeback.
Google, zoo to leverage 'TV white space' to monitor wildlife

(10/09/2014) Imagine watching a tiger stalk a sambar deer or catching a ghost-like glimpse of the rarely-seen saola—all from your desktop and in real time. Well, this may soon be possible under a new partnership with Google and the Zoological Society of London (ZSL), which will test TV white space to monitor zoo animals as a trial run for real-time filming life in the wild.
The only solution for polar bears: 'stop the rise in CO2 and other greenhouse gases'
(10/08/2014) Steven Amstrup, Chief Scientist for Polar Bears International, has worked diligently on polar bears for over 30 years. He radio-collared some of the first bears and discovered that annual activity areas for 75 tracked females averaged at a stunning 149,000 square kilometers. His recent work highlighted the cost of global warming to these incredible animals and the sea ice they so closely depend on.
Use of mammals still prevalent in Brazil's Conservation Units
(10/06/2014) For as long as humans and animals have co-existed, people have utilized them as resources. Animals, and their parts, have been used for a variety of purposes, ranging from basic food to more esoteric practices such as in magical ceremonies or religion. A new study has found that the undocumented use of animals, particularly mammals, continues to occur in Brazil's protected areas known as Conservation Units.
Photos: Czech Republic publicly burns confiscated rhino horns
(10/06/2014) Late last month, armed guards escorted officials marching 60 kilograms (132 pounds) of rhino horns to a pyre for burning. The event, at the Dvůr Králové Zoo in the Czech Republic, was the first public burning of rhino horns in Europe. The Czech Republic burned the horns, which came from a government stockpile as well as from past rhinos held at the zoo, in a bid to help conserve rhinos.
Armed conflict decimates tigers, rhinos, and swamp deer in Indian park

(09/30/2014) The human cost of war is horrendous. However, while most attention is focused on the suffering caused to people—and rightly so—an understudied element is the impact on wildlife conservation. This is worrying given that many of the world's conflict zones are situated in biodiversity hotspots.
Scientists uncover six potentially new species in Peru, including bizarre aquatic mammal (photos)
(09/25/2014) A group of Peruvian and Mexican scientists say they have uncovered at least six new species near South America's most famous archaeological site: Machu Picchu. The discoveries include a new mammal, a new lizard, and four new frogs. While the scientists are working on formally describing the species, they have released photos and a few tantalizing details about the new discoveries.
In the shadows of Machu Picchu, scientists find 'extinct' cat-sized mammal
(09/25/2014) Below one of the most famous archaeological sites in the world, scientists have made a remarkable discovery: a living cat-sized mammal that, until now, was only known from bones. The Machu Picchu arboreal chinchilla rat (Cuscomys oblativa) was first described from two enigmatic skulls discovered in Inca pottery sculpted 400 years ago.
Extinction island? Plans to log half an island could endanger over 40 species
(09/22/2014) Woodlark Island is a rare place on the planet today. This small island off the coast Papua New Guinea is still covered in rich tropical forest, an ecosystem shared for thousands of years between tribal peoples and a plethora of species, including at least 42 found no-where else. Yet, like many such wildernesses, Woodlark Island is now facing major changes: not the least of them is a plan to log half of the island.




Page 1 | Page 2 | Page 3 | Page 4 | Page 5 | Page 6 | Page 7 | Page 8 | Page 9 | Page 10 | Page 11 | Page 12 | Page 13 | Page 14 | Page 15 | Page 16 | Page 17 | Page 18