News articles on ecology

---
Mongabay.com news articles on ecology in blog format. Updated regularly.








Borneo's rainforest may get high-tech 3D scan to boost conservation
(05/04/2015) Conservation efforts in Borneo's embattled rainforest may get a boost with the launch of the newest version of an advanced airplane-based monitoring and assessment system. On Friday, the Carnegie Institution officially unveiled the latest upgrade of the Carnegie Airborne Observatory, an airplane equipped with technologies that enable scientists to conduct extremely high resolution scans of forest structure, biomass, and biological diversity. The platform has generated a wealth of information in places where it has been flown before.
Tropical soundscapes offer clues to forest and animal community health
(04/01/2015) Marine biologists were the first to continuously eavesdrop on marine mammals using a technique called passive acoustic monitoring (PAM). By simply listening to these animals' sounds, researchers could collect valuable information about animal population density and distribution, population health, and responses to human disturbance. Given the challenges of studying animal communities as they migrate across the sweep of the world's oceans, acoustic surveys gained popularity as a tool for gathering data from otherwise inaccessible study sites.
Human impacts are 'decoupling' coral reef ecosystems
(03/09/2015) There is a growing consensus among scientists that we have entered the age of the Anthropocene, or the epoch of humans. In other words, at some point between the 12,000 years separating the beginning of agriculture and the Industrial Revolution, humans became the dominant source of change on the planet, shaping everything from the land to the atmosphere to even the geologic record where we etch our reign.
Cunning carnivorous plants catch more prey by letting some go
(02/25/2015) Pitcher plants (Nepenthes species) have long captivated our fascination. Typically growing in acidic and nutrient-poor soils, they have developed the ability to eat insects and other small prey to supplement their diets. Nepenthes grow modified leaf structures which form a saucer cup with a slippery rim lined with visual or edible bait. When an insect approaches to investigate the reward, they slip off the rim and into the cup which is usually filled with a viscoelastic fluid. Unable to escape, the prey is slowly digested and absorbed by the plant.
Biodiversity may reduce the threat of disease
(02/19/2015) Biodiversity level changes can have consequences for species and habitats around the world. A new study published in the Proceedings of the Royal Society B, reaffirms previous findings that higher diversity in ecological communities may lead to reduced disease threat.
Selective logging causes long-term changes to forest structure
(02/18/2015) Selective logging is causing long-term changes to tropical forests in Africa by facilitating the growth of weeds and vines, which reduces plant diversity and diminishes carbon storage, reports a new paper published in the journal Ecological Research. The paper is based on field data from more than 500 plots in Sierra Leone, Ghana, Cameroon and Gabon.
Pollinator collapse could lead to a rise in malnutrition

(02/09/2015) Saving the world's pollinators may be a public health issue, according to recent research. Scientists have long believed that pollinators are important for human nutrition, but this is first time they have tested the hypothesis. What they found is disturbing: pollinator collapse could increase nutrient deficiency across local populations by a up to 56 percent in four developing counties.
Giant clam = giant impact: study compiles how mega-clams impact seas
(02/06/2015) The world's biggest bivalves are the aptly named giant clams. Inhabiting the warm waters of the Indo-Pacific, the largest of these species, the eponymous giant clam (Tridacna squamosal), can reach up to 1.2 meters (4 feet) in length and weigh over 230 kilograms (500 pounds). Historically known as the killer clam for its supposed ability to trap careless divers, these harmless and colorful bivalves are favorite animals for divers and snorkelers to spot, but they may also be big players in the ecosystem.
2014: the year in rainforests
(12/30/2014) 2014 could be classified as 'The Year of the Zero Deforestation Commitment'. During 2014, nearly two dozen major companies, ranging from palm oil producers to fast food chains to toothpaste makers, established policies to exclude palm oil sourced at the expense of rainforests and peatlands.
Plant wars: some tree species compete better against grasses for reforestation
(12/18/2014) What happens to degraded pastureland once the cows are kicked out? After years of letting the area rest, does it eventually become what it once was? Not likely. When disruptions such as invasive species and human interference are introduced to an area, ecological succession doesn't occur the way it should naturally.
Ocelots live in super densities on Barro Colorado Island

(12/18/2014) By comparing camera trapping findings with genetic samples taken from feces, biologists have determined that the density of ocelots on Barro Colorado Island in Panama is the highest yet recorded. There are over three ocelots per every two square kilometers (0.77 square miles) on the island.
When predators attack, plants grow fewer thorns
(12/17/2014) Crisp lines of light begin to play out across the landscape. As the morning light grows, blades of grass take shape and, amongst rocky outcrops, green acacia breaks the yellow and gold of the savannah. Stirring in this early morning atmosphere is the African impala, an ungulate that typically grazes at dusk and dawn.
Google Earth used to identify environmentally important termite mounds

(12/17/2014) In woodland and savannah areas, certain termite species play a critical environmental role due to the mounds they build. These mounds can be used as fertilizer to induce new ecosystems, and the termites themselves can be studied as biological indicators of human-caused degradation. Detecting the amount and distribution of these mounds throughout an area can provide importance insight on the overall health of an environment. However, detecting the mounds on the ground can be a costly and time-consuming activity.
'New normal' approach to conservation comes under fire
(12/02/2014) A new study faults adaptive 'Novel Ecosystems' concept with ignoring true values of biodiversity and restoration. Over the past few years a new conservation approach known as the "novel ecosystems" concept has been slowly gathering steam in science, media, and policy-making circles. Based on pragmatism, it presents itself as a way forward in a world where irreversible ecosystem change is inevitable.
Shark pups may not survive climate change
(12/01/2014) Fierce predatory sharks rule the oceans from the apex of the food pyramid. But climate change may be tougher than these marine hunters, a new study suggests. As oceans warm and their waters become more acidic, fewer sharks may survive their infancies.
Field plots offer biased view of the Amazon
(11/17/2014) Field plots in the Amazon are often not representative of the habitats surrounding them, potentially biasing extrapolations made across the region, argues a new paper published in the Proceedings of the National Academy of Sciences (PNAS). The research is based on advanced three-dimensional mapping of forest structure within field plots and in surrounding areas using sensors aboard the Carnegie Airborne Observatory, an airplane-based system.
'Guns kill trees too': overhunting raises extinction threat for trees
(11/12/2014) A new paper confirms what ecologists have long feared: hunting birds and mammals drastically raises the risk of extinction for tropical trees. Following the long-lifespan of a single canopy tree, Miliusa horsfieldii, researchers discovered that overhunting of animals could increase the chances of extinction for the species fourteen times over a century, from 0.5 percent to seven percent.
An impossible balancing act? Forests benefit from isolation, but at cost to local communities
(10/07/2014) The indigenous people of the Amazon live in areas that house many of the Amazon's diverse species. The Rupununi region of Guyana is one such area, with approximately 20,000 Makushi and Wapishana people living in isolation. According to a recent study published in Environmental Modelling & Software, a simulation model revealed a link between growing indigenous populations and gradual local resource depletion.
A weed by any other name: remnant shrubs and trees play vital role in regenerating forests
(09/29/2014) Tropical forest restoration projects are exciting research sites for scientists studying factors that affect ecosystem recovery. Here, scientists are trying to understand plant community succession, i.e. the process of recovery after cleared lands are abandoned and allowed to regrow naturally. One of the most important components of this recovery process is seed dispersal, since seeds from nearby forests allow a deforested habitat to become populated again by native plants and trees.
Fragmented forests hurt some bat species, may benefit others
(09/23/2014) Development of roads and other structures disturb large, continuous patches of habitat for wildlife. This habitat fragmentation is one of the biggest contributors to species extinction, as the local ecology and species interactions are altered. A new study finds that leaf-nosed bat abundances in Mexico are closely linked to how sensitive each species is to habitat fragmentation.
Elephants under the sea: awkward-looking fish modify the coral-reef ecosystem in mixed ways
(08/06/2014) Bumphead parrotfish are noisy feeders. They break off large branches of corals using their powerful beaks, grind them up in their bodies to extract nutrients, and expel the undigested material in large cloudy plumes of feces. Their voracious feeding is, however, not just a loud, messy affair. During the course of their feeding, they also change the coral reef ecosystem in numerous ways.
It's not just extinction: meet defaunation
(07/24/2014) Get ready to learn a new word: defaunation. Fauna is the total collection of animals—both in terms of species diversity and abundance—in a given area. So, defaunation, much like deforestation, means the loss of animals in all its myriad forms, including extinction, extirpation, or population declines.
Small monkeys take over when big primates have been hunted out in the Amazon
(04/21/2014) The barbecued leg of a spider monkey might not be your idea of a sumptuous dinner, but to the Matsés or one of the fifteen tribes in voluntary isolation in Peru, it is the result of a successful hunt and a proud moment for the hunter's family. However, a spider monkey tends to have only a single infant once every 30 months, which necessarily limits the number of adult monkeys available to subsistence hunters.
Next big idea in forest conservation? Connecting deforestation to disease
(04/03/2014) Thomas Gillespie is concerned with the connections between conservation and disease, with a particular emphasis on primates. Much of his research examines the places where humans and animals are at a high risk of exchanging pathogens, and how human-caused disturbances, such as deforestation, can change disease dynamics and impacts.
Chile turns to owls to combat fatal disease
(04/01/2014) This year the Hanta virus has already caused 15 deaths in Chile, according to reports in The Santiago Times. It isn't always fatal—the 15 deaths were of a total of 36 cases over six months—but the symptoms are severe. Those affected experience flu-like symptoms, as well as nausea, vomiting, diarrhoea and trouble breathing. But now Chile is using a novel method to fight the disease: owls.
Mother of God: meet the 26 year old Indiana Jones of the Amazon, Paul Rosolie
(03/17/2014) Not yet 30, Paul Rosolie has already lived a life that most would only dare dream of—or have nightmares over, depending on one's constitution. With the Western Amazon as his panorama, Rosolie has faced off jaguars, wrestled anacondas, explored a floating forest, mentored with indigenous people, been stricken by tropical disease, traveled with poachers, and hand-reared a baby anteater. It's no wonder that at the ripe age of 26, Rosolie was already written a memoir: Mother of God.
The price of gold: winners and losers in Latin America's mining industry
(03/05/2014) On a Friday afternoon in June, the Plaza de Armas in Cajamarca is pulsing with life. It's winter here, and although thick white clouds hover low in the distance, the sun in this northern Peruvian city is warm. Couples sit on benches facing one another. Kids run in the grass between flowerbeds. Men in suits stride along the perimeter. It's an idyllic day. But signs of something more ominous are not far from sight. On the mountainside overlooking the town the words Nova Conga have been carved into the vegetation. It is a constant reminder that beyond the square, hemmed with international hotels and expensive restaurants, there is another reality.
Amazon trees super-diverse in chemicals
(03/03/2014) In the Western Amazon—arguably the world's most biodiverse region—scientists have found that not only is the forest super-rich in species, but also in chemicals. Climbing into the canopy of thousands of trees across 19 different forests in the region—from the lowland Amazon to high Andean cloud forests—the researchers sampled chemical signatures from canopy leaves and were surprised by the levels of diversity uncovered.
Why are the tropics so rich with life?
(02/24/2014) Descending the latitudinal ladder to the tropics, you would likely notice a few things: increasingly equivalent stretches of day and night, warmer weather and beachgoers with more intense sunburns. You may also notice an abundance of plant and animal life. Generations of scientists since the days of Darwin and Wallace have observed that species richness increases as one moves toward the equator. This holds true for nearly every animal group, including micro-organisms, marine invertebrates, insects, amphibians, birds and mammals. But why is this?
Next big idea in forest conservation? Applying genomics to conservation issues
(02/21/2014) Jaboury Ghazoul uses his expertise in plant ecology to address societal issues ranging from climate change adaptation to food production. He is excited about the use of genomics-- the study of hereditary information passed down through an organism's genetic code--for conservation. And genomics are certainly a hot topic in modern ecology.
Next big idea in forest conservation? Incentivizing keeping primary forests intact
(02/07/2014) Much of Dr. Corey Bradshaw's work has a singular aim: to keep primary habitats and functioning ecosystems intact. According to Bradshaw, the existing system of carbon trading rules needs to be changed so that primary forests are given a higher value than other forms of land use. 'Nothing, can replace primary vegetation, both in terms of biodiversity value and other ecosystem services.'
Wonderful Creatures: meet the animal that has evolved a cushy, worry-free life inside an octopus
(01/30/2014) The range of habitats that animals have come to occupy is nothing short of staggering. Take the dicyemids for example. They are among the simplest animals on the planet, with a tiny, worm-like adult body that consists of between 10 and 40 cells. They have no organs, body cavities or even guts—a structural simplicity which is a consequence of where and how they live. The only place you will find adult dicyemids is inside the bodies of cephalopods, typically octopuses and cuttlefish where large numbers of them cling to the inner wall of the mollusc's kidney.
Over 2,500 wolves killed in U.S.'s lower 48 since 2011

(01/28/2014) Hunters and trappers have killed 2,567 gray wolves in the U.S.'s lower 48 states since 2011, according to recent data. Gray wolves (Canis lupus) were protected by the Endangered Species Act (ESA) for nearly 40 years before being stripped of their protection status by a legislative rider in 2011. Last year total wolf populations were estimated at over 6,000 in the region.
Handful of species key to ecosystem health, finds study
(01/20/2014) While conducting field research in the humid salt marshes of Sapelo Island, scientists Marc Hensel and Brian Silliman made an astonishing discovery: species type, not just quantity, is vital for maintaining healthy ecosystems. For decades, scientists believed that preserving the largest number of species was critical for ecosystem function, regardless of their genetic makeup.
Wonderful Creatures: A nematode drama played out in a millipede's gut
(01/17/2014) Nematodes are typically small animals that to the naked eye look very much alike; however, these creatures are fantastically diverse —on a par with the arthropods in terms of species diversity. At face value, nematodes lack the charisma of larger animals, so there are very few biologists who have made it their life's work to understand them. Those who do have been rewarded with a glimpse of the incredible diversity of these animals, an example of which is the complex menagerie of nematodes that dwell in the guts of large, tropical millipedes.
Next big idea in forest conservation? Integrating forest conservation, use, and restoration
(01/10/2014) The next big idea is to integrate the social and natural components of forest conservation, use of forest products, and restoration. In reality, these aspects are completely intertwined, but in practice they are completely separated. I believe (along with many others) that the scale at which we can begin to integrate these components is at the landscape scale.
Over 75 percent of large predators declining
(01/09/2014) The world's top carnivores are in big trouble: this is the take-away message from a new review paper published today in Science. Looking at 31 large-bodied carnivore species (i.e those over 15 kilograms or 33 pounds), the researchers found that 77 percent are in decline and more than half have seen their historical ranges decline by over 50 percent. In fact, the major study comes just days after new research found that the genetically-unique West African lion is down to just 250 breeding adults.
Rainforest news review for 2013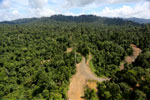 (12/26/2013) 2013 was full of major developments in efforts to understand and protect the world's tropical rainforests. The following is a review of some of the major tropical forest-related news stories for the year. As a review, this post will not cover everything that transpired during 2013 in the world of tropical forests. Please feel free to highlight anything this post missed via the comments section at the bottom. Also please note that this review focuses only on tropical forests.
Tiny algae signal big changes for warming Arctic lakes
(11/15/2013) The mighty polar bear has long been the poster child for the effects of global warming in the Arctic, but the microscopic diatom tells an equally powerful story. Diatoms are a type of algae that form the base of the food chain in watery habitats the world over. Disturbances among lake diatoms have exposed the impacts of rapid warming in the Hudson Bay Lowlands of eastern Canada, researchers reported Oct. 9 in the Proceedings of the Royal Society B
Coelacanths might be monogamous, to the surprise of researchers
(11/14/2013) They evaded humans for millions of years and live very private lives. The hulking, fleshy-finned fish known as the coelacanth has beguiled scientists for generations. But the coelacanth mystique that enchants researchers also makes it difficult to study. Researchers recently revealed in Nature Communications one startling aspect of the coelacanth lifestyle: they might be monogamous.
Wolves boost food for Yellowstone's threatened grizzlies
(11/13/2013) Wolves and grizzlies aren't best buddies. Burly bears can barge in on a feasting pack, making off with the wolves' fresh kill. Wolves have been known to dig into bear dens and snag a cub. But after gray wolves returned to Yellowstone National Park in 1995, grizzly bears ate more berries in the summer for a pre-hibernation nutritional boost, researchers reported Sept. 4 in the Journal of Animal Ecology
Amazon's vast rainforest dominated by few tree species
(11/12/2013) The Amazon rainforest is so vast, and so diverse, that seemingly simple questions— such as which species of trees are most common— remain unanswered. Researchers are finally seeing the forest and the trees after an international collaboration of 120 scientists teamed up to compile the largest tree survey ever assembled from the Amazon.
Featured video: 22-year-old produces documentary on the Peruvian Amazon
(10/15/2013) Spending a year on the Tambopata River in Peru's deep Amazon, allowed 22-year-old Tristan Thompson, to record stunning video of the much the region's little seen, and little known, wildlife. Thompson, a student at the University of the West of England, has turned his footage into a new documentary An Untamed Wilderness that not only gives viewers an inside look at the world's greatest forests, but also records the secretive behavior of many species, including howler monkeys, aracaris, leaf-cutter ants, hoatzin, and giant river otters.
Climate change could kill off Andean cloud forests, home to thousands of species found nowhere else
(09/18/2013) One of the richest ecosystems on the planet may not survive a hotter climate without human help, according to a sobering new paper in the open source journal PLoS ONE. Although little-studied compared to lowland rainforests, the cloud forests of the Andes are known to harbor explosions of life, including thousands of species found nowhere else. Many of these species—from airy ferns to beautiful orchids to tiny frogs—thrive in small ranges that are temperature-dependent. But what happens when the climate heats up?
World's biggest owl depends on large old trees
(09/03/2013) The Blakiston fish owl (Bubo Blakistoni) is the world's largest – and one of the rarest – owl species, with an impressive 6 foot (2 meter) wingspan. The giant owl, found exclusively in northeast Asia, shares its habitat with a menagerie of endangered and impressive animals, including Amur tigers, Amur leopards, Asiatic black bears and wild boars.
Are 'novel' tropical forests nature's response to global change?

(08/22/2013) We now live in a world dominated by humans (the Anthropocene), whose activities on Earth are resulting in new habitats and new environmental conditions including climate change. To many, the Anthropocene is an era of environmental doom that unless reversed, will result in catastrophic reductions in biodiversity. An alternate view is that the biota will adjust to the new environmental conditions and through processes of species mixing and self-organization will form sustainable novel communities of organisms.
Nutrient deficiency in Amazon rainforest linked to megafauna extinction
(08/12/2013) Around twelve thousand of years ago, the Amazon was home to a menagerie of giant creatures: the heavily armored glyptodons, the elephant-sized ground sloth, and the rhino-like toxodons among others. But by 10,000 B.C. these monsters were largely gone, possibly due to overhunting by humans or climatic changes. There's no question that the rapid extinction of these megafauna changed the environment, but a new study in Nature Geoscience posits a novel theory: did the mass extinction of big mammals lead to nutrient deficiency, especially of nitrogen, in parts of the Amazon rainforest?
Losing just one pollinator species leads to big plant declines
(07/22/2013) A shocking new study finds that losing just one pollinator species could lead to major declines in plant productivity, a finding that has broad implications for biodiversity conservation. Looking at ten bumblebee species in Colorado alpine meadows, two scientists found that removing a single bee species cut flower seed production by one-third. Pollinators worldwide are in major trouble as they are hit by habitat loss, pesticides, disease and other impacts. In fact, the EU has recently banned several pesticides that have been linked to the global bee decline.
Conserving top predators results in less CO2 in the air
(06/19/2013) What does a wolf in Yellowstone National Park have in common with an ambush spider on a meadow in Connecticut? Both are predators and thus eat herbivores, such as elk (in the case of wolves) and grasshoppers (in the case of spiders). Elk and grasshoppers also have more in common than you probably imagine: they both consume large quantities of plant matter. While scientists have long-known that predators lead to carbon storage by reducing herbivore populations, a new study reveals a novel way in which top predators cause an ecosystem to store more carbon.
Scientists discover that marine animals disperse seagrass

(05/09/2013) Lesser known than coral reefs, marine seagrass ecosystems are rich in biodiversity and are powerhouses when it comes to sequestering carbon dioxide. Yet, much remains unknown about the ecology of seagrass beds, including detailed information on how seagrass spread their seeds and colonize new area. Now a recent study in Marine Ecology Progress Series documents that several species of marine animal are key to dispersing seagrass, overturning the assumption that seagrass was largely dispersed by abiotic methods (such as wind and waves).
An insidious threat to tropical forests: over-hunting endangers tree species in Asia and Africa
(04/04/2013) A fruit falls to the floor in a rainforest. It waits. And waits. Inside the fruit is a seed, and like most seeds in tropical forests, this one needs an animal—a good-sized animal—to move it to a new place where it can germinate and grow. But it may be waiting in vain. Hunting and poaching has decimated many mammal and bird populations across the tropics, and according to two new studies the loss of these important seed-disperser are imperiling the very nature of rainforests.
Domesticated bees do not replace declining wild insects as agricultural pollinators
(04/03/2013) Sprinkled with pollen, buzzing bees fly from one blossom to another, collecting sweet nectar from brilliantly colored flowers. Bees tend to symbolize the pollination process, but there are many wild insects that carry out the same function. Unfortunately, wild insect populations are in decline, and, according to a recent study, adding more honey bees may not be a viable solution.
Ant communities more segregated in palm oil plantations than rainforest
(03/21/2013) Ants are an important ecological group in both degraded and natural habitats. They interact with many other species and mediate a range of ecological processes. These interactions are often interpreted in the context of ant mosaics, where dominant species form strict territories, keeping other ants out. This segregation between ant species is well-documented in monoculture plantations. Now new research published in Ecography has shown that these changes are driven by the replacement of rainforests with monocultures and not the arrival of non-native species.
Crocodilian competition may hinder conservation efforts in Amazon
(03/11/2013) In the slow-moving freshwater of the Amazon River basin, a dark, scaly crocodilian known as the black caiman (Melanosuchus niger) is attempting a comeback from near extinction, but another crocodilian may threaten the recovery process, according to a new study in the journal Herpetologica.
Seeing the forest through the elephants: slaughtered elephants taking rainforest trees with them
(03/11/2013) Elephants are vanishing. The booming illegal ivory trade is decimating the world's largest land animal, but no place has been harder hit than the Congo basin and its forest elephants (Loxodonta cyclotis). The numbers are staggering: a single park in Gabon, Minkebe National Park, has seen 11,100 forest elephants killed in the last eight years; Okapi Faunal Reserve in the Democratic Republic of the Congo has lost 75 percent of its elephants in fifteen years; and a new study in PLoS ONE estimates that in total 60 percent of the world's forest elephants have been killed in the last decade alone. But what does that mean for the Congo forest?
Warnings of global ecological tipping points may be overstated
(03/05/2013) There's little evidence that the Earth is nearing a global ecological tipping point, according to a new Trends in Ecology and Evolution paper that is bound to be controversial. The authors argue that despite numerous warnings that the Earth is headed toward an ecological tipping point due to environmental stressors, such as habitat loss or climate change, it's unlikely this will occur anytime soon—at least not on land. The paper comes with a number of caveats, including that a global tipping point could occur in marine ecosystems due to ocean acidification from burning fossil fuels. In addition, regional tipping points, such as the Arctic ice melt or the Amazon rainforest drying out, are still of great concern.
Chasing down 'quest species': new book travels the world in search of rarity in nature
(02/13/2013) In his new book, The Kingdom of Rarities, Eric Dinerstein chases after rare animals around the world, from the maned wolf (Chrysocyon brachyurus) in Brazil to the golden langur (Trachypithecus geei) in Bhutan to Kirtland's warbler (Setophaga kirtlandii) in the forests of Michigan. Throughout his journeys, he tackles the concept of rarity in nature head-on. Contrary to popular belief, rarity is actually the norm in the wildlife world.
Common toads ravaged by killer disease in Portugal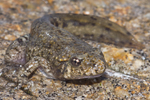 (01/14/2013) The chytrid fungus—responsible for millions of amphibian deaths worldwide—is now believed to be behind a sudden decline in the common midwife toad (Alytes obstetricans), according to a new paper in Animal Conservation. Researchers have detected the presence of the deadly fungus in the Serra da Estrela, north-central Portugal, home to a population of the midwife toad.
Rainforests teem with insects, most of which are unknown, finds study

(12/13/2012) Researchers in Panama have published the results of the most comprehensive survey of arthropods in a small area of tropical rainforest. At a high level, the findings surprise no one: the Panamanian rainforest is full of insects, spiders, and crustaceans. Yet the results also show how little is known about this large group of organisms — 60-70 percent of the species are thought to be new to science.
Ecological Restoration and Environmental Change: Renewing Damaged Ecosystems - book review

(12/03/2012) Stuart K. Allison, PhD's excellent book Ecological Restoration and Environmental Change: Renewing Damaged Ecosystems clearly explains the current state of affairs regarding ecological restoration. He addresses key issues and challenges to ecosystem restoration science dogma. He questions how we define ecosystem restoration and against which baseline. Baselines are various and can be difficult to define on a species by species level.
Endangered muriqui monkeys in Brazil full of surprises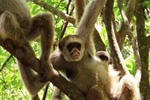 (11/26/2012) On paper, the northern muriquis (Brachyteles hypoxanthus) look like a conservation comeback story. Three decades ago, only 60 of the gentle, tree-dwelling primates lived in a fragment of the Atlantic Forest along the eastern coast of Brazil. Now there are more than 300. But numbers don't tell the whole story, according to anthropologist Karen Strier and theoretical ecologist Anthony Ives of the University of Wisconsin, Madison. The pair analyzed 28 years of data on the demographics of the muriquis, one of the longest studies of its kind. They found surprising patterns about birth and death rates, sex ratios, and even how often the monkeys venture out of their trees. These findings raise questions about the muriquis' long-term survival and how best to protect them, the scientists wrote in the Sept 17 issue of PLoS ONE.
Wolves, mole rats, and nyala: the struggle to conserve Ethiopia's highlands
(11/20/2012) There is a place in the world where wolves live almost entirely off mountain rodents, lions dwell in forests, and freshwater rolls downstream to 12 million people, but the place—Ethiopia's Bale Mountains National Park—remains imperiled by a lack of legal boundaries and encroachment by a growing human population. "Much of the land in Africa above 3,000 meters has been altered or degraded to the point where it isn't able to perform most of the ecosystem functions that it is designed to do. Bale, although under threat and already impacted to a degree by anthropogenic activities, is still able to perform its most important ecosystem functions, and as such ranks among only a handful of representative alpine ecosystems in Africa."
New species of bioluminescent cockroach possibly already extinct by volcanic eruption
(11/14/2012) While new species are discovered every day, Peter Vršanský and company's discovery of a light-producing cockroach, Lucihormetica luckae, in Ecuador is remarkable for many reasons, not the least that it may already be extinct. The new species represents the only known case of mimicry by bioluminescence in a land animal. Like a venomless king snake beating its tail to copy the unmistakable warning of a rattlesnake, Lucihormetica luckae's bioluminescent patterns are nearly identical to the poisonous click beetle, with which it shares (or shared) its habitat.
Controversial wolf hunt moves to the Midwest, 196 wolves killed to date
(11/14/2012) The hugely controversial wolf hunt in the U.S. has spread from the western U.S. (Montana, Idaho, and Wyoming) to the Midwest (Minnesota and Wisconsin) this year. Although the wolf hunt is less than a month old in the region—and only eleven days old in Minnesota—196 animals so far have been shot. As in the west, the wolf hunt has raised hackles among environmentalists along with fierce defenders among hunters. Wolves, which were protected under the the Endangered Species Act (ESA) since 1973, were stripped of that status by legislation in 2009, opening the door—should a state choose—to trophy hunting.
Happy Halloween: nine new species of tree-climbing tarantula discovered
(10/31/2012) If you suffer from acute arachnophobia, this is the perfect Halloween discovery for you: a spider expert has discovered nine new species of arboreal (tree-dwelling) tarantulas in the Brazil. Although tarantula diversity is highest in the Amazon rainforest, the new species are all found in lesser-known Brazilian ecosystems like the Atlantic Forest, of which less than 7 percent remains, and the cerrado, a massive savannah that is being rapidly lost to agriculture and cattle ranching.
Learning to live with elephants in Malaysia
(09/18/2012) Humans and elephants have a lot in common: both are highly intelligent, intensely social, and both are capable of having a massive impact on their local environments. Given their similarities, it might not be surprising that elephants and human have often run afoul of one another. Conflict between these two great species has probably been going on for thousands of years, but as human populations have grown dramatically, elephant populations have been crippled and forced into smaller-and-smaller pockets. No-where is this more true than in Southeast Asia.
Arachnopocalypse: with birds away, the spiders play in Guam
(09/17/2012) The island of Guam is drowning in spiders. New research in the open-access journal PLOS ONE has found that in the wet season, Guam's arachnid population booms to around 40 times higher than adjacent islands. Scientists say this is because Guam, a U.S. territory in the Pacific, has lost its insect-eating forest birds. Guam's forests were once rich in birdlife until the invasion of non-native brown tree snake (Boiga irregularis) in the 1940s decimated biodiverse bird communities. Now, the island is not only overrun with snakes, but spiders too.
Bird diversity at risk if 'agroforests' replaced with farmland
(09/13/2012) Agroforests contain much higher levels of bird diversity than their open agricultural counterparts, according to new research from the University of Utah. If large forests and agroforests continue to be replaced by simple open farms, bird communities will become much less specialized and entire groups may become extinct. Important roles for birds, such as pollination, pest control or seed dispersal, may remain unfilled if ongoing trends toward open agriculture continues and biodiversity decreases.
An interview with conservation writer David Quammen
(09/05/2012) David Quammen has done consistent and conscientious reporting from the trenches of ecological and evolutionary research for over thirty years now. Few in the world can claim as intimate and broad an understanding of conservation biology as he can. His books such as The Song of the Dodo and Monster of God match scientific and literary perfection. Nandini Velho and Umesh Srinivasan talk to him about the history of conservation science and what it can seek to create.
One extinction leads to another...and another
(08/28/2012) A new study in Biology Letters demonstrates that altering the relationship between a predator and its prey can cause wide-ranging ripple effects through an ecosystem, including unexpected extinctions. Species help each other, directly or indirectly, which scientists refer to as mutualism or commensalism. For example, a species' success may rely not only upon the survival of its food source, but may also indirectly rely upon the survival of more distantly related species.
Rodent robbers fill role of mega mammals, help spread tropical trees

(08/07/2012) In order to disperse their seeds, large-fruited tropical trees probably relied on massive mammals that roamed the earth over 10,000 years ago. But with giants such as the mastodon now extinct, thieving rodents—who continually excavate and rebury others' seeds—may be filling their role, according to a new study in the Proceedings of the National Academy of Sciences (PNAS).
Experts: sustainable logging in rainforests impossible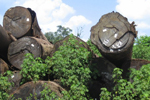 (07/19/2012) Industrial logging in primary tropical forests that is both sustainable and profitable is impossible, argues a new study in Bioscience, which finds that the ecology of tropical hardwoods makes logging with truly sustainable practices not only impractical, but completely unprofitable. Given this, the researchers recommend industrial logging subsidies be dropped from the UN's Reducing Emissions from Deforestation and Forest Degradation (REDD+) program. The study, which adds to the growing debate about the role of logging in tropical forests, counters recent research making the case that well-managed logging in old-growth rainforests could provide a "middle way" between conservation and outright conversion of forests to monocultures or pasture.
Struggling to conserve seed biodiversity: the gaps and wisdom in current research

(07/18/2012) Biodiversity conservation is huge field, but at its heart we find something very small: the seed. From seeds come the plants we need and food for the animals we hope to conserve as well. Knowledge of seed dispersal, or how seeds are generated and move through the landscape, is essential if we are to understand the influence of human activity on biodiversity.
Climate change to favor trees over grasses in Africa

(06/29/2012) As the world warms, scientists are working rapidly to understand how ecosystems will change, including which species will benefit and which will falter. A new study in Nature finds that elevated CO2 concentrations should favor trees and woody plants over savannah and grasslands in Africa.
'Time pollution': loss of predators pushes nocturnal fish to take advantage of the day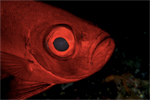 (06/25/2012) Nocturnal fish—which sport big eyes for improved night vision—are taking back the day in the coral reefs of the Tabuaeran Atoll, according to a new study in the open-access journal PLoS ONE. Overfishing has plundered the Pacific atoll of many of its notable predators, including sharks and barracudas, causing ripple effects through the ecosystem. One of these emerging changes appears to be that with less fear of being eaten, nocturnal fish are increasingly venturing out during the day.
Forgotten Species: the wonder-inducing giant clam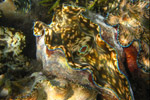 (06/11/2012) The first time I ever saw a giant clam was at a ride in Walt Disney World's Magic Kingdom. My family and I piled into the Nautilus submersible at the 20,000 Leagues Under the Sea: Submarine Voyage and descended into the playtime depths. While we saw sea turtles, sharks, lobsters, mermaids, and even a sea monster, the creature that lingered in my mind most was the giant clam, raising and closing its pearly shell in the weedy abyss. Of course, none of these aquatic wonders were real—they were animatronics—but to a child with a vivid imagination they stirred within me the deep mystery of the boundless ocean, and none more so than that monstrous clam with its gaping maw.
Scientists: if we don't act now we're screwed
(06/07/2012) Scientists warn that the Earth may be reaching a planetary tipping point due to a unsustainable human pressures, while the UN releases a new report that finds global society has made significant progress on only four environmental issues out of ninety in the last twenty years. Climate change, overpopulation, overconsumption, and ecosystem destruction could lead to a tipping point that causes planetary collapse, according to a new paper in Nature by 22 scientists. The collapse may lead to a new planetary state that scientists say will be far harsher for human well-being, let alone survival.
The vanishing Niger River imperils tourism and livelihoods in the desert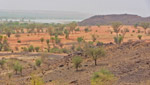 (06/04/2012) Severely affected by recent turmoil across its northern frontiers, Nigerien tourism pins hope on river valley attractions to play a major role in rebuilding its tourism industry in the upcoming years. Even though the river itself is threatened. Located in the heart of the Sahel Region, the vast desert lands of Niger have captivated European tourists seeking a taste of its immensely varied natural landscapes.
For Earth Day, 17 celebrated scientists on how to make a better world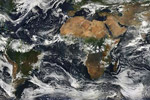 (04/22/2012) Seventeen top scientists and four acclaimed conservation organizations have called for radical action to create a better world for this and future generations. Compiled by 21 past winners of the prestigious Blue Planet Prize, a new paper recommends solutions for some of the world's most pressing problems including climate change, poverty, and mass extinction. The paper, entitled Environment and Development Challenges: The Imperative to Act, was recently presented at the UN Environment Program governing council meeting in Nairobi, Kenya.
Over 450 wolves shot dead in Idaho, Montana to date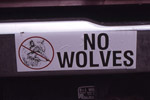 (02/27/2012) Less than a year after being pulled off the Endangered Species Act (ESA), gray wolves (Canis lupus) in the western U.S. are facing an onslaught of hunting. The hunting season for wolves has just closed in Montana with 160 individuals killed, around 75 percent of 220-wolf kill quota for the state. In neighboring Idaho, where 318 wolves have been killed so far by hunters and trappers, the season extends until June. In other states—Oregon, Washington, California, and Utah—wolf hunting is not currently allowed, and the species is still under federal protection in Wyoming.
Majority of protected tropical forests "empty" due to hunting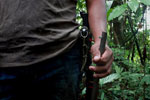 (02/08/2012) Protected areas in the world's tropical rainforests are absolutely essential, but one cannot simply set up a new refuge and believe the work is done, according to a new paper in Bioscience. Unsustainable hunting and poaching is decimating tropical forest species in the Amazon, the Congo, Southeast Asia, and Oceana, leaving behind "empty forests," places largely devoid of any mammal, bird, or reptile over a few pounds. The loss of such species impacts the whole ecosystems, as plants lose seed dispersers and the food chain is unraveled.
New meteorological theory argues that the world's forests are rainmakers
(02/01/2012) New, radical theories in science often take time to be accepted, especially those that directly challenge longstanding ideas, contemporary policy or cultural norms. The fact that the Earth revolves around the sun, and not vice-versa, took centuries to gain widespread scientific and public acceptance. While Darwin's theory of evolution was quickly grasped by biologists, portions of the public today, especially in places like the U.S., still disbelieve. Currently, the near total consensus by climatologists that human activities are warming the Earth continues to be challenged by outsiders. Whether or not the biotic pump theory will one day fall into this grouping remains to be seen. First published in 2007 by two Russian physicists, Victor Gorshkov and Anastassia Makarieva, the still little-known biotic pump theory postulates that forests are the driving force behind precipitation over land masses.
Saving the world's biggest river otter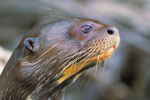 (01/30/2012) Charismatic, vocal, unpredictable, domestic, and playful are all adjectives that aptly describe the giant river otter (Pteronura brasiliensis), one of the Amazon's most spectacular big mammals. As its name suggest, this otter is the longest member of the weasel family: from tip of the nose to tail's end the otter can measure 6 feet (1.8 meters) long. Living in closely-knit family groups, sporting a complex range of behavior, and displaying almost human-like capricious moods, the giant river otter has captured a number of researchers and conservationists' hearts, including Dutch conservationist Jessica Groenendijk.
Big trees, like the old-growth forests they inhabit, are declining globally
(01/26/2012) Already on the decline worldwide, big trees face a dire future due to habitat fragmentation, selective harvesting by loggers, exotic invaders, and the effects of climate change, warns an article published this week in New Scientist magazine. Reviewing research from forests around the world, William F. Laurance, an ecologist at James Cook University in Cairns, Australia, provides evidence of decline among the world's 'biggest and most magnificent' trees and details the range of threats they face. He says their demise will have substantial impacts on biodiversity and forest ecology, while worsening climate change.
Protecting original wetlands far preferable to restoration

(01/26/2012) Even after 100 years have passed a restored wetland may not reach the state of its former glory. A new study in the open access journal PLoS Biology finds that restored wetlands may take centuries to recover the biodiversity and carbon sequestration of original wetlands, if they ever do. The study questions laws, such as in the U.S., which allow the destruction of an original wetland so long as a similar wetland is restored elsewhere.
How lemurs fight climate change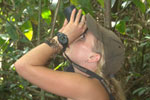 (01/09/2012) Kara Moses may have never become a biologist if not for a coin toss. The coin, which came up heads and decided Moses' direction in college, has led her on a sinuous path from studying lemurs in captivity to environmental writing, and back to lemurs, only this time tracking them in their natural habitat. Her recent research on ruffed lemurs is attracting attention for documenting the seed dispersal capabilities of Critically Endangered ruffed lemurs as well as theorizing connections between Madagascar's lemurs and the carbon storage capacity of its forests. Focusing on the black-and-white ruffed lemur's (Varecia variegata) ecological role as a seed disperser—animals that play a major role in spreading a plant's seeds far-and-wide—Moses suggests that not only do the lemurs disperse key tree species, but they could be instrumental in dispersing big species that store large amounts of carbon.
Giant snakes commonly attacked modern hunter-gatherers in Philippines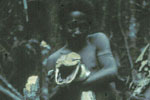 (12/13/2011) Humans have an ambivalent relationship with snakes. The legless reptiles are often feared and reviled, becoming stand-ins for the Devil and movie monster characters; yet many people have grown to love snakes, raising large, even dangerous, specimens as pets. Now, new research suggests that the ecological role between snakes and humans, as well as other primates, is more nuanced than expected. After spending decades living among the Agta Negritos people in the Philippines, anthropologist Thomas Headland has found that the hunter gatherer tribes were quite commonly attacked by reticulated pythons (Python reticulatus), while the people themselves had no qualms with hunting, killing, and consuming python.
Zoopharmacognosy: how self-healing animals could save humans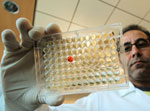 (11/27/2011) As humans we take many things for granted. When we come down with a sore throat, a fever, or the dreaded stomach flu, we drag our aching bodies into our cars and visit the doctor. Animals have no such luxury. Instead they have mastered evolution and have acquired an innate knowledge of the plants, soils, minerals, algae, and other remedies that nature offers to heal their aches and pains.
Photos: two dozen new beetles discovered in Papua New Guinea hotspot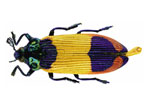 (11/23/2011) Over the past two decades, at least 24 new beetles species have been discovered in a remote mountainous rainforest region of Papua New Guinea by Swedish entomologists Ulf Nylander. Described in the new book Biodiversity, Biogeography and Nature Conservation in Wallacea and New Guinea, the new beetles found in the Aseki Province are all ecologically linked to rotting wood.
Giant rat plays big ecological role in dispersing seeds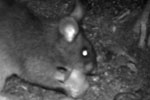 (11/16/2011) Rats are rarely thought of as heroes. In fact, in many parts of the world they are despised, while in others they serve largely as food. But, scientists are now discovering that many tropical forest rodents, including rats, serve as heroic seed dispersers, i.e. eating fruits and nuts, and carrying seeds far from the parent tree, giving a chance to a new sapling. While this has been documented with tropical rodents in South America like agoutis and acouchis, a new study in Biotropica documents the first successful seed dispersal by an African rodent: the Kivu giant pouched rat (Cricetomys kivuensis), one of four species of giant African rats.




Page 1 | Page 2 | Page 3 | Page 4 | Page 5