News articles on e-waste

---
Mongabay.com news articles on e-waste in blog format. Updated regularly.






Health effects of toxic waste sites in developing countries could rival malaria, air pollution, new study shows
(05/07/2013) Exposure to dangerous chemicals from toxic waste sites may be creating a public health crisis in developing countries comparable to that caused by malaria or even air pollution, a new study suggests, highlighting the urgent need to clean up toxic waste. In a study published on Saturday in Environmental Health Perspectives, researchers calculated the number of 'healthy years of life lost' due to ill-health, disability or early death in individuals at risk of exposure to chemicals at 373 toxic waste sites in India, the Philippines and Indonesia.
High-tech hell: new documentary brings Africa's e-waste slum to life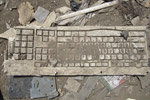 (04/30/2012) Shirtless boys rapidly pull the computer apart, discarding bits and pieces, until they expose the wires, yank them out, and toss them into a fire. Acrid, toxic smoke blooms as the boys prod the wires and the fire strips the plastic around the wires, leaving the sought-after copper. Welcome, to Agbogbloshie, where your technology goes to die. A new film e-wasteland captures the horrors of the world's largest e-waste slum through surreal and staggering images. Shot over three weeks by one-man guerrilla filmmaker, David Fedele, e-wasteland is an entirely visual experience without dialogue or voiceover.
Children on the frontlines: the e-waste epidemic in Africa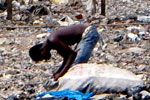 (09/09/2011) In Agbogbloshie, a slum outside the capital city of Accra, Ghana, tons of electronic waste lies smoldering in toxic piles. Children make their way through this dangerous environment, desperate to strip even a few ounces of copper, aluminum, brass, and zinc from worn-out electronics originating from the United States and Europe. "The smell alone will drive all but the most desperate away, but many are so desperate they persevere despite the obvious dangers. It is a very tough thing to witness," explains Dr. Kwei Quartey, a Ghanaian author and physician, in a recent mongabay.com interview.
U.S. ignores laws on e-waste disposal

(09/19/2008) U.S. laws for exporting electronic waste (e-waste) are widely ignored, according to a General Accountability Office (GAO) report, which faults the Environmental Protection Agency.
Video game-makers score low on sustainability

(11/27/2007) While environmentalists, scientists, development exports, and policymakers across the political spectrum are ethusiastic about the idea of offsetting carbon emissions by preventing deforestation (a concept known as "avoided deforestation" or Reduced Emissions from Deforestation and Degradation (REDD)), the concept still faces many challenges, especially in implementation.
Apple defends green credentials, promises to do better

(05/04/2007) In a open letter posted Wednesday, Apple Inc. CEO Steve Jobs countered claims by green groups that the iPod and computer maker lagged in recycling and removing toxic chemicals from its products. He said the company is already an industry leader when it comes to the environment and that Apple will continue to reduce its impact on the planet.
Eco-Friendly Computers and Monitors Identified

(07/22/2006) More than 60 desktop computers, laptops, and monitors from three manufacturers were recognized today as part of a U.S. Environmental Protection Agency (EPA) funded effort to identify high performance, environmentally friendly computer equipment. All of the products meet the new EPEAT green computer standard and they are listed online in the EPEAT database at ww.epeat.net.
Consumers want environmentally friendly computers

(06/26/2006) A study conducted earlier this year by Ipsos-MORI on behalf of Greenpeace found that consumers say they would be willing to pay more for an environmentally friendly computer. The amounts ranged from $59 in Germany, $118 in UK, $199 in China and $229 in Mexico.