News articles on deforestation

---
Mongabay.com news articles on deforestation in blog format. Updated regularly.





Amazon tribe blocks major Brazilian highway

(06/08/2007) Indigenous Amazonians have blocked a major highway in the Brazilian state of Mato Grosso to protest a series of hydroelectric dams planned on the Xingu river, one of the Amazon's largest tributaries, according to Brazzil Mag and Survival International.


Archer Daniels Midland announces Amazon biodiesel plant start date

(06/08/2007) Archer Daniels Midland (ADM) plans to start operation of its $20 million biodiesel in the Brazilian state of Mato Grosso in early August, a company official said this week, according to MarketWatch.


Logging roads rapidly expanding in Congo rainforest

(06/07/2007) Logging roads are rapidly expanding in the Congo rainforest, report researchers who have constructed the first satellite-based maps of road construction in Central Africa. The authors say the work will help conservation agencies, governments, and scientists better understand how the expansion of logging is impacting the forest, its inhabitants, and global climate.


Can cattle ranchers and soy farmers save the Amazon?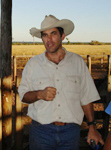 (06/06/2007) John Cain Carter, a Texas rancher who moved to the heart of the Amazon 11 years ago and founded what is perhaps the most innovative organization working in the Amazon, Alianca da Terra, believes the only way to save the Amazon is through the market. Carter says that by giving producers incentives to reduce their impact on the forest, the market can succeed where conservation efforts have failed. What is most remarkable about Alianca's system is that it has the potential to be applied to any commodity anywhere in the world. That means palm oil in Borneo could be certified just as easily as sugar cane in Brazil or sheep in New Zealand. By addressing the supply chain, tracing agricultural products back to the specific fields where they were produced, the system offers perhaps the best market-based solution to combating deforestation. Combining these approaches with large-scale land conservation and scientific research offers what may be the best hope for saving the Amazon.


Indonesia: No more rainforest clearing for palm oil

(06/05/2007) Indonesian Minister for Environment Rachmat Witoelar said Indonesia will not allow palm oil producers to clear primary forests for establishing plantations, reports Bloomberg. Indonesia is expected to surpass Malaysia as the world largest producer of palm oil this year. The government hopes to add 7 million hectares of plantations by 2011.


10-20% of birds extinct by 2100 due to global warming, deforestation


(06/04/2007) Ten to twenty percent of the world's terrestrial bird species could be threatened with extinction by 2100 due to climate change and habitat destruction reports a study published in the June 5 issue of the journal PLoS Biology. The numbers are in line with estimates published last year in The Proceedings of the National Academy of Sciences. Combining future projections on global warming, agricultural expansion and human population growth from the global Millennium Ecosystem Assessment with current geographic ranges of the world's 8,750 species of terrestrial birds, researchers Walter Jetz, David Wilcove, and Andrew Dobson estimate that 950 to 1800 species may be condemned to extinction by 2100.


Rural population decline may not slow deforestation


(06/03/2007) A new paper shoots down the theory that increasing urbanization will lead to increasing forest cover in the tropics. Writing in the July issue of the journal Biotropica, Sean Sloan, a researcher from McGill University in Montreal, argues that anticipated declines in rural populations via urbanization will not necessarily result in reforestation--a scenario put forth in a controversial paper published in Biotropica last year by Joseph Wright of the Smithsonian Tropical Research Institute in Panama and Helene Muller-Landau of the University of Minnesota. Wright and Muller-Landau said that deforestation rates will likely slow, then reverse, due to declining rural population density in developing countries.


Globalization could save the Amazon rainforest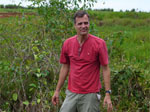 (06/03/2007) The Amazon basin is home to the world's largest rainforest, an ecosystem that supports perhaps 30 percent of the world's terrestrial species, stores vast amounts of carbon, and exerts considerable influence on global weather patterns and climate. Few would dispute that it is one of the planet's most important landscapes. Despite its scale, the Amazon is also one of the fastest changing ecosystems, largely as a result of human activities, including deforestation, forest fires, and, increasingly, climate change. Few people understand these impacts better than Dr. Daniel Nepstad, one of the world's foremost experts on the Amazon rainforest. Now head of the Woods Hole Research Center's Amazon program in Belem, Brazil, Nepstad has spent more than 23 years in the Amazon, studying subjects ranging from forest fires and forest management policy to sustainable development. Nepstad says the Amazon is presently at a point unlike any he's ever seen, one where there are unparalleled risks and opportunities. While he's hopeful about some of the trends, he knows the Amazon faces difficult and immediate challenges.


U.S. tropical timber imports fall by half in 2006

(05/28/2007) Tropical lumber imports into the United States fell from 353,985 cubic meters in 2005 to 176,806 cubic meters in 2006, reports the International Tropical Timber Organization (ITTO) in its latest update. Tropical timber made up only 12 percent of U.S. hardwood lumber imports by volume for the year.


Uganda abandons rainforest logging for palm oil

(05/27/2007) The Ugandan government abandoned plans to log thousands of hectares of rainforest on Bugala island in Lake Victoria for a palm oil plantation, Reuters reported Saturday.


Experts: Borneo in urgent need of protection


(05/23/2007) A prominent group of 1500 scientists in over 70 countries have called for the urgent conservation of Borneo's forests, which are fast-disappearing on the southeast Asian island due to logging, fires, and conversion for oil palm plantations.


Uganda rainforest reserve safe, for now

(05/23/2007) Uganda's cabinet has suspended a proposal to allow a sugarcane grower to convert part of Mabria rainforest reserve for a plantation, reports Reuters. The plan, a pet project of president Yoweri Museveni, faced widespread opposition that was capped by deadly riots.


U.S. ethanol may drive Amazon deforestation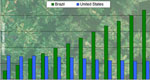 (05/17/2007) Ethanol production in the United States may be contributing to deforestation in the Brazilian rainforest said a leading expert on the Amazon. Dr. Daniel Nepstad of the Woods Hole Research Center said the growing demand for corn ethanol means that more corn and less soy is being planted in the United States. Brazil, the world's largest producer of soybeans, is more than making up for shortfall, by clearing new land for soy cultivation. While only a fraction of this cultivation currently occurs in the Amazon rainforest, production in neighboring areas like the cerrado grassland helps drive deforestation by displacing small farmers and cattle producers, who then clear rainforest land for subsistence agriculture and pasture.


US tropical hardwood imports fall 24% since 2002

(05/16/2007) The United States is importing considerable less tropical hardwood according to the International Tropical Timber Organization's (ITTO) Tropical Timber Market Report.


Peru makes progress on illegal mahogany logging

(05/16/2007) Last month Inrena, Peru's environmental agency, implemented regulations for mahogany loggers that will now require forest concession holders to replant ten times the logged amount of trees. Overall, the initiative calls for the production and establishment of one million of mahogany plantlets over 5 years.


China tropical log imports jump at Jiangsu port

(05/16/2007) Logs imports through Zhangjiagang Port in Jiangsu Province, China have increased significantly in 2007, reports the International Tropical Timber Organization (ITTO) in its bi-weekly update.


Biofuels displace indigenous people

(05/15/2007) Indigenous people are being pushed off their lands to make way for an expansion of biofuel crops around the world, threatening to destroy their cultures by forcing them into big cities, the head of a U.N. panel said Monday.


Amazon nun-killer sentenced to 30 years in Brazil

(05/15/2007) Vitalmiro Bastos de Moura, a Brazilian rancher charged with ordering the killing of Dorothy Stang, an American nun, in the Amazon rainforest in February 2005, was convicted today of murder and sentenced to 30 years in prison.


Reducing tropical deforestation will help fight global warming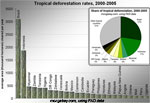 (05/10/2007) Scientists have lent support to a plan by developing countries to fight global warming by reducing deforestation rates. Tropical deforestation releases more than 1.5 billion metric tons of carbon into the atmosphere every year, though in some years, like the 1997-1998 el Nino year when fires released some 2 billion tons of carbon from peat swamps alone in Indonesia, emissions are more than twice that. Writing in the journal Science, an international team of scientists argue that the Reducing Emissions from Deforestation (RED) initiative, launched in 2005 by the United Nations Framework Convention on Climate Change, is scientifically and technologically sound, and that political and economic challenges facing the plan can be overcome.


UN warns on dangers of bioenergy

(05/09/2007) Biofuels offer "an extraordinary opportunity" to reduce greenhouse gas emissions but could make "substantial demands on the world's land and water resources at a time when demand for both food and forest products is also rising rapidly," said the U.N. in its first assessment on the growing bioenergy industry.


Amazon rainforest locks up 11 years of CO2 emissions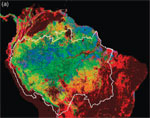 (05/08/2007) The amount and distribution of above ground biomass (or the amount of carbon contained in vegetation) in the Amazon basin is largely unknown, making it difficult to estimate how much carbon dioxide is produced through deforestation and how much is sequestered through forest regrowth. To address this uncertainty, a team of scientists from Caltech, the Woods Hole Institute, and INPE (Brazil's space agency), have developed a new method to determine forest biomass using remote sensing and field plot measurements. The researchers say the work will help them better understand the role of Amazon rainforest in global climate change.


Massive oil palm expansion planned by Indonesia's richest man

(05/08/2007) Indonesia's richest man plans to spend $4 billion to expand his company's palm oil, energy, and pulp and paper holdings, according to a report from Reuters.


Peatlands store 100 years of CO2 emissions

(05/08/2007) The UN Convention on Climate Change is putting global climate at risk by ignoring carbon dioxide emissions from the destruction of carbon-rich peatlands in Indonesia, charged Wetlands International, a Dutch environmental group that has highlighted the climate impact of land-use change in southeast Asia.


Carbon dioxide emissions lag 25% behind 2012 targets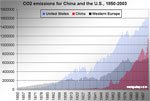 (05/08/2007) The world is far behind carbon dioxide emissions targets set by the Kyoto Protocol reports the Little Green Data Book 2007, an annual publication put out by the World Bank. The publication notes that global carbon dioxide emissions have risen 19 percent since 1990, more than 25 percent behind goals set forth under the Kyoto Protocol, which called for a 5.2 percent reduction from 1990 levels.


ITTO has failed to end tropical forest destruction says Greenpeace

(05/07/2007) Greenpeace activists today abseiled from the top of the Crowne Plaza hotel in downtown Port Moresby, where delegates were gathering for the start of the 42nd International Tropical Timber Organization's (ITTO) committee meeting, and unfurled a banner which read 'ITTO Stop Forest Destruction'.


Indonesia may import timber due to supply shortage

(05/07/2007) Indonesia, the world's largest exporter of tropical timber, may need to import wood from neighbors due to supply shortages caused by a crack down on illegal logging and resource depletion, reports the International Tropical Timber Organization (ITTO).


Better forest policies would reduce illegal logging in the Amazon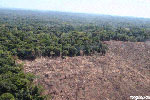 (05/06/2007) Brazil could improve sustainable forest management, reduce illegal logging, and perhaps cuts deforestation by introducing coherent policies for timber operations in the Amazon rainforest argues a new paper published in Frontiers in Ecology. However, successful implementation of sustainable timber production will require overcoming significant biological and political hurdles, suggest the authors.


Indonesia to be recognized in Guinness Book of World Records for deforestation rate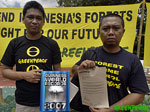 (05/04/2007) Greenpeace is using an novel marketing ploy to raise awareness about forest loss in Indonesia: the Guinness Book of World Records. The green group has convinced the publisher of to recognize Indonesia as the "country with the fastest rate of forest destruction on the planet." Indonesia's high rate of forest loss is largely the result of poor forest management and corruption. Each year thousands of hectares are illegally logged for timber and burned to establish oil palm plantations.


Madagascar' forests are recovering



(05/02/2007) Some of Madagascar's most biologically rich forests appear to be recovering according to research published in the open-access journal PLoS ONE. The study also offers new insight in the forces behind deforestation and the social context of reforestation efforts.


Dutch plan restricts biofuels that damage environment


(04/29/2007) The Netherlands has proposed a system to reduce the environmental impact of biofuels production. The country becomes the first in the world to establish such guidelines. Environmentalists have expressed increasing concern for the establishment of energy crops in biodiverse and carbon-rich ecosystems like the peatlands of Indonesia and the Amazon rainforest. They say that conversion of these forests for oil palm and soybeans is threatening endangered species and worsening global warming. Further, they warn, demand for such biomass energy products is driving up prices for food crops.


Dutch will demand rainforest-friendly palm oil


(04/27/2007) In a report scheduled to be released today, the Dutch government will outline criteria for growing biofuels in a more sustainable manner. The guidelines will be closely watched by the rest of Europe, which is currently struggling with the environmental pros and cons of large-scale energy crop production, especially in ecologically-sensitive areas like the Amazon and Indonesian rainforests.


Ecuador: pay us not to develop Amazon oil reserves

(04/27/2007) Ecuador says it will wait a year to see whether the international community takes its offer to forsake development of a giant oil field in the Amazon rainforest in exchange for compensation, reports the Environmental News Service.


Indonesia's Aceh, Papua pledge to protect forests

(04/26/2007) Governors from three Indonesian provinces which are home to most of the country's rainforests pledged on Thursday to conserve them as part of efforts to mitigate the impact of climate change.


Chevron shareholders may be liable for billions in environmental damages

(04/25/2007) The lead lawyer in the landmark environmental lawsuit against Chevron in Ecuador is in California to warn that the oil major has failed to prepare for a possible multi-billion dollar damages bill within the coming months


Brazil splits environmental agency to fast-track development projects


(04/25/2007) Brazil will divide its environmental protection agency IBAMA into two separate entities reports Reuters. The move is expected to speed development projects in the Amazon rainforest.


Scientists capture video of rare Borneo rhino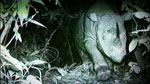 (04/24/2007) WWF has captured video footage of the rare Borneo rhino. There are only 25-50 of the rhino left in the wild on the island. Video from a camera trap shows the animal eating, walking to the camera and sniffing the equipment. It is first time the beast's behvaior in the wild has been captured on film.


Deforestation in Borneo worsened by European colonization

(04/24/2007) Colonialism may have worsened slash-and-burn deforestation in Borneo according to a new study published by a researcher at the University of Missouri-Columbia.


How to stop haze and forest fires in Indonesia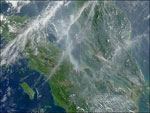 (04/19/2007) In recent years, annual forest fires in Indonesian have destroyed millions of hectares of forest and caused billions of dollars in economic damage. After each episode of fires the Indonesian government, facing criticism from neighboring governments, promises it will crack down. Nothing happens and the fires burn again the next year.


Soybeans may worsen drought in the Amazon rainforest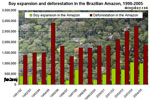 (04/18/2007) The rapid expansion of soybean cultivation in the Amazon may be having a larger impact on climate than previously believed, according to research published last week in Geophysical Research Letters. Using experimental plots in the Amazon, a team of scientists led by Marcos Costa from the Federal University of Vicosa in Brazil found that clearing for soybeans increases the reflectivity or albedo of land, reducing rainfall by as much as four times relative to clearing for pasture land.


China's demand for hardwood drives illegal logging says Greenpeace

(04/17/2007) Environmental group Greenpeace said on Tuesday China should take responsibility for illegal hardwood logging in Southeast Asia which supplied the raw materials for Chinese exports to the West.


Illegal logging threatens Congo's forests, global climate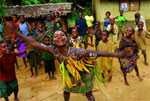 (04/11/2007) Despite government and World Bank assurances to the contrary. a new report from Greenpeace finds that illegal logging is rampant in the Democratic Republic of Congo (DRC). The report, Carving up the Congo, reveals that in spite of a 2002 moratorium on new logging, over 15 million hectares of rainforest have been concessioned to loggers with little regard to the environmental impact or compensation to affected communities.


Indonesia seeks to increase deforestation rate, already world's highest


(04/09/2007) Already having the highest deforestation rate in the world, Indonesia's Minister of Forestry announced the country would increase its harvest quota for natural timber for 2007 by 12 percent to 9.1 million cubic meters according to the International Tropical Timber Organization (ITTO). ITTO said the target quota may actually be 12.4 million cubic meters (53 percent higher than 2006) for the year.


Congo cancels logging contracts


(04/09/2007) The new government of the Democratic Republic of Congo (DRC) cancelled more than 20 illegally-granted logging contracts which covered nearly three million hectares (7.4 million acres) of forest, according to a report from AFP. The announcement came at the International conference on the sustainable management of the forests in the DRC (ConForDRC) held February 26-27 in Brussels. At the conference policymakers agreed that Congo should maintain its moratorium on new logging and provide legal recognition for the rights of indigenous forest dwellers. There was wide support for Congo's participation in the Coalition of Rainforest Nations' proposal to seek compensation for forest conservation.


Could global deforestation fight climate change?


(04/09/2007) While many climate change mitigation schemes rely on reforestation schemes to sequester carbon dioxide from the atmosphere, those located in temperate regions may actually be warming the planet, worsening global change, reports a new study published in the April 9-13 online edition of the Proceedings of the National Academy of Sciences. Surprisingly, the research suggests that global-scale deforestation would produce a net cooling effect, but that forest preservation efforts and reforestation in the tropics is more effective in cooling the planet.


Indonesia and Australia sign deforestation pact


(04/09/2007) Indonesia and Australia have agreed to reduce deforestation in southeast Asia according to Malcolm Turnbull, the Australian Minister for the Environment and Water Resources. Turnbull was in Jakarta meeting with the Indonesian Minister for Forestry, M. S. Kaban, and the Minister for the Environment, Rachmat Witoelar.


Palm oil doesn't have to be bad for the environment


(04/04/2007) As traditionally practiced in southeast Asia, oil palm cultivation is responsible for widespread deforestation that reduces biodiversity, degrades important ecological services, worsens climate change, and traps workers in inequitable conditions sometimes analogous to slavery. This doesn't have to be the case. Following examples set forth by the Roundtable on Sustainable Palm Oil and firms like Golden Hope Plantations Berhad, a Malaysian palm oil producer, oil palm can be cultivated in a manner that helps mitigate climate change, preserves biodiversity, and brings economic opportunities to desperately poor rural populations.


Eco-friendly palm oil could help alleviate poverty in Indonesia


(04/03/2007) The Associated Press (AP) recently quoted Marcel Silvius, a climate expert at Wetlands International in the Netherlands, as saying palm oil is a failure as a biofuel. This would be a misleading statement and one that doesn't help efforts to devise a workable solution to the multiplicity of issues surrounding the use of palm oil.


Congo forest elephants declining from logging roads, illegal ivory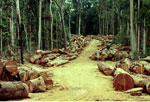 (04/02/2007) Fast-expanding logging roads in the Congo basin are becoming 'highways of death' for the fierce but elusive forest elephant, according to a new study published in the journal Public Library of Science. Logging roads both provide access to remote forest areas for ivory poachers and serve as conduits of advancing human settlement.


Brazil to give Amazonian tribes Internet access to fight deforestation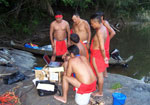 (03/30/2007) Brazil will offer free satellite Internet connections to indigenous tribes in the Amazon according to a report from Reuters. It says that the plan will help reduce illegal logging by enabling natives to monitor and report on illicit activities.


Australia puts $200M toward rainforest conservation


(03/30/2007) Australia has committed A$200m ($160m) to global forest conservation efforts to help fight illegal logging and slow global warming. The fund is one of the largest ever established by a government for reducing tropical deforestation. The new fund, known as the Global Initiative on Forests and Climate, aims to cut deforestation rates and promote reforestation schemes.



Page 1 | Page 2 | Page 3 | Page 4 | Page 5 | Page 6 | Page 7 | Page 8 | Page 9 | Page 10 | Page 11 | Page 12 | Page 13 | Page 14 | Page 15 | Page 16 | Page 17 | Page 18 | Page 19 | Page 20 | Page 21 | Page 22 | Page 23 | Page 24 | Page 25 | Page 26 | Page 27 | Page 28 | Page 29 | Page 30 | Page 31 | Page 32 | Page 33 | Page 34 | Page 35 | Page 36 | Page 37 | Page 38