News articles on deforestation

---
Mongabay.com news articles on deforestation in blog format. Updated regularly.










Bureaucratic reform plays a part in reducing deforestation in Indonesia
(01/17/2013) Reforming Indonesia's bloated and underperforming bureaucracy will play an important part in reducing the country's high rate of deforestation and forest degradation, the head of the country's Ministry of Administrative Reform told mongabay.com in an exclusive interview. Administrative Reform Minister Azwar Abubakar said that a smaller and more meritocratic bureaucracy will help cut corruption while more effectively governing the sprawling archipelago.
Dead tigers, dead people: logging by paper industry worsens human-tiger conflict in Sumatra, alleges report
(01/10/2013) Destruction of rainforests and peatlands on the Indonesian island of Sumatra by the pulp and paper industry is worsening conflict between tigers and humans, including fatal encounters, alleges a new report published by a coalition of environmental groups in Riau, Sumatra. The report looks specifically at five concessions operated by companies that supply wood to Asia Pulp & Paper (APP) and its corporate parent, the Sinar Mas Group (SMG). The report says that the majority of human-tiger conflict incidents in Riau between 1997 and 2009 occurred within these concessions.
Paradigm shift needed to avert global environmental collapse, according to author of new book The Blueprint: Averting Global Collapse
(01/10/2013) Global strategist, trained educator, and international lecturer Daniel Rirdan set out to create a plan addressing the future of our planet. His book The Blueprint: Averting Global Collapse, published this year, does just that. "It has been a sixty hour a week routine," Rirdan told mongabay.com in a recent interview. "Basically, I would wake up with the burden of the world on my shoulders and go to sleep with it. It went on like this for eighteen months." It becomes apparent when reading The Blueprint that it was indeed a monumental undertaking.
The year in rainforests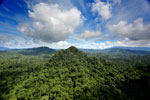 (12/31/2012) 2012 was another year of mixed news for the world's tropical forests. This is a look at some of the most significant tropical rainforest-related news stories for 2012. There were many other important stories in 2012 and some were undoubtedly overlooked in this review. If you feel there's something we missed, please feel free to highlight it in the comments section. Also please note that this post focuses only on tropical forests.
Paper giant breaks pledge to end rainforest logging in Sumatra, says group
(12/26/2012) Pulp and paper giant Asia Pacific Resources International Limited (APRIL) continues to destroy large areas of rainforests and peatlands despite a commitment to end natural forest logging by 2009, says a new report issued by a coalition of Indonesian environmental groups. The Eyes on the Forest report finds that APRIL and its suppliers cleared at least 140,000 hectares (346,000 acres) of natural forest between 2008 and 2011 in Riau, accounting for 27 percent of all forest loss in the province during the period. Some of the area cleared by APRIL and its subsidiaries consisted of deep peat swamp forest, which stores massive amount of carbon.
Amazon rainforest failing to recover after droughts

(12/24/2012) The impact of a major drought in the Amazon rainforest in 2005 persisted far longer than previously believed, raising questions about the world's largest tropical forest to cope with the expected impacts of climate change, reports a new study published in the journal Proceedings of the National Academy of Sciences.
Brazil launches forest trading system

(12/19/2012) Brazil has launched a new platform that enables farmers and ranchers who have cleared forest beyond the legal minimum to come into compliance by purchasing forest 'quotas' from landowners who have more than the mandated level of forest cover, reports the Associated Press. The system could spur increased compliance with the country's Forest Code, according to some experts.
Top 10 Environmental Stories of 2012
(12/18/2012) Below is a quick review of some of the biggest environmental stories of 2012. The 'top stories' are listed in no particular order. Climate change, overpopulation, consumption, and ecological destruction is pushing planet Earth toward a tipping point according to a major study in Nature released over the summer. This could result in a new 'planetary state' that would be far harsher and bleaker than the current one (beginning around 12,000 years ago), which saw the rise and success of human society.
Indonesia's big REDD+ project announcement "premature", but moving forward

(12/18/2012) The Indonesian government's announcement at climate talks in Doha that it had approved the country's forest conservation project under its Reducing Emissions from Deforestation and Degradation (REDD+) program was premature, argues a new report from an Indonesian environmental group.
Cutting through the rhetoric on palm oil production
(12/14/2012) Palm oil is widely acknowledged as one of the most important drivers of deforestation and forest diminishment in Southeast Asia. Conversion of forests and peatlands for oil palm plantations is both a substantial source of greenhouse gas emissions and a major threat to biodiversity — one study called palm oil the 'single most immediate threat to the greatest number of species'.
Uncontacted tribes still exist, but extinction threat looms
(12/11/2012) The world is more interconnected than ever. Globally, there are six billion cell phone subscribers and 900 million Facebook users. Nearly 32 million people follow Lady Gaga on Twitter. Given this content it may seem hard to believe that there remain people who have never had contact with the outside world. Yet such people do exist today. Most of them live in the most remote parts of the world's wildest forests. One of this year's best paperback books takes a close look at one uncontacted group — the Arrow People of the Brazilian Amazon. Written by veteran journalist Scott Wallace, The Unconquered is a gripping first-person account of a journey to learn more about this little-known tribe.
Amazon has nearly 100,000 km of roads

(12/08/2012) The Amazon Basin has 96,500 kilometers of roads, nearly two-thirds of which are unpaved, reports a comprehensive new atlas of the region, which contains the world's largest rainforest.
Palm oil or lard?

(12/07/2012) Animal fats and margarine consumption in the United States have been largely replaced by palm oil, a plant-based oil that has similar cooking properties, but may not be as environmentally-friendly as commonly believed, argues a researcher in this week's issue of Nature.
Greenpeace says U.S. logging company has broken landmark boreal forest agreement

(12/06/2012) When a long-fought peace was reached between nine environmental groups and 20 logging companies in 2010 for the vast Canadian boreal forest, it was dubbed the "world's largest conservation agreement." However, now that agreement is being shaken. A dispute between Greenpeace and U.S. logging company, Resolute Forest Products, over alleged logging in critical caribou habitat has resulted in the activist group abandoning the agreement.
Illegal logging, mining worsened impact of Philippines' killer typhoon

(12/06/2012) According to Filipino officials, rampant illegal logging and mining were likely a part of the cause for the high casualty count from Category 5 Typhoon Bopha (Pablo), especially in the Compostela Valley where government officials had warned people to stop the illegal activities. So far, 370 people have been found dead on the island of Mindanao with another 400 missing. Waters rose so high even emergency shelters were inundated.
Asia Pulp & Paper hires top U.S. lobbyist to help 'green' its image
(12/05/2012) Indonesian forestry giant Asia Pulp & Paper (APP) has hired a top U.S. official to help it work through trade and environmental issues. In November, APP announced it had retained Stuart Eizenstat of Covington & Burling, a U.S.-based law firm, to help 'ensure APP's trade and sustainability compliance in North America'. Eizentstat's hiring is notable because he led the U.S. delegation that negotiated the Kyoto Protocol and has served in a number of high-level government positions, including U.S. Ambassador to the European Union; Under Secretary of Commerce for International Trade; Under Secretary of State for Economic, Business and Agricultural Affairs; and Deputy Secretary of the Treasury in the Clinton Administration.
Forests, farming, and sprawl: the struggle over land in an Amazonian metropolis
(12/04/2012) The city of Parauapebas, Brazil is booming: built over the remains of the Amazon rainforest, the metropolis has grown 75-fold in less than 25 years, from 2,000 people upwards of 150,000. But little time for urban planning and both a spatial and mental distance from the federal government has created a frontier town where small-scale farmers struggle to survive against racing sprawl, legal and illegal mining, and a lack of investment in environmental protection. Forests, biodiversity, and subsistence farmers have all suffered under the battle for land. In this, Parauapebas may represent a microcosm both of Brazil's ongoing problems (social inequality, environmental degradation, and deforestation) and opportunity (poverty alleviation, reforestation, and environmental enforcement).
Africa's great savannahs may be more endangered than the world's rainforests
(12/04/2012) Few of the world's ecosystems are more iconic than Africa's sprawling savannahs home to elephants, giraffes, rhinos, and the undisputed king of the animal kingdom: lions. This wild realm, where megafauna still roam in abundance, has inspired everyone from Ernest Hemingway to Karen Blixen, and David Livingstone to Theodore Roosevelt. Today it is the heart of Africa's wildlife tourism and includes staunch defenders such as Richard Leakey, Michael Fay, and the Jouberts. Despite this, the ecosystem has received less media attention than imperiled ecosystems like rainforests. But a ground-breaking study in Biodiversity Conservation finds that 75 percent of these large-scale intact grasslands have been lost, at least from the lion's point of view.
Brazilian bank approves $10.8 billion loan for controversial Amazon rainforest dam

(11/30/2012) Brazil's National Development Bank (BNDES) on Monday announced it has approved a $10.8 billion (22.5 billion Brazilian reais) loan to the consortium that is building the controversial Belo Monte dam in the state of Par´ in the heart of the Amazon rainforest, reports International Rivers, a group that is campaigning against the dam. The loan in the largest in the bank's 60-year history, according to the group.
'Exporting deforestation': China is the kingpin of illegal logging
(11/29/2012) Runaway economic growth comes with costs: in the case of China's economic engine, one of them has been the world's forests. According to a new report by the Environmental Investigation Agency (EIA), China has become the number one importer of illegal wood products from around the world. Illegal logging—which threatens biodiversity, emits carbon, impoverishes local communities, and is often coupled with other crimes—has come under heavy pressure in recent years from the U.S., the EU, and Australia. Each of these has implemented, or will soon implement, new laws that make importing and selling illegal wood products domestic crimes. However, China's unwillingness to tackle its vast appetite for illegal timber means the trade continues to decimate forests worldwide.
5 years in, debates over REDD+ continue
(11/28/2012) An initiative that aims to slow global warming by paying developing countries to protect and better manage their forests is expected to be an important storyline during climate talks in Doha this week and next. REDD+ (Reducing Emissions from Deforestation and Degradation), as the mechanism is known, has grown in complexity since it gained momentum during the 2005 climate talks in Montreal, but is arguably moving forward faster than other areas of climate negotiations. Still, many elements of REDD+ continue to be as hotly debated today as they were five years ago when it got the conceptual OK from the U.N. These include the process for establishing baselines to measure reductions in emissions, safeguards to protect against adverse outcomes for biodiversity and forest-dependent communities, and financing and markets.
Brazil's deforestation at record low from 2011-2012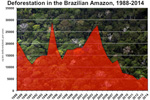 (11/27/2012) Deforestation in the Brazilian Amazon fell to the lowest rate since annual record-keeping began in 1988 according to provisional data released Tuesday by Brazil's National Space Research Agency (INPE). 1,798 square miles (4,656 square kilometers) of Amazon forest was chopped down during the 12 months ending July 31, 2012, 27 percent less than the year earlier period.
Legislation leaves future of world's largest temperate rainforest up in the air
(11/27/2012) Although unlikely to pass anytime in the near term, recurring legislation that would hand over 80,000 acres of the Tongass Rainforest to a Native-owned logging corporation has put local communities on guard in Southeast Alaska. "The legislation privatizes a public resource. It takes land that belongs to all of us, and that all of us have a say in the use and management of, and it gives that land to a private for-profit corporation," Andrew Thoms, Executive Director of the Sitka Conservation Society, told mongabay.com in a recent interview.
Indian coal giant targets forests

(11/18/2012) The world's largest coal producer, the state-run Coal India Ltd., plans to massively expand mining in forest areas to help meeting surging demand for electricity, reports The Wall Street Journal.
Foreign loggers and corrupt officials flouting logging moratorium in the Democratic Republic of Congo
(11/08/2012) In 2002 the Democratic Republic of Congo (DRC) announced a moratorium on commercial logging in a bid to save rapidly falling forests, however a new report by Global Witness alleges that industrial loggers are finding a way around the logging freeze. Through unscrupulous officials, foreign companies are abusing artisanal permits—meant for local community logging—to clear-cut wide swathes of tropical forest in the country. These logging companies are often targeting an endangered tree—wenge (Millettia laurentii)—largely for buyers in China and Europe.
Over 100,000 farmers squatting in Sumatran park to grow coffee
(11/06/2012) Sumatra's Bukit Barisan Selatan National Park—home to the Critically Endangered Sumatran rhinos, tigers, and elephants—has become overrun with coffee farmers, loggers, and opportunists according to a new paper in Conservation and Society. An issue facing the park for decades, the study attempted for the first time to determine the number of squatters either living in or farming off Bukit Barisan Selatan National Park, a UNESCO World Heritage Site; the rough census—over 100,000 people—shocked scientists.
New rare frog discovered in Sri Lanka, but left wholly unprotected
(11/05/2012) Sri Lanka, an island country lying off the southeast coast of India, has long been noted for its vast array of biodiversity. Islands in general are renowned for their weird and wonderful creatures, including high percentages of endemic species—and Sri Lanka, where scientists recently discovered a new frog species, is no exception.
After protracted Greenpeace campaign, KFC UK says it will no longer source from Asia Pulp & Paper
(10/31/2012) After months of pressure from Greenpeace on its alleged links to deforestation in Indonesia, KFC UK/Ireland has adopted a forest policy that excludes fiber sourced via conversion of tropical rainforests. The policy excludes suppliers like Asia Pulp & Paper (APP), the Chinese/Indonesian forestry giant that has been the primary target of the Greenpeace campaign, but appears to apply only to Kentucky Fried Chicken operations in Britain and Ireland.
Happy Halloween: nine new species of tree-climbing tarantula discovered
(10/31/2012) If you suffer from acute arachnophobia, this is the perfect Halloween discovery for you: a spider expert has discovered nine new species of arboreal (tree-dwelling) tarantulas in the Brazil. Although tarantula diversity is highest in the Amazon rainforest, the new species are all found in lesser-known Brazilian ecosystems like the Atlantic Forest, of which less than 7 percent remains, and the cerrado, a massive savannah that is being rapidly lost to agriculture and cattle ranching.
Future of the Tongass forest lies in salmon, not clear-cut logging
(10/25/2012) The Parnell administration's Timber Task Force recently unveiled a proposal to carve out two million acres of the Tongass National Forest for clear-cut logging under a state-managed "logging trust." The stated goal is to revive Southeast Alaska's timber industry that collapsed two decades ago amid changing market conditions, logging cutbacks and evolving public opinion about timber harvesting on national forests.
Will designation of new administrative districts lead to more deforestation in Indonesia?
(10/24/2012) On Monday Indonesia's House of Representatives moved to establish 'North Kalimantan', a new province in Indonesian Borneo. It also voted for four new districts: Pangandaran in West Java, South Coast in Lampung, and South Manokwari and Arfak Mountains in West Papua. While the moves aim to improve governance by boosting local autonomy, they could make it more difficult for Indonesia to meet its deforestation reduction goals if recent trends — detailed in a 2011 academic paper — hold true.
Chinese forest activist arrested for self-publishing books

(10/15/2012) An award-winning forest activist, Liu Futang, is facing trial in China for printing books without the proper licenses, even though he says he gave most of the self-published books away for free. In April, Futang won Best Citizen Journalist in China's Environmental Press Awards for covering deforestation Hainan province on his blog. Seven months later and the 63-year-old, who suffers from diabetes, could face five years in prison.
The world's 25 most endangered primates: nearly a quarter in Madagascar
(10/15/2012) A coalition of conservation groups released the biannual Top 25 Primates list today, including nine species not appearing on the 2010 list, at the UN's Convention on Biological Diversity (CBD) in Hyderabad, India. Madagascar tops the list as home to the most threatened primates, including six on the list. Following Madagascar, Vietnam contains five, Indonesia three, and Brazil two. In all, over half (54 percent) of the world's primates, which have been evaluated, are considered threatened by the IUCN Red List.
Dollar General drops APP due to rainforest destruction concerns

(10/11/2012) U.S. retailer Dollar General has stopped sourcing paper products from controversial brand Asia Pulp and Paper (APP), according to the World Wide Fund for Nature (WWF) which has targeted 20 companies for selling APP-sourced tissue and paper towels. APP has been under fire for years for deforestation on the Indonesian island of Sumatra, the last home to the Sumatran tiger (Panthera tigris sumatrae), Sumatran orangutan (Pongo abelii), and Sumatran elephant (Elephas maximus sumatranus), each of which is listed as Critically Endangered by the IUCN Red List.
Cambodia drops case of murdered forest activist, Chut Wutty

(10/08/2012) An investigation into the mysterious death of Cambodian forest activist, Chut Wutty, has been dismissed by the courts, which critics allege is apart of an ongoing cover up. The court decided that since the suspect in Wutty's death, In Rattana, was also dead there was no need to proceed. Chut Witty was shot to death while escorting two journalists to a logging site run by Timbergreen. Wutty, whose death made international news, was a prominent activist against illegal logging in Cambodia.
Roundtable on Sustainable Palm Oil hits 10 year mark
(10/04/2012) The Roundtable on Sustainable Palm Oil (RSPO) is holding its tenth annual meeting later this month. The initiative, which aims to improve the social and environmental performance of palm oil production through a certification standard, has advanced considerably during that time, moving from an idea to a reality: RSPO-certified palm oil now accounts for 12 percent of global palm oil production. Yet the RSPO is not without controversy. Some palm oil companies say its criteria are too costly to adopt and are therefore discriminatory, while environmental critics argue its bar for "sustainable" palm oil is too low and the loopholes allow producers to claim membership even if they aren't actually producing certified palm oil across all their holdings. Nonetheless the RSPO has support from many of the world's largest palm oil producers, traders, and consumers as well as the biggest NGOs.





Forest destruction leads to more floods in temperate regions

(10/04/2012) Keeping forests standing would lessen both the number and size of spring floods in temperate regions, according to a new study in Water Resources Research, by slowing seasonal snow melts. In deforested areas, snow melts faster due to a lack of shade causing at least twice as many, and potentially up to four times as many, flood events. The new research highlights a largely unknown ecosystem service provided by temperate forests: flood mitigation.




Page 1 | Page 2 | Page 3 | Page 4 | Page 5 | Page 6 | Page 7 | Page 8 | Page 9 | Page 10 | Page 11 | Page 12 | Page 13 | Page 14 | Page 15 | Page 16 | Page 17 | Page 18 | Page 19 | Page 20 | Page 21 | Page 22 | Page 23 | Page 24 | Page 25 | Page 26 | Page 27 | Page 28 | Page 29 | Page 30 | Page 31 | Page 32 | Page 33 | Page 34 | Page 35 | Page 36 | Page 37 | Page 38 | Page 39 | Page 40 | Page 41 | Page 42 | Page 43 | Page 44 | Page 45 | Page 46 | Page 47 | Page 48