News articles on deforestation

---
Mongabay.com news articles on deforestation in blog format. Updated regularly.








UN report gives Indonesia low marks in forest governance
(05/09/2013) A new UN report exposes serious flaws in Indonesia's forest governance, serving as a wake up call to policy makers aiming to conserve forests in the country, which boasts the third largest area of tropical forest coverage in the world. On Monday, the United Nations Development Programme (UNDP) together with the Government of Indonesia launched a comprehensive forest governance index, which evaluates forest governance at the central, provincial and district levels and offers policy recommendations designed to better equip the country to conserve forests and peatlands.
Debate heats up over California's plan to reduce emissions via rainforest protection
(05/07/2013) As the public comment period for California's cap-and-trade program draws to a close, an alliance of environmental activists have stepped up a heated campaign to keep carbon credits generated by forest conservation initiatives in tropical countries out of the scheme. These groups say that offsets generated under the so-called Reducing Emissions from Deforestation and Degradation (REDD+) mechanism, will undermine efforts to cut emissions as home, while potentially leading to abuses abroad. However supporters of forest conservation-based credits say the program may offer the best hope for saving the world's beleaguered rainforests, which continue to fall at a rate of more than 8 million hectares per year.
Court rules for palm oil company in controversial deforestation case
(05/05/2013) Court orders Aceh governor to reverse decision to cancel palm oil concession in protected peatlands. An Indonesian court has ruled in favor of plantation company PT Kallista Alam in a lawsuit brought against the governor of Indonesia's Aceh province for revoking the company's license to develop palm oil plantations in a protected peat swamp forest.
Endangered primates and cats may be hiding out in swamps and mangrove forests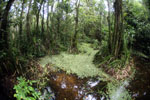 (05/02/2013) What happens to animals when their forest is cut down? If they can, they migrate to different forests. But in an age when forests are falling far and fast, many species may have to shift to entirely different environments. A new paper in Folia Primatologica theorizes that some 60 primate species and 20 wild cat species in Asia and Africa may be relying more on less-impacted environments such as swamp forests, mangroves, and peat forests.
Is it possible to reduce the impact of oil drilling in the Amazon rainforest?
(05/02/2013) Oil extraction in the Amazon rainforest has been linked to severe environmental degradation — including deforestation and pollution — which in some areas has spurred violent social conflict. Yet a vast extent of the Colombian, Peruvian, Ecuadorian, Bolivian, and Brazilian Amazon is currently under concession for oil and gas exploration and production. It seems clear that much of this hydrocarbon development is going to proceed whether environmentalists and human rights groups like it or not.
13 year search for Taiwan's top predator comes up empty-handed

(05/01/2013) After 13 years of searching for the Formosan clouded leopard (Neofelis nebulosa brachyura), once hopeful scientists say they believe the cat is likely extinct. For more than a decade scientists set up over 1,500 camera traps and scent traps in the mountains of Taiwan where they believed the cat may still be hiding out, only to find nothing.
Indigenous tribes say effects of climate change already felt in Amazon rainforest
(04/30/2013) Tribal groups in Earth's largest rainforest are already being affected by shifts wrought by climate change, reports a paper published last week in the British journal Philosophical Transactions of the Royal Society B. The paper, which is based on a collection of interviews conducted with indigenous leaders in the Brazilian Amazon, says that native populations are reporting shifts in precipitation patterns, humidity, river levels, temperature, and fire and agricultural cycles. These shifts, measured against celestial timing used by indigenous groups, are affecting traditional ways of life that date back thousands of years.
Conservation without supervision: Peruvian community group creates and patrols its own protected area
(04/30/2013) When we think of conservation areas, many of us think of iconic National Parks overseen by uniformed government employees or wilderness areas purchased and run from afar by big-donor organizations like The Nature Conservancy, Wildlife Conservation Society, WWF, or Conservation International. But what happens to ecosystems and wildlife in areas where there's a total lack of government presence and no money coming in for its protection? This is the story of one rural Peruvian community that took conservation matters into their own hands, with a little help from a dedicated pair of primate researchers, in order to protect a high biodiversity cloud forest.
What if companies actually had to compensate society for environmental destruction?
(04/29/2013) The environment is a public good. We all share and depend on clean water, a stable atmosphere, and abundant biodiversity for survival, not to mention health and societal well-being. But under our current global economy, industries can often destroy and pollute the environment—degrading public health and communities—without paying adequate compensation to the public good. Economists call this process "externalizing costs," i.e. the cost of environmental degradation in many cases is borne by society, instead of the companies that cause it. A new report from TEEB (The Economics of Ecosystems and Biodiversity), conducted by Trucost, highlights the scale of the problem: unpriced natural capital (i.e. that which is not taken into account by the global market) was worth $7.3 trillion in 2009, equal to 13 percent of that year's global economic output.
Probe confirms Singapore-based palm oil company engaged in land-grabbing in Borneo

(04/26/2013) An independent investigation has shown that First Resources Ltd, a palm oil plantation company and member of the Roundtable on Sustainable Palm Oil (RSPO), failed to obtain proper consent from local communities before clearing rainforests for plantations in Indonesian Borneo, an Indonesian indigenous rights group reported last week.
Environmentalists unhappy with new palm oil standard
(04/25/2013) Environmentalists are unhappy with Thursday's approval of new criteria for the world's leading palm oil certification standard. After members of the Roundtable on Sustainable Palm Oil (RSPO) in a special assembly approved the body's new 'principles and criteria' (P&Cs) for palm oil certification, several groups voiced concern that the rules won't protect against conversion of carbon-dense rainforests and peatlands for oil palm plantations.
Brazil's success in reducing deforestation will be hard to replicate

(04/23/2013) The sharp reduction in deforestation in the Brazilian state of Mato Grosso since the mid-2000s will be difficult to replicate in other tropical countries where commodity production is a major driver in forest loss, argues a new study published in a special issue of the journal Philosophical Transactions of the Royal Society B.
RSPO failing to meet sustainability objectives for palm oil production, says WWF

(04/23/2013) An initiative that aims to improve the social and environmental performance of palm oil production is faltering in its mission by failing to establish strong performance standards on greenhouse gas emissions and pesticide use, argues a new statement issued by WWF, the initiative's biggest green supporter.
The river of plenty: uncovering the secrets of the amazing Mekong
(04/23/2013) Home to giant catfish and stingrays, feeding over 60 million people, and with the largest abundance of freshwater fish in the world, the Mekong River, and its numerous tributaries, brings food, culture, and life to much of Southeast Asia. Despite this, little is known about the biodiversity and ecosystems of the Mekong, which is second only to the Amazon in terms of freshwater biodiversity. Meanwhile, the river is facing an existential crisis in the form of 77 proposed dams, while population growth, pollution, and development further imperil this understudied, but vast, ecosystem.
Malaysia may be home to more Asian tapirs than previously thought (photos)
(04/23/2013) You can't mistake an Asian tapir for anything else: for one thing, it's the only tapir on the continent; for another, it's distinct black-and-white blocky markings distinguishes it from any other tapir (or large mammal) on Earth. But still little is known about the Asian tapir (Tapirus indicus), including the number surviving. However, researchers in Malaysia are working to change that: a new study for the first time estimates population density for the neglected megafauna, while another predicts where populations may still be hiding in peninsular Malaysia, including selectively-logged areas.
A new tool against illegal logging: tree DNA technology goes mainstream
(04/22/2013) Modern DNA technology offers a unique opportunity: you could pinpoint the origin of your table at home and track down if the trees it was made from were illegally obtained. Each wooden piece of furniture comes with a hidden natural barcode that can tell its story from a sapling in a forest all the way to your living room.
To win concessions in Aceh, mining company hires official being investigated for graft
(04/18/2013) A Toronto Stock Exchange-listed mining company has hired an official being investigated for corruption under its effort to convince the Aceh provincial government to re-zone protected forest areas for a gold mine on Indonesia's Sumatra island, according to an alliance of Indonesian environmentalists. The official, former Golkar Deputy Chairman Fadel Muhammad, has been retained by East Asia Minerals to help it win a carve-out for its Miwah project, a 30,000-hectare concession atop a forested mountain in Aceh.
Mining company working with Indonesian govt to strip forest of protected status
(04/16/2013) A Toronto-listed mining company says it is working closely with the Indonesian government to strip the protected status of some 1.2 million hectares of forest on the island of Sumatra. In a statement issued Tuesday, East Asia Minerals Corporation (TSX:EAS) claimed it is actively involved in the process of devising a new spatial plan for Aceh province, Sumatra's western-most province. The proposed changes to the spatial plan, which governs land use in the province, would re-zone large areas of protected forest in Aceh for industrial activities.
Illegal logging threatens lowland forests in Indonesian national park
(04/16/2013) Illegal logging in the heart of Indonesia's Gunung Palung National Park may be putting one of the country's last remaining lowland forests at risk. The park, located in Indonesia's West Kalimantan province on the island of Borneo, is home to a number of endangered species including hornbills and gibbons, as well as around 2,500 orangutans, and is the site of a research station that has been collecting data on the forest for more than 20 years.
Fighting deforestation—and corruption—in Indonesia
(04/11/2013) The basic premise of the Reducing Emissions from Deforestation and Degradation (REDD+) program seems simple: rich nations pay tropical countries for preserving their forests. Yet the program has made relatively limited progress on the ground since 2007, when the concept got tentative go-ahead during U.N. climate talks in Bali. The reasons for the stagnation are myriad, but despite the simplicity of the idea, implementing REDD+ is extraordinarily complex. Still the last few years have provided lessons for new pilot projects by testing what does and doesn't work. Today a number of countries have REDD+ projects, some of which are even generating carbon credits in voluntary markets. By supporting credibly certified projects, companies and individuals can claim to "offset" their emissions by keeping forests standing. However one of the countries expected to benefit most from REDD+ has been largely on the sidelines. Indonesia's REDD+ program has been held up by numerous factors, but perhaps the biggest challenge for REDD+ in Indonesia is corruption.
International Paper commits to working with longtime foe to protect endangered forests

(04/10/2013) In another sign that the global paper industry may be steering toward more sustainable practices following years of bruising activist campaigns and pressure from buyers, International Paper (IP) has committed to identifying and protecting endangered forests and high conservation value areas in the southern U.S. The company, which is the world's largest paper maker, will be partnering with its tenacious NGO critic, the Dogwood Alliance, in order to map out forests in the region and, furthermore, move away from converting natural forests into pine plantations.
Sarawak to protect population of rarest orangutan sub-species

(04/10/2013) After facilitating large-scale logging and conversion of extensive areas of rainforest habitat, the government of Sarawak says it will protect a population of up to 200 of the world's rarest Bornean orangutans recently identified during field surveys by conservationists, reports the Wildlife Conservation Society (WCS).
6 lessons for stopping deforestation on the frontier
(04/09/2013) In 1984, at the tail end of the Brazilian dictatorship, I took up residence in a frontier town called Paragominas in the eastern Amazon. I went to study rainforests and pasture restoration, but soon became captivated as well by the drama of the frontier itself. Forests were hotly contested among cattle ranchers, smallholder communities, land speculators and more than a hundred logging companies, sometimes with fatal results. If we are to meet rising global demand for food, conserve tropical forests, and mitigate climate change at the pace that is necessary, we must become much better at taming aggressive, lawless tropical forest frontiers where people are making a lot of money cutting forests down.
Nordic energy giant launches 'no deforestation' policy

(04/07/2013) Neste Oil, a Finnish energy giant, has announced a new 'no deforestation' policy for sourcing palm oil. The company, which is one of the world's largest buyers of palm oil, had faced criticism from environmentalists for purchasing palm oil potentially linked to rainforest and peatland destruction in southeast Asia.
Investigation clears APP of deforestation allegations in Borneo
(04/04/2013) Two logging companies that supply Asia Pulp & Paper (APP) with timber have not violated the Indonesian forestry giant's new zero deforestation commitment, according to a field investigation by The Forest Trust, a conservation group. The investigation was a direct response to allegations raised in a report published last week by Relawan Pemantau Hutan Kalimantan (RPHK), a consortium of local NGOs in West Kalimantan, the western-most province in Indonesian Borneo. The RPHK report found evidence of active clearing within two concession areas linked to Asia Tani Persada (ATP) and Daya Tani Kalbar (DTK), companies that supply APP with timber for its pulp mills.
New giant tarantula that's taken media by storm likely Critically Endangered (photos)
(04/04/2013) Described by a number of media outlets as "the size of your face" a new tree-dwelling tarantula discovered in Sri Lanka has awed arachnophiliacs and terrified arachnophobes alike. But the new species, named Raja's tiger spider (Poecilotheria rajaei), is likely Critically Endangered according to the scientist that discovered it in northern Sri Lanka.
Can we meet rising food demand and save forests?
(04/03/2013) A few weeks ago the Skoll World Forum hosted an online debate on how increased global consumption can be balanced with sustainability. The debate asks how a rapidly growing world that is ever consuming can hope to feed everyone, and at the same time address the deforestation that is emitting massive amounts of carbon into the atmosphere and destroying the world's greatest tropical forests. Many contributors made very strong points—even contradicting one another in their approaches and ideas.
Improving the rigor of measuring emissions from deforestation, agriculture
(04/03/2013) While much has been written about the potential of reducing greenhouse gas emissions by protecting tropical forests, a proposed program to do just that has been challenged by a number of factors, including concerns about the accuracy of measuring for carbon reductions. Failure to properly account for carbon could undermine the effectiveness of the Reducing Emissions from Deforestation and Degradation (REDD+) program as a tool for mitigating climate change and securing benefits for local people. To help address the technical issues that underpin carbon measurement, the University of California, San Diego (UC San Diego) and the World Wildlife Fund (WWF) have launched a new Certificate in Advanced Terrestrial Carbon Accounting.
Conservation gets boost from new Landsat satellite
(04/03/2013) Efforts to monitor the world's forests and other ecosystems got a big boost in February with the launch of Landsat 8, NASA's newest earth observation satellite, which augments the crippled Landsat 7 currently orbiting Earth (technically Landsat 8 is still named the Landsat Data Continuity Mission (LDCM) and will remain so until May when the USGS turns control of the satellite over to NASA). Landsat 8/LDCM is the most advanced Earth observation satellite to date. It is the eighth Landsat since the initial launch in 1972.
U.S. book industry using 24 percent recycled paper on average
(04/01/2013) From 2004 to 2010, book publishers increased their use of recycled fiber by nearly five times, from 5 percent to 24 percent on average, according to a new report by the Book Industry Environmental Council (BIEC) and Green Press Initiative. The report, which depends on voluntary statistics from the book industry, also found that nearly all (89 percent) of book publishers have environmental policies.
Jumping the gun? Confusion over APP deforestation report
(03/29/2013) On Thursday AFP reported that green groups have accused Indonesian forestry giant Asia Pulp & Paper (APP) of breaking its commitment to stop clearing natural forests and peatlands. But that's not entirely accurate. What the coalition of environmental groups in Indonesian Borneo actually reported was clearing by two companies that supply APP with fiber, not deforestation by APP-owned companies.









Conflict zones have higher deforestation rates in the Amazon

(03/28/2013) Areas in the Amazon where there is conflict over land tenure have higher deforestation rates than places where land rights are secure, finds a new study that assesses the effectiveness of indicators used to gauge the success of protected areas in Brazil.










Page 1 | Page 2 | Page 3 | Page 4 | Page 5 | Page 6 | Page 7 | Page 8 | Page 9 | Page 10 | Page 11 | Page 12 | Page 13 | Page 14 | Page 15 | Page 16 | Page 17 | Page 18 | Page 19 | Page 20 | Page 21 | Page 22 | Page 23 | Page 24 | Page 25 | Page 26 | Page 27 | Page 28 | Page 29 | Page 30 | Page 31 | Page 32 | Page 33 | Page 34 | Page 35 | Page 36 | Page 37 | Page 38 | Page 39 | Page 40 | Page 41 | Page 42 | Page 43 | Page 44 | Page 45 | Page 46 | Page 47 | Page 48 | Page 49 | Page 50