News articles on deforestation

---
Mongabay.com news articles on deforestation in blog format. Updated regularly.






New illegal logging ban in EU could sever all ties with companies working in DRC
(03/04/2013) Yesterday, the EU joined the U.S. and Australia in banning all timber that was illegally harvested abroad. The new regulation could have a major impact on where the EU sources its timber, and no where more so than the Democratic Republic of Congo (DRC). According to a new report by Greenpeace, the DRC's current moratorium on industrial logging is being systematically circumvented making all timber from the country suspect.
Extinction warning: racing to save the little dodo from its cousin's fate
(03/04/2013) Sometime in the late 1600s the world's last dodo perished on the island of Mauritius. No one knows how it spent its final moments—rather in the grip of some invasive predator or simply fading away from loneliness—but with its passing came an icon of extinction, that final breath passed by the last of its kind. The dodo, a giant flightless pigeon, was a marvel of the animal world: now another island ground pigeon, known as the little dodo, is facing its namesake's fate. Found only in Samoa, composed of ten islands, the bird has many names: the tooth-billed pigeon, the Manumea (local name), and Didunculus ("little dodo") strigirostris, which lead one scientist to Christen it the Dodlet. But according to recent surveys without rapid action the Dodlet may soon be as extinct as the dodo.
Saving forests by stemming agricultural sprawl
(03/01/2013) I'm fortunate to travel the world helping conserve habitats for some of the world's most iconic species. When I visit places like the Amazon and Sumatra, I'm still awestruck by their diversity and pristine beauty. I'm also reminded how threatened they are. Our growing demand for food and fiber is fueling deforestation in resource-rich regions of the world. As environmentalists, if we don't change where and how we produce food and fiber, we can turn off the lights and go home. There won't be any biodiversity left to protect.
Malaysian NGOs boldly demand forest conservation action in Borneo
(02/28/2013) In an unusually bold statement catalyzed by the deaths of 14 rare elephants, six Malaysian NGOs today called on the Sabah state government to pursue 'a more conservation focused agenda' in managing the state's forests. The demand comes shortly after the death of 14 endangered pygmy elephants — thought poisoned by an oil palm plantation developer — thrust Sabah's environmental problems into the international spotlight.
Warlords, sorcery, and wildlife: an environmental artist ventures into the Congo
(02/25/2013) Last year, Roger Peet, an American artist, traveled to the Democratic Republic of Congo (DRC) to visit one of the world's most remote and wild forests. Peet spent three months in a region that is largely unknown to the outside world, but where a group of conservationists, headed by Terese and John Hart, are working diligently to create a new national park, known as Lomami. Here, the printmaker met a local warlord, discovered a downed plane, and designed a tomb for a wildlife ranger killed by disease, in addition to seeing some of the region's astounding wildlife. Notably, the burgeoning Lomami National Park is home to the world's newest monkey species, only announced by scientists last September.
Indonesia's East Kalimantan loses forest area to new province in Borneo
(02/24/2013) The creation of a new province, North Kalimantan, on Indonesian Borneo, has dramatically reduced the primary forest area in Indonesia's East Kalimantan province. The new province, located along the border of Malaysia's Sarawak, includes the densely-forested Malinau district. With the loss of Malinau and other forested areas, East Kalimantan's intact primary forest area has dropped to just 15 percent of the total area of the province.
Activists warn of industrial palm oil expansion in Congo rainforest
(02/21/2013) Industrial oil palm plantations are spreading from Malaysia and Indonesia to the Congo raising fears about deforestation and social conflict. A new report by The Rainforest Foundation UK (RFUK), dramatically entitled The Seeds of Destruction, announces that new palm oil plantations in the Congo rainforest will soon increase fivefold to half a million hectares, an area nearly the size of Delaware. But conservationists warn that by ignoring the lessons of palm oil in Southeast Asia, this trend could be disastrous for the region's forests, wildlife, and people.
Controversial palm oil project concession in Cameroon is 89 percent 'dense natural forest'
(02/21/2013) Satellite mapping and aerial surveys have revealed that a controversial palm oil concession in Cameroon is almost entirely covered by "dense natural forest," according to a new report by Greenpeace. The activist group alleges that the concession, owned by Herakles Farms, is under 89 percent forest cover. The U.S.-based corporation intends to build a 70,000 hectare palm oil plantation in a region surrounded by four protected areas, including Korup National Park, but has faced stiff criticism from numerous environmental groups as well as conflict with locals.
First strike: nearly 200 illegal loggers arrested in massive sting across 12 countries

(02/20/2013) One-hundred-and-ninety-seven illegal loggers across a dozen Central and South American countries have been arrested during INTERPOL's first strike against widespread forestry crime. INTERPOL, or The International Criminal Police Organization, worked with local police forces to take a first crack at illegal logging. In all the effort, known as Operation Lead, resulted in the seizure of 50,000 cubic meters of wood worth around $8 million.
Biofuel company caught clearing elephant habitat in Sri Lanka
(02/20/2013) A biofuel plantation near Yala National Park has landed Lanka Orex Leasing Company PLC (LOLC) in Sri Lanka's highest court. Environmentalists say the company is illegally bulldozing Asian elephant habitat, including scrubland and tree stands, near the buffer zone of Yala National Park for gliricidia (Gliricidia sepium) biofuel plantation.
Is APP deal a sign of a changing forestry sector?

(02/15/2013) Asia Pulp & Paper (APP), one of the world's largest paper companies, announced earlier this month that it will no longer cut down natural forests in Indonesia and will demand similar commitments from its suppliers. The announcement was received with guarded optimism by Greenpeace, Rainforest Action Network, World Wildlife Fund, and other NGOs who have waged a persistent campaign to change APP's forest policies.
After Indonesian paper giant commits to no deforestation, pressure mounts on its biggest competitor
(02/12/2013) After Indonesian paper giant Asia Pulp & Paper's announcement last week that it will no longer source fiber produced from destruction of tropical rainforests, environmental groups are now urging Indonesia's other major paper company to make a similar commitment. On Tuesday, WWF echoed Greenpeace's call for Asia Pacific Resources International Limited (APRIL) to eliminate deforestation from its supply chain. Like APP, APRIL has been linked to large-scale conversion of Sumatra's endangered rainforests for industrial tree plantations to produce pulp and paper.
China's forest privatization move threatens pandas

(02/08/2013) China's decision to open up collective forest for sale by individuals to outside interests will put 345,700 hectares or 15 percent of the giant panda's remaining habitat at risk, warns a letter published in the journal Science.
Report: nearly half the timber from Mozambique to China is illegal
(02/07/2013) Forty-eight percent of the timber making its way from Mozambique's forests to Chinese companies was harvested illegally, according to a new report by the Environmental Investigation Agency (EIA), which blames the problem on widespread corruption and poor governance. The illegal logging cost Mozambique, the world's fourth least-developed country in the world according to the UN, $29 million in tax revenue, says the report.
The beginning of the end of deforestation in Indonesia?
(02/05/2013) Asia Pulp & Paper, a forestry giant that has been widely criticized for its role in driving deforestation and contributing to social conflict in Indonesia, today announced a zero deforestation policy that could have a dramatic impact on efforts to slow the Southeast Asian nation's high rate of deforestation. The policy, which went into effect February 1, is ambitious enough that one of APP's most vocal critics and agitators, Greenpeace, will suspend its highly-damaging campaign against the paper giant. The campaign against APP has cost the paper giant tens of millions of dollars in lost business since 2009. The new policy targets several of the major criticisms against APP, including deforestation, degradation of high carbon peatlands, conservation of critical wildlife habitat, and social conflict with local communities.
Controversial research outlines physics behind how forests may bring rain
(01/30/2013) It took over two-and-a-half-years for the journal Atmospheric Chemistry and Physics to finally accept a paper outlining a new meteorological hypothesis in which condensation, not temperature, drives winds. If proven correct, the hypothesis could have massive ramifications on global policy—not to mention meteorology—as essentially the hypothesis means that the world's forest play a major role in driving precipitation from the coast into a continent's interior. The theory, known as the biotic pump, was first developed in 2006 by two Russian scientists, Victor Gorshkov and Anastassia Makarieva of the St. Petersburg Nuclear Physics, but the two have faced major pushback and delays in their attempt to put the theory before the greater scientific community.
New palm oil concession imperils orangutan population in Borneo

(01/28/2013) Three conservation groups warn that a proposed palm oil plantation puts a significant Bornean orangutan (Pongo pygmaeus) population at risk in the Malaysian state of Sabah. The plantation, which would cover 400 hectares of private forest land, lies adjacent to Kulamba Wildlife Reserve, home to 480 orangutans.
Helping Borneo's indigenous people fight for their forests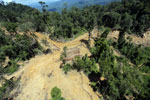 (01/28/2013) In the 1980's and 1990's more timber was removed from the rainforests Borneo than from all of Africa and South America combined. This tragic loss of habitat, with its attendant loss of wildlife and indigenous cultures, has gone largely unrecognized in the United States. Joe Lamb, a Berkeley-based writer, activist, and arborist, has worked to change that.
Bolivia takes step to boost agriculture and curb surging deforestation
(01/28/2013) Bolivia has passed a land use law that aims to boost food security and slow deforestation in a region that is wracked by illegal forest clearing. Approved earlier this month, Ley 337 seeks to regulate land use in the Bolivian Amazon where deforestation for industrial agricultural production is surging. The law requires landowners who illegally deforested land prior to 2011 to either reforest or establish 'productive agriculture' on the land and pay reduced fines for past transgressions.
Large blocks of Sumatra's endangered rainforest may be put up for mining, logging
(01/28/2013) The Indonesian province of Aceh on the western tip of the island of Sumatra may be preparing to lift the protected status of key areas of lowland rainforest potentially ending its bid to earn carbon credits from forest conservation and putting several endangered species at increased risk, according to reports.
Illegally logged trees to start calling for help

(01/24/2013) Illegal loggers beware: trees will soon be calling—literally—for backup. The Brazilian government has begun fixing trees with a wireless device, known as Invisible Tracck, which will allow trees to contact authorities after being felled and moved.
Scientists point to research flaw that has likely exaggerated the impact of logging in tropical forests
(01/23/2013) The impact of logging on tropical forest species has likely been exaggerated by statistical problems, according to a new study in Conservation Biology. Reviewing 77 studies on how logging affects tropical biodiversity, scientists found that 67 percent were flawed by a technical problem known as 'pseudoreplication.' The debate over logging in tropical forests has garnered significant attention recently as some scientists argue that well-managed logging areas can actually retain impressive numbers of species, while others say logging does irreparable harm to the ecosystem's ecology.
Bureaucratic reform plays a part in reducing deforestation in Indonesia
(01/17/2013) Reforming Indonesia's bloated and underperforming bureaucracy will play an important part in reducing the country's high rate of deforestation and forest degradation, the head of the country's Ministry of Administrative Reform told mongabay.com in an exclusive interview. Administrative Reform Minister Azwar Abubakar said that a smaller and more meritocratic bureaucracy will help cut corruption while more effectively governing the sprawling archipelago.
Dead tigers, dead people: logging by paper industry worsens human-tiger conflict in Sumatra, alleges report
(01/10/2013) Destruction of rainforests and peatlands on the Indonesian island of Sumatra by the pulp and paper industry is worsening conflict between tigers and humans, including fatal encounters, alleges a new report published by a coalition of environmental groups in Riau, Sumatra. The report looks specifically at five concessions operated by companies that supply wood to Asia Pulp & Paper (APP) and its corporate parent, the Sinar Mas Group (SMG). The report says that the majority of human-tiger conflict incidents in Riau between 1997 and 2009 occurred within these concessions.
Paradigm shift needed to avert global environmental collapse, according to author of new book The Blueprint: Averting Global Collapse
(01/10/2013) Global strategist, trained educator, and international lecturer Daniel Rirdan set out to create a plan addressing the future of our planet. His book The Blueprint: Averting Global Collapse, published this year, does just that. "It has been a sixty hour a week routine," Rirdan told mongabay.com in a recent interview. "Basically, I would wake up with the burden of the world on my shoulders and go to sleep with it. It went on like this for eighteen months." It becomes apparent when reading The Blueprint that it was indeed a monumental undertaking.
The year in rainforests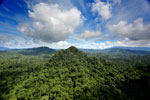 (12/31/2012) 2012 was another year of mixed news for the world's tropical forests. This is a look at some of the most significant tropical rainforest-related news stories for 2012. There were many other important stories in 2012 and some were undoubtedly overlooked in this review. If you feel there's something we missed, please feel free to highlight it in the comments section. Also please note that this post focuses only on tropical forests.
Paper giant breaks pledge to end rainforest logging in Sumatra, says group
(12/26/2012) Pulp and paper giant Asia Pacific Resources International Limited (APRIL) continues to destroy large areas of rainforests and peatlands despite a commitment to end natural forest logging by 2009, says a new report issued by a coalition of Indonesian environmental groups. The Eyes on the Forest report finds that APRIL and its suppliers cleared at least 140,000 hectares (346,000 acres) of natural forest between 2008 and 2011 in Riau, accounting for 27 percent of all forest loss in the province during the period. Some of the area cleared by APRIL and its subsidiaries consisted of deep peat swamp forest, which stores massive amount of carbon.
Amazon rainforest failing to recover after droughts

(12/24/2012) The impact of a major drought in the Amazon rainforest in 2005 persisted far longer than previously believed, raising questions about the world's largest tropical forest to cope with the expected impacts of climate change, reports a new study published in the journal Proceedings of the National Academy of Sciences.
Brazil launches forest trading system

(12/19/2012) Brazil has launched a new platform that enables farmers and ranchers who have cleared forest beyond the legal minimum to come into compliance by purchasing forest 'quotas' from landowners who have more than the mandated level of forest cover, reports the Associated Press. The system could spur increased compliance with the country's Forest Code, according to some experts.
Top 10 Environmental Stories of 2012
(12/18/2012) Below is a quick review of some of the biggest environmental stories of 2012. The 'top stories' are listed in no particular order. Climate change, overpopulation, consumption, and ecological destruction is pushing planet Earth toward a tipping point according to a major study in Nature released over the summer. This could result in a new 'planetary state' that would be far harsher and bleaker than the current one (beginning around 12,000 years ago), which saw the rise and success of human society.
Indonesia's big REDD+ project announcement "premature", but moving forward

(12/18/2012) The Indonesian government's announcement at climate talks in Doha that it had approved the country's forest conservation project under its Reducing Emissions from Deforestation and Degradation (REDD+) program was premature, argues a new report from an Indonesian environmental group.
Cutting through the rhetoric on palm oil production
(12/14/2012) Palm oil is widely acknowledged as one of the most important drivers of deforestation and forest diminishment in Southeast Asia. Conversion of forests and peatlands for oil palm plantations is both a substantial source of greenhouse gas emissions and a major threat to biodiversity — one study called palm oil the 'single most immediate threat to the greatest number of species'.
Uncontacted tribes still exist, but extinction threat looms
(12/11/2012) The world is more interconnected than ever. Globally, there are six billion cell phone subscribers and 900 million Facebook users. Nearly 32 million people follow Lady Gaga on Twitter. Given this content it may seem hard to believe that there remain people who have never had contact with the outside world. Yet such people do exist today. Most of them live in the most remote parts of the world's wildest forests. One of this year's best paperback books takes a close look at one uncontacted group — the Arrow People of the Brazilian Amazon. Written by veteran journalist Scott Wallace, The Unconquered is a gripping first-person account of a journey to learn more about this little-known tribe.





Amazon has nearly 100,000 km of roads

(12/08/2012) The Amazon Basin has 96,500 kilometers of roads, nearly two-thirds of which are unpaved, reports a comprehensive new atlas of the region, which contains the world's largest rainforest.





Palm oil or lard?

(12/07/2012) Animal fats and margarine consumption in the United States have been largely replaced by palm oil, a plant-based oil that has similar cooking properties, but may not be as environmentally-friendly as commonly believed, argues a researcher in this week's issue of Nature.




Page 1 | Page 2 | Page 3 | Page 4 | Page 5 | Page 6 | Page 7 | Page 8 | Page 9 | Page 10 | Page 11 | Page 12 | Page 13 | Page 14 | Page 15 | Page 16 | Page 17 | Page 18 | Page 19 | Page 20 | Page 21 | Page 22 | Page 23 | Page 24 | Page 25 | Page 26 | Page 27 | Page 28 | Page 29 | Page 30 | Page 31 | Page 32 | Page 33 | Page 34 | Page 35 | Page 36 | Page 37 | Page 38 | Page 39 | Page 40 | Page 41 | Page 42 | Page 43 | Page 44 | Page 45 | Page 46 | Page 47 | Page 48 | Page 49