News articles on deforestation

---
Mongabay.com news articles on deforestation in blog format. Updated regularly.





125M ha of degraded lands identified for forest-friendly agricultural expansion


(12/19/2014) A team of researchers has identified 125 million hectares (309 million acres) of land suitable for agricultural expansion that won't come at the expense of tropical forests. The study argues that shifting agricultural expansion away from forests to these 'degraded lands' would avoid 13 billion tons of carbon dioxide emissions that would be released were they converted for plantations, pasture, and croplands.


Impacts of deforestation on Amazonian river ecosystems could be far-reaching


(12/18/2014) A study by researchers in Brazil published this week has found that deforestation in the Southern Amazon may impair significantly the structure and function of rivers, and make them less able to support life.


Tropical deforestation could disrupt rainfall globally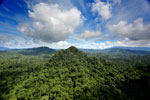 (12/18/2014) Large-scale deforestation in the tropics could drive significant and widespread shifts in rainfall distribution and temperatures, potentially affecting agriculture both locally and far from where forest loss is occurring, concludes a study published today in Nature Climate Change.


Success of 'land sparing' will depend on global economics, regulations


(12/16/2014) Agriculture is the primary driver of tropical deforestation. Indeed, most global food production occurs in the tropics, including important commodity crops such as sugarcane, soybeans, palm oil, and beef. Recent estimates indicate that forest clearing for agriculture contributes significantly to greenhouse gas emissions. This fuels concern over how to balance food production for a growing population with climate change mitigation through conserving tropical forests.


Palm oil facilitates large-scale illegal logging in Indonesia


(12/16/2014) Development of oil palm plantations is providing cover for large-scale illegal logging in Indonesian Borneo, driving destruction of some of the island's most biodiverse forests and undermining efforts to reform the country's forestry sector, alleges a new report published by the Environmental Investigation Agency (EIA).


Boosting the conservation value of 4M sq km of rainforest logging concessions


(12/12/2014) Short of buying back logging concessions, switching from conventional logging approaches to reduced impact logging techniques across existing forestry concessions may be the best way boost biodiversity in areas earmarked for timber extraction, argues paper.


10 years following tsunami, Aceh aims to create its own, new, and totally preventable disaster


(12/11/2014) In the run-up to the tenth anniversary of the devastating 2004 tsunami, that claimed the lives of around 200,000 of Aceh's people, there is much concern that Aceh seems now to be deliberately steering itself towards yet another, entirely avoidable disaster. One that will harm yet more people and cause even more long-term economic damage to the province.


Striking new gecko discovered in Thailand


(12/09/2014) A research team based in western Thailand has discovered a new gecko species in the Kanchanaburi Province, a region renowned for its number of species found nowhere else in the world. A recent publication describes the Sai Yok bent-toed gecko (Cyrtodactylus saiyok), the sixth reptile species endemic to the region known to science.


Relief for Kenya's rare coastal forest


(12/09/2014) In October this year, CAMAC Energy, an oil and gas exploration and production company, announced that they would conduct seismic surveys for oil and gas within Arabuko-Sokoke Forest, one of the last remaining fragments of coastal forests in East Africa. But following immense pressure from the environmental front, CAMAC Energy cancelled their plans to conduct surveys inside the forest.


Indonesia sets reference level for cutting deforestation

(12/05/2014) The Indonesian government has established reference levels for measuring reductions in emissions from deforestation and forest and peatland degradation, reports Antara.


How an indigenous community in Ecuador stood up to big oil - and won


(12/05/2014) The Sarayaku, a Kichwa indigenous people numbering 1,200 from the Ecuadorian Amazon, won a historic court case in 2012. The Inter-American Court of Human Rights ruled that the government of Ecuador must publicly apologize, consult with, and recompense the Sarayaku for allowing oil exploration by Argentine Compañia General de Combustibles on their territory without prior consultation


Biodiversity protection is key to REDD+ success, study shows


(12/05/2014) Protecting biodiversity may be crucial for successfully storing carbon in forests, scientists say. A recent publication on Oryx - The International Journal of Conservation suggests that biodiversity loss –especially through hunting – will hinder the success of Reducing Emissions from Deforestation and Forest Degradation (REDD) projects.


Tradeoff: Sabah banks on palm oil to boost forest protection


(12/05/2014) Last month Sabah set aside an additional 203,000 hectares of protected forest reserves, boosting the Malaysian state's extent of protected areas to 21 percent of its land mass. But instead of accolades, Sabah forestry leaders were criticized for how they went about securing those reserves: allowing thousands of hectares of deforested land within an officially designated forestry area to be converted for oil palm plantations


Giant stone face unveiled in the Amazon rainforest (video)


(12/04/2014) A new short film documents the journey of an indigenous tribe hiking deep into their territory in the Peruvian Amazon to encounter a mysterious stone countenance that was allegedly carved by ancient peoples. According to Handcrafted Films, which produced the documentary entitled The Reunion, this was the first time the Rostro Harakbut has been filmed.


New endangered bird species discovered in Brazil


(12/04/2014) The Bahian mouse-colored tapaculo (Scytalopus gonzagai) has only just been discovered by scientists in the heavily logged Atlantic Forest of southeast Brazil -- and it's already believed to be endangered.


Is the Gran Canal really a 'big Christmas present' for Nicaraguans?


(12/04/2014) "A big Christmas present"—that is how Paul Oquist, an advisor to Nicaraguan president, Daniel Ortega, described the country's plan to build a mega-canal across the nation. Preliminary construction on the canal is set to begin December 24th, despite major concerns over environmental destruction, forced removal of thousands of people, and a lack of transparency.


Deforestation jumps in Peru

(12/03/2014) Deforestation in the Peruvian Amazon increased significantly last year, says a top official.


One-two punch: farming, global warming destroying unique East African forests


(12/03/2014) Lush mountains speckle East Africa's grasslands and desert, from Mozambique to Ethiopia. These isolated habitats are home to a plethora of species, and are considered by scientists to be some of the most biodiverse regions in the world. However, their forests are being cut down for farmland and are threatened by global warming, putting at risk multitudes of species that have nowhere else to go.


New survey finds surprisingly large population of endangered owl


(12/03/2014) The Anjouan scops owl—an elusive owl found only on its tiny eponymous island—was once considered among the world's most endangered owls, and even the most threatened birds. However, the first in-depth survey of the owls on the island finds that, in fact, the population is far larger than initially estimated.


Threatened indigenous forests store more than half the Amazon's carbon


(12/02/2014) A new study released today finds the total carbon load locked up in parts of the Amazon rainforest held by indigenous groups to be much higher than previously estimated – an amount that, if released, would be capable of destabilizing the earth's atmosphere. But because of flimsy land rights, these areas stand at risk of deforestation.


Pulp and paper giant violating its sustainability policy

(12/01/2014) Asia Pacific Resources International Limited (APRRIL) is violating its own sustainability policy by continuing to source fiber produced via the destruction peatlands on the island of Pulau Padang in Riau, Sumatra, argues a new report published by a coalition of Indonesian environmental groups.


Indonesia to audit licenses of palm oil companies that clear peatlands


(11/30/2014) New Indonesian president Joko Widodo has ordered the Ministry of Environment and Forestry to review licenses for companies that have converted peatlands for oil palm plantations, reports Antara. Jokowi, as the president is popularly known, announced the move after a visit last week to Sungai Tohor, a community in Riau that has been particularly affected by peatlands degradation and haze caused by fires set for land clearing.


Amazon deforestation in Brazil drops 18% in 2013/2014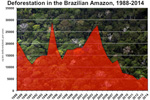 (11/26/2014) Figures published Wednesday by Brazil's National Space Research Institute (INPE) show that 4,848 square kilometers (1,871 square miles) of forest — an area about the size of the state of Rhode Island or the country of Brunei — were cleared between August 2013 and July 2014.


Chinese logging company takes over Guyana's forests


(11/26/2014) Foreign companies investing in Guyana's substantial forests are supposed to adhere to national laws and international agreements. But civil society leaders and activists inside and outside the South American country are crying foul, saying foreign corporations and government officials are paying lip service to the accords while quietly building a timber-harvesting empire in the country with few benefits for the average Guyanese.


APP boosting timber productivity to support zero deforestation policy


(11/26/2014) Asia Pulp & Paper (APP) appears to have enough plantation fiber to operate existing mills as well as supply a new mill under construction in South Sumatra without having to pulp natural forests, argues a new report that also finds the forestry giant is successfully improving yields to support its zero deforestation commitment.


Chameleon crisis: extinction threatens 36% of world's chameleons


(11/24/2014) Chameleons are an unmistakable family of wonderfully bizarre reptiles. They sport long, shooting tongues; oddly-shaped horns or crests; and a prehensile tail like a monkey's. But, chameleons are most known for their astonishing ability to change the color of their skin. Now, a update of the IUCN Red List finds that this unique group is facing a crisis that could send dozens of chameleons, if not more, to extinction.


Sarawak chief calls state's logging industry 'corrupt'

(11/24/2014) In a surprising statement, Sarawak's new chief minister called the state's logging sector 'corrupt'.


Rising deforestation, fossil fuels use drive Brazil's emissions 8% higher

(11/24/2014) Brazil's carbon emissions jumped 7.8 percent in 2013 due to rising deforestation and fossil fuels use, according to data released by Observatório do Clima (Climate Observatory), an alliance of mostly Brazilian non-profits.


Developing land without approval of local people 'a human rights issue of grave concern,' says new report


(11/20/2014) Throughout the tropics, staggering amounts of land have been designated for natural resource extraction—as much as 40 percent of Peru, 30 percent of Indonesia and 35 percent of Liberia. However, much of this land is already in use; it is being inhabited by local communities and indigenous peoples. And while it is possible to live on and extract resources from the same land, when local communities are not consulted in this exchange, conflict may erupt.


Indonesian government slow to reclaim lands damaged by coal mining

(11/20/2014) Reclamation of over 830,000 hectares of abandoned mines has yet to begin in East Kalimantan, Indonesia--despite a provincial law passed over a year ago mandating the formation of commission to oversee the process.


Conflict-fueled deforestation, poaching in Assam continue despite truce


(11/19/2014) Northeastern India boasts nearly 44 percent of the country's dense forests, and contains one of the most biodiverse areas in the world. However, the region lost approximately 548,440 hectares of tree cover—more than 3 percent—from 2001 through 2012. Sonitpur, Assam, has been particularly hard hit as people flooded into the area and cleared forest.


Palm oil interest surges in Papua New Guinea


(11/19/2014) As the lands of traditional palm oil powerhouses like Indonesia and Malaysia have become saturated with plantations, companies looking to profit have turned to vast areas of seemingly untouched tropical forest in other parts of the world – places like Papua New Guinea. But, in fact, say advocates of local communities, those forests often support the lives and livelihoods of millions of people who must have their rights taken into account.


Ending deforestation won't stop carbon emissions from land use change

(11/17/2014) Even if the world stopped cutting down forests, carbon dioxide emissions from land use change would still pose a major challenge, according to a new paper in Nature Climate Change. The research finds that eliminating deforestation would mean agriculture would be pushed into non-forest ecosystems and still release significant quantities of carbon dioxide.


Palm oil giant suspends supplier over deforestation allegations

(11/17/2014) Palm oil giant Musim Mas Group has suspended purchases from the PT Pati Sari mill over allegations that the facility is processing fruit illegally grown within a biodiversity hotspot in Sumatra, reports the Rainforest Action Network (RAN), which recently published an investigation on the mill's sourcing practices.


Brazilian government silent as deforestation rises in the Amazon


(11/17/2014) Deforestation in the Brazilian Amazon continues to outpace last year's rate by a significant margin, reveals data released today by Imazon, a Brazilian non-profit. Imazon's analysis of satellite data shows that for the 3-month period ended October 31, 2014, deforestation is running 226 percent of last year's rate. Forest degradation, which often precedes outright clearing, is pacing 691 percent ahead of last year.


UN to promote RSPO-certified palm oil as conservation solution

(11/14/2014) The United Nations Environment Programme (UNEP) has signed an agreement with the Roundtable on Sustainable Palm Oil (RSPO) to promote eco-certified palm oil as part of the broader effort to conserve biodiversity.


Man plants forest, becomes film star


(11/14/2014) Jadav "Molai" Payeng is a 51-year-old man who lives in India's north-eastern state of Assam in the village of Aruna Chapori. A member of Assam's indigenous Mising tribe, Payeng is better known as the "Forest Man" for spending the last 35 years planting a forest bigger than New York City's Central Park.


Surprising reasons to be optimistic about saving forests


(11/14/2014) In the 1990s, the world watched with alarm as vast tracts of tropical rainforest were torn down for timber and croplands, dug up for minerals and energy, and flooded for hydroelectric projects. Conservation groups, governments, philanthropists, and institutions like the World Bank collectively spent billions of dollars on programs to stop the carnage. But as viewed from satellites high above Earth's surface, those efforts barely dented deforestation rates.


One man plants forest larger than Central Park


(11/13/2014) Jadav "Molai" Payeng resides in northeast Assam's Jorhat district in the village of Aruna Chapori. Here, for the past 35 years, he has worked to plant trees on a sandbar island in the river near his home—and in the process, single-handedly established a forest larger than New York City's Central Park.


Australia's small rainforest conservation steps overshadowed by broader assault on environment (commentary)


(11/13/2014) On the eve of the World Parks Congress in Sydney, the Australian government has just hosted the 'Asia-Pacific Rainforest Summit', a two-day event that brought together political leaders, academics, environmental managers and NGO staff in an effort to devise strategies to conserve endangered forests in the Asia-Pacific region. Here, Bill Laurance, a leading rainforest researcher, takes a critical look at the event.


Reducing deforestation is good for business, argues report

(11/12/2014) Some of the world's largest companies are making progress in disclosing and addressing deforestation risk within their commodity supply chains, but much work is left to be done to shift to more sustainable practices, argues a new report from the Climate Disclosure Project.


Mapping mistake leaves wildlife at risk


(11/12/2014) Scientists have discovered a new, endangered plant species in the Democratic Republic of Congo (DRC), in an area that is supposed to be protected as a reserve. However, mapping errors effectively moved the reserve's boundaries 50 kilometers to the west, opening up the region and its vulnerable wildlife to human disturbance.


Local people are not the enemy: real conservation from the frontlines


(11/12/2014) Saving one of the world's most endangered primates means re-thinking conservation. When Noga Shanee and her colleagues first arrived in Northeastern Peru on a research trip to study the yellow-tailed woolly monkey (Oreonax flavicauda), she was shocked by what she observed.


'Militarized occupation': local communities pay the price for palm oil


(11/11/2014) There's little doubt that the use of palm oil is expanding rapidly throughout the world, and with it the need for millions of hectares of land to grow oil palm trees. The results can be devastating for local communities who depend on the agriculture and forests that these lands support. A recent report catalogs the issues that arise with oil palm expansion.


New birds arise due to emigration not separation


(11/11/2014) A bird's eye view of speciation in the Neotropics. How long does it take for a new species to develop? Not long, it turns out. In fact, only a few thousand years — an evolutionary blink of an eye. A recent article published in Nature tracked neotropical bird speciation, or the process by which new species emerge.


Peru has massive opportunity to avoid emissions from deforestation


(11/10/2014) Nearly a billion tons of carbon in Peru's rainforests is at risk from logging, infrastructure projects, and oil and gas extraction, yet opportunities remain to conserve massive amounts of forest in indigenous territories, parks, and unprotected areas, finds a study published this week in Proceedings of the National Academy of Sciences (PNAS).


Will merging competing ministries help save Indonesia's forests?


(11/10/2014) Newly elected Indonesian president Joko 'Jokowi' Widodo announced on October 26th that the Ministry of Forests and the Ministry of Environment would be combined and that Siti Nurbaya would become Forests and Environment Minister. The move was part of Jokowi's appointment of 34 cabinet level positions, ranging from Foreign Minister to Religious Affairs Minister.


Human infections by 'monkey malaria' increasing as forests disappear


(11/10/2014) 68% of malaria hospitalizations in Malaysia last year were caused by a once-rare strain of the disease traditionally limited to macaque monkeys. However, as deforestation has put humans and wild animals in closer proximity, Plasmodium knowlesi infections and deaths have increased rapidly. The strain is now responsible for three times the severe malaria infections in Malaysian Borneo than P. falciparum—the world's deadliest form of the parasite.


New laws may turn Brazil's forests into mines


(11/07/2014) With the world's largest system of protected areas and a 70 percent drop in the deforestation rate of the Amazon over the past decade, Brazil has made huge strides in safeguarding what's left of its wilderness. However, this progress now hangs in the balance, with new laws threatening to turn many of the country's protected areas into mines and dams.


Indigenous uprising earned tribe territories, but greatest challenges lie ahead


(11/06/2014) In 1925, Nele Kantule led a revolution that would make Guna Yala an independent and sovereign indigenous territory within Panama. Since then, the Guna have maintained a way of life that has allowed them to preserve their natural resources and mainland forest to an exceptional degree. But today, like many indigenous groups around the world, the Guna face some of their greatest challenges yet: the impacts of climate change, encroaching outside influences, and a younger generation that many elders feel is drifting from its roots.


Another mining company found operating in flagrant violation of Indonesian law

(11/06/2014) A Harita group mining company in West Kalimantan, Indonesia has been operating well outside of its permit boundary, reports local NGO, Forest Monitoring Volunteers of Borneo (RPHK). Their investigation found that PT. Karya Utama Tambang Jaya, is operating illegally on 78 hectares of land. The company holds permits to mine bauxite (aluminum ore) on 8,878 hectares.


Book detailing corruption allegations against Malaysian ruler moves forward

(11/05/2014) A book alleging massive corruption by Sarawak's long-time ruler, Abdul Taib bin Mahmud, is being released despite apparent legal threats against the book's publisher and author.


91% of Kenya's protected areas shrank in 100 years


(11/04/2014) Over the last century, 91.7 percent of all changes to protected areas in Kenya have involved reductions in their area, known as downsizing, which is an unusual and remarkable statistic from a global perspective. Analyses show, however, that a variety of factors—including some that which occurred half a century ago—could be responsible for the status of forests in Kenya today.


Reducing tax evasion could help save the Amazon

(11/04/2014) Taxing underutilized land in the Amazon could conserve forests, boost productivity, and alleviate poverty, argues study.


Indonesian government's concession policy prioritizes companies over forest communities


(11/03/2014) A report by the Rights and Resources Initiative (RRI) analyzes 100 conflicts around the world in the mining, oil and gas, logging and agricultural sectors and examines how and why they come about. The report focuses on several emerging economies, including Brazil, Colombia, Liberia, Peru, and Indonesia.


Facing severe drought, 'war effort' needed to save the Amazon, says scientist


(11/03/2014) Severe droughts in southern Brazil may be linked to deforestation and degradation of Earth's largest rainforest, argues a new report published by a Brazilian scientist. Reviewing data from roughly 200 studies, Antonio Donato Nobre of Brazil's National Institute for Space Research (INPE) warns that reducing deforestation will not be enough to restore the ecological function of the Amazon rainforest, which acts as a giant water pump that delivers precipitation across much of South America.


De-protection of Protected Areas ramps up in Brazil, 'compromises the capacity' of ecosystems


(10/31/2014) Brazil has reserved about 17.6 percent of its land (1.5 million square kilometers) to receive protection from unauthorized exploitation of resources. However, despite significant expansions in protected areas since the mid-2000s, the formation of Protected Areas has stagnated in the country since 2009, and many have had their protections completely revoked.


Between the Forest and the Sea: The Yarsuisuit Collective - Part II


(10/31/2014) In this multimedia piece by SRI fellow Bear Guerra, we follow Andrés de León and the Yarsuisuit collective, a group of men who grow and harvest food sustainably in the Guna mainland forest. They also run a store on the island of Ustupu that helps support their families, serving as a model for the wider community.


'Too many people': Philippine island being deforested despite extensive protections


(10/31/2014) About an hour and a half plane ride from the Philippine capital Manila is Palawan, a long, narrow island home to about a quarter of all the animal species found in the country. But the province is losing its forests at a rapid clip due to human population increases, logging, quarrying, mining, and even a huge palm plantation.


Dissolving pulp: a growing threat to global forests


(10/30/2014) Dissolving pulp is not just a threat to the forests of Indonesia. It is a growing industry across the globe, and it's putting several of the world's endangered forests in jeopardy.


Destroyed habitat, fewer resources, Ebola: the many repercussions of Liberia's deforestation


(10/29/2014) Liberia is one of the last strongholds of intact forest in West Africa. These forests are the home of many unique species of plants and animals, and many Liberians rely on the forests for direct economic benefits. The presence of intact forests may even be important for preventing the future outbreak of disease such as Ebola, which can be transmitted to people from animal vectors displaced by deforestation.


Tigers vs. diamonds: India's protected areas rampantly downgraded to make room for people, industry


(10/29/2014) In India's central state of Madhya Pradesh lie 500 square kilometers (200 square miles) of protected land demarcated as the Panna Tiger Reserve. Recently, however, its protection status has been questioned, and global-scale analyses show Panna is far from alone among India's many threatened Protected Areas.


Bunge commits to zero deforestation palm oil

(10/28/2014) Agribusiness giant Bunge has joined the growing ranks of companies that have established zero deforestation policies for their palm oil supply chains.


How protected are they? Report finds world's Protected Areas may relax, shrink, even completely disappear


(10/28/2014) On March 1, 1872, the United States Congress declared 3,400 square miles of land spanning three states as the country's - and the world's - first national park. We call it Yellowstone. Today, there are over 160,000 PAs spanning 12.7 percent of the planet's land surface.


Between the forest and the sea: life and climate change in Guna Yala - Part I


(10/27/2014) The island-dwelling Guna people of Panama are one of the most sovereign indigenous communities in the world, but now severe weather and sea level rise are causing regular flooding on many of the islands, and will likely force the Guna to have to abandon their island homes for the mainland. This multimedia piece offers an introduction to everyday life and customs in Guna Yala and touches upon the uncertain future the Guna are now facing thanks to the impacts of climate change.


Scientific association calls on Nicaragua to scrap its Gran Canal

(10/27/2014) ATBC—the world's largest association of tropical biologists and conservationists—has advised Nicaragua to halt its ambitious plan to build a massive canal across the country. The ATBC warns that the Chinese-backed canal, also known as the Gran Canal, will have devastating impacts on Nicaragua's water security, its forests and wildlife, and local people.


Conservationists propose Dracula Reserve in Ecuador


(10/24/2014) Deep in the dark, cool forests of Ecuador and Colombia live strange and mysterious organisms. Some inhabit the trees and others stay to the ground, and many are threatened by human encroachment. Because of this threat, Rainforest Trust has launched a Halloween fundraising drive to help pay for the creation of the Dracula Reserve--named for its dramatic inhabitant, the Dracula orchid.


Google's new Gombe Street View lets users 'walk' along chimp trails and into Jane Goodall's house


(10/24/2014) Google Maps is now available for Tanzanian forest paths. Users can walk virtually along the same trails Jane Goodall has used for her decades of chimpanzee monitoring -- and even into her house.


Beef, palm oil, soy, and wood products from 8 countries responsible for 1/3 of forest destruction

(10/23/2014) Four commodities produced in just eight countries are responsible for a third of the world's forest loss, according to a new report. Those familiar with the long-standing effort to stop deforestation won't be surprised by the commodities named: beef, palm oil, soy, and wood products (including timber and paper). Nor will they be very surprised by most of the countries: Brazil, Indonesia, and Malaysia.


Brazil declares new protected area larger than Delaware


(10/23/2014) Earlier this week, the Brazilian government announced the declaration of a new federal reserve deep in the Amazon rainforest. The protections conferred by the move will illegalize deforestation, reduce carbon emissions, and help safeguard the future of the area's renowned wildlife.


Gold mining expanding rapidly along Guiana Shield, threatening forests, water, wildlife


(10/22/2014) Gold mining is on the rise in the Guiana Shield, a geographic region of South America that holds one of the world's largest undisturbed tract of rainforest. A new mapping technology using a radar and optical imaging combination has detected a significant increase in mining since 2000, threatening the region's forests and water quality.


Colombia reports drop in deforestation


(10/21/2014) Colombia has for the first time released an annual report on deforestation, revealing that forest loss during 2013 was lower than the recent average. The government says some 120,933 hectares of natural forest were cleared between January and December 2013.


'No forests, no cash': palm oil giants commit to sustainability, but will they follow through?


(10/21/2014) Four of Indonesia's largest palm oil producers signed a landmark commitment in New York in September to further implement sustainable practices across one of the country's largest commercial sectors. Then-President Susilo Bambang Yudhoyono and the Indonesia Chamber of Commerce (KADIN) witnessed the undertaking, which is hoped to expand the country's palm oil industry while making it more environmentally friendly.


Coal, climate and orangutans – Indonesia's quandary


(10/21/2014) What do the climate and orangutans have in common? They are both threatened by coal - the first by burning it, and the second by mining it. At the recent United Nations Climate Summit in New York, world leaders and multinational corporations pledged a variety of actions to reduce greenhouse gas emissions and deforestation to avert a looming disaster caused by global warming.


Top scientists raise concerns over commercial logging on Woodlark Island


(10/21/2014) A number of the world's top conservation scientists have raised concerns about plans for commercial logging on Woodlark Island, a hugely biodiverse rainforest island off the coast of Papua New Guinea. The scientists, with the Alliance of Leading Environmental Scientists and Thinkers (ALERT), warn that commercial logging on the island could imperil the island's stunning local species and its indigenous people.


Saving Asia's other endangered cats (photos)


(10/21/2014) It's no secret that when it comes to the wild cats of Asia—and, really, cats in general—tigers get all the press. In fact, tigers—down to an estimated 3,200 individuals—arguably dominate conservation across Asia. But as magnificent, grand, and endangered as the tigers are, there are a number of other felines in the region that are much less studied—and may be just as imperiled.


Indonesian law bars palm oil companies from protecting forests


(10/21/2014) A law passed by the Indonesian government last month makes it even more difficult for palm oil companies to conserve tracts of wildlife-rich and carbon-dense forests within their concessions, potentially undermining these producers' commitments to phase deforestation out of their supply chains, warns a new report published by Greenomics, an Indonesian environmental group.


Indonesia developing mega coal mine five times larger than Singapore


(10/20/2014) Global miner BHP Billiton and Indonesian partner PT Adaro are developing what could become the single largest mine in Indonesia in terms of land area, with BHP owning 75 percent. The IndoMet mine complex in Central and East Kalimantan provinces on Borneo comprises seven coal concessions, which cover 350,000 hectares, or about five times the size of Singapore.


Indonesia's tough choice: capping coal as Asian demand grows


(10/17/2014) Indonesia cannot build power stations fast enough. And neither can most of its Asian neighbors. Rapid economic and population growth are driving equally rapid demands for electricity as the region builds out power grids to connect up millions of people to fuel prosperity.


Push to undermine Indonesia's new president could stymie environmental progress, say NGOs


(10/17/2014) concerted push by political elites to undermine Indonesia's president before he even takes office could stymie progress on social and environmental issues in the country, say Indonesian civil society groups. On July 9, former Surakarta (Solo) and Jakarta mayor Joko 'Jokowi' Widodo beat ex-general Prabowo Subianto in Indonesia's presidential election by 8.4 million votes. Yet despite the wide margin, Jokowi has been stung by a series of political setbacks that will hinder his ability to govern once he assumes office Monday.


To become less damaging, target non-forest lands for palm oil, says book


(10/16/2014) Palm oil production has been spectacularly profitable but ecologically disastrous across Southeast Asia, consuming millions of hectares of indigenous lands, rainforests, and peatlands in recent decades. That paradox has made the crop highly controversial despite its importance in providing a high-yielding source of vegetable oil. A new book, published freely online by the Center for International Forestry Research (CIFOR), weighs in on the debate and concludes — like many before it — that the problem is not the crop itself, but how it is produced.


Indonesia tries to clamp down on coal sector's worst excesses


(10/16/2014) Out of the jungles of East Borneo in Indonesia comes the fire that fuels Asia's burgeoning economies: coal. Miners dig deep open pits, clearing forests and farmlands to extract coal from thick black seams, which is then crushed and loaded onto trucks and barges for shipment to China, India, Japan and other destinations in Asia.


Researchers create global map of world's forests circa 1990


(10/14/2014) Researchers have created a global map of the world's forests in the year 1990, enabling accurate comparisons between past and current deforestation rates. The GIS data underpinning the map is available at LandCover.org.


As Amazon deforestation falls, small farmers play bigger role in forest clearing


(10/14/2014) Smallholder properties account for a rising proportion of overall deforestation in Brazilian Amazon, suggesting that Brazil's progress in cutting forest loss through stricter law enforcement may be nearing the limits of its effectiveness, finds a new study published in the Proceedings of the National Academy of Sciences.


Rogue palm oil company appeals deforestation case to Indonesia's supreme court

(10/14/2014) Oil palm company PT. Kallista Alam has filed an appeal with the Supreme Court continuing the closely-watched legal battle set to redefine Indonesia's commitment to environmental justice. Lawyers for the company filed the new appeal on October 6, claiming the initial case is invalid because it failed to include all relevant parties as defendants—including the governor of Aceh, who issued the concession permit in 2011.


Forest restoration commitments: driven by science or politics?


(10/10/2014) During September's UN Climate Summit, three African nations were recognized for their commitments to restore collectively millions of hectares of forest. But several organizations declined invitations to sign the pact because they say it fails to lay out "concrete action" to fight climate change, and some experts in the field worry that the announcements are little more than political posturing.


'A remarkable conservation achievement': Ecuador reserve expands as forest disappears


(10/09/2014) A strip of rainforest running along the northwestern Ecuadorian coast and up through Colombia is one of the most biodiverse places in the world. Yet, less than 10 percent of Ecuador's portion remains intact, with more forest lost every year to human development. But a little more has been saved for now, with 500 hectares added to an area reserve.


Forest fragmentation's carbon bomb: 736 million tonnes C02 annually

(10/09/2014) Scientists have long known that forest fragments are not the same ecologically as intact forest landscapes. When forests are slashed into fragments, winds dry out the edges leading to dying trees and rising temperatures. Biodiversity often drops, while local extinctions rise and big animals vanish. Now, a new study finds another worrisome impact of forest fragmentation: carbon emissions.


Brazil unlikely to sustain gains in reducing deforestation without new incentives for ranchers, says study


(10/09/2014) Cattle ranchers that drive the vast majority of forest clearing in the Brazilian Amazon are unlikely to be held at bay indefinitely unless they are afforded new incentives for keeping trees standing, argues new analysis published by an economic research group. The findings suggest that Brazil's recent progress in reducing deforestation — annual forest loss in the region has dropped by roughly 80 percent since 2004 — could easily be reversed.


Report rates palm oil companies on sustainability commitments


(10/05/2014) A new report published Forest Heroes, an advocacy campaign pushing for an end to deforestation, ranks global palm oil companies on their sustainability commitments. The Green Tigers, authored by Glen Hurowitz, reviews the recent history of environmental policies in the palm oil sector, beginning with the formation of the Roundtable on Sustainable Palm Oil (RSPO) in 2004 through the wave of comprehensive zero deforestation commitments in 2013-2014.


Central Kalimantan to set up palm oil monitoring system to in bid cut deforestation 80%


(10/05/2014) The Indonesian province of Central Kalimantan is moving forward on an oil palm plantation monitoring system it hopes will help meet a commitment to reduce deforestation 80 percent by 2020. The online monitoring system will include "information on the performance of plantation concessions such as productivity, the number of smallholder farmers, deforestation and other land cover change, and fire occurrence," according to Earth Innovation Institute which designed and is helping the provincial government implement the system.


Companies hire local communities to evade palm oil restrictions in Indonesia


(10/04/2014) As more palm oil companies are held accountable for deforestation in Indonesia, a growing number are hiring local communities to do their dirty work. According to the Oil Palm Farmers Union (SPKS), companies promise to buy mature fruits at attractive rates from smallholders and local villages who agree to clear and plant in protected forest areas. Through these agreements, companies distance themselves from the process, leaving the locals to bear responsibility for the destruction.


Despite high deforestation, Indonesia making progress on forests, says Norwegian official


(10/02/2014) Despite having a deforestation rate that now outpaces that of the Brazilian Amazon, Indonesia is beginning to undertake critical reforms necessary to curb destruction of its carbon-dense rainforests and peatlands, says a top Norwegian official. Speaking with mongabay.com in Jakarta on Monday, Stig Traavik, Norway's ambassador to Indonesia, drew parallels between recent developments in Indonesia and initiatives launched in Brazil a decade ago, when deforestation was nearly five times higher than it is today.


High Court denies appeal by palm oil company that cleared protected peat forest


(09/30/2014) Furthering Indonesia's renewed commitment to environmental justice, the High Court of Banda Aceh denied an appeal by PT. Kallista Alam, the oil palm company found guilty of destroying over 1,000 hectares of protected peat forest in Gunung Leuser ecosystem. The Court upheld the previous ruling, which fined the company 366 billion rupiah ($30 million) in penalties and restoration fees.


Malaysian palm oil company destroys Borneo forests, despite buyer's zero deforestation commitment

(09/30/2014) Malaysian palm oil company Genting Plantations is continuing to destroy forests despite a high-profile pledge by one of its customers to eliminate deforestation from its supply chain, alleges a report published by Greenomics, an Indonesian environmental group.


Climate change to boost farmland, diminish harvests, says new study


(09/29/2014) Climate change is likely to alter how we humans grow adequate amounts of food for a swelling global population. Assessing just how much and where those changes will occur has been difficult. But a new study takes aim at those very questions and could provide a guide for the debate over feeding the planet while also preserving biodiversity and the forests that filter out the carbon we produce.


Diverse, deceptive, declining: orchids threatened by deforestation in South America


(09/26/2014) Pushing past a thick fern leaf, Crain stopped short, overcome by joy. As he broke into dance, his assistant peered curiously at the tiny lentil-shaped fruit dangling from a stem, and resolutely decided Crain was mad. After more than two years studying a rare Puerto Rican endemic orchid species, Crain had finally found his first specimen bearing fruit.


Coal mine has heavy impact in Indonesian Borneo


(09/26/2014) Baharuddin should be happy. The rambutan and durian trees flanking his home are heavy with fruit. Two hectares of chilies stretch before his house. The price of chili — a staple commodity in Indonesia — has been stable for six months. From his 2,000 plants he hopes to earn 40 million rupiah ($3,400), much of which he wants to invest in expanding his crop. That is, if his farm can survive the threats that have destroyed so many of his neighbor's.


Reintroduction program ups Mexico's scarlet macaw population by 34 percent in one year


(09/25/2014) While listed as Least Concern by the IUCN, the scarlet macaw has disappeared from almost all of its native range in Mexico, is very rare in most Central America countries, and is locally extinct in El Salvador. A new paper published this week finds a reintroduction program was hugely successful in its first year of operation, with a 92 percent survival rate for released birds.


Four countries pledge to restore 30 million hectares of degraded lands at UN Summit

(09/25/2014) In 2011, Germany and the International Union for the Conservation of Nature launched the Bonn Challenge, which pledged to restore 150 million hectares of degraded and deforested lands by 2020. Several countries have already made commitments—including the U.S.—but this week at the UN Climate Summit four more jumped on board.



Page 1 | Page 2 | Page 3 | Page 4 | Page 5 | Page 6 | Page 7 | Page 8 | Page 9 | Page 10 | Page 11 | Page 12 | Page 13 | Page 14 | Page 15 | Page 16 | Page 17 | Page 18 | Page 19 | Page 20 | Page 21 | Page 22 | Page 23 | Page 24