News articles on debt-for-nature

---
Mongabay.com news articles on debt-for-nature in blog format. Updated regularly.








US swaps debt for rainforest preservation in Indonesia

(10/02/2011) The US is forgiving $28.5 million in debt to Indonesia for forest preservation efforts in Kalimantan, Indonesian Borneo. The debt-for-nature program is a part of the US Tropical Forest Conservation Act (TFCA).
U.S. forgives $30M in debt to protect rainforests in Sumatra, Indonesia
(06/30/2009) The United States will forgive nearly $30 million in debt owed by Indonesia in exchange for increased protection of endangered rainforests on the island of Sumatra, reports the Wall Street Journal. The deal is the largest debt-for-nature swap under the U.S. Tropical Forest Conservation Act — unanimously reauthorized this May by the Senate Foreign Relations Committee last week — and its first such agreement with Indonesia, which has the second highest annual loss of forest cover after Brazil. Under the terms of the pact the government of Indonesia will put $30 million into a trust over the next eight years. The trust will issue annual grants for forest conservation and restoration work in Sumatra, an island that lost nearly half of its forest cover between 1985 and 2007 as a result of logging, conversion for plantations, and forest fires.
U.S. reauthorizes funding for rainforest conservation

(05/16/2009) The Senate Foreign Relations Committee last week unanimously passed the Tropical Forest and Coral Conservation Reauthorization Act of 2009 (S. 345) introduced by Senate Foreign Relations Committee Chairman John Kerry (D-MA) and Ranking Member Senator Dick Lugar (R-IN). The bill would provide up to $115 million in debt relief to tropical countries in exchange for commitments to conserve forests and coral reefs.
Amazon scientists awarded 'Nobel Prize' of conservation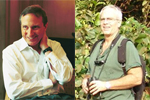 (02/01/2009) Thomas Lovejoy of the H. John Heinz III Center for Science, Economics and the Environment and William F. Laurance of the Smithsonian Tropical Research Institute (STRI) have been awarded one of ecology's most coveted prizes for their work to understand and conserve the Amazon rainforest. The €400,000 BBVA Foundation Frontiers of Knowledge Award in Ecology and Conservation Biology is given annually to "honor contributions which significantly advance the stock of knowledge in this area for reasons of their importance and originality."
Is peat swamp worth more than palm oil plantations?

(07/16/2007) Could peat swamp be worth more intact for their carbon value than palm oil plantations for their oil? Quick analysis suggests yes, though binding limits on emissions will be needed to trigger the largest ever flow of money from the industrialized world to developing countries. At stake: the bulk of the world's biodiversity.
$24 million debt-for-nature swap in Guatemala

(10/05/2006) Tropical forest conservation efforts in Guatemala will receive $24 million under a debt-for-nature swap arranged by conservation International (CI), The Nature Conservancy, and the governments of the United States and Guatemala.
Debt-for-Nature Swap Protects Forest in Cameroon

(06/22/2006) France and Cameroon signed the first ever Central African debt for nature swap today. This agreement will invest at least $25 million over the next five years to protect part of the world's second largest tropical forest, home to elephants, gorillas, hundreds of bird species and indigenous people such as the Ba'Aka pygmies.