News articles on conservation

---
Mongabay.com news articles on conservation in blog format. Updated regularly.





125M ha of degraded lands identified for forest-friendly agricultural expansion


(12/19/2014) A team of researchers has identified 125 million hectares (309 million acres) of land suitable for agricultural expansion that won't come at the expense of tropical forests. The study argues that shifting agricultural expansion away from forests to these 'degraded lands' would avoid 13 billion tons of carbon dioxide emissions that would be released were they converted for plantations, pasture, and croplands.


Plant wars: some tree species compete better against grasses for reforestation


(12/18/2014) What happens to degraded pastureland once the cows are kicked out? After years of letting the area rest, does it eventually become what it once was? Not likely. When disruptions such as invasive species and human interference are introduced to an area, ecological succession doesn't occur the way it should naturally.


Then there were five: rhino death moves species closer to extinction

(12/15/2014) As if news for rhinos couldn't get any worse: this weekend, Angalifu, died a the San Diego Zoo. Forty four-year-old Angalifu was a male northern white rhino and his death means only five of this subspecies remains on the planet. Angalifu's death, which keepers suspect was simply from old age, follows soon after the death of another northern white rhino, Suni, in October.


New poison dart frog needs immediate conservation plan


(12/15/2014) It was a surprising discovery in an unlikely location. In a leaf litter nearly four inches deep under a dense canopy of rainforest trees, researchers Marcos Ponce and Abel Batista with the Universidad Autónoma de Chiriquí worked to complete an inventory of endangered species in Panama's Isthmian-Atlantic moist forest. But they were both completely unsuspecting of what they were about to find: a new poison dart frog.


Conservation and the rights of indigenous communities

(12/12/2014) Many conservationists have long supported local communities and indigenous peoples seeking recognition of their rights to land and natural resources. In addition to being the right thing to do, supporting these local initiatives in land and seascapes across the globe helps strengthen the constituency for conserving healthy wildlife populations, habitats, and natural ecosystems.


To collect or not to collect? Experts debate the need for specimens


(12/10/2014) In 1912, a group of intrepid explorers led by Rollo and Ida Beck, widely acknowledged to be the foremost marine bird collectors of their time, embarked on a most remarkable effort to catalogue South America's oceanic birds. Museums of the day held opportunistically collected specimens from scattered sources, but rarely did these include ocean-bound birds that spent little time near the coast.


Deforestation puts cultural survival of forest-dependent peoples at risk


(12/10/2014) Forest-dependent peoples face grave threats from deforestation and other depredations, warns a new report that urges greater recognition of traditional land use and support of community-led initiatives to fight forest loss. The report, published Monday during climate talks in Lima, is based on research by dozens of indigenous and forest communities from Africa, Asia and Latin America.


Initiative to restore 50M acres of degraded Latin American ecosystems by 2020


(12/07/2014) A coalition of governments and organizations today pledged to restore 20 million hectares (50 million acres) of degraded forests and ecosystems across Latin America by 2020 under an initiative that aims to curb boost rural incomes, fight climate change, and increase agricultural production. The effort is backed by $365 million from five impact investors.


Indonesia's ambitious plan to reforest 2M ha annually

(12/05/2014) Indonesia's new government has ambitious reforestation plans. President Joko Widodo's election campaign included a commitment to reforest 2 million hectares of degraded land annually.


Indonesia sets reference level for cutting deforestation

(12/05/2014) The Indonesian government has established reference levels for measuring reductions in emissions from deforestation and forest and peatland degradation, reports Antara.


A landmark year for forests (commentary)


(12/05/2014) About one year ago today, I was pretty down. It was Thanksgiving night, and the Forest Heroes campaign, which I chair, had been running a big global campaign to persuade Wilmar International, Asia's largest agribusiness company, to eliminate deforestation and human rights abuse throughout its enormous supply chain.


Tradeoff: Sabah banks on palm oil to boost forest protection


(12/05/2014) Last month Sabah set aside an additional 203,000 hectares of protected forest reserves, boosting the Malaysian state's extent of protected areas to 21 percent of its land mass. But instead of accolades, Sabah forestry leaders were criticized for how they went about securing those reserves: allowing thousands of hectares of deforested land within an officially designated forestry area to be converted for oil palm plantations


Rhino conservationist dead at 87

(12/04/2014) South African conservationist Ian Player has died at the age of 87.


New survey finds surprisingly large population of endangered owl


(12/03/2014) The Anjouan scops owl—an elusive owl found only on its tiny eponymous island—was once considered among the world's most endangered owls, and even the most threatened birds. However, the first in-depth survey of the owls on the island finds that, in fact, the population is far larger than initially estimated.


Indonesia to audit licenses of palm oil companies that clear peatlands


(11/30/2014) New Indonesian president Joko Widodo has ordered the Ministry of Environment and Forestry to review licenses for companies that have converted peatlands for oil palm plantations, reports Antara. Jokowi, as the president is popularly known, announced the move after a visit last week to Sungai Tohor, a community in Riau that has been particularly affected by peatlands degradation and haze caused by fires set for land clearing.


What we can learn from uncontacted rainforest tribes


(11/26/2014) If you have ever wondered about the connection between hallucinogenic frogs, uncontacted peoples, conservation, and climate change — and who hasn't? — check out this TED talk from ethnobotanist Mark Plotkin. An ethnobotanist by training, Plotkin serves as President of the Amazon Conservation Team. Plotkin took a few minutes from his busy schedule to answer a few questions from Mongabay.


New calendar celebrates primates and raises money for their survival


(11/26/2014) Humans, or Homo sapiens sapiens, are really just upright apes with big brains. We may have traded actual jungles for gleaming concrete and steel ones, but we are still primates, merely one member of an order consisting of sixteen families. We may have removed ourselves from our wilder beginnings, but our extant relatives—the world's wonderful primates—serve as a gentle living reminder of those days.


Meet the world's rarest chameleon: Chapman's pygmy


(11/25/2014) In just two forest patches may dwell a tiny, little-known chameleon that researchers have dubbed the world's most endangered. Chapman's pygmy chameleon from Malawi hasn't been seen in 16 years. In that time, its habitat has been whittled down to an area about the size of just 100 American football fields.


Indonesia imposes moratorium on new logging permits


(11/20/2014) Indonesia's new Minister of Environment and Forestry Siti Nurbaya Bakar imposed a moratorium on the issuance of all new logging permits a little over a week after being appointed in late October. The move is being celebrated by conservation groups and signals that interest in reforming Indonesia's notoriously corrupt and dysfunctional forestry sector has reached the highest levels of government, with direction coming from President Joko Widodo.


Jane Goodall: 5 reasons to have hope for the planet


(11/19/2014) Jane Goodall is not only arguably the most famous conservationist who ever lived, but also the most well-known and respected female scientist on the planet today. Her path to reach that stature is an unlikely as it is inspiring. Told to 'never give up' by her mother, Goodall set out in her 20s to pursue her childhood dream: to live with animals in Africa. By the time she was 26 she doing just this.


A tale of 2 Perus: Climate Summit host, 57 murdered environmentalists


(11/18/2014) On September 1st, indigenous activist, Edwin Chota, and three other indigenous leaders were gunned down and their bodies thrown into rivers. Chota, an internationally-known leader of the Asháninka in Peru, had warned several times that his life was on the line for his vocal stance against the destruction of his peoples' forests, yet the Peruvian government did nothing to protect him—or others.


How remote sensing could change conservation forever

(11/18/2014) Remote sensing has changed the way we see our planet. And it has the power to change how we do conservation work, according to a new paper in Conservation Biology. Written by 32 scientists from organizations as diverse as NASA and the Jane Goodall Institute, the paper highlights ten areas where conservation efforts could benefit from remote sensing data.


Shifting the way the world shops (commentary)


(11/17/2014) If you are what you eat, then just as true, you are what you buy. From organic, fair-trade, responsible palm oil, Wildlife Friendly, and most recently deforestation-free, consumers can cast their lot with a variety of eco-friendly labels and define who they are by what they buy. It gives someone in New York City the chance to contribute to forest protection in Indonesia by using their wallets to influence the sustainability of the supply chain that serves them with goods.


Of bluefin and pufferfish: 310 species added to IUCN Red List


(11/17/2014) Today, 22,413 species are threatened with extinction, according to the most recent update of the IUCN Red List. This is a rise of 310 species from the last update in the summer. The update includes the Pacific bluefin tuna, the Chinese pufferfish, and Chapman's pygmy chameleon, among others.


A nature photographer's dream: staff photographer for the Wildlife Conservation Society


(11/17/2014) Julie Larsen Maher has what many wildlife photographers would consider a dream job: staff photographer for the Wildlife Conservation Society (WCS), a non-profit that runs five zoos and aquariums in New York City as well as numerous site-based field programs in the U.S. and overseas. As staff photographer, Maher helps tell the stories behind WCS's conservation work, which ranges from veterinary procedures with Bronx Zoo animals to working with local communities in remote parts of Zambia to protect wildlife.


An end to unjust conservation? (commentary)

(11/16/2014) In September 2014, events took place in three different parts of the world, which together highlight the multifaceted relationship between human rights and conservation. First, in New York, the UN General Assembly adopted the Outcome Document of the World Conference on Indigenous Peoples.


Gabon protects 23% of its coastal waters

(11/15/2014) Gabon has once again made headlines for a bold conservation initiative.


Surprising reasons to be optimistic about saving forests


(11/14/2014) In the 1990s, the world watched with alarm as vast tracts of tropical rainforest were torn down for timber and croplands, dug up for minerals and energy, and flooded for hydroelectric projects. Conservation groups, governments, philanthropists, and institutions like the World Bank collectively spent billions of dollars on programs to stop the carnage. But as viewed from satellites high above Earth's surface, those efforts barely dented deforestation rates.


New tapir? Scientists dispute biological discovery of the century


(11/13/2014) Nearly a year ago, scientists announced an incredible discovery: a new tapir species from the western Amazon in Brazil and Colombia. The announcement was remarkable for a number of reasons: this was the biggest new land mammal discovered in more than 20 years and was only the fifth tapir known to the world. But within months other researchers expressed doubt over the veracity of the new species.


Australia's small rainforest conservation steps overshadowed by broader assault on environment (commentary)


(11/13/2014) On the eve of the World Parks Congress in Sydney, the Australian government has just hosted the 'Asia-Pacific Rainforest Summit', a two-day event that brought together political leaders, academics, environmental managers and NGO staff in an effort to devise strategies to conserve endangered forests in the Asia-Pacific region. Here, Bill Laurance, a leading rainforest researcher, takes a critical look at the event.


Leaf bacteria are important to tree health, may help forests adapt to climate change


(11/13/2014) Leaves are vital trees organs that support many important functions. A recent study published in PNAS found that each tree species in tropical rainforests possesses distinctive bacterial communities – called microbiomes – on their leaves. Understanding how leaf microbiomes vary among species may in the future be applied for maintaining healthy forests and predicting how forests will react to climate change.


Local people are not the enemy: real conservation from the frontlines


(11/12/2014) Saving one of the world's most endangered primates means re-thinking conservation. When Noga Shanee and her colleagues first arrived in Northeastern Peru on a research trip to study the yellow-tailed woolly monkey (Oreonax flavicauda), she was shocked by what she observed.


Only place where rhinos, tigers, elephants, and orangutans coexist is under threat


(11/12/2014) A forest that is the only place where rhinos, tigers, elephants, and orangutans coexist is under threat from planned infrastructure, mining, logging, and plantation projects, warns a new report from the Rainforest Action Network. The report looks at one of the last vestiges of wilderness on the island of Sumatra, which for the past three decades has been heavily ravaged by logging, fires, and conversion to industrial timber and oil palm plantations. This area, known as the Leuser Ecosystem, is today a battleground between business-as-usual interests seeking to mine its forests and a collection of conservationists, local communities, and a collection of companies seeking to steward its resources.


Using mobile apps to stop wildlife trafficking at the border

(11/11/2014) Conservationists are successfully developing mobile apps that enable authorities to identify illegal wildlife products, making it more difficult for traffickers to smuggle animals and animal parts, reports a paper published in the journal Biological Conservation.


Chief Curiosity Correspondent tackles sexism, aids conservation


(11/11/2014) Have you ever been offered the job of your dreams without knowing you were being interviewed? Have you ever communicated with a 5-year-old about the wonders of Salmonella? Have you ever been disappointed not to have larvae hatching from your skin? If you answered yes to all three questions, then you are either Emily Graslie herself or you should subscribe to her YouTube channel. Immediately.


Peru has massive opportunity to avoid emissions from deforestation


(11/10/2014) Nearly a billion tons of carbon in Peru's rainforests is at risk from logging, infrastructure projects, and oil and gas extraction, yet opportunities remain to conserve massive amounts of forest in indigenous territories, parks, and unprotected areas, finds a study published this week in Proceedings of the National Academy of Sciences (PNAS).


Will merging competing ministries help save Indonesia's forests?


(11/10/2014) Newly elected Indonesian president Joko 'Jokowi' Widodo announced on October 26th that the Ministry of Forests and the Ministry of Environment would be combined and that Siti Nurbaya would become Forests and Environment Minister. The move was part of Jokowi's appointment of 34 cabinet level positions, ranging from Foreign Minister to Religious Affairs Minister.


Is the world moving backwards on protected areas?


(11/06/2014) Protected areas are undoubtedly the world's most important conservation success story. But, despite this, progress on protected areas is stalling and in some cases even falling behind. According to a sobering new paper, only 20-50 percent of the world's land and marine protected areas are meeting their goals, while the rest are hampered by lack of funding, poor management, and government ambivalence.


Facing severe drought, 'war effort' needed to save the Amazon, says scientist


(11/03/2014) Severe droughts in southern Brazil may be linked to deforestation and degradation of Earth's largest rainforest, argues a new report published by a Brazilian scientist. Reviewing data from roughly 200 studies, Antonio Donato Nobre of Brazil's National Institute for Space Research (INPE) warns that reducing deforestation will not be enough to restore the ecological function of the Amazon rainforest, which acts as a giant water pump that delivers precipitation across much of South America.


The Search for Lost Frogs: one of conservation's most exciting expeditions comes to life in new book


(10/30/2014) One of the most exciting conservation initiatives in recent years was the Search for Lost Frogs in 2010. The brainchild of scientist, photographer, and frog-lover, Robin Moore, the initiative brought a sense of hope—and excitement—to a whole group of animals often ignored by the global public—and media outlets. Now, Moore has written a fascinating account of the expedition: In Search of Lost Frogs.


Fashion industry making progress in cutting deforestation from clothing


(10/30/2014) Several more clothing companies have committed to eliminate fiber produced via destruction of endangered forests, adding momentum to a zero deforestation movement within the fashion sector, argues a new report published by Canopy, an environmental non-profit.


Local communities rise to the forefront of global conservation practice (commentary)

(10/29/2014) A few weeks ago, a remote aboriginal community in western Australia made headlines when it completed the establishment of an Indigenous Protected Area (IPA) containing over 4.2 million hectares of desert and grassland. The Kiwirrkurra IPA, as the area is known, is billed as the largest protected expanse of arid land on Earth.


The inconvenient solution to the rhino poaching crisis


(10/28/2014) Daily, we read or hear of more rhino being poached to satisfy the seemingly insatiable demand from Asia for rhino horn. With countless articles and papers having been published on the subject - and the Internet abuzz with forums, including heated debates concerning possible solutions - current approaches seem to be failing. Evidence is in the numbers. Known poaching deaths in South Africa have risen sharply over the past three years: 668 rhinos in 2012, 1,004 last year, and 899 through the first nine months of 2014. This toll includes only documented kills — the real number is higher.


Scientific association calls on Nicaragua to scrap its Gran Canal

(10/27/2014) ATBC—the world's largest association of tropical biologists and conservationists—has advised Nicaragua to halt its ambitious plan to build a massive canal across the country. The ATBC warns that the Chinese-backed canal, also known as the Gran Canal, will have devastating impacts on Nicaragua's water security, its forests and wildlife, and local people.


With drones, satellites, and camera traps proliferating, conservation needs better networking

(10/27/2014) With scientists rapidly adopting and using a range of remote sensing tools for monitoring environmental change, tracking wildlife and measuring biological processes, conservation needs to scale up networking capabilities to maximize the potential of this technological revolution, argues a commentary published in the journal Science.


Next big idea in forest conservation? Recognize the value of novel forests


(10/23/2014) Think first before you eradicate non-native species says Dr. Ariel E. Lugo, the current director of the International Institute of Tropical Forestry within the USDA Forest Service, based in Puerto Rico. Lugo, an accomplished ecologist, supports the idea that both native and non-native plants have important roles to play in conservation efforts.


Top scientists raise concerns over commercial logging on Woodlark Island


(10/21/2014) A number of the world's top conservation scientists have raised concerns about plans for commercial logging on Woodlark Island, a hugely biodiverse rainforest island off the coast of Papua New Guinea. The scientists, with the Alliance of Leading Environmental Scientists and Thinkers (ALERT), warn that commercial logging on the island could imperil the island's stunning local species and its indigenous people.


Saving Asia's other endangered cats (photos)


(10/21/2014) It's no secret that when it comes to the wild cats of Asia—and, really, cats in general—tigers get all the press. In fact, tigers—down to an estimated 3,200 individuals—arguably dominate conservation across Asia. But as magnificent, grand, and endangered as the tigers are, there are a number of other felines in the region that are much less studied—and may be just as imperiled.


Indonesian law bars palm oil companies from protecting forests


(10/21/2014) A law passed by the Indonesian government last month makes it even more difficult for palm oil companies to conserve tracts of wildlife-rich and carbon-dense forests within their concessions, potentially undermining these producers' commitments to phase deforestation out of their supply chains, warns a new report published by Greenomics, an Indonesian environmental group.


With death of rhino, only six northern white rhinos left on the planet


(10/20/2014) Rhino conservation suffered another tragic setback this weekend with the sudden death of Suni, a male northern white rhinoceros at the Ol Pejeta Conservancy in Kenya. Suni's passing means there are only six northern white rhinos left in the world, and only one breeding male. 'Consequently the species now stands at the brink of complete extinction, a sorry testament to the greed of the human race,' wrote the Conservancy.


Walking the walk: zoo kicks off campaign for orangutans and sustainable palm oil


(10/20/2014) If you see people wearing orange this October, it might not be for Halloween, but for orangutans. Chester Zoo's conservation campaign, Go Orange for Orangutans, kicks off this month for its second year. The campaign aims to raise money, and awareness, for orangutans in Borneo, which have become hugely impacted by deforestation often linked to palm oil plantations.


Behind on biodiversity targets, govts pledge to increase funding for conservation

(10/17/2014) On the heels of a report showing that the world is far behind on targets to halve habitat loss, cut pollution, and reduce overfishing, delegates meeting at a United Nations conference in Pyeongchang, South Korea have agreed to increase step up efforts to conserve biodiversity in developing nations.


Push to undermine Indonesia's new president could stymie environmental progress, say NGOs


(10/17/2014) concerted push by political elites to undermine Indonesia's president before he even takes office could stymie progress on social and environmental issues in the country, say Indonesian civil society groups. On July 9, former Surakarta (Solo) and Jakarta mayor Joko 'Jokowi' Widodo beat ex-general Prabowo Subianto in Indonesia's presidential election by 8.4 million votes. Yet despite the wide margin, Jokowi has been stung by a series of political setbacks that will hinder his ability to govern once he assumes office Monday.


As Amazon deforestation falls, small farmers play bigger role in forest clearing


(10/14/2014) Smallholder properties account for a rising proportion of overall deforestation in Brazilian Amazon, suggesting that Brazil's progress in cutting forest loss through stricter law enforcement may be nearing the limits of its effectiveness, finds a new study published in the Proceedings of the National Academy of Sciences.


Jane Goodall joins mongabay


(10/13/2014) Famed primatologist and conservationist Jane Goodall—whose image is known the world over—has joined the advisory board of mongabay.org. This is the non-profit branch of mongabay.com, an environmental and science website with a special focus on tropical forests. Goodall first came to global prominence at the age of 26 when she set off to Gombe Stream National Park, Tanzania to study chimpanzee behavior.


Google, zoo to leverage 'TV white space' to monitor wildlife

(10/09/2014) Imagine watching a tiger stalk a sambar deer or catching a ghost-like glimpse of the rarely-seen saola—all from your desktop and in real time. Well, this may soon be possible under a new partnership with Google and the Zoological Society of London (ZSL), which will test TV white space to monitor zoo animals as a trial run for real-time filming life in the wild.


Next big idea in forest conservation? Empower youth leaders


(10/09/2014) Want to save forests? Don't forget the youth, says Pedro Walpole, the Chair and Director of Research for the Environmental Science for Social Change, a Jesuit environmental research organization promoting sustainability and social justice across the Asia Pacific region. 'Youth leadership in environmental management is key,' Walpole told mongabay.com.


Forest fragmentation's carbon bomb: 736 million tonnes C02 annually

(10/09/2014) Scientists have long known that forest fragments are not the same ecologically as intact forest landscapes. When forests are slashed into fragments, winds dry out the edges leading to dying trees and rising temperatures. Biodiversity often drops, while local extinctions rise and big animals vanish. Now, a new study finds another worrisome impact of forest fragmentation: carbon emissions.


The only solution for polar bears: 'stop the rise in CO2 and other greenhouse gases'


(10/08/2014) Steven Amstrup, Chief Scientist for Polar Bears International, has worked diligently on polar bears for over 30 years. He radio-collared some of the first bears and discovered that annual activity areas for 75 tracked females averaged at a stunning 149,000 square kilometers. His recent work highlighted the cost of global warming to these incredible animals and the sea ice they so closely depend on.


An impossible balancing act? Forests benefit from isolation, but at cost to local communities


(10/07/2014) The indigenous people of the Amazon live in areas that house many of the Amazon's diverse species. The Rupununi region of Guyana is one such area, with approximately 20,000 Makushi and Wapishana people living in isolation. According to a recent study published in Environmental Modelling & Software, a simulation model revealed a link between growing indigenous populations and gradual local resource depletion.


Saving Peru's sea turtles and marine birds: conservationists and fishermen partner to tackle bycatch


(10/07/2014) Marine conservationists often view fisheries as an enemy of sorts, vacuuming up fish with little thought to the long-term consequences and using equipment that also ends up killing other species, i.e. bycatch like sea turtles and marine birds. However, Joanna Alfaro Shigueto, the President of the Peruvian NGOProDelphinus and winner of a 2012 Whitley Award, has chosen a different tact.


The Zanaga iron ore mine – a test of best laid plans for preserving wildlife


(10/06/2014) One of the largest iron ore deposits in Africa is located in a strip 47 kilometers long and three kilometers wide in the Republic of the Congo (RoC), bordering Gabon. A core section of the Guineo-Congolian Forest rises above this vast mineral deposit, and provides a home to flagship endangered species like western lowland gorillas, chimpanzees, and forest elephants.


Despite high deforestation, Indonesia making progress on forests, says Norwegian official


(10/02/2014) Despite having a deforestation rate that now outpaces that of the Brazilian Amazon, Indonesia is beginning to undertake critical reforms necessary to curb destruction of its carbon-dense rainforests and peatlands, says a top Norwegian official. Speaking with mongabay.com in Jakarta on Monday, Stig Traavik, Norway's ambassador to Indonesia, drew parallels between recent developments in Indonesia and initiatives launched in Brazil a decade ago, when deforestation was nearly five times higher than it is today.


What makes the jaguar the ultimate survivor? New books highlights mega-predator's remarkable past and precarious future


(10/02/2014) For thousands of years the jaguar was a God, then it was vermin to be destroyed, and today it is the inspiration for arguably the most ambitious conservation effort on the planet. A new book by renowned big cat conservationist, Alan Rabinowitz, tells this remarkable story from the jaguar's evolutionary origins in Asia to its re-emergence today as a cultural and ecological symbol.


Small chocolate company takes big steps toward conservation and human development


(10/01/2014) Madécasse is not just another chocolate company selling their bars in high-end supermarkets across the United States and Europe. Their bean-to-bar business model is shaping the way small companies deal with the developing world while providing new reasons to conserve a biodiversity hotspot.


Turning point for Peru's forests? Norway and Germany put muscle and money behind ambitious agreement


(09/24/2014) From the Andes to the Amazon, Peru houses some of the world's most spectacular forests. Proud and culturally-diverse indigenous tribes inhabit the interiors of the Peruvian Amazon, including some that have chosen little contact with the outside world. And even as scientists have identified tens-of-thousands of species that make their homes from the leaf litter to the canopy.


Drivers in Brazil will intentionally run-down small animals, but only if it is safe


(09/24/2014) Although not always very wide, roads can be huge barriers to wildlife. Not only do roads break up habitats, making animal movement more difficult, but they also allow people into long-inaccessible natural areas. A new study in mongabay.com's open-access journal Tropical Conservation Science looks at how drivers on Brazil's MG-010 road act when faced with small animals, such as snakes, on the path.


Leaders pledge to end deforestation by 2030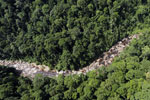 (09/24/2014) Dozens of companies, non-profit organizations, and governments pledged to work together to halve forest loss by 2020 and end it altogether by 2030. If implemented, the commitment could reduce annual carbon dioxide emissions by 4.5-8.8 billion tons annually, equivalent to removing a billion cars from the world's roads.


Extinction island? Plans to log half an island could endanger over 40 species


(09/22/2014) Woodlark Island is a rare place on the planet today. This small island off the coast Papua New Guinea is still covered in rich tropical forest, an ecosystem shared for thousands of years between tribal peoples and a plethora of species, including at least 42 found no-where else. Yet, like many such wildernesses, Woodlark Island is now facing major changes: not the least of them is a plan to log half of the island.


Scientists rebut NYTimes op-ed 'To Save the Planet, Don't Plant Trees'


(09/22/2014) The following is a response from a group of scientists' -- including 6 members of the National Academy, 3 IPCC Lead Authors, and 1 IPCC Co-Chair -- to Dr. Nadine Unger's September 21, New York Times Op-Ed, "To Save the Planet, Don't Plant Trees"


'The green Amazon is red with indigenous blood': authorities pull bodies from river that may have belonged to slain leaders

(09/17/2014) Peruvian authorities have pulled more human remains from a remote river in the Amazon, which may belong to one of the four murdered Ashaninka natives killed on September 1st. It is believed the four Ashaninka men, including renowned leader Edwin Chota Valera, were assassinated for speaking up against illegal logging on their traditional lands.


Activists urge outgoing Indonesian president to protect key forest area before he steps down

(09/17/2014) Activists have launched an urgent appeal calling upon outgoing Indonesian President Susilo Bambang Yudhoyono to step up protection of the only ecosystem that houses Sumatran orangutans, rhinos, elephants and tigers.


Malayan tiger population plunges to just 250-340 individuals


(09/16/2014) Malaysia is on the edge of losing its tigers, and the world is one step nearer to losing another tiger subspecies: the Malayan tiger. Camera trap surveys from 2010-2013 have estimated that only 250-340 Malayan tigers remain, potentially a halving of the previous estimate of 500 individuals.


Protected areas do work, concludes study

(09/15/2014) Protected areas are working. That's the conclusion of a new analysis of over 80 different studies on the efficacy of parks and nature reserves in safeguarding wildlife. Published in the open access journal, PLOS ONE, the new study finds that in general protected areas house higher abundances of wildlife as well as greater biodiversity than adjacent areas.


FSC meeting weighs old-growth forest protection, smallholder participation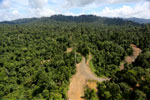 (09/11/2014) The Forest Stewardship Council (FSC), a body that sets social and environmental certification criteria for forestry products, is weighing measures that could step up protection for old-growth forests and make it easier for indigenous people and traditional forest communities to qualify for certification. The measures are set for a vote this week at the body's General Assembly, which is held every three years to establish and revise criteria that underpin the standard.


Meet the newest enemy to India's wildlife


(09/11/2014) A boom in infrastructure and population has forced India's wildlife to eke out a creative existence in an increasingly human-modified environment. Big cats such as the leopard are often spotted within large cities, on railway tracks, and sadly, on India's burgeoning and sprawling road network.


Next big idea in forest conservation? Harness the power of marketing


(09/11/2014) As a whole, conservationists have been slow to adapt the strategies of marketing or to market conservation at all. Dr. Diogo Veríssimo, a researcher who works at the interface between social and natural sciences, with a focus on behavior change and evidence-based conservation, thinks this needs to change.


APP can meet projected pulp demand without clearing more forest

(09/05/2014) Indonesian forestry giant Asia Pulp & Paper (APP) won't need to clear additional forests to meet pulp requirements for current and forecast mill expansion, finds an independent assessment conducted by The Forest Trust (TFT) and Ata Marie.


How Islam could help save Aceh's forests

(09/05/2014) Aceh, Indonesia has found a new ally in the struggle to protect the province's remaining natural forests: Sharia law.


A path to becoming a conservation scientist


(09/05/2014) The path to finding a career often involves twists and turns. Serendipity is important — one rarely anticipates what small events, chance occurrences, and seeds of inspiration will spur decisions that lead to pursuing one job or another. For Zuzana Burivalova, a PhD candidate based at the Swiss Federal Institute of Technology in Zurich (ETH Zurich), the road to becoming a tropical forest ecologist began as a child in a small Czech Republic village with a foldout children's book about rainforests.


Conservationists use social media to take on Peru's booming illegal wildlife trade


(09/04/2014) Illegal wildlife trafficking is thriving in Peru. But a Peruvian organization is now using a public campaign, via social media and press releases, to track and rescue illegally kept wildlife in the country. 'I have filed 47 complaints from 14 different states in Peru including hundreds of animals commercialized illegally in markets, kept as pets, and used as tourist attractions,' said Noga Shanee, Co-founder and project director of Neotropical Primate Conservation.


Mongabay founder, Rhett Butler, wins Field Museum's top conservation prize


(09/03/2014) The Field Museum has honored Rhett A. Butler, the founder of mongabay.com, with this year's prestigious Parker/Gentry Award. The award is giving annually to an 'individual, team or organization whose efforts have had a significant impact on preserving the world's rich natural heritage and whose actions can serve as a model to others,' according to the museum.


Saving the Atlantic Forest would cost less than 'Titanic'


(08/28/2014) Want to save the world's most imperiled biodiversity hotspot? You just need a down payment of $198 million. While that may sound like a lot, it's actually less than it cost to make the film, Titanic. A new study published today in Science finds that paying private landowners to protect the Atlantic Forest would cost Brazil just 6.5 percent of what it currently spends ever year on agricultural subsidies.


The Gran Canal: will Nicaragua's big bet create prosperity or environmental ruin?


(08/27/2014) A hundred years ago, the Panama Canal reshaped global geography. Now a new project, spearheaded by a media-shy Chinese millionaire, wants to build a 278-kilometer canal through Nicaragua. While the government argues the mega-project will change the country's dire economic outlook overnight, critics contend it will cause undue environmental damage, upend numerous communities, and do little to help local people.


How do we save the world's vanishing old-growth forests?


(08/26/2014) There's nothing in the world like a primary forest, which has never been industrially logged or cleared by humans. They are often described as cathedral-like, due to pillar-like trees and carpet-like undergrowth. Yet, the world's primary forests—also known as old-growth forests—are falling every year, and policy-makers are not doing enough to stop it.


Scientists name new endangered species after the company that will decide its fate


(08/24/2014) Scientists have discovered a new snail species near a cement quarry in Malaysia, which as far as they know lives nowhere else in the world. It lives on a limestone hill called Kanthan given as a concession to an international company Lafarge. The cement producer quarries the hill for raw materials. As a result, the scientists have named the species after the company that will decide if it goes extinct.


Next big idea in forest conservation? DNA fingerprinting trees to stem illegal logging


(08/21/2014) As a professor at Texas Tech, Dr. Chuck Cannon has been, among other things, working to create a system of DNA fingerprinting for tropical trees to undercut the global illegal logging trade. 'If we just enforced existing laws and management policies, things would be pretty good, but unfortunately, that is where things fall apart in many tropical countries,' Cannon said.


Why conservationists need a little hope: saving themselves from becoming the most depressing scientists on the planet


(08/19/2014) Here's a challenge: take a conservationist out for a drink and ask them about their work. Nine times out of ten—or possibly more—you'll walk away feeling frustrated, despondent, and utterly hopeless. Yet a few conservation scientist are not just trying to save species from extinction, but also working to save their field—their life's work—from slipping into total despair.


Norway puts $1.6B into rainforest conservation


(08/19/2014) Since 2008 Norway has been the single largest foreign donor to tropical forest conservation, putting more than 10 billion Norwegian Krone, or $1.6 billion, toward programs in several countries under its International Climate and Forest Initiative. But how effective have those funds been in actually protecting forests?


Titanium vs. Millipedes: new species discovered in Madagascar threatened by mining


(08/13/2014) A team of scientists from the United States and Germany has recently described seven new species of Malagasy giant pill-millipede. All but one of these species are considered "microendemics," in that they have only been found in small, isolated forest patches.


Unreal Thailand: stunning wildlife photographed in flooded Khlong Saeng Wildlife Sanctuary


(08/13/2014) If someone told you there was a place where 200 million year old coral reefs had erupted from beneath the sea and were now draped in the oldest rain forest in the world, a place where marbled cats and clouded leopards prowl the sharp crags and their dark caves in search of dead bats and small prey, would you believe them?


Forgotten species: the exotic squirrel with a super tail


(08/13/2014) With among the world's largest tails compared to body-size, the tufted ground squirrel just might be the most exotic squirrel species on the planet. Found only on the island of Borneo, this threatened species is also surrounded by wild tales, including the tenacity to take down a deer for dinner. New research explores the squirrel's monster tail and whether other tales about it may be true.


Governors pledge massive cuts in deforestation

(08/12/2014) Governors from 13 states have pledged to reduce deforestation 80 percent by 2020 provided rich companies step forward with adequate levels of financial support.


Demand for shark fin plunging


(08/12/2014) Shark fin demand has dropped precipitously in China in just a few years, according to a new report by WildAid. Shark fin traders in Guangzhou—the current informal capital of the shark fin trade—say their sales have fallen by 82 percent in just two years, according to WildAid.


Aceh's largest peat swamp at risk from palm oil

(08/11/2014) Oil palm plantations and other developments are threatening Rawa Singkil Wildlife Preserve—Aceh's largest peat swamp, and home to the densest population of Sumatran orangutan in the Leuser Ecosystem. The lack of clear boundaries, and construction of roads bisecting the area has fostered encroachment by local and outside entrepreneurs, including some former local officials, reports Abu Hanifah Lubis, Program Manager of Yayasan Leuser Internasional (YLI).


Featured video: new documentary highlights the Long March to save the Sundarbans

(08/05/2014) Last fall tens of thousands of Bangladeshis participated in a five day march that took them from the country's capital to the Sundarbans, the world's largest mangrove forest. They marched to protest the proposal to build a coal plant on the edge of the great wetland. Filmmaker, Bratto Amin, was there.


Ndoki Forest, charmed or cursed? Conservationists admit sustainable logging wilting in naïve chimp habitat


(08/01/2014) 'You come across that crest, and … you're going from forest that has already been exploited to this kind on no-man's land… It just felt like you were going into this vast unknown wilderness' – Mike Fay from Eating Apes by Dale Peterson and Karl Ammann. Mike Fay, famed explorer and conservationist, said this of the Ndoki Forest in the Republic of the Congo.


Ecologists are underestimating the impacts of rainforest logging


(07/31/2014) Ecologists may be underestimating the impact of logging in old-growth tropical forests by failing to account for subtleties in how different animal groups respond to the intensity of timber extraction, argues a paper published today in the journal Current Biology. The study, led by Zuzana Burivalova of ETH Zurich, is based on a meta-analysis of 48 studies that evaluated the impact of selective logging on mammals, birds, amphibians, and invertebrates in tropical forests.


Seeking justice for Corazón: jaguar killings test the conservation movement in Mexico


(07/31/2014) Eight years ago, a female jaguar cub was caught on film by a motion-triggered camera trap set in the foothills of canyons, oak forest, and scrubland that make-up the Northern Jaguar Reserve, just 125 miles south of the U.S.-Mexico border. Three years later, in 2009, the jaguar reappeared on film as an adult. They called her 'Corazón' for the distinctive heart-shaped spot on her left shoulder.


The future of tropical biology research and conservation


(07/30/2014) Last week, the Association for Tropical Biology and Conservation (ATBC) held its 51st annual meeting in Cairns, Australia. In addition to the normal symposia, plenaries, and poster sessions on a wide range of conservation topics, the convening produced a declaration calling for stronger protection of the Great Barrier Reef and two resolutions on expanding research funding in Papua New Guinea and >imploring Australia to restore its environmental leadership.



Page 1 | Page 2 | Page 3 | Page 4 | Page 5 | Page 6 | Page 7 | Page 8 | Page 9 | Page 10 | Page 11 | Page 12 | Page 13 | Page 14 | Page 15 | Page 16 | Page 17 | Page 18 | Page 19 | Page 20 | Page 21 | Page 22 | Page 23 | Page 24 | Page 25