News articles on congo

---
Mongabay.com news articles on congo in blog format. Updated regularly.





Invasion of the oil palm: western Africa's native son returns, threatening great apes


(07/28/2014) As palm oil producers increasingly look to Africa's tropical forests as suitable candidates for their next plantations, primate scientists are sounding the alarm about the destruction of ape habitat that can go hand in hand with oil palm expansion. A recent study sought to take those warnings a step further by quantifying the overlap in suitable oil palm land with current ape habitat.


Setting the stage: theater troupe revives tradition to promote conservation in DRC


(07/22/2014) Two years ago, environmental artist Roger Peet set off to the Democratic Republic of Congo to support the new Lomami National Park with bandanas that he designed. This time, Peet is back in Congo to carry out a conservation theater project in remote villages near the proposed Lomami National Park.


Will the last ape found be the first to go? Bonobos' biggest refuge under threat (Part I)


(07/16/2014) Bonobos have been declining sharply over the past few decades. In response, several non-profit organizations teamed up with governmental agencies in the DRC to create Sankuru Nature Reserve, a massive protected area in the midst of bonobo habitat. However, the reserve is not safe from deforestation, and has lost more than one percent of its forest cover in less than a decade.


Next big idea in forest conservation? Playing games to understand what drives deforestation


(06/26/2014) Dr. Claude Garcia plays games, but you won't find him betting his shirt at the casino. As leader of the Forest Management and Development Research Group at ETH Zürich, Garcia and his team use participatory modeling and role-playing games, merged with more traditional disciplinary sciences such as ecology, economics, and sociology to understand and manage complex landscape change in the tropics.


Discarded cell phones to help fight rainforest poachers, loggers in real-time


(06/24/2014) A technology that uses discarded mobile phones to create a real-time alert system against logging and poaching will soon be deployed in the endangered rainforests of Central Africa. Rainforest Connection (RFCx), a San Francisco-based non-profit startup, is partnering with the Zoological Society of London (ZSL) to install its real-time anti-deforestation technology at sites in Cameroon. 30 RFCx devices — recycled from old Android handsets — will monitor 10,000 hectares or nearly 40 square miles of rainforest, listening for audio signals associated with logging and poaching.


DRC seeks $1B to save its rainforest

(05/22/2014) The Democratic Republic of Congo is seeking a billion dollars for a plan to protect up to 9 million hectares of rainforests, reports the Financial Times.


Almost 90 percent of Republic of the Congo's lowland forests open to logging


(05/06/2014) Although the Republic of the Congo has opened up nearly 90 percent of its lowland forests to logging, the majority of the logging occurring in the country is still illegal, according to a new report from the Chatham House. In fact the UK policy institute finds that illegal logging in the Republic of the Congo may make up as much as 70-75 percent of the industry.


Congo rainforest losing its greenness, finds NASA

(04/25/2014) The Congo, the world's second largest rainforest, is losing its greenness, finds a new study published in Nature.


Okapi-killing warlord shot dead in the Democratic Republic of the Congo


(04/17/2014) The head of an informal militia and poaching group, Paul Sadala a.k.a. 'Morgan,' was killed on Monday after surrendering himself to the army in the Democratic Republic of the Congo (DRC). A well-known elephant poacher and terrorist, Morgan became most famous for leading an attack on the Okapi Wildlife Reserve station in 2012.


Nearly 90 percent of logging in the DRC is illegal


(04/08/2014) The forestry sector in the Democratic Republic of Congo (DRC) is completely out of control, according to a new eye-opening report. Put together by the Chatham House, the report estimates that at least 87 percent of logging in the DRC was illegal in 2011, making the DRC possibly the most high-risk country in the world for purchasing legal wood products.


Europe not doing enough to stop illegal logging imports says Greenpeace

(03/04/2014) Europe is failing to fully enforce its one-year-old EU Timber Regulation (EUTR), alleges Greenpeace, with illegally-logged wood still slipping into the continent, especially from the Democratic Republic of Congo (DRC).


Rainforest news review for 2013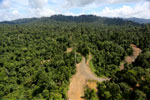 (12/26/2013) 2013 was full of major developments in efforts to understand and protect the world's tropical rainforests. The following is a review of some of the major tropical forest-related news stories for the year. As a review, this post will not cover everything that transpired during 2013 in the world of tropical forests. Please feel free to highlight anything this post missed via the comments section at the bottom. Also please note that this review focuses only on tropical forests.


Bonobos: the Congo Basin's great gardeners


(12/11/2013) The survival of primary forests depends on many overlapping interactions. Among these interactions include tropical gardeners, like the bonobo (Pan pansicus) in the Congo Basin, according to a new study in the Journal of Tropical Ecology. Bonobos are known as a keystone species, vital to the diversification and existence of their forests.


Conventional satellite imagery may underestimate forest clearing for subsistence agriculture

(12/09/2013) Analysis of forest cover using medium-scale satellite imagery may miss deforestation for small-scale subsistence agriculture, finds a study published in the journal Environmental Research Letters.


28 percent of potential bonobo habitat remains suitable


(11/27/2013) Only 27.5 percent of potential bonobo habitat is still suitable for the African great ape, according to the most comprehensive study of species' range yet appearing in Biodiversity Conservation. 'Bonobos are only found in lowland rainforest south of the sweeping arch of the Congo River, west of the Lualaba River, and north of the Kasai River,' lead author Jena Hickey with Cornell told mongabay.com. 'Our model identified 28 percent of that range as suitable for bonobos. This species of ape could use much more of its range if it weren't for the habitat loss and forest fragmentation that gives poachers easier access to illegally hunt bonobos.'


Controversial palm oil project approved in Cameroon rainforest


(11/26/2013) A controversial palm oil project set in the West African rainforest in Cameroon has won a three-year provisional lease to convert 20,000 hectares of land for plantations. The project, which is run by U.S.-based Herakles Farms, has been heavily opposed by environmental groups who say it will destroy blocks of wildlife-rich forest.


Elusive giraffe-relative - the okapi - now listed as Endangered


(11/26/2013) The discovery of the okapi shocked the world in 1901. African explorer, Henry Stanley, called it 'donkey-like,' while others thought it a new species of zebra, given the stripes. However, this notoriously-secretive rainforest ungulate proved to be the world's only living relative of the giraffe, making it one of most incredible taxonomic discoveries of the Twentieth Century as well as one of the last large-bodied mammals to be uncovered by scientists. But the future of the okapi (Okapia johnstoni) is increasingly in doubt: a new update of the IUCN Red List released today has raised the threatened level for the okapi from Vulnerable to Endangered.


Orphaned gorillas successfully reintroduced where apes had been hunted to extinction

(10/21/2013) The reintroduction of captive gorillas to areas where they have been hunted to extinction appears to working, suggesting a possible new front in efforts to save great apes, finds a new study published in the journal Oryx.


Honey badgers and more: camera traps reveal wealth of small carnivores in Gabon (photos)


(10/17/2013) Gabon has lost most of its big meat-eaters including lions, spotted hyenas, and African wild dogs (although it's still home to leopards), but a new study focuses on the country's lesser-known species with an appetite for flesh. For the first time, researchers surveyed Gabon's small carnivores, including 12 species from the honey badger (Mellivora capensis) to the marsh mongoose (Atilax paludinosus).


Controversial oil palm company now accused of illegal logging in Cameroon rainforest

(09/18/2013) Environmental group, Greenpeace, has accused Herakles Farms of illegal logging in Cameroon after the company has already been lambasted by scientists and conservationists for its plan to build a 70,000 hectare palm oil plantation in one of Africa's most biodiverse rainforests. Herakles Farms has been under fire from green groups—both in Cameroon and abroad—for years over its oil palm plantation plans, including facing protests from locals who live in the forest to be cleared.


A year after devastating attack, security returns to the Okapi Wildlife Reserve (photos)


(09/09/2013) On June 24th of last year, MaiMai Simba rebels, led by an elephant poacher known as Morgan, launched a devastating attack on the headquarters of the Okapi Wildlife Reserve in Epulu, Democratic Republic of Congo (DRC). The attack, which was reportedly in response to a crack down on poaching and illegal mining in the park, left buildings burned, equipment destroyed, and six people dead including two rangers. The militia also left with 28 women hostages, many of them minors. As if to add insult to injury, the militia didn't leave until they shot dead all 14 captive okapis at the headquarters, which were used as wildlife ambassadors for the local community.


Elephant killer gets five years in prison in the Republic of Congo

(08/01/2013) The Congolese Supreme Court has ordered Ghislain Ngondjo (known as Pepito) to five years in prison for slaughtering dozens of elephants for their ivory tusks. The five year sentence is the maximum in the Republic of Congo for poaching. Ngondjo was considered the "kingpin" of an elephant poaching group; in addition to killing pachyderms, Ngondjo recruited new poachers and made death threats to park rangers and staff in Odzala National Park.


Meet Thor's shrew: scientists discover new mammal with a superior spine


(07/30/2013) In 1917, Joel Asaph Allen examined an innocuous species of shrew from the Congo Basin and made a remarkable discovery: the shrew's spine was unlike any seen before. Interlocking lumbar vertebrae made the species' spine four times strong than any other vertebrate on Earth adjusted for its size. The small mammal had been discovered only seven years before and was dubbed the hero shrew (Scutisorex somereni), after the name give to it by the local Mangbetu people, who had long known of the shrew's remarkable abilities.


NGO hits out at study for downplaying logging threat in Congo rainforest


(07/23/2013) Global Witness has called in question conclusions reached in a study on logging in the Congo rainforest. The group, which has published a series of investigative reports on abuses by logging companies operating the world's second largest tropical forest, said that a review published Monday in the Philosophical Transactions of the Royal Society B '[presents] a misleading and inaccurate picture of the present and growing threats to the Congo Basin rainforest.'


Hunting, logging could threaten long-term health of Congo forests by wiping out key animals


(07/23/2013) Unsustainable hunting of forest elephants, gorillas, forest antelopes, and other seed-dispersers could have long-term impacts on the health and resilience of Congo Basin rainforests, warns a study published today in a special issue of the journal Philosophical Transactions of The Royal Society B. Conducting a review of more than 160 papers and reports on trends in wildlife populations, hunting, and land use in the Congo Basin, an international team of researchers conclude that unless effective management plans are put into place, hunting pressure in the region is likely to increase, with knock-on ecological effects.


Deforestation rate falls in Congo Basin countries


(07/22/2013) Deforestation has fallen in Congo Basin countries over the past decade despite a sharp increase in the rate of forest clearing in the Democratic Republic of the Congo, according to a new study published in the Philosophical Transactions of the Royal Society B as part of a set of 18 papers on the region's tropical forests. The special issue, which was put together by Oxford University's Yadvinder Malhi, covers a range of issues relating to the rainforests of the Congo Basin, including deforestation, the impacts of global change, the history and key characteristics of the region's forests, and resource extraction, among others.


Malaysian palm oil firm to establish $744m, 180,000 ha plantation in Congo

(06/09/2013) Wah Soeng Berhad, a Malaysian conglomerate, will invest $744 million over the next decade to establish oil palm plantations in Republic of Congo


Controversial palm oil project in Cameroon rainforest to resume

(06/06/2013) The Cameroonian government has lifted the suspension on controversial palm oil project in the northwestern part of the Central African nation, reports the AFP.


Controversial palm oil project halted in Cameroon

(05/24/2013) An American company has halted work on a controversial palm oil project in Cameroon due to opposition from local communities and environmentalists, reports Reuters.


Forest certification body revokes Swiss logging company's certificate over alleged Congo abuses

(05/21/2013) The Forest Stewardship Council (FSC), a body that certifies forest management practices, has revoked all certificates granted to the Danzer Group, a multinational logging company, over alleged human rights abuses by one of its former subsidiaries in the Democratic Republic of Congo (DRC), reports Bloomberg.


Gabon steps in to help protect elephants from ivory poaching at Central African Republic site

(05/18/2013) Gabon has agreed to help battle poaching in protected areas in the Central African Republic following an elephant massacre at a renowned World Heritage site, reports the Wildlife Conservation Society (WCS).


Elephants massacred for ivory in Central African Republic

(05/10/2013) Dozens of elephants have been slaughtered in the Dzanga Bai World Heritage Site in the Central African Republic just days after conservationists warned about an impending threat from the movement of 17 heavily armed poachers. The massacre occurred at a site renowned as 'village of elephants', where tourists and scientists have for decades observed wild elephants congregating at a large clearing to feed on minerals.


17 poachers allegedly enter elephant stronghold in Congo, conservationists fear massacre


(05/07/2013) Local researchers and wildlife guards say 17 armed elephant poachers have gained access to Dzanga Bai, a large waterhole and clearing where up to 200 forest elephants visit daily in the Central African Republic (CAR)'s Dzanga-Ndoki National Park. WWF, which works in the region but has recently evacuated due to rising violence, is calling on the CAR government to rapidly mobilize its military to stop another elephant bloodbath in central Africa. Elephants are being killed across their range for their ivory, which is mostly smuggled to East Asia.


Conservation policies that boost farm yields may ultimately undermine forest protection, argues study

(04/17/2013) Rising agricultural profitability due to higher prices, improved crop productivity, and forest conservation itself could make it increasingly difficult for conservation programs tied to payments for ecosystem services to succeed, warns a study published this week in the journal Proceedings of the National Academy of Sciences.


Beautiful striped bat is the "find of a lifetime" (photos)


(04/10/2013) Scientists have uncovered a rare, brilliantly-striped bat in South Sudan that has yielded new secrets after close study. Working in Bangangai Game Reserve during July of last year, biologist DeeAnn Redeer and conservationist Adrian Garsdie with Fauna & Flora International (FFI) came across an unmissable bat, which has been dubbed by various media outlets as the "badger bat" and the "panda bat."


An insidious threat to tropical forests: over-hunting endangers tree species in Asia and Africa


(04/04/2013) A fruit falls to the floor in a rainforest. It waits. And waits. Inside the fruit is a seed, and like most seeds in tropical forests, this one needs an animal—a good-sized animal—to move it to a new place where it can germinate and grow. But it may be waiting in vain. Hunting and poaching has decimated many mammal and bird populations across the tropics, and according to two new studies the loss of these important seed-disperser are imperiling the very nature of rainforests.


Infamous elephant poacher turns cannibal in the Congo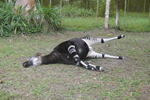 (04/03/2013) Early on a Sunday morning last summer, the villagers of Epulu awoke to the sounds of shots and screaming. In the eastern reaches of the Democratic Republic of the Congo, that can often mean another round of violence and ethnic murder is under way. In this case, however, something even more horrific was afoot.


Forging zoos into global conservation centers, an interview with Cristian Samper, head of WCS


(03/25/2013) The Wildlife Conservation Society (WCS) is one of the world's leading environmental organizations. Founded in 1895 (originally as the New York Zoological Society), the WCS manages 200 million acres of wild places around the globe, with over 500 field conservation projects in 65 countries, and 200 scientists on staff. The WCS also runs five facilities in New York City: the Central Park Zoo, the New York Aquarium, Prospect Park and Queens Zoos, and the world renowned Bronx Zoo.


Seeing the forest through the elephants: slaughtered elephants taking rainforest trees with them


(03/11/2013) Elephants are vanishing. The booming illegal ivory trade is decimating the world's largest land animal, but no place has been harder hit than the Congo basin and its forest elephants (Loxodonta cyclotis). The numbers are staggering: a single park in Gabon, Minkebe National Park, has seen 11,100 forest elephants killed in the last eight years; Okapi Faunal Reserve in the Democratic Republic of the Congo has lost 75 percent of its elephants in fifteen years; and a new study in PLoS ONE estimates that in total 60 percent of the world's forest elephants have been killed in the last decade alone. But what does that mean for the Congo forest?


62% of all Africa's forest elephants killed in 10 years (warning: graphic images)


(03/04/2013) More than 60 percent of Africa's forest elephants have been killed in the past decade due to the ivory trade, reports a new study published in the online journal PLOS ONE. The study warns that the diminutive elephant species — genetically distinct from the better-known savanna elephant — is rapidly heading toward extinction.


New illegal logging ban in EU could sever all ties with companies working in DRC


(03/04/2013) Yesterday, the EU joined the U.S. and Australia in banning all timber that was illegally harvested abroad. The new regulation could have a major impact on where the EU sources its timber, and no where more so than the Democratic Republic of Congo (DRC). According to a new report by Greenpeace, the DRC's current moratorium on industrial logging is being systematically circumvented making all timber from the country suspect.


Elephant massacre in the Democratic Republic of the Congo

(02/28/2013) A key Congo wildlife reserve has lost 75 percent of its elephants in just 15 years due to poaching to meet Asian demand for ivory, reports a new survey by the Wildlife Conservation Society (WCS) and Democratic Republic of Congo authorities.


Warlords, sorcery, and wildlife: an environmental artist ventures into the Congo


(02/25/2013) Last year, Roger Peet, an American artist, traveled to the Democratic Republic of Congo (DRC) to visit one of the world's most remote and wild forests. Peet spent three months in a region that is largely unknown to the outside world, but where a group of conservationists, headed by Terese and John Hart, are working diligently to create a new national park, known as Lomami. Here, the printmaker met a local warlord, discovered a downed plane, and designed a tomb for a wildlife ranger killed by disease, in addition to seeing some of the region's astounding wildlife. Notably, the burgeoning Lomami National Park is home to the world's newest monkey species, only announced by scientists last September.


Activists warn of industrial palm oil expansion in Congo rainforest


(02/21/2013) Industrial oil palm plantations are spreading from Malaysia and Indonesia to the Congo raising fears about deforestation and social conflict. A new report by The Rainforest Foundation UK (RFUK), dramatically entitled The Seeds of Destruction, announces that new palm oil plantations in the Congo rainforest will soon increase fivefold to half a million hectares, an area nearly the size of Delaware. But conservationists warn that by ignoring the lessons of palm oil in Southeast Asia, this trend could be disastrous for the region's forests, wildlife, and people.


Controversial palm oil project concession in Cameroon is 89 percent 'dense natural forest'


(02/21/2013) Satellite mapping and aerial surveys have revealed that a controversial palm oil concession in Cameroon is almost entirely covered by "dense natural forest," according to a new report by Greenpeace. The activist group alleges that the concession, owned by Herakles Farms, is under 89 percent forest cover. The U.S.-based corporation intends to build a 70,000 hectare palm oil plantation in a region surrounded by four protected areas, including Korup National Park, but has faced stiff criticism from numerous environmental groups as well as conflict with locals.


Over 11,000 elephants killed by poachers in a single park [warning: graphic photo]


(02/06/2013) Surveys in Gabon's Minkebe National Park have revealed rare and hard data on the scale of the illegal ivory trade over the last eight years: 11,100 forest elephants have been slaughtered for their tusks in this remote protected area since 2004. In all, poachers have cut down the park's elephant population by two-thirds, decimating what was once believed to be the largest forest elephant population in the world.


Gorilla paradise: new park safeguards 15,000 western lowland gorillas

(01/31/2013) In 2008 the Wildlife Conservation Society (WCS) announced a jaw-dropping discovery: remote swamp forests in northern Republic of Congo contained a stunning population of 125,000 western lowland gorillas that had somehow gone unnoticed by scientists. At the time the President of WCS, Steven E. Sanderson, called the area the "mother lode of gorillas," and expressed hope that the discovery would lead to a new park. Well, late last year, a park was finalized.


The year in rainforests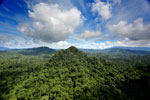 (12/31/2012) 2012 was another year of mixed news for the world's tropical forests. This is a look at some of the most significant tropical rainforest-related news stories for 2012. There were many other important stories in 2012 and some were undoubtedly overlooked in this review. If you feel there's something we missed, please feel free to highlight it in the comments section. Also please note that this post focuses only on tropical forests.


DR Congo gets first validated and verified REDD+ project

(12/20/2012) The Democratic Republic of the Congo (DRC) has its first Reducing Emissions from Deforestation and Degradation (REDD+) project validated and verified under the Verified Carbon Standard (VCS).


Congo ranger ambushed and killed defending wildlife


(12/18/2012) Atamato Madrandele, Chief Warden of Upemba National Park, was ambushed and killed December 16, 2012 by Mai Mai militia in the Democratic Republic of the Congo, reports the Upemba Conservation Project.


Okapi Conservation Project wins mongabay's 2012 conservation award


(12/06/2012) A group that works to protect the rare okapi, a type of forest giraffe found only in the Congo Basin, has has won mongabay.com's 2012 conservation award. The Okapi Conservation Project has been working to protect the okapi and its habitat in the Democratic Republic of Congo (DRC) for 25 years. The group was instrumental in establishing the Okapi Wildlife Reserve, a 13,700-square-kilometer tract of wilderness in the Ituri Forest of northeastern DRC. While the Okapi Conservation Project has had a long track record of success, earlier this year it was devastated by a brutal attack on the reserve's headquarters. Two wildlife rangers were among the six people killed during June 24 assault.


Mountain gorilla population up by over 20 percent in five years

(11/13/2012) A mountain gorilla census in Uganda's Bwindi Impenetrable National Park has a population that continues to rise, hitting 400 animals. The new census in Bwindi means the total population of mountain gorillas (Gorilla beringei beringei) has reached 880—up from 720 in 2007—and marking a growth of about 4 percent per year.


Foreign loggers and corrupt officials flouting logging moratorium in the Democratic Republic of Congo


(11/08/2012) In 2002 the Democratic Republic of Congo (DRC) announced a moratorium on commercial logging in a bid to save rapidly falling forests, however a new report by Global Witness alleges that industrial loggers are finding a way around the logging freeze. Through unscrupulous officials, foreign companies are abusing artisanal permits—meant for local community logging—to clear-cut wide swathes of tropical forest in the country. These logging companies are often targeting an endangered tree—wenge (Millettia laurentii)—largely for buyers in China and Europe.


'The ivory trade is like drug trafficking' (warning graphic images)


(11/05/2012) For the past five years, Spanish biologist Luis Arranz has been the director of Garamba National Park, in the Democratic Republic of Congo (DRC). Arranz and a team of nearly 240 people, 140 guards among them, work to protect a vast area of about 5,000 square kilometers (1,930 square miles) of virgin forest, home to a population of more than 2.300 elephants that are facing a new and more powerful enemy. The guards are encountering not only bigger groups of poachers, but with ever more sophisticated weapons. According to Arranz, armed groups such as the Lord's Resistance Army from Uganda are now killing elephants for their ivory.


Rebels kill 3 rangers in Congo's Virunga National Park

(10/27/2012) Mai-Mai PARECO rebels attacked a ranger patrol in Virunga National Park killing two park staff and one government soldier, reports Gorilla.cd, the park's official web site.


NASA satellites catch vast deforestation inside Virunga National Park

(10/03/2012) Two satellite images by NASA, one from February 13, 1999 and the other from September 1, 2008 (see below), show that Virunga National Park is under assault from deforestation. Located in the eastern edge of the Democratic Republic of Congo (DRC) the park has been assailed by entrenched conflict between rebels and government forces, as well as slash-and-burn farming, the charcoal trade, and a booming human population.


British government comes out against drilling in Virunga National Park by UK company

(10/01/2012) The British government has come out in opposition against oil drilling plans by UK-based, SOCO International, in Virunga National Park, reports Reuters. The first national park established on the continent, Virunga is home to one of only two populations of mountain gorillas (Gorilla beringei beringei) in the world. In March of this year, two oil exploratory permits came to light granting SOCO seismic testing inside the park by the government of the Democratic Republic of Congo (DRC).


Illegal logging worth $30-100B annually

(10/01/2012) Illegal logging accounts for 15-30 percent of forestry in the tropics and is worth $30-100 billion worldwide, alleges a new report published by the United Nations Environment Programme (UNEP) and INTERPOL. Consuming countries play a major role in the trade, which is increasingly sophisticated and in some places is facilitated by the expansion of industrial plantations.


Rarest gorillas lose half their habitat in 20 years

(10/01/2012) Cross River gorillas and eastern gorillas lost more than half their habitat since the early 1990s due to deforestation, logging, and other human activities, finds a comprehensive new assessment across great apes' range in West and Central Africa.


Rodents have lowest diversity in primary forests in the Congo

(09/17/2012) For many animal families, diversity and abundance rises as one moves away from human-impacted landscapes, like agricultural areas, into untouched places, such as primary rainforests. However, a new study in mongabay.com's open access journal Tropical Conservation Science, shows that the inverse can also be true. In this case, scientists working in the Democratic Republic of Congo's (DRC) Maskao Forest found that both rodent diversity and abundance was lowest in primary forest.


Remarkable new monkey discovered in remote Congo rainforest


(09/12/2012) In a massive, wildlife-rich, and largely unexplored rainforest of the Democratic Republic of the Congo (DRC), researchers have made an astounding discovery: a new monkey species, known to locals as the 'lesula'. The new primate, which is described in a paper in the open access PLoS ONE journal, was first noticed by scientist and explorer, John Hart, in 2007. John, along with his wife Terese, run the TL2 project, so named for its aim to create a park within three river systems: the Tshuapa, Lomami and the Lualaba (i.e. TL2), a region home to bonobos, okapi, forest elephants, Congo peacock, as well as the newly-described lesula.


Palm oil company in Cameroon drops bid for eco-certification of controversial plantation

(09/05/2012) Herakles Farm, a U.S.-based agricultural developer, will no longer seek eco-certification of its 70,000-hectare oil palm plantation in Cameroon, reports the Roundtable on Sustainable Palm Oil (RSPO). The move comes amid criticism from environmental groups that Herakles is converting high conservation value rainforest for the plantation.


Nintendo is 'worst' company on conflict minerals

(08/16/2012) Gaming giant Nintendo is the worst company for ensuring that materials used in its electronics are not linked to bloodshed in war-torn regions like the Democratic Republic of the Congo (DRC), according to an assessment released today by the Enough Project, an initiative that aims to boost transparency around minerals sourcing.


Turning gorilla poachers into conservationists in the Congo [warning: graphic photos]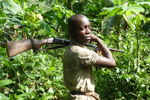 (08/13/2012) Although founded only four years ago, Endangered Species International-Congo, has ambitious plans to protect dwindling Western gorilla populations and aid local people in the Republic of the Congo. The organization, an offshoot of Endangered Species International (ESI), has been spending the last few years studying the bushmeat trade in Pointe-Noire, the country's second largest city, and developing plans for turning hunters into conservationists.


Cute animal picture of the day: sitatunga calf

(07/24/2012) The sitatunga (Tragelaphus spekii) is a swamp-dwelling antelope that makes its home in Central and Southern Africa, including the Congo Rainforest. They have waterproof coats and often take to the water to help avoid predators. The sitatunga is listed as Least Concern by the IUCN Red List.


Innovative conservation: bandanas to promote new park in the Congo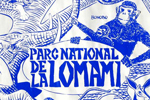 (07/16/2012) American artist, Roger Peet—a member of the art cooperative, Justseeds, and known for his print images of vanishing species—is headed off to the Democratic Republic of the Congo (DRC) to help survey a new protected area, Lomami National Park. With him, he'll be bringing 400 bandanas sporting beautifully-crafted images of the park's endangered fauna. Peet hopes the bandanas, which he'll be handing out freely to locals, will not only create support and awareness for the fledgling park, but also help local people recognize threatened species.


Poacher known as 'Morgan' behind devastating massacre at Okapi Wildlife Reserve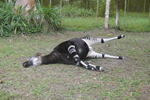 (07/05/2012) Officials have pointed to an infamous elephant poacher known as 'Morgan' as the head of the murderous attack at the Okapi Wildlife Reserve station in the Democratic Republic of the Congo (DRC) late last month. The attack by Morgan and his crew left seven people dead, including two wildlife rangers. The poachers also shot dead 13 captive okapis at the headquarters, which were considered ambassadors for the imperiled forest. One okapi remains alive, but injured and conservationists are not optimistic about its survival. UNESCO and the the NGO Fauna and Flora international have issued an emergency appeal to raise $120,000 dollars within two weeks for the victim's families as well as for rapidly rebuilding the station.


10,000 sq mi of Congo rainforest declared World Heritage site

(07/02/2012) Central Africa has the newest World Heritage site.


Gabon torches their ivory stock as poachers attack okapi reserve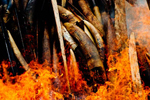 (07/02/2012) Last week, the west African nation of Gabon committed over 1,200 ivory tusks and carvings to the fire. The act, which was meant to send a strong signal to illegal wildlife poachers across Africa, came only a few days after militia poachers stormed the Okapi Wildlife Reserve in the Democratic Republic of the Congo (DRC). The assailants killed 13 okapis and six people, including two wildlife rangers, in retaliation for a crackdown against poaching and mining in the protected area. Poaching has reached epidemic levels in Africa due to increasing bushmeat consumption and a rise in East Asian demand for black-market ivory and rhino horns.


Militia massacres rangers, 13 endangered okapi at Congo wildlife reserve

(06/29/2012) Two wildlife rangers were among the six people killed during brazen attack on a wildlife facility by a militia in the Democratic Republic of Congo last Sunday. 13 endangered okapi were slaughtered during the early morning raid, which was reportedly a response to a crackdown on illegal elephant poaching and gold mining inside the Okapi Wildlife Reserve.


Congolese experts needed to protect Congo Basin rainforests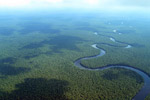 (06/20/2012) This summer, the Democratic Republic of Congo (DRC) is expected to approve a new higher education strategy which the country has developed with the World Bank and other international donors. The shape of this educational reform initiative will be critical to Congo's future in many ways. It could finally offer Congo's long-suffering people a route into the 21st century. It will also help determine the future of the DRC's forests. Nearly half of the Congo Basin's remaining rainforest is in the DRC—yet the critical role of Congolese experts in forestry, agricultural science, wildlife management and other rural sciences in protecting this forest is not widely recognized.


Over 700 people killed defending forest and land rights in past ten years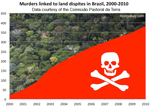 (06/19/2012) On May 24th, 2011, forest activist José Cláudio Ribeiro da Silva and his wife, Maria do Espírito Santo da Silva, were gunned down in an ambush in the Brazilian state of Pará. A longtime activist, José Cláudio Ribeiro da Silva had made a name for himself for openly criticizing illegal logging in the state which is rife with deforestation. The killers even cut off the ears of the da Silvas, a common practice of assassins in Brazil to prove to their employers that they had committed the deed. Less than a year before he was murdered, da Silva warned in a TEDx Talk, "I could get a bullet in my head at any moment...because I denounce the loggers and charcoal producers."


Elephant numbers halved in Central Africa in 5 years

(06/08/2012) Elephant numbers in areas surveyed by the Wildlife Conservation Society (WCS) in Central Africa halved between 2006 and 2011, hinting at the carnage wrought by the surging commercial ivory trade and demonstrating a need to boost protection efforts, said the Bronx Zoo-based conservation group.


Bigger is better for gorillas

(05/02/2012) A new study confirms that bigger and stronger silverback gorillas have more success finding mates and raising offspring.


Gabon to burn ivory stockpiles

(04/09/2012) The government of Gabon has announced it will burn its stockpiles of ivory later this year in a bid to undercut illegal elephant poaching, which is decimating populations in central Africa.


Controversial logging company sells operations in DR Congo

(03/23/2012) Danzer, a Swiss-German forestry company that has been subject to much criticism by environmentalists for its logging practices in the Democratic Republic of Congo (DRC), has sold its operations in the Central African country, reports Greenpeace.


Deforestation increases in the Congo rainforest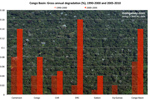 (03/20/2012) Deforestation in the Congo Basin has increased sharply since the 1990s, reports an extensive new assessment of forests in the six-nation region. Released by the Central African Forests Commission (COMIFAC) and members of the Congo Basin Forest Partnership, The State of the Forest finds that the region's annual gross deforestation rate doubled from 0.13 percent to 0.26 percent between the 1990s and the 2000-2005 period. Gross degradation caused by logging, fire, and other impacts increased from 0.07 percent to 0.14 percent on an annual basis. Despite the jump, rates in the Congo Basin remain well below those in Latin America and Southeast Asia, but the region is seen as a prime target for future agroindustrial expansion.


Oil exploration approved in Africa's oldest park, Virunga National Park

(03/19/2012) Permits for controversial oil exploration in Virunga National Park have been released after request by NGO Global Witness. Oil company, SOCO International, has confirmed it has received two permits to undertake preliminary exploration, including seismic tests, in the UNESCO World Heritage Site. Located in the Democratic Republic of Congo (DRC), Virunga is famous for its population of the Critically Endangered mountain gorillas (Gorilla beringei beringei).


Republic of the Congo expands park to protect fearless chimps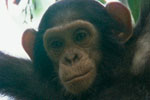 (02/16/2012) The Republic of the Congo has expanded its Nouabalé-Ndoki National Park by 37,295 hectares (144 square miles) to include a dense swamp forest, home to a population of chimpanzees (Pan troglodytes) that show no fear of humans. Known as the Goualougo Triangle, the swamp forest is also home to forest elephants (Loxodonta cyclotis) and western lowland gorillas (Gorilla gorilla gorilla). The expansion of the park to include the Goualougo Triangle makes good on a government commitment from 2001.


Humans drove rainforest into savannah in ancient Africa


(02/09/2012) Three thousand years ago (around 1000 BCE) several large sections of the Congo rainforest in central Africa suddenly vanished and became savannah. Scientists have long believed the loss of the forest was due to changes in the climate, however a new study in Science implicates an additional culprit: humans. The study argues that a migration of farmers into the region led to rapid land-use changes from agriculture and iron smelting, eventually causing the collapse of rainforest in places and a rise of grasslands. The study has implications for today as scientists warn that the potent combination of deforestation and climate change could flip parts of the Amazon rainforest as well into savannah.


Majority of protected tropical forests "empty" due to hunting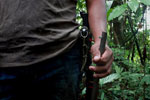 (02/08/2012) Protected areas in the world's tropical rainforests are absolutely essential, but one cannot simply set up a new refuge and believe the work is done, according to a new paper in Bioscience. Unsustainable hunting and poaching is decimating tropical forest species in the Amazon, the Congo, Southeast Asia, and Oceana, leaving behind "empty forests," places largely devoid of any mammal, bird, or reptile over a few pounds. The loss of such species impacts the whole ecosystems, as plants lose seed dispersers and the food chain is unraveled.


The year in review for rainforests


(12/28/2011) 2011 was designated as "Year of the Forests" by the United Nations. While there was relatively little progress on intergovernmental forest protection programs during the year, a lot happened elsewhere. Below is a look at some of the biggest tropical forest-related news stories for 2011. We at mongabay readily acknowledge there were a number of important temperate and boreal forest developments, including Britain's decision not to privatize its forests and the severe drought in Texas, but this article will cover only tropical forest news.


Forest elephant populations cut in half in protected area


(11/14/2011) Warfare and poaching have decimated forest elephant populations across their range with even elephants in remote protected areas cut down finds a new study in PLoS ONE. Surveying forest elephant populations in the Okapi Faunal Reserve in the Democratic Republic of Congo, researchers have found that the population has fallen by half—from 6,439 to 3,288—over the past decade in the park.


Unsung heroes: the life of a wildlife ranger in the Congo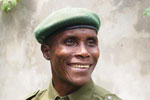 (11/01/2011) The effort to save wildlife from destruction worldwide has many heroes. Some receive accolades for their work, but others live in obscurity, doing good—sometimes even dangerous—work everyday with little recognition. These are not scientists or big-name conservationists, but wildlife rangers, NGO staff members, and low level officials. One of these conservation heroes is Bunda Bokitsi, chief guard of the Etate Patrol Post for Salonga National Park in the Democratic Republic of the Congo. In a nation known for a prolonged civil war, desperate poverty, and corruption—as well as an astounding natural heritage—Bunda Bokitsi works everyday to secure Salonga National Park from poachers, bushmeat hunters, and trappers.


Illuminating Africa's most obscure cat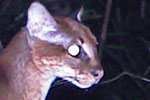 (10/18/2011) Africa is known as the continent of big cats: cheetahs, leopards, and of course, the king of them all, lions. Even servals and caracals are relatively well-known by the public. Still, few people realize that Africa is home to a number of smaller wild cat species, such as the black-footed cat and the African wild cat. But the least known feline on the continent is actually a cryptic predator that inhabits the rainforest of the Congo and West Africa. "The African golden cat has dominated my thoughts and energy for over a year and a half now. When carrying out a study like this one, you find yourself trying to think like your study animal," Laila Bahaa-el-din, University of Kwazulu Natal graduate student, told mongabay.com in a recent interview.


Tough sentence for ivory smuggler may spell way forward in elephant poaching crisis


(08/22/2011) The Republic of the Congo sentenced an ivory smuggler to an unprecedented four years in prison, proving the government's rising willingness to crack down on poachers. The wildlife trade has been decimating elephant populations in the Congo, while a recent report from the Wildlife Conservation Society (WCS) asserts further stringent measures are needed to counter the globally-linked criminal syndicates that largely responsible for the ivory trade jeopardizing wild elephants.


Congo to 'reforest' with plantations across one million hectares

(08/10/2011) The Republic of the Congo has announced a new program to create plantations across one million hectares (2.47 million acres) of degraded forest lands. The program, known as the national program of afforestation and reforestation (RAN), is being pushed to support various industries, carbon sequestration and to take pressure off native forests. According to Reuters, the Republic of the Congo is seeking donor and international investment of $2.6 billion for the initiative. However, plantations are controversial in conservation-terms as they store significantly less carbon and support little biodiversity when compared to natural forest.


Over 80 percent of urban Congolese eat bushmeat

(06/27/2011) Bushmeat is one of the major threats to wildlife in parts of Africa: large and medium-sized animals are vanishing from regions in a trend dubbed by biologists the 'empty forest syndrome'. A number of popularly consumed species are also threatened with global extinction. A new study in mongabay.com's open access journal Tropical Conservation Science surveyed 1,050 households in Brazzaville, the capital of Republic of the Congo, regarding their consumption of bushmeat only to find that the practice was practically universal: 88.3 percent of households in Brazzaville consumed bushmeat.


African forests store 25% of tropical forest carbon

(06/22/2011) Forests in sub-Saharan Africa account for roughly a quarter of total tropical forest carbon, according to a comprehensive assessment of the world's carbon stocks published in the journal Proceedings of the National Academy of Sciences (PNAS).


How do we save Africa's forests?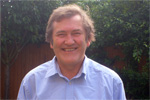 (06/19/2011) Africa's forests are fast diminishing to the detriment of climate, biodiversity, and millions of people of dependent on forest resources for their well-being. But is the full conservation of Africa's forests necessary to mitigate global climate change and ensure environmental stability in Africa? A new report by The Forest Philanthropy Action Network (FPAN), a non-profit that provides research-based advice on funding forest conservation, argues that only the full conservation of African forests will successfully protect carbon stocks in Africa.


Locals clash with 'sustainable' FSC logging company in the Congo

(05/22/2011) Two separate protests against logging companies by local communities have turned violent in the Democratic Republic of Congo (DRC), leaving at least one dead. According to Greenpeace, one of the companies involved in the violence, Sodefor, is sustainably certified by the Forest Stewardship Council (FSC). Given that the industry in DRC is rife with social conflict and corruption, Greenpeace is advocating that FSC place a moratorium on certifying new industrial-style logging concessions in the central African nation.


Elephants: the gardeners of Asia's and Africa's forests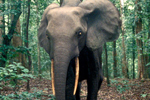 (04/25/2011) It seems difficult to imagine elephants delicately tending a garden, but these pachyderms may well be the world's weightiest horticulturalist. Elephants both in Asia and Africa eat abundant amounts of fruit when available; seeds pass through their guts, and after expelled—sometimes tens of miles down the trail—sprouts a new plant if conditions are right. This process is known by ecologists as 'seed dispersal', and scientists have long studied the 'gardening' capacities of monkeys, birds, bats, and rodents. Recently, however, researchers have begun to document the seed dispersal capacity of the world's largest land animal, the elephant, proving that this species may be among the world's most important tropical gardeners.


Tropical countries aim for global forest pact

(04/18/2011) Representatives from more than 30 countries are expected to hammer out a formal agreement for future discussions on forest and climate issues when they meet next month in the Republic of Congo, reports the Wildlife Conservation Society (WCS).


Photo: Population of world's biggest gorilla increases in Congo

(04/15/2011) A population of the world's largest subspecies of gorilla has increased despite ongoing human conflict, reports the Wildlife Conservation Society (WCS).


Oil exploration on hold in Virunga National Park—for now

(03/17/2011) The Democratic Republic of Congo (DRC) has suspended oil exploration in Africa's oldest national park, Virunga, until a Strategic Environmental Assessment (SEA) is conducted. The move ends oil companies, Soco and Dominion's plans to explore for oil in blocs within the park that were awarded to the companies last year.


Goodbye national parks: when 'eternal' protected areas come under attack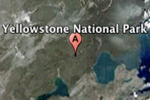 (03/17/2011) One of the major tenets behind the creation of a national park, or other protected area, is that it will not fade, but remain in essence beyond the pressures of human society, enjoyed by current generations while being preserved for future ones. The protected area is a gift, in a way, handed from one wise generation to the next. However, in the real world, dominated by short-term thinking, government protected areas are not 'inalienable', as Abraham Lincoln dubbed one of the first; but face being shrunk, losing legal protection, or in some cases abolished altogether. A first of its kind study, published in Conservation Letters, recorded 89 instances in 27 countries of protected areas being downsized (shrunk), downgraded (decrease in legal protections), and degazetted (abolished) since 1900. Referred to by the authors as PADDD (protected areas downgraded, downsized, or degazetted), the trend has been little studied despite its large impact on conservation efforts.


Congo legalizes 15 logging concessions, prompting concern that moratorium will be lifted next

(03/13/2011) The Democratic Republic of Congo (DRC) has legalized 15 logging concessions that were previously listed as illegal under an effort to clean up the industry of widespread corruption. The environmental group, Greenpeace, fears that the move precedes an announcement to lift the DRC's moratorium on granting any new logging concessions, which would open the Congo Basin to widespread logging.


Oil company charged after allegedly forcing entry into Virunga National Park

(02/21/2011) The Democratic Republic of Congo's (DRC) national parks authority, ICCN, has filed a suit against oil company, SOCO International, for allegedly forcing entry into Virunga National Park. The legal row comes amid revelations that two oil companies, SOCO and Dominion Petroleum, are exploring the park for oil.


After another ranger killed, Virunga National Park requests UN peacekeepers

(02/01/2011) Less than a week after 3 wildlife rangers and 5 soldiers were killed in Virunga National Park by the rebel group Democratic Forces for the Liberation of Rwanda (FDLR), another ranger has been killed and a driver put in the hospital in critical condition. The situation has pushed park authorities to request UN peacekeepers for the park.


Eight rangers, soldiers killed in Virunga National Park

(01/25/2011) Yesterday morning, 3 wildlife rangers and 5 soldiers working in Virunga National Park were killed by the rebel group Democratic Forces for the Liberation of Rwanda (FDLR). These 8 were killed and 3 more wounded when their vehicle was fired on by FDLR rebels with rocket launchers. Park director Emmanuel de Merode told the AFP that it was the most serious incident to occur in Virunga National Park in the past 12 months.



Page 1 | Page 2 | Page 3